10 Best Cleaners for Glass Shower Doors in 2023 – Reviews & Top Picks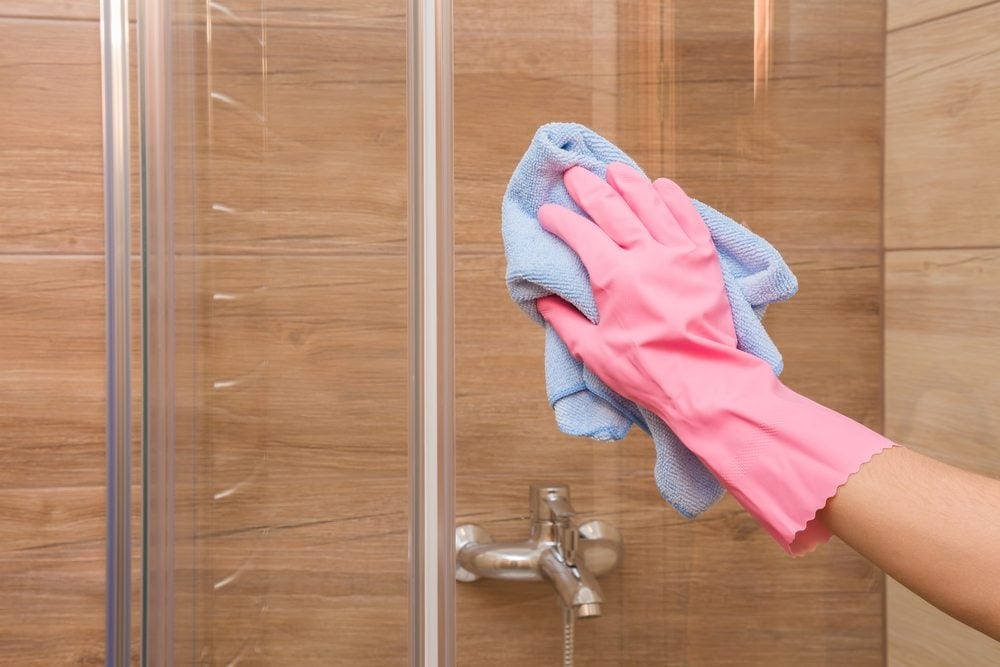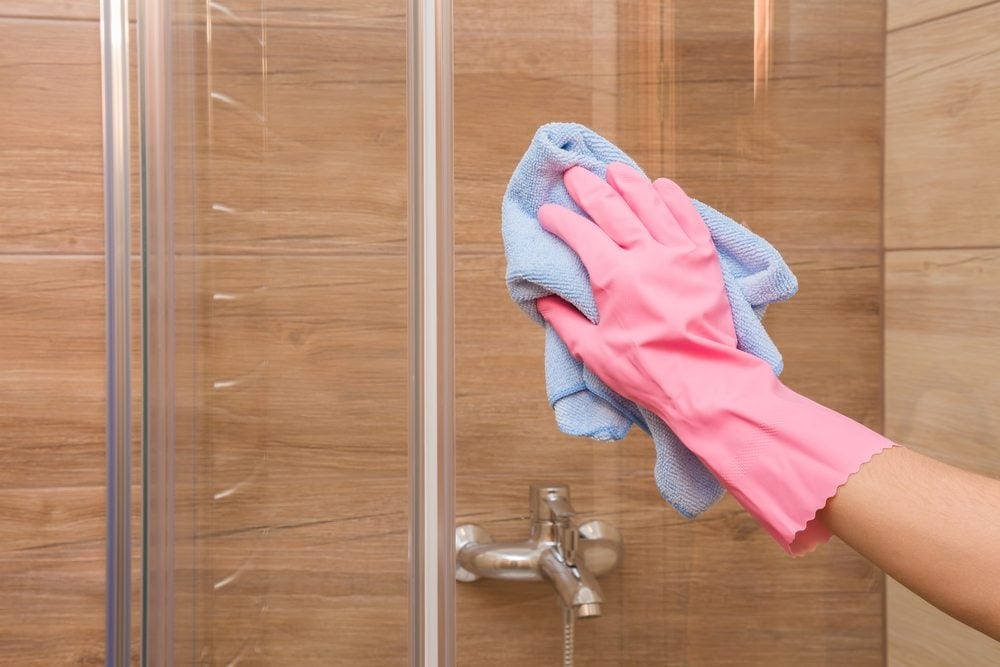 Few can say that cleaning their glass shower doors is at the top of their list of weekend activities. It's just not fun spending a whole Saturday struggling to remove the grime and dirt that has built up on the shower door over time. You need a product that will make your life simpler.
Our reviews list of the 10 best glass shower door cleaners will help you find the one for your cleaning needs. The buyer's guide offers certain considerations to keep in mind when deciding on which cleaner will perform effectively.
---
A Quick Comparison of Our 2023 Favorites
Rating
Image
Product
Details

Best Overall

Rain-X

Leaves shiny glass
Lasts a long time
Easy to use
CHECK PRICE

Best Value

Windex

Affordable
Streak-free shine
Ammonia-free
CHECK PRICE

Premium Choice

Bio Clean

Removes hard buildup
Non-chemical compound
Abrasive formula
CHECK PRICE

Rejuvenate

Affordable
Soap-scum remover
Non-abrasive
CHECK PRICE

Bring It On

Safe and non-toxic
Ideal for many surfaces
Easy to use
CHECK PRICE
The 10 Best Cleaners for Glass Shower Doors
1.

Rain-X 630035 Shower Door Cleaner — Best Overall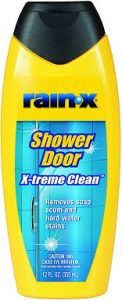 The Rain-X is perfect at removing soap scum, dirt, and hard water buildup on glass surfaces within your shower. It can clear away hard buildup, and after cleaning your shower door, you will notice a lovely shine. This cleaner is solely for use on glass and is available in a 12-ounce container that we found lasts for a long time.
If you also want to use the shower door repellent by this brand, the door cleaner is ideal to use first to remove dirt and scum. To use Rain-X, first apply it to a soft, damp cloth and then clean the glass using circular motions to rub it onto the surface. Lastly, rinse the glass and wipe it dry with a cotton cloth or paper towel.
For best results, if you have a shower with thick grime, you'll have to use a scrubbing brush to increase your cleaning power.
Pros
Removes hard water effectively
Leaves shiny glass
Lasts a long time
Easy to use
Cons
Need a scrub brush for hard buildup
---
2.

Windex 679593 Glass Cleaner — Best Value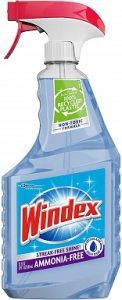 Windex is the best cleaner for glass shower doors for the money because for an affordable price, it will leave a streak-free shine. This cleaner is ideal for cleaning glass and any types of windows. The formula is ammonia-free and has a pleasant fragrance that isn't overpowering.
The large 23-ounce bottle will last for many cleanings. For best results, use it after every shower to remove dirt and grime to prevent buildup. This cleaner is not ideal for removing hard water, which is why it didn't reach the number-one spot on our list.
Pros
Affordable
Great for daily use
Streak-free shine
Ammonia-free
Cons
Not ideal for hard buildup
---
3.

Bio Clean SYNCHKG102497 Hard Water Stain Remover — Premium Choice

As a professional cleaner, Bio Clean removes years of mineral buildup on your glass shower doors. It is safe to use on materials besides glass, such as porcelain, granite, and marble, just to name a few. It is formulated to treat mild to severe hard water stains and leaves a shiny surface after cleaning.
Bio Clean is made from a non-chemical compound that doesn't emit harmful fumes and is a biodegradable formula. Its effectiveness is improved due to the abrasive-based consistency of the solution. This product is pricey, which is  why it didn't reach the first two spots on the list.
Pros
Professional strength
Removes hard buildup
Can use on many surfaces
Non-chemical compound
Abrasive formula
---
4.

Rejuvenate RJ24SSR Soap Scum Remover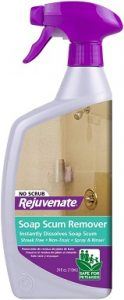 Rejuvenate is an affordable glass cleaner that will leave a streak-free finish on shower glass, ceramic tile, chrome, and plastic. It is a soap scum remover with a non-toxic and non-abrasive formula made in the U.S.A. To use, just spray your shower and then rinse with water after three minutes to remove any buildup of grime and scum. Best results are seen if used weekly.
Rejuvenate has won multiple cleaning product awards from Family Circle and Better Homes and Gardens. It is Greenguard Gold Certified, which means the product has low chemical emissions. On the downside, this cleaner isn't as effective at removing hard water from shower glass.
Pros
Affordable
Soap-scum remover
Non-toxic
Non-abrasive
Cons
Not effective on hard water
---
5.

Bring It On Cleaner BIO Hard Water Stain Remover

For a cleaner that is effective with hard water removal, Bring It On is a powerful solution of oxygen bleach. It is safe and non-toxic, with no harmful chemicals. You can use it on a multitude of surfaces to remove buildups of calcium, mineral, and rust.
We found that it is easy to use: Apply to your glass surface, and let it sit for five minutes to allow the oxygen bleach to penetrate the grime. Then, brush by hand, using a circular motion, and rinse with water. For tougher stains, it will take multiple applications and a good amount of scrubbing to remove the buildup.
Pros
Safe and non-toxic
Ideal for many surfaces
Easy to use
Cons
Extra scrubbing to remove buildup
---
6.

Bar Keepers Friend Spray Cleanser

Bar Keepers Friend is a cleanser that contains no harsh abrasives or chemicals and is a multipurpose formula that can be used on a variety of surfaces, including glass. It is formulated to remove water deposits, rust stains, and tarnish.
The nozzle is adjustable, so you can either spray or foam the solution. The foam is ideal for shower doors so it clings to the glass, allowing the product time to penetrate and begin to break down the built-up grime. Unfortunately, this product has a strong odor compared to some of the others on our list.
Pros
No harsh chemicals
Multipurpose cleaner
Spray or foam options
---
7.

Hard Off+ 8541813654 Hard Water Stain Remover
Hard Off+ multi-surface cleaner is ideal for glass, ceramic, tile, stainless steel, and chrome. It is scratch-free and acid-free, making it gentle to use on all surfaces. To use, spray it on the surface, wait one minute, and then wipe or scrub off. You will need to use some elbow grease if you have a high buildup of scum or hard water.
We like that it doesn't leave any streaks or residue, though you have to use a large amount of the product to clean a small area. On the upside, the company offers a 100% satisfaction guarantee, and the cleaner is made in the U.S.A.
Pros
Multi-surface
Scratch-free
Acid-free
Satisfaction guarantee
Cons
Must use a large amount of product for one area
---
8.

Chomp 52117-b Shower Door Magic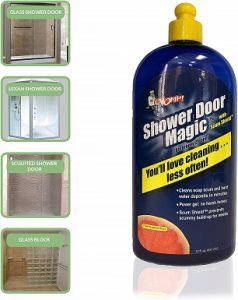 Chomp is a gel shower door cleaner formulated to remove scum and residue while preventing further buildup, which will reduce weekly cleaning. It can be used on other surfaces too, such as faucets, tile, and grout.
We like that it is made to be non-abrasive with no lung irritants. It has a mild grapefruit scent that isn't overpowering. It is easy to use with minimal effort, as long as you don't have an extreme buildup of hard water or grime. On the downside, a slight haze is left on the glass, which is most likely from the Scum Shield that protects the glass from further buildup.
Pros
Gel solution
Prevents buildup
Non-abrasive
No lung irritants
---
9.

Brite & Clean Ultimate Hard Water Stain Remover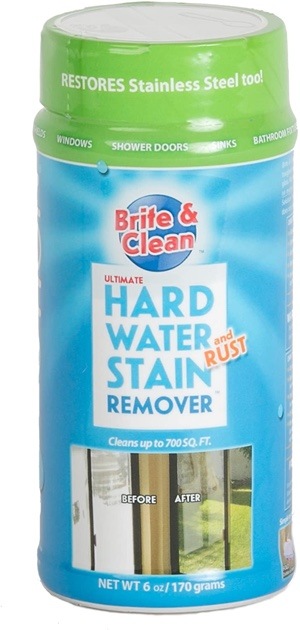 Brite & Clean is a biodegradable formula that is great for the daily cleaning of shower doors. It is a highly concentrated formula designed to remove hard water. Since it is in powder form, it is not as user-friendly because the powder doesn't stay on as well.
To use Brite & Clean, wet and wring out a towel, then sprinkle the cleaner on the towel and scrub your dirty door. It doesn't remove hard water stains as effectively as some of the other products, but on the upside, it doesn't have a strong odor either. This product is pricey, though one 6-ounce bottle will last for a decent amount of time.
Pros
Biodegradable
No strong odor
Lasts a long time
Cons
Pricey
Powder difficult to use
Not as effective
---
10.

Repel RP-25 Glass & Surface Cleaner

Last on our list is the Repel glass cleaner, formulated to clean and protect your glass from further buildup. It makes the glass easier to clean in the future and works well to prevent hard water from accumulating. If you have a large amount of buildup, then a different product would do better at removing hard water and soap scum.
The Repel leaves a slight film behind after cleaning but wipes away with extra scrubbing. The odor is not unpleasant nor overpowering, and it is easy to use. Another downside is that this product is pricey.
Pros
Protects glass
Easy to use
Cons
Pricey
Leaves a film
Not effective with heavy buildup

Buyer's Guide – Finding the Best Glass Cleaner for Shower Doors
When buying a cleaner for your glass shower door, there are certain things to consider. There are many glass cleaners on the market, and it can be frustrating to find the one that is most effective at removing dirt and hard water buildup. Let's go over what to look for.
Effectiveness
This is the most important consideration. If you are going to spend the time and money on a product, you want to know that it is going to work. Some formulas are going to be more effective than others, and much will depend upon what type of grime you need to remove from your shower door. Some formulations are better for soap scum, while others are good at removing hard water.
Ease of Use
If you have to use many applications and a great deal of elbow grease to see results, you may be less inclined to buy the product. But if you have a shower door that has a high amount of hard water buildup, you will have to go through a period of extreme cleaning to get the desired results no matter what. Once the buildup is removed, your glass door should be easy to clean if you do it regularly.
Type of Cleaner
Most will be spray formulas that may also have the option to foam. When you are cleaning a vertical area, such as a shower door, a solution that sticks to the door will be more effective at penetrating the grime and cleaning it faster. There are also gels, powders, and creams that all clean differently. Think about how dirty your shower door is and what type of cleaner you prefer to work with.
Some formulas will be more odorous than others, and if you are sensitive to smells, try to find a product that is low odor and non-toxic.
Price
It's safe to say that most people don't mind spending a little more money if the product does a good job and saves you time. Expense doesn't always mean that one cleaner is better than a lower-priced version. Again, it depends upon what type of surface you are cleaning and how dirty it is.

Conclusion
There are many products that claim to be able to rid your glass doors of scum, grime, and hard water. Our reviews list rounded up the top 10 to help you find the perfect cleaner for your situation.
The Rain-X is the best glass cleaner for shower doors overall because it performs well and is easy to use. Windex is the best value choice on our list because it is affordable and effective for everyday cleaning. If price isn't a concern, the Bio Clean offers a professional, non-chemical formula that will remove hard water buildup easily and effectively.
We hope that our reviews list has helped you find a product that works well for you and your situation so you can clean your shower with ease and get back to relaxing on weekends.
---
Featured Image Credit: FotoDuets, Shutterstock