Dremel 4300 Rotary Toolkit Review 2023 – Pros, Cons, & Verdict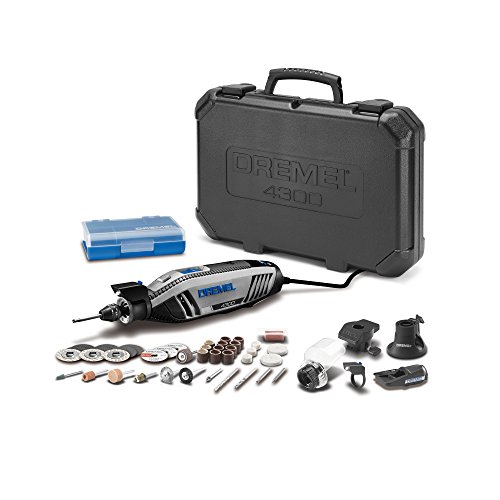 We give the Dremel 4300 Rotary Toolkit a rating of 4.5 out of 5 stars. 
Build Quality: 4.5/5
Power: 4.5/5
Features: 4.6/5
Price: 4.3/5
Review Summary
This Dremel 4300 toolkit is ideal for virtually any non-professional, especially for small house projects or shops owners. The kit includes several attachments as well as the rotary tool itself which is all enclosed in a hard-shelled case. It's easy to use, and the ergonomic design allows it to be comfortable in the users hand no matter the length of time it is used for. It isn't too loud either. So, if you're looking for a tool that is efficient, effective but keeps the noise to a minimum, this is your solution. Despite being corded, it is still a high-quality tool that is very powerful. The variable speed also comes in handy if you're working on a smaller project that needs more precision and control. The speed control dial is entirely accessible and easy to operate, so there are no issues with this feature. The only thing that causes a minor issue is the fact that this Dremel 4300 model tool is corded. It shouldn't be a deal-breaker, but if it were to have the cordless power, it would certainly add much attraction to this model.
Dremel is possibly the biggest rotary tool company in the world. They're known for producing excellent quality products that are exceptional value for money. They have a range of attachments that are compatible with other models too, so it's even better if you already own any other Dremel tools as they will most likely work with this 4300 model.
Dremel 4300 – a Quick Look
Pros
Includes 28 Attachments
Efficient and Powerful
High Quality
Cons
Corded
More Expensive than Other Models
Specifications
Brand Name: Dremel

Speed: 5,000 to 35,000 RPM

Weight: 1.18 pounds

Dimensions: 9 x 2 x 2 inches

Voltage: 120V

Cord Length: 72 inches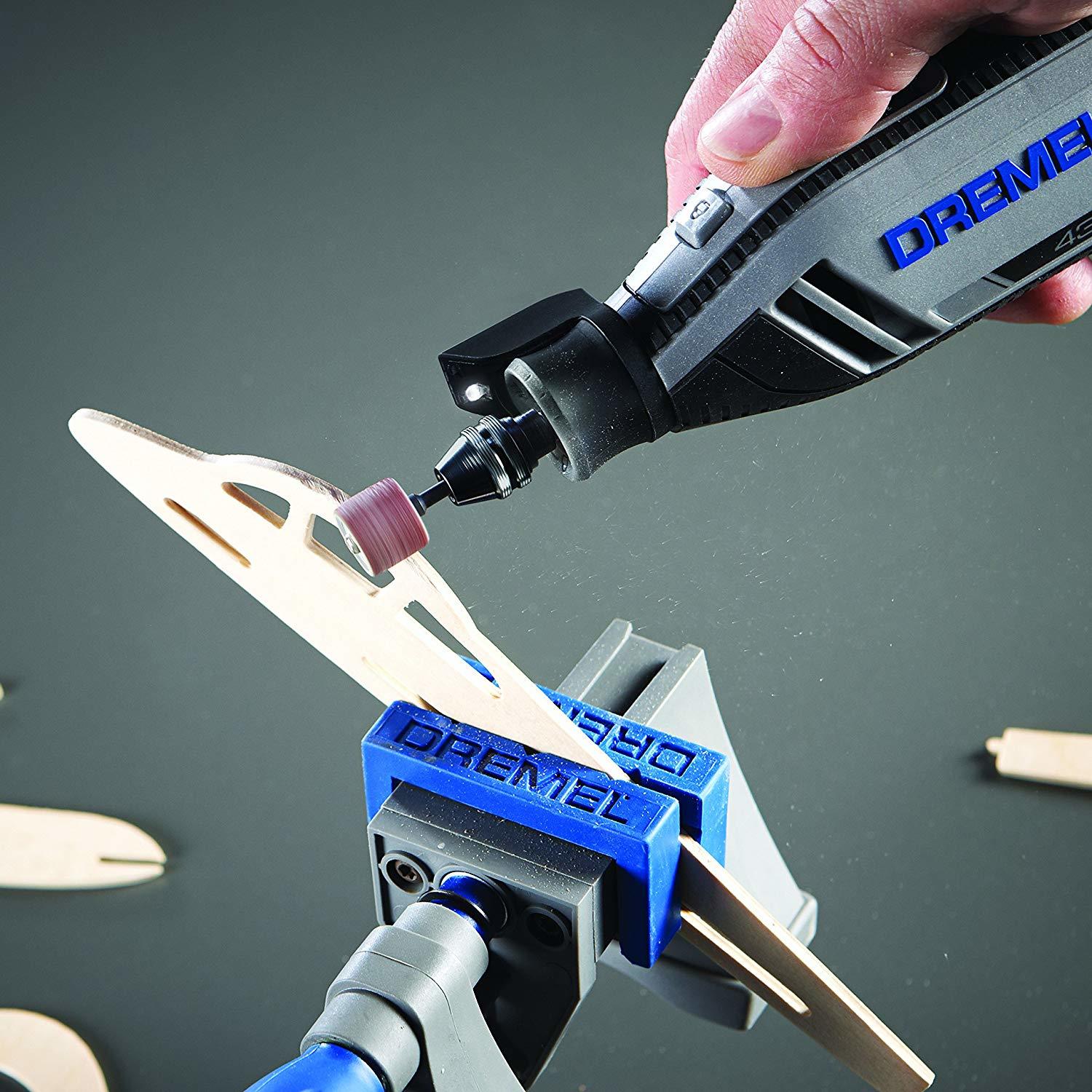 Universal 3-Jaw Chuck Feature
Despite Dremel offering the 3-jaw check attachment for their tools previously, this model takes it to a whole new level. It's a common feature that many people use as it simple and great for vertical loads. The 3-jaw chuck allows for collet-less and tool-less accessory changes meaning it's compatible with other Dremel accessories of all different sizes. It also allows for a convenient and fast accessory change wherever you are, without having to use a wrench.
Includes Extra Attachments and Hard-Shelled Case
The kit includes the 4300 tool and several other attachments (28 to be exact!). You can virtually accomplish anything with the help of a tool, from all your sanding needs to cutting and polishing – the possibilities are endless. It's such a great tool and kit to have if you want to save storage space as everything fits into the compact hard-shelled case with no hassle. It's perfect for anyone who needs to do lots of jobs but doesn't want to pay a separate price for everything as it's all in one!
2 Year Limited Warranty
Many Dremel products have a 2-year limited warranty, especially those that are corded. This Dremel 4300 kit does too. The warranty is typically covered by manufacturing errors or damage that is caused by accident but at the fault of the company. General wear and tear, as well as user damages, are not covered by the warranty.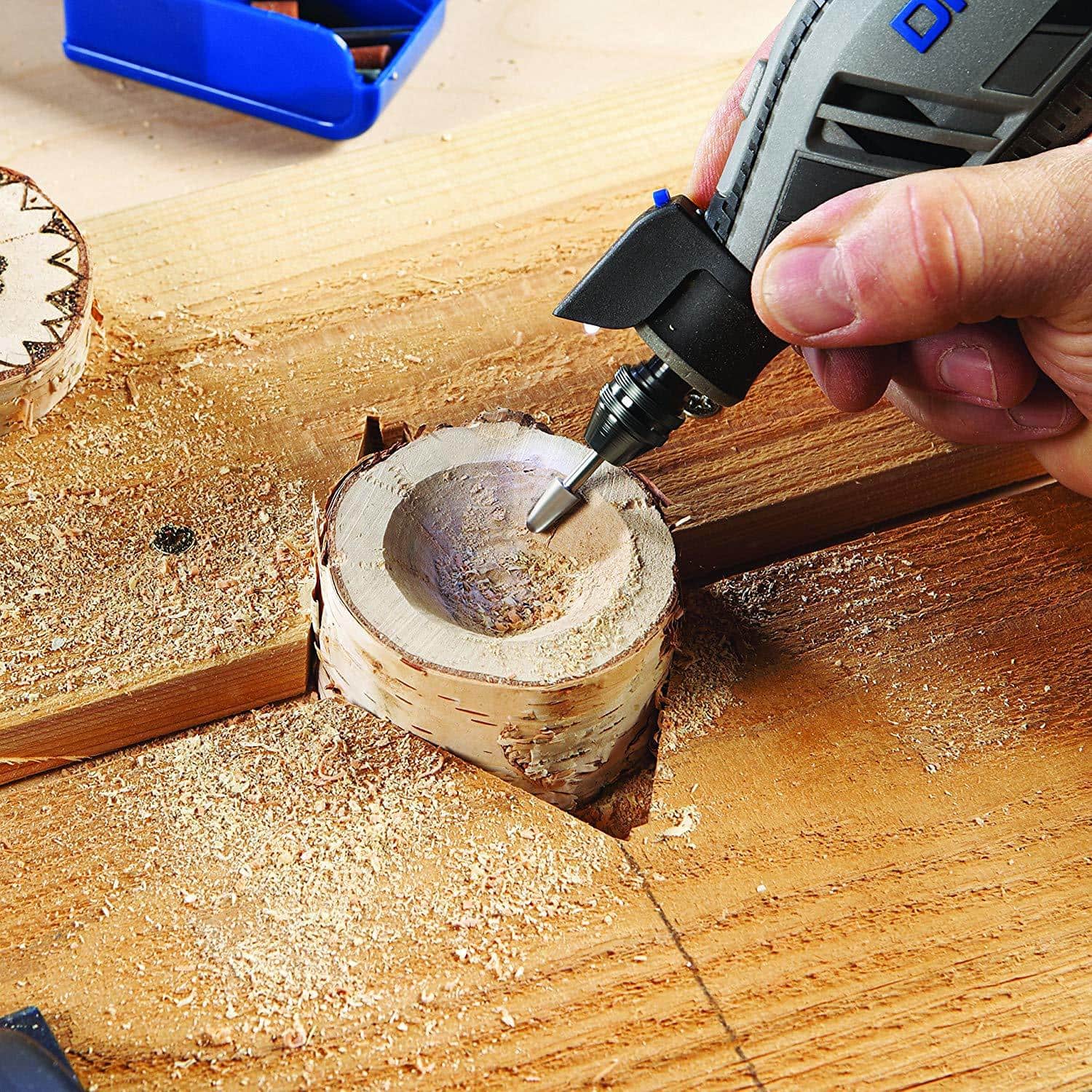 FAQ
Are other Dremel attachments compatible with this model?

Most Dremel rotary tool attachments will work well with the 4300 models but to be sure, we recommend checking with the supplier to ensure you're not wasting money. It's more than likely that it will fit perfectly if it's a newer attachment, but it may not be as compatible if the attachment is a few years old or needs fixing.

How durable is the Dremel 4300?

This model is super durable when compared to previous models. This is primarily because it isn't as fragile and if you accidentally drop the tool. The hard-shelled case is particularly useful if you want to transport the tool as it will keep it safe as well as the attachments. Overall, it is durable and worth paying a little extra money over the other models as it will most likely last longer.

Is this model suitable for beginners also?

Yes, if you have no idea what you're doing then definitely. Even those who are more experienced using a rotary tool, this model is ideal. It's a great addition to any toolkit, and if you want to expand your collection, it is perfect. The instructions included with this model are particularly useful for beginners too.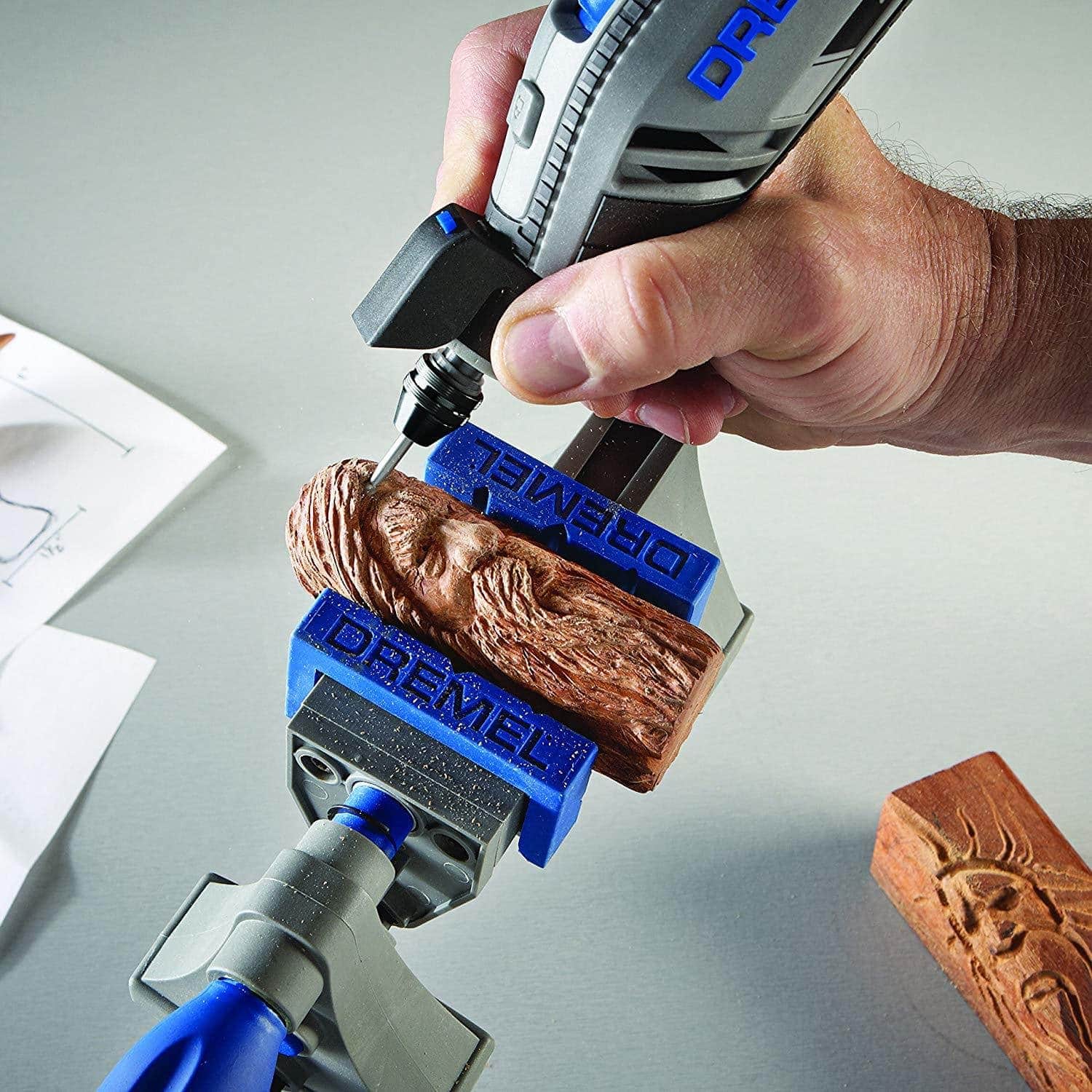 What the Users Say
We went ahead and collected some user impressions of this model by paying attention to reviews from previous users and forum discussions. One thing users like about this model is how versatile it is. The attachments allow many jobs to be done at no extra price. Users liked the idea that you can polish when you need to but also cut and sand too.

As previously stated, it's well-known in the industry that these 4300 models are durable and excellent value for money. This is also evident in the reviews from users too. However, users state this model doesn't excel regarding being corded. The cord length is restricting and means that users can only do limited work when there is no plug source (such as outdoor work).

The consensus is that this is a good model and worth investing your money in. It's not the least expensive model out there to purchase, but it has a lot of extra features that are worth paying a little more for.
Conclusion
We would recommend trying this model if you're looking for something easy to use and versatile. The extra features and attachments are an added plus that will allow you to get more use out of your rotary tool. It's particularly ideal for those just beginning in the industry or hobbyists who are looking to expand their tool collection. Despite there being many Dremel models to choose from, this one is a balance between quality and value for money which is perfect for many users.