20 Beautiful DIY Pallet Furniture Plans You Can Build Today (With Pictures)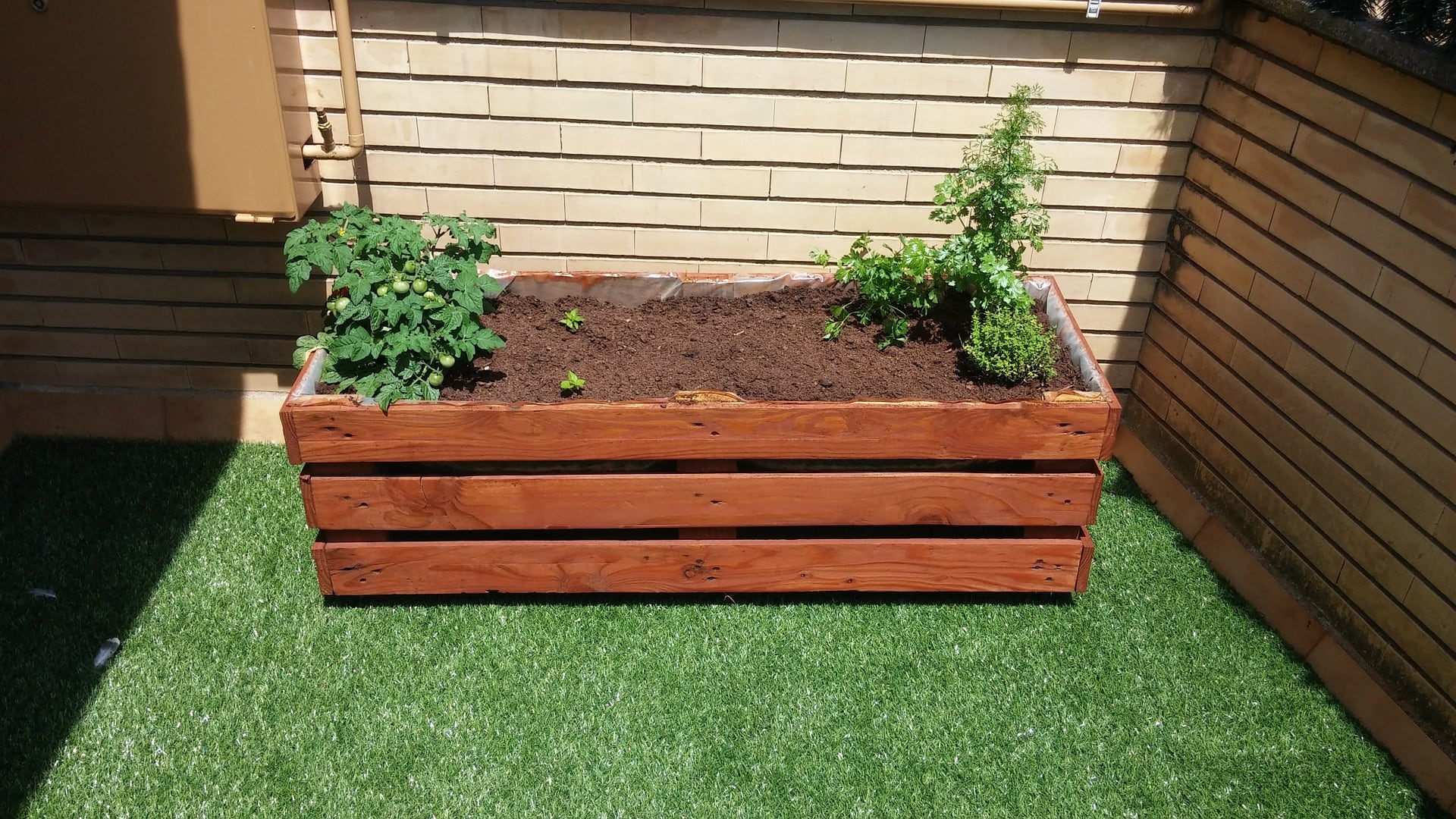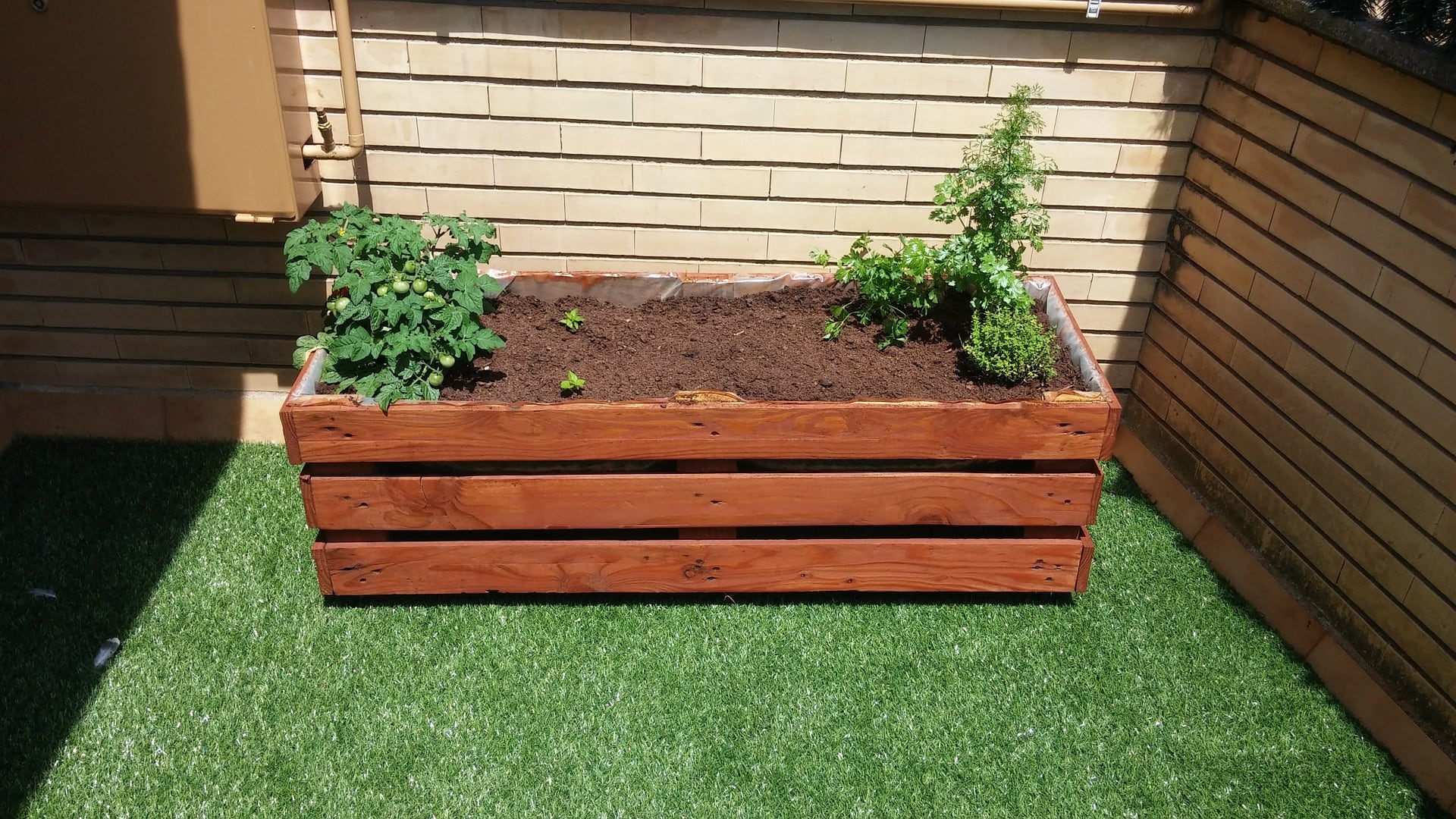 When most people see a pallet, they probably think of throwing it away. But for those with imagination, a pallet can be a blank canvas. If you have several pallets, you can learn how to build pallet furniture. So, don't throw those old pallets away. Instead, repurpose them to build some inexpensive but unique and awesome furniture.
We've compiled these great sets of furniture plans all made from recycled pallet wood. All you need are some basic DIY skills and tools, and you'll be able to build any of these for yourself today.

The 20 Beautiful DIY Pallet Furniture Plans
1.

Free Pallet Chair Tutorial
Everyone needs a place to sit, and with this free pallet chair tutorial, you can make some great chairs without spending anything. Well, you'll still need to get fasteners, but aside from that, everything in this build is as cheap as it gets. Spend an afternoon making these simple chairs and you'll get years of great service from them.
---
2.

Pallet Wood Cabin
There's no doubt, this is one of the biggest projects on this list. These guys will show you how to build an entire  from scratch out of pallet wood. This might just be the cheapest way to build a cabin ever. And as far as usefulness goes, we're not sure any other project on this list can match the utility of a wood cabin.
---
3.

Pallet Planter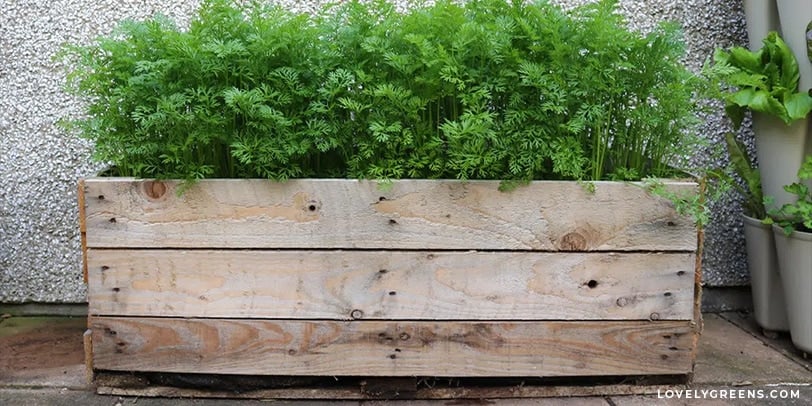 You might not sit on a planter or store anything in it, but planters are a great way to recycle old pallets. Moreover, you can use them to decorate just about any space, inside or outside. Just make sure you find the perfect plant to fill this pallet planter.
---
4.

DIY Pallet Couch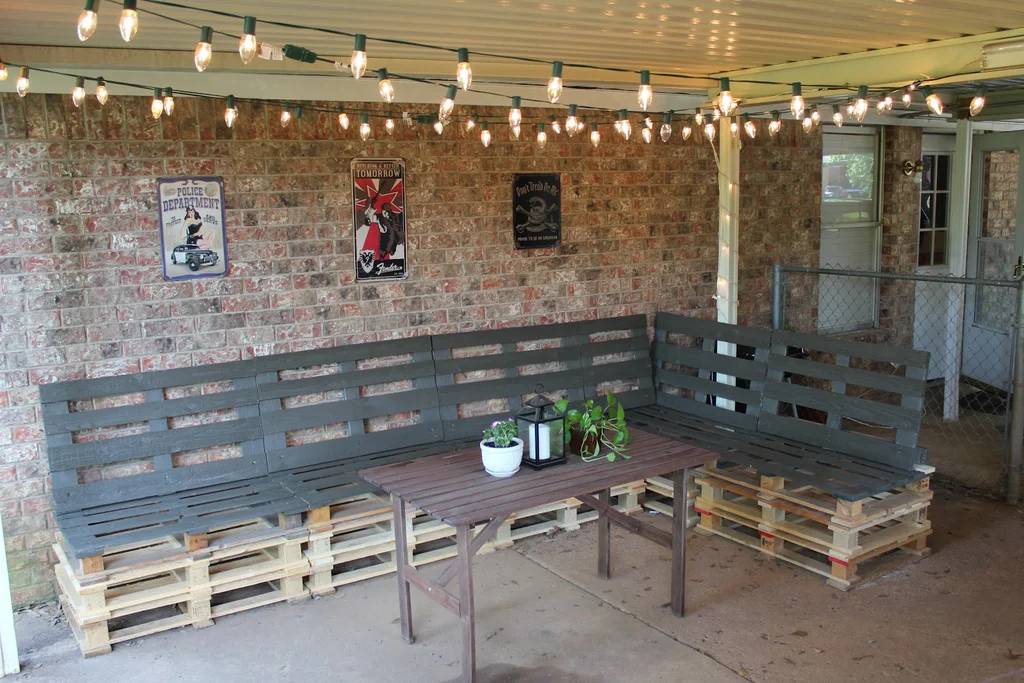 Couches can be prohibitively expensive. But they're actually pretty simple. You can even construct one out of pallets for dirt-cheap. This offers far more seating than a chair or two, and it's perfect for any place that you have gatherings. It's the ideal outdoor patio furniture that's cheap and durable. Add some cushions to make it more comfortable.
---
5.

Pallet Bed With Hidden Storage
In need of a new bed frame? Why not build one with those old pallets. You can even stain it for a beautiful finish. And there are many ways for you to cover the pallets so no one will even know what it's made of.
---
6.

Wooden Pallet Coffee Table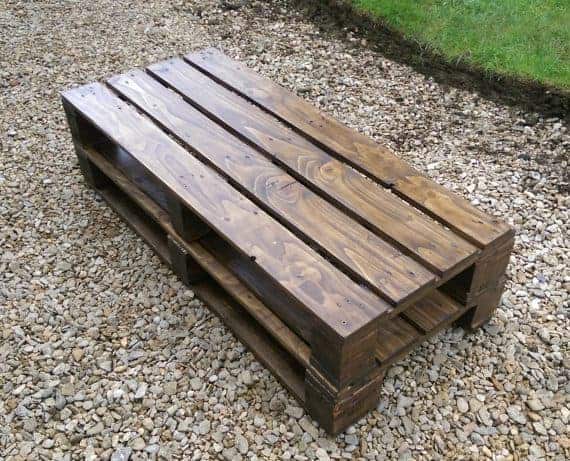 This wooden pallet coffee table is one of the most attractive projects on this list. Of course, that all comes down to how you finish it. The way this one is finished, it provides a rustic appearance without appearing too rough. You can easily make it in an afternoon out of a single pallet.
---
7.

Rustic Pallet Wood Side Table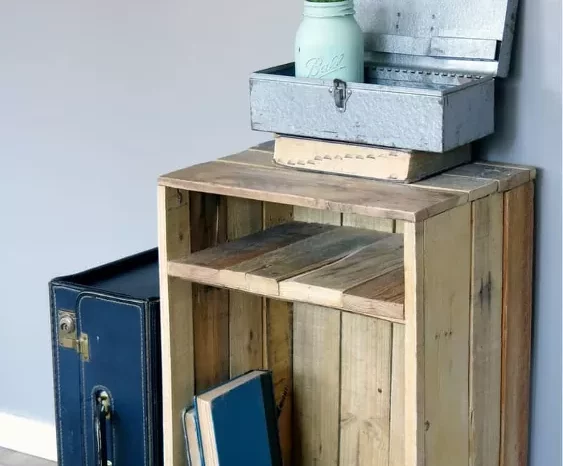 Almost anything you make from a repurposed pallet is going to appear rustic, including this side table. It's got lots of storage room inside, plus a shelf at the top that's perfect for holding the remote or your favorite book. But you can put as many shelves inside as you'd like, or none at all. Remember, you can always alter these projects to make them your own.
---
8.

DIY Pallet Bookshelf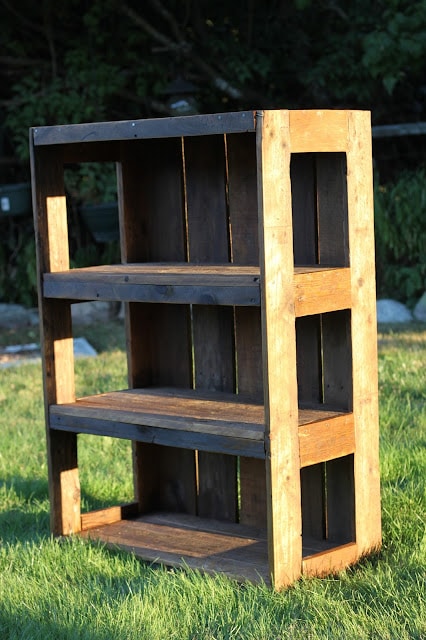 Books are almost outdated today. Everything's online now with services like audible and kindle. But if you're the type who still has a sizable collection of hard copy books, you'll probably want to show them off. What better way to do that than a project you made? This bookshelf looks so good that no one will assume it was made from repurposed materials.
---
9.

DIY Pallet Swing Bed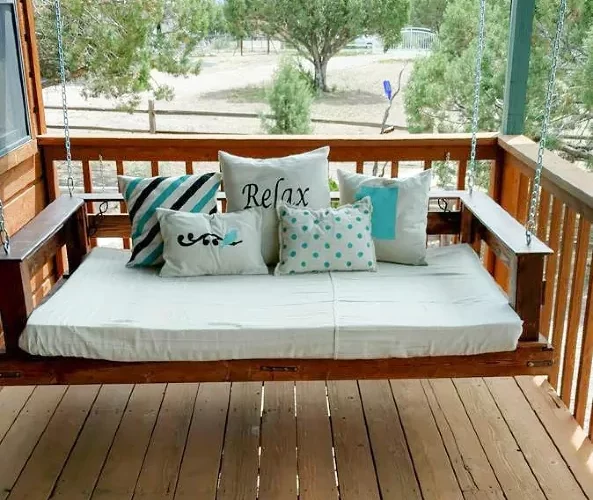 Swing beds are exactly what they sound like; beds that are hung as a swing. It's an interesting experience, and if you get to try one, you might just want to build one for yourself. Luckily, they're pretty cost-effective since you can easily make yours out of recycled pallet wood.
---
10.

Wood Pallet Deck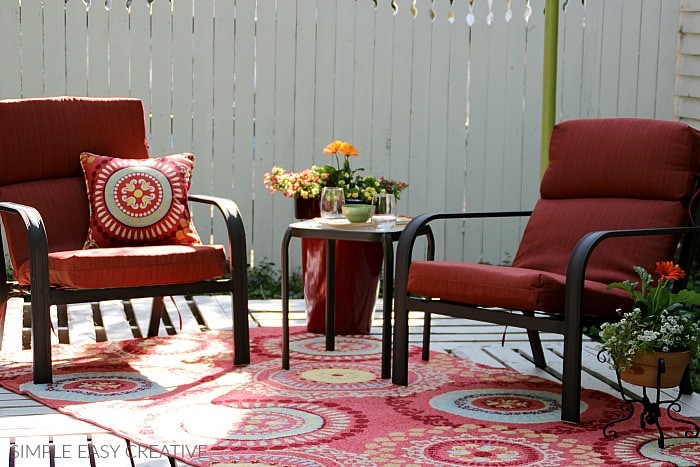 That deck you've been dreaming out seems so out of reach because of the high cost. But what if there was a cheaper way to build a deck? Try this deck made from pallets. It's easy, quick to build, and best of all it's cheap. You can even cover the top in a different type of wood if you want to completely transform it and mask the fact that it's built from old pallets.
---
11.

Kids Picnic Table from Pallet Wood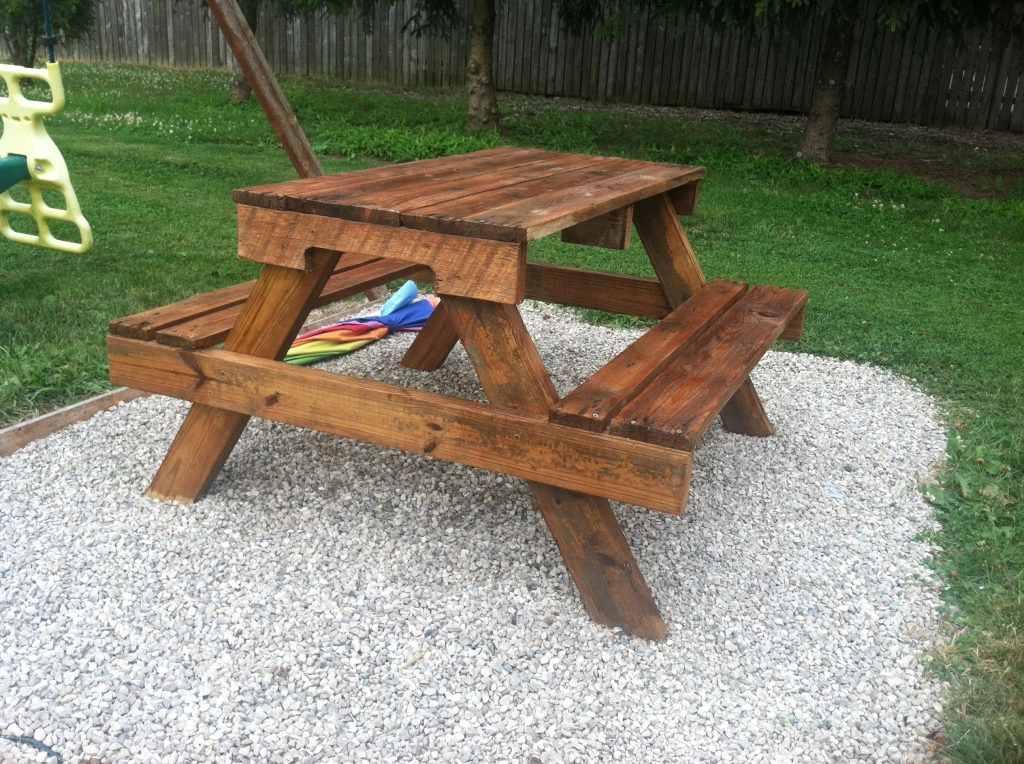 Kids always love picnic tables, so why not make the kids in your family a picnic table for them to enjoy? They're sure to eat there every chance they get. And you won't have to spend much to build it since you can make it from those old pallets you've got laying around. You can even enlist the help of the kids to start teaching them DIY skills at a young age.
---
12.

Dresser Built from Pallets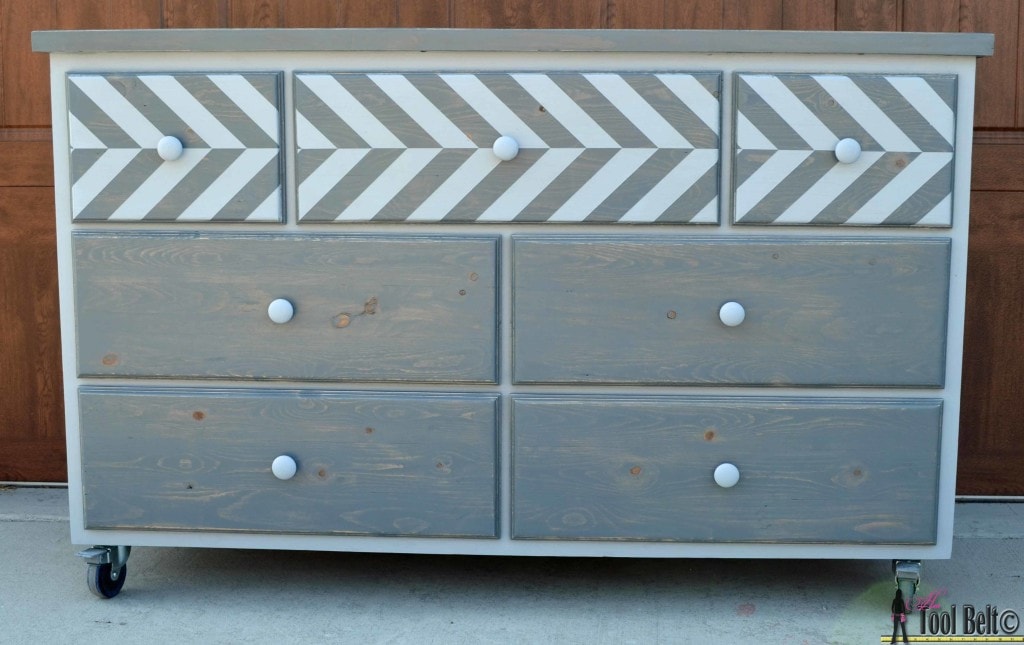 Looking at this finished dresser, you'd never know that it was built from old pallets, but it is. Granted, this project is on the more advanced end of the spectrum, but with some solid DIY skills and a host of good tools, you too can make an attractive and sturdy dresser out of repurposed pallet wood.
---
13.

DIY Pallet Bike Rack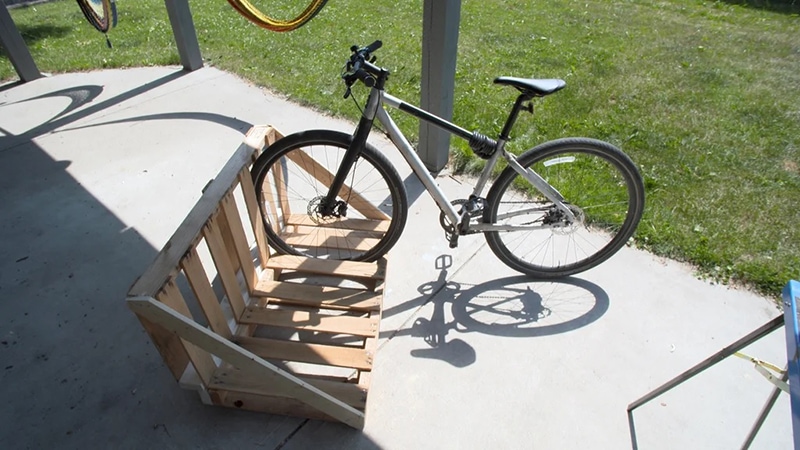 This bike rack plan only takes some pallets and basic woodworking equipment to make, and it houses a handful of bikes. You could use multiple pallets to expand the rack and store more bikes if you want, and the plan's dimensions are easy enough to adapt for that. A stocked workshop should have everything you need for this handy bike rack plan, making it as close to free as you can get for bike storage.
---
14.

Pallet Wood Workbench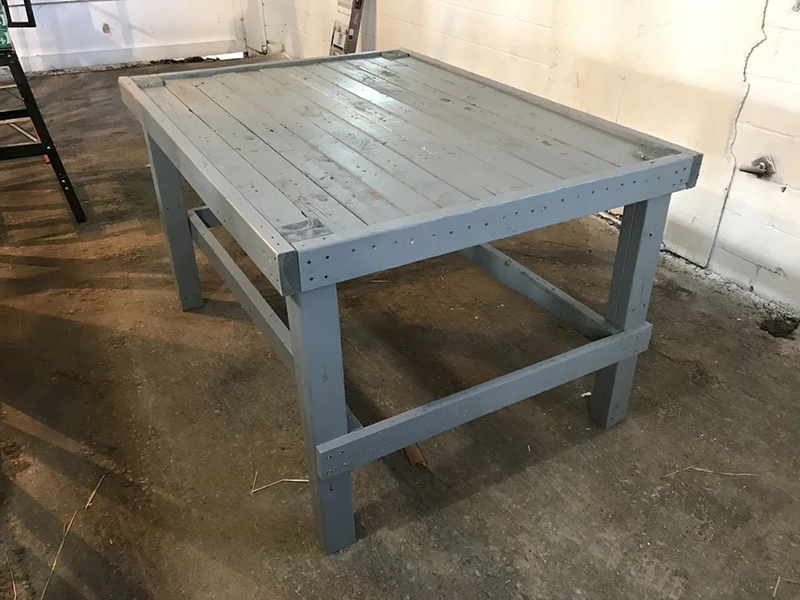 If you're running out of work surfaces and have some pallets lying around, why not kill two birds with one pallet and make this workbench? You just need some basics like a miter saw, drill, and other common carpentry tools to finish the project in a day or two. For bonus points, you can sand and add paint or stain to hide the fact that it's made entirely out of pallet wood!
---
15.

DIY Pallet Deck Chair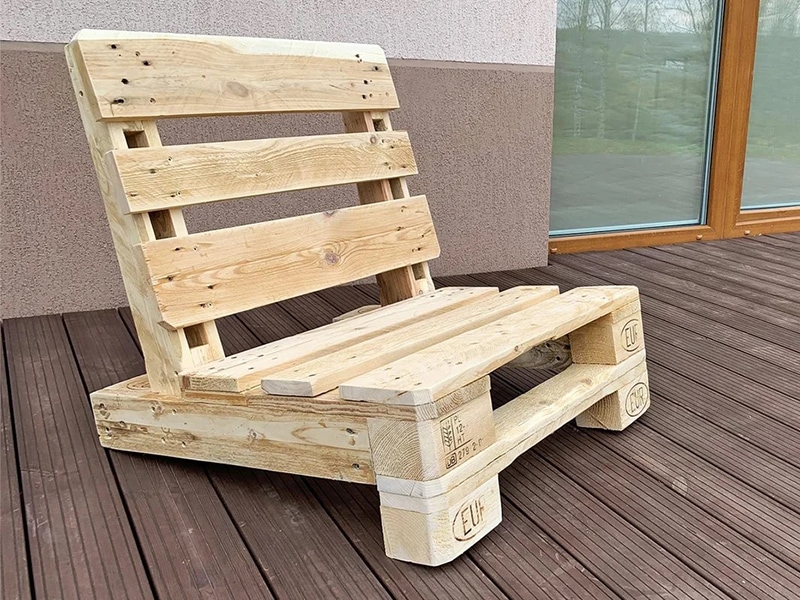 If you've already completed the pallet wood deck earlier, it might be looking a little sparse without a companion pallet deck chair. If you have some leftover pallets from the deck project, put them to work as serviceable deck chairs. You don't need any special tools, and it'll probably seem like a walk in the park compared to more involved projects in this article. Decorate and paint as desired, depending on the deck aesthetic you're aiming for.
---
16.

Pallet Wood Butcher Block Countertop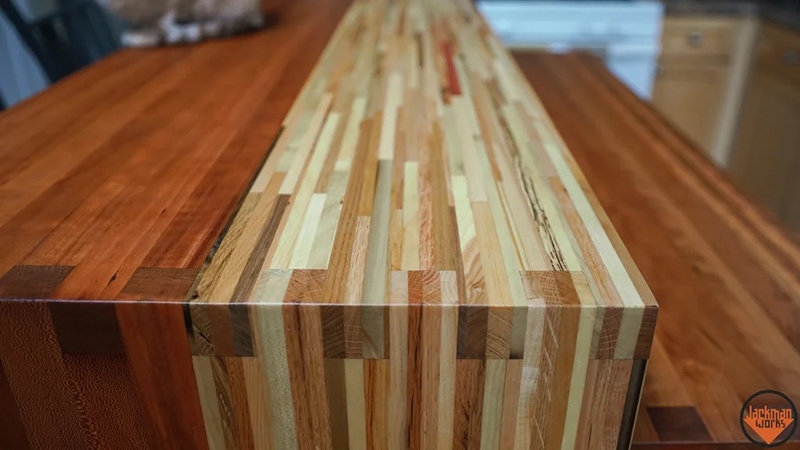 Master woodworkers looking for more kitchen space will love this advanced DIY pallet butcher block countertop, which takes a whole lot of tools and just as much know-how. It does call for some reclaimed cherry wood, but you could substitute it for anything that fits your kitchen's look. Lamination in particular is a tricky process, but the plan is pretty good at holding your hand through the process.
---
17.

Pallet Wood Headboard
Rustic, farmhouse-style bedrooms without a headboard would look great with this DIY pallet wood headboard, which looks awesome but takes shockingly little work. It's the same basic cut-sand-finish process you use for any other project here, although it does call for a big tool collection. The silver lining is that you can get away with not having the exact tools mentioned as long as your stuff gets the same job done to your satisfaction.
---
18.

Pallet Wine Rack
If you have more wine than you know what to do with, a pallet wood wine rack would be a great way to neatly store it all. The trickiest bit is carving out the gaps for your wine glasses, but we suppose you could skip that part if you just need to store bottles or don't have a drill press handy.
---
19.

Pallet Porch Couch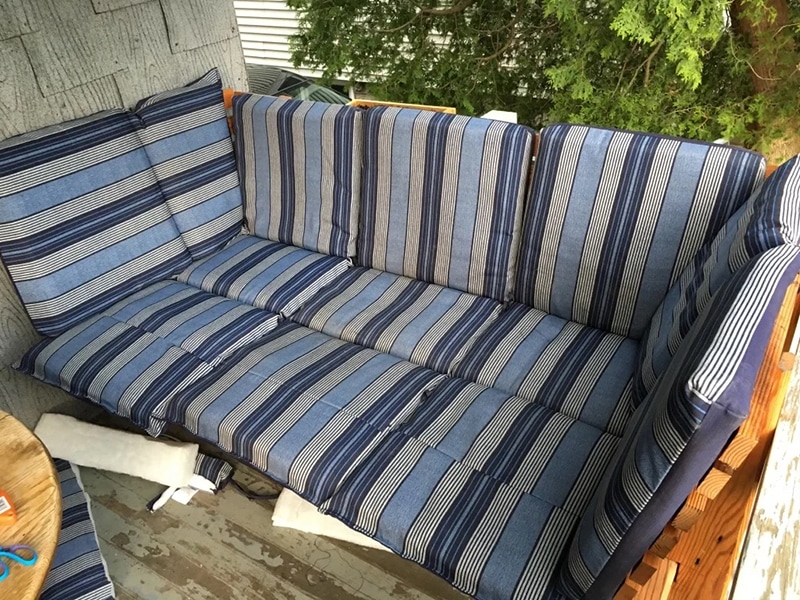 Short on seating? Take some pallet wood and upholstery and start building your own customizable porch couch. The plan uses premade cushions but notes that you could go further and make your own with weatherproof fabric and your preferred stuffing. We suggest building the couch before buying the cushions, or at least making precise measurements so you don't end up with weirdly fitting cushions on the couch.
---
20.

Pallet Patio Bar With Concrete Top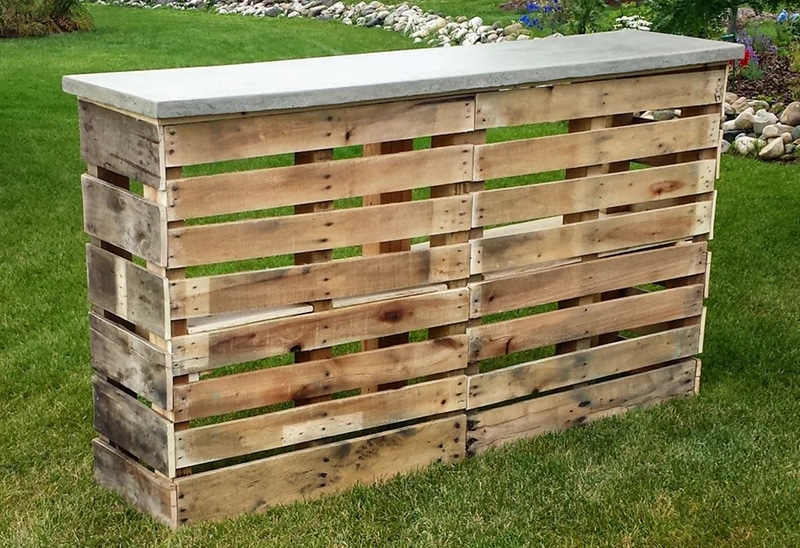 Add some rustic, functional style to any space with this concrete-topped pallet patio bar. Fashioning the wood into the table is pretty straightforward, but people inexperienced with concrete might have a hard time with the tabletop portion. Thankfully, it's not as hard as you'd think!

Conclusion
Pallets are some of the best wood to repurpose. They're easy to find, often free, and made with great wood that's perfect for building furniture. Hopefully, you've found some inspiration that can teach you how to build pallet furniture with these sets of furniture plans made from pallet wood. But you don't have to build them as they stand. Rather, you're free to enlist your ingenuity and use these plans as a starting point, creating something truly unique and special.
See Also:
---
Featured Image Credit: Pixabay