8 Best Space Heaters for a Bedroom in 2023 – Top Picks & Reviews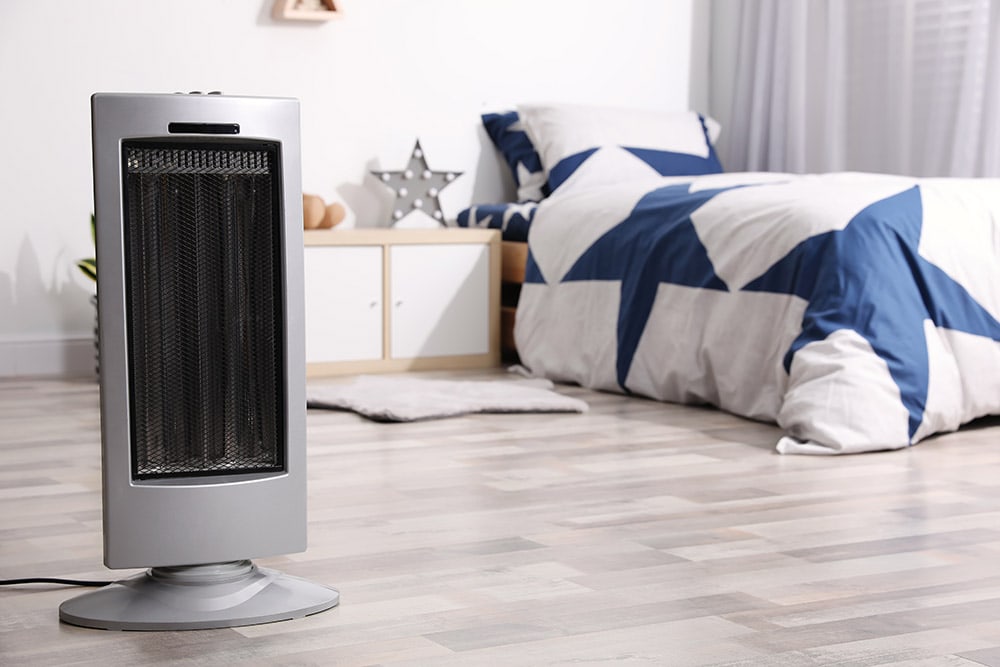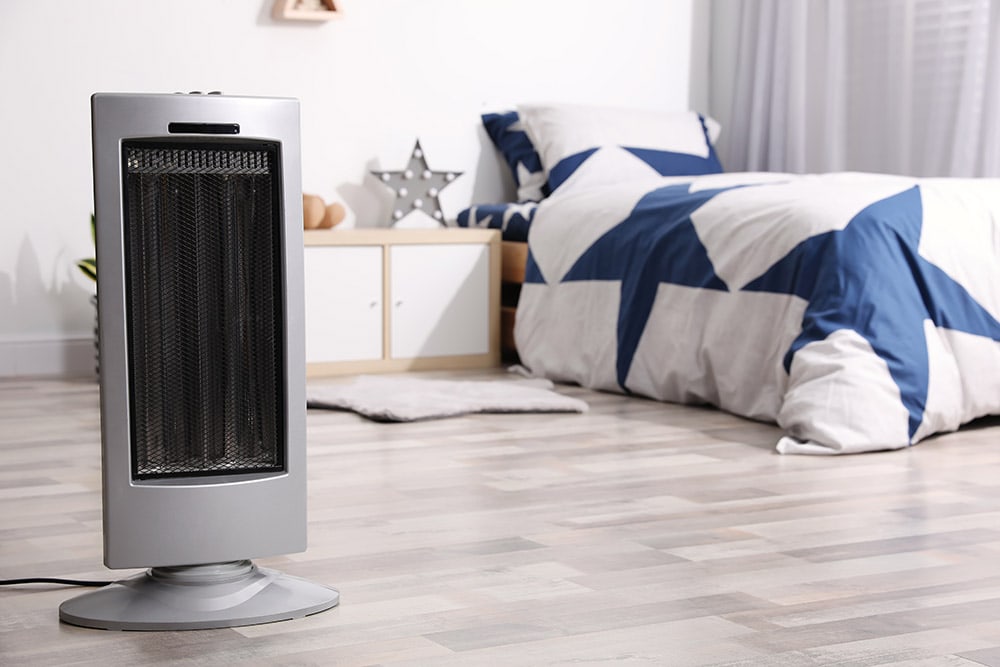 Space heaters are incredibly valuable devices that let you supplement or even replace your home's heating system in certain rooms. While space heaters will never compete with a complete home HVAC system, they can help make your room more comfortable on those deep, dark winter nights. In this article, we list and review the very best space heaters available. Let's dive in.

A Quick Comparison of Our Favorites of 2023
Rating
Image
Product
Details

Best Overall

Vornado Velocity 3R Space Heater

Velocity Tuned Heat technology
Cool-touch case
Automatic safety cutoff feature
CHECK PRICE

Best Value

Lasko Small Space Heater

1,500-watt power
Affordable
Long cord
CHECK PRICE

Premium Choice

Lasko Fan & Space Heater Combo Tower

Slim design
3 heat settings
Fan-only mode
CHECK PRICE

Vornado Oscillating Tower Heater

80 degrees of heat
Cool-touch exterior
Tip-over and automatic shutoff
CHECK PRICE

DeLonghi Portable Oil-Filled Radiator

Deep radiant heat
Never needs refilling
Overheat protection
CHECK PRICE
The 8 Best Space Heaters
1.

Vornado Velocity 3R Whole Room Space Heater – Best Overall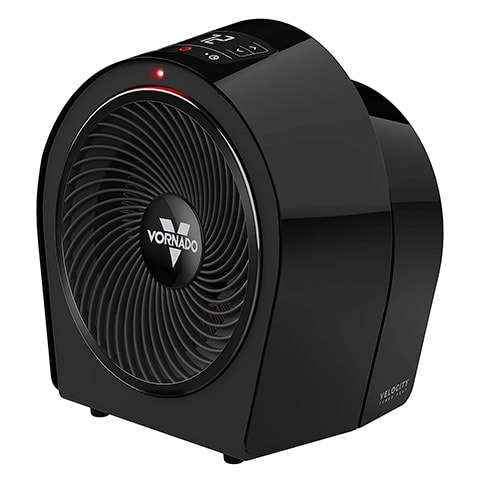 | | |
| --- | --- |
| Weight: | 4.5 pounds |
| Power: | 1,500 watts |
| Cord length: | 6 feet |
Vornado's Velocity 3R takes our spot as the best overall space heater, with precisely engineered fan technology that pushes air farther and faster than any other heater. The heater doesn't slack on safety, either, with a cool-touch case, 1–9 hour timer for convenience, and automatic safety cutoff. To control the heat level, you can select from three heat levels on the LED control panel, with an additional fan-only mode. The cord is an average of 6 feet long, but Vornado guarantees every heater works for 5 years.
The main downside to this heater is that its Velocity heater technology that makes the unit so powerful also makes it loud. Vornado estimates this heater is 10 decibels louder than its other models, which means 10 times louder. If you don't mind some white noise in the bedroom, though, this is one of the best heaters money can buy.
Pros
Velocity Tuned Heat technology helps provide hotter and faster heat
Cool-touch case
Automatic safety cutoff feature
Long cord
3 heat levels
Fan settings and fan-only mode
1–9 hour timer
Cons
Cord length is a bit lackluster
Several times louder than most other heaters
---
2.

Lasko Small Portable Electric Ceramic Space Heater – Best Value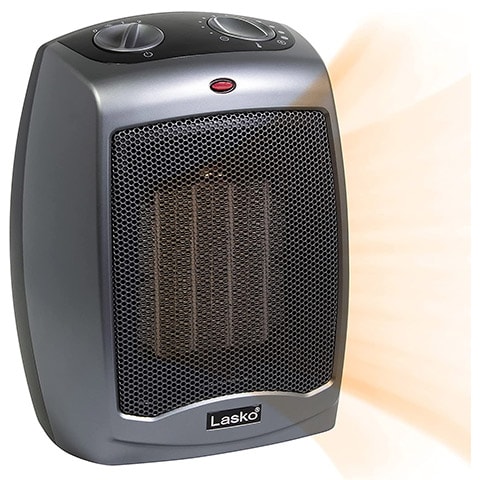 | | |
| --- | --- |
| Weight: | 2.9 pounds |
| Power: | 1,500 watts |
| Cord length: | 8 feet |
The best space heater for your money is Lasko's ceramic space heater, which has powerful heating capabilities at an affordable price. Don't be fooled—the price is in no way a compromise on the unit's power. It's more than powerful enough to warm a regular-sized bedroom, offering 11 temperature settings and various fan settings to customize your ideal heat level. It's perfect for small and even medium-sized bedrooms, plus the unit has a tip switch and overheat sensor protection to maximize safety when sleeping.
The main con of this heater is that it struggles a bit with larger rooms, which is mainly due to the heating style. Instead of convection heating, this heater releases a focused stream of heat in front of it. For larger rooms, it would take much more time to heat and be a bit less comfortable than other types of heaters. However, the Lasko ceramic space heater is incredibly powerful and versatile for its price point.
Pros
1,500-watt power provides plenty of heat
Affordable
Long cord
Overheat and tip safety features
11 temperature settings
Customizable fan settings to provide the right level of heat output
Lightweight
Cons
Focused heating style fills larger rooms at a slower rate
Lightweight design means it can be tipped over more easily
---
3.

Lasko Fan & Space Heater Combo Tower – Premium Choice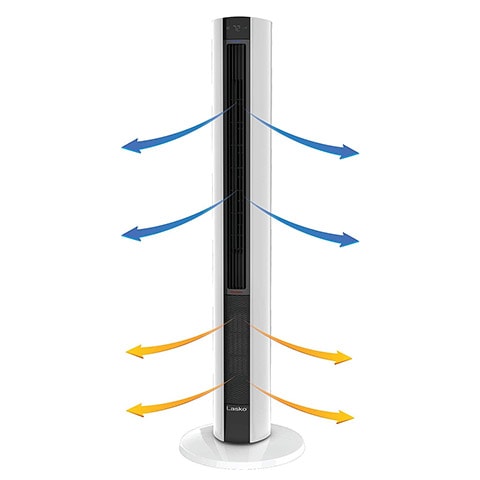 | | |
| --- | --- |
| Weight: | 12.5 pounds |
| Power: | 1,500 watts |
| Cord length: | 6 feet |
With a sleek and slim design and multiple heating/fan styles, Lasko's tower offering fills multiple niches in the bedroom. You can turn it on fan mode for the summer and spring, then switch on the heat in the bedroom. The oscillating tower design isn't just for aesthetics, either. It helps more evenly distribute heat throughout your bedroom than most other heaters on the market. The digital controls are intuitive, with three heating modes and four available fan speeds.
The main cons of this heater is that tower heaters don't have a very good track record. They tend to fail or malfunction prematurely. Other than that, the only con is that it can run up your electric bill quite fast, which is owing to the unit's power.
Pros
Slim design takes up very little floor space
3 heat settings with up to 1,500 watts of power
Fan-only mode for spring and summer
Tower design more efficiently distributes heat and air than other heaters
Cons
Longevity is questionable
Uses more energy than other space heaters
---
4.

Vornado Oscillating Tower Heater
| | |
| --- | --- |
| Weight: | 8.8 pounds |
| Power: | 1,500 watts |
| Cord length: | 6 feet |
Vornado's tower heater is nearly as impressive as their Velocity, but with a striking obsidian-style obelisk design. This design isn't just aesthetic, either, because it provides 80 degrees of heating with all the power Vornado is known for. It has two illuminated heat settings and a fan-only option for all-season use. On the topic of safety, it's no slouch either, with a cool-touch exterior, tip-over protection, and a two-stage automatic shutoff system.
This unit doesn't offer the same level of powerful heating as the Velocity, so it won't warm up a room as quickly. Another notable con is that it doesn't have a temperature setting like other heaters, so you can't precisely control the heat level.
Pros
80 degrees of heat
Fan-only mode
Cool-touch exterior
Tip-over and automatic shutoff features
Cons
Not as useful in large bedrooms
No temperature settings
---
5.

DeLonghi Safe Heat ComforTemp Portable Oil-Filled Radiator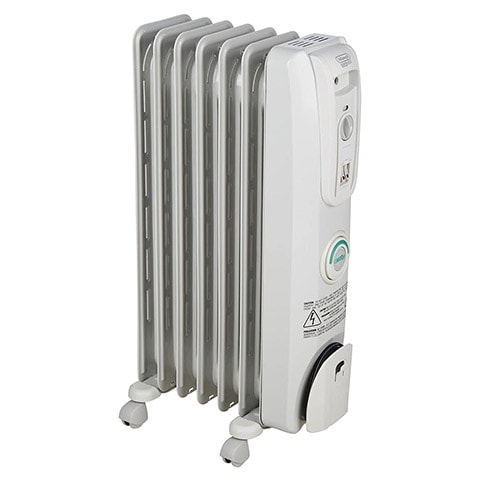 | | |
| --- | --- |
| Weight: | 23 pounds |
| Power: | 1,500 watts |
| Cord length: | 4.9 feet |
Oil heaters are much different than electric heaters, heating a space in a deeper and more prolonged manner. This oil-filled heater from DeLonghi is permanently sealed, never needs refilling, and is perfectly safe for any indoor space. The unit has automatic overheating protection and a handy comfort temperature setting that lets you select the perfect temperature for long periods of time.
This heater has the same downside as all oil-filled heaters: it's poor for space and spot heating. For optimal heat, you'll have to let it preheat in a space before you can expect it to stay warm and toasty. Another minor gripe is that the cord length is rather mediocre, measuring just shy of 5 feet. Finally, the unit is surprisingly heavy, weighing several times most other space heaters.
Pros
Deep radiant heat
Never needs refilling
Patented Smart Snap wheels for convenient transport
Overheat protection
Comfort temperature settings
Cons
Heavy
Not good for spot heating
Needs to preheat in a space
---
6.

Dr. Infrared Heater Portable Space Heater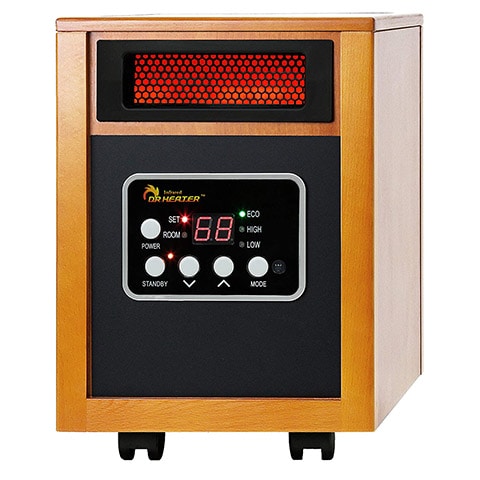 | | |
| --- | --- |
| Weight: | 25.4 pounds |
| Power: | 1,500 watts |
| Cord length: | 6 feet |
With a stylish wood case, this heater would be at home next to a subwoofer. The front has clearly marked buttons and displays, with a digital thermostat that ranges from 50°F–85°F. There's a 12-hour timer, it can oscillate up to 360 degrees, and it's extremely quiet. Because it's an infrared heater, it's safer to use around pets and children. Although the infrared technology doesn't offer it any extra heating power, it is more radiant than your typical electric heater.
The most notable downside is that the unit is very heavy, although it has caster wheels for relocation and transport. Another major con is that numerous users say that you must plug the heater into a wall outlet because it will melt power strips and extension cords.
Pros
Stylish appearance
Infrared technology is safer than typical electric heaters
Wide range thermostat
Intuitive control panel
Has caster wheels for transport
Cons
Heavy, even if it has wheels
Must be plugged into a wall outlet
---
7.

Honeywell 360 Degree Surround Heater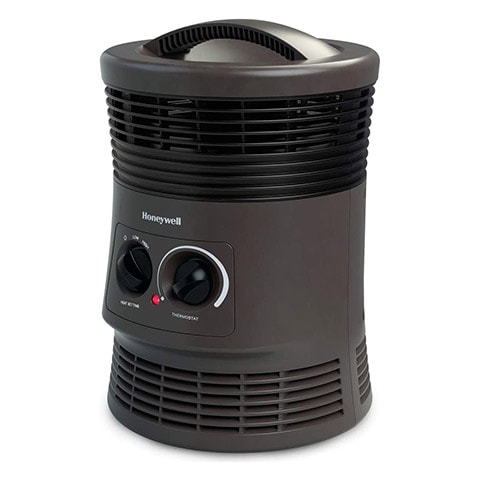 | | |
| --- | --- |
| Weight: | 5.4 pounds |
| Power: | 1,500 watts |
| Cord length: | 6 feet |
This heater from Honeywell is a compact electric heater with 360-degree output, although the heating isn't particularly even. The heater has two heat settings, with a variable thermostat that pops up to help you stabilize the heat output. It's small, so it isn't particularly effective at heating large spaces by itself. However, it's perfect for curling up next to with a book and a mug of cocoa.
Some other notable features are its affordability and noise level. It's much more affordable than high-quality heaters, but it's several times louder than even budget heaters. For a small source of heat, though, you can't beat this one for the price.
Pros
360-degree heat output
Easy to use
Lightweight
Handle for easy transport
Cons
No oscillation
Loud
Struggles to heat entire rooms
---
8.

Pelonis 2-in-1 Vortex Fan and Heater
| | |
| --- | --- |
| Weight: | 4.4 pounds |
| Power: | 1,500 watts |
| Cord length: | 5.8 feet |
With a compact design, this heater/fan combo is best mounted on a nightstand, dresser, or table. The convection-style fan helps send heat surprisingly far for such an affordable product, but it's not necessarily even. The top-mounted digital control panel is easy to use, with settings for temperature, fan level, and temperature. It also has the standard safety features of a tip-over switch and overheat shutoff.
Although it's also valuable as a convection fan in other seasons, the heating component will never replace a home heating system or even a more high-powered space heater. It's great for spot heating or at a desk, but it won't keep your whole room toasty through the night.
Pros
Convection fan helps spread air and heat
Easy-to-use controls
Compact design is perfect for an end table or nightstand
Cons
Can't heat a whole room
User reviews indicate that some units have manufacturing defects

Buyer's Guide: Selecting The Best Space Heaters for Bedrooms
Not all space heaters are created equally, and there are several key areas you should be looking at when choosing the perfect heater for your bedroom. Namely, safety features, fans, heating capacity, and thermostats. Let's check out these areas in more detail below.
Safety Features
Heat and electricity can have some unpredictable reactions in the home, especially when you're sleeping. So, it's important to look for safety features that prevent accidents from starting fires or causing electrical mishaps. Most heaters have tip-over switches on the bottom, which automatically turn the heater off when the heater isn't perfectly level or tips over. Another standard feature is overheat shutoff, which cuts off the heater when it gets too hot. This helps to prevent electrical fires in the home.
---
Fans
Heater and fan combos are often found in tower and compact desk-mounted units. The handy thing about these is that the fan helps to evenly disperse heat (and air) throughout your room or other spaces. When it gets warmer and you'd typically put your heater away for storage, you can keep these around to use as a high-powered fan. This helps make them a year-round investment instead of splurging for a product you'll only use in the winter.
---
Heating Capacity
All the heaters on our list have up to 1,500 watts of heating power, although this is usually the highest setting on the heater. Lower settings of 900 watts and 750 watts are also common, or units have a thermostat and don't even tell you the power difference. Higher settings will run up your power bill very quickly, especially if you leave it on 24/7.
---
Thermostat
Thermostats are an attractive and practical addition to any heater, allowing you to precisely control the temperature and power usage of your heater. There's no frustrating guessing at what a heater's low and high settings mean or playing a balancing game with the settings. Simply select the optimal temperature, and the unit will maintain it. Cheap heaters rarely have this setting, while it's typically standard on pricier heaters.

Conclusion
They might not replace your home's HVAC system, but space heaters can make your bedroom or drafty areas more comfortable in those blizzard bursts. The Vornado Velocity is the top of the line, while Lasko's Portable Ceramic Electric Heater is a more budget-friendly option. Regardless, you're sure to find a heater with excellent reviews on this list that fits your needs.
---
Featured Image Credit: New Africa, Shutterstock