8 Best Paints for Basement Walls in 2023: Reviews & Top Picks
If you're planning on giving the basement an overhaul, you're probably thinking about painting/waterproofing the walls first. This is one of the cheapest yet most effective ways of sealing the cracks and making the basement look brand-new. However, you need to know what to look for in paint. We're talking about capacity, resistance, and compatibility, and you'll learn your way around that in the Buyer's Guide.
But first, we want to introduce you to the eight best paints for basement walls. During our in-depth reviews, these brands have proven to be both reliable and long-lasting. They easily withstand the effects of Mother Nature (mainly humidity) and do a great job of hiding imperfections. So, if it's finally time to refresh the basement and you're looking for the right kind of paint, we're confident that you'll find the perfect pick for your basement right there!

A Quick Comparison of Our Favorites of 2023
Rating
Image
Product
Details

Best Overall

Rust Bullet DuraGrade Concrete Coating

Outstanding adhesion to concrete
Highly resistant to natural elements
Available in 20 different colors
CHECK PRICE

Best Value

AQUA-X 11 Clear Penetrating Stone

Available at an affordable price
Incredibly fast dry times
Low VOCs and no odors
CHECK PRICE

Premium Choice

Armor AR500 High Gloss Solvent Based

Formulated from non-recycled resins
Makes faded concrete look brand-new
Extended lifespan: up to 7 years
CHECK PRICE

KILZ Basement and Masonry Waterproofing Paint

Very easy to clean
Works on various surfaces
Withstands 12 PSI of water pressure
CHECK PRICE

KILZ Interior/Exterior Self-Priming Masonry

Gives a clean, refreshed look
Looks great with a single coat
Specifically mixed for walls
CHECK PRICE
The 8 Best Paints for Basement Walls
1.

Rust Bullet DuraGrade Concrete High-Performance Concrete Coating – Best Overall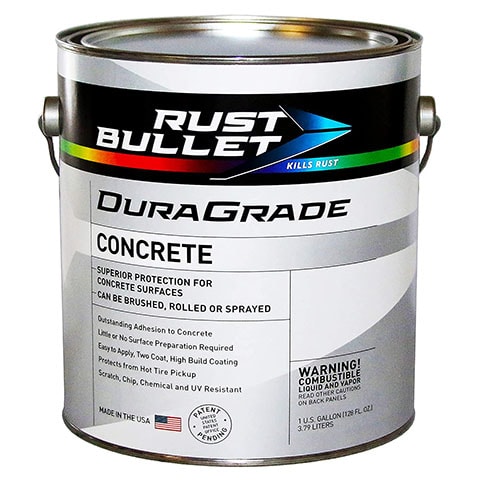 | | |
| --- | --- |
| Volume: | 1 Gallon |
| Finish type: | Gloss |
| Compatibility: | Concrete |
What are you looking for in paint/coating for your basement? Most likely, you're in the market for a product that easily "sticks" to concrete and handles humidity and UV rays. Well, that's exactly what you'll get with our top pick—DuraGrade by Rust Bullet. On top of having impressive adhesive capabilities, it's also practically immune to scratching and chipping. And you won't have to spend hours preparing the walls for the paint.
That's right: this product doesn't require a base coat, topcoat, or primer—you can just skip all those steps. As a bonus, buyers get to choose between 20 vibrant colors, including blue, green, red, white, and black, to name a few, and that's what makes it the best overall paint for basement walls. We have to warn you, though, that it has a strong smell. Thankfully, it goes away quickly after you open the lid.
Pros
Outstanding adhesion to concrete
Highly resistant to natural elements
Available in 20 different colors
Minimal prep work required
---
2.

AQUA-X 11 Clear Penetrating Stone and Concrete Sealer – Best Value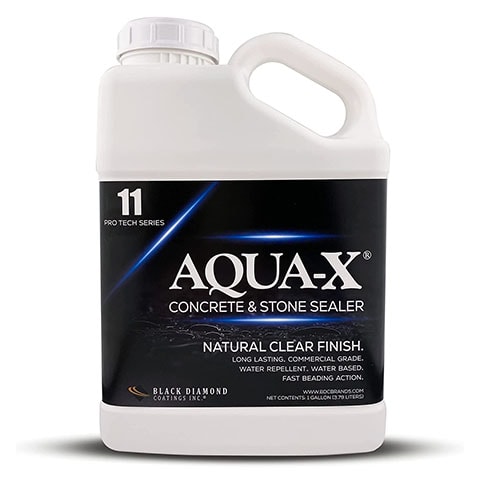 | | |
| --- | --- |
| Volume: | 1 Gallon |
| Finish type: | Natural |
| Compatibility: | Concrete, stone |
If your budget for the basement walls is limited, but you still won't settle for average-quality paint, pay attention to what AQUA-X has to offer. This product comes at a very reasonable price and takes 1–2 hours to dry. Another standout feature: you won't have to open every single window and door or put on a mask when using this paint, as it is 100% safe for humans and pets. Plus, it's largely odorless, which is also a pro if you can't tolerate that distinctive smell of paint.
The canister deserves your attention as well, as it comes with a handle that makes it very easy to use. Plus, it has a lid/cap for storage. As for capacity, the sealer is available in 1- and 5-gallon bottles. However, while you can paint up to 800 square feet on stone surfaces (per gallon), concrete coverage isn't quite as impressive (100–300 square feet). Still, AQUA-X 11 is the best paint for basement walls for the money.
Pros
Available at an affordable price
Incredibly fast dry times
Low VOCs and no odors
Quick Start guide included
Cons
Average coverage on concrete
---
3.

Armor AR500 High Gloss Solvent Based Acrylic Concrete Sealer – Premium Choice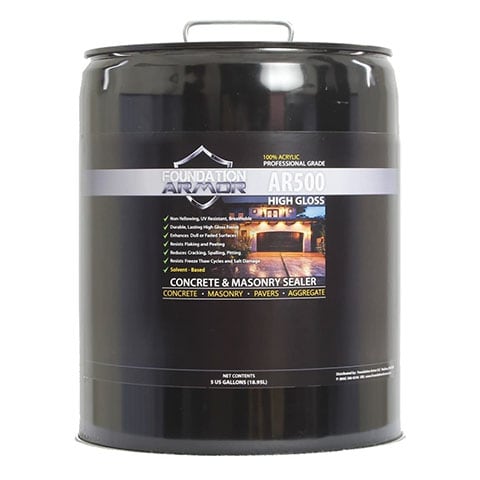 | | |
| --- | --- |
| Volume: | 5 Gallons |
| Finish type: | High-gloss |
| Compatibility: | Concrete, masonry, stone |
What makes a can of paint premium? And, more importantly, why should you pay extra for that? Well, let's look at the facts. First, the AR500 high gloss sealer is made from non-recycled resin (US-based). Second, it's breathable, easily penetrates high solids, and boasts enhanced bonding characteristics. If the walls in your basement are somewhat old and faded, AR500 will make them look good as new, which can't be said about most paints.
Oh, and while the price tag is, indeed, a bit steep, Armor does cover up to 2,000 square feet (it arrives in a 5-gallon container). Lastly, in contrast to most similar products that only last for 3–4 years, Armor has an above-average lifespan of 5–7 years. Add fast, friendly, and helpful support agents, and you'll see why we named this concrete/stone/masonry paint a premium choice!
Pros
Formulated from non-recycled resins
Makes faded concrete look brand-new
Extended lifespan: up to 7 years
Backed by helpful customer support
Cons
A bit on the expensive side
---
4.

KILZ Basement and Masonry Waterproofing Paint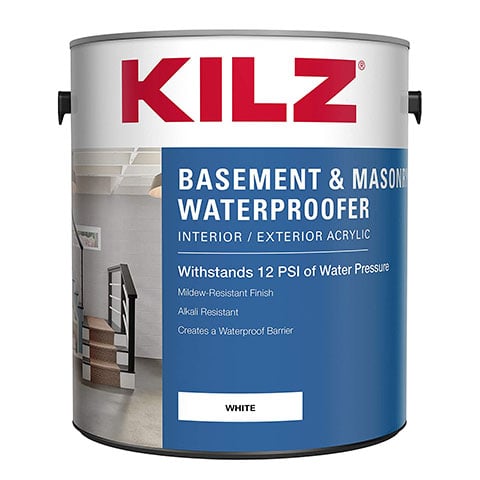 | | |
| --- | --- |
| Volume: | 1 Gallon |
| Finish type: | Matte |
| Compatibility: | Concrete, masonry, wood, metal |
The first thing that will probably grab your attention when checking this paint out is how compatible it is. You can apply it to concrete, metal, masonry, and even wood, and the results will be equally decent. It's not recommended to use on basement walls with active water leaks, though. Furthermore, you'll have to spend quite some time until you mix it to the desired consistency.
On the bright side, this KILZ waterproofing paint takes minimal effort to clean. All you'll need for that is some water, a piece of cloth, and that's it—no need for vinegar or any cleaning solutions. Also, this paint easily handles 12 PSI of hydrostatic pressure. So, if you live in a hot and humid area that floods a lot, keep that in mind. It can be applied to both interior and exterior surfaces.
Pros
Very easy to clean
Works on various surfaces
Withstands 12 PSI of water pressure
Cons
Takes a while to mix
Weak against active leaks
---
5.

KILZ Interior/Exterior Self-Priming Masonry, Stucco and Brick Flat Paint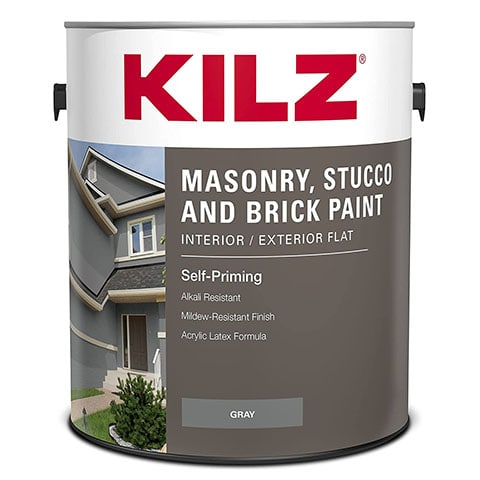 | | |
| --- | --- |
| Volume: | 1 Gallon |
| Finish type: | Natural, flat |
| Compatibility: | Masonry, brick, stucco |
Here, we have another decent-quality option from KILZ—one of the biggest "players" on the market. The capacity is the same, but the finish type is flat instead of matte. And, it's better suited for bricks and stucco. If you're looking for self-priming paint that gives the walls a refined, refreshed look, this could be a great investment. More good news: for most surfaces, a single coat of this paint will be enough.
Since it's designed and formulated with walls in mind (also, it does work on floors and ceilings), a couple of gallons of this product can cover the entire basement. It's very thin compared to the market average, however; it has low viscosity and is a bit of a challenge to spread. You'll have to constantly dip the roller into the bucket, and that can be tiresome at times.
Pros
Gives a clean, refreshed look
Looks great with a single coat
Specifically mixed for walls
Cons
Thin (low viscosity)
Hard to spread
---
6.

L R Liquid Rubber Concrete Foundation and Basement Sealant
| | |
| --- | --- |
| Volume: | 5 Gallons |
| Finish type: | Natural, flat |
| Compatibility: | Concrete, metal, wood |
The problem with many all-purpose paints is that they don't always stick properly. But, that won't be an issue with the Liquid Rubber sealant. As the manufacturer puts it, the final membrane has 900%+ elongation, which minimizes the chance of cracks ruining the walls. This is a water-based, non-flammable product that can be used freely around family and pets.
It's also environmentally friendly: no solvents or nasty smells. On the downside, you will have to put some effort into cleaning it if you get a drip or two on your clothes. So, make sure to put protective gloves on and wear an old outfit. Another con has to do with quality control. A small number of buyers report bad packaging, dented containers, and even leakage.
Pros
Water-based, non-flammable
Protected against adhesion failure
An eco-friendly product
Cons
Minor QC issues
Hard to clean
---
7.

INSL-X SU092209A-01 Sure Step Acrylic Anti-Slip Coating Paint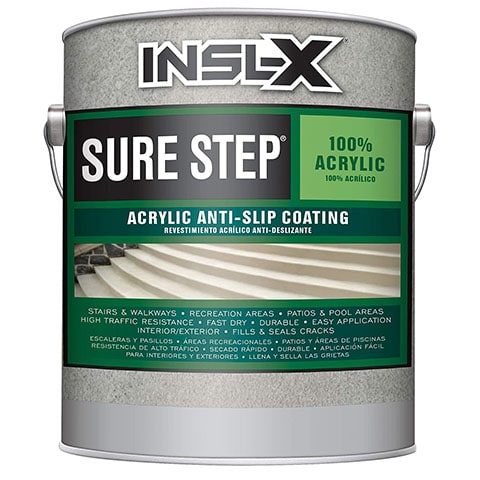 | | |
| --- | --- |
| Volume: | 1 Gallon |
| Finish type: | Matte |
| Compatibility: | Concrete, metal, wood |
If you don't have a stick to stir the paint or a tool for opening cans, INSL-X could be a worthy pick, as it comes in a generous package. It boasts above-average color retention, too, along with abrasion resistance. This is anti-slip paint that works both for floors and walls and provides a matte finish that looks lovely on most basements. Unfortunately, its curing time leaves a lot to be desired. While most paints on the list are dry to touch in 2–5 hours, this product takes up to a day to cure.
For people in a hurry to get the job done, this is a significant downside. Surface coverage isn't particularly impressive, either: you'll only be able to paint 80–120 square feet with one gallon (versus the market average of 100–400 square feet). To compensate for that, INSL-X is available in 7 different colors. They're all toxic to foliage, though.
Pros
Excellent color retention
Stir stick and can opener included
Cons
Only covers 80–120 sq. ft.
Takes 24 hours to cure
Toxic for foliage
---
8.

Drylok 27512 Latex Water Proofer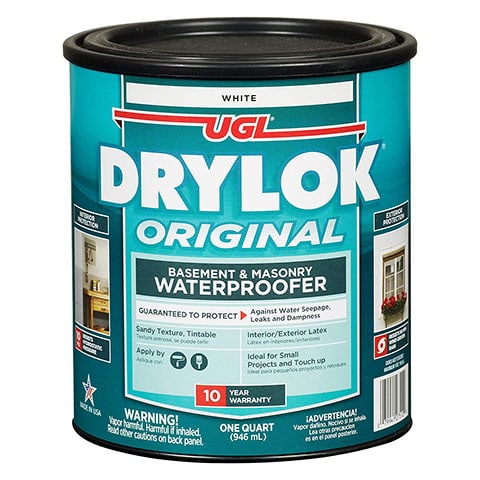 | | |
| --- | --- |
| Volume: | 1 Quart (0.25 Gallon) |
| Finish type: | Gloss |
| Compatibility: | Concrete, masonry |
This is one of the smallest cans of paint out there. So, if you're planning on treating all four walls on an average-size basement, you'll need a lot of Drylok canisters. And, you will have to pay a pretty penny for that, as this latex paint isn't very cheap. Besides, depending on where you live, shipment slash delivery won't always be swift, forcing you to wait for an extra day or two.
There won't be much waiting for the product to dry, however, as it only takes 3 hours to dry for a new coat. Sadly, the texture is a bit too grainy for basement walls. Going back to the pros, Drylock backs its paint with a generous 10-year warranty. Don't hesitate to take advantage of it if need be.
Pros
Dries in 2–3 hours
10-year warranty
Cons
Grainy texture
Delivery takes time
Overpriced for the can size

Buyer's Guide: Selecting The Best Paint for Basement Walls
What's the Average Canister Size/Capacity for Wall Paint?
Most basements in the US are 500–1,500 square feet in size and 8 feet high. However, it's not rare for homes to have basements that reach 2,000 or even 3,000 square feet. More importantly, when trying to figure out how much paint you need for this project, you should measure the walls, not the whole basement (unless you want to paint the ceiling and the floor as well). Measure the length and the width of each wall, multiply those two numbers, and you'll get the square feet.
But wait—how many square feet will one canister of paint cover? One gallon can successfully cover up to 400 feet. That means 2–3 cans will be enough to paint the entire basement.
Why Is Weather Resistance So Important?
When we're talking about protection against natural elements, we mostly mean resistance to humidity. Abnormal levels of moisture can make even the sturdiest concrete crack. Besides, when there are cracks and it rains, that can lead to a flooded basement. That's exactly why it's vital to weatherproof the entire perimeter: it's the most effective remedy against potential floods.
Surface Compatibility: Learning to Pick the Right Paint
While there are many "universal" products on the market, it would still be best to find a can of paint that was specifically made with your walls' material in mind. Now, most basements are built from concrete and it shouldn't be hard to find paint for that. The same is true for stone. However, if it's metal or wood, you might have to spend a bit more time, as products that come with a "for basement walls" tag don't always stick well to these surfaces.
If you're not 100% sure whether a certain brand has the right kind of offer for you, don't hesitate to get in contact with customer support. Or check the description on the official website: it should have all the necessary info.
How Much for Decent-Quality Basement Wall Paint?
Don't worry: you won't have to spend a fortune on paint for your basement. In the US, one gallon of wall paint is available for $20–$80. Yes, the price range is quite wide, but that's because there are many factors to consider. First, the bigger the canister, the more you'll have to pay for it. The brand also has a big impact on the price: a well-known company will charge extra.
Longevity, durability, and chemical composition shape the cost as well. Oh, and if it's a US-made product, it will come at a slightly higher price. As for premium-quality paint, it can be as expensive as $100–150 for a gallon. That's a bit steep but well worth it if you want maximum protection and aesthetics for the basement. The good news is—most paint cans come with decent discounts if you opt for 5 gallons.
How Long Does It Take to Dry?
The short answer is—not that long. Just like any other sealing/waterproofing product, basement wall paint takes 2–8 hours to dry. If it's really hot outside, you'll be able to touch the walls in 4–5 hours. In contrast, a cold and humid climate makes it harder for the paint to dry. Still, no matter how bad the weather is or how cheap the product is, it will dry in less than 24 hours. And if it's latex paint, it will be ready for a second coat in 1–2 hours, or even sooner.
What's the Average Lifespan?
It greatly depends on two things: the area that you live in and the quality of the paint. If your house is located somewhere in the South, in a city/town that's prone to flooding, that will have a huge negative effect on the lifespan of your sealant product. Earthquakes are an even bigger threat, while tornadoes don't do much in that regard. Above-average humidity levels and seismic activity: that's what makes a weatherproofing product crack and lose its properties.
So, how long can you expect decent-quality basement wall paint to last? In a perfect scenario, it will serve you for 8–10 years. However, experts in the field recommend resealing basement walls and floors every 2–4 years or at least checking on them to make sure they don't chip or fade. To make the paint last longer, apply 2–3 coats to each surface.
What About the Floor and the Ceiling?
Yes, both the "top" and the "bottom" will greatly benefit from renewing the paint/sealant. This is especially true for the floor. So, if you're ready to pay a bit extra to have the basement properly sealed and ready for a flood, it would be best to paint the floor and the ceiling as well. Do keep in mind, though, that these surfaces are a bit more challenging to cover. With the floor, you need to always be careful not to step into already-painted spots.
As for the ceiling, it's harder to use a brush when you're standing on a chair/table/ladder and have to constantly look up and watch out for dripping paint. Start with the walls, see how much money you spend and how much effort you put into that, and decide whether you want to get some more work done, or not. And one more thing: the paint on the ceiling lasts the longest. The floor, in contrast, is under constant "abuse" and requires refreshing the paint/sealant more often.

Conclusion
And that concludes our detailed reviews! If you want the finest paint for your basement, we recommend Rust Bullet. It is element-resistant, sticks easily, and doesn't require any prep work. Not sure your budget can handle this paint? No worries—go with the AQUA-X product instead. It is very cheap, dries swiftly, has no odors, and does a decent job of sealing interior and exterior surfaces.
As for our premium choice, Armor AR500 has an extended lifespan, strong support, and looks great on basement walls. Take your pick!
---
Featured Image Credit: Africa Studio, Shutterstock