8 Best Standing Desks in 2023: Reviews & Top Picks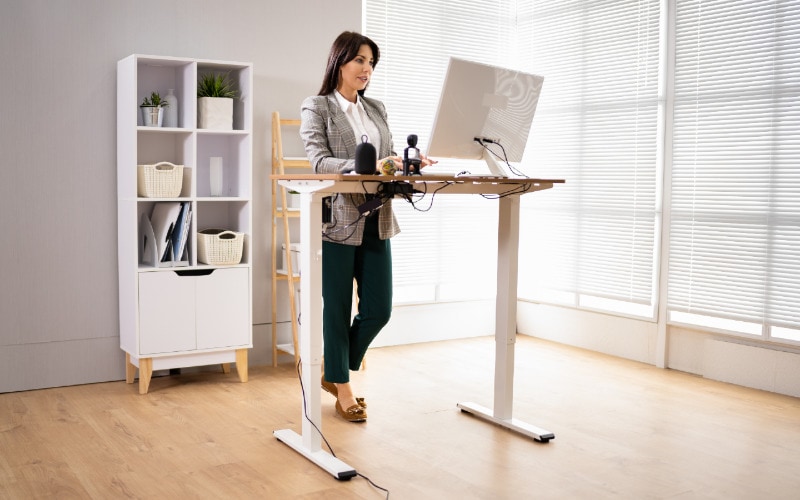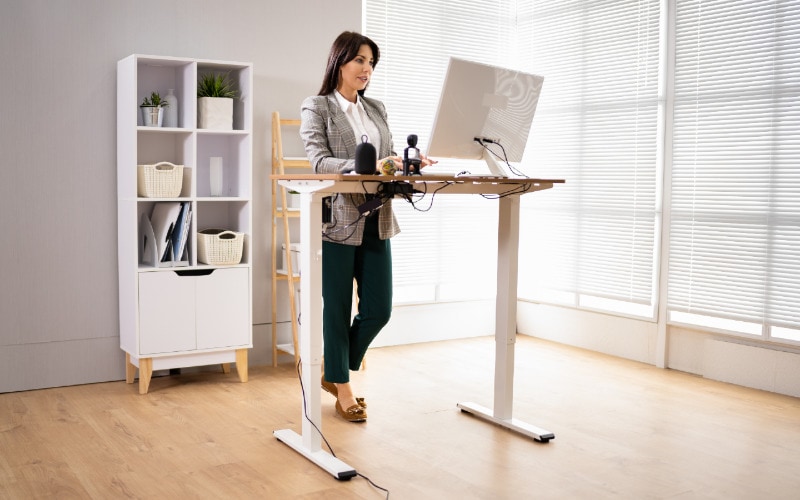 Standing desks have become increasingly popular recently and it's not hard to see why. With the rising awareness of the health effects of sitting for the whole day, more people are steering away from normal desks.
The adjustable height of standing desks set them apart from the regular, traditional desks. And if you are worried about having to stand for the entire day, you can easily switch between standing and sitting.
Before you get a standing desk, you should consider the different types of standing desks on the market and what to look for when choosing one. We've compiled a list of the best standing desks according to functionality and broken down all you need to know about them. Read on to find out more.

A Quick Look at Our Favorites in 2023
Rating
Image
Product
Details

Best Overall

Vari Electric Standing Desk

Large surface
The steel legs are sturdy
Quiet
CHECK PRICE

Best Value

Branch Standing Desk

Easy to assemble
Four different heights
Durable
CHECK PRICE

Premium Choice

Flexispot EP4 Classic Electric Standing Desk

Has quiet motors
Has two desk hooks for accessories
Built-in power supply
CHECK PRICE

OUTFINE Dual Motor Height Adjustable Standing Desk

Relatively easy to assemble
Durable
Anti-spill cup holder
CHECK PRICE

Uplift Standing Desk V2

Easy assembly
Customizable
Durable
CHECK PRICE
The 8 Best Standing Desks
1.

Vari Electric Standing Desk — Best Overall
| | |
| --- | --- |
| Max Height: | 50 inches |
| Difficulty: | Easy to assemble |
| Power: | Electric |
| Weight: | 30 pounds |
The Vari Electric Standing Desk standing desk is 60 inches wide and has a depth of 30 inches. It provides ample desktop space and can carry a maximum weight of 200 pounds, enabling it to hold a double monitor and a printer with no problem. It also has a "reclaimed wood" look that makes it more aesthetically pleasing.
To install the desk, move the top to a flat surface, flip it over and install the steel legs. It also has a digital display of the set height, making it easier to see the desk's height and enabling it to adjust automatically. The desk also has an additional storage mount to organize your cables and a couple of hooks to hold your chargers or headphones.
Pros
Large surface
The steel legs are sturdy
Quiet
Easy to install and adjust
Cons
Expensive
Occupies a lot of space
---
2.

Branch Standing Desk — Best Value
| | |
| --- | --- |
| Max Height: | 48 inches |
| Difficulty: | Easy to assemble |
| Power: | Electric |
| Weight: | 30 pounds (average) |
At first glance, this desk looks pretty generic; however, it is made well and is the best standing desk for the money. All the materials used to make this desk are of great quality and can hold heavy weight. Putting it together takes about 30 minutes, even shorter, with help.
The Branch Standing Desk has a smart feature and can remember four different heights. It also has a cable door at the back, which helps keep your desk clean and tidy. Although the desk can feel too business-like, it's customizable, and you can choose from three different colors.
Pros
Easy to assemble
Four different heights
Durable
Cons
Fairly generic appearance
---
3.

Flexispot EP4 Classic Electric Standing Desk – Premium Choice
| | |
| --- | --- |
| Max Height: | 50 inches |
| Difficulty: | Easy to assemble |
| Power: | Electric |
| Weight: | 28 pounds |
The Flexispot EP4 Classic standing electric desk is one of the best standing desks; it is made of wood and has a lacquered finish, and it is perfect for offices due to its ample desk space. It measures 63 inches long and comes in black and grey tones.
This standing desk has a one-touch led control panel that enables you to program all your favorite standing heights from the control panel. You can assign up to 3 different heights to the memory button, which makes it easier to switch between sitting and standing. Despite weighing a considerable amount, it goes up and down quietly and without much effort.
The integrated charging port unit enables you to charge all your devices from the desk even without being connected to an external power source. It also has a cable manager where you can store all your cables, so they don't create a tripping hazard and get stretched from frequent movement.
Pros
Has quiet motors
Has two desk hooks for accessories
Built-in power supply
The heights can be programmed with the control panel
Easy to assemble
---
4.

OUTFINE Dual Motor Height Adjustable Standing Desk
| | |
| --- | --- |
| Max Height: | 47.24 inches |
| Difficulty: | Easy to assemble |
| Power: | Electric |
| Weight: | 30 pounds |
The Outfine Dual Motor Height Standing desk measures 63 by 24 inches and has significantly ample desktop space. It has a durable surface made from plastic board and fiberboard and a sturdy steel frame. The dual motor system guarantees powerful support for height adjustments. It's also quiet, thus providing a pleasant working environment.
The stands are made of premium iron which gives them excellent stability enabling them to support around 180 pounds in weight on the desktop surface.
Pros
Relatively easy to assemble
Durable
Anti-spill cup holder
Height memory function
Inexpensive
Cons
Not ideal for tight spaces
---
5.

Uplift Standing Desk V2
| | |
| --- | --- |
| Max Height: | 50 inches |
| Difficulty: | Easy to assemble |
| Power: | Electric |
| Weight: | 30 pounds |
The Uplift Standing Desk V2 is well worth considering if you can fit it into your budget. It is easier to install than most models and comes with drawers to organize all the cables and store your smaller office accessories.
The desktop measures 48 by 30 inches, giving you ample space for your monitor and documents. It's customizable and comes in several colors: gray, dark gray, white, and black. It also comes in a variety of sizes.
The desktop can be made from solid bamboo, making it durable and easy to clean. You can raise the desk to your required height via a pedal at your feet that can be activated using a wireless foot switch underneath the desktop. The power grommet has two outlets that come up to your desktop, enabling you to charge two devices simultaneously.
Pros
Easy assembly
Customizable
Durable
Sturdy
---
6.

Eureka Ergonomic 65 inch Standing Desk
| | |
| --- | --- |
| Max Height: | 50 inches |
| Difficulty: | Easy to assemble |
| Power: | Electric |
| Weight: | 29 pounds |
The Eureka Ergonomic Standing Desk has a width of 62 inches and a depth of 27 inches, and it's excellent for small spaces. It's also light, weighing just 29 pounds, making it easy to assemble alone. However, despite its light weight, it's surprisingly sturdy and exceptionally durable.
It has an electric control panel that enables you to program four different heights from 29.9 to 48.4 inches. The two legs are made of carbon steel which gives the desk excellent stability and enables it to hold a wide range of appliances. This desk can be used for gaming since it comes with a gamer's gear bundle that includes a controller rack, USB charging ports, and a cup holder.
Pros
Easy to assemble
Perfect for smaller spaces
Gamer's gear bundle included
Cons
It might be a bit expensive for some
Geared toward gaming primarily
---
7.

Fully Jarvis Bamboo Standing Desk
| | |
| --- | --- |
| Max Height: | 50.5 inches |
| Difficulty: | Easy to assemble |
| Power: | Electric |
| Weight: | 20 pounds |
The Fully Jarvis Bamboo Desk is made from bamboo and is one of the most environmentally-friendly desks on the market since the bamboo used is sustainable. It has a simple design and is attractive and pleasant to work on.
The desk has an LED programmable handset, enabling you to adjust the height easily. It is also light weight, making it easy for one person to assemble.
Pros
Comparably low price
Available in several sizes
Durable
Eco-friendly
Cons
It does not have additional storage space
---
8.

FlexiSpot EN1B Electric Height Adjustable Desk
| | |
| --- | --- |
| Max Height: | 50 inches |
| Difficulty: | Challenging to assemble |
| Power: | Electric |
| Weight: | 60–70 pounds |
The height of this desk ranges from 28 to 47.6 inches making it versatile for all users. It also comes in a wide variety of colors to accommodate your aesthetic.
The keypad makes it easier to pre-set three heights and manually adjust the desk depending on how you want to work. Adjusting the height is pretty quiet and smooth, and the desk remains stable at all heights. The desk stands/legs are made using double steel tubing, which provides additional sturdiness.
Pros
Quiet, smooth lifting system
Range of colors available
Sturdy
Cons
Has vague assembling instructions
Challenging for one person to assemble

Buyers Guide: Choosing the Best Standing Desks
Sitting too much is bad for your health. People who tend to sit a lot have an increased risk of developing diabetes and heart conditions which might result in early mortality. Getting a standing desk is a great option if you spend a lot of time at a desk.
Some benefits of using a standing desk include:
Increased Productivity
Having a standing desk increases productivity, especially if your work requires you to be in the office for many hours. Sometimes you need to stand to avoid getting tired. Standing also stimulates the brain, helping you become more engaged in your work, which results in better performance
Reduces Back Pain
Many office workers deal with back pain due to the hours they spend sitting at work. Several studies on office workers with chronic back pain showed a 32% improvement in lower back pain after using a standing desk for several weeks. Other studies also prove that standing desks reduce lower back and neck pain by 54%. However, returning to a regular desk after using a standing desk reverses most of these improvements.
Standing Improves Your Mood
Standing desks positively affect your overall well-being, including your mood and energy levels. A study done on participants of all ages for 7 days found that using standing desks reduces stress and fatigue compared to regular desks where the participants sat all day.
Using standing desks also improves rigor and energy throughout the day; this correlates with similar research that found that sedentary life increases the chances of depression and anxiety. The mood and energy revert once they go back to using regular desks.
Standing Desks Lower the Chances of Obesity
Weight gain is caused by taking in more calories than you burn, and while standing does not make up for not exercising, it's an effective way of burning calories. Compared to sedentary work in the afternoon or after lunch, standing burns 170 additional calories. Standing also engages your core and muscles.
Reduces the Chances of Heart Diseases
Standing is good for the heart. In fact, people who spend most of their day standing suffer fewer heart attacks compared to those who work all day. A sedentary lifestyle can increase your risk of heart attack by 14%, and an hour of exercise per day may make up for the effects of a sedentary lifestyle. There is no doubt that standing for most of your work day and taking short walks are beneficial for your cardiovascular health.

Important Things to Consider When Choosing the Right Standing Desk
If you work in an office or from home, you probably spend most of your time sitting at your desk, and it's vital that you are comfortable. When it comes to standing desks, there is no one-size-fits-all; you need to pick one that best fits your needs. Some of the things you need to consider include the following:
Size
When buying a standing desk, you need to consider the size of your office and the amount of space you have to work with, including room for a chair. Once you've considered the space available, think about the work surface you need. How big do you want the tabletop to be? If you like having all your working materials on the desk, pick a standing desk with a big surface. However, if you don't love having many things on your desk, a small compact desk will suit your needs.
The size of your desk is also dictated by the size of your computer and the kind of field you work in. For example, an architect requires a larger working space than a writer.
Cost
Price is critical when deciding on the type of standing desk to purchase. Just because a particular desk is expensive doesn't mean it's better, and vice versa. Having a general idea of the cost of different standing desks can help you compare the features of the desks in the same price range and make a better decision.
Adjustability
The adjustability range of your standing desk is a significant factor. Without the necessary adjustments, a standing desk has no significant difference from a regular desk. Preferably, you should be able to adjust your standing desk to the specific height that you want it to be.
Check out the desk specifications—how much height range do you have to work with? This is important if you happen to be taller or shorter than average. Ensure you can work comfortably, whether sitting or standing, while maintaining a good posture.
Durability
A good standing desk should last you for a long time without getting damaged. Consider its weight capacity and the materials used to make it. Can you place heavy things such as books and electronics on them without the risk of collapsing? If the surface is made from flimsy wood, there's a high chance that the desk won't serve you for long. Look at the feet of your desk to ensure that they are made from sturdy material and don't wobble even when you adjust them up or down.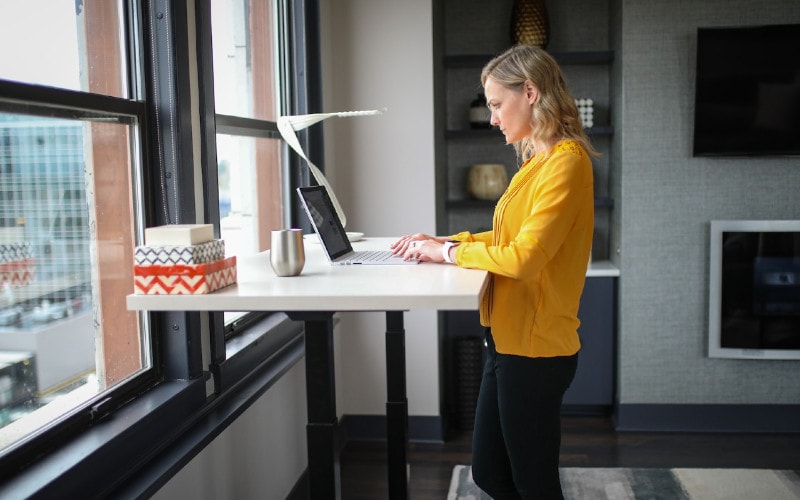 User-Friendly
The desk you are purchasing should be easy to assemble and operate, especially if you work from home. Nothing is worse than receiving a desk you cannot build and adjust.
Most standing desks come with a well-detailed instructions manual and are simple for a beginner to adjust. Reading the reviews from other customers should give you a brief understanding of this vital factor.

Cons of Getting a Standing Desk
Before you throw out your desk for a standing desk, you need to consider whether a standing desk is the right fit for you. Like with everything else, there are pros and cons to using this piece of furniture. We've broken the cons down for you. They include:
You Might Lose the Additional Storage Space
Most electric standing desks come with little storage space, unlike regular desks. Transitioning from a traditional desk to a standing desk might get rid of any additional space you have apart from the tabletop. However, depending on your standing desk type, you can add a single drawer or a stack of drawers underneath. Keep in mind that the drawers will have to fit below the minimum height, which might be low if you are short.
Standing Too Much May Is Bad for You
Standing too much can give you aches and pain, especially around the feet; it can also lead to bad posture. You should try to achieve a healthy balance of your standing and sitting duration. If you have any pre-existing issues, it's crucial that you consult with your physician before switching to a standing desk.
They May Not Be Aesthetically Pleasing
Standing desks may be less attractive; most have a distinct industrial look and can look out of place in your home. Although you can get one that fits your tastes, it's pretty hard since most standing desks are usually made with function in mind. They are also pretty expensive and may not be accessible to everyone.
They Require Power to Operate
Electric standing desks require access to a power outlet to operate. That means you'll have a cable running from your power outlet to your desk, which may create a tripping hazard, and you can only use the desk in a room with a power outlet.

Conclusion
The benefits of having a standing desk far outweigh the downsides. While they don't appeal to everyone, they are versatile and more useful compared to regular desks and enable you to stand while at work. An electric standing desk allows you to sit down or stand at intervals.
If you have a lot of space, the best standing desk to get is the Vari Uplift Standing Desk. It has a smart feature that enables you to save the heights you prefer and enough desktop space to handle your electronics and documents.
The Uplift Standing Desk V2 is also a great option if you can afford it. It's easy to install and comes with extra storage for accessories, making it perfect for those who work from home. Additionally, if you have a smaller working area and often move your desk around, consider purchasing the Fully Jarvis Bamboo Standing Desk.
---
Featured Image Credit: Andrey_Popov, Shutterstock