10 Best Wood Primers of 2023 – Reviews & Top Picks
If you want the best adhesion when painting wood surfaces, you'll need to apply a high-quality primer first. Primer can do more than just give your paint better adhesion though. It can also help to stop imperfections from showing through to the topcoat. Moreover, it can help your paint to get better coverage and a smoother finish overall. If that's not enough, many primers also contain sealers that will help seal and protect the wood from moisture, mildew, and more.
Of course, there are many different wood primers on the market to choose from and they are not all created equal. To help you separate the wheat from the chaff, we've compiled the following ten reviews of the products we feel confident in recommending. We've tested all of these extensively and think you'll find this information to be very helpful when making your decision.
---
A Quick Comparison of our Favorites in 2023
Rating
Image
Product
Details

Best Overall

KILZ General Purpose

Very low-odor
Primer + sealer in one
Can be painted over in 1-hour
CHECK PRICE

Best Value

Krylon ColorMaster

No runs, no drips
Dry in 10 minutes
Works on plastic, metal, wood, and more
CHECK PRICE

Premium Choice

Diamond Brite

Mildew-resistant
Excellent coverage
Easy clean up with mineral spirits
CHECK PRICE

Rust-Oleum Ultra Cover

Affordable
20-minute drying time
Adheres to many surfaces
CHECK PRICE

Rust-Oleum Zinsser Bulls Eye

Water-based
Dries in one-hour
Adheres to glossy surfaces
CHECK PRICE
The 10 Best Wood Primers
1.

KILZ General Purpose Exterior Latex Primer – Best Overall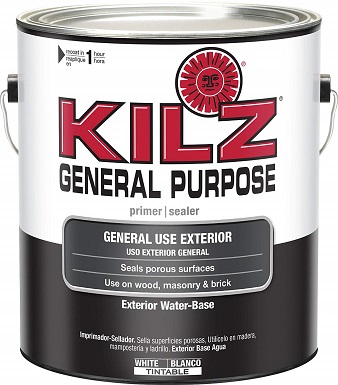 When you need a high-quality primer that will seal and protect your wood before painting, you can't go wrong with the KILZ 58001 general-purpose exterior latex primer. Since it's a primer and sealer in one, it will not only prep your wood for paint, but it will also seal and protect the wood from moisture. Hate waiting for your primer to dry? The KILZ primer is paintable in just one hour.
One thing we appreciated about the KILZ brand primer is that it is very low in odor. Many of the other wood primers gave off a strong paint and chemical odor. The KILZ did not. It can be used on a variety of exterior surfaces such as masonry and brick, wood, and stucco. It's not recommended for glossy or mildew-prone surfaces though. Despite the KILZ name, this product is not an effective stain-blocker and shouldn't be used as such. In all, we think this is the best wood primer that we tested and we're confident giving it our highest recommendation.
Pros
Primer + sealer in one
Can be painted over in 1-hour
Very low-odor
Cons
Not recommended for stain blocking
---
2.

Krylon ColorMaster Paint + Primer – Best Value

When you need a quick-drying primer that can be applied in seconds, the Krylon ColorMaster Paint + Primer spray can is an option worth looking into. This is one of the fastest drying wood primers that we've encountered, drying fully in only 10 minutes. It can be used on plastic, wood, metal, and more. The E-Z Touch tip is a nice addition that makes it easy to use this can with great precision. Better yet, you'll get no runs or drips in your paint.
It's pretty hard to find much to fault the ColorMaster product line on, except the poor coverage. While it's excellent for priming smaller items or areas, you wouldn't want to prime an entire wall or a whole building. It would take way too many spray cans and wouldn't be an efficient way to accomplish it. For everything else, it's a great choice and for the price, we think it's the best wood primer for the money.
Pros
Dry in 10 minutes
Plastic, metal, wood, and more
No runs, no drips
---
3.

Diamond Brite Paint Oil Base Wood Primer – Premium Choice
For a premium primer product that will give excellent coverage, we recommend the Diamond Brite Paint 31900 oil-based primer. Though it's great on wood, this primer can also be used on many other materials such as plaster, drywall, metal, masonry, stucco, and even aluminum. Its mildew-resistant formula helps fight mold to extend the lifespan of your materials. One of the best traits of the Diamond Brite primer is excellent coverage. A single coat of this stuff did the trick, and it covered about 300 square-feet.
Although it's a top-notch primer overall, the Diamond Brite is not without its faults as well. First, the 24-hour recoat time is way too long. Compare that to the one-hour coat time of the KILZ in our first position and you can see that it's sorely lacking. The other real drawback to this particular primer is that it's only intended for use with oil-based paints. In spite of this, it's such a solid product that it has earned our recommendation for premium choice.
Pros
Easy clean up with mineral spirits
Can be used on many materials
Excellent coverage
Durable
Mildew-resistant
Cons
For use with oil-based paint
24-hour recoat time
---
4.

Rust-Oleum Ultra Cover Wood Primer

Rust-Oleum is a well-respected name in paints, and their Ultra Cover primer is no exception. Though it fell just short of receiving our top recommendations, it's still a very capable product that delivers excellent results. With a drying time of just 20 minutes, the Rust-Oleum Ultra Cover primer is one of the quickest-drying products we tested. It adheres to almost any surface including plastic, wicker, wood, metal, ceramic, and more. The thing that may attract many to this primer in the first place though is the very low price.
Poor coverage is one of the flaws that hold this primer back. Though a single can is very cheap, it only covers 12 square feet. If you have to cover a larger sized area, these spray cans are probably not the most efficient choice. The other drawback that we noticed was the tendency of this primer to run and drip. It wasn't major, but we did experience a few of them, so it's something to be aware of. In all, it's a great primer that falls just short of our top picks.
Pros
20-minute drying time
Affordable
Adheres to many surfaces
Cons
Only covers 12 sq.ft.
Minor drips and runs
---
5.

Rust-Oleum Zinsser Bulls Eye 1-2-3 Primer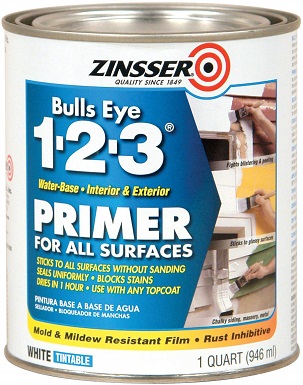 Suitable for both interior and exterior applications, the Zinsser Bulls Eye 1-2-3 primer from Rust-Oleum is a fast-drying water-based primer. This means it resists mildew, but it also makes for easy cleanup with soap and water. The short drying time of just one hour means you can start your next coat pretty quickly, helping you to get your project completed faster.
If you have glossy surfaces you need your primer to adhere to, you can count on the Bulls-Eye primer to do it. That said, this primer is on the more expensive side of the price spectrum, so keep that in my mind. Also, be aware that if you leave this unpainted, you may experience some chipping over time. In our experience, it wasn't as durable as a topcoat.
Pros
Water-based
Dries in one-hour
Adheres to glossy surfaces
Cons
May chip if left unpainted
Pricey
---
6.

INSL-X Stix Acrylic Waterborne Bonding Primer
For bonding challenging surfaces such as glossy tile, PVC, and vinyl, the INSL-X Stix acrylic waterborne bonding primer is a product to consider. Though it's not our favorite overall, it's definitely a great choice for surfaces that other primers have a hard time adhering to. The Stix primer has easy cleanup with soap and water. We experienced adequate coverage from this product, though not as good as some of its competitors.
After applying, you'll have to wait four hours before recoating. This is certainly not the longest recoat time of the products we tried, but it's far from the shortest and will extend the length of your project. It's also not the most durable product, and if left unpainted it may start to peel after a few months. Despite these drawbacks, it's one of the more expensive primers that we tested. Though it's great for those difficult surfaces, the Stix primer doesn't do quite enough to earn one of our top spots.
Pros
Good coverage
Bonds to challenging surfaces
Soap and water cleanup
Cons
Expensive
Not the most durable
4-hour recoat time
---
7.

XIM 11015 Flash Bond Primer
The XIM flash bond spray primer is an excellent choice for surfaces that other primers don't want to adhere to. It's a bonding and sealing agent as well, so it will also help to protect whatever you coat it with. However, if you're going to apply this primer to a glossy surface, you'll need to sand it first for maximum adhesion. We aren't too thrilled about this and don't think most other people would be either.
The first thing we noticed with the XIM flash bond primer is that it didn't give us very good coverage. It took several sprays on the same area to get a good coat, and the can didn't manage to cover much space at all before it was empty. This is especially disappointing when you consider the very high price that this product sells for. Overall, we were disappointed with the performance of this primer and think there are much better options available for a lower price.
Pros
Works on hard to paint surfaces
Sealer and bonder
Cons
Very expensive
Requires sanding on glossy surfaces
Poor coverage
---
8.

Prestige Paints Exterior Paint and Primer
This high-hiding paint and primer from Prestige Paints not only performs great at covering over other colors, but it also adheres to many surfaces. It's 100% acrylic latex so you can easily clean it up with soap and water. Though it's rather pricey, it's far from the most expensive option that we tested. It did apply well in our experience, and the hiding ability was improved over competitors.
There are plenty of flaws with this product to accompany all of the positive traits. For instance, this product is not for use indoors. That's pretty minor, but the overnight drying time before it can be recoated was something that we weren't too happy about. On top of this, the Prestige Paints primer is one of the higher-priced choices available, though we don't think it does anything special to give it a premium value. Hence, it's relegated to the eighth position on this list.
Pros
High-hiding formula
Adheres to many surfaces
Cons
Not for indoor use
Overnight dry before recoat
Expensive
---
9.

Zinsser Cover Stain Interior/Exterior Oil Primer
The Zinsser 03504 cover stain oil primer is a high-hiding product that can block stains from water, smoke, nicotine, and more. It sticks to most interior and exterior surfaces without sanding. Once applied, it's dry in just one hour. So far it sounds like a great product! Where we were disappointed most was in the application. It was very thin and tended to run and drip when we applied it. This meant it required several very thin coats which took more time. We also didn't like the extra shine that this primer added to our finish. While we did appreciate the stain-blocking performance of the Zinsser oil primer, it wasn't enough to pull this product to a higher position on the list.
Pros
Stain blocking
Dries in one-hour
---
10.

RTG 2967 Interior Trim Primer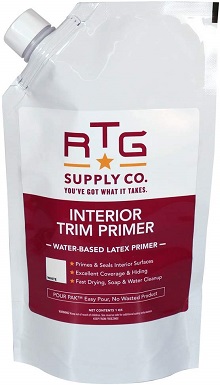 It's hard to miss the unique packaging of the RTG interior trim primer since it comes in a plastic bag instead of a can. While this may be an interesting way to catch your attention, we didn't like it for application. You can't fit a brush inside of this little pouring spout. Packaging aside, this wood primer is water-based which means you'll get easy cleanup with just soap and water.
What we didn't like was the poor coverage. Most of the other products we tested were able to get a thicker coat on a larger area than what we achieved with the RTG primer. At this high price, we find this to be pretty disappointing. Overall, we recommend you save yourself some money while getting a higher-quality product by going with a primer that ranked higher on our list.
Cons
Very expensive
Poor coverage
Can't fit your brush in the bag
---
Final Verdict
There are many different wood primers on the market, but which ones provide the most value? After extensive testing, we've agreed that the KILZ 58001 is our pick for the best wood primer overall. It's a complete primer and sealer solution all in one, with a fast-drying formula that can be painted over in just one hour. We think it's the best option for most situations.
For those on a budget though, the Krylon ColorMaster spray paint and primer is an excellent choice.  With 10-minute drying time, the ability to be used on a variety of different surfaces, and a no-run no-drip finish, it's easy to see why we think it's the best value. The Diamond Brite Paint oil-based primer in third place is our pick for the best primer for wood, premium choice. It's very durable and gets very good coverage, but it's also easily cleaned up with mineral spirits. Any of these wood primers is a great choice, and we're sure you'll agree once you try them.