8 Best Swimming Pool Volleyball Nets & Sets in 2023 – Reviews & Top Picks
If you are ready to get some excellent pool exercise, volleyball is the perfect way to do it.
Pool volleyball is an easy to set up, simple pool game that can keep you and your friends and family entertained for hours.
There are lots of options when it comes to pool volleyball sets, and they have a wide range of pricing.
We put together some review of the eight best swimming pool volleyball nets and sets. There is certainly an option on this list that would work for your pool.

A Quick Comparison of our Favorites in 2023
Rating
Image
Product
Details

Best Overall

Park & Sun Sports Pool Volleyball Net System

Easy to setup
Good size for any inground pool
Comes with extra tension cords
CHECK PRICE

Best Value

Intex Inflatable Pool Volleyball Game

Comes with ball
Very low cost
Easy to setup
CHECK PRICE

Premium Choice

Dunnrite Basketball & Volleyball Pool Combo Set

Comes with a warranty
High-quality set
Volleyball and basketball in one
CHECK PRICE

JOYIN Inflatable Pool Float Set

Complete set
Comes with basketball, volleyball and the balls to play
Easy to setup
CHECK PRICE

Dunn Rite Pro Volly Retrofit

High-quality set
Adjustable height
Comes with a ball
CHECK PRICE
The 8 Best Swimming Pool Volleyball Nets & Sets
1.

Park & Sun Sports PS-PVB Portable Pool Volleyball Net — Best Overall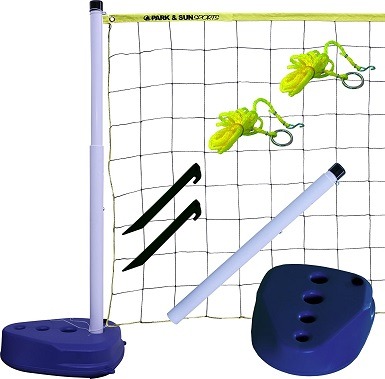 When it comes to outdoor sporting equipment of any kind, Park & Sun is a great brand to consider. The Park & Sun Sports PS-PVB Portable Pool Volleyball Net is our best pool volleyball net overall.
This model is going to work best for an inground pool. The setup is straightforward and stable, as well. Playing pool volleyball with a net that continually falls over is infuriating. The durable PVC poles on this volleyball net are a little over 1.5 inches round. The poles are telescopic so that you can change the height of the net.
The overall length of this net is 24 feet, so it will comfortably fit across almost any in ground pool design. The poles are held in place by two high-quality bases. You can fill the bases with either sand or water to keep them from tipping over. If, however, you find that the bases are not strong enough, there are two 15 food tension cords with ground stakes. You may save these for when you have your serious matches!
Some users take concrete blocks and put them on the plastic support bases to keep the net from falling over. Outside of the fact that it tips at times (without the right support), this net has proven to be the best volleyball net on the market.
Pros
Fair price
Good size for any inground pool
Easy to setup
Comes with extra tension cords
Cons
Will tip over without the right support
---
2.

Intex 56508EP Pool Volleyball Game  — Best Value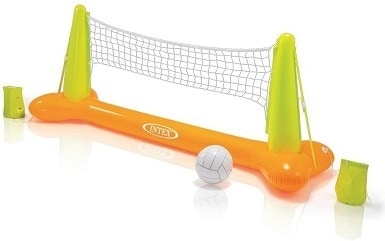 If you are looking to play some pool volleyball but don't need to prepare for any Olympic pool volleyball competitions, this Intex model may do the trick. The Intex Pool Volleyball Game is inflatable, and it is our top choice for the best swimming pool volleyball nets & sets for the money.
When you get this Intex Pool Volleyball Game, you can be playing within minutes. It is an inflatable model that you can blow up and put directly into the pool.
In addition to the next, this set also comes with an inflatable volleyball. The one thing you may be wondering is what keeps this net from floating all around the pool. Luckily Intext has a solution for that! The pole bases are grommeted so that you can add your weights to them. Choose something substantial enough to hold the net in place, but nothing that will damage your pool in any way.
Since the Intex Pool Volleyball game is an inflatable option which is susceptible to air leaks, they do provide a repair kit. The product is made with a sturdy 10-gauge vinyl to help it last for many years.
If you are looking for value and being up and playing volleyball in just a few minutes, this Intex is an incredible choice.
Pros
Very low cost
Comes with ball
Easy to setup
Cons
Inflatable option not as sturdy
Can get leaks over time
---
3.

Dunnrite BV700 Products Pool Sport — Premium Choice
If you only want the best of the best volleyball set for your pool and your aspiring volleyball champions, then Dunnrite is the way to go. Dunnrite pool products are known for being the premium choice. They are more expensive than other brands, but they do provide some incredible quality.
This Dunnrite BV700 is not just a volleyball net; it is also a basketball hoop. This set comes with two bases (17" wide x 19" deep x 38" tall). Although you will not be able to play both basketball and volleyball, at least you have the option to play both games while making just one purchase.
When you fill these Dunnrite bases with water, they will weigh 115 pounds. This is quite heavy and should keep the net and hoop from falling over during the game.
As far as the volleyball net is concerned, this is an all-weather net that should hold up for many years. The rim on the basketball net is made with stainless steel to help prevent run when it is continually exposed to pool water. The set also includes both a volleyball and a basketball to get you started playing the same day you get it.
This volleyball set will easily stretch across any inground pool less than 22 feet across. Although this set is a bit more cumbersome, then our value option the Dunnrite set is a piece of backyard sports equipment that you will have for years to come. If any issues come up in the first three years, Dunnrite does offer a warranty.
Pros
Comes with a warranty
High-quality set
All-weather
Volleyball and basketball in one
Cons
Heavier set
Expensive
Can't play basketball and volleyball at the same time
---
4.

JOYIN Inflatable Pool Float Set Volleyball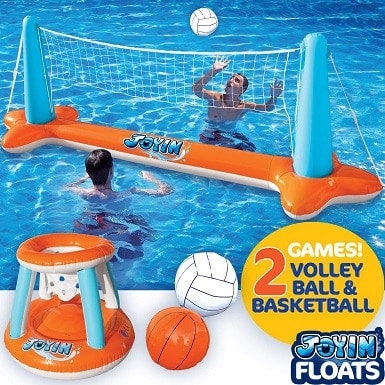 If the premium Dunnrite option is above your price range, we will bring it back down to the lower end of the price range with this JOYIN Inflatable Pool Float Set. This set is similar to the Intex we mentioned earlier, with many of the same benefits.
This JOYIN option includes two weight bags so that you can keep the volleyball net in place. Although you will need to supply your weights, this is a nice feature to have to keep things in place.
In addition to the volleyball net that this set comes with, you also get an inflatable basketball hoop. This is a floating hoop with no backboard, and there is no way to anchor the basketball hoop in place. You will also get two inflatable balls with this set, one for volleyball and one for basketball. The balls are not traditional strength and are more of an inflatable beach ball type.
This is not a set that is designed to span across the entire pool; it is intended to float in the low end and make a good portion of it a sport court. Since this is a floating set, it will work in both an above ground and an in-ground pool.
The set does not come with any patch kits, but it is developed and produced with a high-quality material that should hold up over time.
Pros
Complete set
Comes with basketball, volleyball and the balls to play
Easy to setup
Cons
Does not stay in place all that well
Subject to leaks over time
Basketball set does not have a backboard
---
5.

Dunn Rite Pro Volly Retrofit

If you are a true pool volleyball fan, this may be the net for you. Although this is one of the highest quality options on our list, we couldn't put it closer to the top because it is not a complete option. This Dunn Rite Pro Volly Retrofit requires that you have PVC inserts in your deck or pavers surrounding your pool. The supports on this set will slide into the PVC inserts for a secure and complete setup.
The inserts that you must have in place are 1.5 inches. If you happen to have ladder anchors that you think would work for this set, it can be adapted to work. In addition to the two poles, this set includes a net and a volleyball. The actual net is 24 feet, and it is adjustable for a custom fit.
The posts are sixty inches tall, and you can adjust the height of the net accordingly. This set is quite a bit different than some of the inflatable options we have reviewed. If you are looking to play a hardcore game of volleyball with friends, this net is built for this.
All hardware on the Dunn Rite products is made with stainless steel to prevent any rusting being near a pool area all year long. The Dunn Rite Pro Volly Retrofit comes with a one-year warranty.
Pros
High-quality set
Adjustable height
Sturdy for a rougher game of ball
Comes with a ball
Cons
Expensive
Need to have inserts to drop PVC poles into
---
6.

SwimWays 00801 Poolside Volleyball Set
SwimWays makes a variety of pool games and toys for children and adults of all ages. This Swimways Poolside Volleyball set is a durable option that will fit more above ground pools.
The net on the SwimWays Volleyball set will span 24ft across. On either set of the net stand, two strong bases that can be filled with either water or sand. Without the water or sand in place, the net is quite tipsy.
When you get your pool volleyball set, it will only be a matter of minutes before you have it up and running. Setup does not require any tools, and this set does come with a few bonus items. You will get a volleyball and an inflating needle as well. The volleyball this set comes with is a better quality and not the beach ball inflatable type.
The Swimways set is a bit more expensive than our number one choice, and although it comes with the volleyball we are just not in love with the quality of this set, and its ability to hold up to a serious volleyball game. It is a good middle of the road option between an inflatable set and a heavy-duty Dunn Rite type option.
Pros
Easy to setup
Comes with a volleyball
Will span 24 feet
Cons
Not as high quality
Bases are not very sturdy
---
7.

Swimline 9186 Molded Cross-Pole Volly
The next option on our list is the Swimline Molded Cross Pole Volly. This option will work on inground pools up to 20 feet in length. This is some considerable distance, but it does not work all that well on a pool that is exactly 20 feet. If you have a pool, 18 feet or less, the Swimline can work quite well.
This set does come with a volleyball that is more of a real feel ball, so from that aspect, it provides some great value.
The setup on this net does not take long. Our issue with this net and why it is further down the list is the bases. Although you can add water or sand to the stations, they just are not that large, to begin with, and don't feel that sturdy even when full. Although the net holds up quite fine, we believe there are better options out there for the money.
Another thing to keep in mind with the net on this set is that it only spans 12 feet. The rest of the area will just be the strings that tie to the poles.
Pros
Easy setup
Comes with a volleyball
Cons
Net only stretches twelve feet
Bases are not that sturdy
Does not work well for larger pools
---
8.

Poolmaster 72786 Mounted Poolside Volleyball Game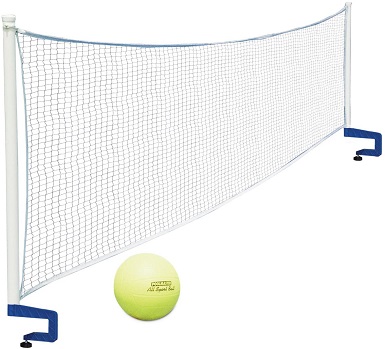 Last on our list is the Poolmaster Mounted Poolside Volleyball Game. The reason this net made it to the bottom of the list is that it is only intended for use with above ground pools. There is no way to configure this set on an inground pool. As far as above ground pools are concerned as long as you have a four-inch or wider top rail, this set will work just fine.
The Poolmaster set comes with a 16-foot volleyball net with side tides, upright poles, and bracket mounts. The set itself is quite sturdy and tall and seems to hold up well for a game of volleyball.
Additionally, the brackets and the net this set will also come with a vinyl ball and an inflating needle. You will want a decent ball if you are going to invest in a set, and this Poolmaster provides that.
One added feature with the Poolmaster set is that they say it can also be used for pool badminton. It comes with four badminton rackets and four birdies. This is an excellent addition that none of the other sets on our list offer.
Pros
Comes with volleyball and badminton
Higher Quality set
Cons
A bit expensive
Only for above ground pools
Setup is more involved

Buyer's Guide – Choosing the Best Swimming Pool Volleyball Nets & Sets
Choosing a pool volleyball set does not need to be complicated. We gave you some great reviews on eight of the best options out there, and you just need a few more pieces of information to narrow those choices down and pick something that works best for you. Here are the factors that you must consider before purchasing.
Above Ground vs. Inground
Volleyball nets will either work for above ground pool, in-ground pools, and sometimes both. Most inflatable options will work in either the above or inground pools. Most options with stand up bases will only work for in-ground pools, unless you have a deck surrounding your above ground pool that you can place the bases on.
Inflatable vs Non-Inflatable
Inflatable volleyball sets are inexpensive and an excellent option for a leisurely game of ball, especially when younger children are involved. If you are looking to play some serious pool volleyball, then choose something with a more durable base and net.
All-Weather Components
Checking to make sure that the components of a potential pool volleyball set purchase are made with all-weather material and coatings is imperative. There is no question that your pool volleyball net will be exposed to water and some rough and tumble play. Choosing something capable of handling the elements is important.
Price
What should you expect to play on a pool volleyball net? Most options will range from around $10 to $250. The $10 sets may only last a season, but you can buy one each season for many years before reaching the price of a $250 set.
Ball
Including the ball is not going to make or break a pool volleyball set, but if you do get a ball, it is best if it is an inflatable vinyl. The vinyl balls seem to hold up better over time.

Conclusion
The number one goal when searching for a pool volleyball set is to find something that is fun! After all, the whole reason you are purchasing a set is so that you can play a fun game in your pool. With the variety of options on the market, we feel the Park & Sun Sports Volleyball Net comes out on top as the best pool volleyball net. This option is affordable, will stay in place, and should hold up for quite some time. If you just want something that is low cost and you can be playing only a few minutes after opening the box, then the Intex Pool Volleyball net is the best pool volleyball set for the money out there.