10 Best Wood Fillers of 2023 – Reviews & Buyer's Guide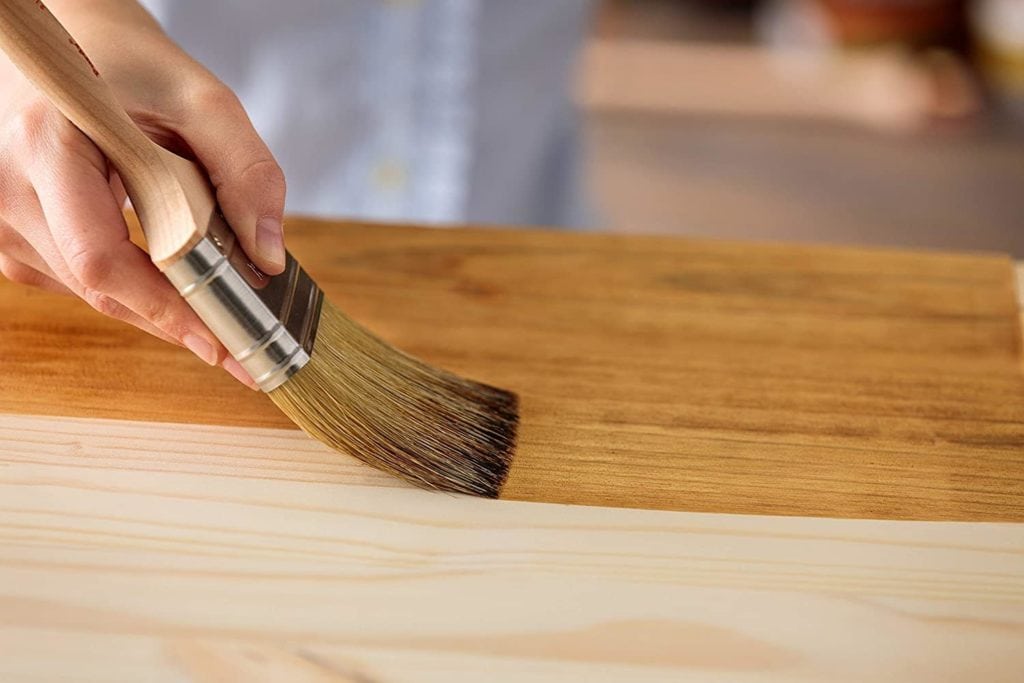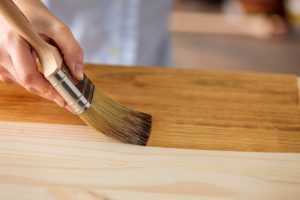 Over generations of woodworking, humans have developed some interesting and innovative techniques for repairing, joining, and working with wood. With the right skills, tools, and materials, you can repair or fix just about any wooden object. Likewise, you can use wood to build almost anything you can imagine, from a building to fine art.
Regardless of what type of woodworking you're doing, one thing that's common to all woodworking is wood filler. This useful stuff finds its way into loads of repairs, artwork, furniture, and more. If you've got a repair to perform (or any type of project to build out of wood), you're likely going to need some wood filler.
You could run to your local hardware store and get whatever's on the shelf, but there's no guarantee that it will work how you hope. Luckily, we've already tested many products so that we could write up the following wood filler reviews comparing everything we've learned. We'll tell you about how each one performs and their weaknesses too, so you can choose the right filler and forget about the poor performers.
---
A Quick Comparison of Our Favorites in 2023
Rating
Image
Product
Details

Best Overall

FamoWood 40022126 Latex Wood Filler

Dries in just 15 minutes
Easily sanded
planed
and drilled
Can be stained or painted over
CHECK PRICE

Best Value

Goodfilla Water-Based Wood Filler

Non-shrinking formula
Available in several colors to match your wood
Priced affordably
CHECK PRICE

Premium Choice

Bondo Home Solutions Wood Filler

Dries extremely durable
Ready to sand in just 15 minutes
Can be shaped
sanded
planed
or drilled
CHECK PRICE

Minwax 42853000 Stainable Wood Filler

Can be stained or painted
Dries quickly
Easy to sand
CHECK PRICE

Elmer's E855 Carpenter's Wood Filler

Easy to sand smooth
Smooth application and easy to work with
Shrinkage is minimal
CHECK PRICE
The 10 Best Wood Fillers
1.

FamoWood 40022126 Latex Wood Filler – Best Overall
With so many killer fillers on the market, it can be hard to choose just one. But after quite a few projects, we've determined that the FamoWood latex wood filler is our favorite for most projects. It's got some excellent characteristics that make it easy to work with.
First, this filler dries in just 15 minutes, meaning you can get your project completed quickly and don't have to spend days waiting for drying times. Once it's dry, you can easily sand it and move on to your next coat. When you're finished, this filler can be planed and drilled just like regular wood. Moreover, it can be stained or painted, and it looks like real wood when you're finished.
As this filler dries, it doesn't shrink or crack. However, sometimes, it does cure to a slightly lighter color than expected, which can make it more difficult to get an even appearance between your wood and filler. But when your project is finished, cleanup is a breeze. All it takes is some water since this filler is solvent-free.
Pros
Dries in just 15 minutes
Easily sanded, planed, and drilled
Can be stained or painted over
Doesn't shrink or crack
Solvent-free for easy cleanup with water
Cons
Sometimes cures to a lighter color
---
2.

Goodfilla Water-Based Wood Filler – Best Value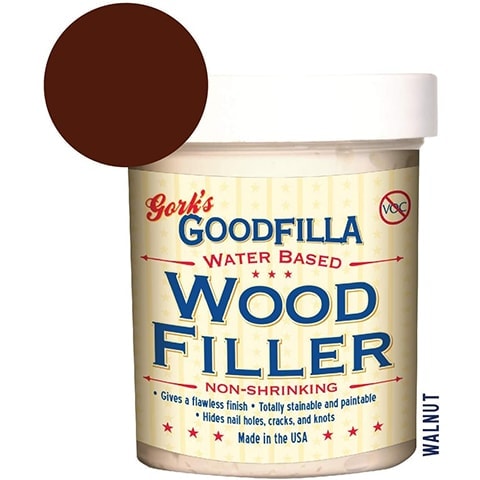 The Goodfilla wood filler offers a lot more than just a witty name. This non-shrinking formula is one of our favorite wood fillers. It offers excellent characteristics at an affordable price, which is why we think it's one of the best wood fillers for the money.
When you're trying to achieve a consistent appearance in your wood, you'll want to match your filler to your wood as closely as possible. But many fillers only come in one color, making that pretty difficult to manage. Thankfully, the Goodfilla wood filler is available in several colors, allowing you to match your natural wood more closely.
Once this filler dries, it's very hard and can easily be sanded. However, it's quite difficult to color once it's dry. You won't be able to stain, tint, or even dye this filler once dry. You will be able to paint over it, though.
One of our favorite things about this wood filler is its money-back satisfaction guarantee. Goodfilla is so confident in their product that they'll refund your money for up to a year after the date of purchase if you're not satisfied.
Pros
Non-shrinking formula
Available in several colors to match your wood
Priced affordably
Money-back satisfaction guarantee
Dries hard and can be sanded
Cons
Can't dye, stain, or tint once it's dry
---
3.

Bondo Home Solutions Wood Filler – Premium Choice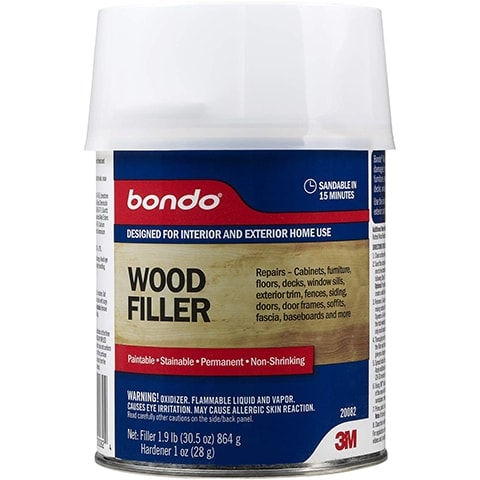 You've almost certainly heard of Bondo as an autobody filler before. But it's less likely that you were aware of Bondo's wood filler offerings. This wood filler offers some great traits, though it's a bit pricier than other wood fillers we've tested. Still, if you want maximum durability, this is the stuff we'd recommend.
Much like Bondo's autobody filler, this stuff dries hard as a rock. Just 15 minutes after application, it's dry enough for you to sand. This means you can quickly move on to your next coat. You don't need to spend days waiting on drying and curing.
However, that quick-drying feature is also a bit of a pain. It makes this filler pretty difficult to work with. You must use very small amounts and work quickly. Otherwise, your filler will start to harden up while you're still trying to work with it.
On the upside, once it's dry, this filler is so sturdy that you can treat it just like wood. You can shape it, sand it, plane, drill, or cut it with a saw. It's even a medium-brown color that dries to a wood-matching hue.
Pros
Dries extremely durable
Can be shaped, sanded, planed, or drilled
Ready to sand in just 15 minutes
Medium-brown color is close to wood
Cons
Difficult to work with due to fast drying times
---
4.

Minwax 42853000 Stainable Wood Filler
Minwax is a big name in woodworking products like stains and fillers. This filler is stainable but can also be painted over instead. However, we did notice that it doesn't always match the surrounding wood once it absorbs the stain. It doesn't react quite like natural wood. Still, it's one of the better fillers we've found, offering excellent performance at a reasonable price.
This formula dries very quickly, allowing you to move on with your work. It also sands well once it's dry, making it easy to shape as well. When it's fully cured, this filler is nearly as hard as wood, allowing you to screw or nail into it if necessary. It's completely safe for both indoor and outdoor use, so water won't affect it once it's dry.
Pros
Can be stained or painted
Dries quickly
Easy to sand
Dries hard like wood
Cons
Might not match your existing wood once stained
---
5.

Elmer's E855 Carpenter's Wood Filler
The E855 carpenter's wood filler from Elmer's is great for repairing tiny holes and cracks, such as nail pops, scratches, small chips, and more. It's not good for use on larger repairs, though. This filler comes in a tube, which makes it easy to apply in small amounts. However, it's harder to work with using a putty knife, so if you have an area that needs covering instead of just a tiny spot, then we'd suggest finding a different filler.
Once it dries, this filler is easy to sand smooth. It hardly shrinks –– but there is some shrinkage, so if you don't overapply, you might need a second application. After it's fully cured, you can easily paint over this filler, but it doesn't accept stain very well.
Be aware: this is one of the weaker fillers we tested. It doesn't dry strong enough to nail, screw, plane, or anything else. Once dried, you can sand this, but not much else. This makes it ideal for filling tiny imperfections, but there are much better options for filling anything larger.
Pros
Easy to sand smooth
Smooth application and easy to work with
Shrinkage is minimal
Can be painted over
Cons
Doesn't have the same strength as other fillers
Doesn't accept stain well
---
6.

Timbermate Hardwood Wood Filler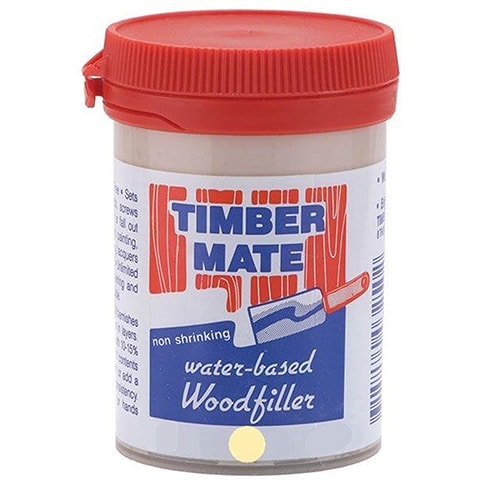 Once the Timbermate hardwood wood filler dries, it's very close to the natural color of wood. This makes it much easier to get it to blend in with your original wood, especially if you're staining over it. Thankfully, this filler works very well with stain, accepting it easily and responding in the same way wood does.
When you apply this filler, it dries exactly how it's applied. Unlike other fillers, Timbermate doesn't seem to shrink. But it does produce a very strong and very foul odor. It's quite unpleasant, and no one wanted to work with this filler. On another note, it's also more expensive than many other fillers, considering the small amount you get.
Pros
Minimal shrinkage
Works well with stain
The color is close to natural wood
Cons
Expensive for the small amount
Strong offensive odor
---
7.

Elmer's E842L Carpenter's Interior Wood Filler

While many of our favorite wood fillers dried within 15 minutes so you could sand and keep moving, the Elmer's E842L carpenter's interior wood filler takes 12-24 hours to dry. This is going to stretch your project out, forcing you to wait an entire day between applications, or between your filler and finish. Either way, it's a lot of time wasted.
On the other hand, this filler is very easy to work with. It's smooth, light, and takes long enough to dry that you never have to rush. Once it does dry, it's hard enough to sand. It also accepts paint well, blending into the wood surrounding it.
That said, you don't want to use stain with this filler. It doesn't absorb well and won't turn out with the finish you're hoping. But our biggest issue is actually with the packaging. The lid refuses to stay on! If you have filler leftover after application, you won't be able to store it just by replacing the lid. Unfortunately, your filler will dry out and become unusable.
Pros
Hard enough to sand when dry
Paintable
Easy to work with
Cons
12-24 hours drying time
Stain doesn't work well with this filler
The lid won't stay on
---
8.

DAP 00525 Plastic Wood Filler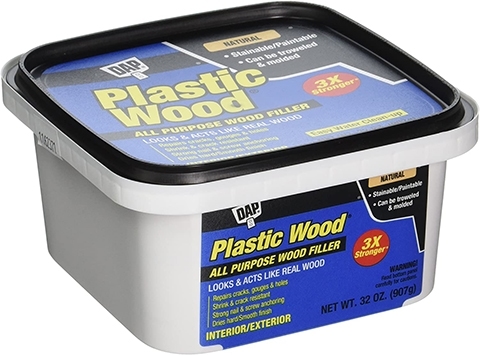 This wood filler from DAP is called plastic wood, though it contains real wood fibers, so it dries and acts like real wood. After it's fully cured, you can cut, drill, sand, and screw this wood filler, just like regular wood. It's also very accepting of paint and stain, making for easy finishing after application.
So, why is it ranked so low on our list? Simple; a lack of durability. Well, that's the main reason. This filler cannot withstand water. It's labeled as interior/exterior, but even after our filler had been dry for several days, contact with rain caused it to soften and bubble, ruining all the work we had done.
Even when it's fresh, this filler is more difficult to work with than others. It's very thick and doesn't apply well. You'll also find that it shrinks a significant amount while drying. We've had great luck with DAP products in the past, but this isn't a filler we'd recommend.
Pros
Contains real wood fibers
Can be cut, drilled, sanded, screwed, and more
Accepts paint and stain
Cons
Will not withstand water
Noticeable shrinkage
Harder to apply than other fillers
---
9.

NADAMOO Wood Filler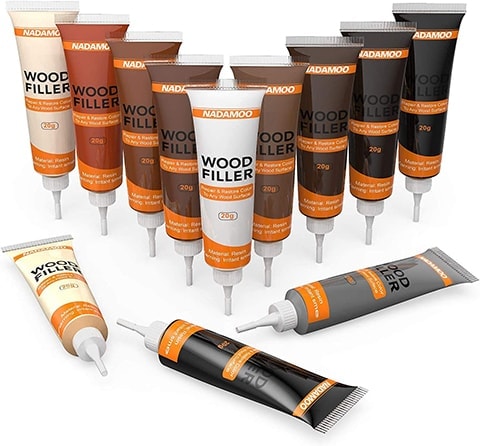 When we first received the NADAMOO wood filler kit, we thought we had found a real winner. It comes with 12 different wood fillers, which can all be mixed and matched to help find the perfect shade to match your existing wood. That sounds great on paper, but it's far more difficult than you might expect. Still, we were able to make it work with decent results. At least, that's what we thought before it dried.
With very small pinhole-sized marks, this filler does great. Butstart filling larger scratches, and you're likely to run into some problems with shrinkage. This filler shrinks substantially, requiring multiple applications, which means mixing up colors several times. This made it increasingly difficult to get the right mix. Plus, the consistency of this filler makes it quite difficult to work with, even when it's completely fresh.
In the end, we think this is a great idea, but it's too difficult to implement, and the filler shrinks too much for this to be our go-to option.
Pros
Includes 12 colors for a close match with any wood
Easily covers small scratches and nicks
Cons
Can be difficult to work with
Too much shrinkage
Requires multiple applications
---
10.

Varathane 215202 Wood Filler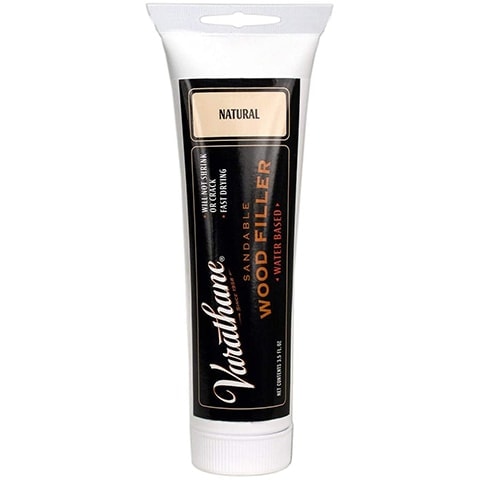 Often, you get what you pay for. So, when we see a premium-priced product in some high-end looking packaging, we usually expect an excellent outcome. The Varathane 215202 wood filler certainly looks the part, and the price is up there, but it lacks in the performance department.
On the bright side, there are several colors to choose from so you can get as close of a match to your natural wood as possible. We also noticed that this filler doesn't crack.
But the list of negatives far outweighs the positive traits we can name regarding this filler. The included amount is tiny, and it costs quite a lot. Worse, the filler doesn't dry to the color on the tube. It's several shades off, making it exceedingly hard to match to your wood. Then, the color actually comes off after it dries!
Making things worse, water will even damage this filler days after it's cured, so exterior durability is a no-go. With so many flaws, so few positives, and such a high price, it's no wonder this filler ended up at the bottom of our list.
Pros
Doesn't crack
Available in several colors to match your wood
Cons
Extremely expensive for a tiny amount
The color comes off after drying
Doesn't dry to the color it's supposed to
Water can damage it, even once it's dry
---
Buyer's Guide – Purchasing the Best Wood Filler
On the surface, choosing a wood filler seems like a simple enough decision. After all, you're probably going to paint or stain over it once it's dry! But between application and finished product, there are a lot of steps that can either be made more difficult or smoother, depending on the filler you choose.
If you're still unsure of which wood filler is right for you, then hopefully, this short buyer's guide will help. Our goal here is to narrow down the important traits that we think you should be comparing in order to find the right filler for your needs.
Choosing the Right Wood Filler
Wood filler doesn't seem like a complicated product, but there's more to it than meets the eye. After testing so many fillers, we've compiled a list of the most important traits to compare them on if you want to gauge their performance accurately. Check out wood filler reviews like this to narrow down your choice.
Shrinking
When you apply wood filler, you generally over-apply just a bit so that you can come back once it's dry and sand it down to be even with the rest of the wood. But if your filler shrinks, it's going to drastically complicate this process. You'll come back to see your dry filler with an indentation where the original imperfection was. This means you'll have to reapply the filler and wait through the entire drying process again.
Drying Time
No matter what, you're going to have to wait for your filler to dry before moving onto the next step in your project. But drying times differ drastically. You might wait 24 hours before moving on, or you could move on in just 15 minutes. It depends on the filler you choose.
On the other hand, quick-drying fillers are often more difficult to work with. They start to dry while you're still applying and shaping, so you'll have to work quickly.
Sanding and Shaping
Few people can make a repair in wood that doesn't require any sanding. So, it's important that the wood filler you choose dries hard enough for sanding and shaping, so you can blend it in with the rest of your piece.
Overall Durability
Often, wood filler is used in places that are already at high risk. There's a chip there to fill now because it's located in an area that sees a lot of contact. It will likely continue to see contact after your repair is made, so the filler must be durable enough to hold up.
Also, you might need to drill a hole in your filler or install a nail or screw. This requires a very durable filler. If you know you need this ability, make sure to look for the strongest filler you can find.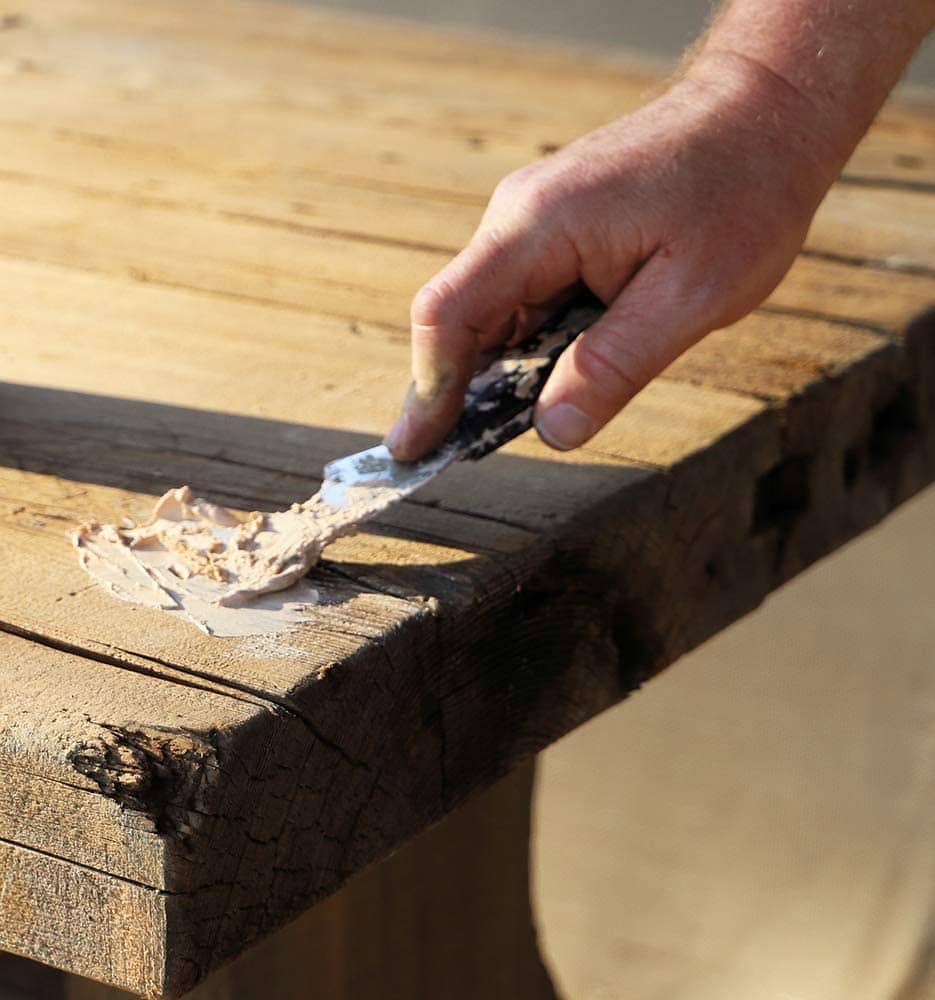 Cracking
Most fillers today offer pretty good protection against cracking. However, the larger your area to repair, the more likely it is to crack. If you're making large repairs, look for a filler that specifically says it won't crack.
Color Match
Wood fillers come in a variety of different colors, so you can try to match your repair to the natural wood you're repairing. But not every filler comes in various colors. Of course, this won't matter if you're just going to paint over it anyway. But if you plan on staining the wood, then you'll want to match your filler to your wood as closely as possible.
Staining and Painting
Once your repair is finished, you'll probably want to refinish the entire piece with either paint or stain. Luckily, paint goes on easily and covers the surface, so it will work with most wood fillers.
Stain is a different story though. While paint covers, stain must be absorbed. Some fillers dry too hard and won't absorb stain, so they're terrible choices if staining is your final goal. If you plan to stain your piece when you're finished, look for a filler that accepts stain.
Exterior Durability
Many wood fillers claim indoor and outdoor use. But we found several fillers that were easily ruined by water, even several days after they had completely dried. If you're going to be making a repair that needs to hold up through the elements, you'll want to prioritize exterior durability so that your repair won't soften and wash away when it rains.

Conclusion
Picking the wrong wood filler could be the death of your project. Some fillers are pure irritation to use, while others are an absolute pleasure. We want to make sure that you only have to deal with the latter, which is why we took the time to write these reviews in the first place.
For us, the best wood filler is the FamoWood latex wood filler. It dries in just 15 minutes, so you can move on with your project instead of waiting for it to dry. Once dry, you can sand, plane, drill, stain, or paint this filler. Since it doesn't shrink or crack, you won't have to apply as many coats as you might with other fillers.
If value is most important to you, we suggest using the Goodfilla wood filler. This non-shrinking formula is available in several colors so you can find a close match to your wood. It dries hard so you can sand it, doesn't shrink, and even comes with a money-back satisfaction guarantee.
Finally, our premium recommendation is the Bondo wood filler. It's one of the strongest fillers we've seen, with a quick-drying time that keeps you working instead of waiting.
Other Buyer's Guide: