In-Ground vs Above-Ground Pools: Which One To Choose?
Swimming pools are fun. They're practically the epitome of grace, style, and leisure. What show about the lifestyles of the rich and famous hasn't included at least one scene with a swimming pool in it? But . . . those shows always picture an in-ground pool.
Is that really what you want? Or maybe you're looking for something a little easier on the pocketbook. An above-ground pool might be better for you. Or is it? Maybe an in-ground pool is where it's at. How do you decide? What are the pros and cons?
Glad ya asked!
We'll walk you through the ups and downs of each type so you'll have the information you need to make an "informed decision", as they say, as to which one is best for you. So let's get started.

In-Ground Pools: The Pros & Cons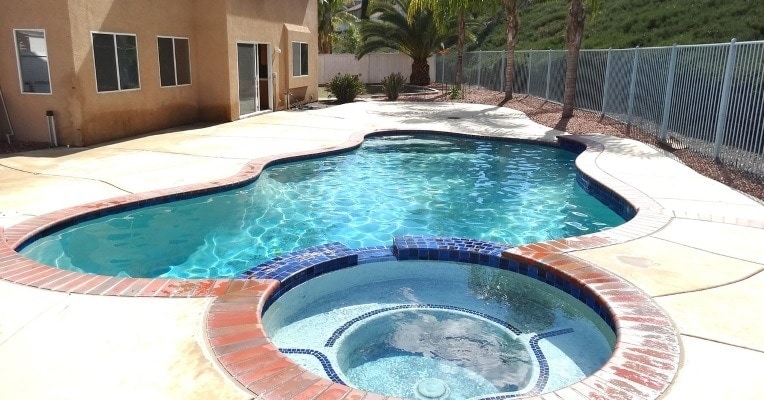 In-ground pools are permanent additions to your home, no different than adding an extra room or expanding the size of the garage. When you build an in-ground swimming pool it adds value to your home, increasing the asking price when or if you decide to sell it. You'll have to get several permits from the city for building it. It also increases your property taxes. Regardless of the initial expense, you'll be required to pay those additional taxes for as long as you keep the house.
Water Feature
A permanent swimming pool creates a water feature for your home and a pleasing view from the house just like those shows we mentioned a minute ago. A swimming pool automatically creates a focal point in the yard for entertaining and enjoyment. Lights sparkling through the water at night while you're relaxing with your guests can create an undeniable atmosphere of ease and comfort.
Cost
A major disadvantage of an in-ground swimming pool is the initial cost. We normally don't like to talk about price, but if any contractor quotes you less than $50,000, walk away from them – they're probably going to take the money and run, or do a sub-standard job that'll do nothing but create endless headaches for you. In-ground pools are expensive. There's just no way around it.
The advantage is, the price differences between rectangular, oval, or custom shapes for in-ground pools is slim. It's just a matter of digging here instead of there. Once you decide to build an in-ground pool, you can choose a custom design that reflects your personality without much additional cost – if any.
Construction
An in-ground swimming pool is a major construction project, involving contractors, sub-contractors, inclement weather throwing off the schedule, heavy equipment in your yard, workers coming and going, mud everywhere, noise, and dust. And these are just a few of the things you'll encounter. They'll continue for at least a couple of months, probably longer if there are any delays, which there always are.
Contractors tend to treat homeowners as if we were money trees. We're not, but they treat us like that anyway. Expect to have them coming to you over and over again asking for additional money for this, that, and the other thing. Don't pay them everything upfront, and demand constant receipts for every purchase as well as continual checkpoints for keeping track of the project schedule.
The construction phase for an in-ground pool is a huge inconvenience. It won't last forever, but it sure feels like it when you're in the middle of it. Make sure you consider that when you're making your decision.
Maintenance
Pool maintenance will be a reoccurring cost no matter what type of swimming pool you install. In-ground pools have a slight advantage in that the water is better insulated from cold temperatures since most of it is below ground level. The surface is still exposed obviously, but the bulk of the water is protected by the concrete sides and the surrounding dirt.
Pros
Great for entertaining
Creates a water feature
Adds value to your home
Custom design is possible
Becomes a focal point of the yard
Adds a leisurely atmosphere to the yard
Water is partially insulated from the cold
Cons
Large initial expense
Increased property taxes

Above-Ground Pools: The Pros & Cons

Above-ground pools are temporary additions to your home. This means you won't have to get any permits from the city in most places. Tax assessors generally don't add any value to your home because of them. In fact, if the pool stays in place very long, it could actually decrease your property value because some above-ground pools can weather badly and become an eyesore. If you decide to sell your house, your realtor may advise you to tear the pool out if it's become worn or ragged.
Water Feature
Above-ground pools are, technically speaking, a water feature, but even with a nice deck built around it, it still doesn't command the visual admiration of an in-ground pool. If you have a deck it makes for a nice entertainment area, but it's not the same.
Cost
Above-ground pools have a clear advantage on this score. A decent kit for a large pool is generally less than $2000, less than a thousand for some mid-size pools. They have a very limited range of shapes, usually limited to round or rectangular ones.
The only real difference is depth. Pools range from 48-inches deep to 56-inches on average, which makes any diving a risky activity in them. Above-ground pools don't have a shallow end for children, which is a serious disadvantage.
Construction
Installing an above-ground pool is very straightforward. Some contractors can do it for you in an afternoon for a modest fee, or you can do it yourself if you like. As long as you have a fairly level place for the pool to be installed, it can be done very quickly.
Maintenance
The maintenance costs and issues for an above ground pool are the same as for an in-ground one. The only difference is that the sides of an above-ground pool don't provide much in the way of insulation for the water. During cool weather, the water will be colder than it would for an identically sized in-ground pool.
Pros
Low initial cost
Ease of installation
No additional taxes
Cons
No diving
Water can get cold
May weather badly
Limited options for shape
No shallow end for children
May need to be removed to sell the house

Conclusion
There's a huge difference between the pros and cons of the above-ground pools and the in-ground ones. Does that mean you should get the in-ground pool no matter what? Not necessarily. The upfront cost of an in-ground pool and the extended installation associated with it can't be ignored. It's a substantial investment. If money is an issue, an above-ground pool, for all its limitations, is still a swimming pool.
We hope this has given you some food for thought and will make your ultimate decision a little easier.
---
Featured Image Credit: L: Creative Commons CC0, Pxhere, R: Dimitris Kiriakakis, Unsplash