10 Best Tile Saws in 2023 – Reviews & Top Picks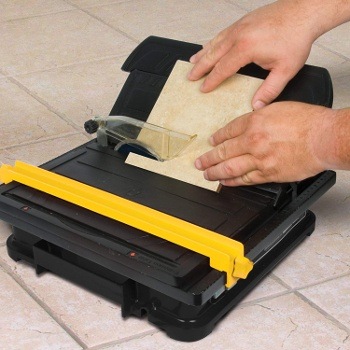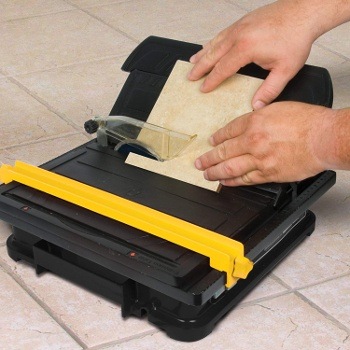 A poor quality tile saw will transform a heap of chipped and broken tiles into a growing graveyard of worthless scrap. Everyone wants clean and straight tile cuts, free of chips, and wavering edges. If you invest in the wrong machine, you'll waste enough tile to exceed the cost of what you thought you saved on the "bargain".
The two primary categories of tile saws are benchtop and freestanding. While some are equipped with sliding trays, others have a sliding saw, and still, others are completely stationary, forcing you to push the tile through by hand. Discrepancies in tile size can also make a saw worthless to one user, but viable for another.
If it feels like a lot to remember, it is. To make it easier, we've tested as many as we could find, and the following 10 reviews are the ones we believe are worth taking a second look at.
Let's take a look at the 10 best tile saws!
---
Comparison of our Favorites in 2023:
Rating
Image
Product
Details

Best Overall

DEWALT D24000S Tile Saw

Most precise cutter
Comes with saw and stand
Has plunge feature
CHECK PRICE

Chicago Electric 2.5HP Tile Saw

Can cut through tile and brick
Cutting capacity up to 24"
Powerful 15-amp 2.5-HP engine
CHECK PRICE

Best Value

SKIL 3540-02 Tile Saw

Adjustable rip fence and miter gauge
Cuts 0 degrees up to 45-degree angle
Corrosive stainless steel top
CHECK PRICE

MK-370EXP Tile Saw

Lightweight and portable
Plunging cutting feature
45-degree miter system
CHECK PRICE

Chicago Electric Bridge Tile Saw

Cuts tiles up to 20" long
45-degree bevel cuts
CHECK PRICE
The 10 Best Tile Saws:
1.

DEWALT D24000S Tile Saw – Best Overall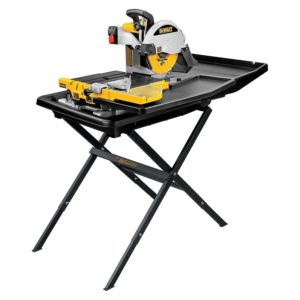 Most tool users are familiar with the quality associated with a Dewalt product. The Dewalt D24000S Wet Tile Saw is no different, and that is why it tops the list as the best wet tile saw. This saw's quick and precise cutting is ideal for contractors, handypeople, and do-it-yourselfers alike.
The D24000S has a stainless steel rail system that's essential for contractors and one of the features that makes it the best professional tile saw on the market today. You will not be disappointed in its cutting features as well as the plunge feature that allows the user to make quick cuts to electrical outlets and A/C registers. It also comes outfitted with a diamond-studded Dewalt Blade and two water nozzles that get the water where it's supposed to go.
A compact design is another great feature of the D24000S, weighing-in at only 69 pounds. It's housed in a carrying case that allows one person to carry it and quickly set up the saw. Not only does this product come with the saw, but it also comes with a stand. Every contractor knows how much of a hassle it can be not to have a stand provided. Trying to find a stable platform can be difficult on the job site. Also, the compact frame allows for easy storage at home or in a vehicle. The power, accuracy, and ease of use make this the best tile saw available today.
Pros
The most precise cutting wet tile saw
Easy to use
Easy to transport and store
Plunge feature allows for quick cutting of electrical outlets
Comes with saw and stand
---
2.

Chicago Electric 2.5HP Tile Saw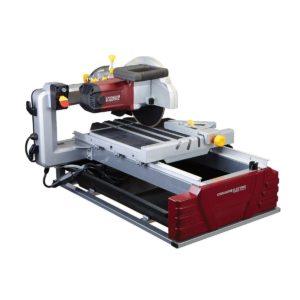 The Chicago electric is a close runner-up to the Dewalt D24000S. The Chicago wet tile saw offers a number of features that allow for precise cuts and ensure a great quality finished product. The adjustable cutting head can accommodate different types of tiles and cutting 3½ inch bricks as well. Its cutting capacity of up to 24 inches and will allow the weekend warrior to accomplish any tile-cutting task.
The Chicago Electric also features a 3 GPM water pump that will ensure water is sprayed continuously. It also comes with an oversized steel frame with a precision bar system to help with difficult cuts. The powerful 15-amp 2.5-HP engine will help cut through the toughest brick or tile, and the heavy-duty cast aluminum prevents vibration.
While this saw is not as good as the Dewalt, it is cheaper and will provide you with a quality cut no matter the material. We recommend this tile saw to any contractor or DIYer trying to finish a product.
Pros
Cutting capacity up to 24 inches
Can cut through tile and brick
Powerful 15-amp 2.5-horsepower engine
Cons
Does not include stand
Not compact
No plunge cutting feature
---
3.

SKIL 3540-02 Tile Saw – Best Value
Many DIYers and weekend handypeople do not want to spend big money on an expensive wet tile saw. The Skil 3540-02 offers the best bang for the buck, and costs about what it would be to rent another wet tile saw from your local hardware store. This saw comes from a reputable brand and will allow you to finish up the weekend job of tiling the bathroom without breaking the bank. The Skil offers a number of features that allow you to complete your tile cutting tasks quickly. It features a corrosive stainless steel top that allows you to cut tiles up to 12″x12″.
The adjustable rip fence and a miter gauge allow the user to make a number of different cuts. The rotating bevel will cut from 0 degrees to an angle of 45 degrees, offering you a range of options when cutting tile. The Skil also comes with a 7-inch diamond-encrusted blade, and also the blade cooling water reservoir helps to keep the blade cool and prevent overheating. It also helps to keep the dust and debris to a minimum.
While this tile is great for the DIYer, it lacks many of the features that the Dewalt or the Chicago offer. This is a great saw for someone who needs to make quick cuts on a smaller scale, but when it comes to advanced cuts or even larger tiles, this saw will come up short. Recommended for jobs around the house, but when it comes to contracting work. you want to purchase Dewalt or the Chicago.
All in all, we think that this is the best tile saw for the money.
Pros
Price
Adjustable rip fence and miter gauge
Cuts 0 degrees up to 45-degree angle
Cons
Lacks power
Only supports 12x 12-inch tiles
Not meant for a contractor
---
4.

MK-370EXP Tile Saw
The MK-370 EXP is one of the lightest and most portable tile saws available today. This is a great tool if you constantly have to move on the job site and its lightweight design makes it an easy tool for a single user to move. It boasts a 1 ¼ horsepower motor that allows the user to cut through tiles that are 18×13.
Don't be fooled by the size of this wet tile saw. It can cut some of the thickest tiles up to 18 inches, and it also has a plunge feature which allows for precise cutting when cutting holes for outlets and pipes. The blades are also on a hinge system which allows for quick and easy changing of the blades.
The MK-370 comes with a water pump, a 45-degree miter system, and a seven-inch wet cutting blade. It also comes equipped with a safety feature that prevents the saw from operating following the removal of the locking key. This is a great wet tile cutting saw for a contractor that is required to move frequently and is an excellent addition to the job site.
Pros
Lightweight and portable
Plunging cutting feature
45-degree miter system
Enhanced Safety Feature
Cons
Lacks the power of other saws
Limited in its tile cutting size
---
5.

Chicago Electric Bridge Tile Saw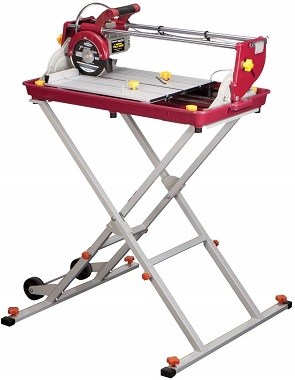 With its ability to cut large tiles, this saw solves a common problem that most of its similarly-priced competitors attempt to resolve. The 7-inch bridge tile saw from Chicago Electric will cut masonry up to 20 inches long. Since the bridge tilts 45 degrees, you can easily make beveled cuts. For the low price, it delivers a very nice cut, even on the large tiles.
The saw's main drawback is what it doesn't include. First, it doesn't come with a blade, which is obviously necessary for this saw to fulfill its intended function. It's also designed to be set on a stand, but the stand is not included, either. Once you consider the additional expense of a blade and the stand, this saw isn't quite as budget-friendly as it first appears.
Pros
Cuts tiles up to 20" long
45-degree bevel cuts
Cons
No blade included
No stand included
---
6.

MK Diamond MK-170 Wet Tile Saw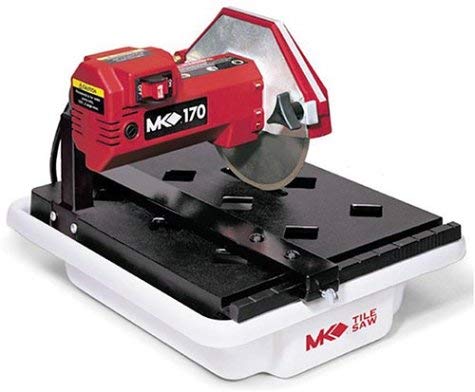 MK Diamond is a well-respected name in tile saws, though this one doesn't quite live up to the quality of its bigger brothers. The first thing we noticed is that it's very compact, and at 15 pounds, it's also very light. A rip fence was included, but it only allows a 7-inch cut from the blade and it wasn't easy to use accurately. This hinders the entire saw since it operates by pushing your tile through the blade, but with no moving tabletop. There's also a texture on top that makes this even more difficult to do smoothly. The motor and blade are durable, strong, and make an excellent cut, but the saw itself is not easy to make a straight cut with because neither the table nor the blade housing move.
Pros
Makes a great cut
Compact and lightweight
Cons
No moving blade or table
Textured surface makes it hard to push tile
Fence is not really usable
---
7.

Porter Cable PCC780LA Wet Tile Saw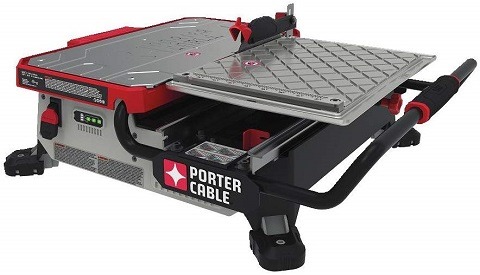 If you want the ability to move your tile saw around while you're using it, you may think about the Porter Cable 20V MAX cordless tile saw. It's priced very modestly, and it's also small and light, making it very portable overall. Surprisingly, it has a sliding table, which is rare on a saw of this size. Of course, this design has some drawbacks, such as the maximum tile size of 12 inches. If you want to cut anything over that size, this isn't the saw for you.
This saw runs off of a 20V battery from Porter Cable's MAX line. Expect to go through quite a few of them if you want to work for several hours. The other downside to using battery power is that this saw isn't terribly strong. We had to feed the tiles very slowly so that we didn't bog down the motor. This led to more chipping of the tile than is acceptable, as well as reduced productivity. Unless you really need the portability, you'd probably be better served with a less portable, but better quality saw.
Pros
Cordless
Sliding Tabletop
Cons
Can't cut tiles over 12"x12"
Short battery life
Not very powerful
---
8.

SKIL 3550-02 Wet Tile Saw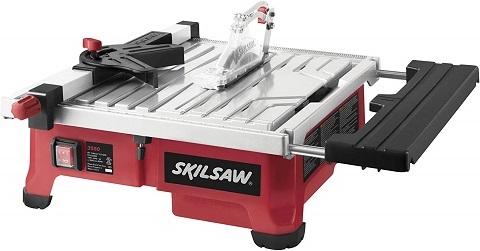 This SKIL wet saw is small, portable, and affordable. Sounds good so far! It can also cut tiles up to 18 inches, which is great for a saw of this size and price. Surprisingly, it also cuts bevels at 22.5 degrees and 45 degrees.
The HydroLock water containment keeps the water on your blade and in your reservoir. It does its job, but it's also a bit of a pain. It totally obscures your cut, so you can't see what you're doing. If you lift it so you can see, then you're getting soaked! There's a fence that should allow you to make clean cuts even with the HydroLock, but it's not reliable and doesn't latch down firm enough to stay straight. The blade also pushes the tile up forcing you to push it back down. With so much force, it's difficult to create clean cuts, so the last bit chips off very often.
Pros
Affordable
Portable
Cuts 18" tiles
Cons
Can't see when using HydroLock
Get soaked if you don't use HydroLock
Blade pushes tile up
Tiles chip very often
Included fence is not usable
---
9.

QEP 3/5 HP Tile Saw (4-Inch)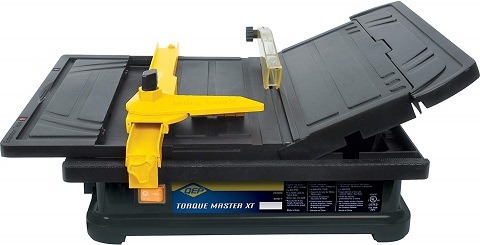 The first thing that jumped out at us about this saw was the very small 4-inch blade. Most tile saws come with a 7-inch blade, so we were skeptical. For the incredibly low price you can pick this product up at, we didn't expect all that much. The manufacturer claims this will cut a 24-inch tile. This would be a very difficult task, and not something we'd recommend. Even 12-inch tiles took a very long time since they had to be fed very slowly to avoid bogging down the motor.
A water containment system houses the blade, but we still ended up getting sprayed whenever making a cut. A fence is included, though much the same as other low-budget saws, it's not really usable. The same goes for the miter gauge that comes with it as well. While you get a lot of features for the price, most of them aren't worth having!
Cons
4" blade
Included accessories aren't useful
Still get wet despite water containment system
---
10.

Leegol Electric 7-Inch Wet Tile-Saw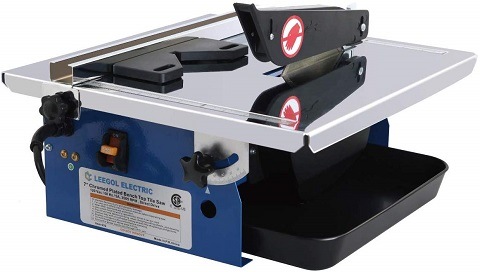 The final position on this list is filled by another budget-priced offering with a small footprint. This Leegol tile saw features a metal tabletop that makes it easier to slide the tile through. The entire tabletop also tilts for making beveled cuts. Surprisingly, there's also a lifetime warranty included with this saw.
The motor on this saw had trouble getting through an entire 4-inch tile. It kept bogging down, even when moving very slowly. The water cover had the typical problems, making it impossible to see your cut when it's down, and soaking you if it's lifted. Also akin to competitors, the included fence isn't really usable. Making things worse, the blade was incredibly thin, causing it to move off of center during cutting. The result was that our cuts didn't want to come out straight. Unless you only need your tile saw for very occasional light use, this saw probably isn't going to fulfill your needs, although it does offer great features for the low price.
Cons
Weak motor
Typical water cover problems
Included fence is no good
Thin, weak blade
---
Buying Guide – How to Purchase the Best Tile Saw
Let's look at the most important factors for choosing the best tile saw for your needs:
Feed Design
This will be one of the most important factors that determine the size and capabilities of your tile saw. There are three main feed designs that we're going to discuss. Sliding table, bridge, and stationary.
Sliding Table
This type of saw has a sliding table that you place the tile on and a stationary blade housing at the back of the saw. As you push the table back, the tile will cut as it moves past the blade. When they're working properly, sliding table tile saws are a pleasure to use. The blade and motor housing are usually mounted on an arm, which means that on one side of the blade you are limited with how much tile can be protruding. However, the other side is open, so in theory, you can make as wide of a cut as you need on that side. It is difficult holding the tile down if a large portion of it is off the platform, but it can be done if necessity dictates.
One drawback to this type of tile saw is that it gets easily damaged. If the table gets knocked around too hard in transport, then it may no longer be square, throwing off your cuts. The sliding mechanisms also get gummed up and lose their smooth action if not properly cared for on a regular basis. On lower-end models, the table is often not secure enough to avoid being pushed off square by the pressure of the blade, meaning you have to move very slow if you want to get a straight cut. Also, your overall tile length is limited by the distance from the start of the table to the blade. Make sure to find one that cuts large enough tiles to satisfy your needs
Bridge Saw
With a bridge saw, the tile and platform are stationary. The blade and motor slide down a bridge that spans front to back. To make a cut, you place your tile on the platform and pull the running saw towards you. One very nice thing about bridge saws is that they give you incredible freedom with what size of tiles you can work with. Both sides of the platform are fully open, so tiles of any width can be used. When it comes to length, you have the full distance of the platform from front to back, minus the length of the saw itself.
On the downside, bridge-style tile saws do tend to be large and heavy. If it were small, you wouldn't be able to fit a very long tile. If you want something that's easy to store out of the way, then a bridge saw may not be your first choice. They also need regular care for the bridge rails. If the saw stops sliding smoothly, you'll have a very difficult time with your cuts. These saws also tend to be on the more expensive end of the price spectrum.
Stationary
Both types of tile saws that we've discussed so far kept the tile stationary while some other part did the moving. On a stationary tile saw, as the name implies, nothing moves. The platform and the saw itself are both completely stationary. Instead, you will push the tile through the saw by sliding it on top of the platform. This can make it much harder to get a clean cut since the tiles never want to slide as smoothly as you'd like. Often, your cuts will wiggle back and forth while you try to keep track of the blade and push the tile with even pressure.
Keeping that in mind, stationary tile saws do have benefits that make them attractive to some consumers. For instance, they can be very small, lightweight, and portable. Often, they are of a very simple design, featuring just the platform with a blade sticking up through the middle. One great thing about this is that even though it may be very small, you're not limited to small tiles. With a completely open design, if you can push it through, you can get it cut. These saws also tend to be the cheapest ones on the market, a trait that many people prioritize above all others.
Tile Size
While discussing the different types of tile saws you could choose from, we did briefly touch on tile size. Today, tiles come in a wide range of different sizes from very small decorative tiles of just a few inches or even less, to very large tiles that can be two feet across and sometimes even larger! While the type of saw you pick will play a role in what size tiles you can use, there is still a difference in capability, even among models of the same design type. If you know you don't need to cut tiles over a certain size, then you can purchase a saw to suit your specific needs. However, if you want the most flexibility with what type of tiles you can work with in the future, we suggest picking a saw with the largest tile capacity possible.
Water Feed
The type of water feed your saw is equipped with will depend largely on which type of saw it is. For most sliding table and bridge type tile saws, a pump will force water from a reservoir underneath the platform. The water will be expelled by jets on the blade housing. When looking at this type of water feed, double-check that the jets point directly at the blade. If the water isn't keeping the blade wet, then it's not doing any good. A surprising number of saws on the market have poorly aimed water jets that don't function as expected.
For stationary tile saws, the water is usually held in a reservoir that the blade sits in. While the blade spins it kicks the water up above the tabletop. A plastic housing will contain the water, pushing it back down onto the blade. Drainage holes in the top of the platform will allow the water to seep back into the reservoir so you're not losing water. In our experience, no matter what you do, you're going to get wet when you use a saw with this type of water feed.
Cut Quality and Accuracy
At the end of the day, the most important thing about a tile saw is whether or not it can cut a clean, straight line. If all your tiles are coming out lopsided, you're not going to care about the money you saved by picking that model. Likewise, if it feels like every cut you make is chipping at the end, you're not going to enjoy using your saw. Everything else aside, this is the real measure of whether a tile saw is worth buying or not.
See also: our comparison of popular budget tile saws.
Warranty
Tile saws work in difficult conditions. They are subject to water, debris, dirt, flying shards, and transportation. Sometimes they're asked to cut brick, porcelain, stone, even glass. Any machine would have a stressful life in these conditions, but tile saws weather the storm. When something does go wrong though, it's nice to have a backup plan. A good warranty can save your investment from going down the drain should a problem arise.
Stand
Many tile saws have a stand that's built into the machine. Some designs, however, are meant to be set on top of a bench or stand instead. They may or may not actually include it. While you can always purchase one separately, there's no guarantee that you'll find one sized appropriately. Although a smaller saw can technically be placed on a tabletop or bench for use, we don't recommend this. Using a tile saw is a wet and messy activity, even more so with the types of tile saws small enough to set on a benchtop. You'll likely soak everything around you and have to deal with loads of cleanup.
Conclusion
We hope you've enjoyed these tile saw reviews. Of the five best tile saws on the market today, the clear winner is the Dewalt D24000S. It had the superior cutting ability, along with a motor that made cutting through even the toughest tiles easy. The plunge feature makes cutting spots for outlets a breeze without having to worry about breaking a tile.
The tile saw that was the best price for the money was the SKIL 3540-02. This tile saw is the perfect saw for the weekend DIYer. It provides the right amount of power for the simple at-home tasks, and it doesn't break the bank.
Last but not least it is good to look around and to check and see what capabilities you need and find the saw that best matches them. The technology continues to advance and making the job of cutting tile easier and easier, so it is good to stay on top and make sure you have the right tool for the job.
We hope you find the best tile saw for your needs! Good luck!
---
We have more great news for you. We recently published a jigsaw and a worm drive saw buying guide. They are very popular and very in-depth. Feel free to check them out!