10 Best Worm Drive Saws – Reviews & Buyer's Guide 2023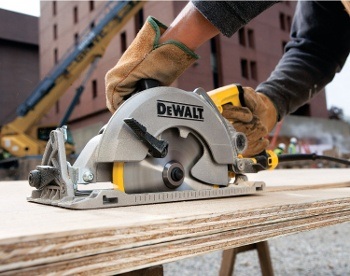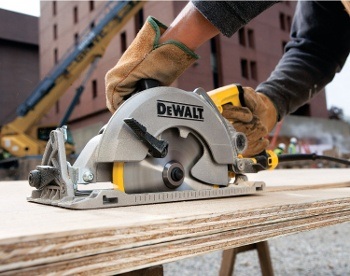 There is an age-old debate among carpenters and construction workers about which is the better circular saw: direct drive or worm drive? Often attributed to a geographical or generational difference, it's a topic that's sure to bring up strong opinions among craftsmen.
In our wide experience testing tools, though, we've seen that worm drive circular saws are unparalleled in their ability to produce accurate cuts and handle large volumes of wood. That's why we've put together this list of reviews for the best worm drive saws, complete with a handy buyer's guide to fill you in on everything you need to know before buying your first worm drive saw.
---
Summary of our Favorites (updated in 2023)
Rating
Image
Product
Details

Best Overall

SKILSAW SPT77WML-01

5
300 RPM blade speed
2⅜-inch maximum cutting capacity
Easy blade change
CHECK PRICE

Makita 5477NB

15-amp motor
Amazing power for the price
ergonomically designed handle
CHECK PRICE

Best Value

DEWALT DCS577X1

Battery-powered for maximum portability
5
800 RPM blade speed
3-year warranty
CHECK PRICE

Milwaukee 6477-20

15-amp motor
Composite shoe
Magnesium construction
CHECK PRICE

SKILSAW SPT70V-11

Deep cutting capacity
Powerful motor
Solid construction
CHECK PRICE
The 10 Best Worm Drive Saws
1.

SKILSAW SPT77WML-01 Worm Drive Saw

The SKILSAW SPT77WML-01 is a powerful saw that's well-equipped for even the most heavy-duty jobs around. If it were more ergonomically sound, it may well have stolen our top spot – especially since it's nearly 3 pounds lighter than many other worm drive saws in our review!
Featuring a magnesium-laden construction and robust 15-amp motor – with a maximum blade speed of 5,300 RPM – the SPT77WML definitely means business. Plus, it's equipped with dual copper windings that keep the motor cool even during extended operation, making it a perfect saw for professional jobsites.
You'll need to have rather strong hands and forearms to operate this worm drive saw accurately. The vibrations it produces are more intense than almost any other saw we tested, and the lack of comfortable gripping surfaces on the handle made it hard to hold onto for any considerable amount of time.
Overall, we think this is the best overall worm drive circular saw of the year.
Pros
5,300 RPM blade speed
Dual copper windings keep the motor cooler during operation
Big 2⅜-inch maximum cutting capacity at 90 degrees
53-degree bevel with a positive stop at 0 and 45 degrees
Easy blade changes thanks to the onboard wrench
Cons
Expensive
Excessive vibrations and lack of a comfortable grip
---
2.

Makita 5477NB 7¼" Hypoid Saw – Best Value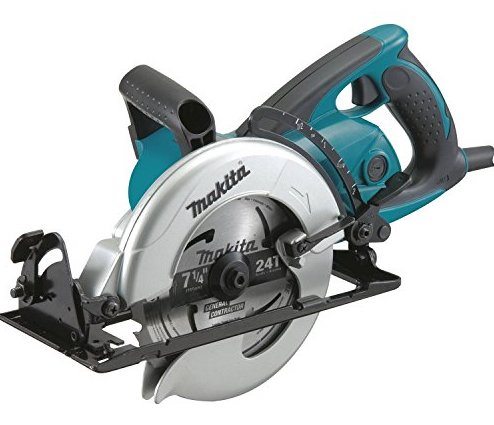 Featuring what may be the most comfortable design of any worm drive saw we've tested, the Makita 5477NB Hypoid saw is enjoyable to use despite its nearly 15-pound weight. Offering a robust 15-amp motor, it's powered by hypoid gears that increase surface contact, and therefore torque as well.
All of that is enough to grab anyone's attention – but when you see the price tag, you may not believe your eyes. Significantly less expensive than any other worm drive saw in our review, it's an excellent choice for anyone on a tighter budget.
As far as downsides, this saw has quite a few plastic components that don't always fair so well on the job site, and its combination of a heavier build and powerful vibrations can make it hard on your shoulders. At a price this good, though, it's easy to see why we consider the Makita 5477NB the best worm drive saw for the money, flaws and all.
Pros
Hypoid gears give it even more torque than most worm drive saws
15-amp motor provides enough power for any job
Amazing power for the price
Comfortable, ergonomically designed handle
Cons
On the heavy side
Plastic components aren't very durable
Strong vibrations can make accurate cuts more difficult
---
3.

DEWALT DCS577X1 Worm Drive Saw – Best Value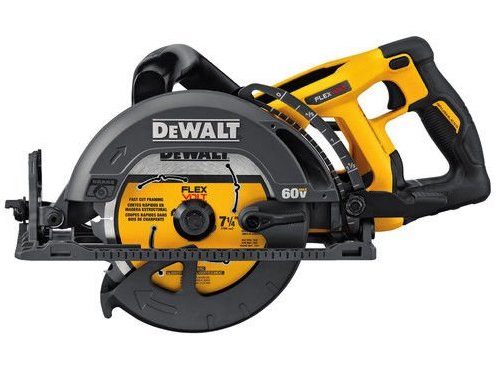 The DeWalt DCS577X1 (also known as the DeWalt Flexvolt) is the best worm drive circular saw for the money. For much less than you'd expect, you get a 7¼-inch cutting depth and an engine capable of 5800 RPM unloaded.
The whole thing weighs no more than 11 pounds, making it the perfect combination of portability, power, and a budget-friendly price. The "flexvolt" name comes from the fact that this saw's battery can power multiple DeWalt models — you can use it in any of their saws that run at 20V, 60V, or 120V, saving you even more money in the long term. When we tested it, the battery ran for five hours of heavy use, multiple times over.
The saw itself has a durable magnesium shoe and a 53-degree bevel range. The blade cuts through nearly any wood in reasonable time, and despite being a bit heavier than average, it's still no problem to carry it up to your roof or out to the woods.
Our only complaint is that the dust port doesn't seem to be straight, and blows debris into your eyes sometimes. Also, it doesn't come with a case.
Pros
Cordless and battery-powered for maximum portability
Powerful 2400-watt output produces 5,800 RPM blade speed
Dust blower makes it easier to see cuts, increasing accuracy
Long battery life
3-year warranty protects your investment
Cons
Quite expensive
Heaviest worm drive saw we've used
Batteries sold separately
---
4.

Milwaukee 6477-20 Worm Drive Circular Saw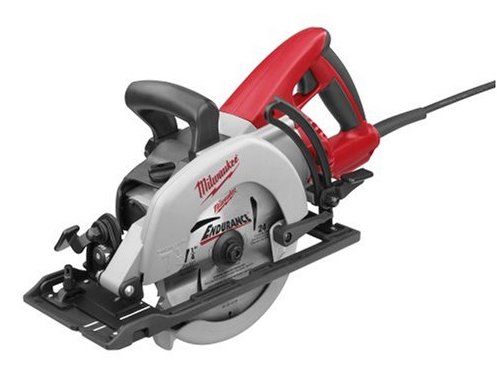 At first glance, the Milwaukee 6477-20 would seem to give any other worm drive saw a run for its money. Its torque-heavy 15-amp motor delivers up to 4,400 RPM of blade speed, and the magnesium construction is built to last. Throw in a composite shoe for good measure, and it seems like a reasonable competitor for your attention.
That's about where our positive evaluation of the 6477-20 ends, though. Even though it's made in China, this saw is no less expensive than any other on our list. And at nearly 19 pounds, it's as heavy or heavier than any saw on our list – including the battery-powered saw from DeWalt.
In short, there are too many other great worm drive saws for us to strongly recommend this one for most buyers.
Pros
Powerful 15-amp motor
Composite shoe and magnesium construction
Cons
On the expensive side
Far too heavy
Uncomfortable handle design
---
5.

SKILSAW SPT70V-11
The Skilsaw SPT70V-11, also called the Super Sawsquatch, is a worm-drive circular saw with a 6¼-inch cutting capacity that's designed to handle big jobs. It might not cut as deeply as some of the competition, but it's able to keep going through all manner of tough cuts.
At 27.3 pounds, it's not the kind of saw you can carry up to your roof. On the ground, though, it puts all that weight to good use. With its motor running at 2500 RPM, the Super Sawsquatch can cut through woods as hard as oak and beech in one pass, and much harder woods — all the way up to walnut — without taking all day.
The other best thing about this saw is that its body is made entirely out of strong magnesium. Lots of saws use magnesium for just the footplate, but Skil isn't leaving anything to chance.
Any downsides? Unfortunately, it's awful at clearing sawdust. If it gets bogged down, expect it to be because your cut filled with debris.
Pros
Deep cutting capacity
Powerful motor
Strong body construction
---
6.

Makita 5377MG
The Makita 5377 Magnesium Hypoid Saw is commonly compared to the Skilsaw and DeWalt models on this list, and for good reason — it matches and often beats them for sheer torque. With a 15-amp, 4,500-RPM motor, there's a lot of sheer power packed into a small space on this worm drive saw.
It boasts a cutting depth of 7¼ inches and an all-magnesium body that cuts its total weight down to 13.2 pounds. This is a job site saw that won't spend much time gathering dust in your workshop.
The thing that struck us when we put the Makita 5377 to the test was its balance. Of all the worm drive saws on this list, it's one of the easiest to hold to a straight line. Easy adjustments and a convenient rafter hook add to the overall feeling of user-friendliness.
The drawback is that, while the blade is calibrated to cut straight, it's not nearly so good at staying square. You'll notice it start to drift off the 90-degree line after a few days of heavy use. It doesn't render it useless, but it is annoying extra work to straighten it repeatedly.
Pros
Lots of torque
Balanced well
Relatively light and portable
Cons
Blade doesn't stay square
Some low-quality components
---
7.

SKILSAW SPT70WM-01 Sasquatch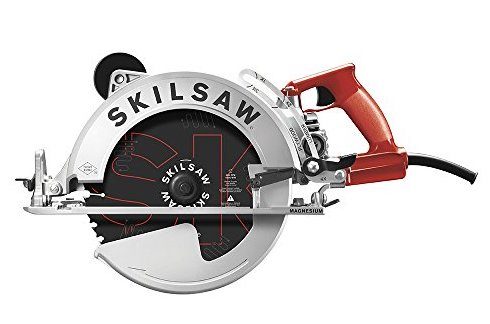 Here we've got the third Skilsaw from their Sawsquatch line. Compared to the SPT70V-11 Super Sawsquatch, the SPT70WM-01 is a bigger circular saw that's specifically designed for cutting 4x workpieces.
The SPT70WM-01 worm drive circular saw weighs a total of 16.45 pounds. Its 15-amp engine goes hard, maxing out at 4600 RPM. Its 3 11/16 inches of cutting depth make great use of that power. This saw is able to cut nearly the entire range of wood hardness at the 4x size. And, as they claim, it's almost always done in one pass.
We do want to clear up some deceptive marketing, though. When we say "4x," we mean the same thing Skil does: any boards sold as 4x something. That's actually a bit less than 4 inches, so 3 11/16 inches of cutting is sufficient — but if you're working with the raw wood, you'll find this saw isn't deep enough.
The factory-installed blade is another big downside. It wobbles so hard we don't even advise using it. Buy a replacement at the same time you buy this saw.
Pros
Cuts any 4x lumber in one pass
Never bogs down
Very light for its power level
Cons
Shallow cutting capacity
Terrible pre-installed blade
---
8.

Bosch CSW41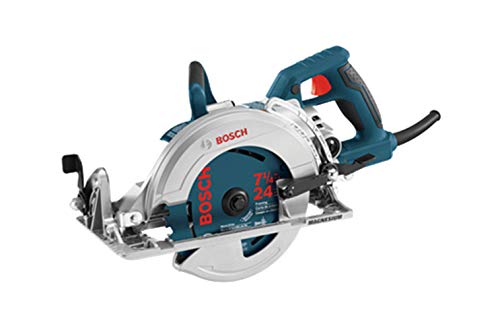 If you've been looking for a 7¼-inch worm drive saw for a truly budget-friendly price, scroll no further: the Bosch CSW41 is the one you want. It doesn't offer quite the value that the DeWalt Flexvolt does, but it's cheaper overall.
This saw weighs 13.2 pounds and has a roaring 5300-RPM motor. The worm drive grants it enough torque for any amateur job, while the manageable weight means you can take it pretty much anywhere. It even comes with an onboard wrench for blade changes in the field.
We found it to be comfortable, fast, and an overall joy to use. It feels exactly like you dreamed a circular saw would, the first time you saw your dad using one.
In a couple of ways, however, you do get what you pay for here. For one thing, it ships with no case, or any other protections whatsoever. For another, the motor wears down fast if you don't diligently oil it — and since this saw arrives without any oil, it's hard to lubricate it enough to slow that decline.
Pros
Extremely strong for its size
Cheap
Cuts smoothly
Cons
No oil included
Engine declines quickly
Ships without protection
---
9.

Makita XSR01PT 7-1/4 Worm Drive Circular Saw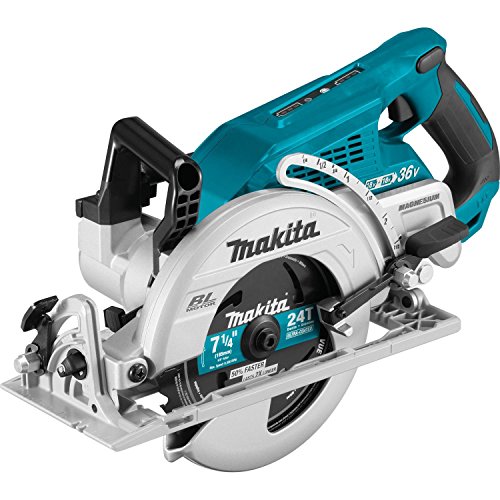 The Makita XSR01PT is powered by two 18V batteries. Remembering to charge both of them is less than ideal from a convenience standpoint, but it does deliver more power. At only 12.68 points, this circular saw's motor can reach 5100 RPM without a load.
Its cutting depth, at 2 9/16 inches, seems a bit small, but it's far more than what you need to cut 2×4 (or 2x anything else). This is a nicely balanced saw: heavy enough for harder woods, light enough to come with you anywhere.
If all you're doing is cutting 2x4s, this Makita worm drive saw is everything you need, but it fails in the versatility department: don't expect to be able to rip up your kitchen floor with this. The included blade also has teeth that are slightly thicker than its kerf, so if you're working with anything other than a clamped board, it's likely to bog down. Finally, be warned that the cut gauge is often misaligned.
Pros
Lots of power from two batteries
Great for 2x planks
Cons
Cut gauge up to 1/8-inch off
Shallow cutting capacity
Factory blade bogs down constantly
Have to charge two batteries
---
10.

DEWALT DWS535 Worm Drive Saw
DeWalt consistently produces power tools that are the envy of home DIYers and professionals alike – and their DWS535B worm drive circular saw is certainly no exception. Quite lightweight for a worm drive saw, it's one of the easiest to use and most accurate and stable circular saws we've ever had the pleasure of testing.
The DWS535B's powerful 15-amp motor produces an impressive 4,800 RPM blade speed under no load, with enough torque to easily handle even the toughest of hardwoods. A quick blade change mechanism allows it to easily adjust to working on drywall, plastic, or metal without skipping a beat.
A good portion of magnesium components in this worm drive saw's construction make it lighter than almost any other saw in this review. But don't think that means it will be any less durable: Magnesium is harder and more resistant to corrosion than the aluminum used in less expensive saws.
Overall, there's nothing that the DeWalt DWS535B doesn't do well. It's just not an exceptional saw compared to all the others on this list.
Pros
Rugged and long-lasting 15-amp motor
Quick blade changes
Electric brake
Cons
Might be too light for some jobs
Average performance
---
Buyer's Guide – Purchasing the Best Worm Drive Saw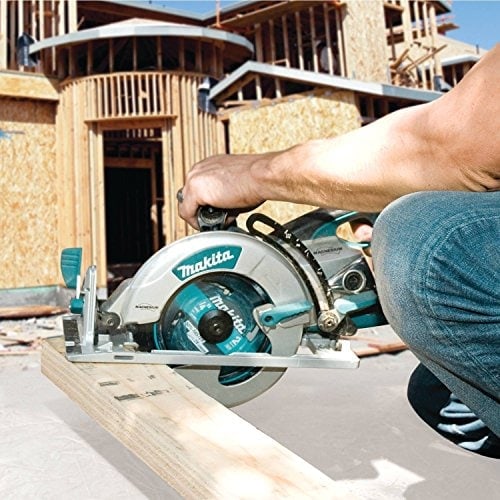 If you're wondering whether a worm drive saw is the right choice for your workshop, we recommend studying up on everything that they're capable of. Once you know what exactly you're looking for, it's easy to choose – so let's take a look at the following pre-buy considerations in more detail:
Who Can Benefit from a Worm Drive Saw?
Equipped with much greater torque than a sidewinder circular saw, the worm drive saw is generally better suited towards heavy-duty construction and woodworking jobs. The balanced motor placement tends to make them produce more accurate cuts, as well as cleaner edges on each cut made.
Worm drive saws are a powerful and versatile addition to any woodworker or DIY enthusiast's toolkit and can do far more than just make quick rips and crosscuts. In the hands of a skilled user, the right worm drive circular saw can be used for cutting framing lumber, roofing, metal, and sheet goods, or making quick work of demolition projects.
What to Look for In a Worm Drive Saw
Just because worm drive circular saws are considered an option suitable for professional use doesn't mean that they're all created equally. In our quest to find the best worm drive saws out there, we found the following qualities to be the biggest determinants of overall value:
Power, in the form of both maximum blade speed and torque, is the easiest way to differentiate one worm drive saw from the next. Only the best saws will consistently deliver excellent power from reliable motors.
Ergonomics can make or break your experience of using a worm drive saw. Because they often weigh in on the heavier side, you should always look for designs that reduce or limit vibrations, as well as saws that leave off excess accessories that only serve to add to the weight.
Cutting Capacity is where a worm drive saw can really shine, both in overall depth and degree of bevel. A 45-degree bevel is standard, and any cutting capacity that nears 2 inches is excellent.
Accuracy may be the hardest quality to measure in a worm drive saw, as it is a result of the combination of several features. A stable metal foot, low vibration, and powerful dust blower will all contribute to the overall accuracy of the saw.
SEE ALSO: Our reviews of the best circular saws this year
What Is a Worm Drive, Anyway?
Designed specifically to produce higher torque, the worm drive consists of a worm – a gear in the form of a screw – that meshes with a worm gear. This gear configuration allows for an indirect transfer of force that differentiates it from a direct drive saw.
Worm drives have the advantage of requiring a much smaller gearbox than those used for spur gears, which is what allows them to be placed directly behind the blade in worm drive circular saws.
Worm Drive vs Direct Drive Circular Saws
When deciding on the right saw for your needs, it's useful to understand the unique advantages and disadvantages of both worm drive and direct drive circular saws.
In short, worm drive saws have a greater cutting capacity and produce more accurate cuts but are also heavier and pricier. Direct drive saws are lightweight, inexpensive, and easy to use, but not nearly as accurate or powerful.
For a complete discussion of the differences between these two types of saws, check out our article on worm drive vs direct drive circular saws.
RELATED READING: Worm Drive Saw vs Circular Saw
Conclusion
For the best in cutting power and unstoppable durability, no other saw in our reviews can beat out the SKILSAW SPT77-WML. It's a beast of a circular saw, easily capable of cutting through the densest hardwoods and man-made boards thanks to its 5,300 RPM blade speed. If you're looking for the absolute best worm drive saw around, it's definitely worthy of being your first consideration.
Home DIY enthusiasts with smaller budgets might enjoy the Makita 5477NB 7¼" Hypoid Saw as a low-cost alternative to our top pick. It's surprisingly powerful and performed will on rips and crosscuts in our testing, making it perhaps the best worm drive saw for the money. Anyone with more casual requirements for their worm drive saw will enjoy its cost-effectiveness and versatility.