10 Best Tool Backpacks of 2023 – Top Picks & Reviews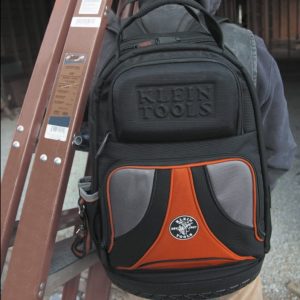 When you have several tools, you need a portable way to store them to have them on hand for your next project. Toolboxes are standard options, but tool backpacks are becoming even more popular. They are easier to carry since they free up your hands.
However, not all tool backpacks are made equal. Some fall apart easily or don't have much room inside. If you want to carry all your tools around like a pro, you must choose the correct tool backpack. In this article, we aim to help you do just that. We'll review some of the best tool backpacks on the market and go over of the best features to keep in mind while shopping.
A Quick Comparison of Our Favorites in 2023
Rating
Image
Product
Details

Best Overall

DEWALT DGL523 Lighted Tool Backpack

57 pockets
LED light
Comfortable
CHECK PRICE

Best Value

Rugged Tools Tradesman Tool Backpack

1680D polyester
Molded hard bottom
Inexpensive
CHECK PRICE

Premium Choice

Veto Pro Pac TECH PAC

56 different pockets
5-year warranty against defects
Durable
CHECK PRICE

Klein Tools 55421BP-14 Tool Bag Backpack

Hard pocket
Front zipper pocket
Taller bag
CHECK PRICE

CLC Custom LeatherCraft 1132 Tool Backpack

75 different pockets
It comes with a plastic organizing case
Tons of zippered pockets
CHECK PRICE
The 10 Best Tool Backpacks
1.

DEWALT DGL523 Lighted Tool Backpack – Best Overall
Our favorite backpack is the DEWALT DGL523 Lighted Tool Backpack. It has an LED light that can easily be directed toward the work area or into the backpack. This is very useful when you're in a dim area and need to find a tool in the bag quickly. Plus, you'll always have a pretty powerful light ready whenever you need it. You can adjust the light to either illuminate a large area or a tiny area very brightly.
The bag is comfortable to carry, as well. It has a padded web-carrying handle and adjustable shoulder straps. Large pads on the back provide extra support, and it has padded feet, which helps significantly with wear and tear. With 57 pockets, this bag can hold pretty much anything you need. Forty-eight of these pockets are multi-use, and nine are on the exterior to help you organize your accessories and other smaller parts.
The Dewalt DGL523 is the only tool backpack you'll need.
Pros
57 pockets
LED light
Comfortable
Nine outside pockets
Holds several tools
---
2.

Rugged Tools Tradesman Tool Backpack – Best Value
Not everyone needs a huge backpack. If you only have a few tools or are on a strict budget, the Rugged Tools Tradesman Tool Backpack is a reliable option for you to consider. It is smaller than many of the other options on this list. It only has 28 pockets, which is significantly fewer than most. It also doesn't come with many extra features. However, it is durable and appropriate for various uses. If you're looking for a simple bag, the Rugged Tools pack is the best option.
It is built to last despite its lower price. It is constructed of 1680D polyester and is made to be used in harsh working environments. Practically anyone can use this bag and feel impressed, including DIYers and professionals. It has a molded hard bottom, which protects the tools inside. We also found that it makes the bag stand up better, which is a valuable bonus. Plus, it is backed by a 100% satisfaction guarantee.
We particularly liked that the sternum strap helps distribute the weight better. This is very helpful when you're wearing it for an extended period. The Rugged Tools Tradesman is the best tool backpack for the money available this year.
Pros
1680D polyester
Molded hard bottom
Inexpensive
100% satisfaction guarantee
---
3.

Veto Pro Pac TECH PAC – Premium Choice
Some people live and breathe tools. In those cases, a premium tool backpack may be precisely what they need. The Veto Pro Pac TECH PAC has two storage bays and four storage compartments. It has padded EVA thermal padding, which protects your tools to the greatest extent possible. It has a quick-release metal clasp, so you don't have to fiddle around with a zipper when trying to get your hammer out. It even has a 3 mm thick polypropylene base, so it won't tip over. This is a significant feature since tipping can ruin your organization and damage the tools.
In all, this backpack has 56 pockets. These are spread through 4 larger compartments, which helps you stay organized. Many of these pockets are multi-purpose, so you can put practically anything in them.
It has a 5-year warranty against defects. This doesn't cover everything, but it is better than many other warranties from competitors. We like the over-molded ergonomic grip and the adjustable padded shoulder straps.
Pros
3 mm thick polypropylene
56 pockets
5-year warranty against defects.
Durable
Made for professionals
---
4.

Klein Tools 55421BP-14 Tool Bag Backpack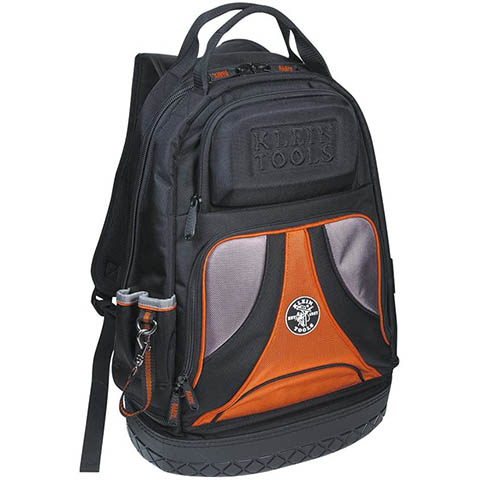 The Klein Tools 55421BP-14 Tool Bag Backpack is a mid-range bag in quality and price. It seems to have an average number of pockets and other features. It didn't make it to the top of our list, but there is a lot we liked about it. It has 39 pockets, which should be plenty for most users. It has a hard, molded front pocket that can protect more sensitive items, like safety glasses. The front zipper pocket is perfect for tiny parts and tools.
It is a large bag, and it can store larger tools than most packs. It can even store oversized screwdrivers, which can sometimes be challenging to transfer. The bottom is fully molded and quite thick, which protects the tools and helps the bag stand up. The zippers are the weak spot on this bag. They tend to break, though they can take a lot of abuse.
Pros
Hard pocket
Front zipper pocket
Taller bag
Bottom is molded
Cons
Zippers are weak
So-so number of pockets
---
5.

CLC Custom LeatherCraft 1132 Tool Backpack
The CLC Custom LeatherCraft 1132 Tool Backpack is a bit more expensive than most bags. It still isn't the most expensive bag, and you get many features for the cost. It has 75 pockets for storage, which is far more than most other backpacks on the list. It has 6 zippered pockets, with the pockets spread throughout each more gigantic, zippered pocket.
It comes with a plastic tray to organize the small parts and pieces that could easily get lost if thrown into the bag. There are plenty of internal panels throughout the bag that can hold many tools, including longer screwdrivers and more extensive tools. The bag is made of ballistic polyester fabric that can handle the wear and tear of the job site.
However, the zippers on this bag are not as high quality as they should be. They begin to wear down quickly. There are many zippers on this bag, so there are quite a few opportunities for them to fail.
Pros
75 different pockets
It comes with a plastic organizing case
Tons of zippered pockets
Cons
Low-quality zippers
Not very durable
---
6.

AmazonBasics ZH1710003R1 Tool Bag Backpack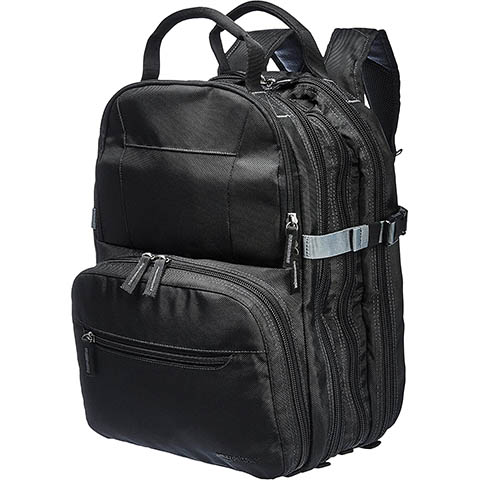 Amazon has recently started its line of products that includes standard products, including tool bags. The AmazonBasics ZH1710003R1 Tool Bag Backpack is much cheaper than most options. It is the "generic" version of a tool bag. However, it does have quite a few features we liked. For example, it has 75 pockets. This high number allows you to keep multiple tools organized in this bag. It has six zippered pockets as well.
Each compartment is made with a specific tool in mind. This is both a good and a bad thing. If, on the one hand, you happen to have all the tools they designed this bag for, it's excellent! However, if you have different tools or only use specific tools, it could be a problem.
The bag is comfortable to wear and has adjustable padded shoulder straps and padded handles. The orange interior makes finding items easier than the darker interiors of other packs. It comes with a 1-year warranty as well.
This bag's zippers don't hold, though this seems to be a common complaint across multiple bags. There also aren't many ways to keep the bag organized. The tools don't stay in their pockets , and there are only a few clasps to keep all the tools in place.
Pros
Inexpensive
Many pockets
Comfortable
Cons
Difficult to keep all tools organized
Zippers are low-quality
---
7.

STEELHEAD SH-05-BP-B1-0-1 Tool Backpack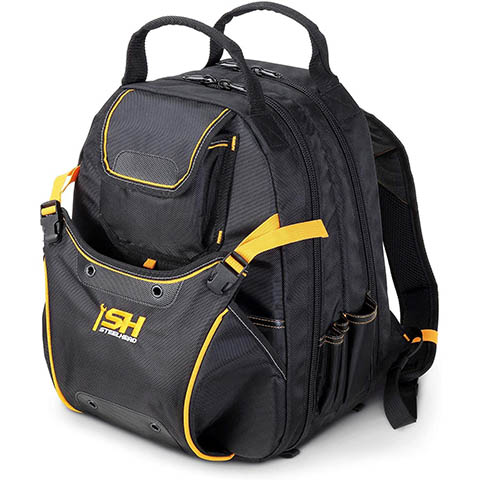 The STEELHEAD SH-05-BP-B1-0-1 Tool Backpack is optimized for rugged professions and environments. It is suitable for an electrician, plumber, or construction worker. It has 48 pockets, and while that isn't as much as some other bags, it should still be enough for most applications. The pockets are various sizes, so you can use them to hold small tools and massive ones.
It has rugged feet and a reinforced bottom to protect your tools and prevent the bag from wearing down on the bottom. It won't get damaged in wet conditions or hot environments. The STEELHEAD also has a utility clip and heavy-duty carrying handles. If you need to move it around the job site without actually putting it on your back, it allows you to do that very quickly. Plus, it comes with a lifetime warranty.
This bag mainly contains long, skinny pockets. They aren't wide, which can make storing items like drywall knives difficult. The pockets aren't very deep either, so they aren't suitable for long tools. This bag also doesn't hold up very well, but the lifetime warranty provides some protection. Like many bags, the zippers aren't the best either.
Pros
Rugged feet
Utility clip
48 pockets in total
Cons
Long, skinny pockets
Zippers aren't the best
---
8.

Milwaukee PACKOUT Backpack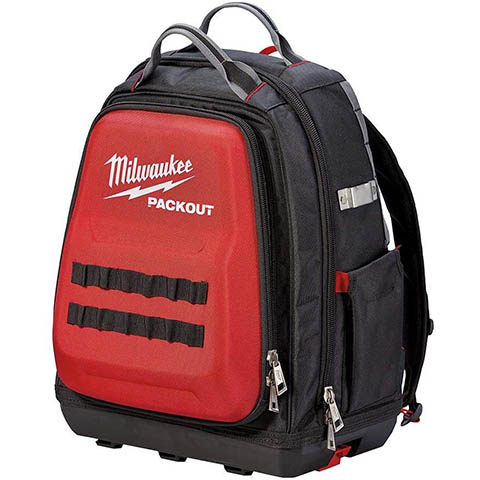 With 48 total pockets, the Milwaukee PACKOUT Backpack should be big enough for most people. It has a hardshell pocket on the front to protect sensitive equipment and tools, like electronics. Plus, all the hardware is metal, and it features a tape measuring clip. The sidewalls are reinforced to help them last longer at the job site.
We like the design of this bag, and it's designed so that you can grab various tools reasonably quickly. Pockets aren't necessarily designed for different tools, making this bag more versatile than other options. The PACKOUT is a bit more expensive than we would have liked and doesn't have as many pockets as other options, but it is considerably more expensive than many of them. You don't get many extra features for the extra cost either.
This bag also isn't balanced and doesn't stand upright.
Pros
Hardshell pocket
48 pockets
Tape measuring clip
---
9.

SWISSGEAR Work Tool Backpack
The SWISSGEAR Work Tool Backpack has 60 slots and pockets. This allows you to stay very organized no matter what you're doing. It also has a removable tool caddy in the main pocket, so you can pull all your primary tools out if needed. It is one of the few bags with built-in laptop protection. It has a padded compartment that will keep your laptop safe. It even comes with a built-in USB port to keep everything charged. The shoulder straps are comfortable, and the airflow technology will keep you from getting sweaty.
However, there is little padding on the back portion or the shoulders. This isn't terrible, but it can get annoying if you have to wear it for an extended period. Their customer service also isn't nearly as reliable as it should be.
The SWISSGEAR bag seems balanced, but when you add weight to it, it will not stand up correctly. It cannot deal with unbalanced amounts of weight. So, if you weigh down one side of the bag too much, it will fall over.
Pros
Removable tool caddy
Built-in laptop pocket
Cons
Lacks padding
Doesn't stand up
Poor customer service
---
10.

Dead on Tools The Destroyer Tech Pack
Besides having an edgy name, there isn't much else the Dead on Tools The Destroyer Tech Pack has going for it. It has 19 pockets, which is the fewest out of all the bags we reviewed. It has a relatively durable handle, but it is also quite uncomfortable. It only has a few zippered pockets, and the shoulder straps are not durable. There is only a tiny bit of padding that usually doesn't even hit your shoulder in the right place.
It seems like it is made for short people and is not adjustable to make up for it. We found it a bit uncomfortable, with no mid-stabilizer or waist strap. The Destroyer Tech Pack doesn't have a hard bottom material. Instead, it's a relatively soft material that can be crushed easily. You can't put too much heavy equipment in it for this reason.
Cons
Flimsy bottom
Uncomfortable
Few pockets
---
Buyer's Guide – Choosing the Best Tool Backpack
Choosing a tool backpack should be simple, but it is pretty complicated. While shopping, there are several features you need to keep in mind, and you should consider everything from the cost to the number of pockets to stability. It is a lot to stay on top of.
In this section, we'll break down all these essential features so you know exactly what to look for.
Pockets
All tool backpacks should have pockets. Otherwise, your tools will just be a big clanging mess at the bottom. You won't be able to find anything, and your tools will get damaged. Luckily, most of these packs have pockets. The number of pockets they have varies a whole lot, however. Some have 10, and others have up to 75. Usually, more pockets are better as it helps you stay organized. However, you have to remember that you can only fit so many pockets into a backpack. Sure, you could probably fit 300 pockets into a backpack, but they will be tiny pockets and probably will not be holding tools.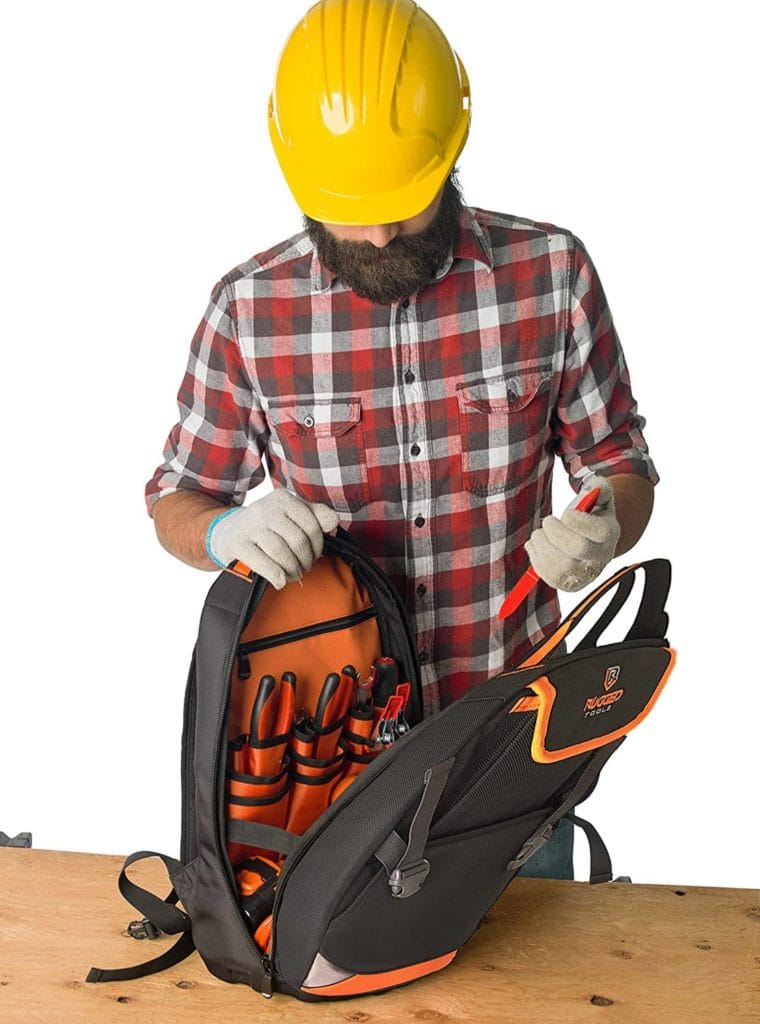 The Bottom
The bottom of the bag is probably one of the essential parts. It is the part that has to withstand all the weight of your tools when set down. A poorly made bag will be crushed under all the tools' weight, which can ruin its ability to stand up and even cause damage to the contents.
Most packs are made of hard materials that can withstand a lot of weight. However, many companies attempt to side-step this feature and use cheap plastic.
Zippers
While reviewing ten bags currently on the market, we discovered that the zippers were the first components to fail. Zippers get used a lot and are put under a lot of strain, especially if you're getting tools out of the bag all day. If the zipper fails, you're out of luck. Whenever you're purchasing a backpack, check the reviews for information about the zipper.
Cost
These bags can be costly. Some cost hundreds of dollars, though you can find a few cheaper options. We have discovered that cost doesn't always match up with quality. The more expensive bag is probably better than the cheapest bag, but the lines tend to get a bit fuzzy beyond that. There were a couple of $100 bags that were much better than the $130 bags.
For this reason, you can likely get a good bag for cheaper than you think. Don't just go off the price when figuring out if a bag is good or not. Instead, check on all the other features we mentioned here.
Comfort
You also need to consider how comfortable a bag is. After all, you will be wearing it when it's loaded with heavy tools.  Under normal circumstances, you will not be able to walk around and test a bag before you purchase it. Instead, you'll need to examine the specs for information like the amount of padding.
In general, more padding is better. The quality of the padding does matter, however. If the padding isn't very high-quality, it will not support your back, no matter how much of it there is. You also need to check how adjustable the bag is. If a bag can't be adjusted to fit you correctly, it will be uncomfortable.

Conclusion
We hope this article pointed you toward the perfect tool backpack for your needs. There are several brands, but our reviews should help you narrow down your list substantially. If we had to recommend just one bag, it would be the DEWALT DGL523 Lighted Tool Backpack. This bag has just the right number of pockets, is durable, and has some cool features. For example, it has an LED light that can be used to light your workspace and grab tools out of your bag.
For those who don't want to spend much money, we also liked the Rugged Tools Tradesman Tool Backpack. It is much less expensive than most other options but should still provide everything you need to carry your tools around.
Other types of tool storages: