10 Best Tool Boxes for the Money in 2023 – Reviews & Buyer's Guide
Even if you only work inside your workshop or garage, it's common to need your tools in other places. For instance, you may need them for a repair in the home or when a vehicle is broken down and you don't want to tow it.
A good toolbox does more than help you transport your tools though. It will also keep them organized so you can always find the tool you need without wasting time digging through the pile. Separate compartments help you organize everything and offer a way to group similar tools for easy access.
Whether you've got a collection of diverse power tools for professional work or just a few hand tools for basic home repairs, the perfect toolbox is somewhere on this list. To help you figure out which one it is, we've written up the following reviews about our favorites so they're easy to compare.
---
A Quick Comparison of Our Favorites in 2023:
Rating
Image
Product
Details

Best Overall

DEWALT DWST17806 Tstak Tool Box

Modular stacking system
Heavy-duty metal hinges and latches
Can design it to fit your needs
CHECK PRICE

Best Value

Performance Tool W54012 Plastic Tool Box

Removable tray for your most-used tools
Clear-top organizer for small items
Comes in various sizes
CHECK PRICE

Premium Choice

Milwaukee Rolling Modular Tool Box

Three separate toolboxes that lock together
Metal reinforced corners and locks
Weather sealed
CHECK PRICE

Stanley STST70574 Soft Sided Tool Bag

600 denier polyester construction
Durable but light
Limited lifetime warranty
CHECK PRICE

Stalwart 75-2250 Rolling Tool Box

Wheels and handle make it easy to move
Cable hooks on the back for keeping an extension cord
Provides two tiers of tool storage
CHECK PRICE
The 10 Best Tool Boxes
1.

DEWALT DWST17806 Tstak Tool Box – Best Overall
The Tstak toolbox from DEWALT is a modular system of stacking toolboxes that are all built to work together. There are 10 different modular components to the system, including deep toolboxes, drawers, and even some with wheels that the rest can stack on top of, making it easy to transport everything. Simply grab the boxes with the tools you need, stack them up, and set out.
One great thing about DEWALT products is that you can always trust them to be built well, and this set of toolboxes is no exception. They're made from thick, durable plastic that won't rust or corrode with anti-rust metal latches to keep everything safe and secure. These are so sturdily constructed that they're protected by a limited lifetime warranty.
No matter what size of tools you need to store and transport, you'll find an appropriately sized component in the Tstak system. The deep boxes will fit large power tools with no problems, and you can get smaller boxes for hand tools. Unfortunately, you'll have to purchase each component separately, but that's what allows you to build a custom setup that's perfect for your needs.
Pros
Modular stacking system
Can design it to fit your needs
Heavy-duty metal hinges and latches
The extra-large size will fit power tools with ease
Protected by a limited lifetime warranty
Cons
Each component must be purchased separately
---
2.

Performance Tool Plastic Tool Box – Best Value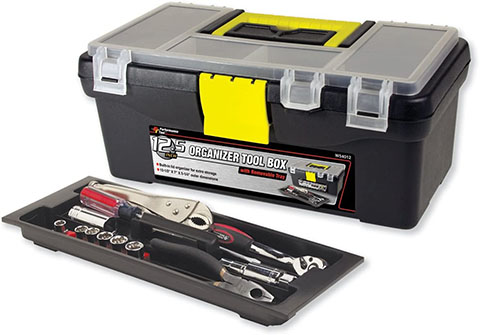 Not everyone who needs a toolbox is a professional looking for heavy-duty equipment. For the homeowner who just has a few tools to organize, the Performance Tool W54012 Plastic Toolbox is the right size and price. It's one of the cheapest toolboxes we've tested, and while it's not meant for carrying a heavy set of power tools, it's ideal for organizing a small set of tools meant for odd jobs around the home.
You can choose between four sizes, ranging from 12 inches to 19 inches in length. Inside, there's a removable tray that you can keep your most-used tools in for easy access. On top, small dividers make it easy to store screws and other small hardware with a clear lid so you can tell where everything is at a glance.
This toolbox is made entirely from plastic that won't rust or corrode. It's not the most durable toolbox on the market, but for the handy homeowner with a few tools to store, it's probably the best tool box for the money.
Pros
Priced affordably
Removable tray for your most-used tools
Comes in various sizes
Clear-top organizer for small items
All-plastic construction won't rust or corrode
Cons
It's not the most durable toolbox
---
3.

Milwaukee Rolling Modular Tool Box – Premium Choice
Professionals on the go need a tool storage solution that's strong and reliable with multiple storage compartments for storing tools of different types and sizes. We think that solution is this Rolling Modular Toolbox from Milwaukee. It's one of the strongest, most reliable toolboxes we've seen, though it's accompanied by a pretty hefty price tag as well.
This modular tool storage system is completely stackable, making it easy to transport everything at once with the telescoping handle and built-in wheels. And thanks to the impressive weight capacity of 250 pounds, you can rest assured that your toolbox can handle the load.
You'll get three separate toolboxes with this setup, allowing you to organize your tools in whatever way suits you best. Each box is weather-sealed and has metal reinforced corners and locks to ensure your tools are always safe from everything, including theft and the weather. The whole set weighs 45 pounds, which would be heavy if you had to carry it, but isn't bad since it rolls.
Pros
Impressive weight capacity of 250 pounds
Three separate toolboxes that lock together
Metal reinforced corners and locks
Weather sealed
Telescoping handle and wheels make it easy to transport
Cons
Extremely expensive
Weighs 45 pounds
---
4.

Stanley STST70574 Soft Sided Tool Bag
This 12-inch tool bag from Stanley weighs less than a pound but will keep all your small tools neatly organized. It's made from 600-denier polyester, making it durable and strong without adding extra weight. To that end, it's protected by a limited lifetime warranty, so you can trust that this bag will be around to carry your tools for a long time.
The vertical pouches on the inside and outside of this bag make it easy to locate whatever tool you're looking for. Unfortunately, you'll only be able to fit small tools inside since it's not the most spacious tool tote we've tested.
Pros
Pouches store tools vertically for easy locating
600 denier polyester construction
Durable but light
Limited lifetime warranty
Cons
Only suitable for small hand tools
---
5.

Stalwart 75-2250 Rolling Tool Box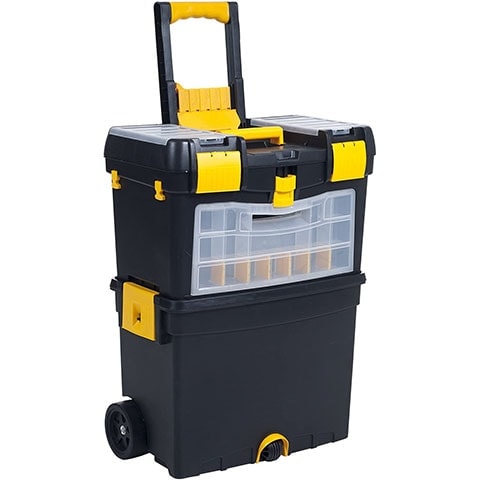 When you have quite a few tools to store and they need to be portable, this rolling toolbox from Stalwart will fit them, though its cheap construction leaves some doubt about how long it will be there to serve you. Still, it's got some great features like the built-in cable hooks for neatly storing extension cords.
This toolbox features two crates that lock together, providing ample room for a large number of tools. The bottom portion is deep and wide open for your large power tools and the top has multiple compartments and organizers to keep your smaller tools in order. Unfortunately, it's a bit more expensive than other options, despite the cheap quality of the materials used.
Pros
Wheels and handle make it easy to move
Provides two tiers of tool storage
Cable hooks on the back for keeping an extension cord
Cons
More expensive than other options
Cheaply constructed
---
6.

Allied Tools 38231 Metal Tool Box
At 17 inches long, this metal toolbox from Allied Tools is perfect for storing a set of small tools for household repairs. It's durably built and more spacious than you might expect. But it's the ocean blue paint job that will attract many to this toolbox. It's an attractive look, though you're paying a premium for the hue. Disappointingly, there are two large stickers on this toolbox that left behind a residue that was extremely hard to remove.
This toolbox weighs nearly eight pounds. That's not a lot on its own, but once it's filled with tools, it might be a bit hefty to store on the top shelf of the closet. But it is very secure, with latches that can each be separately padlocked.
Pros
All-metal construction keeps tools well protected
Covered by a limited lifetime warranty
Each latch can be padlocked
Cons
It's pretty heavy due to metal construction
Two large stickers don't want to come off
---
7.

GEARWRENCH 83151 Steel Tool Box

Toolboxes come in all sorts of designs, such as this three-drawer steel toolbox from GEARWRENCH. All three drawers pull out to the front and there's even access from the flip-up top. Unfortunately, there's no tray in the top, so it's not nearly as useful as it could be.
To keep your tools safe and secure, there's a lock at the top, allowing you to use the included key to lock your tools down. The black powder coating looks great and works to prevent corrosion and rust from ruining your nice toolbox.
The drawers glide smoothly on ball-bearing slides. Too bad you can't fit anything large inside. While this toolbox is perfect for storing screwdrivers, sockets, and other small items, that's about all you can fit inside. Overall, this is a nice toolbox, but it doesn't provide quite enough functionality for the high price.
Pros
3 sliding drawers with top access
Ball-bearing drawer slides
Lock it all down by key
Black powder-coated to prevent corrosion and rust
Cons
It's one of the more expensive options
Can't fit any large tools inside
No tray for the top portion
---
8.

WORKPRO 17-inch Plastic Tool Box
This WORKPRO plastic toolbox is 17 inches long and just shy of 10 inches wide. It's a two-tiered design with a top half that slides back to allow access to the bottom. Altogether, it's just 5.5 inches deep, so don't expect to fit anything but hardware, fasteners, and other little items inside.
But if that's what you need to store, this toolbox is perfect. It's got 18 total compartments and they're adjustable so you can set everything up however you prefer. You'll even be able to see a lot of it without opening the box thanks to the clear lid. The whole thing is plastic, except for the latches that pull the top and bottom out of alignment when closed. This caused the plastic on ours to crack, so it's safe to say that durability is not a strong point with this product.
Pros
Compartments are adjustable
18 total compartments
Transparent lid allows you to see everything before you open
Cons
Meant for very small tools like sockets and bits
Latches force the top and bottom to come out of alignment
The plastic isn't strong and ours cracked
---
9.

Akro-Mils 09514 ProBox Plastic Toolbox
Affordably priced and utterly basic, the Akro-Mils ProBox Plastic Toolbox is a poorly designed tote made from questionable materials. We've had great luck with plenty of plastic toolboxes, but this one is made of weak, thin plastic that's flimsy and far from durable. Even the metal latch isn't much better since it fell off the toolbox during regular use.
However, it's the removable tray that really holds this toolbox back. We love a good removable tray, making it easy to access the tools you use most. But this one has a giant hole in the middle that causes everything to fall into the main compartment, defeating the point of even having the tray in the first place.
Cons
The metal latch fell off
Tools fall through the hole in the top tray
Made out of weak plastic
---
10.

BLACK+DECKER Tool Box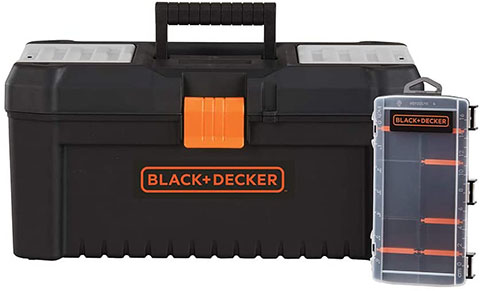 There are a lot of BLACK+DECKER tools that we like, but the BDST60096AEV toolbox isn't one of them. It's made from cheap plastic that feels flimsy and left us doubting its quality. Despite this, it's more expensive than other toolboxes that are built stronger. After using it, we wouldn't trust this toolbox enough to carry it while it's full.
We did like the 10 compartments that make it easy to organize your small tools. But once the latch fell off when we tried to latch it down, we realized that this toolbox didn't offer enough to keep testing it. The last thing we want is for the latch to fall off while we're carrying it, dumping our expensive tools all over the ground.
Pros
Has 10 compartments to organize your tools
Cons
Thin and flimsy
Not sturdy enough to carry heavy tools
Overpriced for the quality
The latch falls off at random
---
Buyer's Guide – How to Choose the Best Tool Box for the Money
While all of these products are built to perform the same basic function, differences between them mean that each is best suited for a particular situation. For example, you wouldn't want to get a 12-inch long canvas tool bag for carrying all of your power tools like drills, impact drivers, and sawzalls. Instead, you'd be better served by a large plastic toolbox with a telescoping handle and wheels that make it much easier to transport all of those heavy tools.
This short buyer's guide is meant to help you figure out exactly what type of toolbox you need. From canvas tool bags to metal toolboxes, there's a perfect tool tote for your collection somewhere, and we aim to help you find it.
Toolbag vs Toolbox
The first decision we'll get out of the way is whether you need a toolbox or a tool bag. They both hold tools, but that's about the end of the similarities between them.
Toolbag
These are the best choice when you have just a few tools to store or your collection consists almost entirely of small hand tools. These are often the preferred choice for electricians since they use mainly small tools. Likewise, these are a great choice for the handy homeowner who has a small collection of basic tools for making repairs around the house. The side pockets on the interior and exterior of a tool bag are set vertically, which stands up your tools, making them much easier and quicker to locate.
When empty, a tool bag folds flat so it doesn't take up space. Even with tools inside, the tool bag will only take up slightly more space than the tools themselves. And since they're usually made from thick canvas, they're durable enough to hold up without adding any extra weight. The handles are usually softer and more comfortable than a toolbox and shoulder straps are also common.
On the other hand, you can't fit as much in a tool bag. They're also not a great choice for large tools like power tools that need lots of space and weigh quite a bit. Carrying a canvas bag full of heavy power tools would be a lot of work. Also, although a tool bag is more space-conscious than a single toolbox, if you need several, toolboxes are a better choice because they stack, saving you storage space.
Pros
Takes up less space
Vertical pockets make it easier to locate your tools
Very lightweight
Handles are comfortable to hold
Often includes a shoulder strap
Cons
Doesn't carry as much
Not a great choice for heavy and large tools
They aren't stackable
Toolbox
When you have a large tool collection or just large tools, toolboxes tend to be the better option. They're generally larger and stronger so they can fit tools like circular saws and hammer drills. If you need to fill more than one toolbox, they'll save you a good deal of space by stacking on top of each other. They don't all stack though, so it's a feature you'll need to look for if it's important to you.
Many of the larger toolboxes feature wheels and telescoping handles so you can more easily transport those cumbersome tool collections. They also have multiple compartments that make it easier to organize your tools by type or size.
On the flip side, it can be harder to locate your tools with them all piled on top of each other, even if they're in separate compartments. Plus, toolboxes are usually made from plastic or metal, which tends to be a good deal heavier than canvas. Finally, a toolbox is always one size, regardless of whether it's full, empty, or anywhere between.
Pros
Are often stackable to save space
Come in large sizes great for big tools
Often have wheels and telescoping handles
Multiple compartments make it easy to organize

Picking the Right Toolbox
For those who have many big tools or just a big tool collection, a toolbox is often the best type of tool storage system. But there are loads of different toolboxes that come in various sizes, designs, layouts, and materials. In this section, we're going to take a look at some of the decisions you'll need to make and help clarify the pros and cons of each choice.
Materials
First, you'll need to decide if you want a metal or a plastic toolbox, as these are the most commonly used materials for toolboxes today. Let's take a look at some of the benefits and drawbacks to each.
Plastic
Plastic toolboxes tend to be lightweight and they come in many different sizes. Generally speaking, plastic toolboxes aren't as durable as metal ones. That doesn't mean that a plastic toolbox is automatically weak though. Many of these are very robust, but some cheap ones are made from flimsy, thin plastic that isn't sturdy enough for professional use. That said, we've seen plastic toolboxes with weight capacities of up to 250 pounds.
But plastic toolboxes are more durable than metal in one sense; they don't rust or corrode. And speaking of weather, they won't absorb heat from the sun like metal either, so you're less likely to burn yourself when you're working in the hot summer sun.
Another thing to consider is the safety of your tools. If you have a large plastic toolbox, it might be difficult to run away with, but it's probably not that hard to break into.
Pros
Lightweight
Won't corrode or rust
Won't absorb heat from the sun
Cons
Not as strong and durable as metal
Your tools aren't as secure
Metal
Naturally, a metal toolbox is going to be more durable than a plastic one, except for when it comes to corrosion since metal is susceptible to rusting. On a similar note, if you work outside, be careful picking up a metal toolbox after it has been sitting in the hot sun.
If you're carrying your toolbox by hand, then the extra weight of a metal toolbox might get to be a nuisance. However, the extra security might be a blessing since it's much harder to break into a metal toolbox than a plastic one. Of course, if your toolbox is small enough to walk away with, this won't make much of a difference.
Pros
Durable and robust
Keeps your tools more secure
Cons
Might rust or corrode
Heavier than plastic
Gets very hot in the sun
Size
Every person will need toolboxes of a different size, based on the size of their tool collection. If you only have a few small hand tools, then a three-tiered rolling tool chest would be overkill. On the other hand, if you have the entire range of DeWalt power tools and you want it to be safely stored in a portable toolbox, then a handheld 12-inch plastic toolbox isn't the right choice.
Determine how much tool storage you realistically need, then pick a toolbox to match that.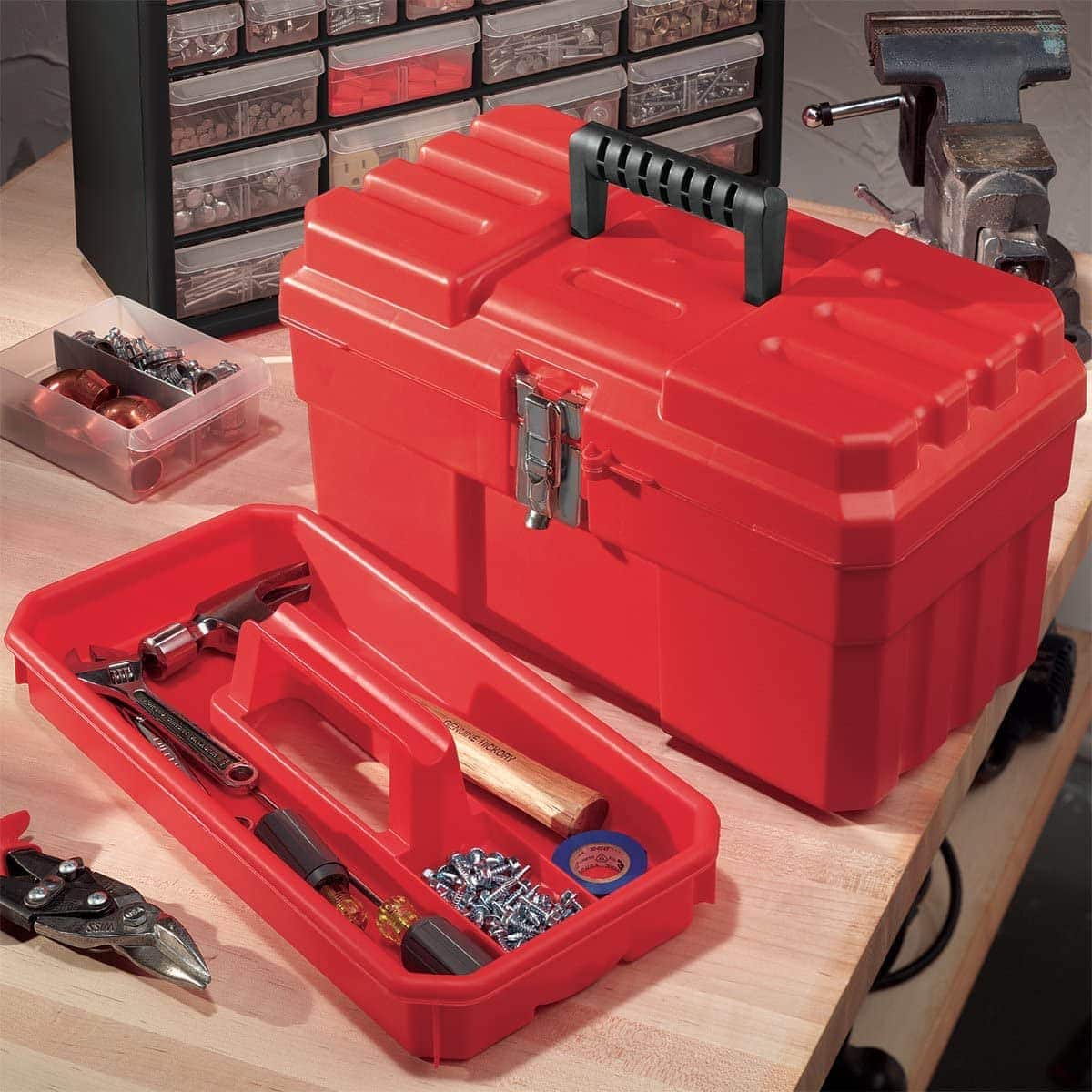 Portability
If you mainly work inside your home, garage, or workshop, then portability might not be high up on your list of priorities. But if you're a professional handyman who's in and out of different homes with your toolkit all the time, portability is going to be an important factor to consider.
Naturally, small toolboxes are easily portable, but they won't store your large tools, so that's not what we're talking about. Instead, you should consider things like wheels and handles that let you easily pull your tools along behind you rather than carrying all that weight.
Stackability
In the same vein, stacking toolboxes can save you from making multiple trips to the truck, ultimately saving you time. Stacking the toolboxes on top of each other not only makes them easier to transport, but it also saves loads of space in your work truck or garage.
Extra Features
We've covered several of the most important features that you need to be considering when looking for a toolbox, but that's not the entire list. The following are some extra features that are worth giving some thought to since they can make your life just a little bit easier.
Divided organizers
Removable tray for your most commonly used tools
Clear lids to easily see your small items
Weather sealing
Locking latches for security
Questions to Ask Yourself
We've gone over a lot of information, but it all applies to each person differently. If you're having trouble figuring out which of these features you need to prioritize, try asking yourself the following questions to really clarify your priorities.
What tools are you storing?
How many tools do you need to store?
Do you require separate compartments for different types of tools?
Do you need mobility?
Would you like small pockets or organizers for hand tools and hardware?
How much are you willing to spend on tool storage?

Conclusion
No tool collection is complete without a rugged and portable way to store, organize, and transport all of those tools. Over the years, we've been let down by quite a few toolboxes, but as you can tell from our reviews, we've found three that have earned our trust and our recommendations.
Our top choice is the DEWALT TSTAK Toolbox. It's a modular stacking system that lets you build precisely the toolbox you need, piece by piece. From deep chests with wheels to units with pullout drawers, each of these components stacks neatly on top of each other for easy transportation. Plus, they're all protected by a limited lifetime warranty.
For the homeowner with just a few tools looking for a budget way to store them, we suggest the Performance Tool W54012 Plastic Toolbox. This affordably priced toolbox is made from rust-proof plastic with a removable tray for easy access to your most commonly used tools.
But if you're a professional who needs top-quality toolboxes you can count on in any situation, you need the Milwaukee Packout Rolling Modular Toolbox with three weather-sealed stacking toolboxes featuring metal-reinforced corners and locks with a 250-pound weight capacity.