Ryobi vs Ridgid: Which Power Tool Brand is Better in 2023?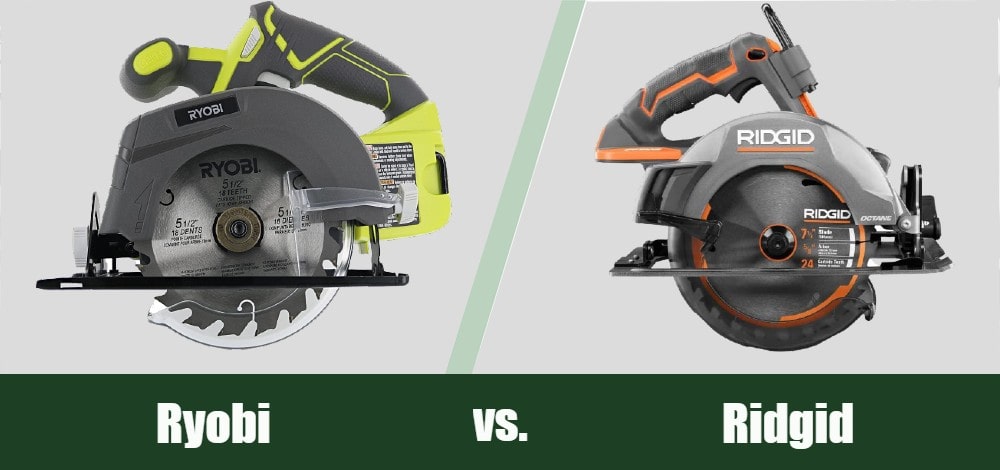 Ryobi and Ridgid are two well-known power tool brands, although Ryobi is definitely more of a household name. Both of these brands offer impressive tools that are long-lasting, modern, and created for today's users. Because of these numerous similarities, it may be difficult to know which power tool you should get this year.
Simply put, Ryobi is the better brand for homeowners and amateurs, while Ridgid is the better brand for professionals or semi-professionals. Still, there are more factors to consider than the intended use, which is why we have created this comparison between the two brands.
In this article, we dig into which power tool brand is best this year. We look at a variety of factors, such as the history, manufacturing location, product lines, price, warranty, and customer service of both Ryobi and Ridgid. We even take the time to consider three specific tools within each brand.
Read on to find out more about which power tool brand you should be checking out in 2023.

A Quick Comparison
Brand name
Ryobi
Ridgid
Established
1943
1923
Headquarters
Fuchu, Hiroshima, Japan
Elyria, Ohio
Product lines
18V ONE+

40V

Lawn and Garden Tools

18V and Power Tools

Hand Tools

Utility and Electrician's Tools

Parent company/ major Subsidiaries
Techtronic Industries
Emerson Electric
Brief History of Ryobi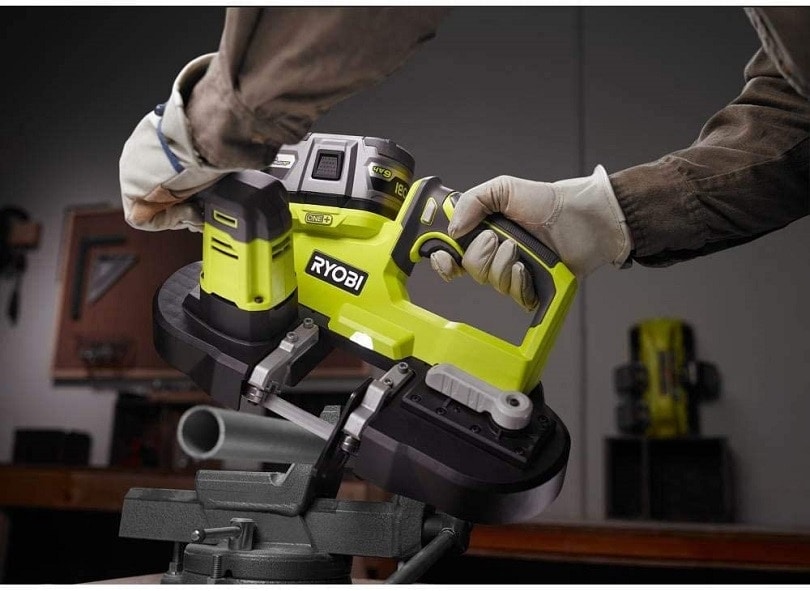 Ryobi was founded in 1943, under the name Ryobi Seisakusho Co., Ltd. A year later, they began selling die-cast products. It wasn't until 1968 that the company began to sell power tools. A few years later in 1973, the company's name changed to what it currently is today.
By 1988, Ryobi was able to purchase all of the assets of Diehl Motor Company, which was the supplier of Sears Craftsman handheld tools. This was a huge buyout in the power tool industry. Ryobi then became the supplier for Sears Craftsman tools.
Throughout these years, Ryobi ventured into other sectors as well. This includes, but is not limited to, offset printing presses, door closers, and golf course management. This variety of offerings made Ryobi a leader in multiple industries.
Today, Ryobi owns 12 manufacturing facilities in six nations. Only one of those facilities is in the US. This sole US-based manufacturing location is in Shelbyville, Indiana, and it opened in 1985. Despite this US location, most US-sold products are still made outside of the country.
---
Brief History of Ridgid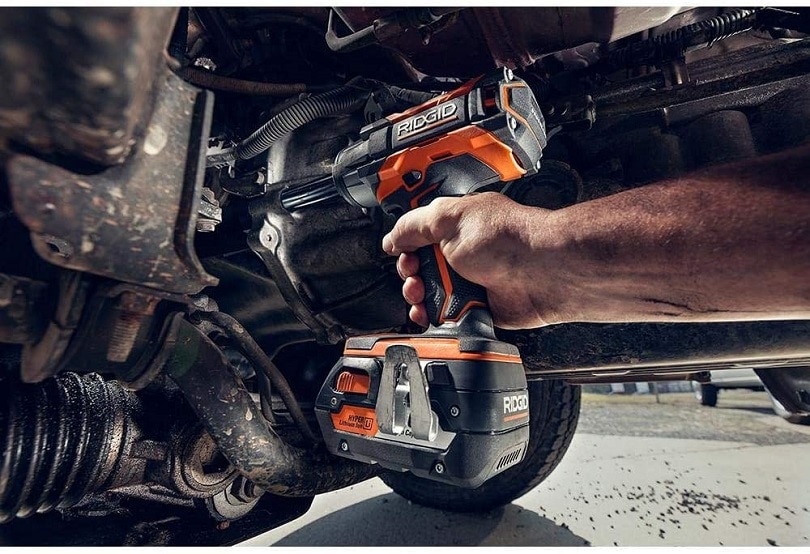 Ridgid Tools is a rather old American manufacturing company. As of this year, the company is 98 years old, meaning it was founded in 1923 in North Ridgeville, Ohio. Today, the main headquarters are still in Ohio, but the city changed. Its location is Elyria, Ohio.
Since its founding, Ridgid has made a lasting impact on the tool industry. They became known for their high-quality tools, and they even invented the modern pipe wrench. By 1966, Ridgid became a subsidiary of Emerson Electric, a company that also manufactures tools for the likes of Milwaukee and Dirt Devil. This expanded their manufacturing and prominence.
Today, Ridgid is still owned by Emerson Electric, and they are known as a great brand, especially for professionals. They continue to develop their tools specifically with the professional or heavy-duty user in mind. This allows their tools to be long-lasting, dependable, and expensive.

Ryobi vs. Ridgid: Manufacturing
Ryobi
Most Ryobi products are made in China, despite having a manufacturing plant in Shelbyville, Indiana. That is because China offers low prices that are tough to beat anywhere else in the world. With this in mind, Ryobi is not the option for you if you want a USA-backed tool.
It is relatively difficult to find out exactly where Ryobi products are made. At the Shelbyville manufacturing plant, Ryobi primarily only produces certain accessories. Outside of these small accessories, everything else is built in China. The easiest way to find out if your accessories were made at the US location is to call the Ryobi headquarters and ask about your specific part.
Ridgid
Because of Ridgid's dedication to creating long-lasting and dependable tools, they do not produce their products in China. Despite being owned by Emerson Electric, Ridgid manufactures its tools in the United States. They have a 715,000-square-foot facility located in Elyria, Ohio.
The fact that Ridgid produces items in America is unique. Most other brands, even brands that have a historically long connection with American production (like Craftsman), produce most of their parts or materials overseas.

Ryobi vs. Ridgid: Product Line
Ryobi
Ryobi manufactures a lot of tools. This includes drills, drivers, woodworking tools, metalworking tools, plumbing tools, nailers, specialty items, staplers, inflators, and compressors. If you need a power tool, Ryobi likely sells it. They produce just about any power tool a person could want. Purely in terms of the range of products, Ryobi has the edge.
18V ONE+
The most extensive Ryobi line is the 18V ONE+ line. These tools are very powerful and dependable. Not to mention, they all utilize the same ONE+ battery system. This allows you to minimize the amount of clutter and additional parts on your workbench since all their tools are charged with the same charger.
40V
Another Ryobi line is the 40V. This line is mostly for their garden and lawn tools. These tools aren't as popular within the Ryobi brand, making them smaller than their 18V ONE+. Still, what few tools run in this line tend to be a hit among many users.
Lawn and Garden
In addition to hand tools and power tools, Ryobi produces highly impressive lawn and garden tools. Just like with their other options, these tools are affordable yet dependable and long-lasting.
---
Ridgid
Ridgid has a smaller product range than Ryobi, but what they do offer tends to be extraordinary. They are especially known for their hand tools and 18V power tools.
18V and Power Tools
Like Ryobi, Ridgid also has an 18V product line. Though these tools are incredibly impressive, there are only about 30 tools in the line. As a result, there are fewer options to choose from when it comes to 18V tools, especially if you compare the options to Ryobi.
Hand Tools
One area where Ridgid really stands out is in general purpose and hand tools. Ridgid's hand tools are long-lasting and highly effective. Most professional contractors and handymen will have at least one Ridgid tool in their pack.
Utility and Electrician's Tools
Ridgid is also known for its utility and electric tools. These tools are incredibly durable, making them a favorite among heavy-duty professionals. Ridgid's tools are not commonly used by homeowners or DIYers.

Ryobi vs Ridgid: Price
Depending on your intention for the tool, the price may matter a lot. For example, hobbyists and home DIYers may be looking for something on a budget, while professionals don't mind paying extra money for durability. With that in mind, Ryobi tends to be the more affordable option of the two.
Ryobi
Ryobi tools are some of the most affordable in the industry. Some of their most affordable and budget-friendly picks include their kits. Their kits give you multiple tools for a steal. Still, they offer some premium products. For example, the Ryobi 18-Volt ONE+ Speed Saw Rotary Cutter is a bit more expensive, but it still is more affordable than a similar tool from other brands.
Ridgid
Ridgid develops its tools for professionals and those willing to spend an extra buck on their devices. For that reason, their tools tend to be more expensive than Ryobi products. Products like their Ridgid Cordless SDS Plus Rotary hammer and Ridgid 8B Brushless Compact Router are more expensive tools within their line.

Ryobi vs Ridgid: Warranty
Since power tools can cost quite a bit of money, the warranty should be a major factor in your decision. The warranty ensures you get your money's worth, now and in the future. Overall, both brands have similar warranties, but Ridgid's warranty comes out just a bit superior.
Ryobi
Ryobi offers a 3-year limited warranty on all power tools. In addition to the industry standard, it offers a 90-day exchange policy for additional support. Under this warranty, Ryobi fixes any faulty parts, and they may replace parts within 90 days. In order to get your warranty, you must prove your date of purchase and purchase documentation.
Ridgid
Like Ryobi, Ridgid offers a 3-year limited warranty. This warranty covers most parts, such as chucks, batteries, gears, driver blades, and more. All you have to do is call their helpline and register for a service request. In addition to the warranty, they also offer a lifetime service agreement for power tools. This is a leading warranty feature in the industry.

Ryobi vs Ridgid: Customer Service
Customer service is often one of those features that people forget about until they have a question about their product. When that happens, many people are completely dumbfounded and aggravated to learn that their brand has terrible customer service, making it impossible to answer their questions or fix their devices.
To avoid this problem, you need to look into customer service before purchasing a brand. Here is what most users say about these brands' customer service:
Ryobi
Most Ryobi product warranties are handled by customer service, and the customer service representatives are impressive. You can expect to get answers and talk to a real person whenever you call. This is incredibly helpful for a brand that specifically caters to homeowners and DIYers.
Ridgid
One major downfall of Ridgid is its customer service. On many sites, countless users complained that customer service was impolite and poor. Certain customer service scoreboard sites ranked Ridgid in the bottom 100 of nearly 1000 companies rated on their site.

Head-to-Head: Cordless Compact Drill-Drivers
Ryobi P271 18V vs Ridgid R860052 18V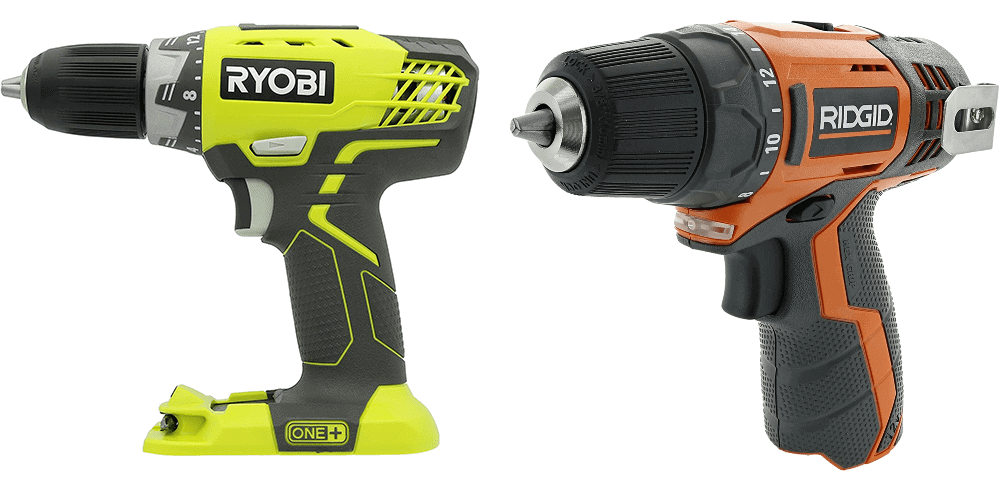 One of the most classic tools is the cordless drill. Ryobi and Ridgid have impressive cordless compact drill driver options that are comparable to one another.
The Ryobi P271 18V Drill-Driver is light and compact, making it easy for anyone to use. At the same time, it offers a two-speed transmission gearbox, allowing you to drive just about any screw accurately. Meanwhile, the Ridgid R860052 18V Cordless Compact Drill Driver has an all-metal body, which is slightly heavier but incredibly durable. It even has 24 clutch positions and a lifetime warranty.
Our Verdict:
Both of these cordless drills are impressive. Just looking at the facts, the Ridgid Drill is better than the Ryobi because it is more durable and comes with more features. However, you may prefer the Ryobi if you are a homeowner or DIYer because of its lighter feel and lower price.

Head-to-Head: Impact Wrenches
Ryobi 18V ONE+ vs Ridgid 18V Octane Brushless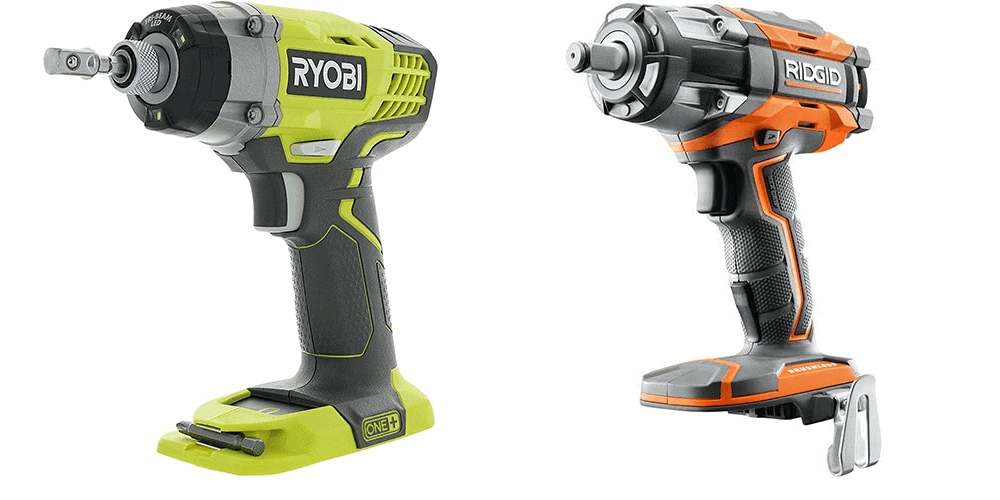 Another really useful tool is an impact wrench. The Ryobi 18V ONE+ Impact Wrench is affordable, yet it has 150 ft. lbs. of torque, making it great for camping or use around the house. It is also incredibly lightweight and easy to lug around and store.
The Ridgid 18V Octane Brushless Impact Wrench, in contrast, provides 485 ft. lbs. of fastening torque. This makes it a great option for automobiles, but it also has an automatic driver shut off to prevent over-tightening. All the while, this tool is highly durable and long-lasting.
Our Verdict:
Like with the cordless drill, the Ridgid 18V Octane Brushless Impact Wrench is objectively better than the Ryobi 18V ONE+ Impact Wrench. It is much more powerful and durable, making it better for more difficult jobs or professional use. Still, it may be too powerful for the average homeowner, making the Ryobi the better option for amateurs.

Head-to-Head: Miter Saws
Ryobi TSS103 vs Ridgid R4123
Miter saws are one of those tools that undergo a whole lot of wear and tear, meaning you need to get the best one that will last a long time and create effortless cuts. The Ryobi is long-lasting, durable, and affordable, much like all other Ryobi products.
The Ridgid R4123, in comparison, has an incredibly compact design and a corded dual bevel miter saw. It even includes an LED light to ensure precise cuts through any material. Of course,it is much more expensive than the Ryobi miter saw.
Our Verdict:
As you probably expected by now, the Ridgid R4123 is objectively better than the Ryobi because of its impressive durability, compact design, and additional features. Because of its high price, however, many people are likely to prefer the Ryobi. The Ryobi is still impressive and highly functional, especially for the average homeowner.

Overall Brand Reputation
Performance
Edge: Ridgid
Of these tool brands, Ridgid has the edge in terms of performance. That's because Ridgid is much more durable, making it better suited for professionals. Ryobi is still excellent when it comes to performance, but they simply cannot compete with Ridgid when it comes to performance because of their superior build.
Price
Edge: Ryobi
One area in which Ryobi completely destroys Ridgid is in price. Ryobi is much more affordable, even though Ridgid's warranty is more impressive. Those on a budget will likely want to turn to Ryobi over Ridgid because it is more marketed to the average homeowner or DIYer.
---
Durability
Edge: Ridgid
As we mentioned, Ridgid is much more impressive regarding its durability. Being marketed to contractors and other professionals, Ridgid takes time to create tools that are highly durable and powerful. Ryobi is durable enough for homeowners, but it is not as durable for professional use.
---
Design
Edge: Neither
In terms of design, neither tool brand is better than the other. Both of their brands are lightweight, ergonomic, and feature corded and cordless tools. This makes them both impressive in terms of design.
---
Product Line
Edge: Ryobi
Of the two product lines, Ryobi's is better. It offers a wider range of tools, allowing you to find just about any tool for any need. Ridgid, however, has a much more focused product line, which allows them to create more durable products, but they are far fewer in number.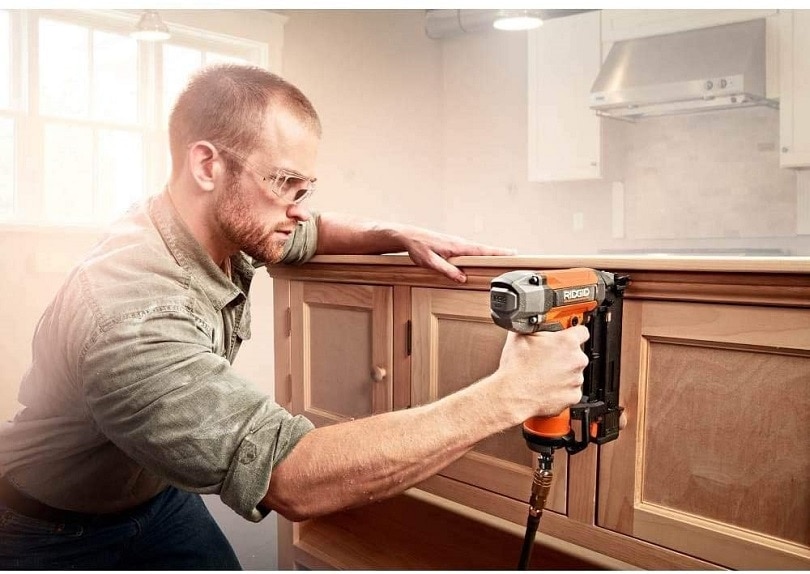 Conclusion
Objectively, Ridgid is the better brand in terms of durability and function. However, that does not rule Ryobi out as a leading brand since the two brands market to two very different customers. Ryobi is the better brand for professionals and semi-professionals because it offers durability that is tough to beat at a high price tag.
Ryobi, in contrast, provides countless affordable options for homeowners, DIYers, and amateurs. Their easy-to-use design and low price tag make them a favorite among their marketed audience, though their tools typically are not durable enough for professional use. With that in mind, which tool you get this year depends on the intended use. Professionals should go for Ridgid, while homeowners should opt for Ryobi.
You may also be interested in: Makita vs Ryobi: Which Power Tools Brand is Better?