9 Best Tool Chests Under $1000 – Top Picks & Reviews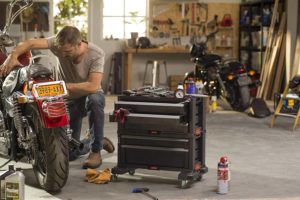 Toolboxes provide you with safe and convenient storage for your instruments. However, as your tools accumulate, you may find that your toolbox can no longer satisfy your storage needs. This only means one thing; you need a tool chest.
Tool chests are larger and more refined versions of toolboxes. Whether you are a hobbyist or a professional craftsman, you cannot deny the value of these items.
Nonetheless, quality tool chests can be quite expensive, often costing more than $1,000. However, this does not mean that you cannot get a good chest for less than that. To save you time and effort, we have done the research for you to bring you these reviews of the best tool chests under $1,000 on the market today.
---
A Quick Comparison of Our Favorites – Reviews 2023
Rating
Image
Product
Details

Best Overall

Goplus 6-Drawer Rolling Tool Chest

Durable steel construction
Easy accessibility
High quality
CHECK PRICE

Best Value

WEN 73015 Rolling Tool Chest

Large storage capacity
Heavy-duty wheels
2-year limited warranty
CHECK PRICE

Best Choice Products Portable Tool Chest

Unique design that allows for easy organization
Sturdy construction
Can be locked for security
CHECK PRICE

Keter 240762 Rolling Tool Chest

Compact design
Detachable
Central locking system
CHECK PRICE

Giantex TL30208 Mini Tool Chest

Detachable design to allow you a separate toolbox
Smooth sliding drawers
Non-slip padding to protect items from damage
CHECK PRICE
The 9 Best Tool Chests under $1000
1.

Goplus 6-Drawer Rolling Tool Chest – Best Overall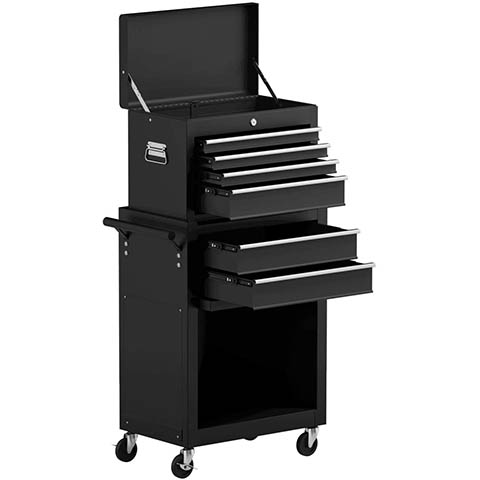 The Goplus tool chest is a 6-drawer unit that features one of the sturdiest constructions of any model on the market today. It is made from heavy-duty steel and is coated with a rust/corrosion-resistant paint. This makes it well suited for handling extreme weather conditions, as well as the wear and tear resulting from long-term use.
This Goplus chest has been designed to be as convenient as a tool chest can be. It comes with a rolling storage cabinet design that facilitates easier storage and accessibility to ensure that you do not waste time looking for a tool.
The six drawers it comes with consist of two large ones and four smaller ones. Additionally, there are two other slide-out trays, as well as a massive cabinet at the bottom to ensure that you have as much space as you need for your tools. To ensure the security of your valuables, this unit features a keyhole at its top that locks all the drawers.
Moving this tool chest should not be that much of a hassle, thanks to its four swiveling caster wheels. To prevent accidents, the wheels come with dual breaks.
The only issue with the Goplus 6-drawer rolling tool chest is that it is rather small, making it unideal for industrial use. Despite this, we think this is the best tool chest under $1000 available this year.
Pros
Durable steel construction
Easy accessibility
Swivel wheels with breaks for enhanced maneuverability and safety
High quality
Cons
Storage space is rather small for a professional who has many tools
---
2.

WEN 73015 Rolling Tool Chest – Best Value
The 73015 by WEN is an excellent option for those working with a strict budget. This tool chest sports a versatile design that strikes the perfect balance between practicality, reliability, and cost. It is ideal for both DIYers and professionals.
Sporting a steel construction, this is one durable unit. However, despite its rugged exterior, it features vinyl padding on its interior to protect your tools from accidental damage.
Its storage compartments consist of three drawers and two magnetic trays that conveniently open at the sides. Additionally, it also comes with 16 slots that you can use to store smaller tools such as screwdrivers and wrenches. This design not only allows you lots of storage space but also convenience due to its superior organization system.
For enhanced portability and maneuverability, the 73015 comes with 2.5-inch heavy-duty caster wheels that swivel 360 degrees to facilitate multi-directional movement.
Unfortunately, this chest is a bit heavy, which can limit portability. Weighing in at a whopping 350 pounds, it isn't the lightest unit you can get.  Nonetheless, all factors considered, the WEN 73015 is one of the best tool chests under $1,000 for the money.
You will also love that it doubles as a stool and comes with a 2-year limited warranty.
Pros
Budget-friendly
Versatile design for enhanced practicality (doubles as a stool)
Large storage capacity
Heavy-duty wheels
2-year limited warranty
---
3.

Best Choice Products Portable Tool Chest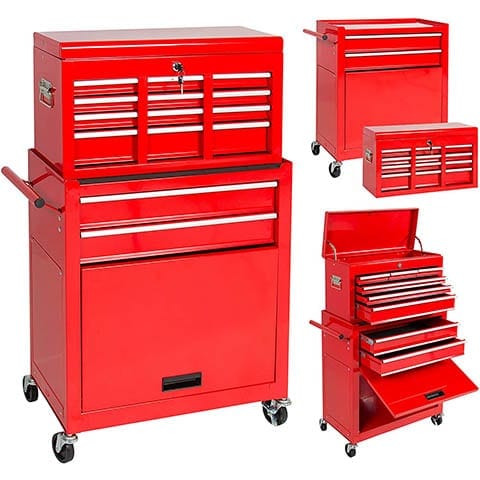 This rolling tool chest by Best Choice immediately captures attention with its vibrant finish. It features a space-saving design that consists of two different pieces that you can stack together. These pieces include a storage cabinet and tool chest, which, when combined, increase the entire unit's practicality and convenience dramatically.
The Best Choice tool chest is one durable unit, as well. It features a solid cold rolled steel construction that is virtually immune from the effects of the elements or tough conditions at the workshop. What's more, it is even coated with an industrial powder that makes the steel resistant to harsh chemicals and scratches, thereby allowing the chest to maintain its aesthetics for much longer. Nonetheless, you will feel its burly build, as it weighs 295 pounds.
You will also love the ample and organized storage that this chest allows you. It features 3 large drawers, 3 small drawers, 1 top box drawer, 2 trays, and 1 large bottom cabinet. With each drawer capable of holding up to 30 pounds, this chest does not limit you in terms of the number of tools that you can store.
For enhanced safety and convenience, this unit comes with a lock and key. Additionally, moving this 295-pounder is made significantly easier by its ergonomic handle and 4 swivel wheels.
Pros
Aesthetic design and finish
Unique design that allows for easy organization
Sturdy construction
Can be locked for security
Heavy-duty caster wheels for enhanced maneuverability
Cons
Heavy
Drawers feel a bit stiff due to a lack of ball bearings
---
4.

Keter 240762 Rolling Tool Chest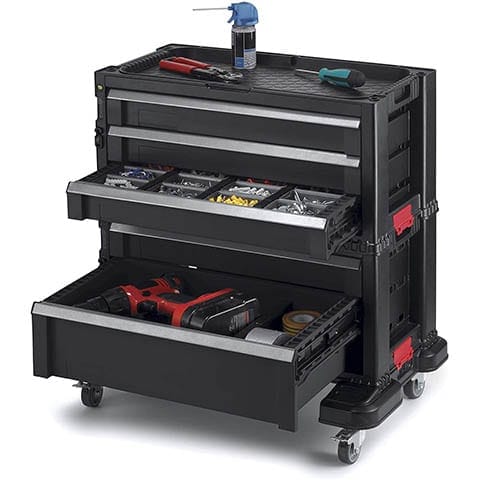 The 240762 by Keter is one elegant rolling tool chest that blends in all types of settings. Widely regarded by many as being one of the best tool chests around, this unit comes with 5 drawers of different sizes to provide you with lots of space for your tools.
Some users will appreciate the chest's compact profile that allows you to fit it into smaller spaces. Nonetheless, this makes the 240762 unideal for storing heavy tools. It also does not help that it features plastic construction, meaning that it will bend under a lot of weight.
The good news is that this tool chest is remarkably light, which makes moving it a breeze. What's more, you can even separate it into two pieces for enhanced convenience. You will also appreciate the caster wheels it comes with that make maneuvering this chest an easy task.
Thanks to its central locking system, the security of your tools is assured.
The Keter 240762 is ideal for DIYers who do not have many heavy power tools. It is suitable for storing items such as wrenches, screwdrivers, pliers, bolts, nuts, and screws.
Pros
Compact design
Detachable
Central locking system
Smooth-rolling wheels
Elegant
Cons
Not ideal for heavy-duty use
---
5.

Giantex TL30208 Mini Tool Chest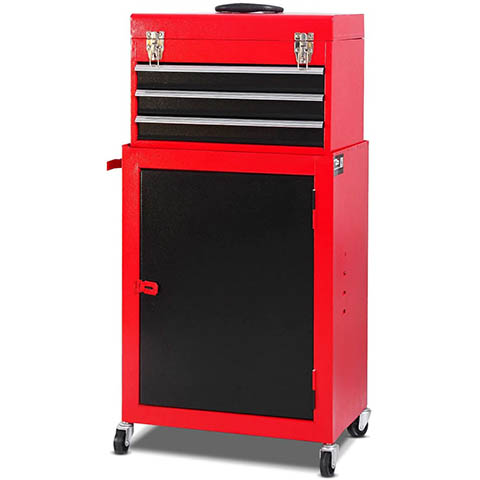 The TL30208 by Giantex is one of the best-selling products in the tool chest market due to its innovative design that takes user convenience to the next level. The unit is detachable, resulting in two distinct pieces: a toolbox and a tool chest, with the upper portion being the toolbox and the lower part the tool chest. What's more, the toolbox even comes with a handle to allow you to ferry it separately.
The tool chest is designed to allow you to organize your tools effectively. It comes with 3 small drawers, a medium-sized compartment, and a large compartment. The latter is big enough to accommodate the toolbox and even leave some space for other tools, making it an extremely efficient design. Additionally, it has 6 hooks that you can use to hang tools, ensuring that space is used effectively.
We also liked how smooth the lids and drawers felt when opening and closing. The latter feature ball bearings that facilitate smooth movement.
When it comes to portability, you will appreciate how effortless it is to move this mini tool chest thanks to its caster wheels. To protect your belongings from damage resulting from being banged around when moving the unit, the drawers and compartments are lined with non-slip padding.
Finally, the Giantex TL30208 is remarkably durable thanks to its heavy-duty steel construction. A potential drawback to this unit, however, is that it might be too small for professionals.
Pros
Detachable design to allow you a separate toolbox
Smooth sliding drawers
Non-slip padding to protect items from damage
Smooth-rolling caster wheels
Durable construction
---
 6. CRAFTSMAN CMST82765BK Tool Chest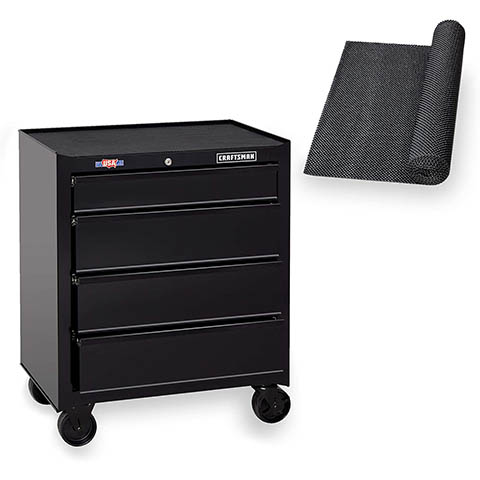 Craftsman is renowned for its top-quality products, and this 4-drawer unit does not deviate from that trend. This tool chest is durable, secure, and has lots of storage space, making it ideal for both DIYers and professionals.
Each of the drawers can hold up to 50 pounds, with the entire unit capable of holding up to 500 pounds. What you will appreciate the most, however, is its large storage capacity. This tool chest comes with 8,030 cubic inches of space.
The drawers are incredibly easy to move thanks to the ball bearings that facilitate smooth movement. Moreover, each drawer is attached firmly to the steel casing, preventing it from detaching completely in case you pull too hard.
With its 24-gauge steel construction, this tool chest is built to last. For easier maneuverability, it comes with swiveling caster wheels.
You will also appreciate the internal locking system for safeguarding your tools, as well as the 3-year limited warranty.
Pros
Sturdy construction
Lots of space
Smooth-sliding drawers
3-year limited warranty
Cons
Quality control issues – some chests come with faults
---
7.

  On Shine Tool Chest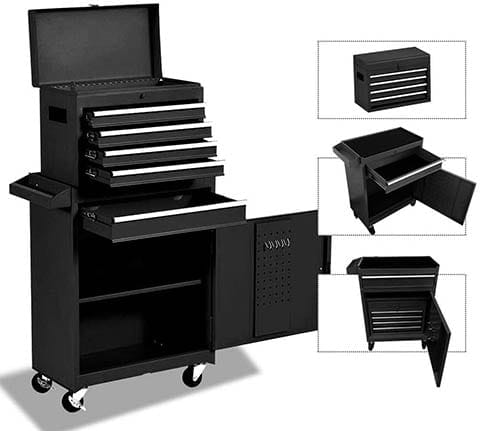 This tool chest by On Shine is a premium unit that is designed with versatility and your convenience in mind.
For starters, it comes with 5 drawers and 2 large cabinets. The bottom cabinet is the largest and comes with a lock for the security of your valuable tools.
For enhanced practicality, this unit features a detachable design to allow you to have two separate parts: a toolbox and a tool chest. Detaching the toolbox from the larger unit is quite easy, thanks to the ergonomic handles it has on its sides. What's more, you can even fit the toolbox into the bottom cabinet for easier transportation.
The drawers are designed to not only keep your tools safe from burglary but also damage. They are lined with cushions to provide a buffer effect. Moreover, they come with slide rails that facilitate a smoother and effortless pullout.
Moving this chest should not be difficult, thanks to the removable wheels it comes with. It also sports an ergonomic handle on the side to facilitate that process.
This On Shine tool chest does not have durability issues thanks to its high-quality cold-rolled steel construction.
This unit, however, might not meet the space needs of professionals with many tools.
Pros
High-quality construction
Aesthetic design
Easy to move
Safety lock
Cons
Might be too small for professional use
---
8.

  Husky H4CH1R Roller Cabinet Tool Chest
The H4CH1R by Husky is a high-quality tool chest that offers great value for money. Measuring 46 inches long and 24.5 inches deep, this unit houses 9 drawers to meet the space demands of most people.
What we loved the most about the Husky's drawers is that each can support up to 100 pounds effortlessly, with the larger bottom drawers capable of supporting up to 200 pounds. Each drawer is fitted with easy-gliding slides for smooth movement.
Another thoughtful feature on the H4CH1R is the power strip that provides you with 4 outlets and 2 USB ports.
Featuring a steel and wood construction, this unit is one tough cookie, with the 3-year it comes with being proof of the manufacturer's confidence in their product.
---
9.

 JEGS 81411 5-Drawer ToolChest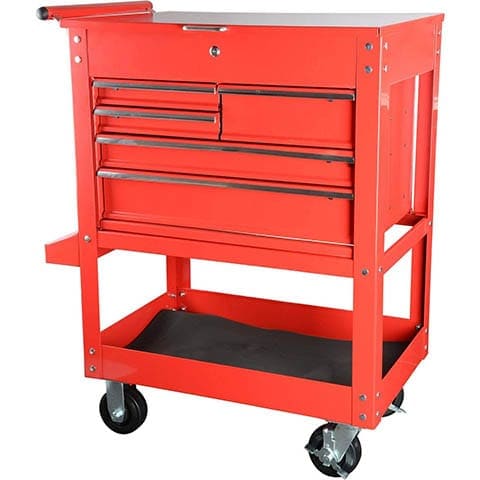 The 81411 5-drawer tool chest by JEGS is a medium-sized tool chest that is quite easy to move around. It features a stainless steel construction for enhanced durability and can support up to 700 pounds.
Despite its steel construction, however, this unit is not designed for rough workshops. Moreover, it is susceptible to rust. This makes it unideal for professional use.
Cons
Durability issues
Not ideal for professional use
---
Buyer's Guide – How to Purchase the Best Tool Chest Under $1000
The market is saturated with low-quality tool chests, with some being sold at exorbitant prices. Manufacturers of such units usually give them striking finishes to lure unsuspecting customers. As such, a high price tag is not always indicative of high quality.
Therefore, when evaluating a tool chest, you should consider other factors other than price. They include:
Construction Material
The material used to construct a tool chest determines its ruggedness and durability. While these units can be made out of a wide variety of materials, the most common ones are plastic and steel.
Plastic tool chests feature a lightweight profile and are more budget-friendly, as compared to steel ones. Surprisingly, they are remarkably resilient to the elements. For example, they are not susceptible to rusting or corrosion. Nonetheless, they come with a host of drawbacks. They are highly vulnerable to fires, in addition to being easy to break into. As a result, these units are best suited for DIYers looking for an organization solution for their tools.
Steel tool chests, on the other hand, are tougher and a lot more secure. However, the caliber of steel used to construct the unit matters; the higher the tensile strength, the stronger and costlier the chest is.
Maximum Load Capacity
Tool chests have a limit to the amount of weight they can hold. Therefore, check a unit's maximum permissible load capacity before purchasing it to ensure that it can support the total weight of your tools.
While affordable, plastic tool chests cannot support a lot of weight. This is why you should consider steel models, as they can withstand large loads.
 Own Weight
This refers to the weight of the chest without a load. Plastic units are lightweight, while their steel counterparts are incredibly hefty, with some exceeding 200 pounds.
A heavy unit poses portability issues, especially if it does not come with wheels. Therefore, make sure that a unit does not pose portability problems before you buy it.
Storage Capacity
The number and size of your tools determine your ideal storage volume. Therefore, make sure that you check out a unit's dimensions and storage capacity to ensure that it can accommodate your tools.
Security
Most people that buy tool chests do it for security reasons. Nevertheless, tool chests differ significantly in terms of the degree of safety they provide you. High-quality units not only come with lock and key systems but also have thicker pins and hinges that are resilient to forced entry.
Mobility and Handling
Some jobs require you to have a large variety of tools with you. If that is the case, then you want a tool chest that is easy to maneuver. As such, ensure that the unit you are interested in comes with large and sturdy wheels. An ergonomic handle will also come in handy to help you maneuver the chest.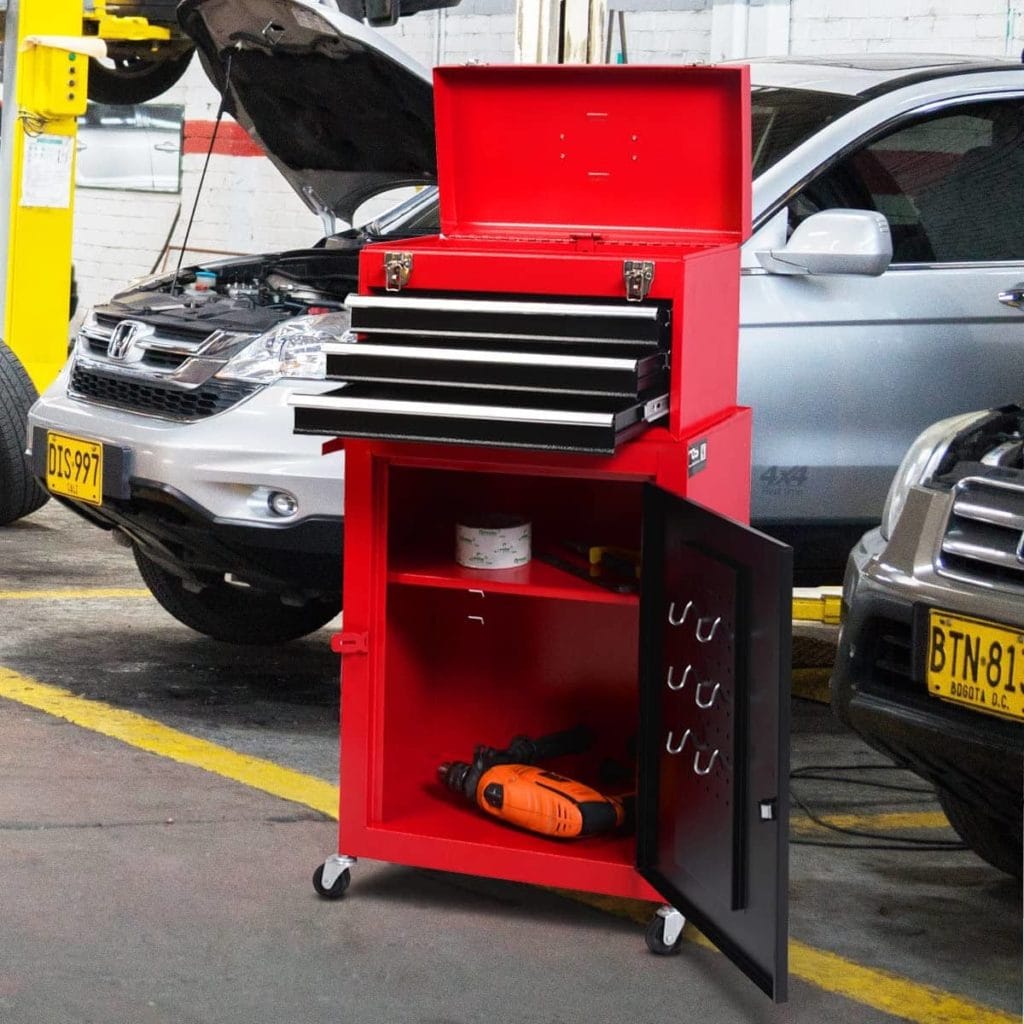 Aesthetics
Being visual creatures, we are attracted to striking appearances. A nice-looking unit can enhance your workshop's décor dramatically.
As mentioned, however, the attractiveness factor of a tool chest should always come second to quality and functionality.
Brand
Each manufacturer claims to have the best product while only a few delivers on their promises. Those few brands that deliver quality products are usually the most well-known. As such, when purchasing pricey products such as tool chests, it is recommended that you only purchase from trusted brands, as they are more likely to have quality products.
However, this does not mean that lesser-known brands do not have quality offerings; just make sure that you do your research first before buying from them.
Price
Once you have identified your needs, it is time to decide how much you are willing to part with. If you are working on a budget, you should not expect too much. This is because the more features a tool chest comes with, the costlier it is. Therefore, if you are on a tight budget, opt for a unit with only the necessary features. A low-priced model with lots of features is highly likely to be of lower quality.
Warranty
Considering how expensive tool chests can be, it is important to have the assurance that the manufacturer will have your back during the first few years of use. Another reason warranty is important is because it is indicative of the manufacturer's confidence in their product; if it is built to last, then the manufacturer should offer decent warranty terms since they know their product will not break.

Conclusion
A quality tool chest is not that hard to come by; it only takes some digging by evaluating the various options on the market. While people have varying needs, the most important factors to consider when comparing different models are durability/sturdiness, space, and price.
Based on those factors, we recommend the GoPlus 6-drawer rolling tool chest. This unit strikes the ideal balance between size, functionality, durability, and price. It will serve the needs of both DIYers and professionals.
If you are on a budget, consider the WEN 73015 rolling tool chest, as it is the product with the best value for money on this list. Hopefully, these reviews have brought you one step closer to identifying your ideal tool chest.
More buying guides like this: