6 Best Vacuums for Tile Floors in 2023: Reviews & Top Picks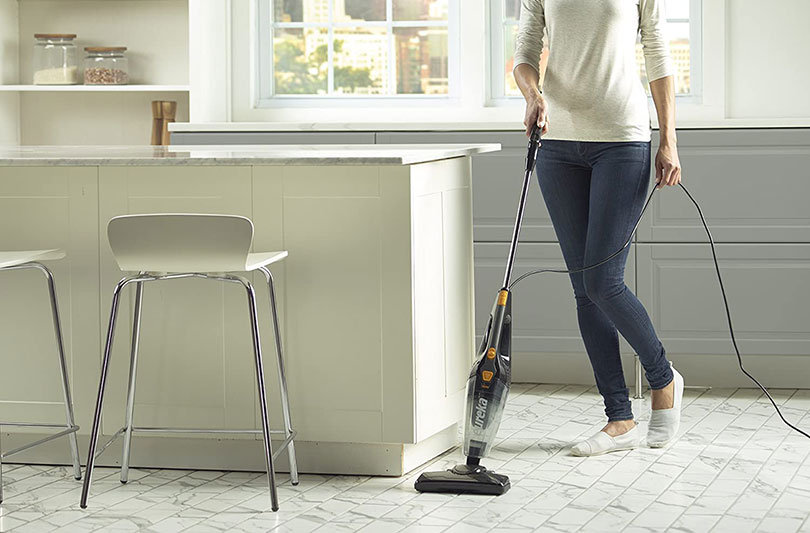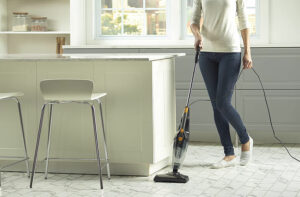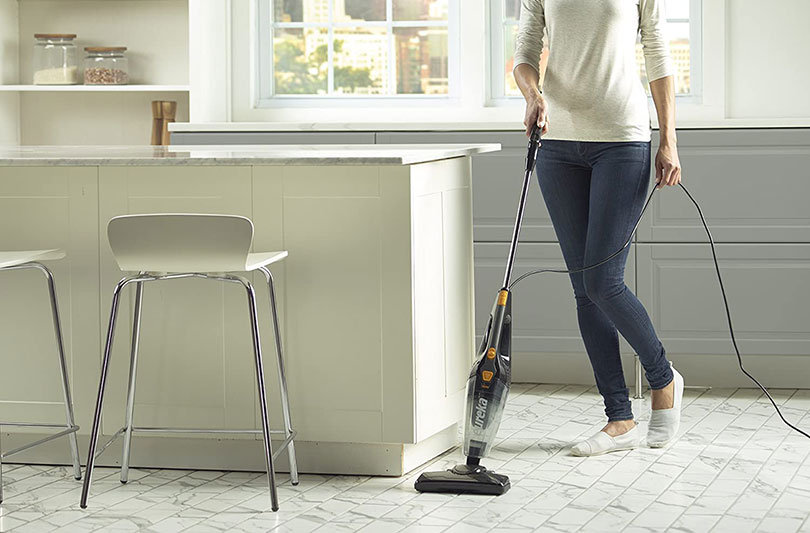 Vacuums are extremely useful household objects, but many of them are designed primarily for carpets. That is all well and good for most people, but some people struggle to find a great vacuum that can clean tile effectively. Many carpet-oriented vacuums struggle to clean tile or feel uncomfortable during use. If you are someone who has a lot of tile flooring and struggles to get it clean, then get a vacuum that is made for tile.
Here are the six best vacuums for tile floors that are available for this year. There are vacuums here for every budget, every preference, and in multiple different styles. There is a vacuum here that can flawlessly fit your needs and leave your tile fit and fresh.

A Quick Comparison of Our Favorites in 2023
Rating
Image
Product
Details

Best Overall

Shark Apex Powered Upright Vacuum

Excellent cleaning power for tile
Self-cleaning brushes
Versatile features and design
CHECK PRICE

Best on a Budget

eureka WhirlWind Bagless Vacuum Cleaner

Super affordable
Innovative canister design
Easy to move around the house

Best Cordless

Dyson V6 Cordless Vacuum Cleaner

Raised vacuum is perfect for tile
Tons of power
Great battery
CHECK PRICE

Best Wet/Dry

Bissell Crosswave Pet Wet & Dry Vacuum

Vacuums and washes tile
Perfect for pet owners
Can eliminate mopping in some homes
CHECK PRICE

Most Power

Miele Triflex HX1 Vacuum Cleaner

Most powerful stick vacuum on the market
HEPA filter
Ergonomic design
CHECK PRICE
The 6 Best Vacuums for Tile Floors
1.

Best Overall – Shark AZ1002 Apex Powered Lift-Away Upright Vacuum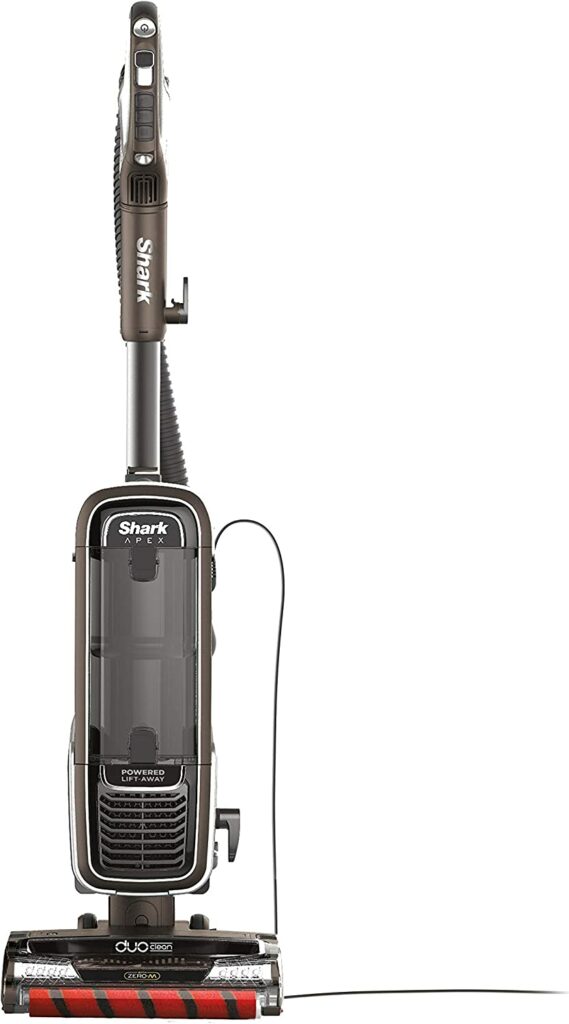 | | |
| --- | --- |
| Weight | 16 lbs. |
| Power Source | Cord (30ft) |
| Style | Upright |
The Shark AZ1002 Apex perfectly combines function, value, and versatility. This vacuum is not the most expensive vacuum on the market, but it has plenty of features to keep your tile looking its best. The Shark AZ1002 Apex is designed to tackle hardwood floors and tile. The brushes are self-cleaning and can pick up large objects, as well as fine particles. After using the vacuum, the floors take on a polished sheen that will leave you satisfied. This is the best vacuum for tile floors because the result is superior without busting the budget.
The Shark Apex also comes with some other features that bolster the effectiveness of the vacuum. It comes with a handheld detachment that is perfect for cleaning nooks, crannies, stairs, upholstery, and baseboards. It also has a powerful LED light that helps you see into the dark corners of your house. It also features Shark's active glide technology, which ensures a smooth ride over hard surfaces as well as carpets. Some vacuums feel squirrely on tile, which makes them hard to maneuver—but the Shark Apex feels great on both tile and carpet.
The only downside with this vacuum is that it is heavy. All of these innovative features come with considerable weight. The vacuum weighs 16 pounds, which makes it one of the heaviest vacuums on the market. Lightweight vacuums usually weigh five pounds or less. But if you can handle the extra weight, this is one of the best vacuums on the market for tile, hands down.
Pros
Excellent cleaning power for tile
Self-cleaning brushes
Versatile features and design
Great value
---
2.

Best On a Budget – eureka WhirlWind Bagless Canister Vacuum Cleaner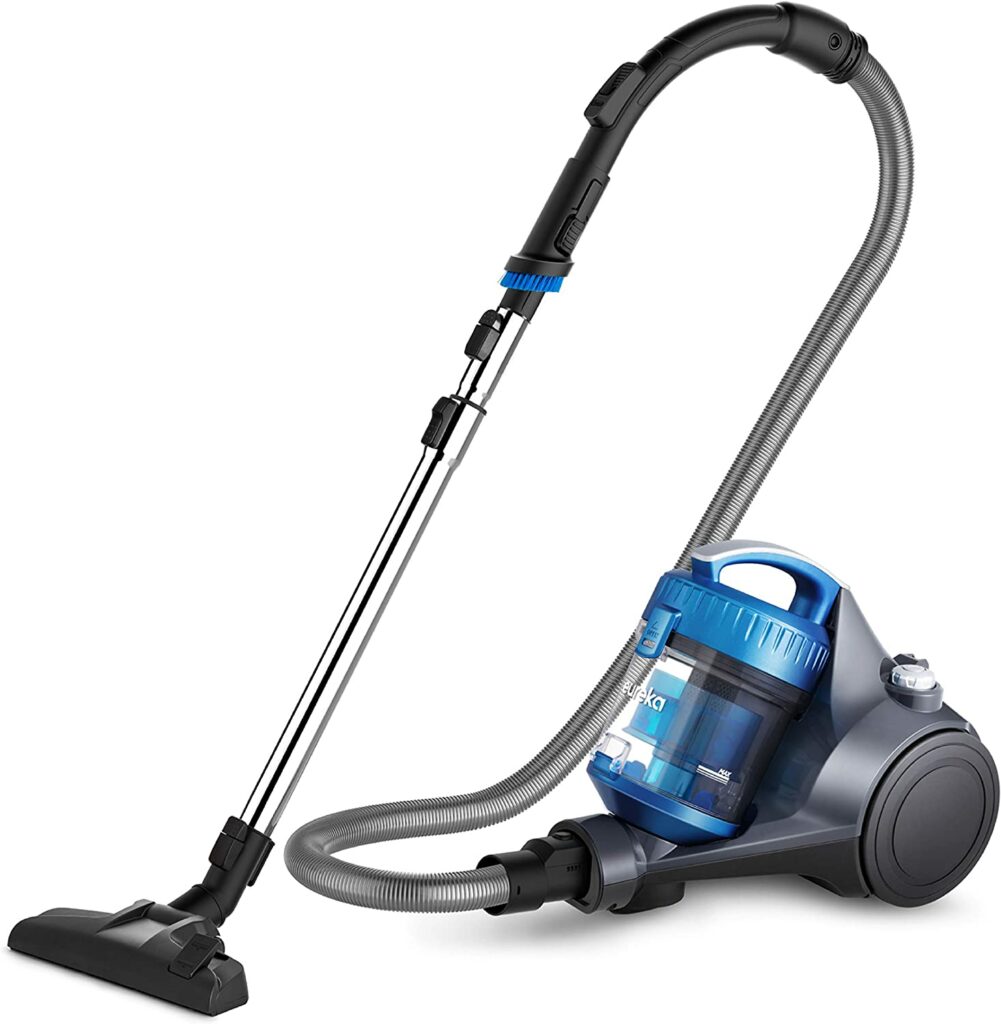 | | |
| --- | --- |
| Weight | 8 lbs. |
| Power Source | Cord |
| Style | Canister |
You do not have to shell out hundreds of dollars to get an effective clean. The eureka WhirlWind Canister Vacuum is the perfect vacuum for tile for people on a budget. This vacuum is lightweight and can be easily carried by a convenient handle to any spot in the house. It features a long cleaning tube and a crevice cleaning detachment for a quick clean.
This vacuum is great for people who have small areas of tile or who have tile spread throughout their house. Some homes have tile in multiple places, but not necessarily a large amount of tile area overall. This vacuum is perfect for toting to the different patches in the house that need to be quickly vacuumed.
The eureka WhirlWind features an innovative canister that does not need bulky bags or expensive filters. The dirt collects in the canister and can be dumped with a single press of a button. The canister holds 2.5 liters of dirt and dust.
The downsides to this vacuum are twofold. First, the cord is very short and often requires the use of an extension cord to extend the reach. That can be an issue for people who do not have many free outlets or who have a large open space set back from the walls. The other issue is that users report a loss of suction after a few months of use. Poor suction can be a bummer and can cause you to have to re-clean areas.
If you are looking for a solid vacuum on a budget that is great for tile, this is your best option.
Pros
Super affordable
Innovative canister design
Easy to move around the house
Cons
Short cord
Loss of suction power over time
Consult a flooring expert
Find a flooring specialist in your area, and get free, no-commitment estimates for your project.


---
3.

Best Cordless – Dyson V6 Fluffy Cordless Vacuum Cleaner
| | |
| --- | --- |
| Weight | 9 lbs. |
| Power Source | Lithium-ion battery (included) |
| Style | Cordless stick |
Few brands carry as much weight in the vacuum market as Dyson. Dyson is a household name for good reason. Dyson is innovative, durable, and effective. Those things are all true for the Dyson V6 Fluffy, which is a fantastic stick vacuum for people looking to clean a lot of tile space in their home.
One of the things that makes the V6 Fluffy perfect for tile is that the head is raised to account for tile. It does not sit too close to the floor, which is an issue with many users looking to get the best clean for tile floors. The V6 Fluffy is also extremely powerful. It has a 350W motor and strong cyclonic power. It is well designed, ergonomic, and durable.
The V6 Fluffy builds on Dyson's stick design and adds the features people need to effectively clean their tile floors. The vacuum is relatively lightweight, coming in at less than 10 pounds. It also has a powerful battery that charges quickly and lasts a long time. The Dyson V6 Fluffy feels great in your hand and glides over tile with ease.
The issues with this vacuum are the price point and the way it handles pet hair. This is not a great vacuum for people who own pets because the hair tends to get clogged in the vacuum. Dyson is a reputable brand, but it is also an expensive brand. This vacuum is quite a bit more expensive than its peers. If you have the money, this is a great option for people looking for a cordless vacuum that is designed for tile.
Pros
Raised vacuum is perfect for tile
Tons of power
Great battery
Ergonomic design
Cons
Expensive
Doesn't handle pet hair well
---
4.

Best Wet/Dry – Bissell Crosswave Pet Pro All in One Wet Dry Vacuum Cleaner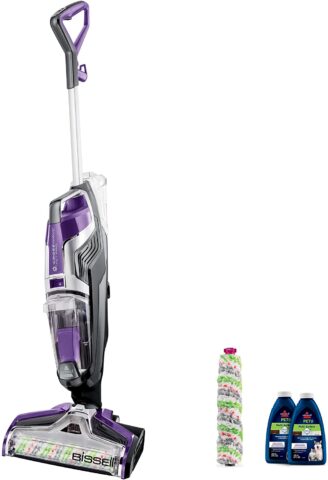 | | |
| --- | --- |
| Weight | 11 lbs. |
| Power Source | Cord |
| Style | Upright wet/dry |
What's better than a vacuum made for tile? A vacuum that can both pick up dirt and clean your tile floors. The Bissell Crosswave Pet Pro combines powerful suction with advanced water cleaning to leave your floors spotless. This vacuum is perfect for tile and other hard surfaces because it not only picks up dirt and dust, but it also scrubs and leaves the surface tidier than ever. In some situations, this vacuum can eliminate the need to mop completely. This vacuum is also perfect for pet owners.
Pets shed all over the floor, and that can pose a problem for standard vacuum cleaners. Some vacuums simply push pet hair across tile floors, and others get clogged up when they pick up too much hair. The Crosswave Pet Pro eliminates both of those issues. It has specially designed brushes that prevent clogs and tangles that pet hair often causes. It also can pick up pet hair off hard surfaces and clean behind it, which eliminates dander and odors better than a dry vacuum.
For an upright vacuum with water capability, it also is lightweight, coming in at just 11 pounds. It is also designed to keep the water clean, so that only fresh water is going onto the floor and only dirty water is coming off of the floor. Some wet/dry vacuums have an issue with mingling water that can leave unsightly streaks on your floors, but you won't have that problem with the Bissell Crosswave Pet Pro.
The only problems come from the water portion of the vacuum. Some users reported leaks, which can be annoying and leave wet spots under the vacuum. Others reported uneven water distribution, which led to only part of the brush getting wet, which caused uneven cleaning. Both of these issues are minor and come with the territory of a wet/dry vacuum, but they are important to note.
Pros
Vacuums and washes tile
Perfect for pet owners
Can eliminate mopping in some homes
Minimal streaking
Cons
Some leaking reported
Unevenly cleans in some situations
---
5.

Most Power – Miele Triflex HX1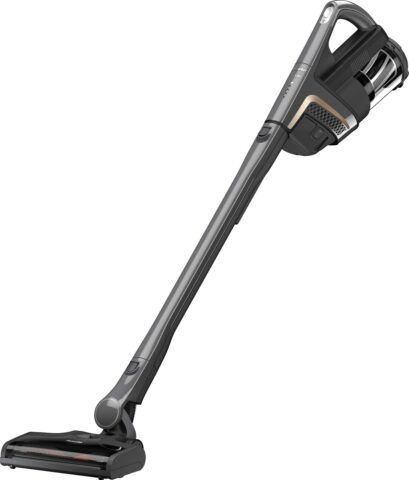 | | |
| --- | --- |
| Weight | 8 lbs. |
| Power Source | Battery (included) |
| Style | Cordless stick |
If you thought German engineering was just reserved for cars, think again. The Miele Triflex HX1 brings the high quality of German engineering into your home. This vacuum is extremely powerful and extremely lightweight, which is a winning combination.
This is Miele's most powerful cordless vacuum, and it has power that is on par with corded upright vacuums, something not often seen with cordless models. In this case, the extra power has some additional benefits most people don't consider. A powerful motor and faster brush mean a faster clean. You do not have to slow down during transitions, and you don't have to bring down the pace to get up large amounts of dirt.
This vacuum is also equipped with a HEPA-rated filter, an easy-to-dump canister, and an uncompromising design. The vacuum feels great in your hand and looks great to boot. If you want an extremely powerful cordless vacuum that retains its lightweight design and versatility without compromising on suction, then you want to grab the Miele Triflex HX1.
The only downside is the price. This level of quality and engineering does not come cheap. This is one of the most expensive options on the list, but it is worth every penny.
Pros
Most powerful stick vacuum on the market
HEPA filter
Ergonomic design
Top tier engineering
---
6.

Best Robotic – eufy BoostIQ RoboVac 11S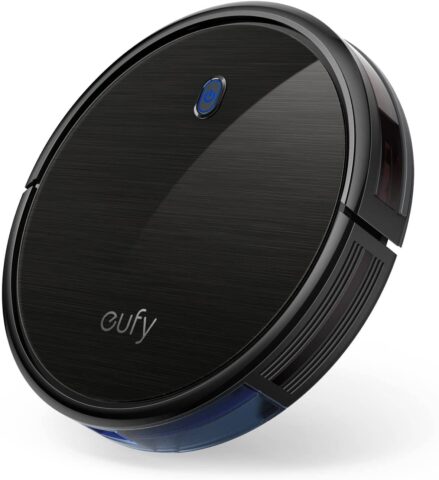 | | |
| --- | --- |
| Weight | 5 lbs. |
| Power Source | Battery (included) |
| Style | Robot |
Some robot vacuum cleaners are extremely expensive, but that is not the case with the eufy BoostIQ RoboVac. This handy little device is affordable and effective, which is a combination that is hard to find in the world of robotic vacuums. This vacuum can run for 100 minutes on a tile floor and is extremely quiet. It goes about its business without any input. Just set it and forget it. This is perfect for people who find visible dirt on their light tile floors annoying, but do not want to constantly sweep and vacuum.
The eufy BoostIQ RoboVac also features handy anti-scratch technology that prevents the vacuum from dinging hardwood floors or scratching tile or glass. It also has a smart infrared sensor that automatically avoids obstacles without you having to rescue it. When it is done, it returns to its base, where it starts recharging automatically, so it is always ready to go when you need it. You do need to empty the dustbin on your own, however, and the dust bin is not the largest on the market, meaning you need to empty it frequently.
The downsides of this vacuum include difficulty returning to base and weak suction. The company suggests leaving multiple feet of clear space on all sides of the charging base, which is not always feasible in a small home. The vacuum also has average suction, which sometimes leaves dirt behind, especially after months of use. However, for the price, you can't beat this robotic vacuum that is perfect for automatic tile floor cleaning.
Pros
Fair price
Set it and forget it
Runs effectively on tile
Cons
Struggles to return to base
Wi-Fi connectivity an extra charge
Average suction

Buyer's Guide: Selecting the Best Vacuum for Tile Floors
Corded vs. Cordless
One of the biggest questions in the modern market is whether to get a corded vacuum or a cordless one. Consider the placement of your outlets and how you have your furniture arranged. Are you vacuuming under tables and chairs where a cord could get in the way? Do you have convenient outlets that you can readily use to plug your vacuum into?
Also, note that cordless vacuums run on batteries, which will need to be charged in order to run. Batteries also have the potential to fail in the long run, which can cause frustration and lead to extra costs if you need to replace the lithium batteries down the line. New batteries for large vacuums can run you hundreds of dollars.
Tile and Carpet?
Are you looking to get a vacuum that primarily does tile, or are you looking for a vacuum that can tackle your carpets and your tile? This is an important question. There are some vacuums that are great at cleaning tile, but might not do as well for carpet. The height and brushes are different for tile and carpet because the flooring types are very different.
The lower the vacuum, the more likely you are to push the dirt around instead of sucking up pesky dirt. Lower vacuums are good for carpets where the dirt is below the vacuum, but they might not be good on the tile where the gap between the dirt and the vacuum is a lot smaller.
How Often Do You Mop?
Vacuuming and mopping go hand in hand. It is much easier to mop after you sweep and vacuum. If you mop a lot, you might not need the world's most powerful vacuum cleaner to get the dirt up. However, if you do not mop frequently and are relying on your vacuum to do the bulk of the heavy lifting, you might want to invest in a more powerful vacuum for the tile.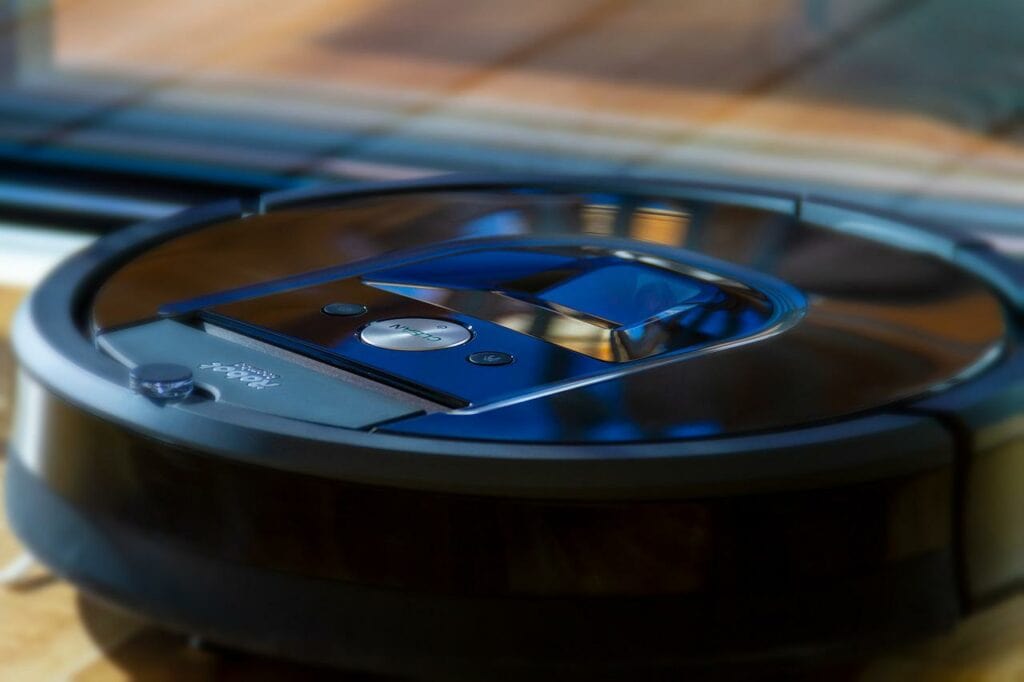 How Much Tile Do You Have?
Another thing to consider is how much tile you have. Is your house mostly tile? Do you want to vacuum the bathrooms as well as the rest of the house? If you only have a small amount of tile, you might not need a large or expensive vacuum in order to tackle the space. Conversely, if you have a lot of tile to clean, you might want to get a lightweight vacuum with a lot of power and versatility to get the job done. A small affordable vacuum could be all you need to handle a small amount of tile.
Consider the Weight
If you have a large area to vacuum on a regular basis, the weight of your vacuum will become important. You do not want to lug around a heavy vacuum. Consider how often you vacuum, how much space you have to vacuum, and where you store your vacuum. If you put your vacuum in the garage and have to drag it into the kitchen and bathrooms on a daily or weekly basis, you are going to want a lightweight vacuum to reduce the load on your body.
Get a Deal or Grab a Budget Buster?
One big question that emerges with any purchase is how much to spend. Should you buy a top-of-the-line item or save some money and get a budget option instead? The answer will come down to a couple of things. First, are you getting a vacuum specifically for tile floors, or are you trying to get a vacuum that can do the entire house?
If you want an all-around vacuum that can do tile, carpet, hardwood, and more, you should think about investing a little bit more money. If you want to get a vacuum specifically for the tile in your house, you might want to save some money and get a cheaper vacuum that is not used as often as an all-around vacuum.
The other factor is your budget. If you are looking to spend more than a couple of hundred dollars, you might want to take the plunge and get a product that you know is good.

Conclusion
There are various vacuums on the market that can fit nearly any household. Whether you have a large tile dining room or a small house with small patches of tile sprinkled throughout, there are vacuums of all sizes and price points to fit your needs. Choosing the right vacuum is all about weighing features and benefits against your personal needs. Some people don't need a huge expensive vacuum to hit a small kitchen floor, and other people will be disappointed in cheap options if they need to use their vacuum daily. The choice is ultimately up to you, and you cannot go wrong with any of these amazing options that are available right now.
---
Featured Image Credit: cottonbro, Pexels