7 Best Vitamix Alternatives of 2023 – Reviews & Guide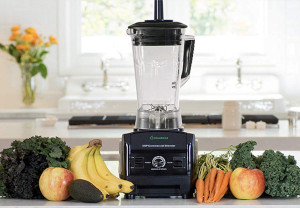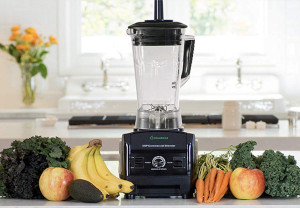 Vitamix is a top contender in the fierce blender market, but its price points are murderous. The prices aren't too surprising when you consider some of the impressive specs behind Vitamix models, such as its 2.0 horsepower motors and 10-year warranties. Behind the expense, Vitamix has muscle.
However, the market is full of blenders comparable to Vitamix that offer the quality, power, and innovation you need without draining your bank account. To put it bluntly, you don't have to give up on owning the blender of your dreams.
We've searched the blender market and made them face off in little blender arenas so we could bring you the best models and help you decide where to spend your cash. Read on for in-depth reviews of our favorite alternatives to Vitamix blenders. You may say goodbye to Vitamix forever.
Comparison Table (updated in 2023):
Rating
Image
Product
Details

Best Overall

Cleanblend 1800W

Affordable
Easy to use
Eight stainless steel blades
CHECK PRICE

Best Value

Ninja BL610

Low price tag
1000-watt motor
High-capacity container
CHECK PRICE

Blendtec Total Classic

Powerful blades
10-speed control
Six preprogrammed buttons
CHECK PRICE

Hamilton Beach 58800

Easy to use
Easy to clean
High power and speed
CHECK PRICE

Vanaheim GB64

1450 watts
Solid and well-built
Manual and automatic settings
CHECK PRICE
The 7 Best Vitamix Alternatives (Cheaper Options):
1.

Cleanblend 1800W Blender – Best Overall

With a name like Cleanblend, you may think you're shopping for a hotel bathroom blender model (that's a thing, right?). But as the old saying goes, you should never judge something by its name. This little countertop beast is hiding 3.0 horsepower under its carriage. The Cleanblend 1800 Watt Motor Blender houses eight stainless steel blades, and the company offers a 5-year warranty to back it all up.
It's easy to use, easy to clean, and comes with several recipes. Cleanblend says it can replace nine kitchen appliances. Its only drawback is that it doesn't have preprogrammed settings. Not only is this an affordable alternative to Vitamix, its chops are just as impressive, if not more so.
Overall, we think this is the best Vitamix blender alternative.
Pros
Affordable
3.0 horsepower motor
Five-year warranty
Eight stainless steel blades for maximum chopping
Can replace nine kitchen appliances
Cons
No preprogrammed settings
---
2.

Ninja BL610 Blender – Best Value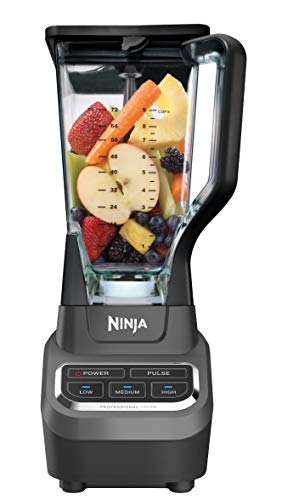 While discussing blender name quality, what's better than a blender called a Ninja? You'll want to tell your friends you have a Ninja on your countertop. Ninja makes great blenders overall, and this 1000-horsepower model is nothing to sneeze at. However, the best feature of the Professional 72oz is its low price tag.
You get a sleek, high-powered, high-capacity blender that will meet most of your needs for comparatively little money. You won't find a deal like this with Vitamix. The only reason it's not in first place is because it doesn't have the Cleanblend's impressive muscle or versatility.
To conclude, we think this is the best Vitamix blender alternative for the money.
Pros
A price tag that will make you purr
The name. Say it with me: Ninja
1000-watt motor
High-capacity container
Cons
Less muscle than Vitamix offerings or the Cleanblend
Less versatility
---
3.

Blendtec Total Classic Original Blender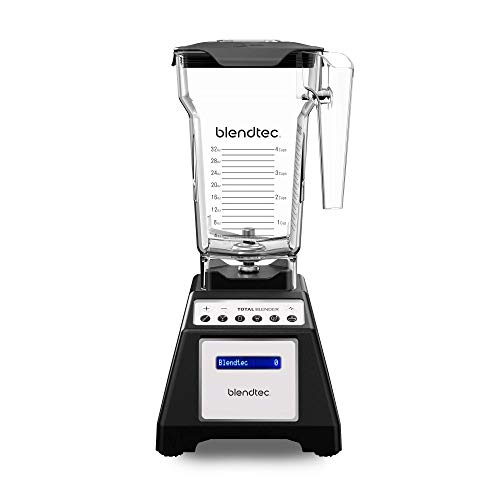 Blendtec has been a longtime heavyweight contender against Vitamix, and this model is its foray into the average home user market. Its blenders are known for high power and smart features, which the Blendtec Total Classic Original delivers. With 1,560 watts powering blunt blades, this machine will pulverize anything.
It also has six preprogrammed buttons, a 10-speed manual control, and a high-capacity container. The downside? The price tag is squeaking up there into "yikes" territory. But don't let that deter you. For the quality Blendtec delivers, it's surprising to find one of its blenders at this relatively low price.
Pros
High-powered motor
Powerful blades
Six preprogrammed buttons
10-speed control
Cons
Pricier than other machines on this list
---
4.

Hamilton Beach 58800 Blender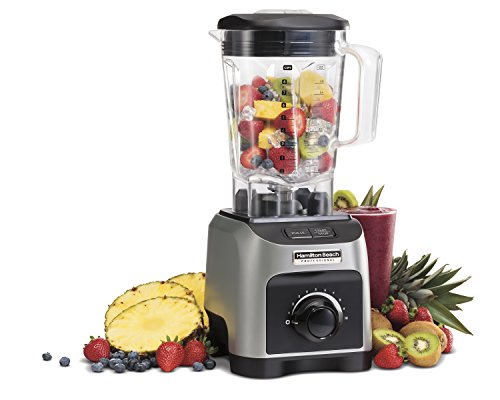 The name Hamilton Beach might evoke images of surfers and avocado toast, but with a 1,800-watt motor and 140 mph blade rotation, the Professional is built to crush. With an easy speed dial, a pulse button, a large container, and attention to quietness, the company has clearly geared this model toward the user.
It's easy to clean, the price tag is reasonable for the power you get, and the friendly 5-year warranty will help you sleep at night. However, Hamilton Beach doesn't offer much versatility or preprogrammed settings. It's built for straightforward blending, which is all some consumers need.
Pros
High power and speed
Easy to use
Easy to clean
Reasonable price
Cons
Lacks versatility
No preprogrammed settings
---
5.

Vanaheim GB64 Blender
The Vanaheim GB64 is a hefty and affordable little rascal. It might look like an '80s throwback, but with 1,450 watts, manual speed, a timer, and four preprogrammed settings, it provides great versatility. It also has a handy self-cleaning feature.
This model also has some nicely solid pieces that don't feel like they'll break on you. The price is excellent too. Unfortunately, there's only a one-year warranty, and the blender is too loud.
Pros
1450 watts
Manual and automatic settings
Solid and well-built
Cons
Ho-hum warranty
Loud
A bit retro-looking
---
6.

Nutri Ninja Personal Blender Set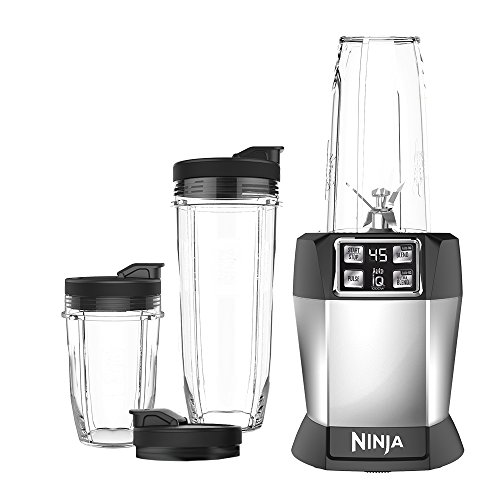 If you want an affordable model with some teeth, the compact Nutri Ninja Personal Blender Set (BL482) is for you. It makes smaller servings at a time, so it's good when you're in a hurry. A 1,000-watt motor gives a decent little bite, and the cup-size containers are good-to-go vessels.
It also features a few preprogrammed settings, so you can push a button as you rush off to tell your kids to get dressed for the hundredth time. You might frown at the 1-year warranty, the style, the lack of capacity, and its noisiness.
Pros
Good for quick use
Preprogrammed settings
Affordable and compact
Cons
Looks more like a gremlin than a ninja
Lousy warranty
Noisy
Not as much power as other Ninja models
---
7.

Oster Versa Pro Series Blender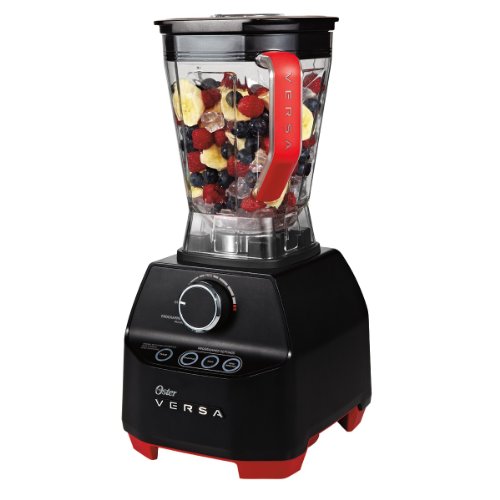 The Oster Versa looks a little like a toy, but don't be fooled, friends. This li'l kicker has a whopping 1,400-watt motor, and its blades spin at 250 mph. It also comes with a 7-year warranty. With these kinds of specs, Oster clearly wants to cash in on Vitamix's corner of the market.
It has three programmed settings, a pulse control, a speed dial, and designer colors. Unfortunately, Oster doesn't always take the cake in the durability department. Though affordable, this blender may start leaking oil or develop rust in the gears after repeated use.
Pros
Hefty specs
Affordable
Attractive
Great warranty
Cons
Ranks low in durability
Prone to gear rust
May leak oil after prolonged use
---
Buyer's Guide: Choose the Best Vitamix Blender Alternatives
You want a good blender that's as awesome as a Vitamix but without the wheeze-inducing price tag. It's essential to think first about the features you want. The Cleanblend 1800 Watt Motor Blender is great for muscle and durability, while the Blendtec Total Classic Original has muscle and versatility. On the affordability end of the scale, you can't go wrong with the Ninja Professional 72oz Countertop Blender.
Consider the following things before you decide on a good Vitamix alternative blender:
How much you want to spend
How much power you need (will you crush ice? Nuts? Frozen fruits?)
What kind of versatility you need (such as preprogrammed settings)
How often you'll be using it (go for simpler if you're a casual user)
Whether anyone in your house will be upset by the noise you're making
Try not to be lured like a guppy to a lanternfish when you see specs like powerful motors and flashy touchscreens. If the machines aren't durable, their motor strength won't get you far, and a techy touchscreen doesn't automatically mean good performance. Vitamix is known for attention to detail in both durability and technology, which is what makes it shine like the little superstar it is. We've chosen the blenders above because they echo most of the qualities Vitamix delivers.
If you find a model you like, check out the manufacturer's website. You can explore the next one in the lineup to see if a small upgrade will get you even more of what you want. This is a good way to determine if you're getting the most bang for your buck.
We also reviewed and compiled a list of our favorite NutriBullet alternatives.
---
Conclusion
Now that you've looked through our painstakingly reviewed list of Vitamix substitutes, we hope you've decided on what to buy. Many companies try to mimic the big names of the blender world, but not all of them stack up. Check the specs carefully, read user reviews when in doubt, and always factor in the price versus the quality. We wish you luck finding the best alternative to a Vitamix blender.
More posts we wrote about Vitamix blenders: