Blendtec vs Vitamix Reviewed: Who Makes the Better Blender?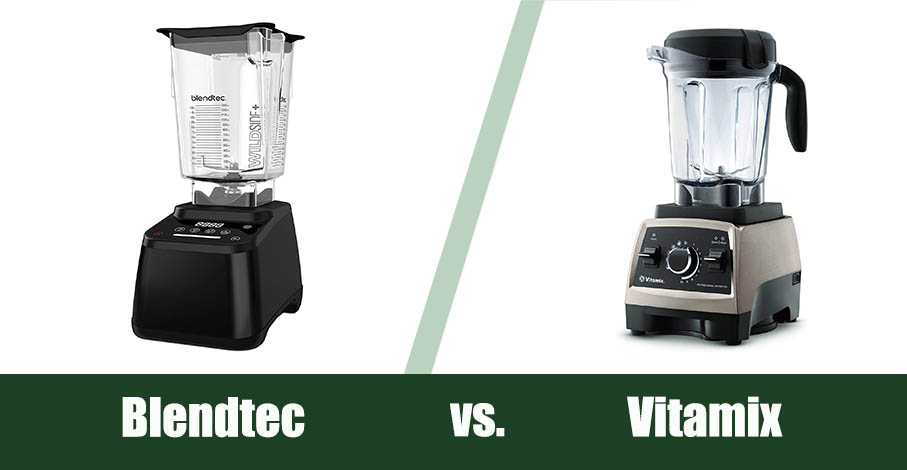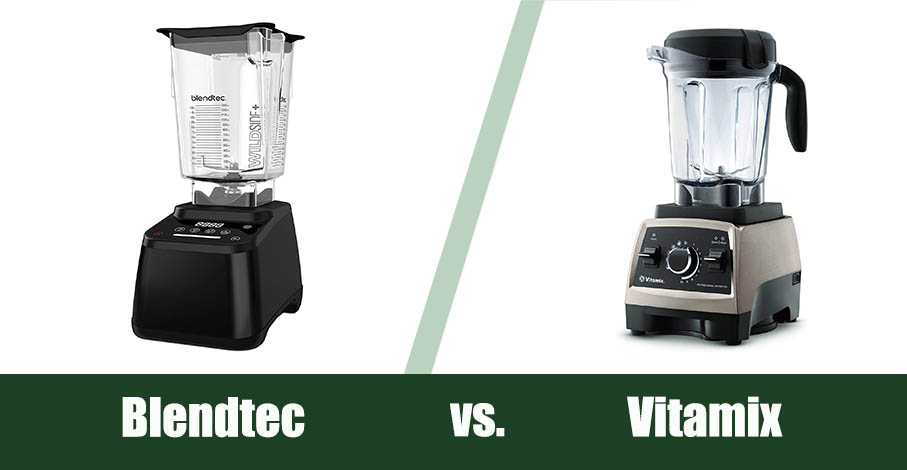 Blendtec and Vitamix are among the gold standard brands for blenders. With even the least expensive models falling in the high-end market, these are blenders for serious enthusiasts and professionals. But how do they stack up against each other?
Blendtec models are brainy. With a series of preprogrammed and one-touch cycles, including a self-cleaning feature, and a 100-speed touch slider in one of the Designer models, they're built for both intelligence and control. You can also expect durability alongside the hefty price tag. They're known for holding up to years of use, and Blendtec backs its products with a substantial eight-year warranty.
Vitamix blenders are also engineered for durability. With heavy-duty metal parts and a patented self-cooling design, they'll stay in top shape for years without the burnout you can expect from cheaper models. The Smart System series is built with intelligence in mind, with touchscreens, automated speed variability, and wireless connectivity to keep your blender installed with the latest tech. Vitamix is proud of its quality. The 10-year warranty will give you peace of mind about your purchase.
It's clear that both brands maintain some impressive standards, so we've broken down their specs below to contrast them more carefully. We pitted similar models against each other, so you can see which one is better for you.
Image
Product
Details

Best Overall

Blendtec Classic

5 manual speeds
Smoothie and cleaning programs
8-year warranty
CHECK PRICE

Vitamix A3500

Durable & good value
Smart System series
Self-cleaning
CHECK PRICE

What Are the Differences?
Comparing all the different models of these two brands would be a little tricky. We've simplified things here by comparing a budget model, a mid-range model, and the highest-end model from each brand.
Budget Blender Comparison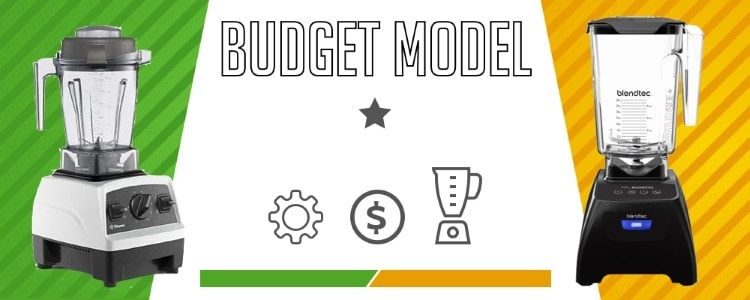 Blendtec Fit vs Vitamix E310 Blender
Performance
On the lowest-priced end of the Blendtec family lies the Blendtec Fit. With a 3.0 horsepower motor capacity, it can easily crush ice, frozen fruit, or other hard substances at high speeds. Vitamix's comparable model, the E310, lags at only 2.0 horsepower for the same price. Both offer high performance for a low-range blender, but these aren't your inexpensive run-of-the-mill models.
Price
Blendtec and Vitamix each offer their low-end models for the same price, a price that may not seem budget-friendly at first glance. However, the muscle behind these blenders makes them well worth the price tag.
Design
These entry-level blenders for each brand have very few extras. The Blendtec Fit offers a 30-second cycle and an Add 10 button, along with pulsing buttons. It has a more attractive design than the boxier Vitamix E310. The E310, however, offers 10-speed control and a five-year warranty. The Blendtec Fit has a meager two-year warranty.
Mid-Range Blender Comparison
Blendtec Designer 625 vs Vitamix Professional Series 750
Performance
The Blendtec Designer 625 maintains the 3.0 horsepower motor of the Blendtec Fit and has a six-speed touch slider for power control. The Vitamix Professional Series 750 has an increase from the E310 at 2.2 horsepower and offers preprogrammed settings that allow you to set the blender and walk away. Again, they're both powerful performers, but Blendtec's attention to power stands out.
Price
As you climb the ladder in specs, the prices begin to spread. Blendtec's Designer 625 is slightly less expensive than the Vitamix Professional Series 750.
Design
With the Designer 625, Blendtec introduces intuitive touchscreen controls and a six-speed slider function. It has four pre-programmed cycles and an eight-year warranty. It also looks nice on the counter, with its modern design and sleek finish. The Vitamix Professional Series 750 has five pre-programmed settings, but only a seven-year warranty. It pales in aesthetics, though. Its boxy design looks more old-fashioned and perfunctory compared to the Blendtec model.
High-End Blender Comparison
Blendtec Professional 800 vs Vitamix Ascent Series A3500
Performance
Blendtec's high-end Professional 800 takes power to a new level. With a 3.8 horsepower motor and 11-speed touch slider, it has both heft and precision control. Vitamix never quite reaches these specs. Its high-end Ascent Series A3500 only reaches 2.2 horsepower and has more manual programming. But when you start talking about the term horsepower in the blender market, you know you're dealing with serious heft. Blendtec may be more powerful, but there's a chance you won't notice the difference when it comes to whipping up smoothies.
Price
Blendtec's Professional series is far more expensive than anything Vitamix offers, with the Professional 800 costing significantly more than Vitamix's machine. Blendtec models keep climbing from there. It also offers a commercial line that can only be purchased through certified dealers.
Design
The Blendtec Professional 800 is geared toward chefs and serious enthusiasts. It offers a drop-down top to stifle the noise, an 11-speed slider, and a 3.8 horsepower motor. It looks like it means business. Vitamix's Ascent Series A3500 offers five pre-programmed settings and touchscreen controls, along with wireless connectivity to keep its software up to date. Among the high-end models, you get more bang for the buck with Vitamix's A3500 than with the pricier Blendtec model. The A3500 is one of the nicer-looking Vitamix blenders, as well.
Quick Rundown of Blendtec Blenders
Blendtec machines are built for the pros, and their hefty performance shows it. The company also offers an eight-year warranty on most of its models, which shows it stands firmly behind its products. The price spread can be a deterrent for some, but if you consider the shorter lifespan of most blenders on the market, it's worth shelling out the extra cash for the durability. Here is a little more information on each of Blendtec's machines.
Blendtec Fit
The Blendtec Fit: This is a high-quality machine built for first-timers or minimalists. It defaults to a 30-second cycle and offers an Add 10 button to lengthen your blend if needed. It also features High Pulse and Low Pulse buttons for added control. With 3.0 horsepower and a two-year warranty, the Blendtec Fit is one of the best casual blenders on the market.
Classic 575
Blendtec took its Fit model and gave it steroids, resulting in the Classic 575. There are buttons for a Smoothie cycle and a Clean cycle, and longer 60- and 90-second timers for blends that need more attention. Below these buttons are five speeds for manual control, along with high and low pulse buttons. It boasts 3.0 horsepower, Blendtec's promising eight-year standard warranty, and a variety of base colors.
Designer 625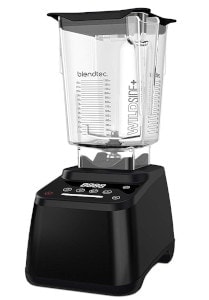 The 625 is the entry-level offering in Blendtec's Designer series. It's similar in specs to the Classic 575 but is augmented with a sleeker, sexier design, and touchscreen controls. There's a six-speed touch slider for power control, and preprogrammed cycles for smoothies, ice cream, hot soup, and even juice. It also comes with the standard eight-year warranty and a few color options.
Designer 650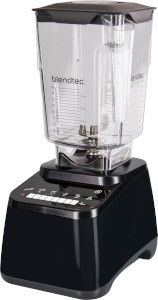 Taking a page from the 625's book, the 650 adds two more preprogrammed buttons: Batters and Ice Crush. It also steps up the slide control to eight speeds and introduces the five-sided WildSide+ jar for increased blending quality. It has an eight-year warranty and two color options.
Designer 675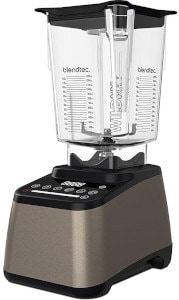 The next step up is the 675, which mimics the 650 in all ways but one: it offers a +10 button for adding blend time in 10-second increments. That's not an impressive step up, but it does run roughly the same price as the 650.
Designer 725
As a true graduate of the 600-level blenders, the Blendtec 725 is intelligent and impressive. Blendtec adds its SmartBlend technology to this model, which automatically senses any issues with your blend, such as overheating, overloading, or even air pockets. It also takes that piddly eight-speed slider and muscles it up to a 100-speed slider, offering you expert precision and speed control. It has MultiSpeed Pulse for a blast of power no matter what speed you're using. If you thought 3.0 horsepower was impressive, this one amps up to 3.8 horsepower.
Professional 750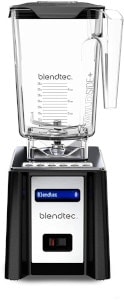 The Blendtec 750 is meant to be more of a permanent fixture in a professional kitchen. It adds nothing in functionality to its Designer series predecessors. In fact, for the extra money you have to shell out for it, you'd expect it to do much more than the 725. For some reason, Blendtec bumped this model back down to the 3.0 horsepower spec, reduced the 100-speed slider to 10-speed, and then added a ho-hum little LCD to the front. In other words, don't let the "Professional" moniker fool you.
Professional 800
It's still not as impressive as the Designer 725, but the Professional 800 adds a drop-down cover for quieter performance and bumps the motor back up to 3.8 horsepower. The speed control goes to 11. As this is the most expensive blender in the Blendtec lineup, again, you would expect more bells and whistles.
Overall Impressions:
Blendtec makes solid products, but its Professional series is a little gimmicky. For the money, you're better off getting the Designer 725 and not being fooled by the higher price tags. On the other hand, every model from the Blendtec Fit on up is well-built and high-performing.
Overall Pros
High power
Eight-year warranty
Wide range of options
Sleek design
Overall Cons
High price tag
Professional models don't pull their weight
---
Quick Rundown of Vitamix Blenders
Vitamix offers some impressive options, and the brand prides itself on durability. It even backs this with impressive warranties. While they may not lean toward more professional-grade models or provide the same motor strength as Blendtec, Vitamix blenders are more affordable, easy to use, and will still give you years of excellent performance. Read on for a breakdown of Vitamix's offerings.
S30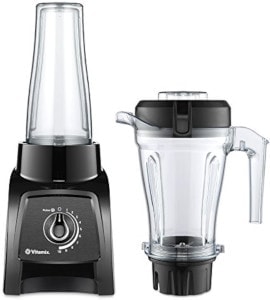 The first in Vitamix's Space-Saving series is the compact S30. It comes with a choice of 20-ounce or 40-ounce containers, a pulse feature, and an old-school knob for adjusting speed. It's also designed with built-in temperature regulation mechanisms and automatic turn-off for safety. On the warranty end, expect to receive five-year protection, which is a nice cushion for any small blender.
S50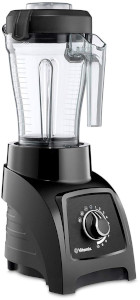 For a little extra money, Vitamix offers the S50. This blender adds two preprogrammed buttons for Smoothie or Power Blend…and that's it. Still, the walk-away convenience of preprogramming is worth the extra bucks.
E310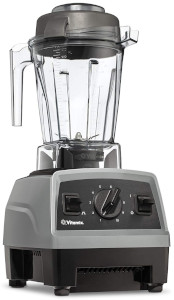 At the bottom end of Vitamix's Classic Blender series is the E310. It looks a little like your grandmother's countertop blender from the 80s, but its simple, sturdy design may be exactly what you need. It offers a 10-speed control knob, a pulse feature, a 2.0 horsepower motor, and three-inch laser cut blades for powerful blending. There's a five-year warranty for this model, as well.
5200 Standard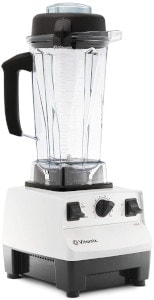 A step up from the E310 is the 5200 Standard. Its design isn't any more attractive, but it has a larger, 64-ounce container, and the capacity to make hot soup right in the machine. The Vitamix 5200 Standard runs at 2.0 horsepower, and the warranty for this one bumps up to seven years.
Professional Series 750
Here is where Vitamix starts getting a little more serious. The Professional Series 750 begins to offer some muscle, such as five preprogrammed settings for that convenient walk-away functionality. It's also a little more pumped up at 2.2 horsepower, and its seven-year warranty is nothing to sniff at. It won't win any awards for aesthetics, but with the 750, Vitamix starts heading in the right direction.
780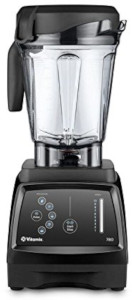 Is that a touchscreen we see? The Vitamix 780 adds a modern LED control panel and a pulse feature, widens its 64-ounce container, and finds itself as the transition model between the Classic series and the Smart System series.
A2300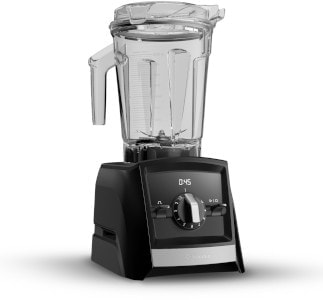 As the first of the Smart System series blenders, Vitamix's A2300 is closer to an entry-level model, but it's equipped with some intriguing tech, too. It offers speed control, a pulse feature, and a digital timer. It also has built-in wireless connectivity to keep your blender programmed with the latest software. That means you can invest once and keep upgrading for free. That's not a bad deal. The A2300 holds on to that 2.2 horsepower, but it bumps its warranty offering up to an impressive 10 years.
A2500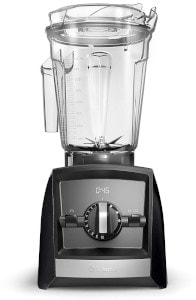 All hail preprogrammed settings! The A2500 includes three settings for Smoothies, Hot Soup, and Frozen Desserts. You can also use various Vitamix container sizes, and the blender will automatically know what you're using. The rest of the specs mimic the A2300 model.
A3300
Vitamix adds touchscreen controls to the Smart System series in the A3300 model. It's also sleeker-looking with its smooth interface and simple controls. In all other respects, it mimics the A2500.
A3500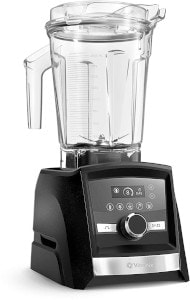 With this model, Vitamix adds two more preprogrammed settings: Dips and Spreads, and Self-Cleaning. Combined with the other specs of the previous machines, you can start to see some real muscle developing in this series with the A3500. This one also has the most color options.
Overall Impressions:
Vitamix keeps things a little humbler than Blendtec, but it throws some solid offerings in the ring. Unfortunately, its upgraded models offer little extra technology compared to their predecessors, which makes it seem frivolous to pay extra money. The Smart System series, however, is a win for technology. The capacity to upgrade its internal software is a great innovation.
Overall Pros
High durability
Good warranties
Less expensive
More technology
Overall Cons
Lower power
Boxier designs
Fewer features

What Users Are Saying
Users consider Blendtec a reputable company and say its blenders are easy to use, easy to clean, and highly durable. Some people mention issues with Blendtec's customer service quality, which is evidenced by the question and answer page on its website. Several questions are posed for specific models and have no answers months later. This can be frustrating for anyone looking for extra support.
Vitamix users say their blenders have great power, are easy to use, and are durable. However, some detractors cite the lightweight and flimsy feel of the blenders as a drawback. There is also an often-cited issue with Teflon flakes leaking out into the consumable liquid, though this may have been remedied in the newest models.

Conclusion
Comparing these two brands on the top end of the blender spectrum can be a challenge. But for performance, options, and durability, Blendtec is a cut above Vitamix. Buying a Blendtec machine will give you good power, design, and control. They're easy to clean and use, and they offer options for all skill levels and needs. Both brands have solid specs and offer great blenders, so you really can't go wrong either way. But when you stack them beside each other, Blendtec's offerings have better overall quality.
Other Blenders We Compared: