6 Best NutriBullet Alternatives in 2023 – Reviews & Top Picks
NutriBullet has held the crown of top performing single-serve blender. Some of this may be attributed to keen advertising or its sleek design, or it may be because its blenders are indispensable on stressful mornings for on-the-go health enthusiasts and busy parents.
If you're a comparison shopper who likes to do research before a purchase, you're probably asking yourself what else you can get for your money? Surely, NutriBullet isn't the only good single-serve blender on the market. We've done the research and discovered a solid batch of NutriBullet alternatives. We've also provided reviews to help you decide which model will make your heart sing. Read on for some free enlightenment.
A Glance at our Favorites for 2023
Rating
Image
Product
Details

Best Overall

Nutri Ninja BL580

Smart technology
Preprogrammed settings
FreshVac is handy addition
CHECK PRICE

Another Great Alternative

Magic Bullet

Low price!
Easy to use
Simple design
CHECK PRICE

Best Value Alternative

Hamilton Beach 51131

Easy to use
Very affordable
Excellent portability
CHECK PRICE

Oster My Blend

Affordable
Simple design
Great for on-the-go use
CHECK PRICE

BELLA Rocket Extract PRO

Easy on the wallet
15 pieces accessories
Various tumbler sizes
CHECK PRICE
The 6 Best NutriBullet Alternatives:
1.

Nutri Ninja BL580 Blender – Best Overall

Nutri Ninja enters the single-serve bullet market with this flashy 1100-watt model. The BL580 introduced the FreshVac device, which was engineered to keep your blends fresh and nutritious longer. The FreshVac sucks out harmful oxygen and keeps annoying foam and separation at bay. Nutri Ninja also adds in Auto-iQ Technology, a patented system of preprogrammed options that automatically speed up or use intermittent pulsing to help ensure your blends are high quality. The warranty is only one year, which might make you scowl, but this affordable, handy little blender is sure to rock your socks.
To conclude, we think this is the best NutriBullet alternative available this year.
Pros
Affordable
FreshVac is handy addition
Smart technology
Preprogrammed settings
1100 watts
---
2.

Magic Bullet Blender – Another Great Alternative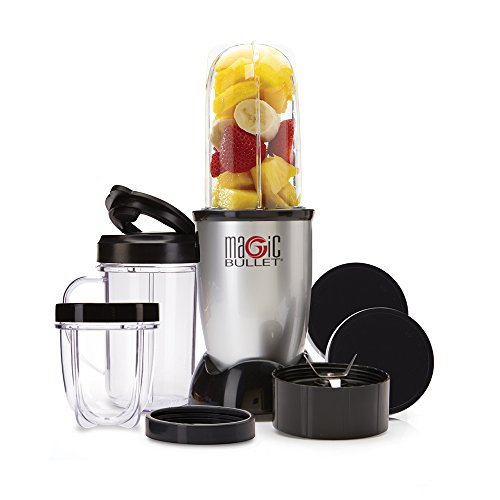 Technically Magic Bullet and NutriBullet are owned by the same company, but Magic Bullet tends to stand alone as its own brand. The beauty of Magic Bullet is its simplicity. With a minimalistic push button start, a single-serve capacity container, and a 250-watt motor, this little dude is great for whipping up protein powders, fruits, and soft veggies. It comes accessorized with extra containers, lids, additional blades, and a handy-dandy recipe book. This model is a true bullet blender, and you can't beat its low price tag.
Note, however, that the motor is a bit weak and can only handle thin, soft blends. There's also no warranty.
You can also read our comparison of Magic Bullet and NutriBullet here.
Pros
Low price! Buy one for all your friends!
Simple design
Easy to use
---
3.

Hamilton Beach 51131 Blender – Best Value Alternative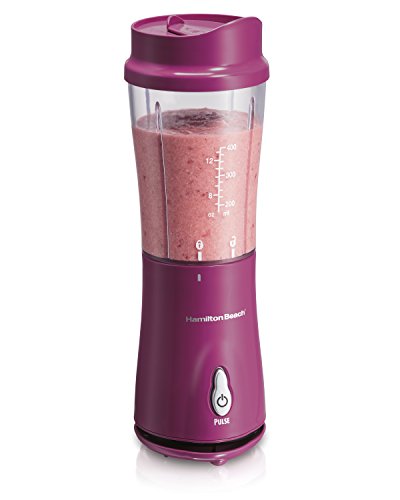 If you're a no-muss, no-fuss kind of human, you need a Hamilton Beach 51131. This portable little beauty sells for an incredibly low price. It doesn't have any bells or whistles. It's basically a canister that snaps into a base with a single button for action. You can't use it for crushing ice or frozen fruit, and there's no speed variability. But it's absolutely awesome for whipping up protein shakes or soft blends like yogurt and berries. If you want to buy a blender without booking your one-way ticket to the poorhouse, this one's for you.
RELATED READS: we also have an article going over the top 5 Hamilton Beach Juicers here.
Pros
Very affordable
Easy to use
Excellent portability
Cons
Not usable for ice crushing or frozen fruit
No speed variability
---
4.

Oster My-Blend Blender
Another ultra-affordable option is the Oster BLSTPB-WPK My Blend. It has specs similar to the Hamilton Beach. Its simple design and little 250-watt motor are great when you're rushing out the door in the morning. This is another one-speed model for basic blends. Don't let the advertising image fool you; you can't fill it with ice and expect it to blend quickly and efficiently. A quick glance at its recipes will give you a good idea of what you can blend successfully, such as soft or canned fruits, yogurt, or protein powders. You can see our other Oster reviews here.
Pros
Affordable
Simple design
Great for on-the-go use
Cons
Only good for the simplest blends
No speed options
---
5.

BELLA Rocket Extract PRO Blender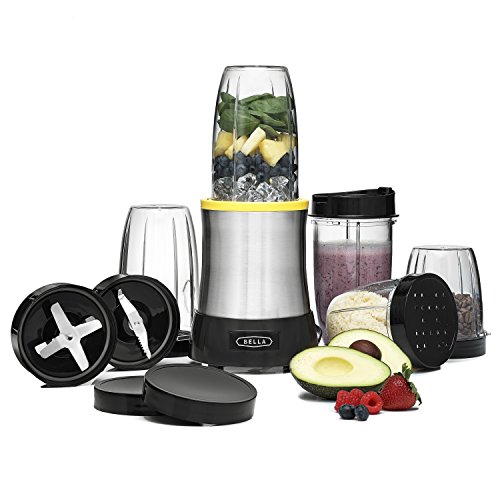 At about half the price of a low-end NutriBullet, the BELLA BLA13984 Rocket Extract PRO includes 15 extra pieces to accessorize your bullet blender and give you some options. It offers tumblers of various sizes, extra blades, and a decent 700-watt base for heftier blending. What you gain in might, though, you lose in durability. This model has no speed options, and won't stand up long if you blend daily or more often. It also won't take kindly to you chucking in a lot of ice or other hard items.
Pros
Easy on the wallet
Lots of accessories (15 pieces)
Cons
Durability could be better
Not great for blending hard materials
No speed options
---
6.

Keyton Personal Blenders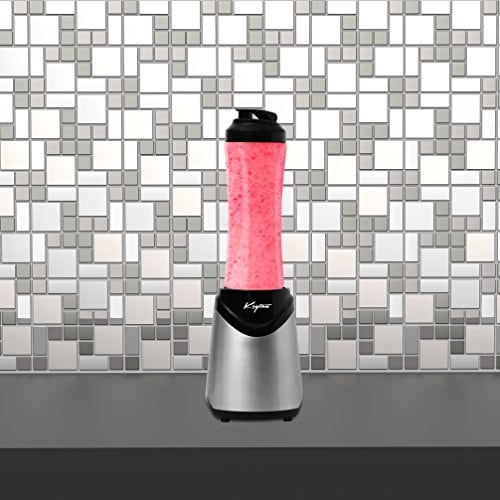 The Keyton Personal Blender sports a decent 1000-watt motor, which is more in tune with NutriBullet's specs. It also has a pulse button for small bursts of power, which can come in handy for breaking up those obnoxious little chunks that can't find their way to the blades. This is a great portable device, and perfect for apartments or dorms where space saving is key. For the price, this isn't a bad option, but what you save in cash you pay for in durability. The Keyton may be a good alternative to NutriBullet, but it will dull blades and break down much faster than the competition, and to top it off, there's only a 30-day warranty.
Pros
1000-watt motor
Added pulse button
Affordable
Cons
Low durability
Blades dull quickly
30-day warranty
---
Buyer's Guide: How to Select the Best NutriBullet Alternatives
Bullet style blenders have gained much popularity, but many users find themselves frustrated when they buy one and it begins to decline too quickly. The market is stuffed with options, but they're not all worth the money. You're better off shelling out a few extra bucks for quality than buying two or three poorly built blenders each year.
If you're unsure what to look for in a good single-serve bullet blender, consider the following:
1. Don't be afraid to pay a little more for durability. You'll save in the long run by not having to replace your blender too soon. The Nutri Ninja with FreshVac is a great option. It's el numero uno on our list for its affordability and durability.
2. Low motor strength means you'll be shaking your fists in the air and calling your blender words that would make a biker blush. Chopping ice and frozen fruit require at least a 1000-watt motor. Don't settle if you want to blend hard substances.
3. If you're on the go, simpler is better. Maybe you want to whip up a protein shake without clumps or blend some yogurt and fruit. If so, you don't need anything fancy. Go for the most stripped-down and effective model you can find, such as the Hamilton Beach 51131.
4. Having accessories such as a variety of container sizes or blades can be nice. But they may not be necessary if you're making single servings. Focus more on blender power than the extra cups in the box.
Our Final Verdict:
A single-serve bullet blender is a handy little doodad to have around. There's nothing better than a quick, fresh blend in the morning (or any time of day, really) without the hassle of cleanup or hauling a heavy machine from a cabinet. But with more bullet blender models on the market than you can shake a stick at, we hope our reviews have provided some clarity. When in doubt, the Nutri Ninja with FreshVac Technology BL580, our top pick, is a great alternative to NutriBullet. If you want something lower-priced or simpler, nab a Magic Bullet or a Hamilton Beach 51131 Single-Serve Blender. Now get out there and find that perfect blender.