Ninja vs Vitamix: Which Blender is Better?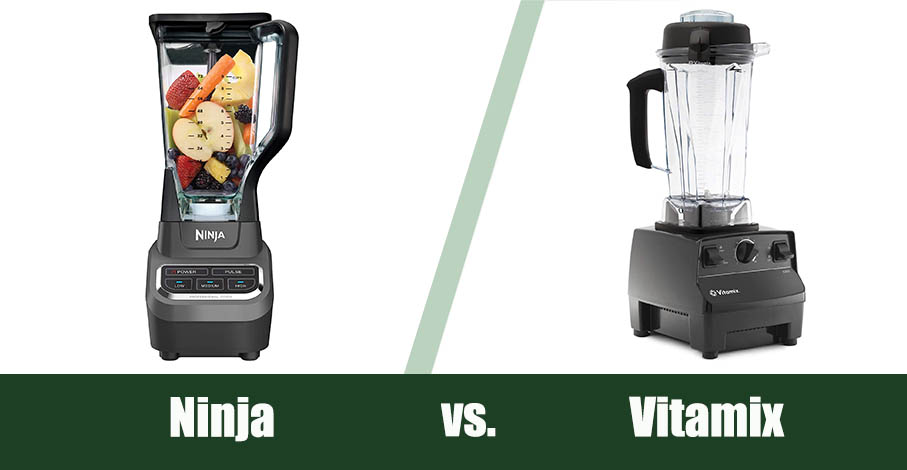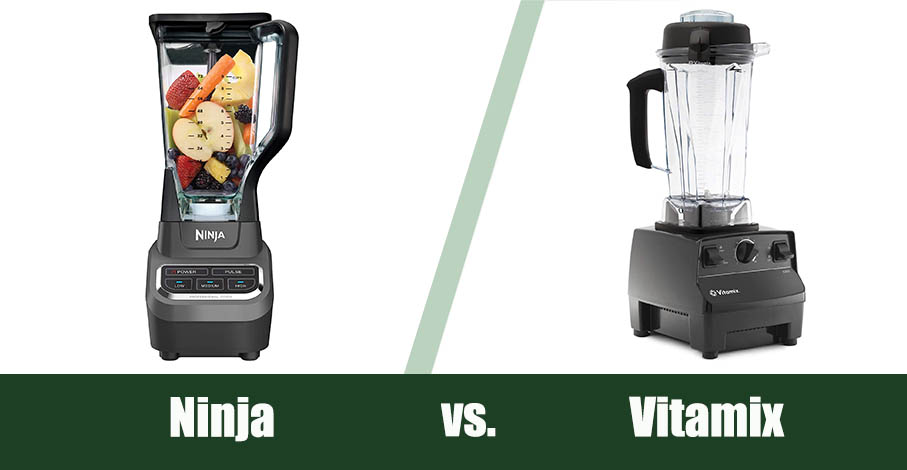 How well is your current blender handling your new juicing habits? What about those ice chunks in your smoothie? Maybe you don't even own a blender and are looking for one that will last you for a while?
The thing is, many blenders can't adequately juice certain ingredients like ginger, kale, and carrots. They wind up leaving big pulpy chunks behind and those chunks keep their juice and nutrients inside them. Blending also isn't just about the juice. A blender should be a multi-functional kitchen tool.
Higher-End blenders are capable of much more than just juices, smoothies, and milkshakes. Did you know that you can also make butter, salsa, hot soups, nut butter, ice cream, almond flour, and even grind coffee in a good blender?
When it comes to blending, the two top contenders are the Ninja and the Vitamix. Though both blenders carry a hefty price tag, the Vitamix is nearly double the price of the Ninja. So, we are going to do a comparison of the two and find out if the Vitamix is worth that extra cost or if the Ninja stands up to its competitor.
Image
Product
Details

Best Overall

Vitamix 5200

Made in the USA
Seven-year warranty
Can blend hot and cold
CHECK PRICE

Ninja BL610

Less expensive
One year warranty
Many settings & programs
CHECK PRICE
Ninja vs Vitamix Blenders
The Ninja Blender: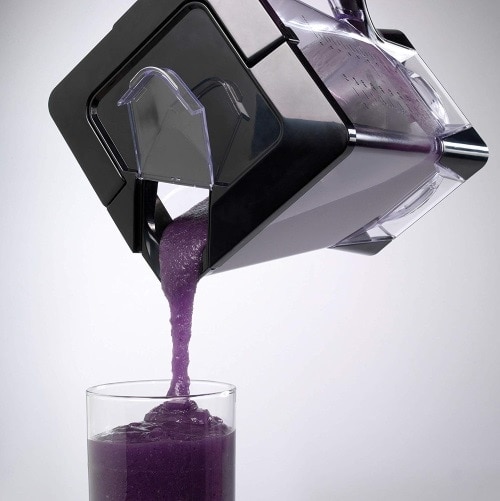 Coming in at 1500 watts, the Ninja offers multiple blade choices for customized blending, 3 settings to target different food types, a 72-oz blending capacity, bullet-style container options, food processor attachments, and a heavy-duty plastic pitcher. All of that sounds wonderful, right? Well, it is actually.
The Ninja does a very good job at handling most blending tasks. Its blades are extremely sharp and can cut through pretty much anything, making a good smoothie, some nice juice, and a killer milkshake. It even has an additional top blade that is supposed to blend thoroughly, giving you an even texture throughout your mixture.
But some cons come with the lower price tag.
The parts in the base that connects to the motor—creating that glorious blending spin—are plastic. These parts may not hold up, and with only a 1-year limited warranty, they won't be replaced for you.
Let's also discuss those very sharp blades. If you've ever used a knife you know that in time dulling will occur.  Depending on their sharpness, the blades don't quite cut it when it comes to nuts and ice. They will leave a slightly chunky texture rather than the silky smooth one most people prefer.
All in all, at this price point the Ninja is a good blender. It will do its job and tackle ice and veggies with ease.
The Vitamix Blender: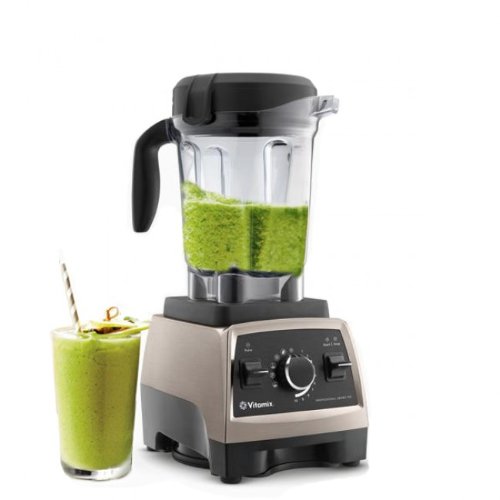 Coming in at 1640 watts, the Vitamix offers one blade option, focusing on dull blades for pulverization, a turn dial speed adjustment allowing for 10 different blend modes, 64-oz blending capacity, and a blender pitcher made of BPA-free Eastman Tritan. While at first glance that might not sound as great as the Ninja, it's better. Let me explain why.
When it comes to blending, pulverizing with dull blades creates a smoother consistency and leaves fewer chunks from ice and veggies. It also provides aeration for milkshakes that gives them a sort of frothy texture, grinds nuts thoroughly to make amazing nut butter, blends ice to perfection creating smooth as silk ice cream, gets an even grind on coffee beans, and even makes a fine almond flour. Since the area of the blade is already dull, having them lose their sharp edge is never an issue.
The Vitamix can also handle hot foods. This means you can use it for soups like lobster bisque, or bases where you blend the veggies into a broth to add a thicker consistency.
If you're wondering what Eastman Tritan is, well it's a super-strong BPA-free type of plastic. Eastman Tritan is USA made, impact-resistant, and eco-safe. This pitcher should withstand pretty much anything you can throw at it or into it.
Here are a few other highlights to consider: it comes with a 7-year full warranty, it's made in the USA, the parts connecting the pitcher to the motor are stainless steel, and it's been around since 1969. These are some hefty selling points. If a 7-year warranty isn't long enough to sell you, you can purchase an extended warranty from the company.
The main con to this blender is the price point. The Vitamix 6500, with only the standard carafe, is going to set you back around $500. A carafe that only holds 64-oz might be another con if that extra 8-oz is essential to you.
At the end of the day, the Vitamix is worth its price tag. It will fulfill all your blending needs and last you an incredibly long time. Plus, supporting a company that remains in the USA is pretty amazing.
Vitamix 5200 Blender, Professional-Grade, Container, Black, Self-Cleaning 64 oz
Create every course of your home-cooked meal – from fresh smoothies to creamy desserts – in minutes. The Vitamix 5200 is the...
Variable Speed Control: 10 Speeds you can easily adjust to achieve a variety of textures. The dial can be rotated at any point during...
64oz Container: The size and shape of the 64-ounce container is ideal for blending small to large batches.
Conclusion
Quality wins over quantity every time—the Vitamix is our winner. Yes, it will cost you around twice what the Ninja would. However, it will last you more than twice as long or the company will fix it for you.
However, if you can't afford to spend that much on a blender and are okay with potentially needing a new one in just a few years, the Ninja is a close enough second that it's still worth the buy.
Some of our other popular comparisons: