8 Best Water Distillers of 2023 – Reviews & Top Picks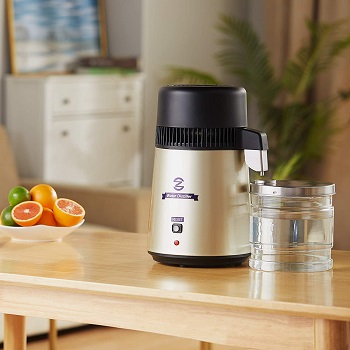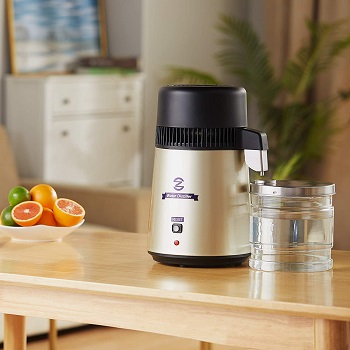 There are many ways to get clean water for drinking, but just because it's clean doesn't make it pure. When you need water that's completely pure with no additional impurities or contaminants of any kind, distillation is one of your best options. It removes over 99% of everything that's in your water, leaving you with completely pure drinking water.
For distilling at home, convenient countertop distillers make the process easy and painless. But we wanted to know which ones were the best choices, top performers, and greatest value. To find out, we tested as many of them as we could find, compiling the information we gathered into the following eight water distiller reviews. Our hope is that by reading our comparisons, you can save yourself the time and headache of doing all the research and testing yourself.
---
A Quick Comparison of Our Favorites in 2023
Rating
Image
Product
Details

Best Overall

CO-Z Water Distiller

Distills ¼-gallon per hour
FDA approved
1-year warranty
CHECK PRICE

Best Value

Waterwise 4000

Stainless steel condenser
Distills up to 6 gallons per day
1-year warranty
CHECK PRICE

Premium Choice

Pure Water Mini Classic

15-year warranty on stainless steel
2-year warranty on electronics
Internals are replaceable
CHECK PRICE

Waterwise Non-electric

No moving parts
All stainless-steel construction
Doesn't require electricity
CHECK PRICE

SteamPure 2992

Self cleans the coil and tank
Smaller size
5-year limited warranty
CHECK PRICE
The 8 Best Water Distillers – Reviews 2023
1.

CO-Z 110V Brushed Stainless Steel Water Distiller – Best Overall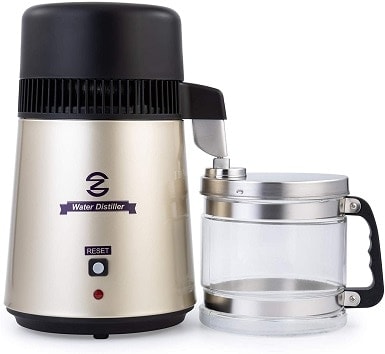 You need to be able to trust that your at home water distiller is providing you with completely safe and pure water, otherwise, it's pointless. The CO-Z water distiller is one of the only FDA-approved distiller machines available, so you can rest assured that it's completely safe and the water it produces is healthy for consumption.
Since plastic can often transfer impurities and chemicals to your water, this distiller opts for a stainless-steel and glass design instead of using plastic. The machine is stainless steel and the water container is glass. But they used very thin glass on the water container, so it's not very durable and it's prone to cracking or breaking.
Thanks to the thermostatically controlled auto-shutoff feature, this distiller will shut off automatically once the temperature reaches 320 degrees. This means it won't waste energy or overheat, making it safer than other options. Plus, it's protected by a one-year warranty.
With this distiller, it takes an hour to distill 0.25 gallons. That means you can produce up to six gallons of pure distilled water each day. And we could really taste the difference with this distiller, which makes incredibly crisp and refreshing water. Overall, we think this is the best water distiller on the market today.
Pros
Distills ¼-gallon per hour
Produces up to 6 gallons per day
Thermostatically controlled auto-shutoff
1-year warranty
FDA approved
Cons
Thin glass is easy to break
---
2.

Waterwise 4000 Water Distiller – Best Value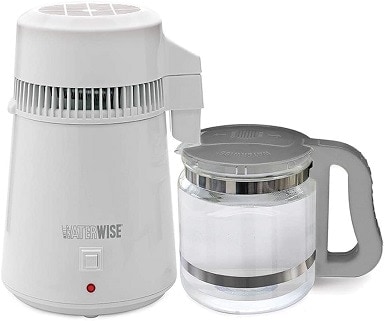 While some water distillers can be expensive, the Waterwise 4000 distiller is more affordably priced. But it manages this lower price without sacrificing any quality, which is why we think it's the best water distiller for the money. It's made from stainless steel, so you don't have to worry about unhealthy plastics touching your water. The water container is made from glass, which is nice, but it's poorly designed. We ended up spilling water every time we tried to pour with it, but that's just a minor annoyance.
This distiller can provide you with up to six gallons of distilled water each day. It's unlikely you'll drink anywhere near that much, so this should be enough for individuals, couples, and even small families.
To conserve electricity, this machine has an automatic shutoff after one cycle so once the water is distilled, the machine turns off. We really appreciated this feature since some of these distillers can use quite a bit of energy. This one is also protected by a one-year manufacturer's warranty, which is just icing on the cake. All in all, we have given this the title of best water distiller for the money that's available this year.
Pros
Stainless steel condenser
Distills up to six gallons per day
1-year manufacturer's warranty
More affordable than other options
Cons
Poorly designed glass water catcher
---
3.

Pure Water 46998 Counter Top Distiller – Premium Choice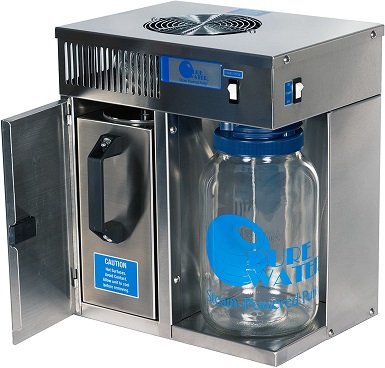 Sleek and small, the Pure Water Counter Top Distiller is a premium machine that produces 99.9+% pure vapor-distilled water. You can't get any purer than that. We could taste the difference, and it was substantial. The water from this device is some of the best we've ever tasted and the purest. Of course, you're going to pay a bit extra to have such pure water in your home, but we think the extra cost is worth it.
To protect your investment, a 15-year warranty is included on the stainless-steel parts with a two-year warranty for the electronics. We never had problems with this machine during our testing, but if you did, it's nice to know that it will be taken care of. If something happens outside of the warranty period, you can just replace the internals instead of replacing the whole unit, which is much less costly.
For convenience, the boiling tank on this machine can be removed, making it much easier to clean and fill. Dual purity vents work to remove VOCs, which can build up in distilled water if they're not eliminated. We'd like to see a container that can hold a full gallon though.
Pros
15-year warranty on stainless steel
2-year warranty on electronics
The boiling tank is removable for easy cleaning and filling
Dual purity vents remove VOCs
Internals are replaceable
Cons
The container is just under 1-gallon
Very expensive
---
4.

Waterwise WW1600 Non-Electric Water Distiller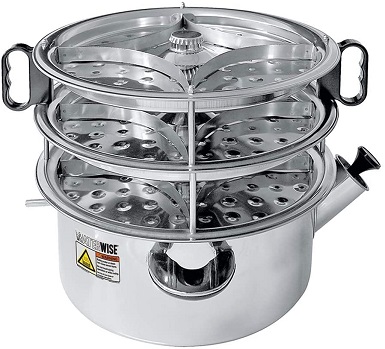 Electric distillers are very convenient and easy to use, but what happens if the power goes out and you still need clean water? The Waterwise Non-Electric Water Distiller is also a simple device, but it runs off traditional heat sources, such as an open flame or gas stove. It's got no moving parts, so there's almost nothing that can break or go wrong with it.
One of our favorite traits of the Waterwise is how quickly it distills water. While most of the electric water distillers we tested were able to distill about six gallons per day, the Waterwise distiller can purify an impressive 16 gallons each day with no electricity needed.
This is a very nice-looking and well-built distiller, crafted almost entirely from stainless steel. But it's expensive for a distiller that's entirely mechanical with no moving parts and no electricity. It's also a bit finicky, in that it must be set up exactly right to work properly. But despite its flaws, this distiller is one of the fastest distillers we've seen, and it will keep working even when others can't because of power failure.
Pros
No moving parts
All stainless-steel construction
Distills up to 16 gallons per day
Doesn't require electricity
Cons
Everything must be set up just right for it to work
Expensive for an entirely mechanical device
---
5.

SteamPure 2992 Countertop Water Distiller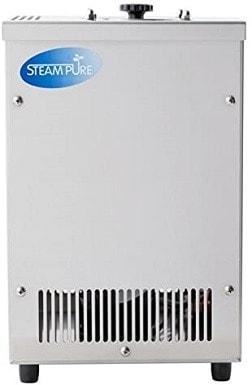 We hate to sacrifice kitchen counter space if we can help it, so the smaller size of the SteamPure Countertop Water Distiller was appealing to us right off the bat. It's small enough that you could put it away in your cabinet when it's not in use, but it's surprisingly heavy, so you may not want to move it back and forth all the time. At 28 pounds, it weighs more than its size would lead you to believe.
Time-saving features get points with us, so we love that this machine can steam sterilize its coil and tank, saving you the time and hassle. A manual drain lets you release all the chemicals and residue that's been collected after distilling. And the five-year warranty that protects it all is one of the best we've seen on a distiller.
But all these features wouldn't matter if the water wasn't great. Luckily, the water is completely pure and delicious. You even get a second glass water jar so you can continue to fill up even when the first is full. But this is a pretty slow distiller, producing just shy of a gallon of distilled water in four hours.
Pros
Manual drain to release residue after distilling
Steam sterilizing cleans the coil and tank
5-year limited warranty
Smaller size
Cons
Very heavy
Slow distillation
---
6.

Megahome MH943SBS Water Distiller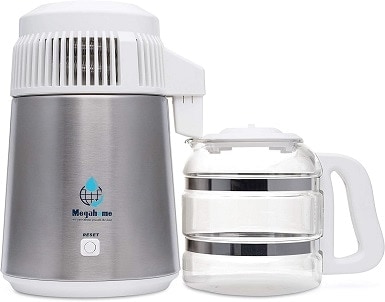 The Megahome Water Distiller makes delicious and pure water, albeit, slowly. It takes five and a half hours to distill a single gallon of water with this machine, much longer than most of its competitors. Worse, it's very loud the entire time it's working, making some of the other distillers we tested seem quiet in comparison.
It's not all bad though. Six activated charcoal filters are included with this distiller. They'll remove VOCs and chlorine, which not all distillers can filter. For those concerned with the chemicals in plastic, the Megahome distiller is made from stainless steel inside and out. The water container is crafted out of glass, and your water will never touch plastic at any point during the distillation process.
We were surprised to find out that not all the distillers we tested were UL certified, but the Megahome distiller is. This means that it meets certain strict safety standards. But that doesn't mean things won't go wrong. On ours, the reset button gave us some problems. Thankfully, there's a one-year warranty on this device, so we were able to get it replaced at no cost. The second machine gave us no problems.
Pros
Includes 6 activated charcoal filters
Removes VOCs and chlorine
Stainless steel interior and exterior
Water never touches plastic
UL certified
Cons
Takes 5.5 hours to distill a single gallon
Makes a lot of noise
Issues with reset button
---
7.

H2o Labs Water Distiller
While most electric water distillers are slow-working devices, the H2o Labs Water Distiller makes the rest of them seem pretty quick. In a full day, this machine can only produce four gallons of distilled water. Its pace seems agonizingly slow, so it's only sufficient for a single person. This machine would have a very hard time keeping up with the water needs of an entire family.
There were several things we liked about the H2o Labs distiller. For instance, there's an indicator LED light built-in to alert you when it's time to refill and reset. It's also very lightweight, making it easier to move around. But the reason it's so light is because it's made of plastic. Even the water container is plastic! If you're concerned about the effect that drinking from plastic may have on your health, then this distiller isn't for you. Granted, the plastic is food-safe and BPA-free, but not everyone is willing to take the chance.
As if being made from plastic wasn't bad enough, the container also has no way to pour, it's just a plastic square with plastic indentations that are difficult to hold. A pouring spout would be a useful addition.
Pros
Refill and reset indicator light
Lightweight
Food-safe and BPA-free
Cons
Only produces 4 gallons per day
Constructed from plastic
No way to pour from the water container
---
8.

ECO-WORTHY Water Distiller
We had more complaints about the ECO-WORTHY water distiller than with any other distiller we tested for this list, but it did still produce pure water that was great for drinking. The water never touches plastic while being distilled since the machine is stainless steel and the water container is glass. It's durable and well-built overall with a two-year free part replacement warranty included.
Despite the positive qualities, the ECO-WORTHY distiller had quite a few flaws. Though the pitcher is made from glass, they used very thin glass, so it's fragile and brittle. If you hit it on anything, it could likely shatter. Also, there's gasket to seal the lid but it won't stay in place. Whenever you try to put the lid on, the gasket likes to move, and you'll have to reset it several times.
We noticed while using it that this distiller is much louder than the others. It seems to almost resonate with the hum of the machine working. And the inside isn't container can't be removed, so it's more difficult to clean than it should be.
Pros
Water doesn't touch plastic
Glass and steel construction
2-year free part replacement
Cons
The pitcher uses thin glass that breaks easily
Lid gasket won't stay in place
The inside container isn't removable for cleaning
Louder than other distillers
---
Buyer's Guide – Choosing the Best Water Distiller Machine
As you can see, there are quite a few distillers to choose from. While they all produce pure water that's great for drinking, cooking, and more, they're still different devices with positive traits as well as flaws. So, how do you decide which distiller should supply your drinking water? In this short buyer's guide, we're going to discuss a few traits that we think you should keep in mind to help make the decision easier, ensuring you pick the right machine for your needs.
The Water Doesn't Touch Plastic
Many people are worried about the effects that plastic can have on their food and water, and rightly so. Especially when you add heat to the mix, plastic can leach chemicals into the water. These chemicals can be detrimental to your health, like BPA.
Luckily, many manufacturers are aware that people don't want to drink harmful chemicals with their purified water, so they take steps to ensure you don't have to. Often, the distilling machines are made from stainless steel, and the water container is generally made from glass. Between them, the water never has to encounter plastic, so you don't have to worry about those chemicals entering your body.
Distillation Speed
How long are you willing to wait for your water? Different machines distill at different speeds, and depending on your needs, you may need a faster distiller. Some of the slowest distillers we tested took all day to produce just four gallons. The fastest was able to distill an impressive 16 gallons in a day!
If you're only distilling water for yourself, then almost any distiller will purify enough water to satisfy your needs. Four gallons will let you drink your fill and still use plenty for cooking or your other needs.
However, a full-sized family may need more water than one of the slower distillers can produce. But it's unlikely that very many families use as many as 16 gallons of water in a day.
How Much Noise Does it Make
It may not seem like a big deal now, but a noisy water distiller can quickly become a nuisance. Remember, this machine will likely be running all day long. What starts as a barely annoying hum grows as the day wears on.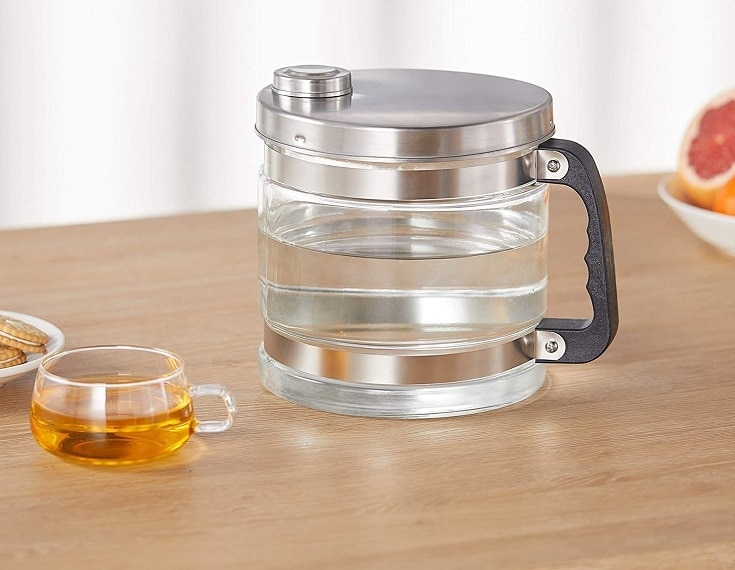 Some of the distillers we tested didn't seem like they were too loud at first. But after a few days of using it for all your drinking water and more, we were sick of the constant background noise. We suggest finding the quietest water distiller possible.

Conclusion
We wanted to find the best water distillers that we could trust to provide us with a never-ending supply of purified drinking water. To find the best, we tested as many as we could find. After reading our reviews, hopefully, you have a better idea of which distiller is the best choice for you.
Overall, our favorite was the CO-Z Brushed Stainless Steel Water Distiller. It's FDA-approved and protected by a one-year warranty, with a thermostatically controlled auto-shutoff that doesn't waste electricity.
For the best value, we recommend the Waterwise 4000Water Distiller. It's got a stainless-steel condenser and can distill up to six gallons each day at a more affordable price than other options.
Our premium choice recommendation is the Pure Water Counter Top Distiller. The electronics are covered by a two-year warranty and the stainless steel is warrantied for 15. It's also got replaceable internals and dual purity vents that can remove harmful VOCs.
Related reads: