10 Best Filtered Water Bottles of 2023 – Top Picks, Reviews & Guide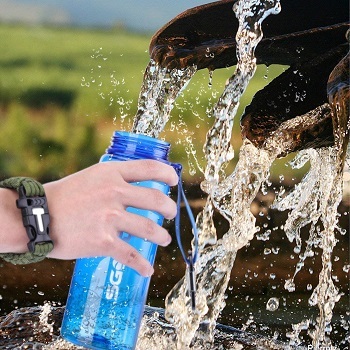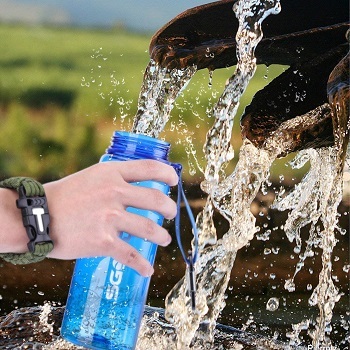 You never know what you're going to get from a water source. Even water from the tap at home can make you question the purity of your water. Luckily, companies have created an inexpensive and portable solution with filtered water bottles. You can fill them up from any water source and let the water bottle filter take care of the rest.
It's important to choose the right bottle; otherwise, you may be in for a leaky mess and a plastic aftertaste, as we discovered with some of the products we tested for this list.
After trying as many as possible, we put together the following 10 reviews to share what we learned with you. The top two are our favorites, and we suggest them above the others, but feel free to come to your own conclusions.
---
A Quick Comparison of Our Favorites in 2023:
Rating
Image
Product
Details

Best Overall

GRAYL Geopress Filtered Water Bottle

Lasts for 65 gallons
Filters heavy metals and microplastics
Removes viruses
bacteria
and protozoa
CHECK PRICE

Best Value

Brita Water Filter Bottle

Insulated design stays cold for 24 hours
Push-button lid
Durable stainless-steel construction
CHECK PRICE

Premium Choice

LifeStraw Go Water Filter Bottle

Only needs to be replaced every 1
000 gallons
Holds 23 ounces
CHECK PRICE

SurviMate Filtered Water Bottles

Affordably priced
BPA-free and FDA-approved
CHECK PRICE

BOTTLED JOY Water Bottle with Filter

Cheap
Filters down to 0.1-micron
CHECK PRICE
The 10 Best Filtered Water Bottles:
1.

GRAYL Geopress Filtered Water Bottle – Best Overall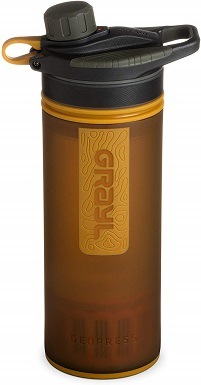 For a one-filter-fits-all solution, the GRAYL Geopress filtered water bottle is our top pick, and it was our favorite overall. It filters the standard bacteria and protozoa, but it also removes viruses, pesticides, chemicals, heavy metals, and even microplastics. This would be impressive for any water filter, making it the best overall water bottle we have reviewed. It requires no batteries or pumping; you just fill it, press the button, and drink. It's very quick and convenient to fill since you don't have to wait for any filtration.
While many filter water bottles have filters that need to be replaced every 40 gallons, and sometimes sooner, the GRAYL Geopress filter can last for 65 gallons. This is better than most of its competitors, yet another reason we think it's the best water bottle. It also holds 24 ounces, and you should expect a premium price tag with a premium feature set. This is one of the more expensive models we tried, but we think its value lives up to the hype.
Pros
Lasts for 65 gallons
Removes viruses, bacteria, and protozoa
Filters heavy metals and microplastics
Holds 24 ounces
---
2.

Brita Water Filter Bottle – Best Value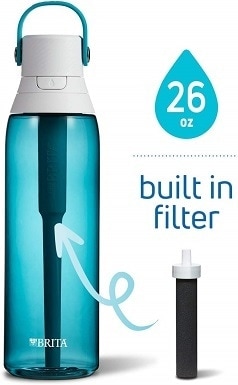 While all these bottles will filter your water, the Brita does even more by keeping your water cold for up to 24 hours thanks to its insulated design. It's built from stainless steel, making it durable and aesthetically pleasing. It's priced right in the middle of the pack, but its performance is on par with more expensive options. We appreciated features such as the push-button lid, which keeps your mouthpiece safe, clean, and free of contaminants.
The one issue we had with the Brita Premium filtering water bottle was that the filters need to be replaced every 40 gallons. This isn't a deal-breaker, but it's not as great of a lifespan as in the other bottles we tested. That said, this was the only real flaw we could find with this filter bottle which is why we think it's the best filtered water bottle for the money.
Pros
Insulated design stays cold for 24 hours
Push-button lid
Durable stainless-steel construction
Cons
Filters need replacing every 40 gallons
---
3.

LifeStraw Go Water Filter Bottle

The Go Water bottle is built to work with the LifeStraw personal water filter, a popular and reliable filter we already liked. However, the bottle is more expensive than the filter, even though it does nothing but hold water. It does hold 23 ounces, which we were thankful for. The bottle is BPA-free, so you don't have to worry about toxins, and it's completely safe to wash.
While we like the LifeStraw filters, they only filter down to 0.2 microns, which isn't as good as many other popular filters that remove everything down to 0.1-micron. On the other hand, this filter has a great lifespan compared to other water bottle filters. You'll only need to replace the LifeStraw every 1,000 gallons, so you won't need to think about it often. When you need to replace it, the filters are easy to find from retailers.
Pros
Only needs to be replaced every 1,000 gallons
Holds 23 ounces
Cons
Only filters to 0.2 microns
Also see: Best RV Water Softeners
---
4.

SurviMate Filtered Water Bottles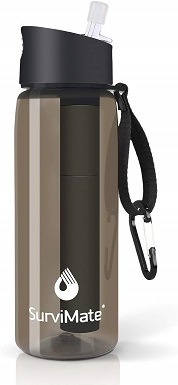 Although it's more affordable than most of its closest competitors, the SurviMate filtered water bottle is a great concept with poor execution. The bottle is crafted from food-grade Tritan Copolyester. It's BPA-free, FDA-approved, and very durable. However, the cap is a different story. Ours leaked from the start.
The filter has a respectable lifespan of 1,500 liters, just shy of 400 gallons. This is better than many of the other filter bottles we tested. However, we didn't enjoy the water after drinking it through this filter. We noticed a strong plastic taste that didn't dissipate with several days of all-day use. This turned us off, and even though it's priced very affordably, we would rather spend a little more to get a filter that provided tasteless water that's more pleasurable to drink.
Pros
Affordably priced
BPA-free and FDA-approved
Cons
Filter left a plastic taste in the water
Cap leaks
---
5.

BOTTLED JOY Water Bottle with Filter

As one of the lowest-priced water bottle filters we tested, we didn't expect too much from the BOTTLED JOY filter. We appreciate the affordability, especially since they didn't sacrifice filtration ability. This filter will remove everything down to 0.1-micron, which is on par with much more expensive options. It will need to be replaced after 55 gallons, but since it's so affordable, this isn't a big deal.
Our biggest complaint with this filter is its terrible flow rate. Compared to other filters we tested, we felt like we had to suck extremely hard to get any water from the BOTTLED JOY filter. This took a surprising amount of energy, and none of us enjoyed the experience. Moreover, the mouthpiece continued to drip water after being used. This could result in a wet spot on your clothes if you're not careful. Though it's one of the cheapest options, we don't think it's one of the better-performing choices.
Pros
Cheap
Filters down to 0.1-micron
Cons
Filter needs replacing after 55 gallons
Filter is difficult to drink through
Mouthpiece continues to drip
---
6.

Sawyer S3 Purifier Water Bottle Filter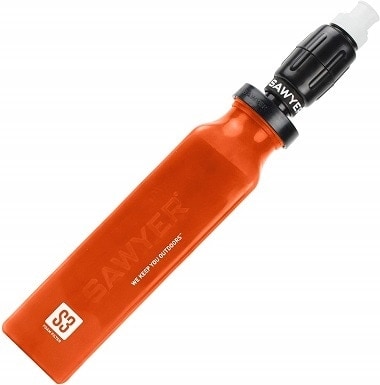 The Sawyer S3 water purifier system is one of the highest-priced bottle filters we tried. Since we have liked Sawyer products in the past, we expected great things. It's one of the few water bottle filters that can remove viruses and heavy metals. Beyond that, it can even remove chemicals, pesticides, and microplastics. So far, it sounds pretty good, even at the high price.
The foam membrane that acts as the actual filter is only good for 400 uses before you have to replace it. This wouldn't be too bad, except that it's more expensive to replace than many of the other filters that cost less. Overall, we think it's overpriced, especially with the limited 20-ounce capacity that prevents you from carrying more than just a minimum amount of water.
Pros
Filters viruses and heavy metals
Removes chemicals, pesticides, and microplastics
Cons
Expensive
Only holds 20 ounces
Filter must be replaced every 400 uses
---
7.

astrea Filtered Water Bottles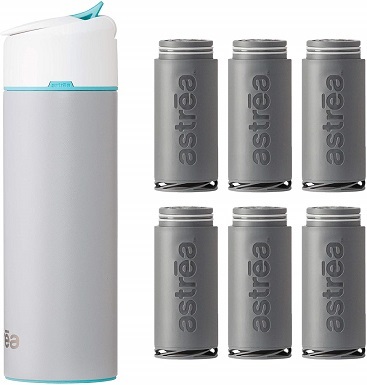 With sleek looks and a premium price tag, we thought the Astrea premium filtering water bottle would be a top contender. As a filter, it's sufficiently powerful, removing contaminants such as lead, copper, mercury, chlorine, zinc, and more. With the filter inside, you can only fit 15 ounces of water, which isn't enough for us. The water is purified and tastes great coming from the Astrea.
Our biggest issue with this filter was that it was too hard to drink through. No matter how hard we drew on the straw, we just couldn't get whole mouthfuls of water. When you're thirsty and really need to quench it, this bottle just doesn't provide enough flow to satisfy. Though we were initially attracted to the looks of the Astrea, we were turned off by the low flow rate and small carrying capacity.
Pros
Removes lead, copper, mercury, chlorine, and others
Cons
Only holds 15 ounces with filter inside
On the expensive side
Can't get much water through the straw
---
8.

DoBrass Water Filter Bottle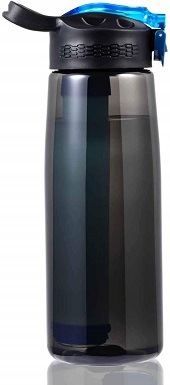 For those looking to find the lowest-priced water bottle filtration system, the DoBrass may be an attractive contender since it's priced very affordably. The filter even lasts for almost 400 gallons, so you won't be replacing it any time soon. That said, this bottle had several drawbacks that prevented it from climbing higher up this list. For instance, it features a built-in compass that never worked properly.
Worse, the lid is a leaky design. Whenever you tilt this bottle, or if it should turn upside down in your pack, expect the water inside to slowly leak out and soak everything. As if the leaking isn't bad enough, the filter has a very low flow rate. This makes it difficult to get a good drink of water from this bottle since you have to pull so hard on the mouthpiece to get anything at all!
Pros
Affordably priced
Filter lasts almost 400 gallons
Cons
Leaky design
Built-in compass is a cheap gimmick
Poor flow through the filter
---

The KOR Nava filter water bottle is another aesthetically pleasing product that didn't match up in performance. We liked the attractive design, but too many flaws held this filter back. To start, whenever you take a drink, the lid makes a very noticeable and distracting high-pitched squealing sound. This draws attention and may cause discomfort in a quiet space.
Worse, the attractive design comes back to haunt this bottle. Because of the shape, you'll have a hard time finding cup holders that will fit. But don't try tossing it in the seat next to you! The KOR Nava leaks from the top, and we couldn't stop it no matter what we tried. Ultimately, we'd suggest picking a different filter that places function before form and won't leak all over your belongings.
Cons
Squeals when drinking
Doesn't fit in cup holders
Leaks from the top
---
10.

SGODDE Water Filter Bottle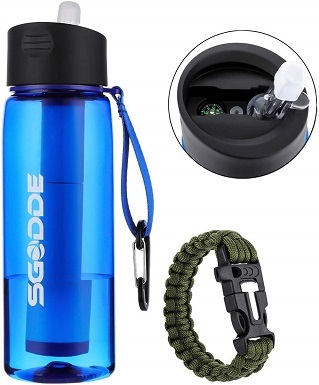 The SGODDE water filter bottle is another affordable product that fell short of the mark. Some of these bottles are advertised as backcountry tools, and as such, they feature tools that are supposed to be helpful when you're in a natural setting. For instance, the SGODDE bottle has a compass built-in. Much like other similar products we tested, this compass is just a cheap gimmick and not something we'd trust to navigate with.
We always hope for leak-free performance from our bottles so we can trust that they're backpack safe. Unfortunately, the SGODDE water filter bottle leaked from the top whenever it wasn't sitting upright. Even worse, the water that came through its filter didn't taste fresh. Even after several days, it still left a chemical aftertaste that was less than pleasant. Altogether it's not the worst water bottle filter on the market, but it's certainly not one that we'd recommend.
Cons
Built-in compass is a cheap gimmick
The filter adds a chemical taste
Lid leaks when tilted or tipped

Buyers Guide: Factors to Consider When Choosing The Best Filtered Water Bottle
After testing so many filtered water bottles, we've learned exactly which traits make for the best water bottle filters, and we'd like to share this information with you. While the price is certainly a factor, we think some important performance metrics should take precedence. In this short buyer's guide, we're going to cover all of the things we think you should keep in mind when making your decision about which water bottle filter is right for you.
Water Holding Capacity
A standard-sized water bottle has about 17 ounces of carrying capacity. For most of us, that is still a small portion of water that will likely require constant refilling. These water bottle filters don't feature large capacities, but they vary enough to take note of. Also, keep in mind once the filter is installed, you'll lose some of the advertised holding capacity of your bottle. For this reason, we suggest looking for a bottle that can hold as much water as possible. Some of the largest ones we found could hold 23 or 24 ounces. Try to find one that is at least 20 ounces, or you'll be dealing with a very limited capacity once the filter is in.
Filtration Ability
While some lower-end filters only remove particles down to 0.2 microns in size, most of the higher-end bottles will filter down to 0.1-micron instead. This should remove most contaminants from your water. But that's not the whole story. Even among filters with a 0.1-micron filtering ability, there are plenty of discrepancies.
While these filters are very effective at removing bacteria and protozoa, that may not be all that's present in your water. Even tap water in your home can contain chlorine, zinc, copper, and more. Thankfully, some filters are built to eliminate such toxins. The best water bottle filters on the market will even remove viruses, heavy metals, pesticides, and microplastics.
This enables you to get clean water from any source, no matter how dirty it is to begin with. If you want to rest assured that you're drinking water that is 100% free from contaminants of any kind, we suggest looking for a filter with the highest filtration ability possible.
Looks
Some of these bottles are pretty plain and won't stand out at all, which may be appealing to some people. Other products went for sleek and attractive designs meant to catch the eye and pull you in. If you prefer something a little less ordinary and a little more eye-catching, then, by all means, feel free to purchase a bottle with a design that speaks to you.
Having said that, we'd still recommend purchasing first for performance and second for looks. It won't do you much good to have a great-looking bottle that leaks everywhere and gives you nasty-tasting water!
Leak-Free Design
For us, it's important to find a bottle with a completely leak-free design, so we don't have to worry about water getting all over our backpack, car seat, lap, or anywhere else. Almost all of the products we tested were advertised as leak-free. In reality, most of them leaked out a bit of water when the bottle was turned upside down.
Granted, you'll probably try to avoid the bottle being upside down anywhere you don't want it to leak, but sometimes things happen, and inside a pack, you never know how things will end up. Another great feature to consider is a side-fill port, like the one that Hydros Bottle has.
Filter Lifespan
One thing that remained consistent across all of these bottle filters we tested was that the filter needed to be replaced after a designated amount of water had been filtered through it. For some, this was a pretty small number, maybe as low as 40 gallons. Others managed to last for hundreds of gallons before you even need to think about replacing them.
For us, the convenience of a long-lasting filter cannot be overstated. It becomes an annoyance and an extra expense when you must remember to replace your filter regularly. If you drink just one gallon of water each day, a filter that needs to be replaced every 40 gallons will be swapped out nine times each year! This can multiply the total cost of your filtration system in the end. We'd suggest looking for a filter that will last as many gallons as possible for the sake of your wallet and convenience.
Price
While all these filters perform the same basic function, the cost of getting clean water from them varies greatly. The most expensive models we tested were about five times more costly than the cheapest, so it's definitely a factor to consider. However, we think the performance should be the first consideration, and the price should help you make the final decision.
Once you've determined which filters will best meet your personal needs, you can compare prices to determine which one won't break the bank. We don't recommend picking the cheapest filter you can find, however. Some of the best performers overall were situated right in the middle of the pack price-wise.

Final Verdict:
You've already read our reviews comparing some of the best, but before you make a final decision, we will quickly recap our top recommendations, so they're fresh in your mind. The GRAYL Geopress was our favorite overall thanks to its incredible filtering ability that removes bacteria and protozoa, viruses, heavy metals, pesticides, microplastics, and more. It has a large capacity of 24 ounces, and the filter lasts 65 gallons between replacements.
In a close second, the Brita Premium Filtering Water Bottle is a more affordable choice that provides excellent value for the price. It's insulated to keep your water cold for 24 hours and features attractive and durable stainless-steel construction. We believe you'll love either of these water bottle filters as much as we did, and we feel confident giving them both our highest recommendations.
If we were to extend this list to a top 20, then honorable mentions to add would be the Nalgene and Hydros Bottle.