6 Best Water Purification Tablets of 2022 – Reviews & Top Picks
Small, powerful, and very easy to use, water purification tablets can be a literal lifesaver in an emergency or when you're camping out in the backcountry. Anytime you must rely on questionable water sources for hydration, water purification tablets provide an easy way to ensure that the water you drink won't become your next emergency.
We wanted to see which water purification tablets we could trust in our backpacks and emergency kits. To find out, we tested as many of them as we could. We wanted to see how effectively they purified water, what they removed, how they tasted, and more.
We've decided on our favorites and we're going to share them with you. The following six reviews will compare what we learned about some of the most popular water purification tablets. But only the first three have earned our recommendations as the best choices.
---
A Quick Comparison of Our Favorites
Rating
Image
Product
Details

Best Overall

Potable Aqua 301

Doesn't add a bad taste
Removes bacteria and cysts
Portable and Resealable
CHECK PRICE

Best Value

Aquatabs

5-year shelf life
Affordable
Enough to treat 13 gallons
CHECK PRICE

Premium Choice

Katadyn Micropur

Removes bacteria
giardia
and cryptosporidium
5-year shelf life
Doesn't add any bad taste
CHECK PRICE

Potable Aqua 3092

Removes viruses
Effective against cysts
Treats 5 gallons
CHECK PRICE

Ef Chlor

Purifies up to 5 gallons
Can remove viruses
Contains more tablets
CHECK PRICE
The 6 Best Water Purification Tablets – Reviews 2022
1.

Potable Aqua Germicidal Water Purification Tablets – Best Overall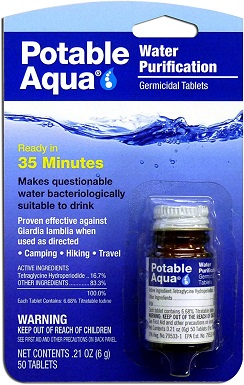 Potable Aqua is one of the most well-known names in water purification tablets, and their 301 Germicidal tablets can be easily found in many stores locally and online. Unlike some options, the Potable Aqua tabs don't add any bad taste.
These tablets can remove bacteria and cysts, including Giardia Lamlia if used properly. However, they won't kill viruses. But they work very quickly, making your water safe to drink in as little as 35 minutes.
The Potable Aqua tabs have a shelf life of four years when unopened. Once you open the bottle, the remaining tablets are good for one year. Luckily, the bottle is resealable, so you can keep the remaining tablets safe for the full year.
Pros
Doesn't add a bad taste
Removes bacteria and cysts
The Small resealable bottle is good for packing or transporting
Cons
Only good for one year once opened
---
2.

Aquatabs Water Purification Tablet – Best Value
With an impressive five-year shelf life, the Aquatabs Water Purification Tablets have the longest lifespan of any of the tablets we tested. Compared to the two years that some other brands are good for; five years seems incredible. Because they're such a great value with that impressive lifespan, we think they're the best water purification tablets for the money.
These tablets come in packs of 50, with two packs included for enough to treat 13 total gallons. It's affordable considering how much you get. But the bags they come in are terrible for storing the tablets once opened since there's no way to seal the bag again. Thankfully, the tablets are wrapped in smaller packs of ten, so when you open the whole bag, you won't ruin the storage life of the remaining pills.
Pros
Five-year shelf life
Affordably priced
Enough to treat 13 gallons
Cons
The bags aren't good for storing
---
3.

Katadyn Micropur MP1 Water Purification Tablets – Premium Choice
Able to eliminate bacteria, Giardia, cryptosporidium, and even viruses, the Katadyn Micropur MP1 Water Purification Tablets are our premium choice recommendation. They're a bit more expensive than some of the other tablets we tested, but we think they're worth it. They have an excellent shelf life of five years, so you can rest assured that your tablets won't be going bad any time soon.
Unlike some of the tablets we tested, we couldn't taste the Katadyn tabs. They didn't seem to add any poor taste to the water at all, which all of us were thankful for. But they take four hours to work completely. That's longer than we like to wait, we're an impatient bunch. Still, they do the job effectively and kept all our testers from getting sick while drinking from some very nasty water sources.
Pros
Can remove bacteria, giardia, and cryptosporidium
Five-year shelf life
Doesn't add any bad taste
Cons
More expensive than other options
Takes four hours to work completely
---
4.

Potable Aqua 3092 Chlorine Dioxide Water Purification Tablets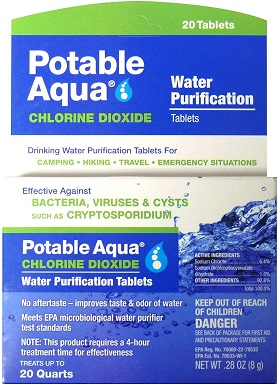 The Chlorine Dioxide Water Purification Tablets from Potable Aqua are more expensive than their 301 Germicidal tablets. These ones can treat bacteria, cysts such as Giardia and Cryptosporidium, and even viruses, making them more effective than the original Potable Aqua tablets. But they have other flaws that hold them back.
An entire package of the Potable Aqua Chlorine Dioxide tablets only treats five gallons of water, even though it costs nearly the same as the 301 Germicidal tablets. This formula also takes four hours for an effective treatment, which is considerably longer than the 35 minutes needed for the 301 Germicidal tablets to work.
Pros
Removes Viruses
Effective against cysts
Cons
A whole package only treats 5 gallons
The treatment takes four hours
---
5.

Ef Chlor Portable Water Purification Tablets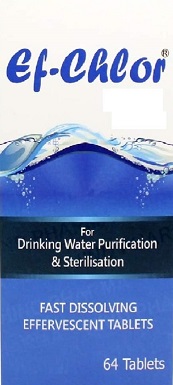 Though only ten tablets come in a package of the Ef Chlor Portable Water Purification Tablets, you're going to be able to treat a lot more water with this package than a pack from many other companies. While most other brands require two tablets to treat a quart of water, a single Ef Chlor tablet will purify five gallons of water! And it will even remove viruses. Of course, these tablets are a lot more expensive than other options because of it.
While we're impressed with how much water can be purified by one Ef Chlor tablet, the short 36-month shelf life is far less impressive. Compared to the five years that some tablets last, we were hoping for more from Ef Chlor.
Pros
Each tablet purifies up to 5 gallons
Can remove viruses
Cons
Short 36-month shelf life
More expensive than other options
---
6.

Rothco Chlor-Floc Water Purification Tablets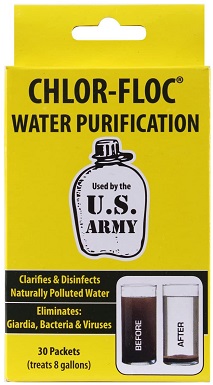 The Rothco Chlor-Floc Water Purification Tablets are currently used by the U.S. military, which makes them seem like they should certainly be trustworthy. They can remove bacteria, Giardia, and even viruses, so they should be able to make almost any water safe to drink.
It takes between four and eight Chlor-Floc tablets to treat a single gallon of water. Considering that only thirty tablets are included in a box, that means an entire package can treat just four to eight gallons. Worse, the shelf life is a measly two years from the manufacturing date, so you can't trust these tablets to still be good when an emergency does happen.
Pros
Used by the U.S. Military
Removes viruses
Cons
Only thirty tabs per box
Takes 4-8 pills per gallon
Two-year shelf life
---
Buyer's Guide
So, which of these water purification tablets should be residing in your emergency kit? While any of them is certainly a better choice than nothing, there are still differences between these products that might make one preferable to another. Besides that, there are some things about using water purification tablets that you ought to know. In this buyer's guide, we're going to quickly cover a few important points that will make sure you're using these tablets in the safest way possible, as well as helping you pick the right purification tablets for you.
Limit Usage to Six Weeks
While these tablets are completely safe for you to consume, you don't want to do so for long periods of time. It's suggested that you don't use them daily for longer than six weeks. Though they can purify your water and make it safe to drink, they're intended for regular use.
These water purification tablets use chemicals to cleanse the water. Generally, it's iodine or chlorine. Both are safe for you to ingest, but after weeks of daily use, they can add up to toxic levels.
They Can't Remove Sediment
Water purification tablets may be able to remove a lot of unwanted contaminants from your water to make it safe to drink. But one thing they can't remove is sediment. If you're getting your water from questionable sources, it's likely that dirt, debris, sand, silt, and more could be in your water. Since water purification tablets won't do anything to remove the sediment, you'll need to filter that out separately. If you don't, you'll have a very gritty drinking experience awaiting you once the tabs finish working!
See also: Best Sediment Filters for Well Water – Our Reviews & Top Picks
Working Time
Some of our favorite water purification tablets were able to work their magic in a mere thirty minutes. But some of the other tablets took as long as four hours to properly purify our water. While that's still better than not having pure water, it can leave a lot of people thirsty and waiting. We prefer the tablets that work fastest so we can have our water as soon as we need it, rather than being at the mercy of the tablets.
How Many Pills Does It Take?
You may see differences between products when it comes to how many tablets are included in a package. But that number can be misleading because not all tablets purify the same amount of water. Some brands of tablets require two tabs per quart of water. That adds up to about eight tablets per gallon.
On the other hand, some products can purify five gallons with a single tab, making them 40 times stronger than the tabs in our first example. Keep this in mind when looking at how many tablets are included in a pack.
Taste
As we've already mentioned, water purification tablets utilize chemicals to purify the water. This can sometimes lead to harsh tastes, especially because the chemicals are often chlorine or iodine. But not all these tablets introduce harsh tastes. Some of them are hardly noticeable. When it comes down to it, you'll drink the water either way. But it will be a whole lot more enjoyable if it doesn't taste awful!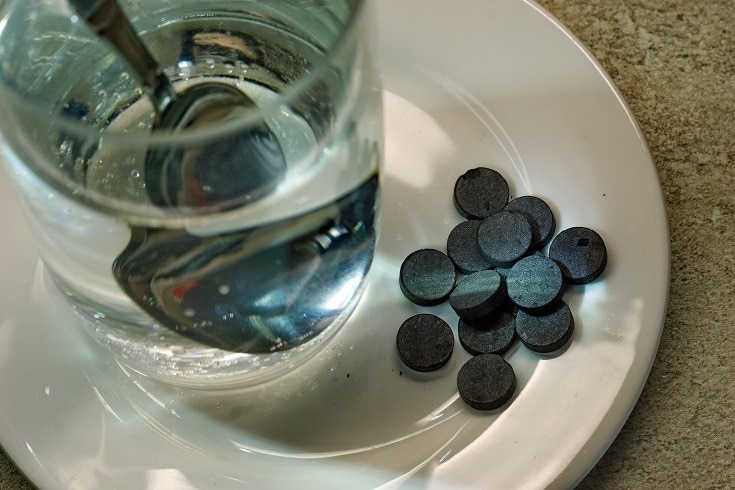 What Do They Eliminate?
Not all purification tablets are equal. Some of them can remove bacteria but aren't guaranteed to remove cysts or viruses. Other products may remove all three. Depending on what water sources you're drinking from, you may have no need for a product that can eliminate viruses or cysts from your water. But if you need that and don't have it, it could be a problem. We suggest getting the most complete water purification tablets you can find that remove as many contaminants as possible.
Storage Container
Some of these tablets came in resealable plastic containers. Others came in bags that couldn't be resealed for storage. For us, this was a definite flaw. Once we open the container, we want the tablets we don't use right away to stay safe for the duration of their shelf life. But if you can't reseal the container, then it makes it much more difficult to properly store them.
Shelf Life
Though most of these tablets utilize similar chemicals, they have different advertised shelf lives. Some of the shorter lifespan tablets were only guaranteed to be good for up to two years after their manufacturing date. But some of the best ones had a shelf life of five years. Unless you plan to use all of your tablets up in the first year or two, we'd recommend getting the tablets with the longest shelf life so you can safely store them for several years before having to worry about their continuing usability.

Conclusion
It pays to be prepared, and we know that water purification tablets are one of the best products you can get to prepare for an emergency. They're small, inexpensive, and can save your life when you need water. But we wanted to know which ones were the absolute best since we're trusting them with our lives. You've read the reviews, but we're going to summarize our top recommendations once more so they're fresh in your mind.
Our favorite overall was the Potable Aqua 301 Germicidal Water Purification Tablets. They remove bacteria and cysts without adding a bad taste to the water. Plus, the container they come in is resealable and great for storing the tablets safely.
For the best value, we recommend the Aquatabs Water Purification Tablets. You get enough to treat 13 gallons of water for an affordable price. They even have a five-year shelf life so you can trust they'll be good when you need them.
Finally, our premium choice recommendation is the Katadyn Micropur MP1 Water Purification Tablets. They have an impressive shelf life of five years and they can even remove viruses without adding any bad taste to the water.
---
Featured Image Credit: Alexsander Lepetukha, Shutterstock