10 Best Portable Water Filters of 2023 – Reviews & Top Picks
Portable water filters need to be more than just compact and lightweight. They also need to be reliable and durable for easy transportation without worry.
The best ones will also be versatile, giving you several ways to use it, depending on your situation.
Unfortunately, they can also get pretty expensive. So, it's not realistic to purchase several and see which ones you prefer, which is why we've scoured the stores to find as many portable water filters as we could. Then we put them through the wringer to see which ones were worth their salt.
The following ten reviews compare ten of the best, but only the first three earn our recommendations.
---
A Quick Look at the Winners of 2023
Rating
Image
Product
Details

Best Overall

Sawyer PointOne Squeeze Portable Water Filter

Multiple filtering options
Lightweight and compact
Reliable
CHECK PRICE

Best Value

LifeStraw Portable Water Filters

Affordable
Lightweight – just 2 oz
Reliable and effective
CHECK PRICE

Premium Choice

Survivor Portable Water Purifier

Filters viruses
Removes mercury and lead
Lifetime warranty
CHECK PRICE

Sawyer Squeeze Water Filtration System

Affordably priced
Multiple ways to filter
Compact and lightweight
CHECK PRICE

BOTTLED JOY Portable Water Bottle with Filter

Very affordable
Filter and bottle together
Filters to 0.1 micron
CHECK PRICE
The 10 Best Portable Water Filters
1.

Sawyer PointOne Squeeze Portable Water Filter – Best Overall

Built for backcountry reliability and portability, the Sawyer Squeeze filter is our pick for the best portable water purifier. Weighing in at just three ounces, with a footprint small enough to easily fit in your pocket, this filter is easy to take anywhere. It's very versatile and can filter your water in several ways, depending on the situation. With the included roll-up pouches, you can squeeze your water through the filter and use it to fill a clean receptacle. Our favorite method is to screw it right onto a water bottle and drink the dirty water through the filter. This was the quickest and most convenient method, but you can also use it as a gravity-feed system, or even as an in-line filter for a hydration pack such as a Camelbak.
Most filters need to be replaced every 1,000 gallons or so. The Sawyer Squeeze only needs to be backflushed to keep filtering clean water for up to 100,000 gallons, giving it the longest lifespan of any filter we've seen. It will survive many weeks of all-day use on the trail during our testing but may freeze and break if exposed to cold enough temperatures.
Pros
Multiple filtering options
Lightweight and compact
Reliable
Excellent flow rate
Can backflush so filter doesn't need replacing
Cons
The filter is susceptible to freezing
---
2.

LifeStraw Portable Water Filters – Best Value

Portable water filtration can be a costly investment, but with the LifeStraw personal water filter, it doesn't have to be. This filter is perfect as a backup for emergencies or when you need to carry a filter that won't weigh you down. At just two ounces, it's a very light filter, though it's a bit larger than some other filters such as the Sawyer Squeeze. It includes a neck-string so you can wear it around your neck, though we usually just stuffed it into our packs since it's durable and compact.
Our only complaint with the LifeStraw is that you must put it in your water source, which can turn out to be pretty inconvenient on the go. There is no way to pump water through it so you can take clean water with you. That said, it's so small, portable, and reliable, that we think it's the best portable water purifier for the money. You can stuff this into a pack and forget about it, knowing it will be there when you need it.
Pros
Affordable
Lightweight – just 2 oz
Reliable and effective
Cons
Have to put the straw in your water source
---
3.

Survivor Portable Water Purifier – Premium Choice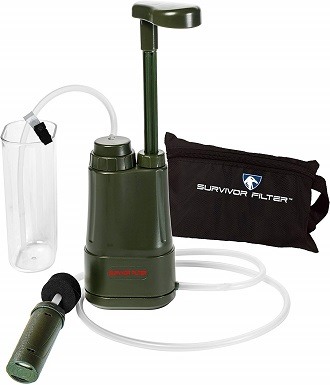 All the water filters that we tested will remove 99% of bacteria and protozoa. Viruses, however, are a completely different problem that most of these filters fail to solve. But the Survivor Filter PRO filters out 99.999% of viruses and staph. What's more, it also removes 99.5% of mercury and 93% of lead, which is a stat that none of the other filters on this list can boast about. If you need the ultimate in portable water filtration, the Survivor Filter PRO is the one to check out. Of course, you should expect to pay more for its superior filtering abilities.
With such impressive capabilities, you may expect this to be a big and bulky device. While it is larger and heavier than many of the other filters we tried, it's still not a behemoth by any means. It weighs just 8 ounces, and it's about the size of an outstretched hand. You can still easily fit it into any backpack or emergency kit without compromising space or weight. It's also durable enough to be thrown in with the rest of the equipment, and the lifetime warranty shows that Survivor Filter stands behind their products.
Pros
Filters viruses
Removes mercury and lead
Lifetime warranty
Durable and reliable
Cons
More expensive than other filters
Larger and heavier than other filters
---
4.

Sawyer Squeeze Water Filtration System

Small, versatile, and effective, the Sawyer MINI water filtration system is an even more compact version of their Squeeze filter that earned our top spot and highest recommendation. Unfortunately, the MINI didn't quite live up to the bar set by its older brother. That said, there are still plenty of things to like about this filter. At just two ounces, and small enough to fit in your palm, it's one of the most portable filters we've seen. It can screw onto the top of a water bottle, squeeze water through it with the included collapsible bag, or even use the tube that comes with it to drink through the filter like a straw.
The MINI is good for filtering up to 100,000 gallons of water and can be easily backflushed in the field. Our only real complaint is that it just didn't get enough flow to satisfy our needs. It takes too long to get enough water filtered through this device. With the MINI, we didn't feel like we got enough flow to screw it onto the end of a bottle the way we prefer. For this reason, we suggest sticking to the Sawyer Squeeze that earned our top recommendation.
Pros
Affordably priced
Multiple ways to filter
Compact and lightweight
Check out: Our top picks of salt for water softeners
---
5.

BOTTLED JOY Portable Water Bottle with Filter

If you're looking for one of the cheapest ways to have clean water wherever you go, then you've found it with the BOTTLED JOY water bottle with filter. It's one of the least expensive portable filters that we tested, even though it also includes a bottle so you can transport your water, unlike with the straw style filters. Despite being priced so low, this is a high-quality 2-stage filter that filters down to 0.1 microns, on par with much higher priced models. However, it's only good for filtering 55 gallons before it needs to be replaced. Depending on how much you plan on using your portable filter, this may actually negate the savings you get from this product.
Though we like the fact that the bottle is included with this filter, we'd like to have a bit more capacity since this can only carry 17 ounces. There also aren't other ways for you to use this filter, so you're only going to be using it in this bottle. In the end, these flaws kept the BOTTLED JOY water bottle and filter from achieving a top-three recommendation.
Pros
Very affordable
Filter and bottle together
Filters to 0.1 micron
Cons
Very small capacity
No other filtration options
The filter needs replacing every 55 gallons
---
6.

MSR MiniWorks Portable Water Microfilter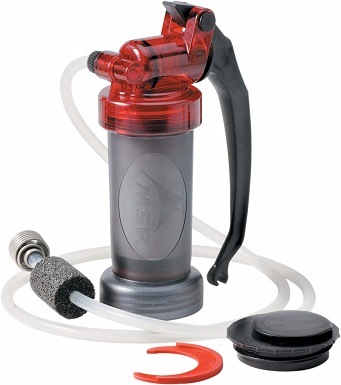 MSR is known for making high quality and reliable outdoor products that are built durable enough to survive life in the backcountry. We had high hopes for their MiniWorks EX Microfilter water filter, but several glaring drawbacks held it back. First, it's very large, probably the biggest of all the portable filters we tested. It's also one of the heaviest, weighing in at one full pound. To top it off, it's one of the more expensive models, even though the replaceable filter is only good for treating 2,000 liters before it needs to be replaced. The pump itself will continue working for a long time, but you'll be replacing filters often with regular use.
The design of the MSR MiniWorks EX filter allows you to pump water from any source, through the filter, and into a clean receptacle. It includes attachments to pump directly into bottles and hydration bladders to make this easier. With a flow rate of one liter per minute, it will take you several minutes to fill a large bladder, so this can become tedious. It's reliable though, and a lifetime warranty backs that up.
Pros
Replaceable filter for long lifespan
1-liter per minute flow rate
Cons
Heavy and bulky
Can't use it on the go
More expensive than other filters
---
7.

Etekcity Portable Water Filter-Straw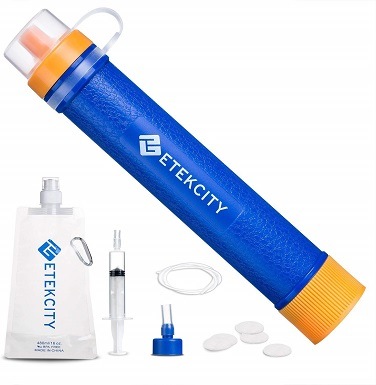 The Etekcity water filter straw is a compact and lightweight straw-style filter that includes a small roll-up water bladder that allows you to carry water and drink it through the straw attached to the top of the bladder. As a concept, this is a great idea that allows you to have excellent portability with the convenience of a quick fill and carry. In actuality, the bag is very difficult to fill because the hole is tiny and you can't keep pressure in the bag. This could be overlooked if we were able to drink from the bag in adequate amounts, but this filter has dismal flow compared to the others we tested. We got tired of trying to get water into our mouths! If this was your only method of safe water consumption, we think you'd be in for a tough time.
The Etekcity filter is priced very cheaply, but it's not very convenient and caused more frustration than the savings were worth. Worse, the filter has a very short lifespan of just 1,500 liters before it will need to be replaced.
Pros
Affordable
Small and lightweight
Cons
Short lifespan – 1500L
Low flow rate
Not very convenient
---
8.

SteriPen Adventurer Opti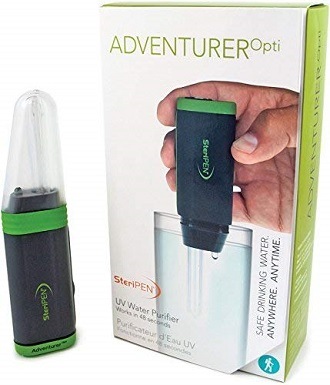 We liked the concept of the SteriPen Adventurer Opti, but it just didn't pan out the way we hoped. This compact ultraviolet water purifier kills 99.9% of harmful microorganisms, bacteria, viruses, and protozoa. That's all great, but it's only reusable for 8,000 liters before it needs to be replaced. This is more than some of the straw-style filters we tested and costs several times more. Replacing such an expensive item so often isn't very cost-effective.
You'll need to keep CR123 batteries in it if you want it to work. This means replacing batteries, but worse, the possibility of dead batteries failing you at a critical moment. We prefer the battery-free operation that most of the other filters offer. Our final gripe was about sediment. When you use any filter that pumps water through a filter, dirt and other sediments will be filtered out. With the SteriPen, you'll have to deal with that sediment in your mouth. We thought it was cool that it doubles as an LED flashlight, but that's not enough to save this UV filter.
Pros
Kills viruses
Doubles as an LED flashlight
Cons
Expensive
Only good for 8,000 liters
Requires batteries
Doesn't filter sediment
---
9.

Platypus Water Filter System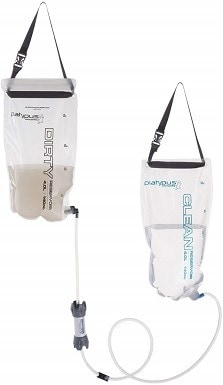 The Platypus GravityWorks water filter system is designed to do the work for you. This makes it easy, albeit more time-consuming, to fill a bottle of water. All you do is fill the reservoir from your water source, hang it from a branch the proper height, then let gravity drain the water through the filter and into your waiting bottle or bladder. It's not too slow, with a filtration rate of 1.5 liters per minute, but the filter only lasts for 1,500 liters total.
You also have to find something that's the right height to hang it on, and in some places, that can be difficult. We like that it takes most of the work out of the equation, but we'd rather pump the water and get it done than sit and wait for gravity to do the work for us. It's a good filter overall, but we don't think the Platypus GravityWorks water filter system is as convenient, or ultimately useful, as the other filters we tested.
Cons
One of the most expensive systems
The filter needs replacing after 1,500 liters
Slow to fill and inconvenient
---
10.

LifeStraw Go Water Filter Bottle

One of our biggest complaints with the LifeStraw was that you have to put it in your water source, which is very inconvenient. There's also no way to transport water with the filter. However, the LifeStraw Go Water Filter Bottle solves these problems by giving you a LifeStraw and a bottle to hold it and drink through altogether. While this does solve our biggest problems with the LifeStraw, the bottle is more expensive than the filter itself.
You'll still need to replace the filter after 4,000 liters, but the bottle will last through many filters. It has a 23-ounce capacity, and it's also BPA-free with a food-grade silicone mouthpiece. For the price, we just don't think it provides enough value. There are plenty of other filters on the market that offer better carrying capacities or more versatile filtration systems for a similar price.
Cons
Overpriced
Small carrying capacity
The filter needs replacing every 1,000 gallons

Buyer's Guide – Finding the Best Portable Water Filter
It's time to break into the details of what makes one filter better than another. Though they all perform the same task, turning dirty water into drinkable water, they do so by employing different methods and levels of convenience. By the end of this buyer's guide, you'll know exactly what to look for in a portable water filter.
Size and Weight
When choosing between portable water filters, portability is one of the more important factors to consider. The size and weight of any given filter will affect its portability. If it's too large, it will take up more space in your pack than you'd probably prefer to give up. Too heavy, and you'll be lugging around extra weight everywhere you go.
Some filters are very small and lightweight, weighing just two or three ounces. You'll also want to consider the weight of any bottles or bladders you'll be using to carry your water, but these lightweight ones will be easy to carry with any setup. Other filters are much larger and can weigh several times more, even getting up to a full pound in weight. For us, lighter and smaller is generally better.
Filtering Methods
While all these filters will make dirty water potable, they do so using different methods of filtration.
Gravity-fed
Gravity-fed filtration systems take the work out of getting a clean bottle of water. There will be a reservoir that's filled from an open water source. A hose is attached to the reservoir, and a filter is built into the hose. You will hang the reservoir and wait while gravity pulls the water through the hose and in-line filter, and into your waiting water bottle or bladder. While they are easy to use, gravity-fed systems also tend to be slower and less convenient than other filtration systems. Since it just consists of a reservoir and a small in-line filter, these systems tend to be pretty small and portable.
Squeeze/Bottle-top
Squeeze systems fit on top of collapsible bladders, which you fill with water. You then squeeze the water through the filter and into a waiting receptacle. This allows you to gather a clean bottle of water for easy drinking, but it takes a little time to fill. Our preferred method with this type of filter is to use it on top of a bottle. You just fill the bottle with dirty water from whatever source is available. Then you screw the squeeze-style filter onto the top of the bottle. You can then drink straight from the dirty water and the filter will take care of everything before it reaches your mouth. We find this to be the most convenient and quickest method of drinking dirty water.
Straw
Straw-style water filters are placed directly into a dirty water source. You then drink through the filter just like a straw, exactly as the name implies. This is a quick and easy way of getting clean water from a dirty source. However, there are some drawbacks. For instance, you have no way of transporting water. While some companies have fixed this problem by offering special bottles that fit these straw-style filters, this multiplies the cost of these filters and limits your carrying ability. That said, straw filters tend to be pretty inexpensive on their own, and make for excellent backup filters, or ones that are kept just for emergencies. For a portable water filter that's going to see regular use, we'd suggest something more versatile that will allow you to carry water with you.
Pump
Pump filters allow you to pump water from a dirty source into a clean bottle, passing through the filter on the way. This means you can easily transport your clean water with no problems. These filters generally work quickly, even if it's not the most convenient method. They also tend to be larger than other styles of portable water purification, and as a result, heavier. For emergency kits, pump style filters are a great choice since they're dependable and can filter lots of water quickly. For something like long-distance backpacking, they tend to be a bit heavy and cumbersome.
UV Filter
Ultraviolet filters are interesting and they work much differently than any of the other portable filtration methods. Instead of passing the water through a filter, a UV filter purifies the water with UV light, which kills whatever is in the water. This is a pretty novel concept, but it's not so great in use. It doesn't do anything with sediment, so dirt and other particles are still going to make it into your mouth. You also need batteries for your UV filter; it won't work without them. This leaves the opportunity open for dead batteries at a critical moment, potentially putting you in a dangerous situation.
Convenience
If you're only using your filter for emergencies, then reliability is going to be far more important to you than convenience. On the other hand, if you plan on using your filter regularly, you're going to start to regret your purchase if it turns out to be a hassle every time you need to filter some water. We think the squeeze style systems are the most convenient because of their versatility. Putting the filter on your water bottle makes for quick and easy filling, as does keeping the filter in-line on your hydration bladder.
Lifespan
Every filter has a certain amount of water it can safely purify before it starts to lose its effectiveness. For some filters, this is a pretty low number, in the realm of 1,500 liters. Other filters are good for as many as 100,000 gallons, making them a much better investment over the long-term. Some filters have replaceable filter cartridges that can be replaced without replacing the filter system itself. This can still be inconvenient and we prefer filters that have a longer lifespan. These can usually be backflushed to clean them out so they continue to perform at full capacity.
What Does it Filter?
If you're only using your filter in the U.S., you may not be very concerned with filtering out viruses. Planning to use your filter in other countries around the world? You may want to look for a filter that can filter out more than just standard bacteria and protozoa. Some filters can remove 99.9% of viruses, which could save your stomach or even your life in some situations. Moreover, some of these filters can also remove heavy metals like mercury and lead. If you need these special capabilities, expect to pay a premium for the filters that can provide them.
Durability and Reliability
No matter what your filter will be used for or how often, you need to be able to count on it when you call on it. Durability is also important if your filter will be stuffed into a pack and forgotten about until it's needed. If you go to pull it out and find a broken and unusable filter, you could be in for a world of trouble. Luckily, many portable water filters are built to withstand life in the backcountry. This means they'll have no problem surviving trips in the pack, or even long bouts in storage. Be aware, most filters will have specific instructions for storage. If you don't follow these instructions, the filter may not be there for you when it's needed.

Conclusion
When you need to rely on your portable water filter, you can't take the chance that it fails you and leaves you in a dire situation. To make sure it doesn't, we've tested as many of these filters as we could find and we've written up reviews comparing them. Our top recommendations were reliable, convenient, and very portable, and we feel confident recommending all three, which we will summarize once again so they're fresh in your mind. Our pick of the best portable water filter overall was the Sawyer Squeeze, which weighs just three ounces and fits in the palm of your hand. It's also versatile enough to be used on a water bottle, in-line on a hydration bladder, or even as a gravity-fed system.
We think the LifeStraw filter was the best value, and it's our second-place recommendation. It's reliable, affordably priced, and weighs just two ounces. Finally, the Survivor Filter PRO is our premium pick and the best portable water filter when you need the ultimate in portable water purification. It can even filter out viruses, mercury, and lead, which very few other portable filters are capable of.
You might also like: