The Best Way to Cut Aluminum – Which Tool to Use? – Top Picks & Reviews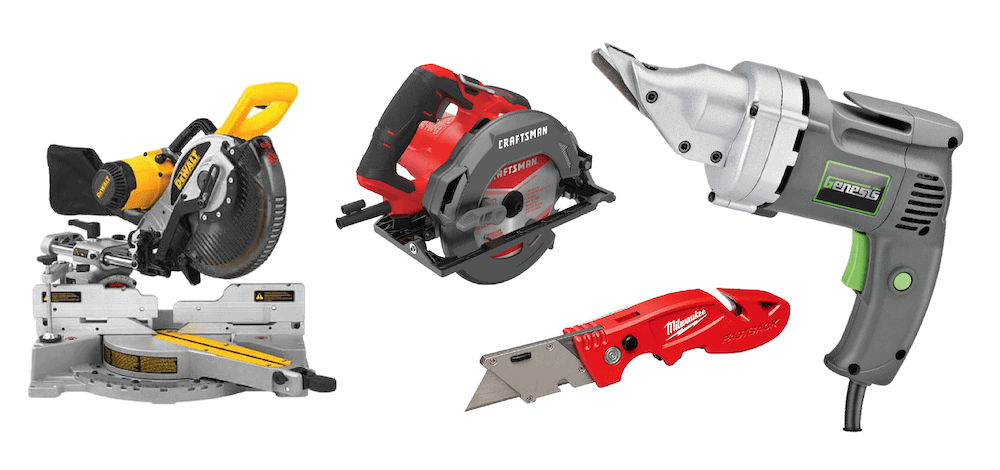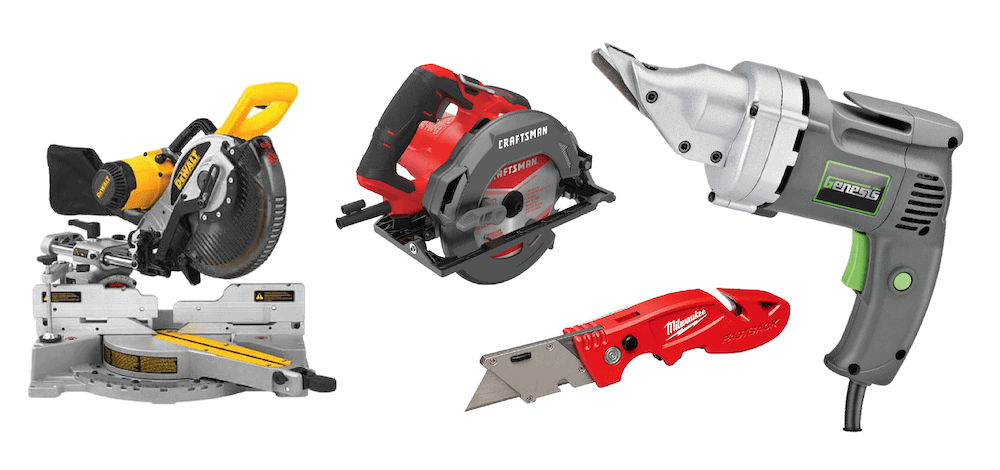 Cutting aluminum can be a headache. Without the right tools, you can struggle to do simple cuts effectively. Or worse, you might ruin your workpiece altogether.
Luckily, we dove into the world of aluminum for you, crafting this article that covers everything you need to know about cutting this somewhat complicated material. Whether you need to cut sheet aluminum or handle your gutters, this article will give you the information you need to do the job correctly.

Comparison of our Favorite Picks for 2023
Rating
Image
Product
Details

Best Overall

DeWalt DW717 Sliding Compound Miter Saw

Accurate cutting
Easily adjustable
Solid fence support
CHECK PRICE

Craftsman CMES510 Circular Saw

Fast
Accurate
Compatible with non-ferrous blades
CHECK PRICE

TACKLIFE 10-inch 15-amp Table Saw

Powerful
Precise
Compatible with non-ferrous blades
CHECK PRICE

Genesis GES40

Quick and easy to use
Triple-bladed to reduce distortion
Cuts up to 14-gauge metal thickness
CHECK PRICE

Dremel 561 Multipurpose Cutting Bit

Versatile
Can be used on various materials
Great for small spaces and detailed cuts
CHECK PRICE

DeWalt DWHT14676 Aviation Snips

Clean cuts
Easy to use
Durable
long cutting life
CHECK PRICE

Milwaukee 48-22-1903 Utility Knife

Carbon steel blades
Durable construction
Easy-to-change blades
CHECK PRICE
The 7 Best Ways to Cut Aluminum
1.

Miter Saw – Best Overall
For most projects, a miter saw will be the best way to cut aluminum. The machine provides power and accuracy, ensuring you slide through your aluminum easily and quickly. You can use it to cut nearly every aluminum material, including sheets and gutters. You can also use a miter saw to cut other materials, so it isn't going to collect dust in between projects. For these reasons, it is our preferred method for cutting aluminum.
Of course, you will need to do a few preliminary steps to cut aluminum effectively with a miter saw. You should use oil or blade wax to prevent the blades from getting clogged. We also recommend double-checking to ensure you're using the correct blades as well. Go slowly to ensure a clean cut, especially if you're working with thicker aluminum.
There are many miter saws on the market. Most should be able to handle aluminum. However, if you're in the market for one, we recommend the DeWalt 10-inch sliding compound miter saw.
DEWALT 10-Inch Sliding Compound Miter Saw, Double Bevel (DW717)
Exclusive bevel detent system with 7 positive stops delivers fast accurate repeatable cuts for the 10-inch miter saw blade
Adjustable stainless steel miter detent plate with 11 positive stops improves productivity and ensures cutting accuracy for the mitre...
DEWALT miter saw optimizes cutting accuracy
Pros
Versatile enough to cut through most aluminum
Powerful
Minimal setup
Safe
Cons
More expensive than other methods
---
2.

Circular Saw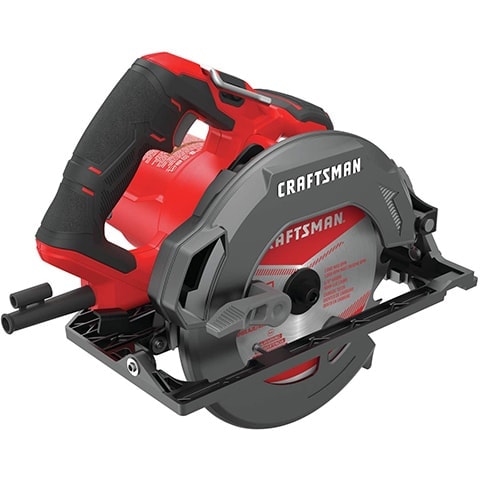 Circular saws can cut aluminum. While the preferred method is a miter saw, if you already have a circular saw lying around, there is absolutely no reason not to use it instead. A circular saw will be able to cut through most sorts of aluminum as long as you do it correctly.
You can use standard woodworking blades as long as they have carbide tips. However, this requires extra precautions. The blade tips are likely to come off, and you don't want them flying across the room. The safer option is to choose a manufacturer blade that is specifically designed to cut non-ferrous material. Some companies even have specific blades for cutting through the aluminum alloy.
You'll need to lubricate the blade to prevent the blade from grabbing the material, which can cause injury. You should always lubricate the blade no matter what type of blade it is. We recommend saw blade wax sticks for this purpose, as they are the easiest way to accomplish this. You will also need to take other simple precautions, such as clamping the material and wearing protection.
For those looking to purchase a circular saw, we recommend Craftsman Circular Saw.
CRAFTSMAN Circular Saw, 7-1/4 inch, 15 Amp, Corded (CMES510)
High performance motor runs at 5, 500 RPM's for aggressive fast cutting
71/4inches 18T Carbide tipped blade with up to 21/8inches Capacity for 2x material
Tool-free BEVELING shoe pivots up to 55 deg. For angled cuts with detents at 22.5 and 45 Degree for ease of use
Pros
Fast
Accurate
Non-ferrous blades available
---
3.

Table Saw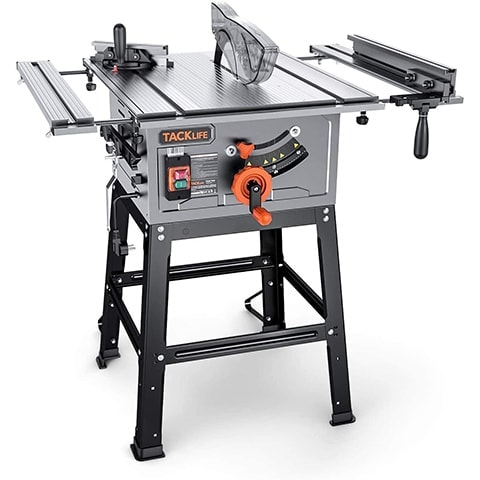 You can also use a table saw to cut through most aluminum. This isn't necessarily the best method, but it can work. Table saws have plenty of power and precision for most grades of aluminum. However, like the other methods, there are a few factors you'll need to keep in mind when cutting aluminum with a table saw.
You'll need a blade specifically designed to cut through non-ferrous metals. If you can get it, choose a blade specifically designed for aluminum. Many companies make these for their table saws, but not all do. You should also lubricate the blade while you're cutting. You don't want the aluminum to stick to your saw blade while cutting, as this can be dangerous.
While you're cutting, the aluminum will also get quite hot. It also creates dust, which may be hot from the blade's friction. You should turn off your dust collection system while cutting aluminum. You don't want a hot piece of aluminum dust landing on your regular sawdust and starting a fire.
We prefer the Tacklife Table Saw for most uses.
Pros
Blades specifically designed to cut non-ferrous metals available
Precise
Powerful
Cons
Can make aluminum very hot
---
4.

Electric Shears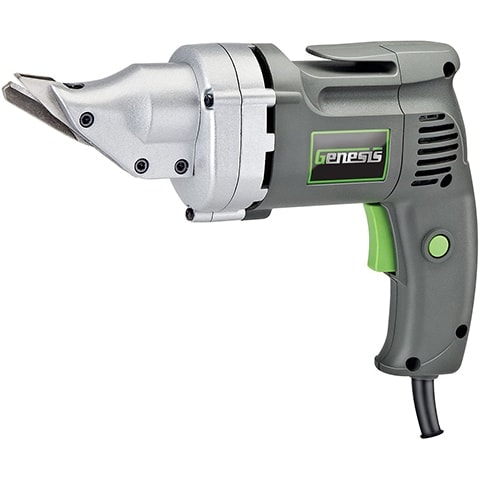 The top three methods are the best way to cut lots of aluminum in a short amount of time. However, if you only need to cut a bit of aluminum and don't have any of the above tools available, you can use a pair of electric shears. They're cheaper than going out and buying a whole table saw, but they still can cut through aluminum effectively.
This versatile tool is great for making minor cuts you can't do with larger machines. They are lightweight and portable, making them perfect for cutting small patterns and getting the details just right. They're also very good with awkward angles and in-the-field cutting, where a miter saw may not be suitable.
Most electric shears can work on aluminum up to 14-gauge. This should work for most projects, but it will not be suitable for thicker pieces of aluminum. You will also have to cut slowly with electric shears, though that can be said for nearly all tools used to cut aluminum.
The worst part about these tools is that they rely entirely on your accuracy. You'll need a meticulous hand and a well-trained eye to get a straight line. We recommend the Genesis GES40 4.0 Amp Corded Swivel Head Variable Metal Shears.
Pros
Inexpensive
Versatile
Works for awkward angles
Cons
Not accurate
Only works on up to 14-gauge aluminum
---
5.

Dremel Rotary Tool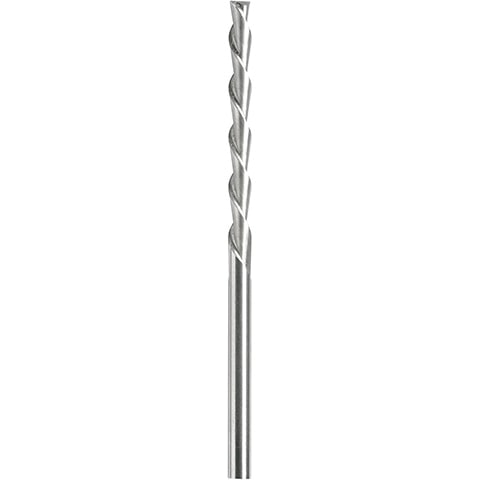 If you need precision over power, a Dremel tool is the best option. There are a few ways you can do this. Firstly, you can use a tungsten carbide tip blade to drill small holes and remove small pieces of material. This is great if you're focused on accuracy over speed. You can also use an attachable saw blade to make cuts. However, you'll need to use the blade at a very slow speed, so you still won't be working very effectively.
This tool cuts through aluminum like butter, so that won't be a problem. However, they tend to throw off aluminum wildly—more so than the other methods we've mentioned thus far. Therefore, you'll need to wear plenty of protective clothing and goggles. You have to be careful with this method, but it is doable with the proper precautions.
This method is best for those with a Dremel or who need to cut precisely. We recommend the Dremel 561 Multipurpose Cutting Bit, particularly for cutting aluminum. It can also cut through plastic, wood, fiberglass, and other materials, making it a solid bet for most projects.
Dremel 561 Multipurpose Cutting Bit, 1/8", Metallic
Turn your rotary tool into a powerful cutting machine
Ideal for cutting wood, plastic, fiberglass, drywall, laminate and aluminum and vinyl siding
Multipurpose cutting bit features a 1/8" (3.2mm) spiral fluted shape
Pros
Precise
Plenty of power to cut through aluminum
Cons
Slow
Not best for thicker pieces of aluminum
---
6.

Aviation Snips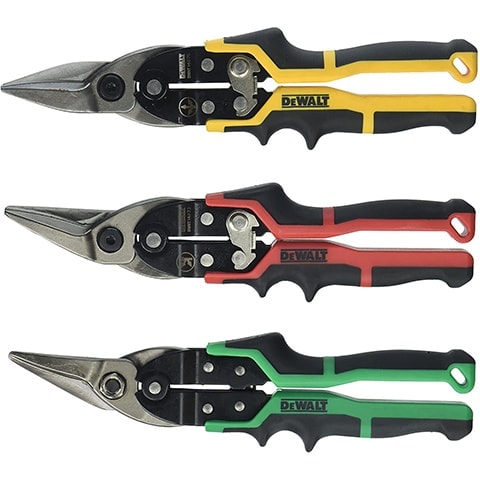 For those cutting thinner sheets and on a budget, a set of aviation snips may be suitable for their needs. The shears are the tried-and-true, "traditional" method. They get the job done, though they are pretty slow going. However, the shears will only be as accurate as your hand. They require users to be very slow with their cuts. This can be a problem for some people, especially beginners who are more inexperienced.
These probably work best for smaller projects. They can cause your hand to fatigue quite quickly. You probably aren't going to be cutting a lot of aluminum with these, but they are suitable for cutting a few sheets of thinner aluminum.
Many of these shears are color-coded depending on the line you're trying to make. Yellow is usually for straight lines, green is for cutting to the right, and red is for cutting to the left.
Ensure you wear gloves when using these as well since the metal can be very sharp after being cut. If you need a set of aviation snips, we recommend the DeWalt DWHT14676 Aviation Snip Set 3 pack.
Pros
Inexpensive
Suitable for smaller sheets
Cons
Only as accurate as your hand
Fatigues your hand quickly
Only suitable for small projects
---
7.

Utility Knife

You can cut aluminum with a utility knife if you have no other options. This is another classical method that isn't quite as efficient as other options. However, it does work. All you need is a sharp utility knife and a straight edge. Use the knife along a straight edge to score the aluminum on both sides and snap it apart.
As you might imagine, this only really works for some cuts. More detailed work is not going to be doable with this method, and you probably aren't going to want to do it too much. This method isn't going to work for gutters or thicker sheets. However, it is the most economical method to cut straight on a thinner sheet.
We don't recommend this method for those planning to cut lots of aluminum. However, if you need to cut a sheet or two in half, this is a reliable option to try. You will need a utility knife that is strong enough and durable enough to score aluminum. For this, we recommend the Milwaukee 48-22-1903 Fastback 3 Utility Knife.
Pros
Cuts straight lines decently well
Cons
Not as accurate as other options
Some safety concerns
Slow
---
Buyer's Guide – What is the Best Way to Cut Aluminium
Cutting aluminum can be a bit more complicated than you might consider. The material can be harp when freshly cut, which can lead to injuries if you aren't careful. It can also be considerably harder to cut than materials like wood. That is the nature of metal, after all.
Luckily, you can cut aluminum easily with the right tools. There are many methods which we have already discussed. Of course, choosing the right method for you can be considerably tricky. Below, we'll help you determine which tool and method would be best for you.
Type of Cut
The type of cut matters considerably when you're choosing the correct method. Some methods are great for more substantial cuts but cannot perform more minor, detailed work. Some tools do precisely the opposite. They can do smaller cuts fine but cannot efficiently perform more significant cuts.
Know the type of cuts you want to perform when purchasing your tool or choosing your method. You cannot use a large saw to make tiny cuts. It just won't work. Instead, you'll need to use a pair of electric shears. At the same time, a pair of electric shears will not be suitable for making many massive cuts. It would take far longer than it would if you used a saw.
The Thickness of Aluminum
Most smaller tools cannot cut through very thick aluminum. For that, you'll need a more substantial tool. If you work mostly with thinner aluminum, you may be able to get away with a smaller tool. However, thicker aluminum is going to require larger saws of some sort (and likely more safety precautions as well).
If you work with aluminum of varying thicknesses, you may need to invest in two or three different tools to make all the cuts you need to make efficiently and accurately. Luckily, many of these tools are versatile and can be used for other things, so you won't just be spending money to cut aluminum.
Budget
Some of the machines we mentioned in this article are expensive. If you plan on using them to cut aluminum, you probably do not have the budget to go out and buy a table saw. However, if you have the money, then, by all means, purchase one of the more significant tools.
For those on a budget, you'll probably want to invest in some smaller tool. These are usually inexpensive and can do smaller jobs just fine. If you aren't going to be doing much with aluminum, you probably don't need to splurge on a miter saw.

Conclusion
There are many methods for cutting aluminum. The same tools you use to cut wood can often be adjusted to cut aluminum. Miter saws are the go-to option for most aluminum cuts. If you need to, you can also use a circular saw or table saw.
For smaller cuts, you can use smaller, handheld tools. Many, like the utility knife, are great for detailed work and hard-to-reach angles. The tool you choose largely depends on what you're trying to accomplish.