10 Best Weed Eater Strings of 2023 – Reviews & Buyer's Guide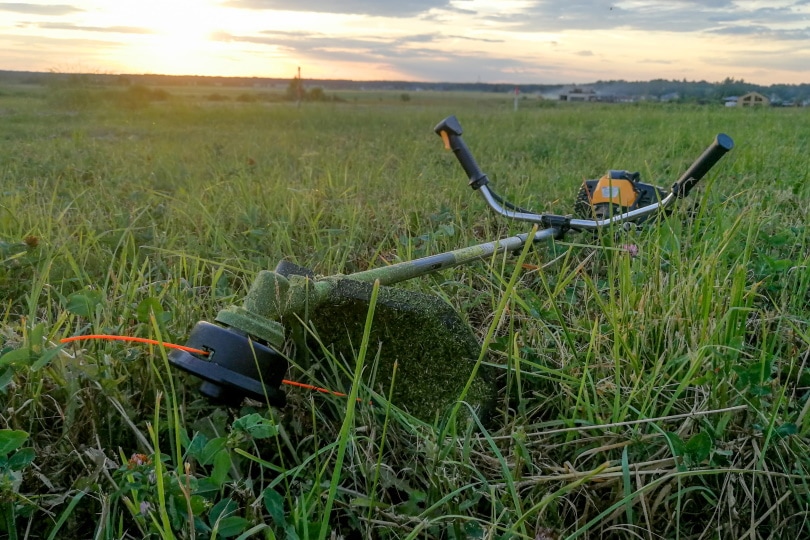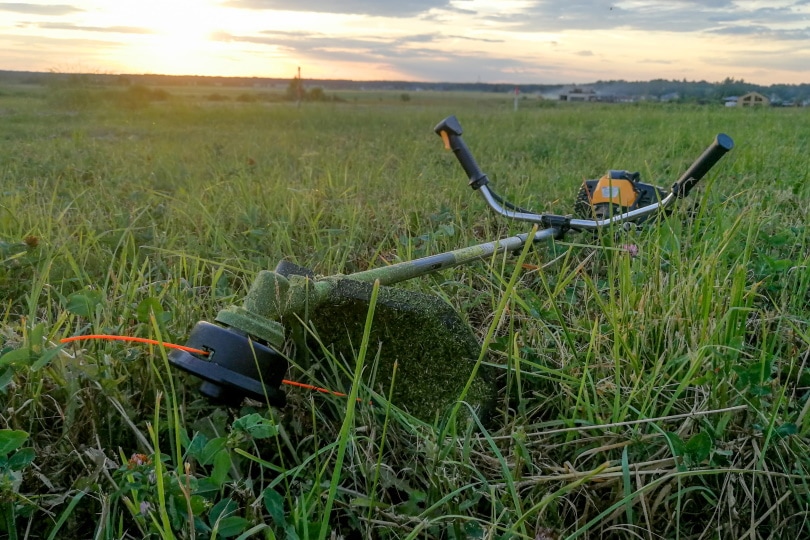 It's the little things that count when gardening, and weed eater strings can make your garden life easier or cause you countless headaches. In fact, the strings are a big component of the weed eater and should be treated with the attention that it deserves. If you find that your weed eater isn't performing at its optimal, the chances are good that it's because of the strings.
How do you choose? If you log online, you'll see many suppliers advertising their strings, boasting about how they will deliver the best job. Since many are saying that their strings are the best, how do you know who to believe? To assist you, we've compiled 10 reviews of the best weed eater strings that you should consider. We've highlighted what's great about them and where they lack. Then, we've also included a buyer's guide so that you know exactly the aspects to look out for in determining which string suit your needs.

A Quick Comparison of Our Favorites in 2023
Rating
Image
Product
Details

Best Overall

DEWALT DWO1DT802 String Trimmer Line

Durable
Threaded
Aerodynamic
CHECK PRICE

Best Value

Oregon 22-995 Square Trimmer Line

High-strength inner core
Durable
Breakage-resistant skin
CHECK PRICE

Premium Choice

Cyclone CY155S3 Commercial Trimmer Line

6-bladed shape for more power
Copolymer nylon for extra strength
Perfect for high-wheel trimmers
CHECK PRICE

Husqvarna Titanium Force String Trimmer Lines

Level flight characteristic
Reduce noise level
Fast acceleration
CHECK PRICE

BLACK+DECKER AF1003ZP Trimmer Line

Feeds the trimmer line as needed
Eliminates hand-winding
Good warranty
CHECK PRICE
The 10 Best Weed Eater Strings
1.

 DEWALT DWO1DT802 String Trimmer Line – Best Overall
The aerodynamic design is the most appealing feature of the DeWalt trimmer line, and you'll find that it's subjected to less drag than other strings. It's made of flexible and impact-resistant materials for long and durable use. You should use it mostly for trimming and edging grass, and you'll get 225 feet of string trimmer line with a 0.08-inch diameter. This trimmer line is threaded, adding extra strength and cutting power. You might find that this trimmer line is challenging to wind inside the weed eater head.
After looking at this trimmer line's specs and comparing them to the rest on the list, we found the DeWalt to be the best weed wacker string overall.
Pros
Durable
Threaded
Aerodynamic
---
2.

Oregon 22-995 Square Trimmer Line – Best Value

If you want to decrease the amount of time you spend trimming while ensuring that you get the best result, then the Oregon trimmer line will be a safe bet. Its high-strength inner core and the weld-resistant outer layer can absorb more heat than usual so that it doesn't become brittle or lose its effectiveness.
Some jobs might require multiple strings, but Oregon has a thick, breakage-resistant skin. Its durability will not only save you time but also money. The supplier has used donut packaging so that you have few tangles to worry about. You can choose between the round shape, square or SuperTwist.
With this brand, you get only 114 feet of line. The reason that the supplier provided less is to ensure great quality while balancing the price. That's why this is the best weed eater string for the money.
Pros
High-strength inner core
Durable
Breakage-resistant skin
---
3.

Cyclone CY155S3 Commercial Trimmer Line – Premium Choice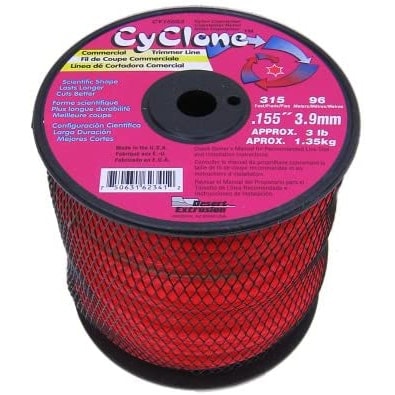 Landscaping professionals are going to love the Cyclone Trimmer Line. It has a 6-bladed shape so that you get extra cutting power for tougher obstacles than just grass and weeds. They've also included the copolymer nylon to ensure you get the optimal strength and durability.
You'll get 315 feet of the trimmer line with a 0.155-inch diameter, and it works great with high-wheel trimmers. Threading this string is its main drawback. Be careful to make sure that you don't break it. Otherwise, this trimmer line has shown that it's worth the money. The only reason it didn't make it into the top 2 is that it requires careful threading or it could break.
Pros
6-bladed shape for more power
Copolymer nylon for extra strength
Perfect for high-wheel trimmers
Cons
Careful threading required
---
4.

Husqvarna Titanium Force String Trimmer Lines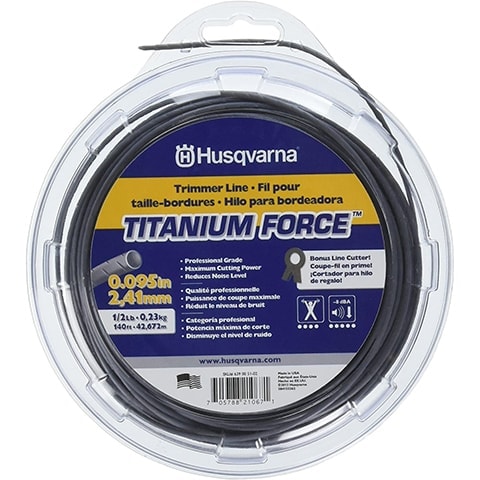 The Husqvarna trimmer line is known for an even level cut thanks to the level flight, which is great if you're not going to mow the area afterward. It comes with faster acceleration, allowing it to quickly regain its speed after trimming weeds or grass so that you can finish the surface quicker.
You can expect this string trimmer to produce good results, and its high-cutting efficiency works more so that you work less. If you're easily annoyed by the noise a trimmer makes, you'll be glad to know that this one reduces noise levels by half. Husqvarna has also included a free line cutter. It's possible that you might go through this string quicker than others.
Pros
Level flight characteristic
Reduce noise level
Fast acceleration
---
5.

BLACK+DECKER AF1003ZP Trimmer Line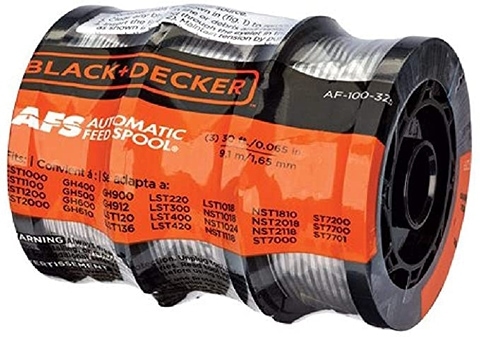 If you're tired of hand-winding your string trimmer, then the Black+Decker's replacement spool system is a big time-saver. They've used a centrifugal force, which feeds the trimmer line when it needs it while eliminating bumps and hitched, so you don't have to worry about it. You'll get a 0.065-inch diameter line with a 2-year warranty.
It's compatible with most Black+Decker string trimmer, and it comes with a 30-feet replacement line, but that means you'll have to have a Black+Decker trimmer. Not having to wind it is great, but you'll have to have a specific make trimmer in order to take advantage.
Pros
Feeds the trimmer line as needed
Eliminates hand-winding
Good warranty
Cons
Compatible only with certain Black+Decker trimmers
---
6.

Arnold WLM-H65 Maxi-Edge Commercial Trimmer Line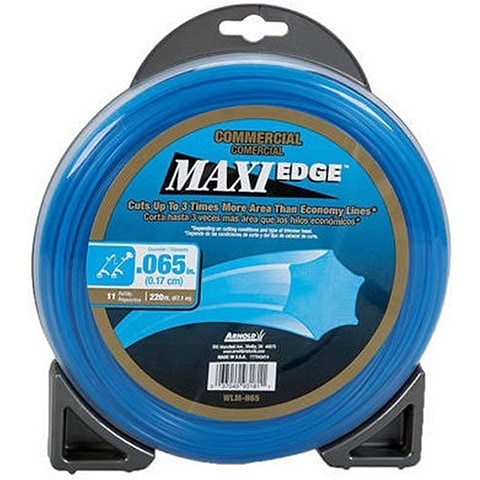 The Arnold Maxi-Edge Commercial trimmer line features a serrated shape that claims to last three times longer than than the average string trimmer. The edged-line shape produces a better cutting performance, and the supplier has ensured that it fits most gas and electric trimmers.
You should get about 11 refills from the 220 feet of line, with a 0.065-inch diameter and it comes with a cutting tool. Don't be surprised to discover that this string trimmer provides a powerful cut, saving you quite a bit of time and making you exert less effort.
If you're in California, you can't purchase this string trimmer on Amazon.
Pros
Covers more area
Good cutting performance
Fits most trimmers
Cons
Not available in California
---
7.

Anleolife Commercial Square String Trimmer Line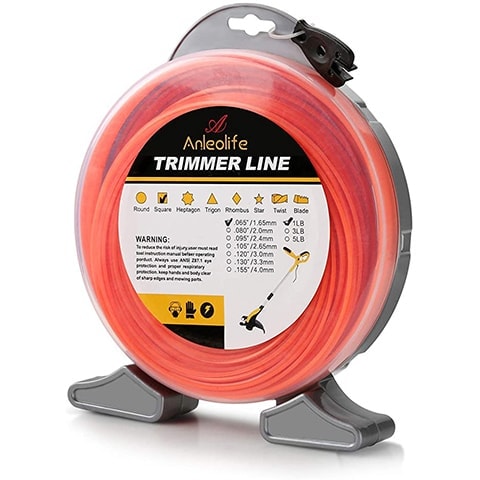 The Anleolife Commercial Square String Trimmer Line features multi-side cords that slice through thick grass and stubborn weeds with ease. Constructed of tough nylon 66 copolymer, the resistant to damage and works quickly and effectively.
It serves as a good replacement line for most of the major trimmer brands, and it comes with a cutting tool. You'll find that this string makes trimming more convenient and efficient. You'll get a 965-feet line, but you might find that the line gets tangled easily.
Pros
Efficient
Multi-side cords
Long line
---
8.

Maxpower 333695 Round Trimmer Line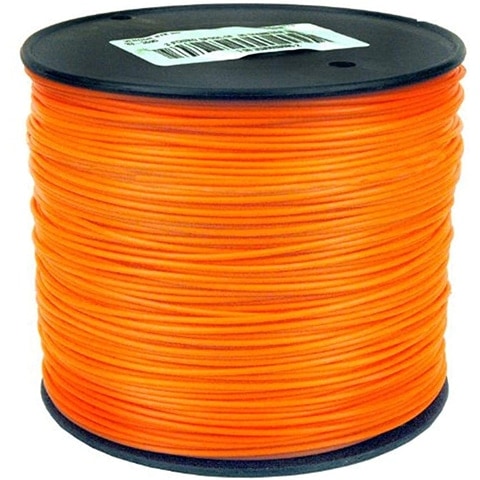 Maxpower comes in a round cut trimmer line that's 855 feet, giving you about 42 refills. The supplier has made the trimming line from sturdy nylon components to ensure good performance. You have to keep in mind with this strig is that it's prone to break easily. You'll find that you can't cover a lot of area before you have to wind it again.
The string has a reputation for breaking easily and frequently. That means you're going to incur more costs than with other products, but you're also going to spend more time on wiring the trimmer.
Pros
Lots of refills
Used nylon components
Cons
Breaks easily
More frequent wiring
---
9.

Weed Warrior 17061 Titanium Trimmer Line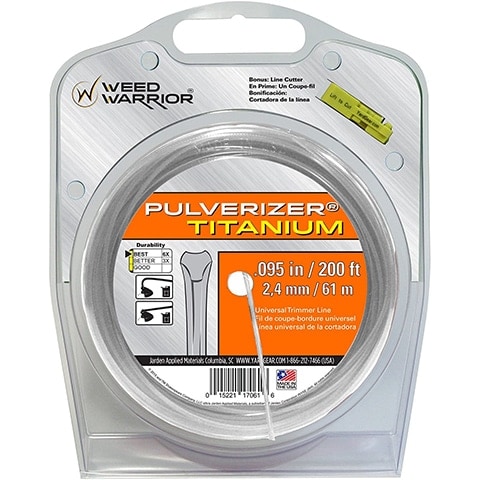 Made of durable nylon resin, the Weed Warrior trimmer line cuts evenly on the first pass. It will stand up to moderate trimming and edging, and it's compatible with most brands. Although it has been labeled as titanium, it doesn't reference its strength, rather the color of the string.
It might be advertised as a titanium version, but you'll find that it's not so durable. You might have to keep adding more string, and it might be better to look at the platinum version if you want extra durability.
Pros
Compatible with most brands
Cuts evenly
Cons
Not durable
False advertising (titanium)
---
10.

Grass Gator Z7095 Zip String Trimmer Line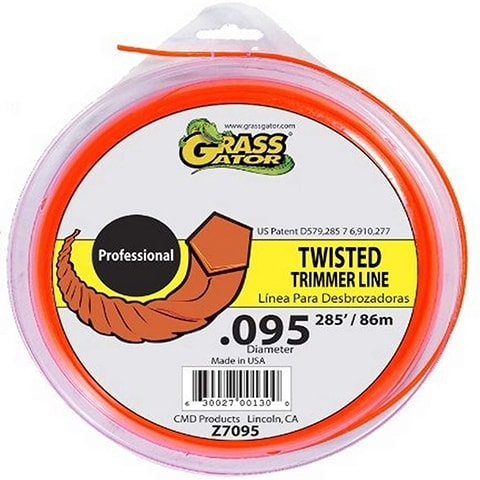 The Grass Gator twisted line is composed of twisted copolymers to provide extra strength while ensuring that it is impact resistant. They've also made it with an aerodynamics design for even directional cutting, especially on the edges. You'll find that it provides less wind resistance and noise while minimizing line split and frays.
The supplier has advertised this string trimmer as having a 0.095-inch diameter. Don't be surprised to find that yours is smaller. That could cause you a lot of frustration with winding, and you might find that it also gets tangled up.
Pros
Copolymers for extra strength
Aerodynamic design
Cons
Smaller diameter than advertised
Line gets tangled

Buyer's Guide – Choosing the Best Weed Eater Strings
Buying a string trimmer line isn't as easy as searching for the most expensive one and thinking that it's the highest quality. You need to keep in mind several factors to determine which one will suit your needs the most. These are important aspects to consider when looking to buy a string.
Difficulty of Work
You need to determine how challenging the weeds or grass you want to trim are because that'll determine the string's diameter that you need to buy.
Light to Medium
Diameter: 0.065" 5-sided line or 0.08" round line
Medium to Heavy
Diameter:  0.095" 5-sided line or 0.105" square line
Very Heavy Work
Diameter: 0.130" twisted line or 0.170" square line
Keep in mind that the larger diameter increases the cutting power of the line. That results in better durability against thicker weeds and grass.
Shapes
The shapes don't only affect how the spool looks, but more importantly, it determines how efficiently a trimmer can cut.
Round
This is the most common shape. Round trimming lines are known for tearing the grass as opposed to cutting it like the other types. That happens because it lacks cutting edges. You might find that the round lines don't distribute force well, resulting in more frequent snapping.  Round lines are mostly associated with budget lines, and they don't offer the same advantages as their higher-quality counterparts.
Square
Square trimmer lines are sharper than round trimmer lines, thereby providing more cutting power due to the extra exposure to the cutting surface. You'll have more power to cut through thicker surfaces, and the extra material means that it will last longer. Keep an eye out when using this trimmer line around sensitive objects in the yard such as wooden fences, trees, and shrubs. Also, because the square trimmer line has more material than the round one, it's heavier. It's also larger, so it might not fit into every weed eater.
Star
The premise of the star trimmer line is a round line with added points. It can have 5 sides or more. The extra sides enable you to apply it to heavy-duty jobs to tackle thicker weeds. The other advantage is that you'll get a cleaner cut due to the additional edges, and you'll apply less wear and tear while you're using it.
Whether it's a 5-or-6-point line, it should face in the direction the line is heading, regardless of the angle you've turned it. Just remember that these lines are more fragile when in contact with hard surfaces such as curbs and driveways.
Twisted
The big advantage of twisted trimmer lines is that they offer strong cutting strength for heavy surfaces. It'll enable you to get a lot done and struggle a lot less than its counterparts, but these types tend to be pricier than the other shapes. Besides cutting through almost anything, twisted trimmer lines also have very little vibration through the line and reduce noise levels. Professional lawn care providers mostly use these lines.
Serrated
This type of trimmer line is similar to a saw or a kitchen knife, giving it excellent cutting power. Although it cuts more efficiently than round lines, it tends to snag on the on heavy weeds. That might feel like the string trimmer is pulled downward. That doesn't damage the string trimmer, but you'll have to exert more strength to hold on to it. Serrated trimmer lines work well on medium-heavy weeds.
Durability
Getting durability from a trimmer line has a lot to do with its shape. That's a part of it, but you also have to look at the material that the supplier used to make the trimmer line. The cheaper, therefore lower quality ones, are made from plastic. If you want better durability, then you should go for one made of copolymer nylon.
To improve the trimmer line's durability, suppliers also ensure that it has a high-strength core. Having that at the center of the cable gives the trimmer line more sturdiness, helping it cut better and reduce stress due to bending.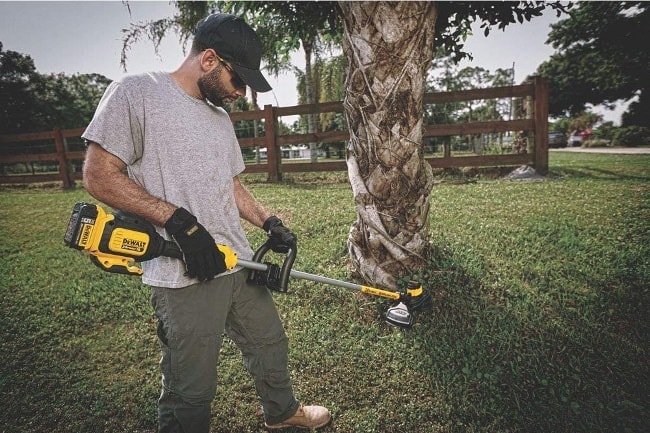 Flight Characteristic
Another characteristic to consider is the amount of air that your line has to push out of the way before reaching the weeds or grass. That's where a trimmer line's flight feature comes in handy. Trimmer lines that encounter less air resistance work better because you have to exert less effort to achieve the same result, resulting in putting less pressure on the line and making it more durable.
Another consideration is the level that the line sits while you're trimming. An uneven weight could weigh down one side of the string trimmer, resulting in cutting more on the one side than the other. With the flight characteristic, you get a level cut so that the surface looks even and you can avoid going over it multiple times.
Winding
The less winding you have to do, the more efficiently you can cover large surfaces. You can also avoid getting the line tangled if the trimmer has a spool system that feeds more line when needed. It's convenient and helps you to work faster.

Conclusion
The above reviews of string trimmers showed each one's features and where they could benefit you and where they could hold you back. After taking all of their features into account and comparing them to each other, we found that the DEWALT DWO1DT802 String Trimmer Line was the overall best weed eater string. It provided several benefits and great quality.
Getting several benefits from a trimmer line is important, but the price has to make sense. That's why when we compared the features to the price, we found that Oregon 22-995 Square Trimmer Line was the best weed eater string for the money. If you want a trimmer line that's the best value to buy, then take a look at Cyclone CY155S3 Commercial Trimmer Line. All three have several advantages and are worth exploring.
You might also be interested in:
---
Featured Image Credit: Audrius Merfeldas, Shutterstock