Bestway Fast Set Pool Review 2023: Pros, Cons & Verdict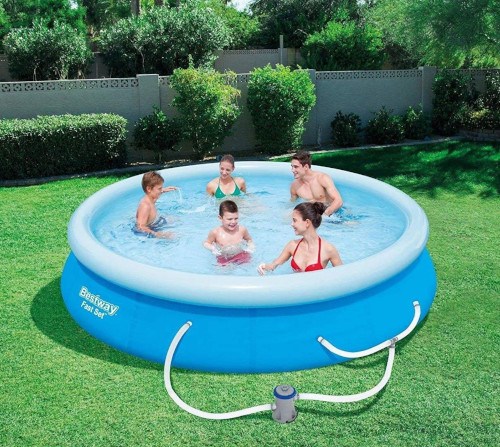 We give the Bestway Fast Set Pool a rating of 4.5 out of 5 stars. 
Set up: 4.2/5
Durability: 4.5/5
Pump: 3.3/5
Maintenance: 4.5/5
Cost: 4.7/5
Warranty: 3.3/5
Playing in swimming pools is one of many people's favorite ways to enjoy the hot summer sunshine. Bestway came out with the Fast Set Pool to rival Intex's Easy Set Pool. Is one better than the other? Though both companies offer economical pools, Bestway has the lower prices of the two. Does this affect the quality of the pool? Will it last as long as the Intex ones? We purchased one of each to compare. Here, we will share with you what our thoughts are about the Bestway pool.
Editor Rating: 4.5/5
We gave the Bestway Fast Set Pool a rating of 4.5 stars out of 5. The main reason we didn't give it a higher rating is due to the pump that comes with it. It isn't worth much. It didn't keep our water clear, so we had to replace it soon after setting it up. Also, though the warranty isn't bad, Bestway's customer service takes their own sweet time to respond. It can seem to take them forever to rectify a problem.
Other than the pump and customer service, we were impressed with this pool. You can feel the quality craftsmanship of the sidewalls, and once you watch how to assemble everything on YouTube, it's straightforward to set up.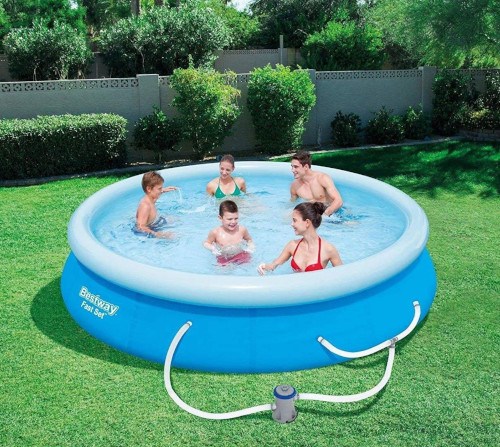 Set-up: 4.2/5
Bestway claims that this pool can be set up in 10 to 15 minutes. It isn't that easy. The assembly instructions were confusing, so we went to YouTube to watch a video. We got a better explanation, and things went smoothly, but it took three of us a couple of hours to put it up after preparing the ground.
The hardest part of setting up this pool is leveling the spot where you want to put it. If the ground underneath it isn't perfectly level, the water will cause one side of the walls to bulge. Water will spill out before you can get the other side full. The extra weight can even cause the walls to collapse completely. It took us a few hours to make sure our spot was perfectly flat and free of sharp objects. It's worth the effort, though, since you only need to level it the first time you use it.
Durability: 4.5/5
The walls of this pool are three-ply heavy-duty materials. You can tell that they're thick by the way that they feel under your hand. We have found that it stands up well to young kids roughhousing in it daily. It also performs well in the heat.
The cover that it comes with does not. It dissolves under high UV light. The sidewalls are tough, but sharp objects can puncture them. We make sure that when we mow our lawn, the debris blows away from the pool. We also do our best to keep cats and dogs away from it, so they don't accidentally puncture it with their nails.
The air ring isn't the same heavy-duty material as the sidewall. It doesn't take a whole lot to get pinholes that allow the air to leak out. There isn't always much that you can do about it, especially if the culprit is a bird. We keep a pool repair kit handy at all times, just in case. They're simple to use and do the trick.
You shouldn't expect your Bestway Fast Set Pool to last more than four years. The air ring stretches with use. By the fourth year, you'll be adding air to it much more frequently than you did in previous years.
Pump: 3.3/5
Bestway includes a pump with its pool kits, but it gives you the smallest one possible. We were not impressed with how ours worked. It wasn't worth much. We upgraded to a better one soon after setting it up. We would recommend that you plan on getting a better one. Make sure to add that additional cost in when you're shopping. We recommend that you purchase the pool alone and get the pump separately.
The smaller pools can be set up to work without a pump, too. Adults who sit and relax or float around don't stir the water up very well, but kids do. If young children playing will be the primary users of your pool, their movement can stir in the chlorine sufficiently.
Though the pool can be used without a pump, if you use one and clean the filter at least once a week, the pool will last longer. When you don't have one to filter out body oils, sunscreen, and any other toxic substances, they eat away at the liner. If you don't use a pump, you should expect two to three seasons' use out of this pool. If you do use a filter and keep it clean, it should last three to four years.
Maintenance: 4.5/5
The Bestway Fast Set Pool doesn't require much maintenance. You will need to check chlorine levels every one to two days and add it as necessary to keep it at the optimal level. The chlorine is what disinfects your pool.
If you have a pump, Bestway recommends running it for eight hours a day. You'll also want to purchase a skimmer to clean debris out of the water.
Cost: 4.7/5
Bestway Fast Set Pools come in a variety of sizes that start around $75 and go up to about $200. They are incredibly affordable, no matter what size budget you have. We found that we saved enough money to have some left over to buy some toys for the kids and a raft for an adult to relax. Most people take their pools down and store them for the winter each year. Others think that they are priced so low, especially without a pump, that they don't think twice about throwing their pool out after every season and buying a new one the next year.
Warranty: 3.3/5
Bestway offers a limited warranty on any manufacturing defects found upon opening the product, or any damage occurring under the limits of what it considers to be normal use. Any changes made to the system by the consumer will not be covered. Bestway provides a full list of restrictions in the user's manual.
If you believe you have a warranty issue, you'll need to contact Bestway customer service to submit a ticket. To save yourself a lot of time and hassle, have a copy of your original receipt, the batch number off the product, and a picture of the defect before contacting customer service. We have only had to contact them once for a small issue, and though we finally got an answer, it took a while.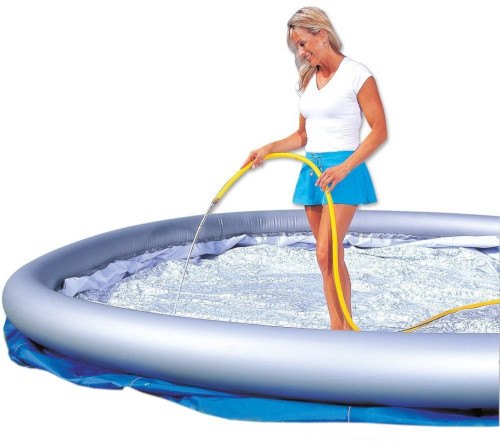 Take a Quick Look
Pros
Low cost
Variety of sizes
Quick and easy to assemble
Durable
Easy to maintain
Can last three to four years
Cons
Must be perfectly level
Sub-par pump
Can be punctured easily
The type V pump cartridges are hard to find
Cover dissolves under sunlight
Who uses these pools?
The smallest Bestway pool is eight feet in diameter, small enough to fit into almost any size of yard.
Families with a limited budget
Families with young children
The smaller pools are 26 inches deep. This is a safe height for most children to play around and keep their heads above the water.
Adults who want to relax and cool off
Though there isn't much room for actual swimming, these pools offer plenty of room for adults to sit or lounge around on a raft when they need to cool off.
People who haven't had a pool before
These pools are perfect for those who have never had a pool before and want to see if they will like it. They are simple to use and don't take a lot of time to maintain.
FAQs
1.

What size outlet is required to run the pump?
The pump requires a three-pronged 110v to 120v outlet.
2.

What chemicals are needed to maintain it?
These pools are small enough to keep clean by adding chlorine only. You do need to test the water every day or two to maintain the proper level of chlorine to disinfect your water.
3.

Can these be saltwater pools?
The Bestway Fast Set Pools are available with saltwater systems.
4.

What kind of surface can these pools be set up on?
You can install these pools on a concrete slab, a wooden deck, or directly on the ground. It's recommended that you don't use sand as a base because it can move around.
No matter what type of pad you set your pool on, you need a good ground cloth underneath it. Hardy grasses, like nutgrass, can puncture the lining and grow right through the bottom of the pool if you don't have that extra protection. Decks can have splinters and concrete is abrasive, so either can wear the liner down quickly. Putting a ground cover down first gives an extra layer of cushion to protect the liner and offer a more comfortable floor.
What Users Think
Set-up
Most people find the written instructions to be very confusing. They may play the guessing game and try to get through it on their own. Others watch a video on YouTube. Once they know what to do, they find it straightforward to assemble. The worst part is making sure that the ground underneath it is perfectly flat before the first time you set it up.
Durability
The consensus is that these pools are built well, especially for their price. For as little as around $75, they can give you up to four years of enjoyment, without a ton of work. The walls are sturdy and don't puncture easily, but the air ring can get tiny holes without much effort. They're easy to fix with pool repair kits, though. Some people get frustrated because they have problems finding the leak to patch.
Maintenance
These pools take little to no work to maintain. To get the most life out of your pool, you'll need to run your pump for at least eight hours a day. You'll also need to test the water every couple of days to ensure that the chlorine is at a level to sanitize your pool.
These pools can be set up to use without the filter. If the pool is used mainly by active children, their movement will sufficiently stir in the chlorine, but the toxic substances from body sweat, sunscreen, etc. will eat away at the liner. Most people who don't use the pump will discard the pool each year.
Storage
Most people take their pools down every winter and store them. Some think that it's too much of a hassle to get them completely dry before putting them away. These pools also take up quite a bit of storage room, so some people throw them out every year and purchase a new one the next season.

Conclusion
The Fast Set pools are an excellent choice for those who have never had a pool and want to see if it's something they'll like. Bestway offers excellent quality at an attractive price. Some people love the pools; others, not so much, but that is the way it is with anything. For the enjoyment that these pools can give you and your family, you really can't go wrong.