7 Best Well-Draining Potting Soils in 2023 – Reviews & Top Picks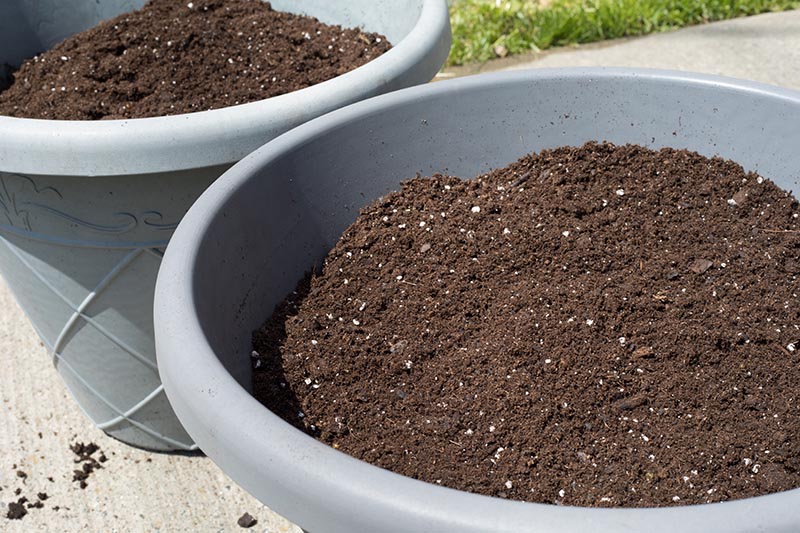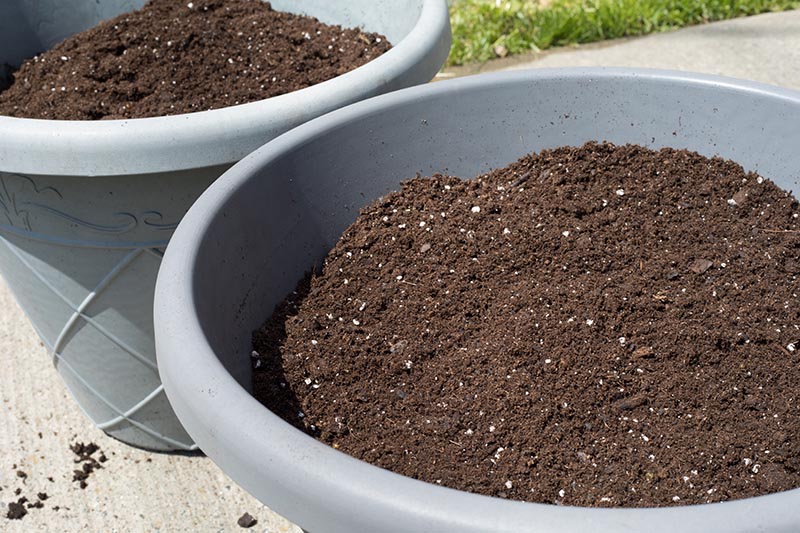 Growing plants indoors is not as easy as people make it sound. Many of them end up meeting an untimely demise after developing an unhealthy rooting system at an early stage. This problem is often precipitated by the use of the wrong potting soil.
The roots are virtually the lifeline of every plant. Without them, your plant won't be able to absorb any nutrients from the soil, draw water, or breathe in air.
If you'd like your plants to develop strong roots, you'll have to pot them using the right soil. The demand for potting soils has skyrocketed over the years, meaning people have finally realized just how important this product is.
In this post, we'll be reviewing seven different varieties of potting soil. And to avoid confusion, we have to add that potting soils are also commonly referred to as potting compost or potting mix. Let's dive in.

A Glance at Our Winners in 2023
Rating
Image
Product
Details

Best Overall

PittMoss Plentiful Organic Potting Mix

OMRI Certified
Lightweight
Added carbon
CHECK PRICE

Best Value

SuperMoss (23202) Orchid Potting Bark

Made using bark
Ideal for orchids
Has incredible aeration
CHECK PRICE

Minute Soil Compressed Coco Coir Fiber

Trusted brand
Can be used with any type of fertilizer
100% coconut coir
CHECK PRICE

Hoffman 30103 Seed Starter Soil

Ideal for starting seeds
Lightweight
Holds water well
CHECK PRICE

Espoma Organic Potting Soil

Ideal for outdoor and indoor use
Has Myco-tone blend
Promotes the growth of roots
CHECK PRICE

The 7 Best Well-Draining Potting Soils
1.

PittMoss Plentiful Organic Potting Mix – Best Overall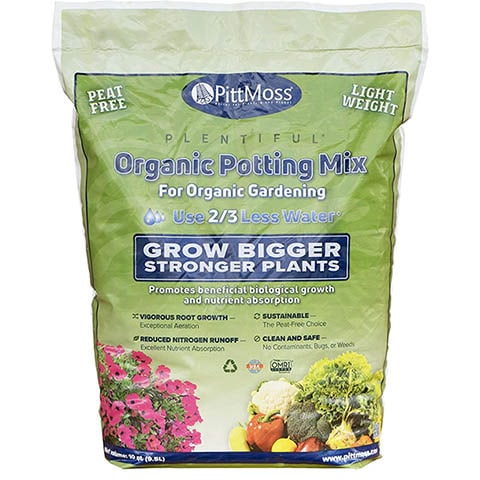 | | |
| --- | --- |
| Brand: | PittMoss |
| Use: | Multipurpose |
| Weight: | 3.95 lbs |
| Organic: | Yes |
The PittMoss Plentiful Organic Potting Soil is ideal if you prefer using a mix that has recycled paper as its prime growing medium. However,  working with mulch-like recycled paper potting soil is not quite easy. It needs some getting used to, and lots of patience.
You'll be glad to hear that the PittMoss Potting Soil is OMRI listed. OMRI as an abbreviation stands for Organic Material Review Institute, meaning this product has been thoroughly reviewed by a regulatory authority and found to be at par with organic standards.
With regards to weight, it's relatively lightweight. It's also not as dusty as some other potting mixes and is free of weeds. Yes, we know that sounds strange, considering all commercially sold potting soils should be weed-free, but some of them aren't well sterilized.
This potting soil has carbon and several natural ingredients deliberately added into the mix to support the growth of your plants. PittMoss isn't too demanding when it comes to watering or application of fertilizer, hence saving you lots of time and money. That's the other reason why it's our choice of the best overall potting soil.
Pros
OMRI Certified
Lightweight
Added carbon
Eco-friendly
Doesn't demand too much water or fertilizer
Cons
Best for experienced gardeners
---
2.

SuperMoss (23202) Orchid Potting Bark – Best Value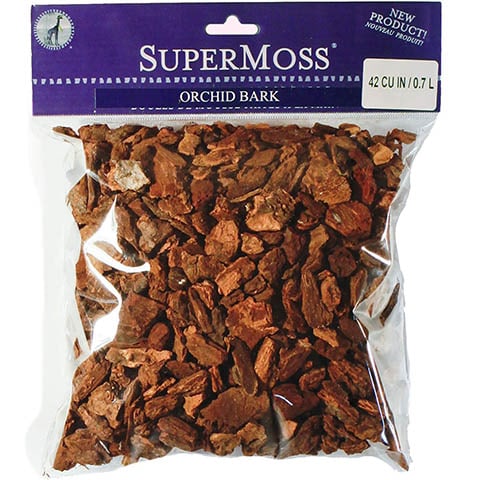 | | |
| --- | --- |
| Brand: | SuperMoss |
| Use: | Specific |
| Weight: | 0.5 lb |
| Organic: | Yes |
Do you love orchids? They are gorgeous, aren't they? But have you ever tried growing them anywhere? Even if you're living in a region that has the perfect climate, you'll agree that growing them is always difficult. SuperMoss heard our cries and gave us the Orchid Potting Bark. One of the main ingredients is actually bark extracted from the Douglas Fir Tree. That's how we know this product is fully organic and sustainable.
They had to add bark into the mix and eliminate peat moss because the latter ingredient retains too much water at times and tends to dry out faster than usual in between waterings. Also, why go for a product that has been deemed less environmentally-friendly, when you have a better substitute?
The bark is absorbent but the good thing about it is that it permits lots of air to get to the roots. What's more, it makes repotting the plant easier, once it outgrows the container.
The SuperMoss (23202) Orchid Potting Bark was designed to be used on orchids only, and no other plant variety, unfortunately.
Moreover, it's all bark and no soil. This should be seen as a plus, considering orchids don't do well when paired with traditional soil. Compared to other mixes, we still think it's the best potting soil for the money.
Pros
Made using bark
Ideal for orchids
Has incredible aeration
Environmentally friendly
Doesn't retain too much water
Cons
Can only be used on orchids
---
3.

Minute Soil Compressed Coco Coir Fiber Grow Medium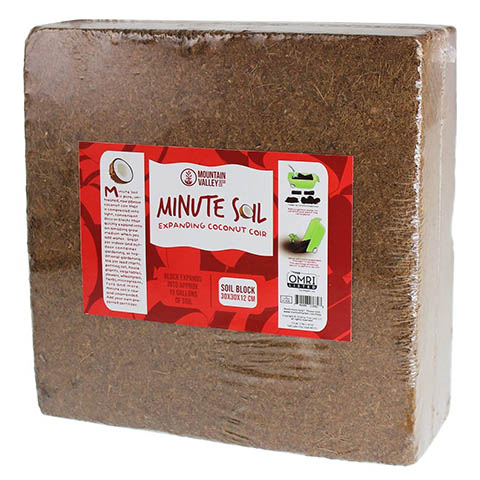 | | |
| --- | --- |
| Brand: | Mountain Valley Seed Company |
| Use: | Multipurpose |
| Weight: | 10.13 lbs |
| Organic: | Yes |
Minute Soil is one of the varieties produced by a trusted brand—the Mountain Valley Seed Company. It's unique in the sense that it's 100% non-amended coconut coir, and that's something that you'd want to hear if you're in the market looking for a product that doesn't have sphagnum peat moss as an ingredient.
The brand designed the Minute Potting Mix in a fashion that allows its application to be similar to that of your traditional garden soil. They also packed it in a dehydrated state, to make sure it doesn't take up more room in storage. Needless to say, you'll have to rehydrate the mix before planting your seedlings or seeds.
This variety is lightweight, compact, and offers improved aeration and water-holding capacity. You could apply it as a straight grow medium, or as a complement to your garden soil.
Pros
Trusted brand
Can be used with any type of fertilizer
100% coconut coir
Lightweight
Remarkable aeration and water-holding capacity
Versatile
Cons
Expensive
Has to be rehydrated before usage
---
4.

Hoffman 30103 Seed Starter Soil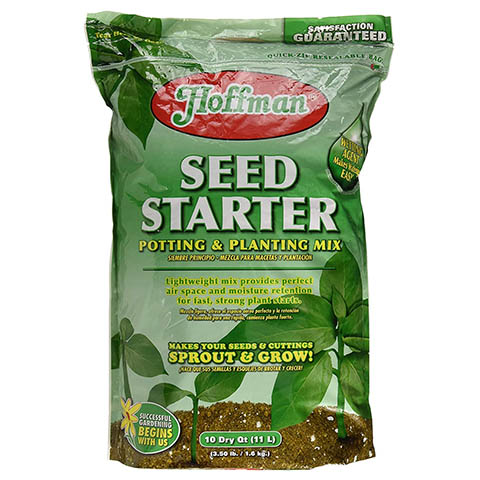 | | |
| --- | --- |
| Brand: | Hoffman |
| Use: | Specific |
| Weight: | 3.5 lbs |
| Organic: | No |
An experienced gardener knows you can't just start planting seeds in any type of soil. Seeds normally need special care from the onset, if you want them to perform exceptionally well in their later years. That's where the Hoffman Seed Starter Soil comes in.
This Seed Starter Mix is soilless. We know how strange that sounds, given it has the word "soil" in the name. Nonetheless, its soilless nature not only makes it lightweight but also gives it the ability to hold water really well. And those are the only two things that are essential for any seed to sprout.
The downside to using a soilless mix is that you'll have to transfer the seedlings to a different mix once they grow to a certain level—probably after a couple of weeks. The Hoffman Seed Starter Soil is only meant to act as an incubator that provides an ideal environment for germination—it doesn't have the prerequisite nutrients required to sustain the long-term growth of a plant.
This mix has sphagnum peat moss, but you don't have to worry about its environmental impact because it's the more sustainable Canadian kind.  Yes, the Canadian government has put in place measures that ensure peat moss is harvested in a more sustainable manner. They also added vermiculite, but unfortunately, the ingredient has the natural type of asbestos in it.
Pros
Ideal for starting seeds
Lightweight
Holds water well
Made using sustainable Canadian sphagnum peat moss
Cons
Has natural asbestos
Only ideal for seedlings
---
5.

Espoma Organic Potting Soil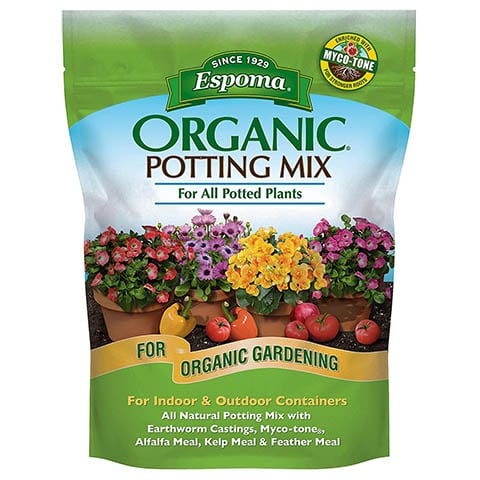 | | |
| --- | --- |
| Brand: | Espoma |
| Use: | Multipurpose |
| Weight: | 1 lb |
| Organic: | Yes |
Espoma Organic Potting Soil is for gardeners who love setting up planters outdoors using organic options. But it's not just reserved for outdoor container planters, as you can still use it indoors. If you'd like to see value in your money, you'll use it with plants that do well outside during the summer, and indoors once the temperatures start dropping.
Espoma decided to blend Myco-tone into this particular mix, to imitate the ecto- and endo-mycorrhizae relationship. Simply put, ecto- and endo-mycorrhizae are terms used to describe a symbiotic relationship whereby the roots of your plant offer carbohydrates to the fungi inhabiting the soil, and in return, the fungi offer other nutrients and water.
That's to say, this mix will reduce your water usage and facilitate the growth of healthy roots. And even though it has sphagnum peat moss as an ingredient, they tried to water down its effects by adding perlite and humus (compost).
Pros
Ideal for outdoor and indoor use
Has Myco-tone blend
Promotes the growth of roots
Reduces water usage
Cons
Includes unsustainable sphagnum peat moss
---
6.

African Violet Potting Soil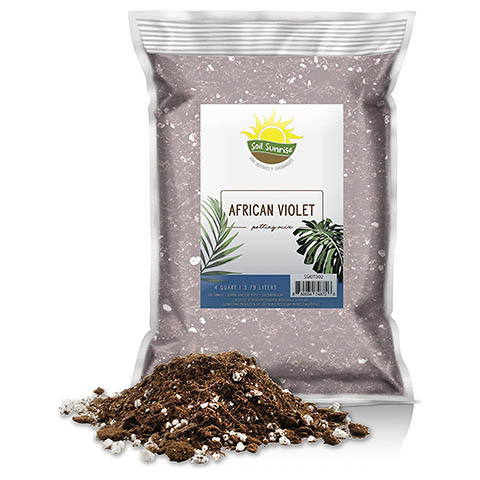 | | |
| --- | --- |
| Brand: | Soil Sunrise |
| Use: | Specific |
| Weight: | 2.11 lbs |
| Organic: | No |
The African violet is a plant variety that is just as challenging as orchids, seeing as they always require special treatment in order to grow. For this species to grow into a healthy plant, you'll need Soil Sunrise's African Violet Potting mix—this is a unique blend specifically designed for African violet lovers.
This potting soil variety drains well, thus providing sufficient aeration to the plant. It also prevents the roots from rotting by creating an environment that's not ideal for fungal growth. They felt it was wise to add worm castings, to ensure the growing plant doesn't starve at any particular point in time.
The product package comes in two sizes. You can either go for the large package or the smaller one. If you ask us, it's wise to go for the larger one, as it's more economical in the long run. Nevertheless, both packages contain lime, worm castings, perlite, and peat moss. It works well with any type of fertilizer.
Pros
Offers sufficient aeration
Ideal for African violets
Protects roots against rot
Comes in two sizes
Works well with all types of fertilizers
Has adequate nutrients
Cons
Only useful when planting African violets
---
7.

Miracle-Gro Moisture Control Potting Mix
| | |
| --- | --- |
| Brand: | Scotts |
| Use: | Multipurpose |
| Weight: | 3.72 lbs |
| Organic: | No |
If you're the type of person who always forgets to water their plants on time, or overwaters them sometimes, this is the product to go for. You seriously don't need a watering schedule or anything of the sort, as the Miracle-Gro Moisture Control Potting Mix will help you control the water content optimally.
Scotts is the brand behind this innovation, and they used coconut coir and sphagnum peat moss as the primary ingredients of production. The two work in tandem to control the moisture content in the soil, making sure the levels remain optimal for longer durations.
To top that off, it has enough nutrients to cater to all the needs of any plant variety for close to 6 months. That's a really long time, seeing as most potting mixes are only able to nurture seedlings for 3 to 4 months.
You can use this variant as indoor or outdoor potting soil, but we're obligated to remind you that it's not certified organic.
Pros
Optimally controls the water content
Ideal for both indoor and outdoor use
Supports plants for up to 6 months

Buyer's Guide: Things to Take Into Consideration Before Buying a Potting Mixture
You wouldn't think that something like potting soil would come in different varieties, but as you can see, there are plenty to choose from. In fact, our market is flooded with countless options, some of which aren't so good in terms of providing the best plant base. An experienced gardener will pay attention to two things: the difference between the organic and inorganic varieties, and the difference between their individual features.
Don't just settle for anything "organic" simply because you've heard that potting soils that are organically produced don't have pesticides or hazardous chemicals in them. Your organic mix might not be best suited for your plant or the conditions that you're growing them in.
To make your choice easier, we drafted this buyer's guide.
Moisture & Nutrient Retention
All plants need moisture and nutrients to grow. It doesn't matter if it's a desert variety or one that grows in mountains. And the plant will aptly respond to insufficient or limited nutrients by showing signs such as leaf yellowing or browning.
If it's not properly hydrated, the water pressure within its systems will be lower than usual, thus making the stem and leaves appear less sturdy. As time goes by, they'll eventually wilt.
It's important to check and double-check a potting soil's nutrient retention capability before making a purchase. And ascertaining this shouldn't be a problem, as all you have to do is to read the ingredients listed on the product's package.
Let's assume that you're going for an inorganic potting soil, which has sphagnum peat moss listed as the prime ingredient. Peat moss has an incredible moisture and nutrient retention ability, which means your soil will deliver an impressive performance on that front.
But if you're planting a desert variety, sphagnum peat moss might not be the ideal ingredient. A substance with a relatively high water-holding capacity might choke the plant.
Aeration
Of course, there are several reasons why plants need air, but the two primary reasons are breathing and photosynthesis—the process through which they make their food. Without it, they'll never be able to convert food into energy (through a process known as cellular respiration).
You have to check this aspect as well, as it's just as important as the soil's moisture and nutrient retention capability. The perfect potting soil will seem to have some light and fluffy mixes. That fluffiness is what facilitates airflow, subsequently ensuring that the plants get access to adequate oxygen.
Also, if you can, try to avoid potting soils that tend to get too dense when wet. You don't want to deal with sprouting molds or mildew on a weekly basis.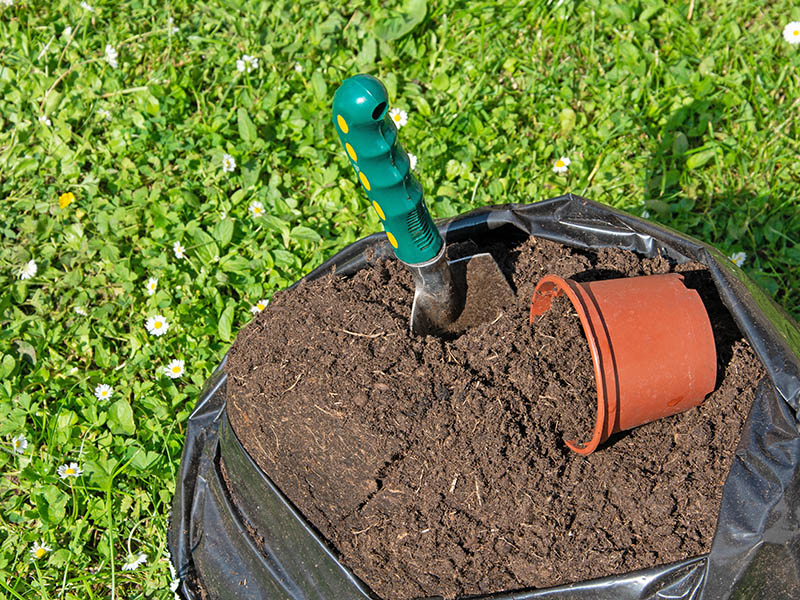 Bulk Density
The density of the potting soil is a factor that cannot be discounted, as it often influences a plant's root penetration. It will be difficult for any type of root to penetrate compacted or high bulk-density soil, thus forcing the plant to remain shallow-rooted. Eventually, the plant will start exhibiting signs of stunted growth, including reduced vegetative cover and crop yield.
Confirming whether or not your prospective potting soil is of the right density is easy. You just need to poke sections of it using your finger to find out if it's flexible. You should then ask the store attendant to give you a small sample so that you can test its compact nature in the presence of moisture.
If there's no sample available, just lift the bag to gauge how much it weighs. Heavier loads are a red flag, as it indicates that the package is full of fillers such as sand and mulch. Plants don't usually thrive in soils that are too sandy or mulchy.
Ingredients
All commercial potting soils usually have their ingredients listed on the package. Go through that list before making any purchase. All of those ingredients have pros and cons, and that's why these products are designed to cater to different consumer needs or wants.
You might not be ready or willing to make the same compromise as the next customer, after learning about the disadvantages of a particular ingredient. And that's okay. Just move on to the next product, and then the next one, until you find a mix that best suits you.
All you need to remember is, the more nutrients a soil has, the more it contributes to the growth process of our plants.

Frequently Asked Questions (FAQs)
How Do You Maintain Your Potting Soil?
First off, it's important to note that using a yard or garden's soil as potting soil is not advisable, as they normally contain harmful microorganisms, insect eggs, and even weed seeds. The most suitable option, in our opinion, is the commercial potting mixture.
As far as watering is concerned, you don't have to water your plants daily. Once or twice per week is okay, but make sure that you use enough water. A well-moistened potting soil is one that's moistened to a depth of 6 inches.
Don't add more water even if the surface quickly dries out. You'll only be saturating the soil, and that's detrimental to the plant's growth. Water usually fills the air spaces within the soil particles, making it difficult for the roots to extract sufficient oxygen.
Even if they somehow manage to get the air, that wet surrounding will expose them to fungi.
---
How Long Should Your Potting Mixture Stay Wet?
After watering, your potting soil should be wet for 2 to 4 hours. If it's still wet after that period elapses, you probably created a pool in there. Take the potting container outside for an hour or so, so that the sun's heat can help you deal with the excess water. Don't leave it out for too long, though. Bring it back in once it has that moist feel.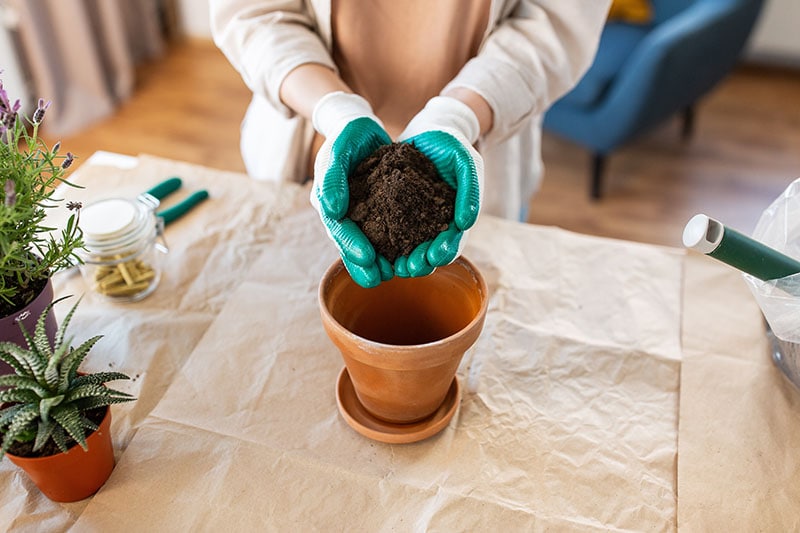 ---
How To Use Potting Soil
This part is really important to the newbies who've never tried container gardening before. Before putting any plant variety in a container, ensure you've strategically placed the container somewhere that the plant will feel comfortable. "Strategic" also means you won't feel the need to constantly move it around, for one reason or another. Frequent movements can be stressful and frustrating to both you and the plant.
Also, the containers that you're planning to use are supposed to have drainage holes. That's the only way that you'll be able to eliminate excess water—especially if you're using a potting mix made of sphagnum peat moss.
When you're ready, just pour some of your potting soil into the container, place the seedling, and then cover the roots with the remaining mixture.

Conclusion
We'd like to sign off by recapping our top three choices. Our favorite was the PittMoss Plentiful Organic Potting Mix. It had everything we needed and then some. The SuperMoss (23202) Orchid Potting Bark was the best product for the money, while the Minute Soil-Compressed Coco Coir Fiber Grow Medium made the list as the premium option.
All in all, we loved all seven mixes, and we would recommend them to anyone looking to pot their plants indoors or outdoors.
---
Featured Image Credit: TD Dolci, Shutterstock