10 Best Juicers for Leafy Greens in 2023 – Top Picks & Reviews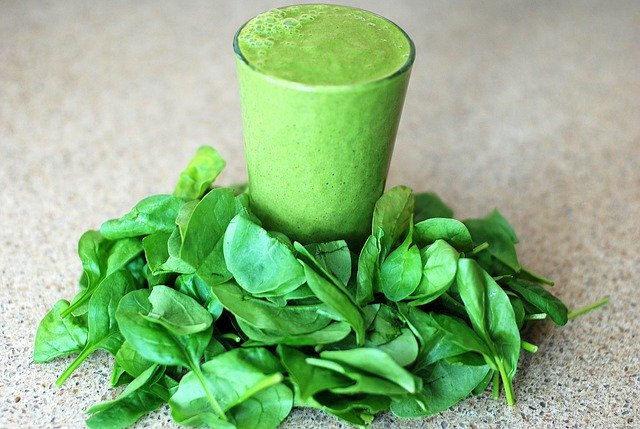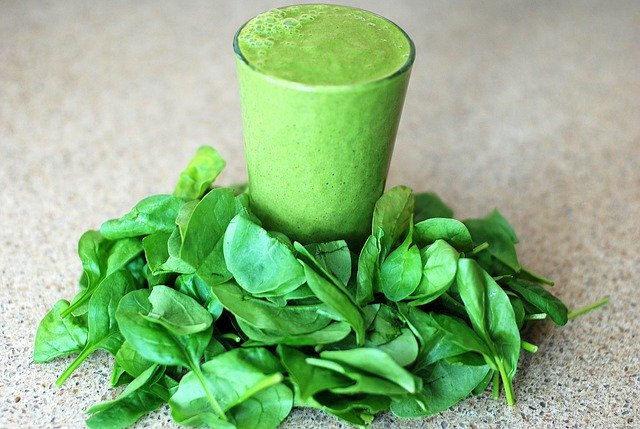 If you've dedicated yourself to getting more greens in your diet, incorporating green juice into your daily nutrition can help. If you're already a member of the juicing club, you probably enjoy having a glass of green juice every day. Out of a desire to save some money and create it at home, you likely tried this in your blender, only to end up frustrated at the result.
When choosing a juicer to add to your kitchen repertoire, you'll want a machine that will achieve the best outcome for optimal nutrition. Leafy greens can be challenging in juicers because they're fibrous and the strands can bind up the process. All juicers are not created equal, and tossing all those leafy greens in the blender might deliver an unexpected result.
If you're searching for the ideal machine for your household, we'll give you tips in our reviews of the 10 best juicers for leafy greens.
The Winners of 2023 Compared:
Rating
Image
Product
Details

Best Overall

Aicok AMR521

Quiet
Affordable
Easy to use
CHECK PRICE

Best Value

Mueller Austria

Easy to use
Wide feed chute
Economical price
CHECK PRICE

Premium Choice

Tribest GSE-5050

Versatility
Twin gears
Pulp ejection control
CHECK PRICE

Breville BJS600XL

Quiet
Safe-start system
10-year motor warranty
CHECK PRICE

Kuvings B6000P

Smart-drip cap
Wide feed chute
Sorbet attachment
CHECK PRICE
The 10 Best Juicers for Leafy Greens:
1.

Aicok AMR521 Leafy Greens Juicer – Best Overall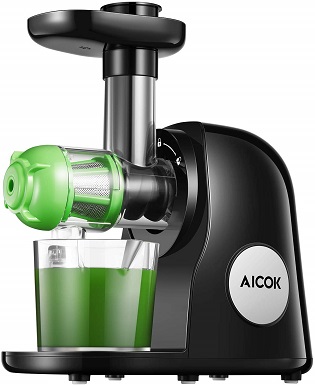 The Aicok AMR521 Juicer has slow grinding with 80 RPM to reduce heat and friction. This masticating juicer has a 150-watt motor and a seven-segment spiral system for minimal oxidation and maximum juice extraction. It has a function to separate out the juice, allowing it to extract the nutrients from the fruits and vegetables and leaving less pulp. It's easy to clean, and all the internal parts are BPA-free and dishwasher safe. This juicer is also a lightweight model. The noise level runs at less than 60 decibels for quieter operation.
One issue with this model is that replacement parts are unavailable. The brand does, however, offer a two-year warranty. While disassembly is a breeze, it will take some dexterity to reassemble.
With an affordable price, quiet operation, and ease of use, this is our overall choice for the best juicer for leafy greens for the money.
Pros
Affordable
Quiet
Easy to clean
Easy to use
BPA-free plastic
Two-year warranty
Cons
No replacement parts
Requires dexterity to disassemble
---
2.

Mueller Austria Juicer – Best Value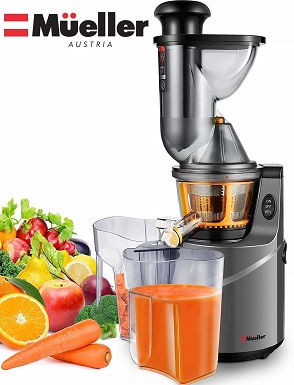 The Mueller Austria MU-UJ-1 Ultra Juicer spins at 60 RPM to allow for drier pulp. This masticating extractor has 150 power watts and a wider feed chute than many other models. The anti-drop design helps with easy cleanup and no messes on the counter. It's an easy-to-use machine with a quiet operation and a safety sensor that ensures the juicer won't operate until all parts are correctly in place. This brand offers a two-year, no-hassle warranty and will include two additional years if you register your product directly with the manufacturer.
This model is economically priced, but one downfall is cleaning difficulty. The pulp chute clogs and food can get caught under the basket, which takes extra time to clear while cleaning. If you're on a tight budget and a beginner juicer, this may be a good choice if you don't mind the extra cleaning time. This issue keeps our runner-up out of the top spot, however.
Considering the price, functionality, being manufactured in Germany, and being put through the paces of professional-grade inspections, this pick is our choice for best value.
Pros
Economical price
Two-year warranty
Wide feed chute
Easy to use
Cons
Clogging issue
Difficult to clean
---
3.

Tribest Greenstar Juicer – Premium Choice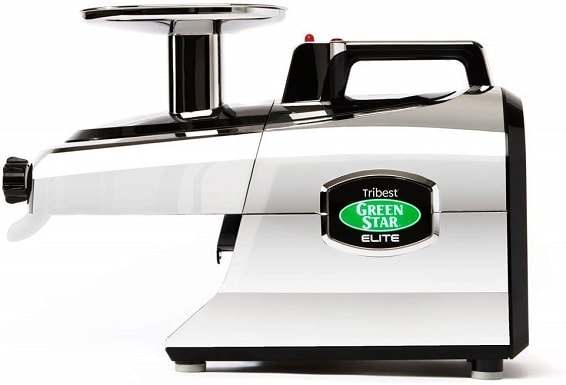 The Tribest GSE-5050 Greenstar Elite operates at 110 RPM and has a 200-watt motor. This masticating extractor also has stainless steel twin gears to tackle hard fruits and vegetables. This would be the best juicer for kale as it's a tougher leafy green. The two gears on this machine together create cutting points to tear through stringy produce to prevent clogging. This model includes four screens and a pressure adjustment mechanism to control pulp ejection. On a different note, it can accept attachments to extend its uses, like being able to make pasta. It's a powerful machine that can tackle almost anything you put in it, including nuts for nut butters.
While this is a powerful machine, it comes with a robust price tag. Users indicate that the cleaning process is lengthy. If you're a daily user, this can become annoying. Although it has a carrying handle, it's a nearly 20-pound model, and maneuverability may be a cumbersome task for some users. For the chrome model, proceed with caution, as the metal coating may begin to flake off over time.
This brand offers the most extended warranty of 12 years. For its heavy-duty functionality and price, this is our premium choice.
Pros
Twin gears
Multiple screens
Pulp ejection control
Versatility
12-year warranty
---
4.

Breville Masticating Slow Juicer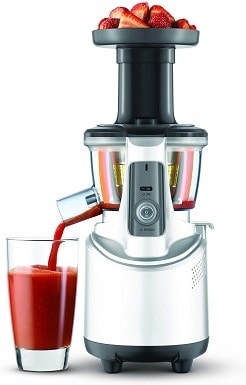 The Breville BJS600XL Fountain Crush operates with 80 RPM and a 240-watt motor. This masticating juicer operates quietly, and its design is specifically for soft fruits and vegetables. It offers direction control, so you can dislodge fruits and vegetables from the juicing screw, and is equipped with a safe-start system to ensure that all parts are locked in place before use. If the load is too high, the overload protection system will turn the machine off. It has a reverse speed to clear jams and assist with cleaning. This brand offers a one-year limited warranty on parts and a 10-year motor warranty.
Users note that it works perfectly for leafy greens, but if you're looking for versatility with hard produce, this isn't the machine for you. This juicer would not be the best juicer for kale, and is an expensive purchase, and the lack of functionality for the price is the downfall. The cleaning process can be lengthy as well.
If you only juice soft produce and have the budget, this choice may be a consideration. If you want more versatility, keep looking.
Pros
Quiet
Safe-start system
One-year limited parts warranty
10-year motor warranty
Cons
Expensive
Soft produce only
Lengthy cleaning process
---
5.

Kuvings B6000P Leafy Greens Juicer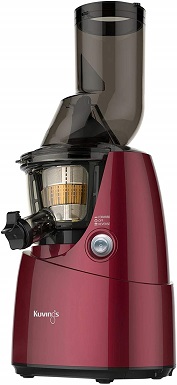 The Kuvings B6000P Whole Slow Juicer operates at 60 RPM and has a 240-watt motor. This model is equipped with a high torque and a quiet operation. It has a three-inch feed chute that accommodates whole fruits and vegetables. The drip-free smart cap allows you to make mixed juices and allows for easy cleaning when detached. A sorbet maker attachment is available, and the machine has a blank strainer so you can make frozen treats. All interior components are BPA-free and dishwasher safe.
While this product is manufactured to take in whole produce, users comment that clogging is an issue, and the internal plastic parts don't hold up well to daily use. It does come with a 10-year limited warranty, but customer service is not responsive. Unfortunately, this juicer is quite expensive.
If you like making nut milks or sorbet, this option would be the right choice. If you're budget-conscious, this may not be for you.
Pros
Wide feed chute
Quiet
Smart-drip cap
Sorbet attachment available
10-year limited warranty
Cons
Expensive
Clogs easily
Flimsy plastic parts
---
6.

Cuisinart CJE-1000 Juicer Extractor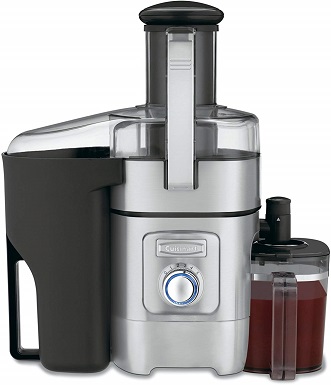 The Cuisinart CJE-1000 Juice Extractor is a centrifugal juicer that has a monster motor with 1,000 watts of power. It has a wide feeding chute to accommodate whole produce, an LED-lit control panel, five-speed settings, stainless-steel housing, and an adjustable flow spout. With quiet operation, it will easily juice hard or soft fruits and vegetables and is easy to clean. It also has a foam reducer if you prefer a thicker consistency. This brand provides a three-year limited warranty.
With all the power in 1,000 watts, this is not a cold-pressed juicer. The pulp isn't dry and still has moisture. You can use it to juice leafy greens, but you won't get the maximum amount of juice possible unless you feed it through multiple times. This machine works best extracting from hard produce.
This extractor is reasonably priced, especially for the amount of power it packs. Unfortunately, it's only average with leafy greens, albeit working well with carrots and the like.
Pros
1,000 power watts
Wide feed chute
Easy to clean
Quiet
Three-year warranty
Cons
Moist pulp
Difficult to clean
Flimsy internal plastic
Little juice with soft produce
---
7.

Bagotte Fruit & Vegetable Juicer
The Bagotte DB-001 Juicer is a centrifugal model with 400 power watts. It operates with minimal noise and a dual-speed electric motor. It has a wide feed chute and a safety locking arm to ensure a secure cover during operation. Another safety precaution is when the temperature exceeds 105 degrees Fahrenheit, the motor will automatically stop. This juicer can accept whole produce on the smaller side, so you may have to cut up larger items. It includes a low speed for soft produce and a high speed for hard produce.
While working well with hard produce, the juice extracted from soft produce is not maximized, leaving a great deal of moisture in the pulp. This juicer would be one of the best juicers for kale on our list. The user's manual indicates that after six minutes of continual use, the unit should sit for 60 minutes to cool down, making this inconvenient for most users. However, this is a cheaply priced model.
If you have a limited amount of time, this may not be an ideal choice for you.
Pros
Bargain price
Quiet
Easy to use
Cons
Minimal juice with soft produce
Inconvenient use and cool times
Flimsy internal parts
No warranty offered
---
8.

Aobosi Juicer Machine
The Aobosi AMR520 Juicer operates at 80 RPM with a no-heat build-up and a motor of 150 power watts. This model is a masticating juicer that separates the juice from the pulp, works well with leafy greens, and has a narrow feed chute for safety. All produce must be seeded and peeled to prevent clogging. It has a reverse speed to assist if jams occur. This juicer is an all-plastic construction model, but the removable components are dishwasher safe.
Some users note that produce needs to be cut into tiny pieces to juice expertly and not crack the plastic feed chute. This makes the process inconveniently time-consuming. It is unknown if the plastic used in the construction of the model is BPA-free. If you need a model that's easy and quick to use or the plastic makeup is a concern, this isn't the juicer for you.
This juicer is reasonably priced and comes with a one-year warranty. For Amazon customers, a one-month free trial is an option. However, it has questionable durability that keeps it further down our list.
Pros
Affordable
Reverse speed
Dishwasher-safe parts
Cons
Time-consuming effort
Flimsy plastic parts
Low durability
---
9.

Jocuu Juicer Machines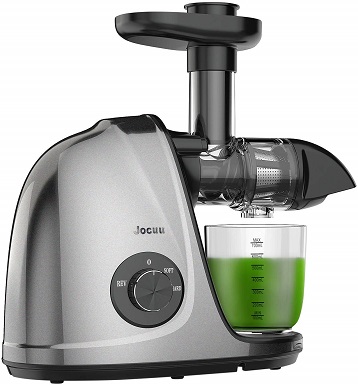 The Jocuu Machines217 Juicer is a slow-masticating extractor with three speeds for hard produce, soft produce, a reverse speed to help with clogs, and a 150-watt motor. The slow speed operates at 60 RPM, and the fast speed runs at 80 RPM. It has a one-button disassembly, and all removable parts are dishwasher safe.
While this model is easy to use and to clean, users report that much pulp gets through the filter screen. It's also necessary to cut produce into small pieces before feeding into the chute. A slight annoyance is that the wide juice canister doesn't have a handle, making it less convenient.
This machine comes with an affordable price and a two-year warranty. If you're looking for a basic, low-wattage juicer, this may be a decent choice for you.
Pros
Affordable
Easy to use
Two-year warranty
Cons
Inefficient pulp filter
No canister handle
Low wattage motor
Small feed chute
---
10.

Oneisall Juice Extractor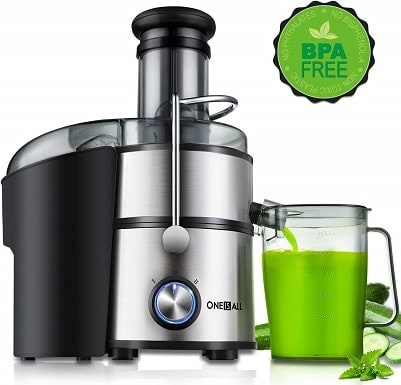 The Oneisall Juicer is a centrifugal extractor with a fancy European mesh pulp filter, two speeds for soft or hard produce, and an LED display. There are two models available, with either a 400-watt or 800-watt motor. It has an extra-wide feed chute for whole fruits and vegetables and an anti-drip spout so juice doesn't leak on your counter. The 800-watt motor allows you to juice 25 ounces in six seconds with little foam. The internal parts are BPA-free plastic and dishwasher safe.
This extractor has a bargain price, but there are a few pitfalls. Users note that it's rather loud and difficult to clean and that a good bit of pulp gets through the mesh filter. Leafy greens tend to clog the system, and there's no reverse speed to assist.
If the bargain price is most important when selecting your juicer, this may be for you. If you want to juice leafy greens without clogging issues, you may want to go back to the top of this list.
Pros
Bargain price
Extra-wide feed chute
Cons
Loud
Difficult to clean
Pulp in juice
Leafy greens clog
No reverse speed
---
Buyer's Guide: Finding the Best Juicer for Leafy Greens
In our reviews, we list three types of juicers: masticating, masticating twin gear, and centrifugal. If you noticed the types listed and aren't sure what they all mean, we go over these terms one by one.
Masticating
A masticating extractor has an auger that grinds food and squishes out the juice at a slow speed. It doesn't spin, so it produces little heat. It's often referred to as a cold-press or slow-press juicer. These juicers tend to work well with any produce, squeeze out more juice, and be quieter than centrifugal but are more expensive. Unless otherwise indicated, most masticating juicers are single gear.
Masticating Twin Gear
A twin-gear model has two gears with teeth that rotate at a low speed to crush produce into small particles. The versatility of a twin-gear machine allows it to take on any produce, coffee beans, or nuts, as well as used to make sorbet. Another term often used for twin gear is triturating.
Centrifugal
This type of extractor has a flat cutting blade that shreds contents and is flung about at high speed to separate the pulp from the juice. This type of machine is the fastest, works best with hard produce, and typically has a wide food chute. Centrifugal juicers are louder than masticating juicers, and the high speeds produce a great amount of heat. In the juicing world, this is not a good thing. The theory is that heat reduces the amount of nutrients and enzymes, as well as killing the fresh taste. That's a difference of opinion among juicers, so you'll need to decide for yourself.
When it comes to purchasing a juicer specifically for leafy greens, there are a few things to consider, such as juicer type, use frequency, cleaning, and cost.
Juicer Type
Given the three different types of juicers (masticating, centrifugal, and twin gear), you'll need to decide which you prefer for leafy greens. Originally, juicers were designed to juice fruits and vegetables. When leafy greens jumped on the bandwagon, juicers didn't handle the stringy leaves as well. There are many thought processes out there about why one is better than the other. We encourage you to dive further into that research to decide which side of the fence you stand on and go from there.
Use Frequency
There's quite a difference between juicing once a day or six times a day. You'll want a machine that can hold up to the strain and is easy to use. Also, keep in mind that masticating juicers involve a much slower process than a centrifugal juicer. If you have a multi-user household, the amount of time needed to juice will take longer than for a single user.
Cleaning
"We love to spend time cleaning up in the kitchen," said no one ever. You want a machine that cleans easily.
Cost
You'll have to weigh your needs with your budget. Once you determine this, it will be easier to narrow down your choices. There is a wide range of price points from expensive to bargain. You'll want a good value for the money.
Size
Don't forget to check the dimensions of the product. You don't want your juicer to be too big for your kitchen counter or storage cabinet. Also, check the size of the chute. Smaller chute translates to more prep time to cut your leafy greens. To get the best value for money, see the product demonstration videos for the juicers you plan to buy.
---
Conclusion:
Juice has become more popular and with good reason: There are many health benefits to juicing. We hope our reviews have helped you find a few ideal possibilities. Our best overall choice is Aicok AMR521 Juicer Machine, a masticating juicer that's affordably priced and easy to clean. Our runner-up and best value choice is the Mueller Austria MU-UJ-1 Ultra Juicer Machine, another masticating juicer option that is economically priced and has a wider feed chute than similar models. If the price is not an obstacle, our premium choice is the Tribest GSE-5050 Greenstar Elite masticating juicer, with twin gears and heavy-duty functionality.
We wish you all the best on this green journey to better health!
Related buying guides: