7 Best Whole House Generators of 2023 — Reviews and Top Picks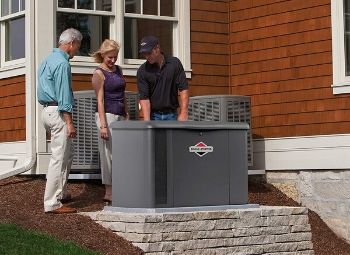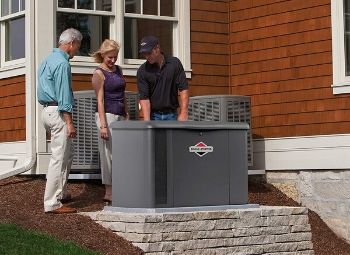 It can happen so quickly — one strike of lightning or one freak accident could leave you without power, affecting your work, your groceries, and most importantly, your comfort. Therefore, we would like to introduce you to the wide world of whole-home generators. The options vary quite drastically, but the result is the same: your peace of mind. This is an important purchase and not a small one, so make sure to do your research. To make that easier, we prepared a list of reviews of the best whole house generators.

A Comparison of our Favorites in 2023:
Rating
Image
Product
Details

Best Overall

Champion Power Equipment 100294

Ats200 auto switch
Can be started in extreme cold and heat
10-year warranty
CHECK PRICE

Best Value

Westinghouse WGen9500DF

Auto shut-off for motor
5-hour life
Twin fuel tanks
CHECK PRICE

Premium Choice

Generac 7043

Quickly turns on
Three layers of RhinoCoat aluminum
Monitor your generator
CHECK PRICE

Kohler 20RESCL-100LC16

100% corrosion free
2000-hour warranty
10-second response time
CHECK PRICE

DuroMax XP12000EH

Portable
EPA and CARB certified
Nicknamed "The Beast"
CHECK PRICE
The 7 Best Whole-House Generators:
1.

Champion Power Equipment Home Standby Generator – Best Overall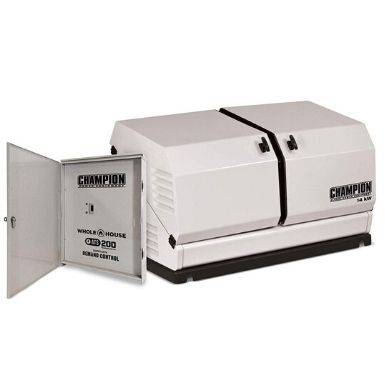 During a power outage, we all hope that the power returns as soon as possible, but if you are stuck in the worst case scenario, Champion Power Equipment can help. With the 100294 Home Standby Generator, our pick for the best whole house generator, you can choose up to eight appliances that are crucial to everyday life in your household, and this generator will make sure that there is enough power to keep them running.
This generator runs off of a propane gas line so you never have to run out to refill it, but if you don't have a propane gas line at your house, you'll have to install one. The startup mechanism is a 24V starter and can be started in temperatures from -22 to 104 degrees without any preheating needed. It does all this while advertising itself as the quietest generator in the business at 63 dBs. Considering this needs to be set up outside of your house, that's pretty good — even the neighbors won't be able to hear it! The Ats200 whole house transfer system means you won't have to fuss with your generator when the power does go out, as it will seamlessly transition to your backup generator without missing a beat. To make sure nothing goes wrong, this home generator runs self diagnostics once a week to ensure that it is running at its highest level. Talk about comfort.
Even more comforting is that it comes with a 10-year warranty and lifetime technical support from a wonderful customer service team. We stand by this as the best standby generator out there.
Pros
Ats200 auto switch
Can choose up to eight appliances as priority
Can be started in extreme cold and heat
10-year warranty
Cons
Kind of noisy (but still quiet for a generator)
---
2.

Westinghouse Dual Fuel Generator – Best Value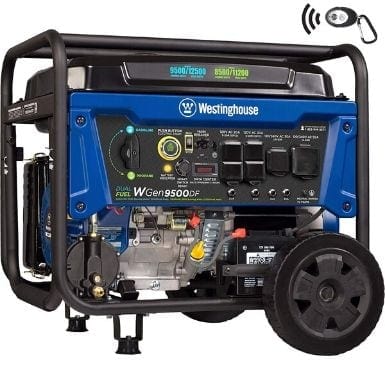 When it comes to quality and options in generators, there are certain things that add levels of comfort that cannot be ignored. For instance, this generator from Westinghouse is fantastic but not quite as user friendly as our top pick for best whole house generator. But this is still a great model for half the price of our top pick.
The two biggest discrepancies are that it does not attach to a fuel line, meaning that you will have to refuel it regularly, which in turn, means that you might run out of power from your generator during a power outage. The other discrepancy is that it does not automatically turn on in the event of a power outage. For some people, that might be a deal breaker.
On a positive note, you can switch between which types of fuel you prefer. Even better, if you run out of one, your generator will automatically switch to the other, without missing a beat. The starter itself is primed and ready to go, as evidenced by the easy-start fob that this product comes with. One started, you can expect 17.5 hours of life between refuelings. You won't have to worry about the motor burning out because this item comes with an auto shut-off. If something were to go wrong with your generator, it comes with a three-year warranty and lifetime technical support.
While this unit can't continuously run like our top pick and you lack the security of knowing that your power will never go out, you do have a good machine that will keep you comfortable for quite a while, and all it takes to get it going again is filling it back up. As such, this is the best whole house generator for the money.
Pros
Auto shut-off for motor
5-hour life
Twin fuel tanks
Three-year warranty
Remote start
Cons
No auto transfer
Not continuous
---
3.

Generac Home Standby Generator – Premium Choice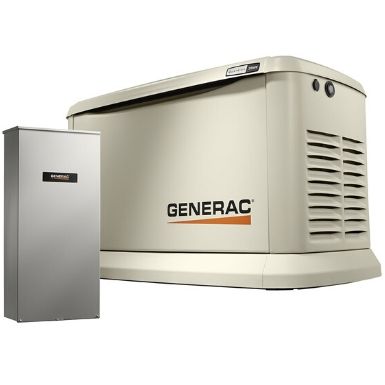 Widely known in the world of generators, General has built quite the reputation and expands on it with the Generac Guardian series. With this product line, they boast the best value per kilowatt on the market. Meant to be a self-sustained product, you can hook this up to your pre-existing gas pump, eliminating the need to refuel. The generator will be able to sense power loss and within seconds of recognizing the power failure, kick on. This is done with what is called a NEMA 3 whole house transfer switch.
The engine was built specifically to withstand the rigors of being called to task if something catastrophic were to happen, and requires less maintenance than an average generator. While Generac generators have been all weather resilient in the past, these new models are built with even more toughness in mind, with three layers of aluminum between the outside world and the precious motor. Each layer is also coated with the patented RhinoCoat, mitigating any corrosion that might have occurred.
This product self tests and is self-aware when doing so, which means that this generator will stay quiet when it is checking on itself. Also, are you curious about how it's doing while you're out of the house? You can now check in on your generator to make sure it is running smoothly, either by smartphone, tablet or PC.
This product is everything that it claims to be and even comes with a five-year warranty and technical support should anything happen. That being said, we strongly advise that you hire a professional to set this up for you. We understand that the initial investment is already a lot, but once you've spent that much, you might as well pay extra to know that you are getting it set up properly. If you set it up wrong, it might not work when you need it to, or even worse, you could damage the product for life. All in all, we find this to be the best premium home backup generator.
Pros
Quickly turns on
Three layers of RhinoCoat aluminum
Monitor your generator on smartphone, tablet, or PC
Cons
Should be set up by a professional
---
4.

Kohler Standby Generator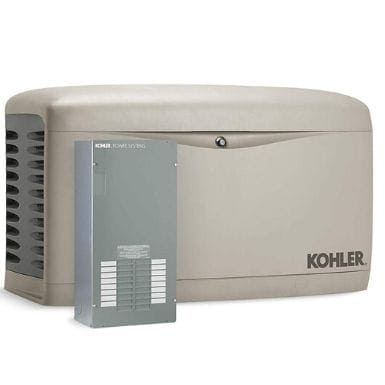 Selling itself on reliability, Koehler has done a wonderful job of being true to their word. When they say that they will keep your house powered no matter what, they mean it. These generators are used at hospitals and stadiums and airports around the world, so our guess is that they can probably do a good job at your home. What makes them so good and reliable?
Let's get into the specs. First off, the response time is impressive. It isn't the fastest but it's not slow. At 10 seconds, you will probably barely notice the power going out. With +/- 1% voltage regulation, this generator won't overpower or burn out any important items around the house. Made with 100% corrosion-free metal, these models from Kohler are built to last and then keep on going. If anything were to happen to your unit, it is backed by a five-year warranty, or 2,000 hours of use, whichever comes first.
While these units are amazing and the reputation is well earned, user reports show a support staff that can be less than attentive. It appears that Kohler support staff will not honor warranties or extend the support staff to customers who did not buy directly from Kohler.
Pros
Known and reliable
100% corrosion free
Five-year or 2,000-hour warranty
10-second response time
We reviewed the top: Generators for Tailgating
---
5.

DuroMax Dual Fuel Portable Generator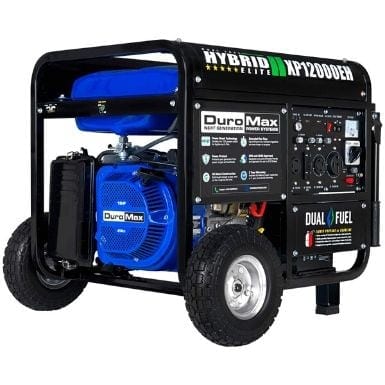 The DuroMax XP may be further down our list, but it still works amazingly well and has perks that the luxury models don't have. Most notably, it is 600 pounds and has wheels. While it has the power to back up your whole home, you can also take it on camping trips or to job sites for that extra bit of power. Something that can power a whole home can probably do a pretty good job with a campsite — there's a reason it's nicknamed "The Beast."
Able to run on natural fuel or propane (we recommend propane, as it runs cleaner and is less expensive), the DuraMax is easy to start with either a keyed-in ignition or a recoil starter. The difference between the DuroMax and something like the Generac is that the power transfer isn't instant, but you can still expect similar results. Of course, you'll have to refuel it and it won't run continuously like a few of the pricier models, but it absolutely does its job. Did we mention that it is EPA and CARB certified?
The DuroMax isn't without its issues, but they are few and far between. Compared to the other generators on this list, there have been durability concerns, however, and sometimes the unit shows up with missing parts. If any of this affects you, the product does come with a three-year warranty and helpful support staff.
Cons
Sometimes delivered damaged or incomplete
---
6.

Generac Gas Powered Portable Generator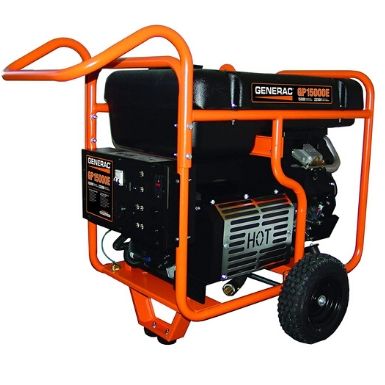 We've seen how Generac stacks up in the luxury world of generators, and now we have their portable offering. While capable of powering your whole home, this unit is definitely an emergency item and might be better for camping and job sites. Able to run off natural gas, you can get up to 10 hours of battery life from this generator. It comes with an electric start and might have trouble starting in more extreme environments. Setup is not the easiest thing in the world, but you should be able to get this up and running by yourself. We generally recommend calling a professional, but we also like saving money!
We've heard reports of this unit showing up DOA. These reports are uncommon, but still worth mentioning. We've also heard of struggles attempting to honor the warranty that you can purchase separate from the unit.
Pros
"Portable"
Can technically power your whole home
Great for job sites
Cons
Delivered models don't always work
Warranty issues
---
7.

Briggs & Stratton Home Standby Generator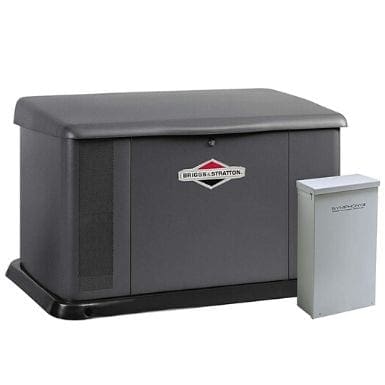 This generator from Briggs and Stratton is another luxury generator designed to keep your house going during power outages. It does so and it does it well. This unit has a good response time and hooks up to a gas line for continuous use during emergencies.
So, why is it number 7 on our list? Because once a week, it runs a self-test that goes on for 30 minutes, and it's incredibly loud. This product does come with a five-year warranty, though.
Pros
Good trigger time
Continuous function
---
Buyers Guide – Finding the Best Whole House Generator
Buying a whole home generator is one of the more important and large investments you can make to your home, so along with consulting these reviews, you'll want to contact a professional as well. Many people opt not to have generators for various reasons, but if you have decided to get one, there are a few things you should think about before buying.
How prepared do you want to be?
If you want to mitigate some of the financial damage that comes with buying a generator for your home, you can buy a portable model, which will save you thousands of dollars between the product itself and installation. With these models, you will have to start them yourself once your power goes out and keep an eye on how much fuel they have left. Certain models don't start up great in extreme conditions, so be sure to look at their temperature thresholds. These will also mean smaller but continuous costs down the line, such as fuel and maintenance.
On the other end, you can have a system that will keep you fully prepared at all times if your power was to go out. These high-end generators come with transfer mechanisms that allow your house to switch over to them within seconds of detecting electrical trouble. These will also be hooked up to fuel lines at your house, meaning you will never have to refill them. Many higher-end generators, including the ones in these reviews, do self-diagnostics to keep themselves running perfectly. If serious issues were to arise with your generator, it would need to be dealt with by a professional, but high-grade generators leave you with the comfort of knowing that you'll always be with power.
How prepared do you need to be?
This is a great question to ask yourself before making a purchase of this size. If you live in an area with weather that is, for the most part, copacetic, then you probably don't need to bother with a high-end model. As generators are just an insurance policy in case something goes wrong, you can ask yourself how likely that is.
Check the warranty.
The best insurance policy for your insurance policy is a good warranty, and with whole-home generators being so expensive, you will be hard-pressed to find one that doesn't have a decent one. Look into the fine print, though! Certain companies only honor warranties that are bought directly through them. Other things to ask about when inquiring about a warranty is how the service is handled. There are a few ways companies might try to get a bit extra money out of you or hassle you in a way that seems not worth your time. One tactic we've heard reported is that if your generator has wheels and is classified as portable, you will have to take it to the manufacturer yourself to have it worked on unless you want to incur fees. Considering that the "portable" generators on the market can range from 300-400 pounds, it's not easy just popping them in the trunk and driving them down to the store.

Conclusion
There are two distinct classes of whole-home generators. While we absolutely recommend something along the lines of our pick for the best whole house generator overall made by Champion Power Equipment, we understand that the price point on that can be prohibitive. That is why we included value picks, such as the generator made by the industry giant Westinghouse. On one hand, you'll never have to worry about a power outage because of the automatic transfer, but on the other hand, you'll feel safe knowing that if your power goes out, you are just a few easy steps to having your house back up and running.
While the decision of what to buy may not be easy, having peace of mind should be. We hope that these reviews have been helpful in the critical search for a generator to back up your whole home. Feel free to come back to them again and again while making your decision. We'll leave the lights on.