10 Best Budget Portable Generators of 2023 – Reviews & Top Picks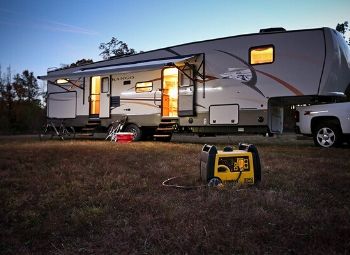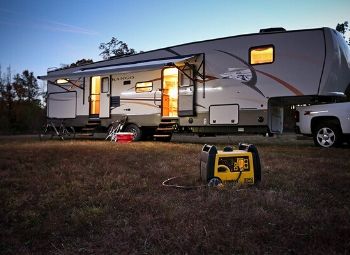 Portable generators can be a great resource to have on hand. But with the many variables that go into this product, it can be hard to find the right one. That is why we've made a point of testing dozens of generators.
The 10 units featured on our list today all perform very well. Some are meant for high-end buyers, while others favor those with more modest budgets. In any case, something in this guide will be right for you. As we go through our portable generator reviews the hope is that deciding on the right product will be a cinch.
---
A Comparison of our Favorite Choices in 2023:
Rating
Image
Product
Details

Best Overall

Champion 75531i

Ultra-quiet
Intuitive interface
Economy mode
CHECK PRICE

Best Value

Jackery Portable Station Generator

Affordable
Many different input slots
Low profile build
CHECK PRICE

Aeiusny Solar Portable Generator

Affordable
Easy to transport
Can be charged by the sun
CHECK PRICE

WEN 56125i Inverter

Easy to transport
Sizable tank
Great for smaller electronics
CHECK PRICE

Rockpals 250-Watt Portable Generator

Three ways to charge
Extremely lightweight
Very budget-friendly
CHECK PRICE
The 10 Best Cheap Portable Generators:
1.

Champion 75531i Portable Generator – Best Overall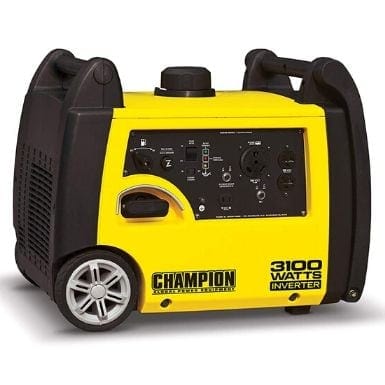 Our top choice is the Champion 75531i. This product stands out for several reasons, not the least of which is its quiet operations and impressive power. The product is designed to be ultra-quiet. Meanwhile, 3,100 watts of power will be at your disposal for periods of eight hours at a time, thanks to the large tank size.
We are also partial to the intuitive interface and the SmartEconomy mode. Through this specialty mode, you can use less fuel by operating the generator at a limited amount of power. This will be great for situations where you need to run lights, but not larger appliances.
The only reason not to choose this generator is because you can't afford it. This is a pricier generator that budget buyers probably won't be able to swing.
Pros
Ultra-quiet
Intuitive interface
Economy mode
---
2.

Jackery Portable Station Generator – Best Value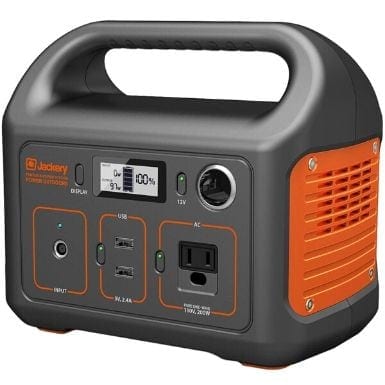 The Jackery is the best budget generator for the money. This unit is a little bit simpler than the last we looked at, but at a fraction of the price, many buyers won't mind. It does still come with several of the important features that buyers value.
The motor operates quietly, while the low-profile build makes it especially easy to transport. It is, however, worth keeping in mind that this is not a fuel-operated generator. It's electric, which means it operates much the same way that a large battery would.
There are various input slots that allow you to charge various pieces of camping equipment. This includes everything from flashlights and lamps, to cell phones, laptops, and even drones.
You won't be able to perform the more important tasks of a generator with this unit. It certainly does not have the juice to fuel an air conditioner or heater. However, if your power needs are limited, it is a great option to consider.
Pros
Affordable
Many different input slots
Low profile build
Cons
Very limited in what it can do
---
3.

Aeiusny Solar Portable Generator
The Aeiusny is similar to the last unit that we looked at in that it is entirely electric. You can charge it from your wall, in your car, or even with the power of the sun! Consequently, the strengths and weaknesses are also very similar to those of the Jackery.
This is a lightweight generator that features many different outlets. You can charge mini-refrigerators, various types of lights, drones, laptops, and phones. It advertises that it has enough power for ten hours of use, but this will depend on what you are powering.
Unfortunately, some users to report a degenerating performance over time. Though it starts out working very well, the battery life of the generator itself seems to go down considerably after the first ear of use.
Pros
Affordable
Easy to transport
Can be charged by the sun
Cons
Battery life diminishes over time
Can't be used for larger appliances
---
4.

WEN 56125i Portable Inverter Generator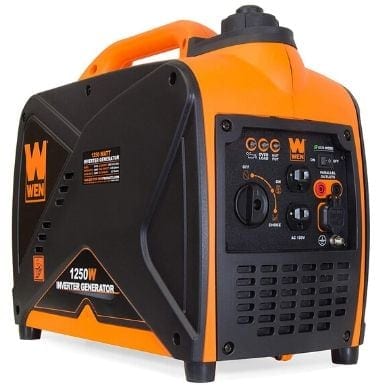 The Wen is an almost completely silent generator that is great for use on a campground. This is a gas-powered generator, but it is also much smaller than most other similar products of this nature. It features a bodyweight of just 30 pounds and it can be carried easily with one hand.
The tank holds 0.7 gallons of fuel, which means it can run for roughly seven hours at a time (though again this depends on what you are powering).
The Wen produces 1,250 watts of power which means it will be well suited for smaller electronics but not so good for larger appliances.
This is a fairly pricey piece of equipment, especially when you bear in mind its small size, but if you have the budget it is worth the money.
Cons
Pricey (especially given size)
---
5.

Rockpals 250-Watt Portable Generator
The Rockplas is a lightweight 250-watt generator that can power lamps, phones, computers, and televisions, but not much else. It can be charged a number of ways, including via a solar panel, a car charger, and a solar panel.
It also has the benefit of being very affordable. This is one of the most budget-friendly options on our list making it good for people trying to keep the cost down.
However, you do need to remember that it won't work with anything that uses more than 250 watts of electricity. That's a pretty long list, so check the specs of your electronics to see how good of a fit this one is for you.
Pros
Three ways to charge
Extremely lightweight
Very budget-friendly
Cons
Very limited in how it can be used
---
6.

ENKEEO S155 Portable Solar Generator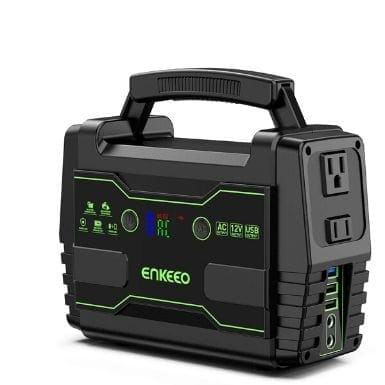 The Enkeeo is a large capacity solar generator with seven different input slots. It's lightweight at only seven pounds and features an ergonomic handle that makes it easy to transport. It can be used for lamps, laptops, televisions, and even mini-refrigerators, but it won't be good for use beyond that.
Unfortunately, the battery life on this unit is very limited, and some users report that it dies unexpectedly after only brief use.
That said, you may well be able to forgive that consideration when you factor for the price. This is also one of the most affordable options on our list making it great for people on a budget.
Pros
Very affordable
Lightweight
Numerous output slots
---
7.

NEXPOW Portable Power Generator
The Nexpow features an LCD outlet for ease of use. The intuitive interface makes it really easy to get the performance you need. It also comes outfitted with a number of different outlets perfect for dual prong, USB, and various other types of cords and cables that power common electronic devices.
The generator can be charged through a car outlet, a wall outlet, or through a solar panel (which is sold separately). In any case, it tends to take roughly seven hours to charge to completion.
Unfortunately, however, the generator is not very efficient. It takes a lot of energy just to charge something simple like a phone which means you may be recharging the unit itself more often than you are prepared for.
Pros
Easy to use
Lots of built-in outlets
Affordable
---
8.

Poweradd CL-002-H Portable Generator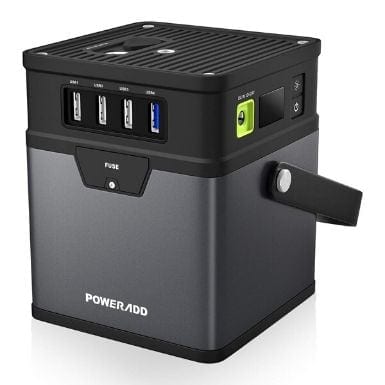 The Poweradd features an extremely light 2.8-pound body weight that makes it great for taking to campsites, or on hunting trips.
It features twelve different power slots that equip it to handle fans, lamps, phones, and laptops. The generator advertises that it has enough juice to charge your phone to completion 16 times (though this will depend largely on the type of phone you have).
We have, however, heard from several users that claim this product blows fuses in their home. Needless to say, there are many variables that contribute to a problem of this nature. However, it is worth keeping in mind, especially if you already experience issues with your home electricity.
Pros
12 power slots
8-pound bodyweight
Very portable
Cons
Some users report blown fuses
---
9.

PRYMAX Portable Station Solar Generator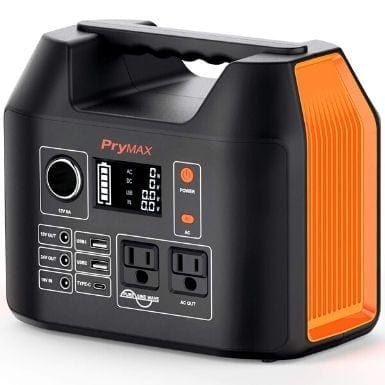 The Prymax is a lithium-powered solar generator similar to many of the other units we saw on this list. It is extremely portable and features various different ports for a wide variety of electronics.
However, there were somethings that we think you might take issue with. For one thing, besides being essentially indistinguishable from the other picks on our list, it is almost twice the cost of most of the other electric generators.
However, despite being pricier than these other tools, it does not outperform them. The quality of the battery diminishes over time, it is limited in what it can charge, and we have even seen some users report that their battery overheats.
Pros
Standard electric generator features
Cons
Very pricey
Battery quality unreliable
Battery may overheat
---
10.

ALTIZURE Portable Power Generator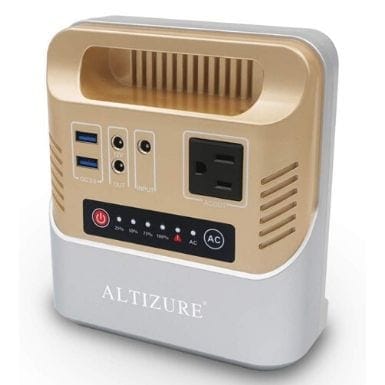 Last, the Altizure. We close out the list with yet another electric style charging station, outfitted with a number of different output slots so that it can work with all the standard electronics. Unfortunately, though, it does have some cons that put it towards the bottom of our list.
This is an expensive battery that unfortunately does not run very efficiently. It takes a lot of juice to charge a phone or laptop, and the overall quality of the battery itself tends to lessen over time.
The product is not a complete wash, but for the amount of money you spend here, you can definitely get something more reliable.
Pros
Common electric generator features
Cons
Pricey
Not very efficient
Battery quality diminishes over time
---
Buyer's Guide – Choosing the Best Budget Portable Generator
And now, here are some handy buying considerations that will help you make the most out of this purchase!
Tank Size
The importance of tank size is actually somewhat debatable. It is true that bigger tanks allow you to run your generator for longer periods of time consecutively. However, getting an exhausted generator up and running again is as quick and simple as loading the tank up with fresh fuel—something that takes only a matter minutes to achieve.
That being the case, is it really worthwhile to pay more money for a bigger tank? It ultimately depends on the situation. For example, if you are using your generator to power an air conditioner overnight, it will be worthwhile to have something that can run for the entire 8-9 hours that you are sleeping.
On the other hand, if you're just trying to power some lights on a campsite, it's probably going to be more economical to get something a little bit smaller.
When it comes to tank size, it's a question of whether or not your need justifies the cost.
Ease of Use
Generators aren't always hard to use, but they can get a little bit technical. A quick look at the interface of a standard generator will reveal many terms you might not be acquainted with, such as AC/DC, wattage, voltage, etc.
However, you don't have to be an electrician to make good use of a generator, and some units are more easily formatted for the layperson. Modern products might even feature an LCD display that makes navigating the equipment more intuitive.
It is still worth your time to develop a modest familiarity with the terminology. However, the easier a generator is to use, the better of you will be.
Electric vs. Gas
When we think generator we are usually imaging gasoline products. Indeed, heavy-duty options will be pretty much exclusively gas-powered because they are able to generate enough energy to power git stuff like air conditioners.
However, a survey of our list reveals many electric-powered generators as well. Electric generators are more like oversized batteries than they are anything else. They can be charged via wall outlets (or in certain situations, even by the sun) and they feature various input slots that are perfect for common electronics.
Electronic generators are not nearly as reliable as gas-powered units because they are limited in the energy they can generate, and they deteriorate in quality over time the same way that the battery in your phone does.
However, they tend to be substantially more affordable, and also very lightweight. A portable gasoline generator might be considered svelte at thirty pounds, whereas an electric unit can easily keep things in the five-pound range.
Display
Ease of use is also an important thing to bear in mind.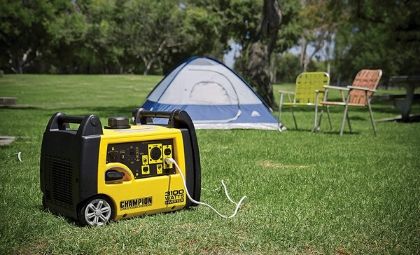 Portability
The point of this guide is to highlight portable generators, which obviously puts a big premium on portability.
There are many features that account for the portability of a generator. Some feature handles, others include wheels, or even a dolly to make the generator more portable. And of course, the size will ultimately have a big bearing on how easy a generator is to move.
Noise
Generators are notoriously noisy which can be problematic for a number of reasons. For one thing, if you are hoping to run your generator overnight, it can often be loud enough to keep you awake.
Neighbors also may take issue with a particularly noisy generator which is something to keep mind.
The good news is that it is often fairly easy to navigate this consideration. Many generators are advertised on the basis of their noise level. Some will even give you a decibel estimation of how loud the generator runs making it easy to get something that is quiet enough to suit your needs.
What are you trying to accomplish?
Your objects will ultimately have the biggest impact on what generator you choose. For example, it requires a lot more energy to power a lamp than it does an air conditioner. Bigger units tend to cost more money, but they also open the door to more advanced capabilities.
Warranty
Generators are a serious-piece of equipment. Even regular use can put then through the wringer and this is especially true when you're taking the generator our on the road with you.
Warranties will keep you covered in the event of hardware failure. A good warranty will keep you covered for several years at least.
Price
Generators aren't cheap. Though there is certainly room for budget buyers to get a good product this is definitely a situation where buying for quality is important. Generators are often used to support heating and cooling in emergency situations which means they have quite a bit of responsibility. Buy something you feel confident hinging your well being on.
---
Final Verdict
Hopefully, our reviews of the best portable generator have helped you zero in on the perfect product for your needs. Buyers that want the best of the best will probably go for our top pick, the Champion 75531i Portable Inverter Generator.
However, you can also get a great product on a budget by going with our best budget generator pick. The Jackery Portable Power Station Generator is a great product for people that don't have much money to spend.
Related Reads: