9 Best Window Insulation Kits in 2023: Reviews & Top Picks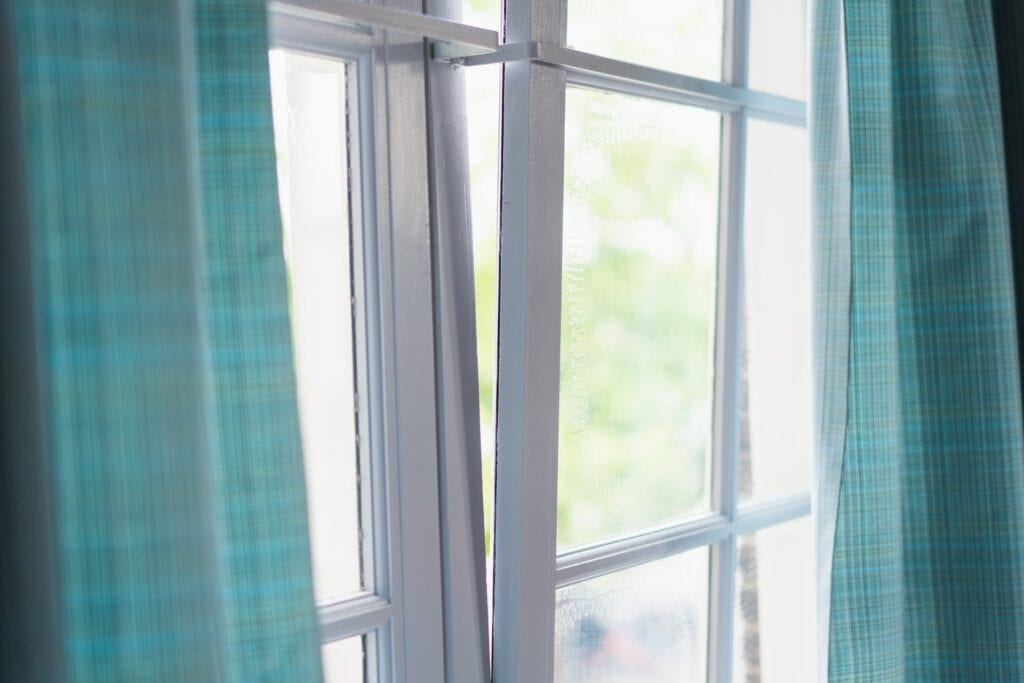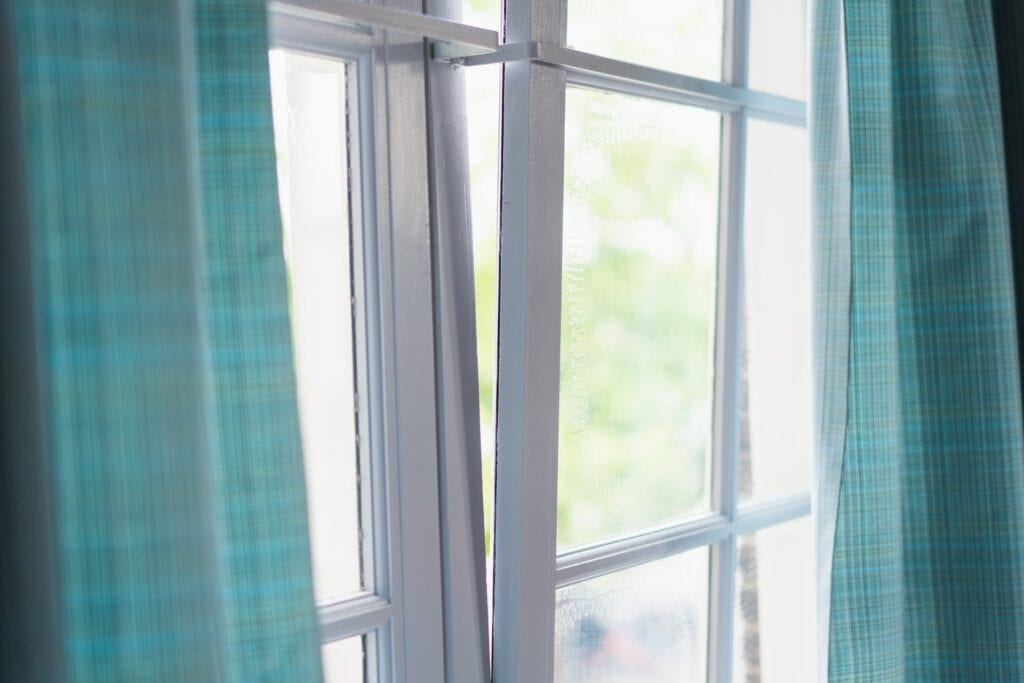 When the colder months come it's important to have quality insulation in and around your home, especially the windows. But why the windows, you ask? Because the windows are more susceptible to penetration by cold drafts due to their material and their surrounding frame.
Older windows, ones that lack proper insulation, and windows that have openings and gaps are more susceptible to letting in cold air, which can mean you're turning up the heat more often than you need to.
As a result, you may find yourself paying higher prices for gas or electricity during the winter than you normally would. In this review, we're going to discuss some of the best window insulation kits on the market today as well as other aspects of keeping your home warm during those chilly months.

A Quick Comparison of Our Favorites of 2023
Rating
Image
Product
Details

3M Window Insulator Kit

Affordable
Multi-material usage
Transparent
CHECK PRICE

Duck Brand Window Insulator Kit

Effective
Transparent
Easy to apply
CHECK PRICE

Duck Max Windows Insulator Kit

Easy to apply
Transparent
Use on patio doors
CHECK PRICE

Frost King V73/9H Indoor Shrink Window Kit

Multi-material usage
Easy to apply
Heavy-duty film
CHECK PRICE

Frost King V73/9H Indoor Shrink Window Kit

Multi-material usage
Easy to apply
Heavy-duty film
CHECK PRICE
The 9 Best Window Insulation Kits
1.

3M Window Insulator Kit
This indoor window insulation kit is one of the best sellers on Amazon and is designed to fit most average-sized windows (bay windows will need 2 sheets). This 3M outdoor patio door insulation kit is a great way to keep your windows insulated for the winter. These kits are very simple to install, and you can have the film up in about 15 minutes. The kit can be installed on wood, plastic, or metal frame materials.
Simply unfold the film to fit the window size and cut it. This 3M plastic window kit will keep your home warm and protected from the cold by easily blocking cold drafts. It also comes with insulative tape that shrinks tightly to reduce energy consumption once it's on the window.
Pros
Affordable
Multi-material usage
Transparent
Cons
No outdoor use
Could be thicker
---
2.

Duck Brand Window Insulator Kit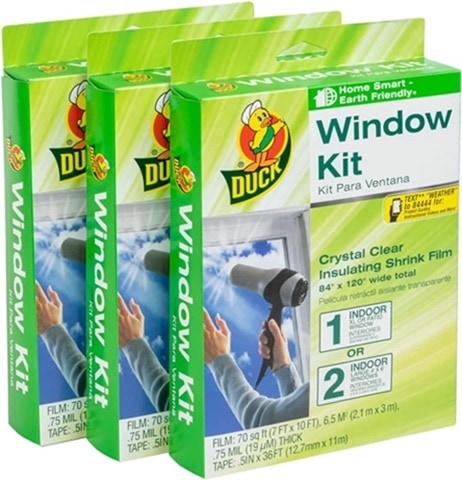 Duck Brand is well-known for its manufacturing of many home improvement products. This window insulation kit is transparent, easy to apply, and affordable. The tape is easy to apply and roll on windows, resulting in quick installation. These insulation kits are available in packs of 3, 5, and XL. The XL pack is ideal for larger bay windows and patio doors.
Pros
Effective
Transparent
Easy to apply
Cons
More expensive
Not for outdoors
---
3.

Duck Max Windows Insulator Kit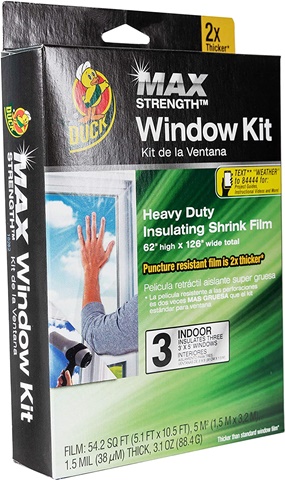 This kit can be used on average, custom, and large bay windows. You can also use it on patio doors to help keep them insulated. The plastic is similar to other installation kits, and you simply need to apply a blow dryer to get rid of any wrinkles. This interior window insulation kit comes in three packs: 5, 10, and 10. And for large windows, an XL pack can also be purchased online or at local hardware stores.
Pros
Easy to apply
Transparent
Use on patio doors
Consult an insulation expert
Find an insulation specialist in your area, and get free, no-commitment estimates for your project.


---
4.

Frost King V73/9H Indoor Shrink Window Kit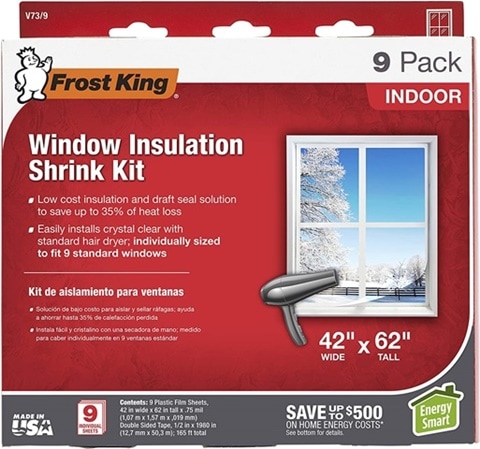 Here is a heavy-duty kit that you can place on most windows. This film is easy to install, and you can have it on your windows in minutes. It can easily be installed on painted frames, plastic, metal, and wood surfaces. Using a blow-dryer, you can quickly smooth out any wrinkles, and you can trim the edges with scissors. The Frost King kid is available for standard windows, patio doors, and bay windows.
Pros
Multi-material usage
Easy to apply
Heavy-duty film
Cons
More expensive
Not for exterior
---
5.

Frost King P714H Economy Outdoor Plastic Storm Window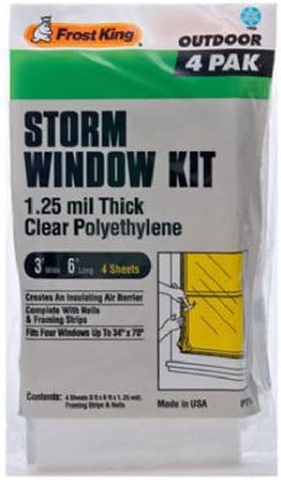 If you're looking for a more affordable option, here is another insulation kit by Frost King. The plastic in this kit is made of transparent polyurethane, and it creates an effective insulating barrier. This can go on custom windows as well as patio doors and bay windows.
However, unlike the others, this kit is for exterior window usage, making it great for storm windows. Also, it doesn't come with tape, so you need to apply it using nails or purchase your own double-sided adhesive (ideal for outdoor surfaces).
Pros
High-quality film
Reduces humidity
Easy to apply
Good for different dimensions
---
6.

Joofan Magnetic Window Insulation Kit
This easy-to-use installation kit can be up in 15 minutes. It's suitable for all window types, including aluminum framed windows, casement windows, and bay windows, and it's perfect for patio doors. You'll need to measure your window before ordering the screen, and the specifications may be a bit larger–though it can be cut. The package comes with a roll of magnetic tape, a grooved magnetic strip, and the film .
Pros
Affordable
Good for glass doors
Solid magnetic strip for adhesion
---
7.

Ace Clear Plastic Window Insulation Kit for Windows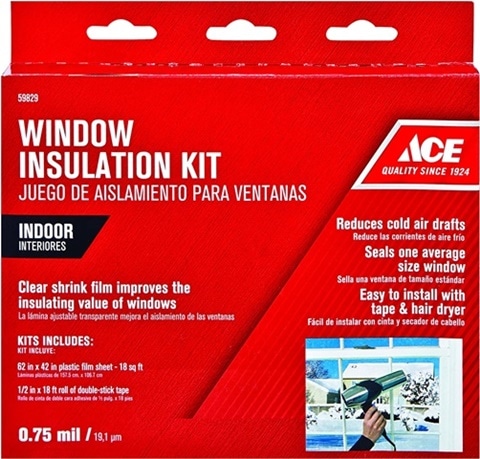 The Ace brand is one of the popular names in the home improvement industry, and this window insulation kit doesn't disappoint. The crystal-clear film in this kit helps homeowners and apartment renters stay warm by keeping out cold drafts–and it's best for single-pane windows.
It comes with plenty of double-sided tape to secure the jamb, and you can use it for bay windows and patio doors. The kit can also be used on different frame materials, including painted wood, metal, plastic, or finished wood.
Pros
High-quality film
Reduces condensation
Multi-material usage
---
8.

3M Outdoor 2-Window Insulation Kit, Clear Window Film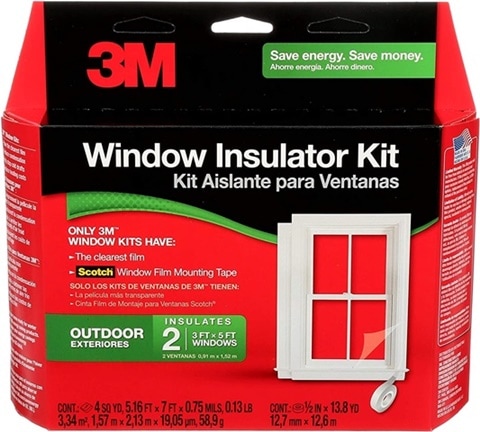 Here's another kit by 3M, but it's for outdoor use. The film is completely transparent and will stay up all season long thanks to the durable Scotch tape roll that comes with it. This film also helps reduce condensation, so you don't have to worry about your windows becoming cloudy once you apply it.
It also helps prevent frost and reduces heating costs. It's ideal for windows that are 3ft by 5ft, but you can trim the sides for smaller dimensions and use more than one film for larger windows.
Pros
Heavy-duty film
Great for large windows
Stays transparent
Blocks condensation
---
9.

Insulation Marketplace Smartshield Reflective Insulation Roll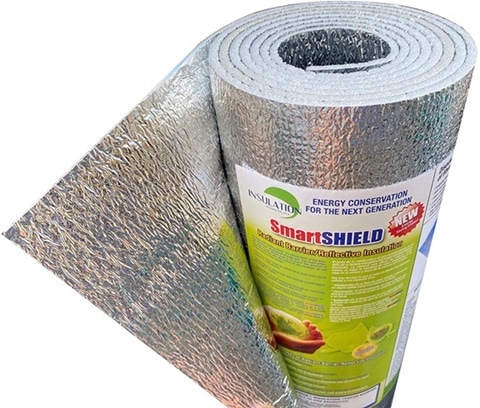 This particular insulation method material may not be ideal for most windows, as it will block all-natural light, making the room darker. However, it is ideal for windows in the basement, attic, and any other spaces that aren't inhabited.
Use it for your garage or shed to keep from being hit with a blast of cold air when you enter these areas. It reflects 95% of radiant energy, and it helps prevent condensation by blocking out humidity and moisture.
Pros
Reflects 95% radiant energy
Thick polyethylene foam
High-level insulation
Indoor & Outdoor use
Great soundproofing material
Cons
Not transparent
More expensive

What Can I Put on My Windows to Insulate Them? What's The Cheapest Way?
There are many ways to reduce the cold air coming in through the windows and around the frames. Though some insulation methods may be more effective than others, all of these are effective options to help you keep your home warm in the winter.
1.

Weather Sealing Strips
These convenient strips help prevent heat loss from moving parts of windows. You can use foam or felt stripping to cut the product to the size you need and then apply it over the windows. The strips are inexpensive and very simple to use. However, they should be removed when you open your windows during the summer months.
2.

Window/Hole Sealant
You can seal cracks around windows that are less than a fourth of an inch wide with a water-based caulk. Caulk can be applied easily, and it's inexpensive (it's about $5 for a single tube). However, windows expand and contract due to temperature changes, so you'll need to re-apply it every few years. Caulk can also be used to add insulation to your windows' exterior.
3.

Blinds and Curtains
While curtains provide greater insulation than shades, they can also be combined to provide the same benefits. You can control the amount of sunlight while still benefiting from the insulation provided by curtains.
4.

Secondary or Triple Glazing
Secondary glazing is similar to window film and creates a buffer between your home's interior and windows so that cold air cannot circulate. For this upgrade, a window professional or contractor will attach the pane of glass to your windows with a frame.
These can then be opened or closed anytime, and it doesn't affect your ability to use them. The glazing product works the same way as window film but doesn't reduce the window's ability to let in natural sunlight.
Double or triple glazing is similar to secondary glazing. However, they add layers of glass to existing windows and insulate them much better. These products insulate more effectively by using two to three panes of glass with smaller spaces between them. They also have heat-efficient frames that trap air, preventing it from entering the home.
6.

Install Exterior Storm Windows
You can also install storm windows on the exterior of your windows and, in some cases, the interior. To provide strong protection against air movement, traditional storm windows are added to existing single-glazed windows. This method can reduce heat loss and cooling losses by about 20-25% compared to replacement windows.
Newer models of storm windows have low-e coatings that provide impressive energy performance. Low-e is an infrared and ultraviolet light-blocking coating that is applied to windows. This greatly improves energy efficiency.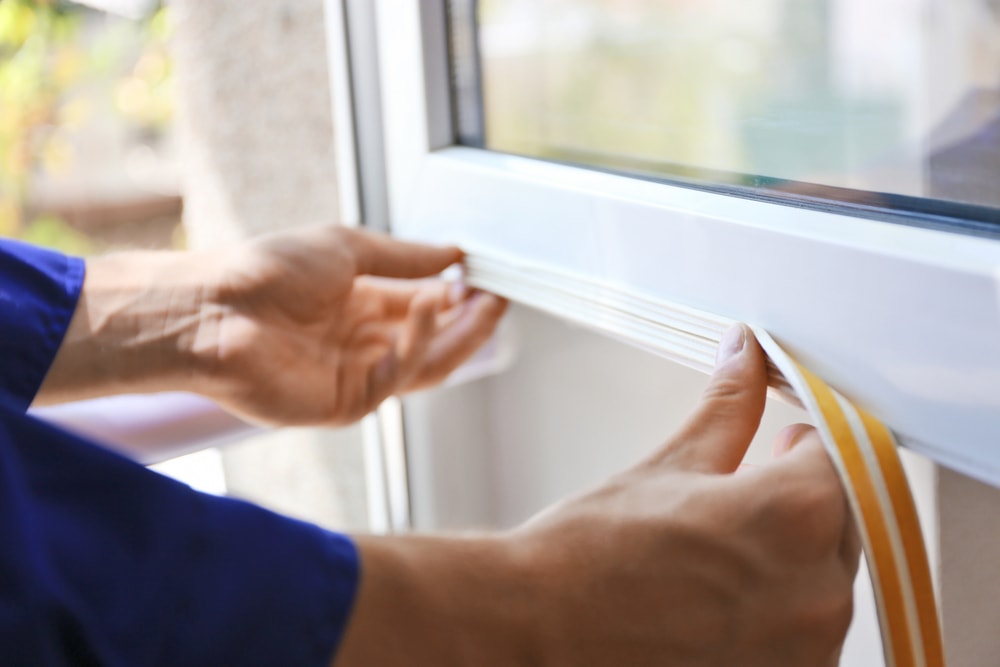 How Do You Stop Cold Air from Coming Inside Your Home?
Stopping cold drafts from entering your home means sealing off all potential access points. There are quite a few ways to do this, and different materials are available to provide insulation. Here are a few common ones.
1.

Seal Windows and Doors
Cold drafts can be caused by drafty windows and doors. Drafty windows and doors not only affect your home's comfort but also let heated indoor air escape easily. This can lead to an increase in energy costs to compensate for the loss of heat.
While replacing windows and doors is the best long-term solution, it can be costly. There are several DIY sealing options homeowners can take advantage of to stop cold air from leaking through their windows and doors. These include replacing weather stripping and using draft stoppers.
2.

Install Heavy Curtains or Drapes
You can also insulate your windows by installing energy-efficient drapes or curtains. Curtains made of heavy fabrics or double (or thermal) linings block cold outside air from entering your home through poorly sealed windows.
Pair heavy curtains with shades or blinds to provide additional draft protection–this can make them even more effective. Also, thermal curtains may be the solution for you if you live in an area that is windy or experiences cold drafts at night.
3.

Check Your Attic Insulation
It's possible that your attic is the culprit if your home has been struggling to keep warm in winter. Insulation in the attic prevents heat or cool indoor air from getting out through cracks or gaps. This helps keep utility bills down all year.
When attic insulation is damaged or insufficient, however, outside air can get into your home and affect your furnace's ability to heat your home adequately. Attic insulation can be affected by pests, humidity, and leaky roofs.
In many cases, it's easy to check for drafty windows or doors. Simply place your hand between the seams of the door or window and feel the difference. However, it can be difficult to identify drafts in your attic. So, in some cases, you may need to call in an expert.
4.

Apply Area Rugs
Wooden floorboards constrict in winter due to colder temperatures. This creates gaps and cracks that allow cold air through the floor. You can prevent drafts from occurring by putting down an area rug. By trapping cold air beneath the floor's surface, rugs insulate and prevent heated air from escaping through cracks.
5.

Inspect Your Dryer Vent Cap
Check the dryer vent cap to prevent drafts from coming in through its opening. This vent flap seals the space between your dryer duct and your home's exterior, preventing cold air from entering your home.
First, inspect the vent flap for lint to ensure it is clean. This could cause the flap to open and allow outdoor air to pass through. Next, inspect the vent cover for cracks and gaps in the caulking. You may need to re-caulk the vent cover if you find any damage.
6.

Install a Chimney Damper
Your chimney could be the source of cold air entering your home from your fireplace. A chimney damper is an inexpensive device that you place on the top of your chimney's opening to control the airflow of your fireplace. It will also control the air that can come in through the chimney from the outside. A closed damper functions as a seal to keep those chilly drafts outside the home.

Wrapping Things Up
Effectively insulating your windows means inspecting them closely to check for gaps and other areas susceptible to draft entry. There are several ways to insulate them, including using insulative film, weatherstripping, thermal curtains, and draft-stopping blinds. Before choosing a window insulation kit, measure and count the number of windows in your home to determine the total square footage that will need insulation.
---
Featured Image Credit: Dan Gold, Unsplash