9 Best Wood Splitting Wedges of 2023 – Reviews & Buying Guide
If you have a lot of trees around your home, a tree wedge splitter is very important. In fact, it's the single best tool for splitting trees after they have fallen down.
However, splitting wedges are like any other tools that you use. Some of them are worth the investment because they save a lot of time and effort. And others are a complete waste of money that just make your work longer and harder than it has to be.
axHow can you pick out the very best wood splitting wedges? We've put together our definitive reviews for some of the most well-known models on the market. With our help, you can find the best wedge and get back to work right!
---
A Quick Comparison of Our Favorites in 2023
Rating
Image
Product
Details

Best Overall

Estwing E-5 Sure Split Wedge

Good length and width
Lightweight
Hard tip
soft pounding surface
CHECK PRICE

Best Value

Redneck Convent Diamond Splitting Wedge

4-directional design
Hardened construction
Orange paint job
CHECK PRICE

Premium Choice

Collins Wood Splitting Wedge

Sturdy design
Multiple splitting surfaces
Diamond shape
CHECK PRICE

Felled Manual Log Splitter Wedge

Good price
User-friendly design
Spherical striking face
CHECK PRICE

Truper 4-Pound Splitting Wedge

Sturdy head
Diamond tip design
Good weight (4-pound head)
CHECK PRICE
The 9 Best Wood Splitting Wedges
1.

Estwing E-5 Sure Split Wedge – Best Overall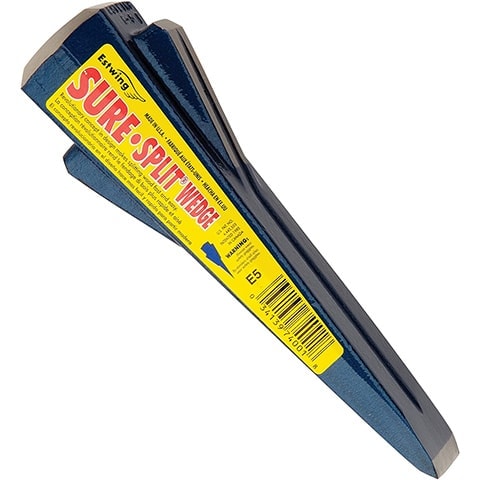 Let's skip to the chase. What is the best split wedge you can buy? Our pick for best overall is the Estwing E-5 Sure Split Wedge.
At 1 pound, this wedge is sturdy while still being easy to handle. And with an edge that's 9 inches long by 1⅞-inch-wide, you have a design that can split any wood that you put in front of it.
There are some nice luxury touches as well, including fins that enhance the chopping distance while also keeping it from getting stuck in the wood. Our main criticism of this wedge is that it doesn't handly knotty wood very well compared to other wedges on our list. Despite this, we still think this is the best wood splitting wedge on the market today.
Pros
Good length and width
Lightweight
Hard tip, soft pounding surface
Convenient fins
---
2.

Redneck Convent Diamond Splitting Wedge – Best Value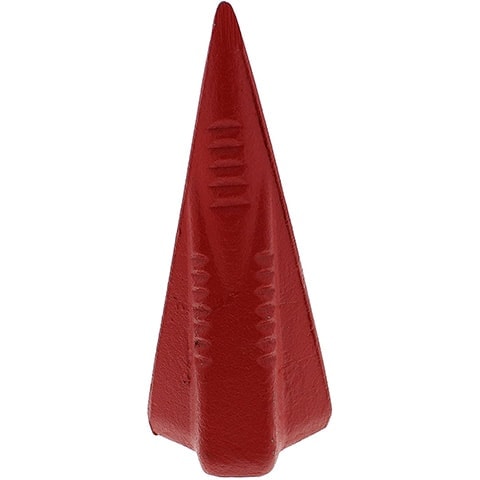 In the outdoors world, "redneck" isn't a bad word. And in the world of cutting trees, the Redneck Convent Diamond Splitting Wedge is one of the best wood splitting wedges for the money.
It features a 4-directional split that lets you split wood into multiple directions while saving time on each split. And the 4.1-pound weight will get the job done just about every time.
The wedge is made of railway steel that has been heat-treated and hardened for maximum durability. And we love the orange paint job which helps it stand out and also stave off rust. The main downsides are that the 4-directional split doesn't always work and some users have reported problems with its long-term durability.
Pros
4-directional design
Hardened construction
Orange paint job
Cons
Directional split doesn't always work
May not last as long as other wedges
---
3.

Collins Wood Splitting Wedge – Premium Choice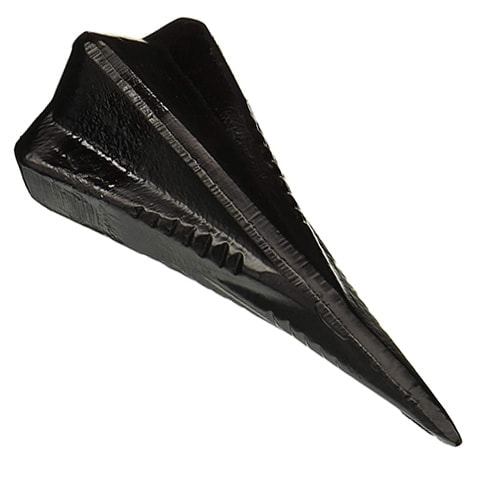 Earlier, we covered our pick for the best value choice. But if you have the cash on hand, you may be more interested in the higher-end wedges. If you're looking for the best premium choice, our vote goes to the Collins Wood Splitting Wedge.
The head weight is 4 pounds, giving this wedge a lot of power and versatility. At the same time, the 7"x3"x3" diamond shape design is easy to use and aesthetically pleasing.
This wedge has been heat-treated and features carbon steel as well as multiple splitting surfaces. Our only real gripes with this particular model is that the tip sometimes buries itself in the wood, and the wedge pops out a bit too easily for our taste.
Pros
Sturdy design
Multiple splitting surfaces
Diamond shape
Cons
More expensive
Issues with the tip and the wedge
---
4.

Felled Manual Log Splitter Wedge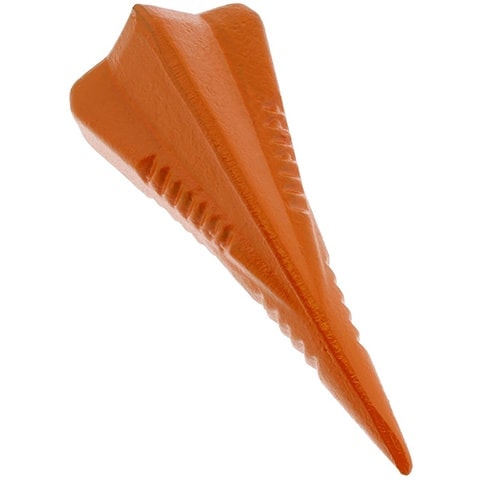 Everyone who splits trees has a horror story about a particularly stubborn log. If you need the right tool for those kinds of logs, you need this Felled Manual Log Splitter Wedge The diamond shape makes this wedge very easy to use. And as with some other models, the 4-directional split helps you make quick work of the wood in front of you.
At 7 inches long and 3 inches wide, this wedge is easy to handle and use. And we particularly enjoyed the spherical striking face that made sure each blow to the log was nice and centered.
However, this splitter wedge does have its drawbacks. It tends to pop out of certain logs when you least suspect it. And while it will get the job done, you'll probably have to make more swings than you were expecting before you started the job.
Pros
Good price
User-friendly design
Spherical striking face
Cons
Tendency to pop out
Less efficient than other wedges
---
5.

Truper 4-Pound Splitting Wedge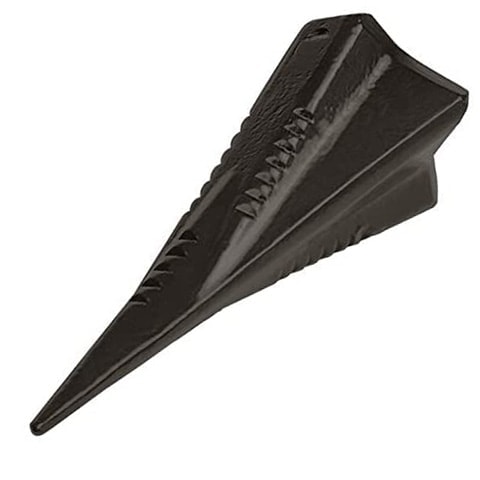 This Truper 4-Pound Splitting Wedge has one of the most competitive prices on this list. And it offers many features and few compromises despite that nice price. Some of these features include the drop-forged and heat-treated head. Combined with the 4-pound wood splitter, you have a very effective wedge on your hands.
So, what keeps this splitting wedge from being our best value choice? Unless the wood already has a crack in it, this wedge is likely to bounce back at you. And the harder the wood, the bigger the bounce. And the fact that you'll need to sharpen the tip right out of the box makes this one of the less user-friendly wedges.
Pros
Sturdy head
Diamond tip design
Good weight (4-pound head)
Cons
Bounces too easily
Not very sharp
Design is too narrow
---
6.

Ames True Temper Torpedo Wedge

With "torpedo" right in the name, you might be expecting the Ames True Temper 2414200 Torpedo Wedge to be a powerful and intimidating tool. However, we found it to be right in the middle of the road when it comes to splitting wedges.
It has the features you'll find in other wedges, including the 4-directional split and the 4-pound head weight. This offers the durability and reliance you'd expect, but you're basically getting the same thing you get with other models at a major price markup.
On top of that, many users experienced problems with the tip breaking off. And when you're paying for a premium wedge, the last thing you want is to have to replace it after only a year or two of use!
Pros
4-directional split
Solid head weight
Familiar design
Cons
Overpriced relative to features
Prone to breaking very easily
---
7.

AMES 5-Pound True Temper Splitting-Wedge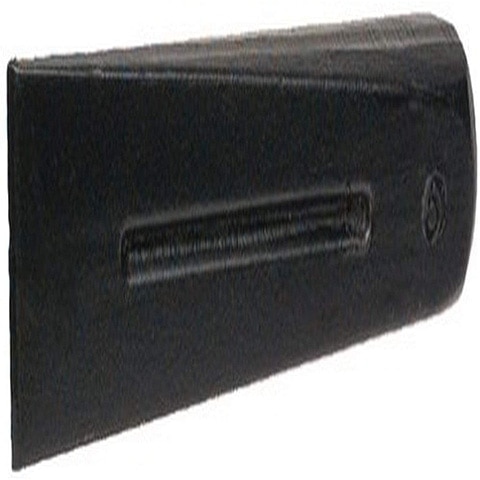 By now, you've figured out that some wedges are better than others. Unfortunately, the AMES 5-Pound True Temper Splitting-Wedge is one of the more disappointing items on our list.
There are things to like about this wedge. For example, the flat-tip head is made of forged, heat-treated steel. And at 5 pounds, it has enough weight to get the job done…at least, in theory.
In practice, you'll quickly discover that the metal is too soft. Because of this, it's not really suitable for longer use or sturdier logs. And even if the metal weren't soft, the design is not thick enough to really make an impact on the logs.
Pros
Forged-, heat-treated steel head
Sturdy head weight
Cons
Soft metal
Design is too narrow
Overpriced
---
8.

Edward Tools Classic Log Splitting Wedge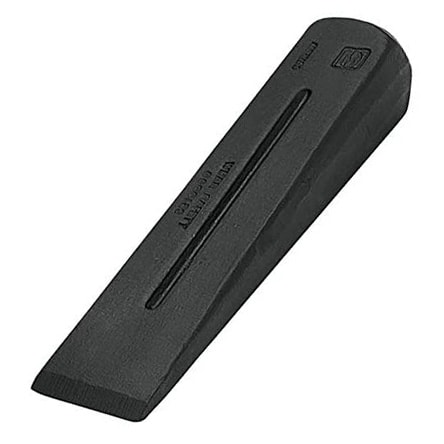 At first glance, the Edward Tools Classic Log Splitting Wedge looks like a simple tool to help get the job done. Unfortunately, it's going to leave you disappointed in multiple ways.
For example, the drop-forged metal design looks nice and sturdy. And the sharpened edge, combined with the lifetime warranty, seems like a really good deal.
However, the tip is so thin that the wedge pops out very easily. And the materials seem very cheap and prone to breaking. Finally, some users report ordering this wedge and getting something entirely different than the manufacturer photos!
Pros
Drop-forged metal design
Lifetime warranty
Cons
Pops out very easily
Cheap materials
Manufacturer photos and information may not be reliable
---
9.

Tuff Timber Tuff Timber Blaster Splitting Wedge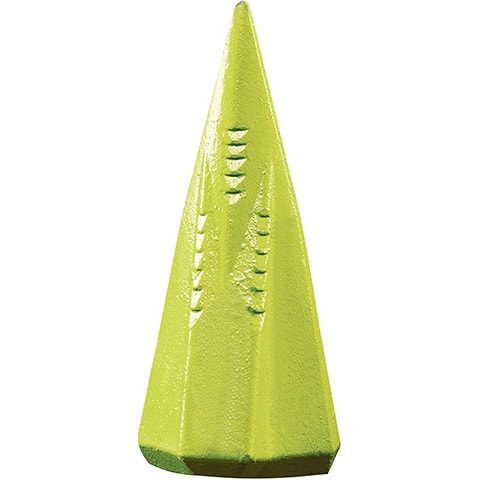 The Tuff Timber Tuff TMW-19 Timber Blaster Splitting Wedge definitely stands out from the other wedges on the list if only because of its color. Instead of the familiar black or reddish-orange coloration, this wedge is lime green.
Unfortunately, that's one of the only ways this wedge actually stands out. The 7-inch long design and 4-pound weight are practically industry-standard, and there are no real features or "razzle dazzle" to justify this particular price tag.
And the design, meant to be unique and effective, is simply disappointing. The wedge pops out very easily unless the wood is very thin. On top of that, the notches are too smooth and spaced too far from the tip to really do any good.
Pros
Interesting color
Familiar features
Cons
Overpriced
Bounces back very easily
Useless notches
---
Buyer's Guide
With any luck, our reviews have helped you learn more about the best (and worst) wedges out there. But you'll need more than a few reviews in order to finalize your decision.
That's why we put together this comprehensive buyer's guide. It gives you an overview of the different features and factors you should be aware of before making your purchase. Between the reviews and the buyer's guide, you can rest assured that you're making the best possible choice for your needs!
Edge Sharpness
It's a rookie mistake to think the edge must be razor sharp. Instead, the edge simply needs to be sharp enough to cut across the grain.
With that in mind, sharper edges do provide additional benefits. They are less likely to bounce back at you because they lead to deeper cuts within the tree. And sharper edges ultimately reduce the amount of time and effort it takes to get the job done.
Wedge Material
Different wedges are made from different materials. And these materials can significantly impact the performance of the wedge.
Generally speaking, you'll want sturdier materials so that your wedge can last a good, long time. This is why many prefer using either carbon steel or railway steel.
Weight and Size
How big and heavy should the splitting wedge be? Ultimately, this is a matter of personal preference. For example, the wedge needs to be large enough and heavy enough to get the job done. But if it is too large or heavy for your taste, it can be an annoying burden to carry and use.
When the wedge is too light, you run the risk of it bouncing back very easily. And if it has been heat-treated, that means it will be a bit heavier and can handle more force.
The wedges we reviewed generally ranged from 3-5 pounds. Over time, you will likely discover a "sweet spot" between size, weight, and performance.
Other Tools
If you've never used a splitting wedge before, it's important to review the other tools that you have available. That's because splitting wood is a multi-part process (see our guide below) and will require a variety of different tools.
You'll need an ax in order to turn stumps into manageable logs (later, the ax will be used to turn split wood into smaller pieces). And a maul is handy for splitting an entire tree stump so long as you can find the appropriate weak spot.
A sledgehammer is necessary for driving a wedge into the log. As for the actual wedges, you'll need at least two. One should have a sharp point to create a crack if needed. The other wedge(s) (which may be of different thicknesses) can then split the log.
Finally, you'll need a chainsaw in order to help cut stumps down to size.
Using Splitting Wedges
Using splitting wedges involves several steps. Fortunately, these steps are nice and straightforward.
First, use the chainsaw to cut the stumps into the pieces you'll be using. You can use an axe instead, though this will take more time and energy than a chainsaw.
Next, find a weak point in the log. If you see existing cracks, those are a good starting place for your first split. We recommend trying a maul once or twice before you break out the wedge. If you're lucky, the maul may be enough to get the job done.
Next, place the wedge in the initial split created by the maul. It should stand up on its own once it is in place. After that, hit the wedge with your sledgehammer to drive it further in.
The force, combined with a thick wedge, should split the wood into pieces. If you need smaller pieces, you can repeat this process with the different wooden pieces until you have the size that you need. Once you have pieces of a more manageable size, your ax can further cut and shape the wood.
Techniques and Tips
As with most things, wood splitting has a simple rule: whenever possible, "work smarter, not harder." With that in mind, here are some techniques that will transform how you split wood.
When swinging your sledgehammer, avoid swinging from side to side. Instead, try to directly hit the wedge with as much power as you can muster. And don't be afraid to use multiple wedges to get the job done.
You'll also want multiple wedges for another reason. Even the best wedges eventually get stuck in a log, and you'll need another wedge to keep going.
As for the wedges, they'll work better with some trees than others. Generally, they work best with larger trees that are thick in diameter and full of knots.
Safety First
Splitting wood can actually be very dangerous. If you don't follow certain safety precautions, you could get hurt or even killed in the process. Earlier, we mentioned how the wedge is always at risk of popping out. Because of this, you need to stand very clear of the crack line so that you don't get hit and hurt.
Line your body up well before you take the first swing. For maximum safety, you should be perpendicular to the spot you want to hit as well as the wedge.
Finally, try to use a chopping block whenever possible. Not only is it safer, but it helps make a hard job that much easier.

Conclusion
Now that you've read our reviews and our buyer's guide, only one question remains: who were the big winners when it comes to the different wood splitting wedges?
Our best overall pick is most definitely the Estwing E-5 Sure Split Wedge. It provides consistent performance, solid features, and a fair price.
If you're on a budget, though, you may want to go with our best value choice, which is the Redneck Convent Diamond Splitting Wedge. In a crowded field of lower-cost wedges, this was the one that offered the best performance and durability.
Hopefully, we've made the task of finding the best wood splitting wedges a bit easier for you. Now, it's time to grab your tools and start splitting some wood!
See Also: