6 Best Modern Toilets in 2023 — Reviews & Top Picks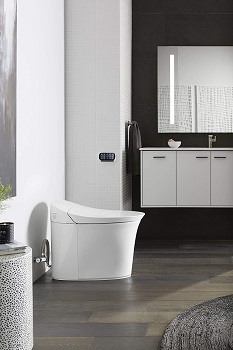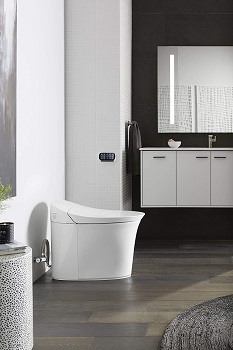 The flush toilet has been around a lot longer than you might think. The earliest example was found in a palace in Knossos, Crete, and estimated to be nearly 4,000 years old! It was believed to be flushed from buckets of water stored in an overhead reservoir.
Much has changed for the toilet over the millennia, but the base concept has remained intact.
But that's not to say that modern toilets are all pretty much the same. As a matter of fact, we're somewhat in a golden age of toilets. full of unique and exciting bathroom innovation. Not surprisingly, it can be pretty difficult to decide which toilet is right for you.
However, there's no need for you to worry. We've done the dirty work and put together a list of our 7 best modern toilet reviews. Our picks should help you identify what you're looking for in a commode, and ultimately help you determine the right choice for you.
---
A Quick Comparison of Our Favorites in 2023
Rating
Image
Product
Details

Best Overall

WOODBRIDGE T-0019

Sleek and stylish
Powerful and quiet flush
Eco-friendly
CHECK PRICE

Best Value

Swiss Madison St. Tropez

Cheaper than other modern toilets
Powerful and quiet flush
Eco-friendly
CHECK PRICE

Premium Choice

Toto Neorest

Built-in bidet
Automatic seat
Night light
CHECK PRICE

Saniflo 023 Sanicompact

Compact
Good water conservation
Easy to Install
CHECK PRICE

Kohler Veil

Ultra-modern design
Heated seats
Bidet
CHECK PRICE
The 6 Best Modern Toilets
1.

WOODBRIDGE T-0019 Elongated One Piece Toilet – Best Overall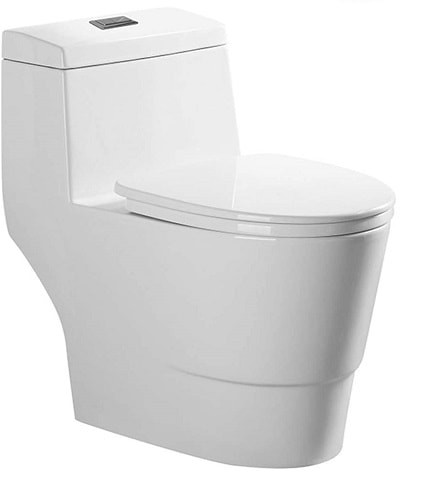 If we had to recommend just one modern toilet, it would have to be this Woodbridge.
The T-0019 covers all the criteria you would be looking for in a modern toilet—and does so with style. It's a sleek single-piece toilet with a skirted trapway that makes cleaning a cinch. The Woodbridge T-0019 is also an ADA-compliant comfort height toilet for those needing to follow regulations or want the extra height.
This model boasts a powerful fully-glazed flush system that gets the job done quickly and quietly. And it does so while conserving water and remaining eco-friendly. At just 1.28 gallons per flush, it can save you approximately 16,000 gallons of water per year when compared to a standard 3.5-gallon tank toilet.
But that's not to say the toilet doesn't have any drawbacks.
Being a one-piece toilet, this sucker is heavy. It can be difficult to move and position for installation. Furthermore, the sleek design makes for a harder installation. Lining up the flanges and piping just right can get to be nerve-racking.
Regardless, it's still our top choice.
Pros
Sleek and stylish
Powerful and quiet flush
Eco-friendly
Comfort height and elongated
Easy to clean
Cons
Heavy
Relatively difficult installation
---
2.

Swiss Madison SM-1T254 One Piece Toilet – Best Value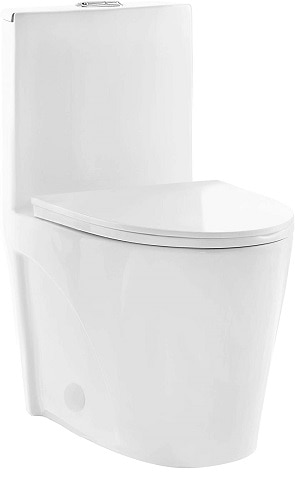 When looking for a new toilet, you'll find that they can get expensive. But if you're on a budget and looking for a great value, this Swiss Madison is the best modern toilet for the money.
It's got just about everything you could hope for in a toilet. The simple, elegant design comes with a skirted trapway for easy cleaning, a soft-closing seat lid, and a dual flush feature.
While eco-friendly—with a 1.28-gallon full flush—the Swiss Madison does not sacrifice on flush performance. The flush is powerful enough to get the job done, yet quiet to minimize disturbances.
Like other modern toilets of its class, the Swiss Madison is difficult to install. The flange holes are awkwardly positioned and hard to reach. We don't recommend doing this installation yourself. Your best bet would be to hire a pro and let them take care of it.
However, once installed, you'll be left with a quality toilet that costs less than most of its competitors.
Pros
Cheaper than other modern toilets
Powerful and quiet flush
Eco-friendly
Soft-closing lid
Cons
Extremely difficult installation
Heavy
---
3.

Toto MS992CUMFG#01 Neorest Toilet – Premium Choice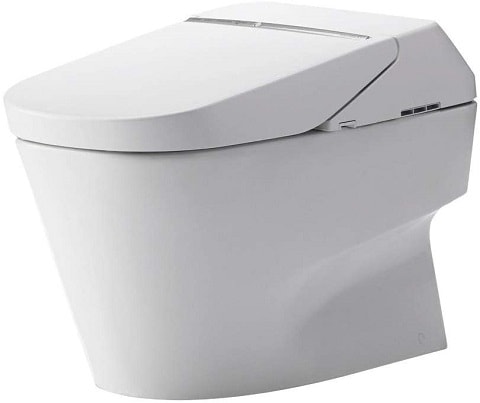 There's nothing wrong with enjoying the finer things in life, especially if you're going to be using them every day. Think of the Toto Neorest as that kind of investment.
It's far from the cheapest option on this list—quite the opposite, in fact—but it provides a certain luxury that can't be beaten. The comfort height toilet comes equipped with sensors that automatically open and close the seat lid, a built-in programmable bidet, an illuminated bowl for late-night trips, and more.
And as far as flushing power goes, the Toto's automatic flush is powerful enough to handle the heaviest of loads. It also utilizes E-water (electrolyzed water) to spray bowl the sides of the bowl for easy cleaning. And at just a single gallon per flush, it is one of the most conservative toilets on the market today.
Like other toilets, this one has been said to be difficult to install. But with all the extra accouterments, it's easy to see why.
If it weren't for the price point, the Toto easily would have captured our #2 (if not #1) spot on this list. It's just a heavy investment for many to put into a toilet.
Pros
Built-in bidet
Automatic seat
Night light
Strong auto flush
Ultra water conservation
Cons
Need specialty installer
Very expensive
---
4.

Saniflo 023 Sanicompact Self-Contained Toilet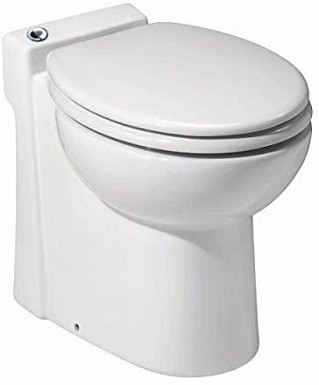 Are you looking for a quality modern toilet but have limited space to install it? The Saniflow Self Contained Toilet could be just what you're searching for. It's a tankless toilet that works by utilizing a sump pump-like mechanism to pump water into your bowl and through the drain. This pump is obstructed from view and housed within the main assembly keeping occupied space to a minimum.
The Saniflo pump-assisted flush is more than capable. The flush can be so strong that it's recommended to close the lid before flushing to prevent spray from leaving the bowl. And it does all of this with minimal water. This compact toilet does it with just 1 gallon of water per flush.
Unlike any of the previous toilets on this list, installation for this toilet is relatively easy. And it can accommodate standard toilet or sink water lines. This is one of the best options for people building a new half-bath or have smaller bathrooms in general.
There are a few concerns, though. The flushing mechanics are strong. But due to the way flushing water enters the bowl, you may have to flush a few times to get everything to pass through. And if connected to a sink line, be prepared to have unpleasant odors waft from the sink drain.
Pros
Compact
Good water conservation
Easy to Install
Cons
Awkward flush mechanism
Potential odor issues
---
5.

Kohler K-5401-PA-0 One-Piece Elongated Intelligent toilet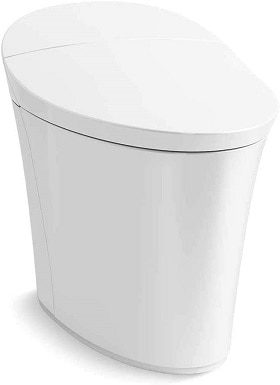 If you're looking for a minimalist choice for your toilet, this is it. At first glance, few may even recognize this as an actual toilet. The tankless design, smooth seamless edging, and elongated seat make the Kohler Intelligent Toilet appear to be a simple stool if anything.
However, it's anything but. The Kohler is reminiscent of our #3 pick as it comes equipped with so many extras and options. It has a heated seat, adjustable bidet, night lamp, and auto lid all situated atop a comfort height level base.
This particular model continues the Kohler tradition of being water efficient with a 1.28-gallon full flush or 0.8-gallon for reduced flush. And despite its low use of water, the flush is still good enough to handle most anything.
But like the Toto above, this toilet isn't cheap. It'll set you back a pretty penny. We still prefer the Toto to this one, particularly for the automatic flush feature.
Pros
Ultra-modern design
Heated seats
Bidet
Night light
Auto lid
---
6.

Ariel Bath TB309-1M Elongated One Piece Toilet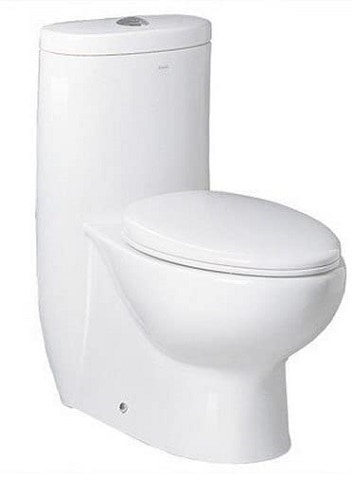 Out of all the toilets on this list, this Ariel Bath toilet is the most average. But in a good way. It's just a modern take on a simple standard-height toilet.
It has a dual flush mechanism that allows for a full or reduced flush. The full flush consumes 1.28 gallons per flush, which is a pretty decent water conservation rate. One notable feature is the soft-close lid to prevent needles banging of a toilet seat.
Installation is also somewhat simple. You will be required to drill two holes in the floor, but other than that, it's straight forward.
However, this toilet doesn't do anything special. But again, that's great for one major reason.
The cost.
This toilet costs substantially less than most on this list. It's much more affordable for many more people. So, if you're just looking a modern take on your standard toilet with no frills, this is the right option for you.
Pros
Affordable
Slow-close lid
Dual flush
---
Buyer's Guide – Finding the Best Modern Toilet
Just because we've picked our top choice doesn't necessarily mean that it's the best choice for you. There are several different factors that you need to consider before you purchase a toilet.
Size
The first thing you should seriously consider is just how much room do you have to install a toilet. If you have a small bathroom or are putting together a half-bath, start with smaller sized toilets. You can still get toilets in standard or comfort height but be mindful of how wide and long the toilets can be. If you have a larger bathroom, you might want to opt for a larger toilet.
Standard or Comfort Height
Standard height toilets are the most found toilets within private homes. They're normally between 15-16" from the seat to the floor. They provide great support for shorter to averaged sized people. However, they might not be the best option for taller folks.
That honor would go to the comfort height toilet. Comfort height toilets fall between 17-19" from seat to floor and fall within the ADA (Americans with Disabilities Act) guidelines. Comfort height toilets are best for taller families, elderly individuals, or others who have issues with standing and sitting.
Seat and Bowl Shape
There are three main shapes when it comes to toilet seats and bowls.
Round
Elongated
Compact Elongated
Decide this based solely upon your preference. However, the elongated shape tends to be preferred, especially for those who require special assistance.
Flushing Power
You're going to want a toilet with some real flushing power. There's nothing more aggravating than having to stand around waiting to flush a toilet a second or third time. Getting a toilet with a strong flushing power not only helps things go down easier and minimize clogging but helps keep the bowl cleaner as well.
Brand Reputation and Customer Service
There's nothing wrong with being thrifty. However, we highly advise you purchase your toilet from a reputable brand or company. If something goes wrong or you need to redeem a warranty, you'll feel safer knowing that you're dealing with proper customer service.
Bidet
The bidet is only just now starting to catch on in the United States. For years, we've been dependent strictly on toilet paper for cleaning ourselves. However, the bidet is an extremely common tool around the rest of the world which may be even for sanitary than TP. Just know, it might not be for everyone. But there are plenty of people who become immediate converts upon their first bidet use.
Extra Features
Getting down to the basics, it's up to you what kind of extra features you want your toilet to have. Heated seats? Automatic lids or flush? Night lights? These are some real luxuries and can definitely enhance your personal toilet time. But with each additional feature you decide on, the cost of your new toilet purchase is going to go up.
Conclusion
After factoring in all of the criteria above and through extensive reviews, we've been able to narrow down the best modern toilets.
Our top pick belongs to the Woodbridge T-0019 Elongated One Piece Toilet.  It's a great modern pick for just about anyone. And for those of you on a budget, the Swiss Madison SM-1T254 One Piece Toilet provides the best value for the money.
Finding the right toilet for you can be a daunting endeavor. With so many different options to choose from, the process can become overwhelming.
We believe that by carefully considering the right criteria for your specific needs, you too can find the right toilet for your situation. And hopefully, this list gave you a great starting point and even better examples of top-notch modern toilets.
You might also like: