10 Best Woodbridge Toilets in 2023 – Reviews & Top Picks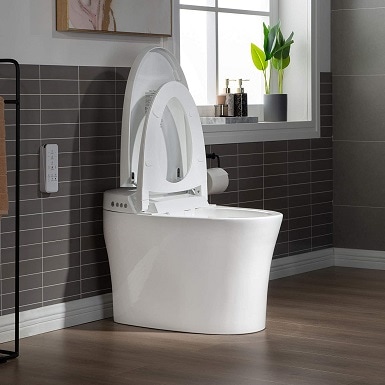 No matter who you are or where you come from, there's one thing that's universal to every single human on the planet; we all use the bathroom. Every home has at least one toilet, and eventually, every household will need to replace their toilet.
When looking for a new toilet, we prioritize traits like attractiveness, hygiene, and a powerful yet economical flush that will get rid of the waste without wasting water. Woodbridge is one brand producing toilets that fit all of these criteria. So, when it was time to replace some toilets, we decided to compare some of the most popular Woodbridge toilets to see how they stack up.
After all was said and done, we had enough information gathered to compile the following 10 reviews so that you can also benefit from our experience. We'll shine some light on the best and worst features of these toilets, hopefully, helping you to decide which one is right for your home.
---
A Quick Comparison of Our Favorites (2023 Updates)
Rating
Image
Product
Details

Best Overall

WOODBRIDGE T-0019

Dual flush mechanism
One-piece design
Soft-closing seat
CHECK PRICE

Best Value

WOODBRIDGE B-0500

One of the most affordable models
Hygienic design
Easy to clean
CHECK PRICE

Premium Choice

WOODBRIDGE B0970S Smart Bidet

Integrated bidet
Heated seat
Self-cleaning bidet wand
CHECK PRICE

WoodBridge T-0001

Concealed trap-way
Soft-closing seat
Includes everything for installation
CHECK PRICE

WOODBRIDGE T-0018

Dual flush mechanism
Reasonably priced
Comfort height design
CHECK PRICE
The 10 Best Woodbridge Toilets
1.

WOODBRIDGE T-0019 Cotton White Toilet– Best Overall
With a luxurious appearance and a hygienic one-piece design, the T-0019 is our favorite WOODBRIDGE toilet. It's got elegant looks, thanks to features like the concealed trap-ways that give it very clean aesthetics.
But they do more than just look good. Since the trap-ways are covered, there are no nooks and crannies for dirt, grime, bacteria, and more to accumulate. Since it's a one-piece toilet, there's also no large crevice between the tank and bowl. Overall, this makes for a very hygienic toilet that's easy to keep clean and doesn't develop foul odors as easily as other toilets.
This toilet includes everything you need for installation. You get all the hardware necessary, a wax ring, and even a soft-close seat. It features an economical dual-flush design, using just 1.6 gallons per flush (GPF) for solid waste and just 1.0 gallon for flushing liquids. It earns a maximum performance flush score, meaning it can easily evacuate up to 1,000 grams of waste in a single flush. Unfortunately, it's only warrantied for a year. At least, it's reasonably priced for what you get!
Pros
Dual flush mechanism
One-piece design
Luxurious appearance
Concealed trap-way
Flushes 1,000 grams of waste
Soft-closing seat
Cons
Only warrantied for a year
---
2.

WOODBRIDGE B-0500 High One-Piece Toilet– Best Value
Some WOODBRIDGE toilets can get pretty pricey, depending on what features you want to be included. But that doesn't mean you have to break the bank to buy a nice toilet from this brand. They've got plenty of affordably-priced toilets, including the B-0500, which we think is the best WOODBRIDGE toilet for the money.
Even though it's cheaply priced, you're not sacrificing looks or performance. This is a very attractive toilet that takes its styling cues from much pricier models. It features a one-piece design that's hygienic and aesthetically pleasing. Like many of the more expensive WOODBRIDGE models, this toilet even features skirted trap-ways, giving the toilet clean lines and fewer places for dirt and grime to accumulate.
This toilet is a bit more compact than others, designed to fit in tighter spaces. However, the long skirts make it difficult to reach the supply line for installation. Not impossible, but difficult.
The 1.0/1.6 GPF dual-flush mechanism averages out to 1.28 (GPF), which is pretty economical, even by today's standards. You'll also get everything you need for installation, including a soft-closing seat. Altogether, it's a great value, bringing WOODBRIDGE quality to an affordable price point.
Pros
It's one of the most affordable WOODBRIDGE models
Hygienic design is easy to clean
Very clean one-piece aesthetics
Includes everything needed for installation
Cons
Long skirt makes it hard to reach the supply line
---
3.

WOODBRIDGE B0970S Smart Bidet Toilet– Premium Choice
Years ago, most toilets were essentially the same. They had similar designs and functioned pretty closely to each other. But today, technology has integrated with our toilets, allowing for some very unique options, such as the WOODBRIDGE B0970S Smart Bidet Toilet.
You can tell this toilet is special just by its appearance. It's got a tankless, one-piece design that stands out immediately. There's nowhere for dirt and bacteria to buildup on this model. There are no nooks or crannies and everything is smooth for easy cleaning.
But the real draw of this toilet is the included bidet seat. It's heated, so you never have to feel cold in the mornings. The bidet wand offers adjustable pressure using hygienic filtered water for the ultimate in post-poop comfort and cleanliness. Best of all, the bidet wand is self-cleaning so you won't have to scrub it all the time.
With this toilet, you don't even have to think about flushing anymore. When you get up, it automatically evacuates the waste. Even better, the on-board air deodorizer and carbon filter keep your bathroom smelling fresh.  With all these features, it shouldn't be surprising that this is one of the more expensive WOODBRIDGE toilets.
Pros
Integrated bidet
Heated seat
Clean tankless aesthetics
Self-cleaning bidet wand
Hands-free operation
Air deodorizer with carbon filter
---
4.

WoodBridge T-0001 One Piece Toilet
The T-0001 is very similar to several other toilets in the WOODBRIDGE lineup. It features a one-piece design that's hygienic and attractive, with clean lines and few areas for dirt, bacteria, and nastiness to gather. The sides are smooth, thanks to skirted trap-ways that help to give this toilet its clean appearance while also making it more hygienic.
Like other toilets from WOODBRIDGE, this one includes everything you need to install it. You'll get all of the hardware, wax ring, and even a soft-closing seat that won't slam or pinch your fingers. But there's not much to separate this toilet from some of the other similar models, except the price. Unfortunately, this model seems to be pretty overpriced. It offers great performance, but you can get the same performance from other WOODBRIDGE toilets that cost about half as much.
We also weren't thrilled with the low water level in the bowl. This allows waste to hit the exposed sides of the bowl, where it tends to stick. Naturally, this means more time spent cleaning out the bowl to keep everything fresh. Overall, it's a great toilet, we just think it's outperformed by some cheaper models.
Pros
Concealed trap-way
Soft-closing seat
Includes everything for installation
Cons
Overpriced
Low water level means more mess in the bowl
---
5.

WOODBRIDGE T-0018 Dual Flush Elongated Toilet
Reasonably priced with elegant looks that set WOODBRIDGE toilets apart from other brands, the T-0018 Dual Flush Elongated Toilet is a great device that's held back by two small flaws.
Compared to the other toilets on this list, this one is pretty difficult to install. The bolts are only accessible from behind the toilet. Most bathrooms have the toilet positioned so that it's backed up to the wall. You can see how this would make it very hard to reach those bolts. Thankfully, you only need to go through the installation process once, but it is more difficult with this toilet. We suggest getting a helper to offer a second pair of hands.
The other issue is that there's not enough water in the flush to send everything all the way to the sewer. This could be more or less of an issue depending on the pipes in your home, but it's definitely worth noting.
Aside from these flaws, this is an attractive and affordable toilet. It features a comfort height design that's perfect for anyone who has trouble getting on and off the toilet. The dual flush mechanism also helps conserve water, saving you money in the long run.
Pros
Dual flush mechanism
Reasonably priced
Comfort height design
Cons
Difficult to install
Not enough water to send the waste to the sewer
---
6.

WOODBRIDGE T-0032 Elongated Toilet
The T-0032 Elongated Toilet features the signature aesthetics that WOODBRIDGE toilets are known for. The trap-ways are concealed, making for very clean lines and keeping this toilet hygienic and clean. There's just nowhere for dirt and grime to buildup, especially since this toilet features a one-piece design.
You also get a dual-flushing mechanism that uses the standard 1.0/1.6 GPF. This allows you to conserve water and reduce your water bill, saving you money in the long run.
Like most of the WOODBRIDGE toilets, this one comes with a soft-closing seat. However, it's a bit different than others we received and seems to scratch very easily. Luckily, the hardware and wax ring were also included.
Similar to many models with concealed trap-ways, this one can be difficult to install. You can still likely handle it without the need for a professional, but you'll probably have a hard time reaching behind the toilet to access the bolts as we did.
Pros
Dual flushing
Soft-closing seat
Cons
The lid scratches easily
Hard to install in tight areas
---
7.

WoodBridge T-0020 Dual Flush Elongated Toilet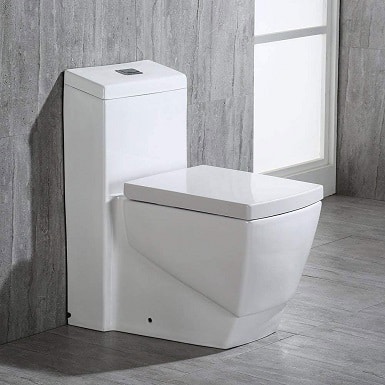 While most of the toilets in the WOODBRIDGE line are very similar in appearance, the T-0020 departs from the standard smooth lines of the other toilets, instead, opting for a very square look. It's definitely unique, though we're not sure that it's as attractive as other options.
There's a notable downside here though. There are far more edges and places for mess to accumulate on this toilet than the smoother toilets we've reviewed so far. This means you'll likely need to spend more time cleaning this model than others.
Still, there are some great things about it. For instance, it's easier to install than some of the other models because of the way it's designed. That said, it's a pretty hefty 138 pounds, so getting it into your bathroom might be difficult. It's also equipped with an economical 1.0/1.6 GPF dual-flush mechanism to save you money. Still, we think there are far better options available from WOODBRIDGE, even though the T-0020 does have some interesting aesthetics.
Pros
Very unique appearance
Dual Flush
Easier to install than other models
Cons
Not as hygienic as other models
Weighs a hefty 138 pounds
---
8.

WoodBridge T-0008 Luxury Bidet Toilet
We usually love the toilets that infuse loads of modern technology into a device that we've been using our entire lives. But the T-0008 Luxury Bidet Toilet missed the mark, even though there are some incredible features built-in. We like the bidet seat with massage functions. It's also a nice touch that it's heated and includes a built-in night light. And who doesn't like the idea of an air dryer to dry your backside when you're finished? We certainly do.
This toilet features a hygienic one-piece design, like most of the WOODBRIDGE toilets. That's great, but it's actually the bidet seat that holds this toilet back. First, it's ugly. There's no other way to say it. Plus, the hoses to supply the bidet are external, making it even less attractive.
On top of this, the flush isn't very thorough. There are parts of the bowl that it misses entirely, meaning more messes for you to clean up. For such an expensive toilet, these seem like serious oversights that we'd like to see corrected.
Pros
Built-in night light
Heated bidet seat with massage functions
Hygienic one-piece design
Cons
It's very expensive
External bidet hoses are far from attractive
The flush misses part of the bowl
---
9.

WOODBRIDGE T-0032 Toilet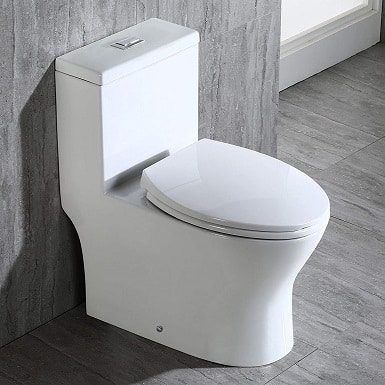 There are very few WOODBRIDGE toilets that we don't like, but the T-0032 is definitely on that list. It's overly difficult to install, particularly due to the tiny cutout in the back. There's just no room to reach your arm behind the toilet to access the water valve, hoses, or installation bolts. You have to reach these items to install or repair the toilet, and this model makes that exceptionally hard to do.
Also, the included seat has very weak hinges that broke after just a few weeks. Most of the seats included on WOODBRIDGE toilets were satisfactory; this one was not.
Of course, it's not all bad. This is still an attractive toilet, featuring a hygienic one-piece design and concealed trap-ways. You even get a 1.0/1.6 GPF dual flush to conserve water, but that's not going to be enough to earn a recommendation from us with so many other glaring flaws.
Pros
Dual flush
Hygienic design
Cons
No access to the hose or valves
Installation is overly difficult
Weak seat hinges broke
---
10.

WOODBRIDGE T-0015 Dual Flush Elongated Toilet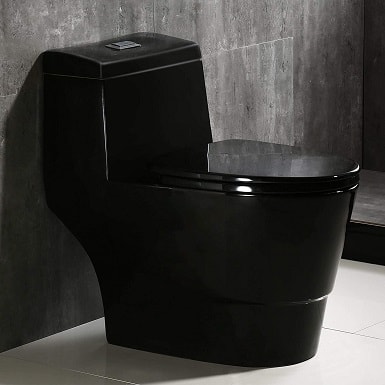 The T-0015 is one of the only WOODBRIDGE toilets that we would recommend you stay away from. After testing, we believe the only reason to choose this toilet is if you must have a black toilet to fit with your bathroom. Otherwise, you're better off going with any other toilet from the WOODBRIDGE catalog.
This toilet is not ADA compliant, so if you need that, you'll have to look elsewhere. It does have concealed trap-ways and a hygienic one-piece design, though the black coloration makes it exceedingly difficult to tell what's dirty. That could possibly be looked at as a positive though.
You're likely going to have a fun time installing this toilet. The skirted traps require a lot of space on each side so you can lay beside the toilet to get your arm in the backside and complete the installation. Because of this design with an open back, the toilet is excessively loud when it flushes.
Cons
Not ADA compliant
Difficult to install
Requires ample space
Very loud flushes
---
Buyer's Guide – Choosing the Best Woodbridge Toilet
There are plenty of toilets to choose from in the WOODBRIDGE lineup. However, many of them appear to be pretty similar. So, if you're having a hard time deciding between models, then this buyer's guide is for you. In it, we're going to take a look at the traits you should be comparing to help you determine which toilet is right for you.
Cleanliness
Let's face it; bathrooms aren't the most hygienic of areas. The toilet, in particular, has a very dirty job to fulfill. It's pretty difficult to keep a toilet completely hygienic all the time, but there are some traits that contribute to making this much easier.
Most of the WOODBRIDGE toilets are a one-piece design. This helps keep messes to a minimum since there aren't any nooks, crannies, or crevices for dirt and grime to accumulate in, like there are in a standard two-piece toilet.
Similarly, skirted trap-ways hide all of the places where most of the mess would buildup on other toilets, around the base, and on the traps themselves. But concealed trap-ways offer smooth sides with nowhere to hold mess, making them easy to clean off.
Still, the differences in designs can mean that two toilets similar in appearance can offer very different levels of hygiene. Even some one-piece toilets with skirted traps have hard corners and edges where mess can accumulate. If hygiene is of utmost importance to you, you'll want to skip these models in favor of designs with softer lines and no hard corners.
Aesthetics
Appearances can be just as important as cleanliness. We spend a lot of money making our houses look nice, and the bathroom is one room that many guests will see. Naturally, we want it to look as nice as possible.
Many of the WOODBRIDGE toilets have very elegant designs that just look and feel luxurious. Of course, this is all a matter of preference, so if you want an aesthetically pleasing toilet, you'll have to decide which model you find the most attractive.
The Flush
Most of the WOODBRIDGE toilets feature a dual-flush mechanism that allows you to use less water when it's not necessary to have a big, powerful flush. But that larger flush is still there when you need it. Most of these toilets feature a 1-gallon small flush and a 1.6-gallon larger flush.
Though they might use the same amount of water, the effects of the flush inside the bowl can differ greatly. Differences in design mean that some of these toilets don't get a thorough flush that hits every part of the bowl.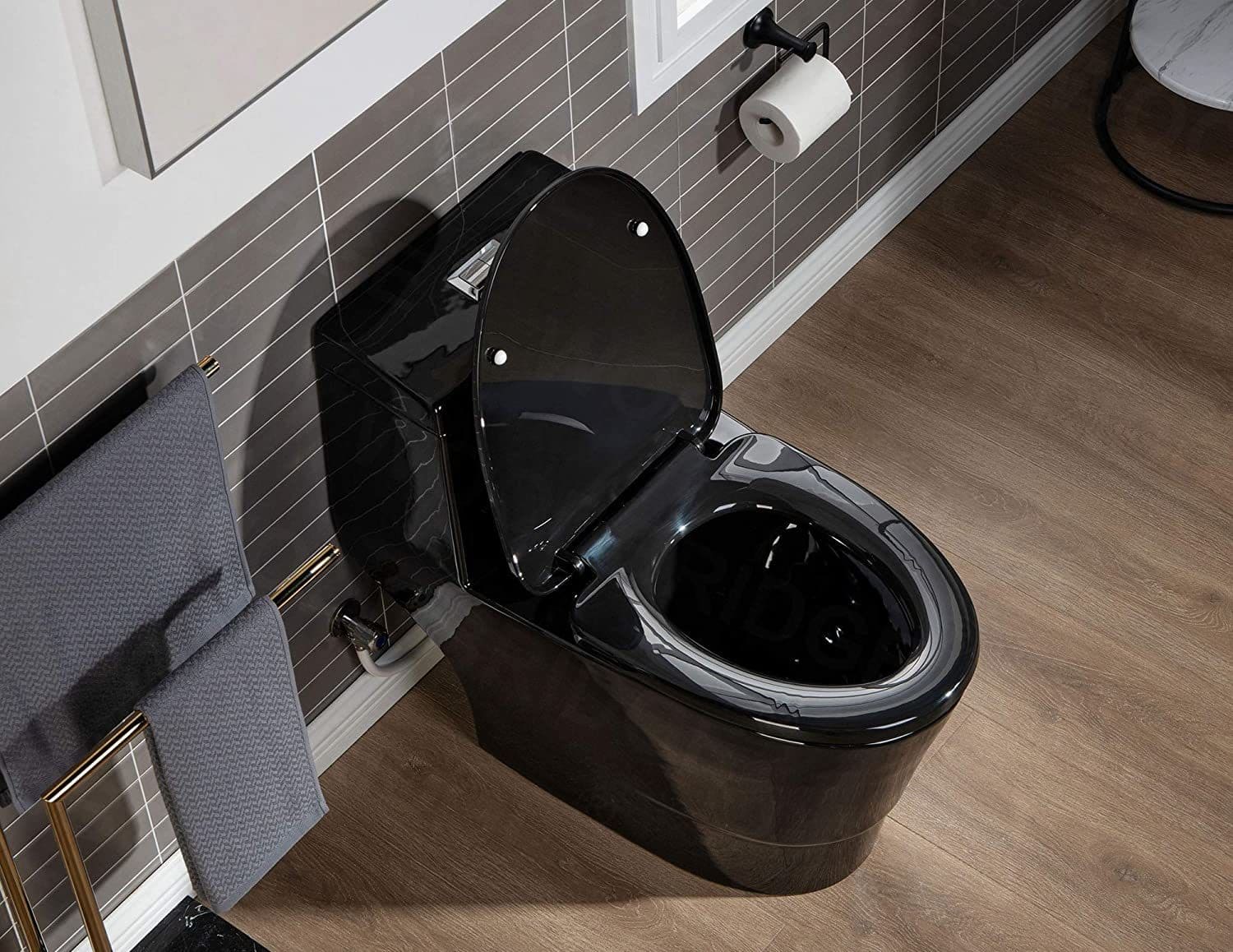 Another difference is how much water sits in the bowl. If there's not much water in the bowl, then more of the sides are exposed. If waste hits those exposed sides, it often leaves behind marks that need scrubbing to remove.
To avoid these issues, we recommend looking for a model with a thorough flush that hits every inch of the bowl and has enough standing water to avoid waste sticking to the sides.
Price
One of the biggest differences you'll notice between models is the price. Some of the WOODBRIDGE toilets are very affordable, especially considering their elegant designs and impressive features. But others are considerably pricier. In fact, some toilets in the lineup cost more than twice what the cheaper models go for. Do they offer performance that's twice as good? Well, that's up for interpretation.
In some cases, we believe that the included features do warrant the higher price tag. But some models just seemed overpriced instead. You'll have to determine if the extra features are worth the extra cost to you.
---
Conclusion
From affordably priced toilets to expensive devices integrated with modern technology, the WOODBRIDGE line of toilets spans every budget and need, as you could see in our reviews. After using so many of these toilets, we've narrowed down the list to our top picks for the best WOODBRIDGE toilet, each meant for a different budget or need.
For most people, we recommend the T-0019 toilet. It's reasonably-priced but loaded with great features like the dual-flush mechanism, concealed trap-ways, a soft-closing seat, and a hygienic one-piece design.
If you want the cheapest option possible that still offers incredible value, we suggest the B-0500. It's one of the cheapest toilets in the WOODBRIDGE lineup, but still offers a lot, like a one-piece design that's hygienic and attractive, a soft-closing seat, and skirted trap-ways.
But if you want the pinnacle of modern comfort, then you should check out the B0970S Smart Bidet Toilet. It's loaded with top-notch functionality like the integrated bidet with a self-cleaning wand, heated seat, automatic hands-free flush mechanism, and even a built-in air deodorizer with a carbon filter.