Intex vs Bestway Above-Ground Pools 2023 Comparison: Which Brand is Better?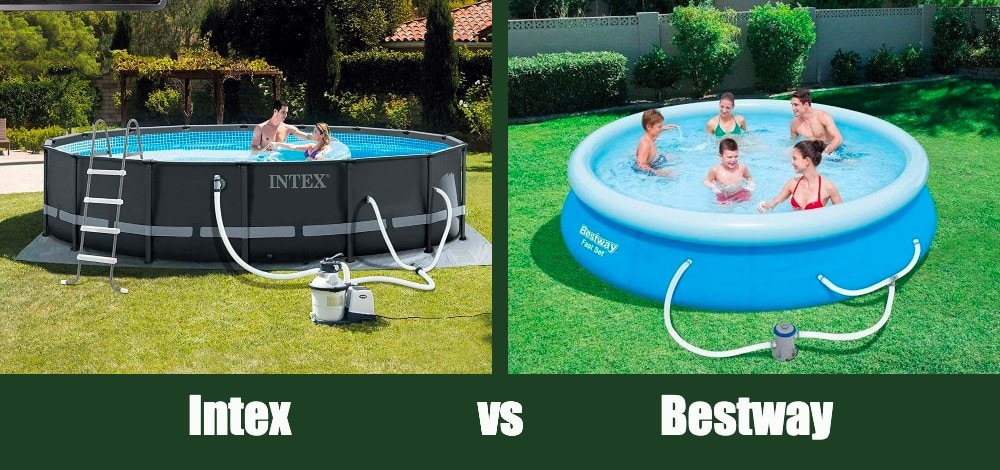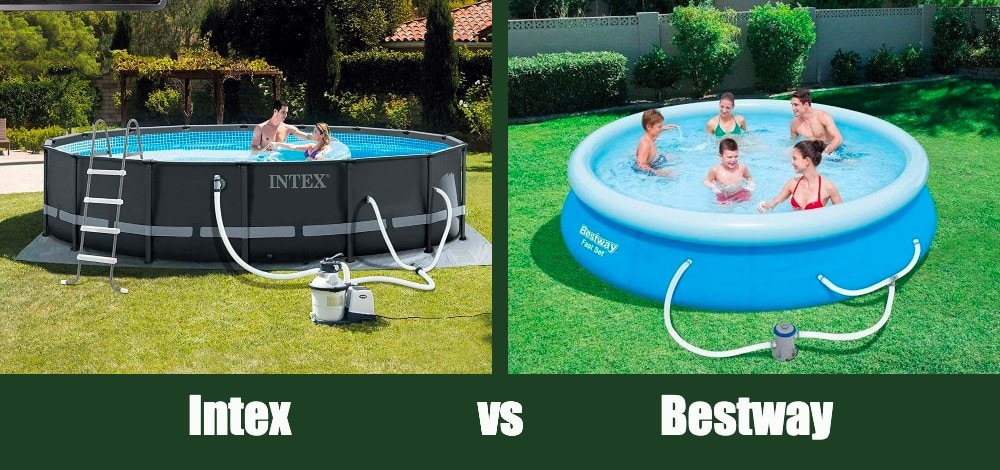 It seems that summers get hotter every year, and everyone is looking for a way to cool down. Taking a dip in a cool, refreshing pool can do the trick every time. Our lifestyles have gotten so busy that many of us don't have the time to keep up with the maintenance of a permanent in-ground pool. Others can't afford the high price tag that comes with them.
There are temporary alternatives available. Some pools can be set up each spring and taken down to store for the winter. Two of the top companies that offer these pools are Intex and Bestway, but which brand is better? Here, we will be giving some information about each company and its products, and we'll determine which is best.
Intex
Intex has been making quality inflatable products for over 40 years, and its products are available in more than 100 countries worldwide. It made its first above-ground pool in 1997. Since then, it has improved the quality and expanded the products it has available.
A Quick Comparison of the 5 Types of Intex Pools (2023)
Image
Product
Details

Intex Easy Set

Easy to assemble
15 foot x 42-inch Inflatable Swimming Pool
Puncture-resistant
CHECK PRICE

Intex Metal Frame

Available in four different sizes
Pump and filter included
Made from high-molecular PVC
CHECK PRICE

Intex Prism Frame

Comes in round
rectangle
and oval styles
Available in 10 different sizes
Easy to assemble
CHECK PRICE

Intex Ultra Frame

Made from heavy-duty powder-coated steel frames
Pump and ladder are included
Available in six different sizes
CHECK PRICE

Ultra XTR Frame

Has 7 different sizes
Available in round and rectangular style
Sturdier than the other models
CHECK PRICE
The 5 Types of Intex Pools Explained:
1.

Easy Set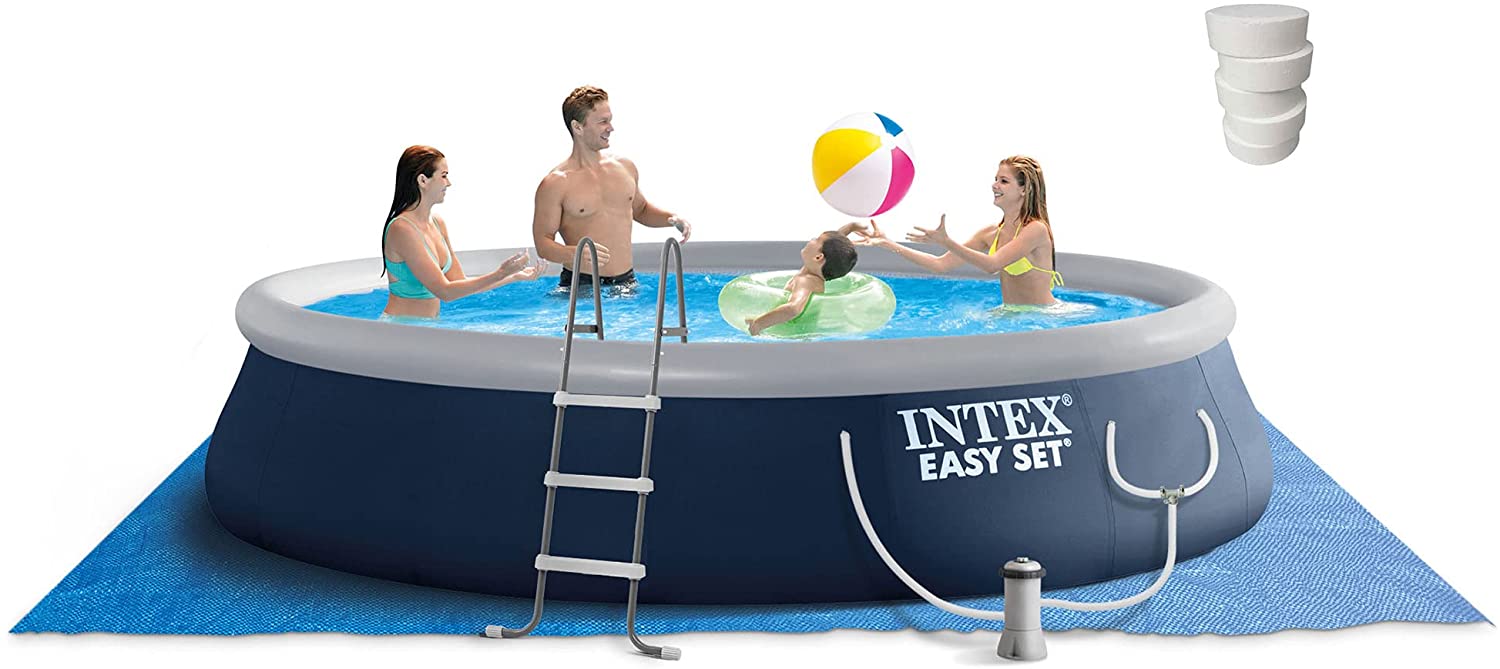 The Intex Easy Set pools are smaller pools that are great for those who don't have large yards. They come in seven sizes. The smaller sizes are perfect for families with small children. They are shallow enough for most kids to touch the bottom while keeping their heads above water. They're large enough in diameter to allow several kids to play in them. They aren't quite big enough for adults to swim in, but there is plenty of room to lounge around. The larger ones offer more swimming space for older teens and adults.
The Easy Set pools are quick and easy to assemble. Once you have rolled the pool out where you want it in the yard, you'll want to stretch it to eliminate as many of the wrinkles in the bottom as possible. After that, hook up the filter and fill the air ring with air. Air is lighter than water, so as you fill the pool with water, the ring rises, holding the pool's walls up.
---
2.

Metal Frame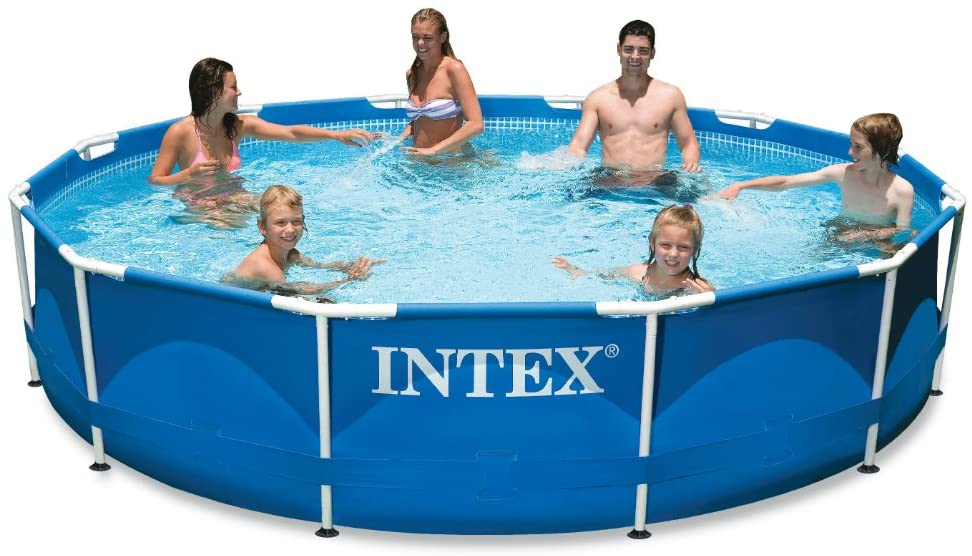 The Intext Metal Frame pools offer super-tough three-ply PVC liners supported by powder-coated steel frames. No tools are needed to snap these pools together, making them quick and easy to assemble and disassemble to store at the end of the summer. Once the pool is standing, a band wraps around the pool's center to reinforce the legs and keep them securely in place.
The Metal Frame pools come in four sizes.
---
3.

Prism Frame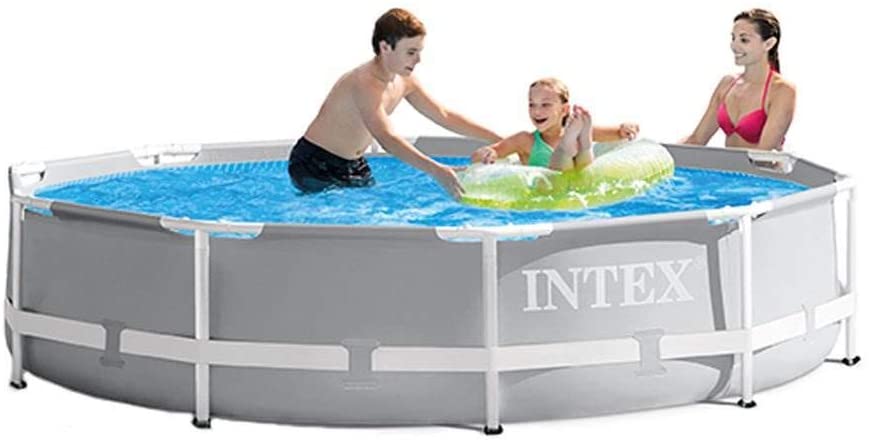 The Intext Prism Frame pool liners are made of durable three-ply puncture-resistant PVC. The frames are made of the same durable powder-coated steel as the Metal Frame pools, but they're larger in diameter to offer better support.
Intex offers seven sizes of round pools and three rectangular ones.
---
4.

Ultra Frame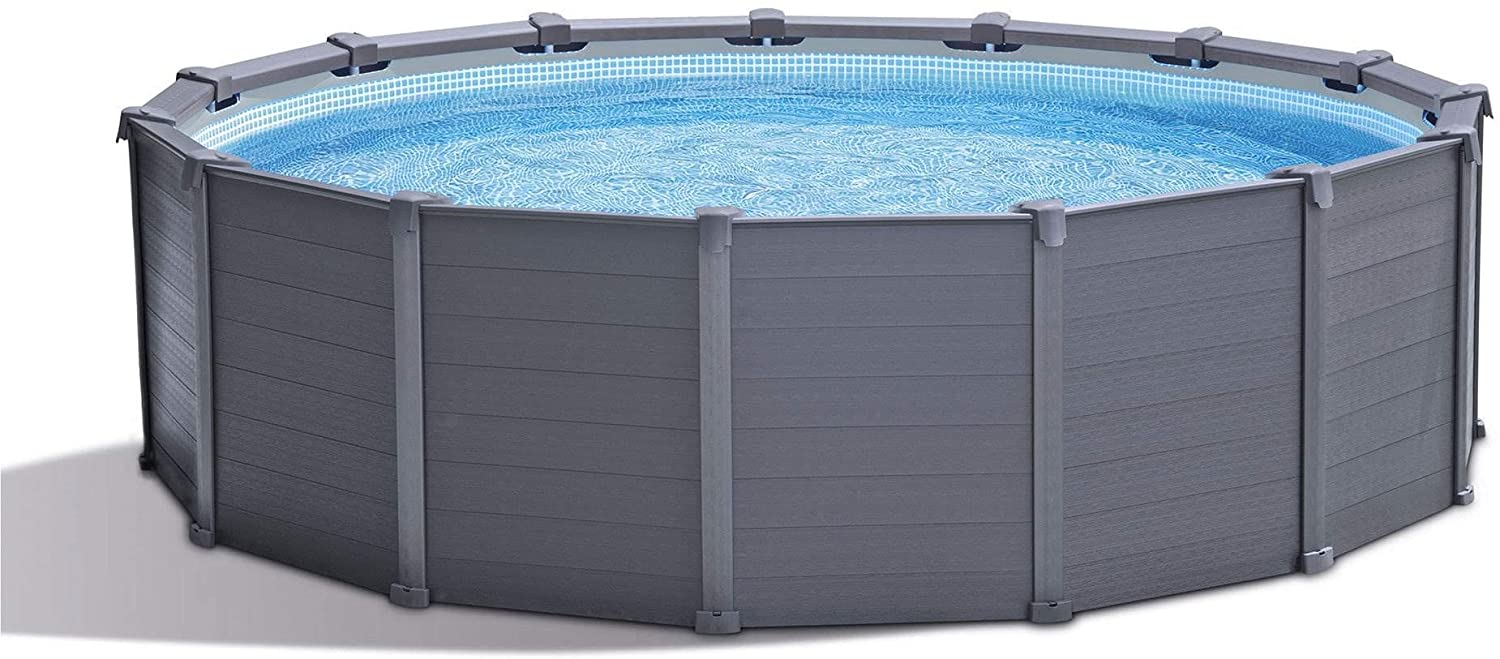 The Ultra Frame Intex pools have heavy-duty powder-coated steel frames that support the same sturdy, puncture-resistant sidewalls. The shape and state-of-the-art design of these frames don't require locking pins to keep the poles together. The unique structure is more durable, and the pieces slide together effortlessly to offer more stability.
The Ultra Frame pools are available in six sizes.
---
5.

Ultra XTR Frame

The Ultra XTR Frame pools are the best quality above ground pools Intex offers. The material of the walls is more substantial than the others. They combine the strength of polyester and PVR to make a liner that is 50% tougher than the other models. The metal frame is rust-resistant inside and out. The inside is a galvanized pipe that won't rust, while the outside is powder-coated to protect it from the elements.
These durable pools have snap-in joints that allow even the largest one to be completely installed and ready for water within 3 hours. At the end of the season, they're easy to take apart to store away for the winter. There are seven sizes available in circular and rectangular pools.
---
Krystal Clear Pump
Intex provides its Krystal Clear Pumps to keep your pool water clean and refreshing. They are quick to install and easy to maintain. The filter should be changed every two to three weeks, but it can be rinsed with a garden hose if it clogs up before that. The pump is available in many sizes of Krystal Clear Cartridge Filter Pumps and Krystal Clear Sand Filter Pumps. If you prefer saltwater pool systems, the pumps are also available with an attached saltwater system. You can also purchase the saltwater filter separately to connect to the pump you already have.

Bestway
Bestway was founded in 1994 and has become one of the top-selling inflatable and water sports companies. It joined Intex with comparable above-ground pools, but it goes a step further in what it offers.
A Quick Comparison of the 4 Types of Bestway Pools (2023)
Image
Product
Details

Bestway Fast Set

Made of three-ply material
Inflatable
Easy to assemble
CHECK PRICE

Bestway Steel Pro Max

Available in four sizes
Puncture-resistant
No-tool setup
CHECK PRICE

Bestway Power Steel

Deluxe version of Steel Pro Max
Available in round and oval style
Includes ladder
cover
and filter pump
CHECK PRICE

Bestway Hydrium

Easy to drain
Available in round or rectangular style
Durable
CHECK PRICE
The 4 types of Bestway Pools Explained:
1.

Fast Set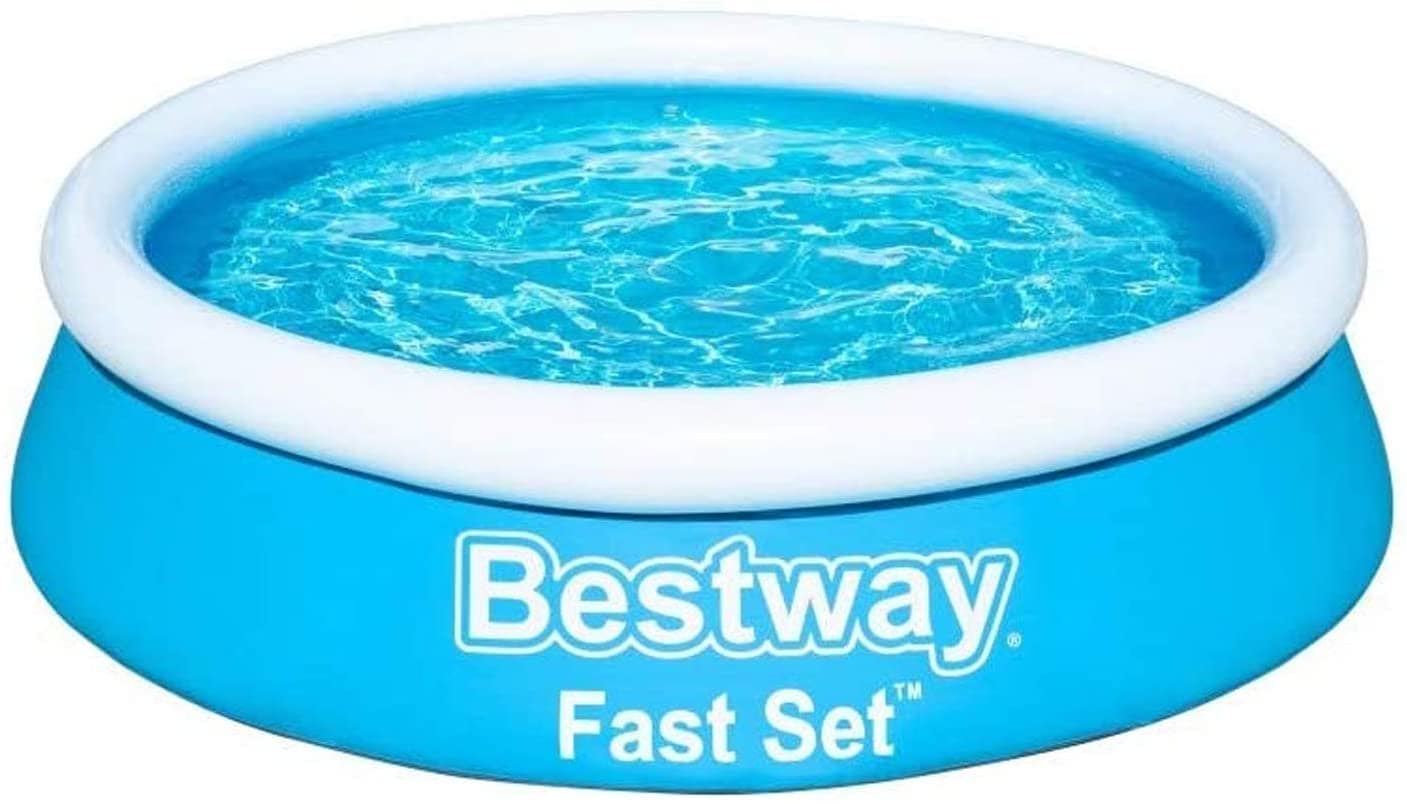 The Bestway Fast Set pools are comparable to the Intex Easy Set pools. They are also made of three-ply material, which is composed of a layer of polyester mesh laminated between two PVC layers. They have an inflatable air ring around the top to hold the sides up.
---
2.

Steel Pro Max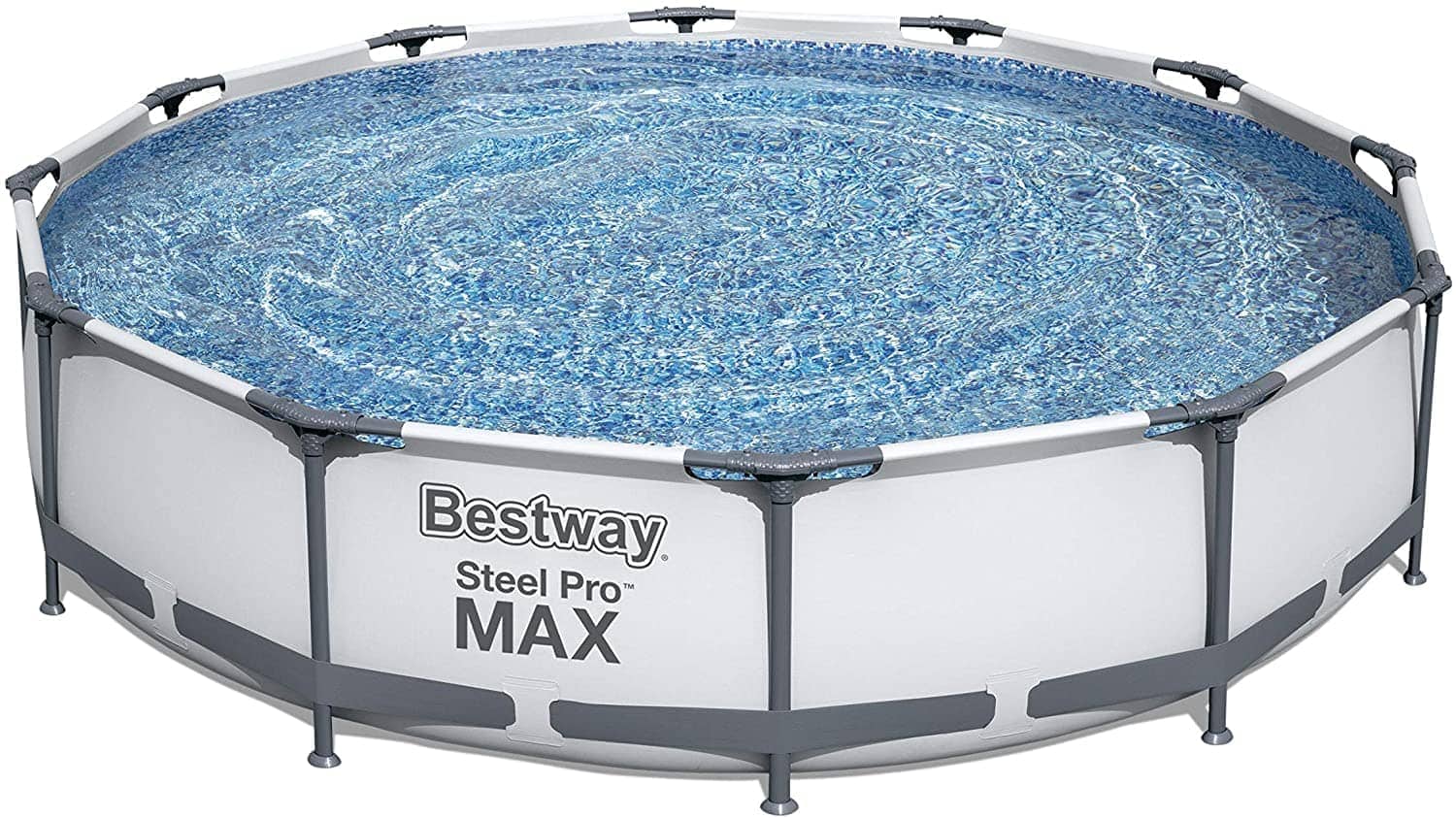 The Steel Pro Max pools are comparable to the Intex Metal Frame pools. The liner is the same durable three-ply material supported by a corrosion-resistant metal frame. They are available in four sizes.
---
3.

Power Steel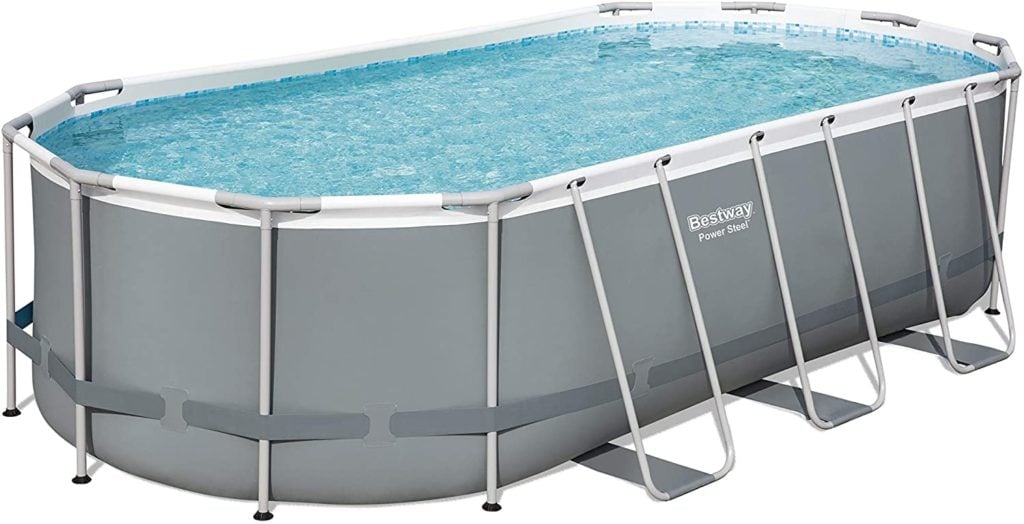 The Bestway Power Steel pools compare to Intex's Prism Frame Pools. They offer the same features the Steel Pro Max pools do, but in a deluxe version. The frame is more robust and provides more structural support.
They are available in a 16' x 48" round shape or a 24' x 12' x 52" oval shape.
---
4.

Hydrium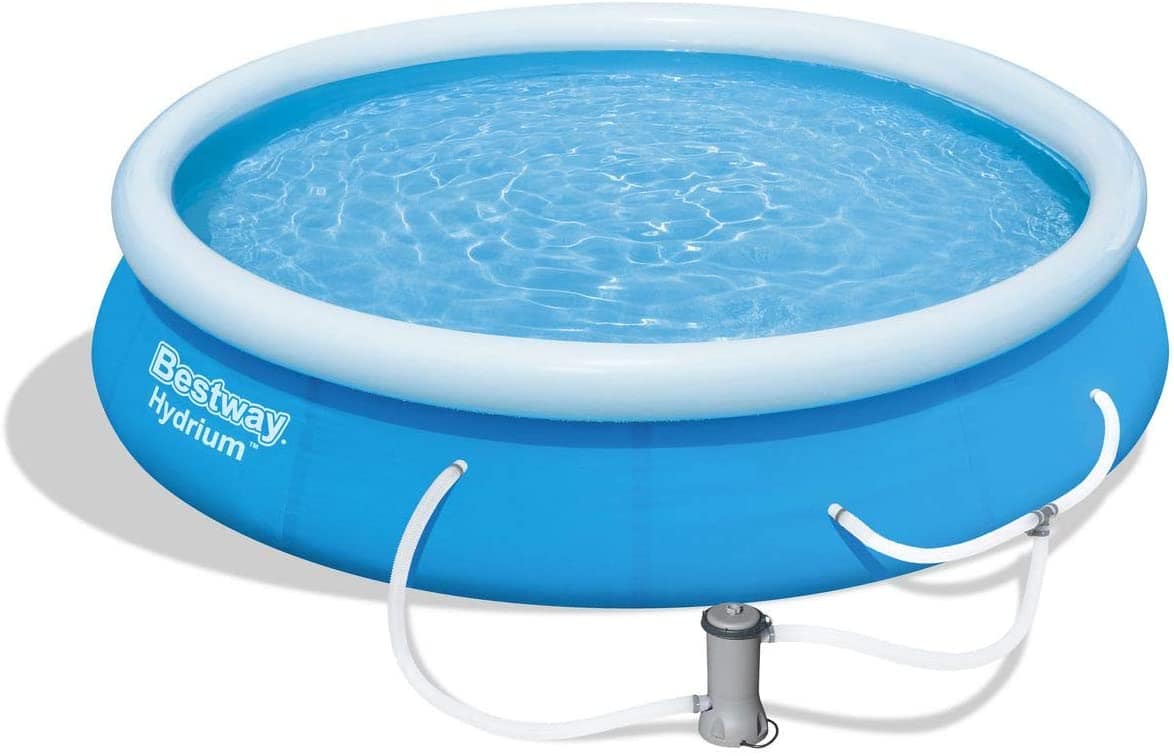 The Hydrium pools are where Bestway steps out above Intex. They have steel walls, as well as steel frames. Steel is much stronger and can handle more roughhousing than vinyl-sided pools can. They're available in round or rectangular shapes.
---
Flowclear Pumps
Like Intex, Bestway offers pumps in the Flowclear and the Flowclear Sand versions in various sizes. If you get these pumps as a package with your pool, they are good to get you started, but they aren't as good as the Intex Krystal Clear pumps. Many people swap the one they get with the Intex version.

So Who's the Better Brand?
Setup
Edge: Intex
Both Intex and Bestway make quality above ground pools, but there are a couple of differences.
Neither requires tools to assemble, and they're easy to get set up and running. The difference here is in the directions that come with the pool. Intex has simple step-by-step instructions, while Bestway's are not as straightforward and easy to understand. People have been known to miss a step of inserting rings on the Bestway pools due to unclear directions.
Sidewalls
Edge: Bestway
Both companies have a variety of sizes, shapes, and types of pools. Intex uses a three-ply PVC material for its sidewalls, and Bestway uses one layer of polyester mesh laminated between two layers of PVC. Bestway also takes things one step further by offering metal walls.
Frames
Edge: Intex
Intex frames are powder-coated and rust-resistant. Although Bestway's frames are also powder-coated and corrosion-resistant, they can rust.
Price
Edge: Bestway
Both companies offer incredibly affordable prices, but Bestway pools cost a little less. Intex has a more extensive selection available, however.
Pump
Edge: Intex
Though both companies offer pumps with their pools, Bestway doesn't stand up to the quality of Intex. Many who get Bestway pools will purchase an Intex pump separately to run their systems.
---
Conclusion
Both Intex and Bestway provide quality products. Intex stands out in instructions, variety, and pump quality. Bestway is slightly less expensive and offers steel-walled pools, as well as vinyl ones. It comes down to what is most important to you. Think about who will primarily be using the pool, how often it will be used, the space that you have for it, and the budget that you have to spend. Then decide which features are most important to you.