Bosch GCM12SD vs DeWalt DWS780: Which One's Best?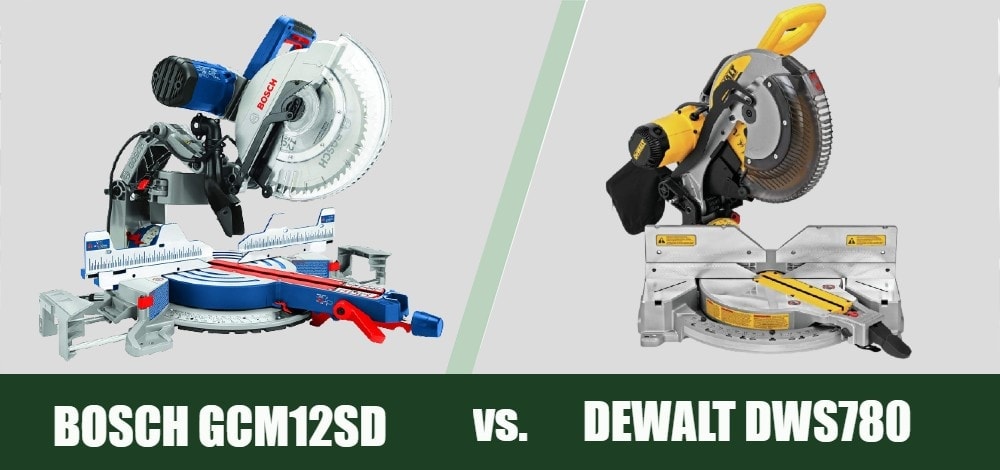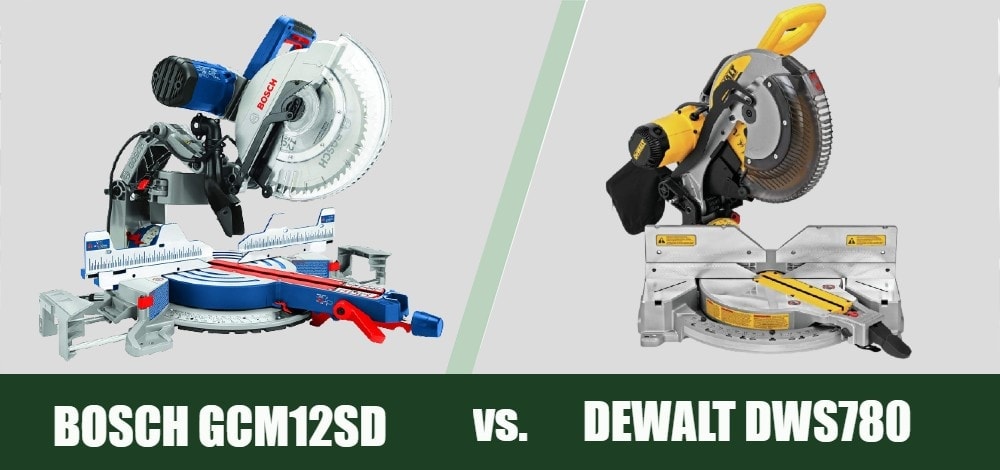 Rating
Image
Product
Details

The Winner

DEWALT DWS780

Portable
Accurate cuts
Powerful motor
CHECK PRICE

The Runner-up

Bosch GCM12SD

Smooth to use
Precise
clean angled cuts
12-inch blade delivers great reach
CHECK PRICE
Review Summary
We are taking a look at two worthy miter saws that will face off in this article: the Bosch GCM12SD and the DeWalt DWS780.
The DeWalt has the classic sliding action that most veteran woodworkers have come to expect. It has an XPS crosscut positioning system that provides an adjustment-free cut line indication. If you like things the way they've always been, you might lean more towards the DeWalt.
The Bosch GCM12SD features a more modern design that fits in a smaller space. The double bevel allows for more versatile angle cutting than is possible with the DeWalt, and it's better protected from dust during your reputation for durability and a long lifespan. We recommend the Bosch to those with a cramped woodshop who aren't thrown off by modern variations of tools.

At a Glance
Let's look at the key points of each product.
Bosch GCM12SD
Manufacturer: Bosch
Model Number: GCM12SD
Weight: 65 pounds
Blade Length: 12 inches
RPM: 3,800
Motor: 15 amp
DeWalt DWS780
Manufacturer: DeWalt
Model Number: DWS780
Weight: 56 pounds
Blade Length: 12 inches
RPM: 3,800
Motor: 15 amp
---
Overview of Bosch GCM12SD
The Bosch GCM12SD features an axial glide system, which allows for wider cross cuts and improved alignment.  It also allows you to stay in a smaller space than a traditional miter saw would require.  The increased capacity allows you to cut 14 inches on the horizontal plane and 6.5 on the vertical. Beveled detents allow for quick and accurate adjustments, and most controls are positioned up front where they are easy to reach.  The 15-amp motor delivers plenty of torque and allows the saw to reach up to 3,800 revolutions per minute (RPM).  It includes two quick-release fences for keeping your projects in line while you cut.
The Bosch is a very smooth operating machine, and the only problem we had while reviewing it was that the on-off button is difficult to use while running the machine due to its poor positioning.  The fence is also a bit larger and clunky if you're only working on small pieces, and there are no handles or grip spots to lift this heavy machine from the floor.
Pros
Axial glide system
14-inch horizontal cutting capacity
Bevel detents
Upfront controls
15-amp motor
3,800 RPM
2 quick-release fences
Cons
The on-off button is difficult to use
The fence is large for cutting smaller pieces
Hard to lift

Overview of DeWalt DWS780
The DeWalt DWS780 features a precise miter system that helps improve the accuracy of your cuts. The 15-amp motor allows the saw to reach up to 3,800 RPM, which is more than enough to slice through even dense hardwoods. The integrated XPS crosscut positioning system uses a bright LED to cast a shadow on the work surface that tells the user where the blade will contact the wood. An adjustable miter plate has 10 detent stops for making fast and accurate angle adjustments. An efficient dust collection system helps remove harmful contaminants before they enter your lungs or the machinery housing. An integrated handle helps make the unit more portable.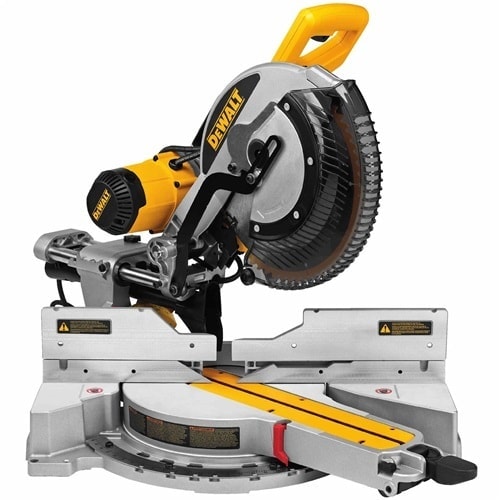 The downside to the DeWalt is that it's difficult to assemble, and many of the bolt holes don't line up and require coaxing to get them into place. It also tends to bottom out if you don't use the depth stop, and it's difficult to connect the dust port.
Pros
Precise miter system
Handle design for added portability
Integrated XPS crosscut positioning system
15-amp motor
3,800 RPM
Adjustable miter plate with 10 stops
An efficient dust collection system
Cons
Difficult to assemble
Bottoms out if you don't use the depth stop
Hard to connect the dust port
---
What Are the Differences Between Them?
Performance
Edge: Tie
Both miter saws use the same size engine to drive the same size blade at the same speed.  With such close specifications, it's no wonder people compare these two saws so often.
Price
Edge: Tie
At the time of writing, both models are the same price on Amazon, with the Bosch able to ship a few days earlier, but that could be due to our location, so we wouldn't want to call it an edge.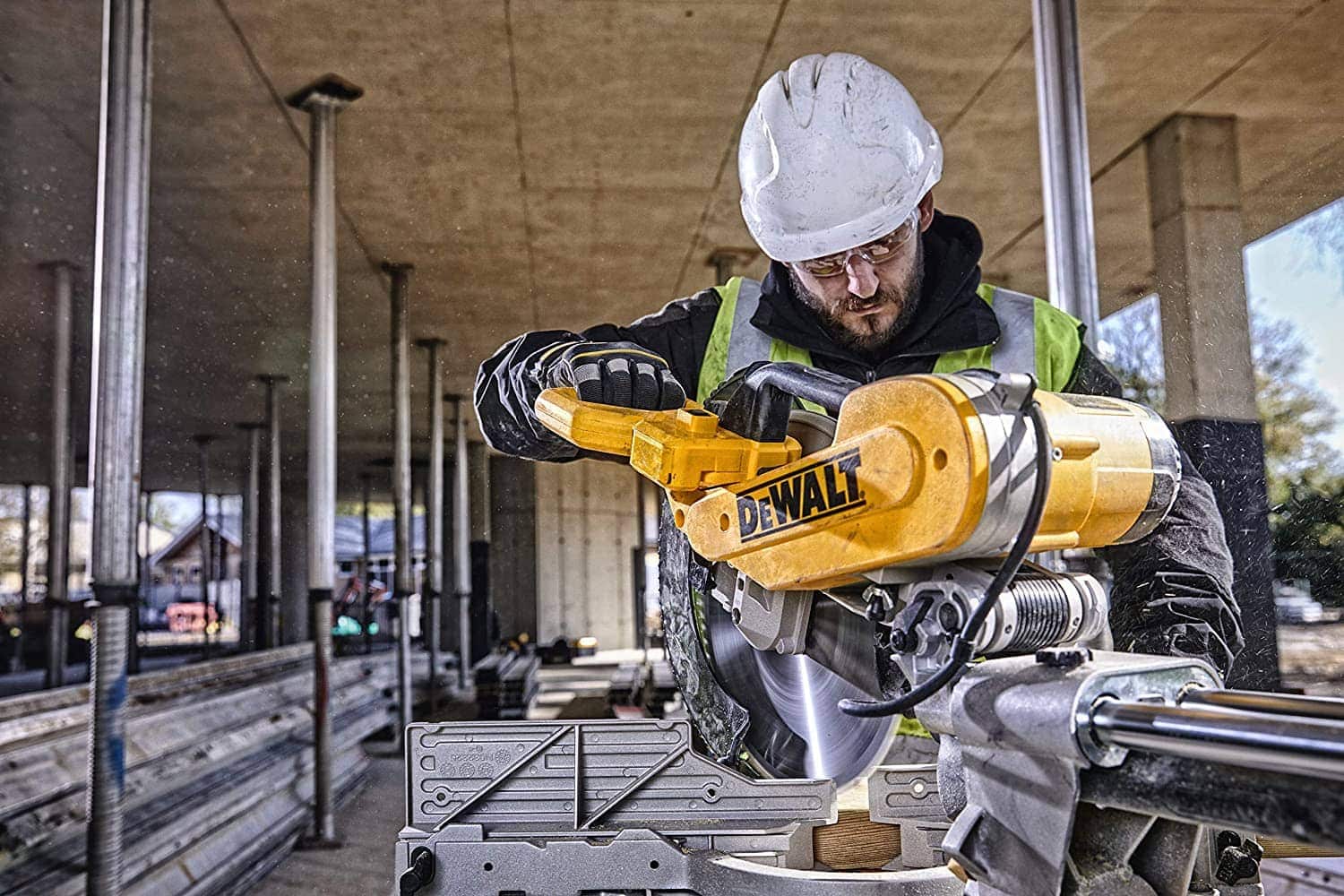 Durability
Edge: Bosch
We must give the Bosch the slight edge in durability because the DeWalt tends to bottom out if you don't use the depth stop, which could send plastic flying out from under the table.  It also was more difficult to assemble, and the tolerances didn't seem as strict, which may result in a less durable machine.
Design
Edge: Bosch
Again, we must award Bosch this category because their design allows the saw to fit in a smaller area of the workshop, which can be critical if you are low on space. It can also cut a wider range of angles, making it the clear winner in the design category.
What the Users Say
We've searched the internet to find out what other people have to say, and these are some of the things we found out.
Most people who own either tool swears by them as the best miter saw.
Most people comment on how smoothly the Bosch operates.
Most people like that the Bosch saw fits in a smaller area.
Most people complain about the depth stop problem associated with the DeWalt.
Many people have called the DeWalt a workhorse.
Some people choose the DeWalt because they say it has a better dust collection system
Some people have a difficult time setting up the Bosch fences and struggle with accuracy.
Some people have a difficult time adjusting the fences on the DeWalt.

Conclusion
Both the Bosch and DeWalt miter saws are fantastic tools that will improve any workshop, and you would be hard-pressed to find a third equal. The difference between them is slight, but we would recommend the Bosch for most people because it has a smaller footprint in the workshop and can do everything the DeWalt can with a little more versatility. If you are a seasoned veteran, you probably want the tool you expect, and in that case, the DeWalt is a perfect choice.
We hope you have enjoyed reading over the issue dull and agree with our conclusions.  If we have helped you choose a new tool for your workshop, please share this shootout between the Bosch GCM12SD and the DeWalt DWS780 on Facebook and Twitter.