8 Best Solar Pool Cover for In & Above-Ground Pools in 2023 – Reviews & Top Picks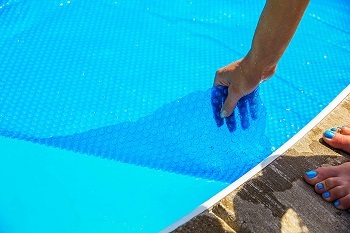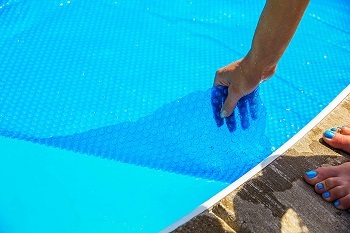 Solar covers can provide you with many benefits for a relatively small investment, even saving you money in the long run. They can use the heat of the sun to warm your pool water by allowing the UV rays to get through, reducing your costs to heat your pool.
Likewise, they prevent the evaporation of your pool water and chemicals, saving you more money in the long term. A good solar pool cover will fit your pool well and should last for several seasons. But a poor-quality solar cover could leave your pool full of disintegrating plastic bits.
We've used loads of these covers, and the following eight reviews will compare what we've learned throughout our time of testing so many of them to find the best solar pool covers for you.

A Quick Comparison of Our Favorites in 2023
Rating
Image
Product
Details

Best for Above-Ground Pools

Intex

Reduces evaporation by 95%
Retains heat
Drain holes
CHECK PRICE

Best for In-Ground Pools

Sun2Solar Rectangle

Blue and white color options
Helps your pool water retain heat
Reduces evaporation
CHECK PRICE

Blue Wave

Help raise pool temp by 15 degrees
Protected by a 3-year warranty
Multiple sizes available
CHECK PRICE

Harris Round

Keeps pool water warm
8-year warranty
Available in multiple sizes
CHECK PRICE

Thermo-Tex

Resists degradation
5-year warranty
Middle-of-the-pack performer
CHECK PRICE
The 8 Best Solar Pool Cover for In & Above-Ground Pools
1.

Intex 29022E Solar Cover – Best for Above-Ground Pools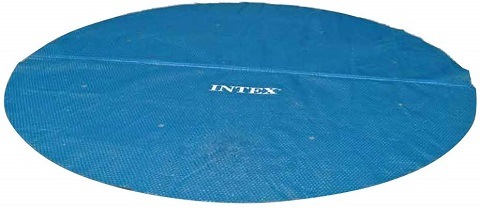 Well-built yet dirt-cheap, the Intex solar cover is our top recommendation for above-ground pools. It's one of the cheapest solar covers we've seen, but that doesn't mean it's not effective. With a 95% reduction in evaporation, this cover will help you keep your water levels full and will help save money on your water bill since you won't be losing any to the sun. Moreover, it helps retain heat within your pool, reducing the cost of keeping the water heated. Used correctly, you should see temperature increases of about 15 degrees when using this cover.
One of our favorite features of the Intex solar cover is the drain holes that prevent water accumulation. On covers without this feature, water can get onto the cover and weigh it down, causing it to sink into the pool. But that never happened to us with the Intex cover. However, it only fits round pools that are 12 feet wide and there aren't any other size options. But if your above-ground pool falls within those bounds, then this is the cover we most highly recommend. Overall, we think this is the best solar cover for above ground pools we have reviewed this year.
Pros
Dirt cheap
Reduces evaporation by 95%
Retains heat
Drain holes prevent water accumulation
Cons
Only fits 12' wide round pools
---
2.

Sun2Solar Rectangle Solar Cover – Best for In-Ground Pools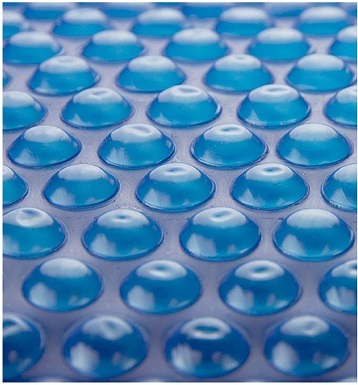 This rectangular solar cover from Sun2Solar was our favorite choice for in-ground swimming pools. It's available in many different sizes, so you should have no trouble finding the perfect fit for your pool. You also get a choice between a blue or white cover, depending on what you think looks better. Similar to other solar covers, this one reduces evaporation up to 95% while helping your pool water retain heat. It's one of the most effective covers we've seen when it comes to heat retention. After a day in the sun, we noticed a 10-degree change in water temperature. After two days of sun-heating, we saw just under 15 degrees of added warmth in our pool water with no heater needed.
While we really liked the performance of the Sun2Solar solar cover, we weren't thrilled with the price. This is one of the most expensive solar pool covers that we've seen. That said, it worked so well that we think it's worth shelling out the extra cash for its solid performance. When you need a reliable solar cover for your in-ground pool, this is the one we suggest. For these reasons, we've named this as the best solar pool cover for inground pools available this year.
Pros
Available in many sizes
Blue and white color options
Helps your pool water retain heat
Reduces evaporation
---
3.

Blue Wave NS110 Solar Pool Cover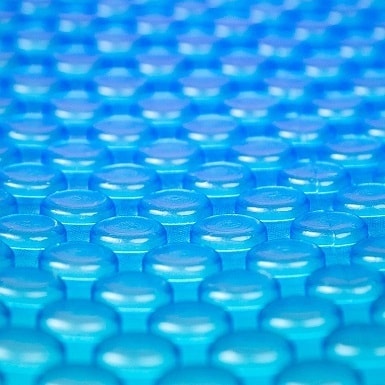 Available in multiple different sizes to help you get the perfect fit for your above-ground pool, the Blue Wave solar pool cover is a great product that priced itself out of our top position. It's great at retaining heat, and we experienced substantial increases in the water temperature of our pool when using this cover. Since it's sized to perfectly fit your pool, it also kept out unwanted debris and litter like leaves and twigs from nearby trees. But it's quite a bit more expensive than some of the other options that were just as effective.
Aside from the elevated price, we were disappointed by the lack of drainage holes on the Blue Wave cover. If you get water on top of this cover, it will likely start to sink into your pool. But other than this minor annoyance, it's a great cover overall. It's even protected by a three-year warranty so you can rest assured it will at least hold up through several seasons.
Pros
Can help raise pool temp by 15 degrees
Protected by a 3-year warranty
Multiple sizes available
Cons
More expensive than other options
No drainage holes
---
4.

Harris H18RDCC16 Round Solar Cover
This clear solar cover is 16 Mils thick to help it hold up through multiple seasons of changing weather conditions. To that end, it's protected by a limited eight-year warranty. However, the warranty doesn't cover things like damage from chemicals, which is the main issue that we experienced with this cover. It's supposed to minimize evaporation and prevent the dissipation of pool chemicals, but those same pool chemicals started to break down the material within the first year. This resulted in hundreds of tiny plastic bubbles falling into the pool, which we then had to fish out.
This is one of the more expensive covers we tested, so its poor longevity was a major disappointment. While it worked, it was great at keeping our pool water warm though. It's available in three sizes to fit round, above-ground pools. But it's not the one we'd suggest unless you like the idea of a pool filled with disintegrating plastic bits.
Pros
8-year warranty
Keeps pool water warm
Available in multiple sizes
Cons
Plastic bubbles started falling into the pool
Warranty doesn't cover damage from chemicals
More expensive than other options
---
5.

Thermo-Tex Swimming Pool Solar Cover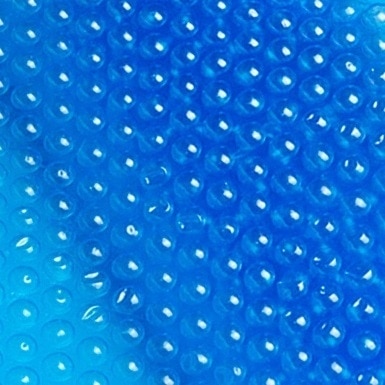 Pool chemicals can wreak havoc on any solar cover you try to use, so we were excited that the Thermo-Tex cover is supposed to resist degradation from pool chemicals. Combine that with a five-year manufacturer's warranty and we expected this solar cover to be a winner. Unfortunately, it just didn't perform as well as some of the other covers we tested. This one didn't seem to warm the water up very much at all. We used it for many weeks through varying levels of intense sunlight and it never seemed to boost our pool's temperature as much as the other covers we tried.
Despite resisting degradation from pool chemicals, we still had many of the plastic bubbles fall off and start to litter our pool with plastic. If it provided better longevity and more warmth for our pool water it may have ranked higher. As it is, this is a middle-of-the-pack performer, so it's relegated to the fifth position on our list.
Pros
5-year warranty
Resists degradation from pool chemicals
Cons
Plastic bubbles started falling off
Didn't warm up the pool water very much
---
6.

Intex 29026E Solar Cover
Intex is a major manufacturer of pool equipment and we've had good luck with their products in the past. Unfortunately, their solar cover left a lot to be desired and it didn't do much to impress us. It's only available in one size to fit rectangular pools. If your pool isn't that specific size, then this cover probably won't do it for you. If you're lucky enough to have a pool that just happens to be these exact dimensions, then you'll be happy that this cover is easy to take off or put on for a single person. We were also impressed with its ability to retain warmth in our pool.
Our real complaint with this solar cover is the short lifespan. Ours only lasted one season before it started falling apart. The material is pretty weak from the start, and if you're not careful, you could easily tear it when it's new. Sticks and other debris can easily make holes in this cover. We prefer something with a bit more longevity and durability.
Pros
Very effective at keeping pool water warm
Easy for a single person to put on or remove
Cons
Only one size, won't fit many pools
Only lasts for one season
Material is very easy to tear
---
7.

In The Swim Pool Solar Cover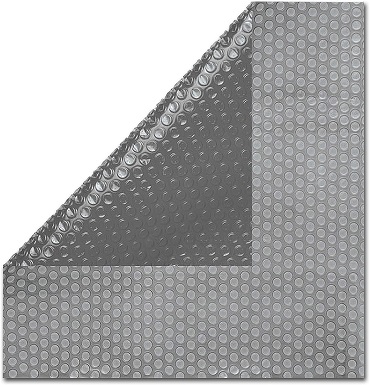 Available in many different sizes, this solar cover from In The Swim makes it easy to match it perfectly to your pool. With five to seven days of sunlight, it can raise the temperature of your pool water by eight to 10 degrees. Compared to some of the other covers we tried, this isn't very impressive. It's even worse when you consider that this is one of the most expensive covers we've seen. It is protected by eight years of limited coverage, but don't expect that to mean you'll get a replacement if yours tears five years from purchase date.
This cover is marketed as being ultra-clear, but it's actually a drab gray that doesn't look very attractive on a pool. Overall, we think it's an overpriced and ineffective solar cover that's easily outperformed by other covers that are half the price.
Pros
Multiple sizes to choose from
8 years of limited coverage
Cons
Not as effective at warming pool water
Overpriced
The gray color isn't very attractive
---
8.

Splash Pools SCV 2412 Oval Solar Cover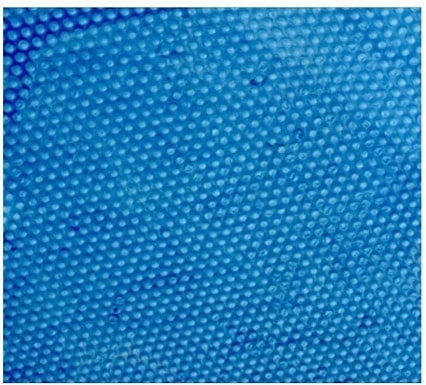 With the Splash Pools Oval Solar Cover, you get three size options to find a great fit for your above-ground pool. We found one that should have been a great fit, but we were dismayed to see that it was several inches smaller than advertised. This resulted in a large gap around the perimeter of the cover that allowed debris to get into the pool and reduced this cover's effectiveness. But it still did a pretty decent job of increasing the water's temperature.
Our biggest complaint with the Splash pools solar cover is that it started to disintegrate within the first year. When this happens, you'll notice your pool starting to fill up with little plastic bubbles that can easily clog your pump and vacuum. For us, the headache this caused wasn't worth the few degrees of warmth we got in exchange, which is why this cover is in the last position of our list.
Cons
Started to disintegrate in the first year
Filled pool with plastic particles
Smaller than advertised

Buyer's Guide – Choosing the Best Solar Pool Cover
Before you go run out and purchase one of the solar pool covers at the top of our list, we suggest taking a moment to read through our brief buyer's guide. It's going to help you prioritize a few factors that you should keep in mind regarding your purchase.
Proper Sizing
You could purchase any solar cover you'd like for your pool, but if it doesn't fit properly, then it's not going to be much good. These covers are cut to specific sizes and shapes for a clean fit that should cover your pool from edge to edge. If it's too small, then debris can still get in through the gaps and the sun will still be evaporating the water where it's exposed. If it's the wrong shape, you may never get it to cover your pool properly. Before ordering your solar pool cover, you'll need to measure your pool and get its exact dimensions. Then, you can find a cover that's built for a pool of that specific size. This will ensure that you get a perfect fit and that your cover will perform how it's supposed to.
Warranty
Solar pool covers are exposed to bright and damaging sunlight every single day. If they're not built well, they will likely start to fall apart rather quickly. One way to know if a product is well-built is by checking out the warranty offered by the manufacturer. If a manufacturer believes in their product and stands by it, then they usually offer a good warranty. Some of these covers have warranty periods of only 90 days or one year. But some of them offer extended warranties of up to eight years. Be sure to check the terms of your warranty though. A limited warranty is not the same as a full warranty.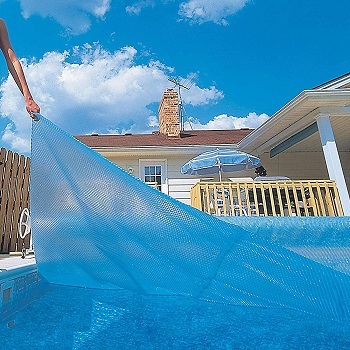 Effectiveness
While all of these pool covers were supposed to perform the same functions, the degrees to which they did so were drastically different between products. Some of these covers created a noticeable increase in the water temperature, helping your pool to be more comfortable and saving you money on heating costs. Others didn't seem to really have much of an effect at all. If you're going to spend money on a pool cover, make sure it's going to the job you're purchasing it for.
Looks
Solar covers come in several colors, and different manufacturers have different options available. Some are only available in a single color, while others may offer two colors to choose between. If you prefer a particular color, then you may choose a specific product that's available in the color of your choice. Some of the available options are blue, white, grey, and clear. While this won't have any effect on the performance of your solar cover, it will affect how much you like it and the overall look and feel of your pool area.

Conclusion
Whether you have an above-ground or in-ground pool, a solar cover is a great way to reduce your heating costs, decrease the number of chemicals you need, and conserve water by preventing evaporation. We tested out quite a few of these covers to see which ones were the best performers, and our reviews compared our findings. For us, the Intex 29022E solar cover was the best option for above-ground pools. In our experience, it was very effective at raising the water temperature and reducing evaporation. Plus, it had convenient features like drain holes that prevent water accumulation, at a dirt-cheap price that's hard to pass up.
For in-ground pools, our top recommendation is the Sun2Solar solar cover. You can pick between a blue or white cover, and it's available in many sizes to get the perfect fit for your pool. It kept our pool water warm and prevented debris from entering. Most importantly, it will last several seasons or more so you won't have to replace it every few months.