Bosch GTS1031 vs DeWalt DW745: Which One's Best?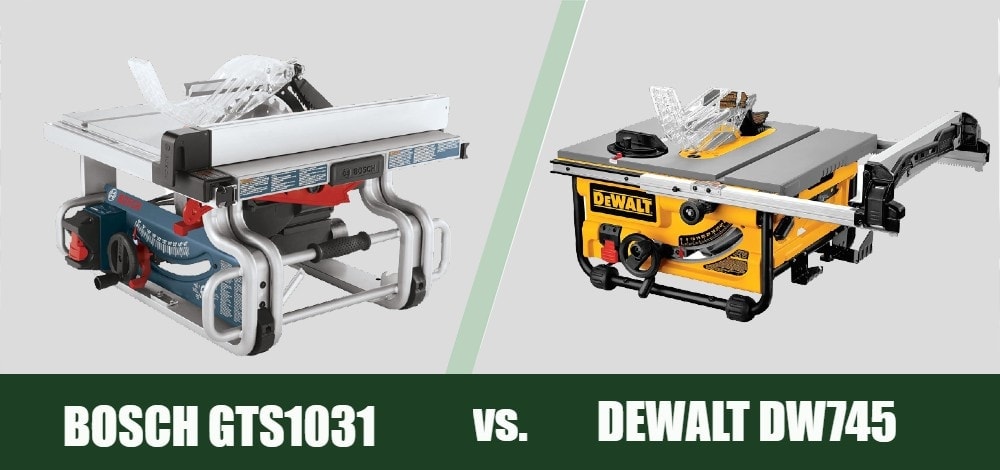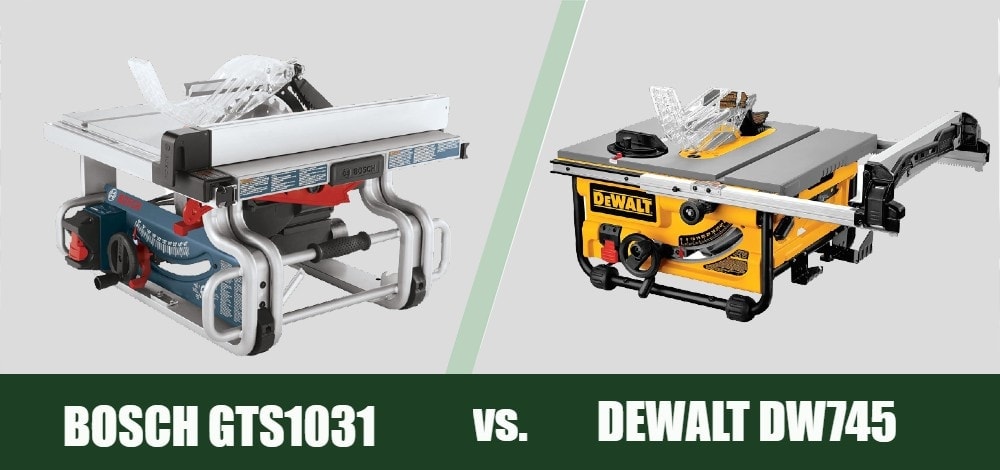 Rating
Image
Product
Details

Best Choice

Bosch GTS1031

Powerful 15-amp motor
5000 rotations per minute
One handed carry handle
CHECK PRICE

Best Price

DEWALT DW745

Very affordable
Lightweight design
20-inch rip capacity
CHECK PRICE
Today, two juggernauts in the world of power tools go head to head. If you are acquainted with the do it yourself world, you probably are already very familiar both with Bosch and DeWalt.
Both companies have secured very impressive reputations in the  tool industry, but the fact of the matter remains that one of them makes the better job site table saw, and you want to know which one that is. Does that sound right?
If so, we can help you with that. We are going to take a pretty close look at both of the tools in the paragraphs and sections that are to come.
However, we can give you a small preview of what is to come now.
Lovers of DeWalt will be surprised to learn that, as far as we are concerned, the Bosch really wins out in most categories here.
It is not necessarily that the DW745 fails at anything in particular, it is more that the Bosch just really succeeds in all the ways that are important. The motor is very powerful, it's accurate, and it is optimized for transportation.
The only department in which the DeWalt unequivocally beats the Bosch is in price. The DW745 is actually about $80 less than the Bosch, which means if price is your primary concern you might want to go with the DeWalt.
Of course, you can make your own decisions about each tool as we now take a deep look at the Bosch GTS 1031 VS DeWalt DW745!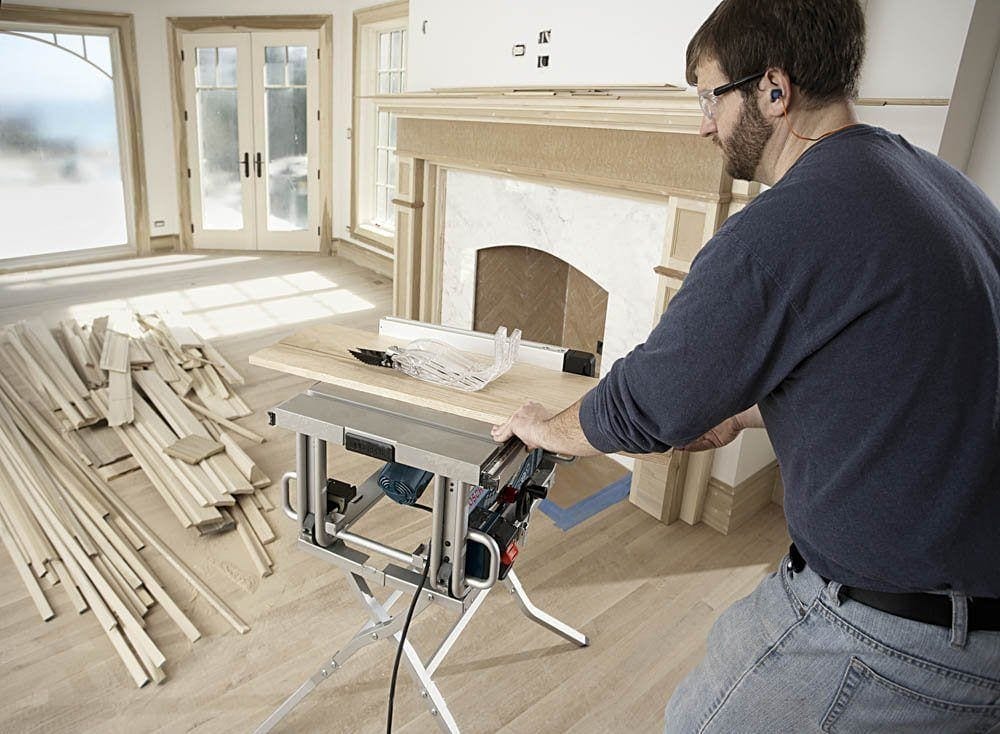 What's the Difference Between Them?
Portability
As we mentioned in the introduction, the Bosch really beats the DeWalt out in every category, so it shouldn't really be a surprise that this includes portability.
However, it is worth mentioning that this is more a product of what Bosch does right than what DeWalt does wrong.
The DW745 is also very portable, and in fact is advertised as leading the way in job site table saw portability technology.
They make this claim probably partially on the grounds of how light the tool is. Weighing in at just over fifty pounds, it is actually slightly lighter than the Bosch (which comes in closer to sixty).
However, weight is not the only factor that determines portability.
The Bosch wins out in this category thanks to a couple of factors. For one thing, the tool itself folds up to be extremely compact, and even features a one-handed handle carry component that allows users to transport the unit almost the way that they would a briefcase.
The Bosch also features lots of onboard storage areas that further increase the user's ability to maintain a very compact transportation experience.
In our opinion, these factors more than make up for the five or so pounds that the Bosch has over the DeWalt.
Still, if you are looking for the very lightest saw that you can get, the DW745 does technically win out.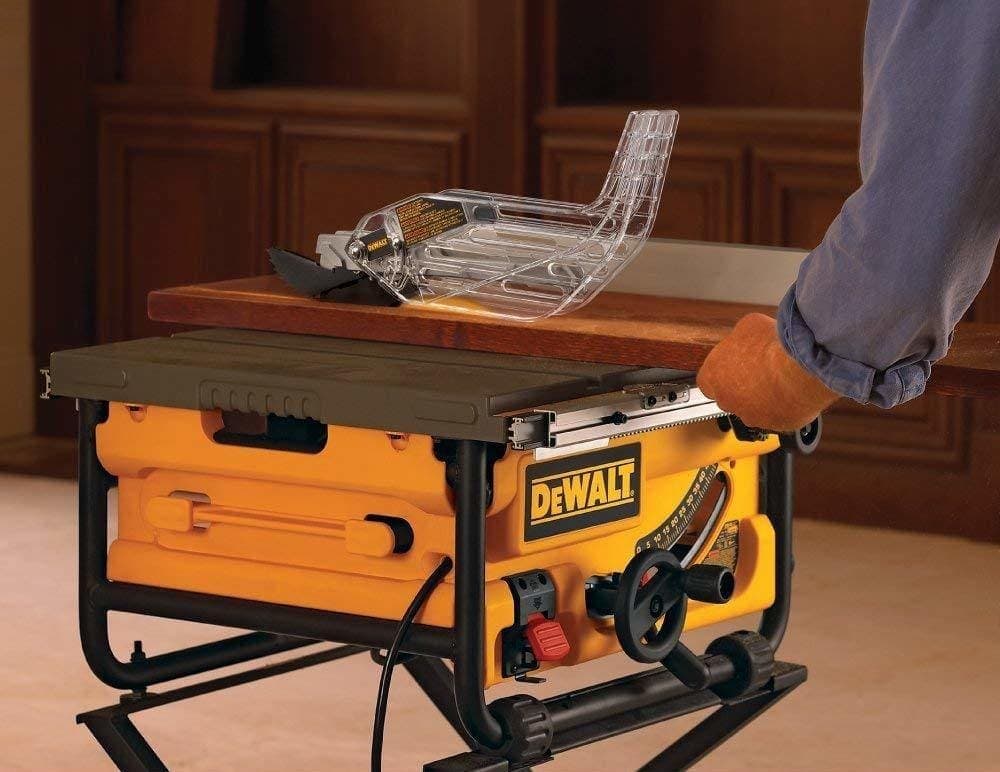 Power
At first glance, one would assume that these tools are evenly matched in terms of power. This should be the case. After all, both tools boast impressive fifteen-amp motors.
The difference arises in the RPMs that they are able to deliver.
The Bosch clocks in at 5000 RPMs while you are only getting 3800 with the DeWalt.
While it is true that speed and power are not quite the same thing in the world of power tools, they are certainly very close relatives.
Higher speed saws are generally more accurate, and much better at producing clean cuts on harder materials, which is certainly a feature that you are going to want out of a job site saw.
The 3800 RPMs of the DeWalt certainly are not anything to sneeze at, but when you can get a lot more speed for a relatively similar price, why not do it, right?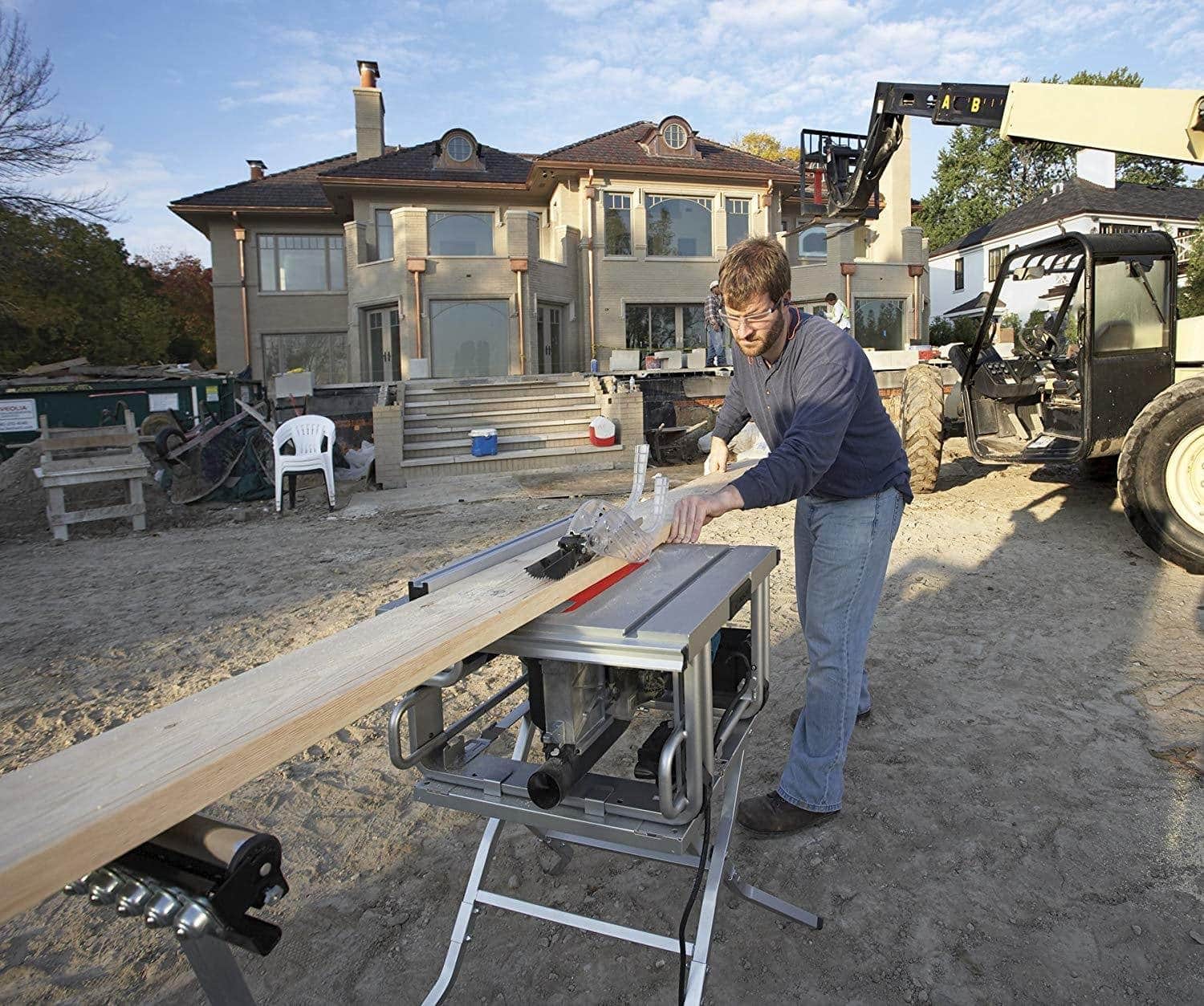 Price
As mentioned in the introduction, price is really the category in which the DeWalt indisputably wins out. We've said it already, but it does seem to bear repeating: the DeWalt is absolutely not a bad tool.
In fact, if we were only reviewing it, and not doing a side by side look, it would receive high marks. Next to the very impressive GTS1031, the DeWalt might not be looking so good right now, but if your budget mandates that you choose the more affordable option, you won't regret it.
On the other hand, it is also worth noting that the Bosch is also pretty reasonably priced in terms of the standards for a job site table saw.
You may also find it worth your money to upgrade and get the more expensive GTS1031. This decision will, of course, ultimately be up to you. Either way, you can be confident in the fact that you will be getting a good tool.
Quick Rundown of Bosch GTS1031
Bosch 10-Inch Portable Jobsite Table Saw GTS1031 with One-Handed Carry Handle
Portable: Ultimate portability and mobility thanks to balanced one handed carry handle and compact design allowing you to bring this...
Tough: Durable and unique all steel base allows this portable table saw to take on the hardest job site abuse; The all steel base is...
Precision: Square lock rip fence self aligning design for accurate performance and cutting consistency as you glide along the saw rails...
We will now summarize our findings of the Bosch with a pros and cons list in order to better inform your buying decision.
Pros
Powerful 15-Amp Motor
5000 Rotations Per Minute
One Handed Carry Handle
Onboard Storage
Cons
A little bit pricey
18 Inch Rip Capacity (VS DeWalt's 20 inches)
Quick Rundown of DeWalt DW745
DEWALT 10-Inch Table Saw, 16-Inch Rip Capacity (DW745)
22 kilograms unit weight and optimized footprint make this the most portable saw in its class. Shoe bevels 0 to 45 for beveled cuts
Steel roll cage protects saw against jobsite drops and impacts, rack and pinion fence system, front and rear fence lock and large,...
Powerful 1850 Watt motor for high performance in all applications. Max Rip To Left Of Blade 12 inch. Max Rip To Right Of Blade 20 inch
And now, a quick rundown of the DeWalt.
Pros
Very Affordable
15-amp Motor
Lightweight Design
20 Inch Rip Capacity
Cons
Generally underperforms compared to Bosch in most major categories

Conclusion
Did you like what you saw? Like we said in the beginning, both tools really are impressive. You will probably remember from the introduction that we felt strongly that the Bosch really beat the DeWalt out in pretty much every category.
While this is still certainly true, you probably realized as you read about the DeWalt that it is also a very good tool. If you are looking to save a few dollars, you will be very happy with the DW745.
Of course, now that you have read our review, you can make your own informed buying decision.