Milwaukee M18 Hedge Trimmer Review 2023 – Pros, Cons & Final Verdict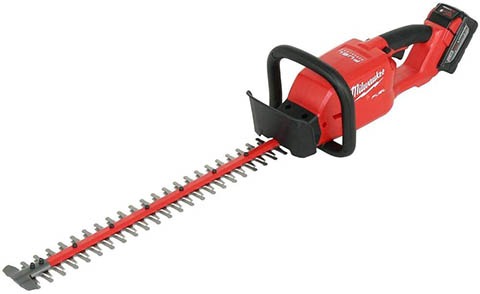 Review Summary
Our Final Verdict
We give Milwaukee M18 Hedge Trimmer a rating of 4.8 out of 5 stars.
Build Quality: 4.5/5
Power 4.5/5
Features: 5/5
Price: 3/5

Milwaukee M18 Hedge Trimmers – A Quick Look

Specifications
Measurements: 5" long by 8.7" by 7.7" tall
Weight: 6 (11 pounds with battery)
Blade Length: 24"
Cut Capacity: ¾"
Strokes per Minute: 3,400
Warranty: 3 years
Pros
Durable and high-quality
Well-balanced
Fast cutting speed
Comes with a quality battery

Milwaukee M18 Hedge Trimmer Details
Safety
While hedge trimmers are not the least safe tool out there, they aren't exactly the safest either. For this reason, it is vital that every hedge trimmer comes with safety features. Luckily, the Milwaukee M18 hedge trimmers do very well in this category.
They feature symmetrical trigger designs, making them useable for both left and right-hand users. Furthermore, to activate the unit, you have to press the safety and the trigger at the same time. Plus, it also comes with a variety of other safety features, such as a tip guard and blade shield.
---
Storage
For storage purposes, this hand trimmer comes with a blade sheath that is pretty easy to get on and off so you won't have to struggle with the sheath, potentially injuring yourself. Furthermore, the sheath is thick enough to not get caught on the knives while in storage.
There is also a keyhole on the back of the tool, allowing you to hang it if you wish. While this isn't necessarily a "safety feature", it is useful in many situations.
---
Durability
The outside of these hedge trimmers is made out of plastic, which is the same material that most hedge trimmers at this price point come in. The blade is quite stout, featuring a steel construction. It is quite sharp and durable, so it should be able to perform most DIY jobs. However, it isn't quite up to a professional level.
The gear housing and crank are all-metal, which is necessary for these sorts of tools. Because it is a Milwaukee, we expect that the crank mechanism is pretty durable.

Noise
Technically, these hedge trimmers are louder than the OSHA limit, but just by a bit. In most cases, it shouldn't be loud enough to disturb the neighbors, even if you're using it early in the morning.
We highly recommend wearing ear protection for yourself, of course. You don't want to end up with hearing damage from the hedge trimmers. While they aren't extremely loud, they are loud enough to cause hearing issues.
---
Price
Compared to other residential models, these trimmers are a bit steep. However, they do have a cost similar to professional-grade options but aren't exactly in line with the features and quality you'll find in professional models. Therefore, the price is a bit much for what it is.

FAQ
Where is it Made?
Milwaukee creates many of its tools in China, with only a few of them being crafted in the United States. As you might imagine, this may make it a bit lower-quality than other options.
Does It Come with a Battery?
You can purchase these hedge trimmers with a battery and without a battery. It depends on what you're looking for. Of course, the tool with the battery is much more expensive than just the tool itself. If you don't have a battery that works with it, you will need to purchase one.
Is It Heavy?
The tool itself isn't terribly heavy. However, it is a lot heavier with the battery. The tool itself is only about 8 pounds, but it can reach up to 12 pounds with the battery. You can choose different sized batteries and so affect the weight depending on what size your battery is.
Can You Buy the Battery Separately?
In many cases, you can purchase a battery separately. Some people choose to have two so that they can charge one battery while using the other. In this way, you'll never really run out of battery unless your battery runs out before the second one is charged.
Of course, very few people use their hedge trimmers for this long, anyway.

What The Users Say
Many users were very pleased with this tool and enjoyed using it. Some did state that it is quite a bit heavier than other models on the market. However, it also performs better and is more durable, so it only makes sense that it would be heavier.
We didn't find any serious complaints about this tool. Some people complained about the price, and it is quite high but you're paying for the extra performance and added features.
Users liked the long battery life, though you need to upgrade to a heavier battery if you want it to last for a particularly long time.

Conclusion
Overall, this hedge trimmer is generally seen as pretty high-quality. It features a quality build with plenty of battery life. The crank is all-metal and built to last, so you can expect this tool to last for years. For this reason, we highly recommend this hedge trimmer.
With that said, there are a few negatives. This tool is quite heavy, for instance, especially with the battery installed. Plus, this tool is decently expensive.