Bosch RA1171 Router Table Review 2023 – Pros, Cons, & Verdict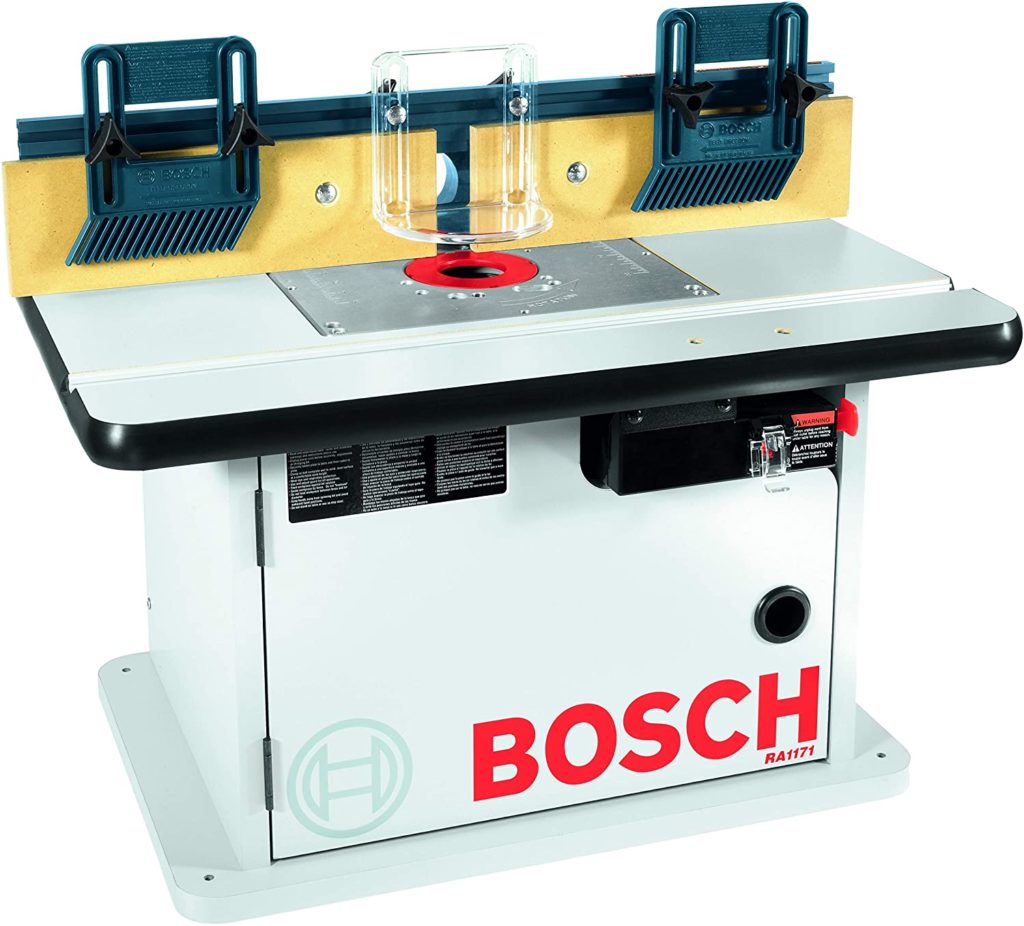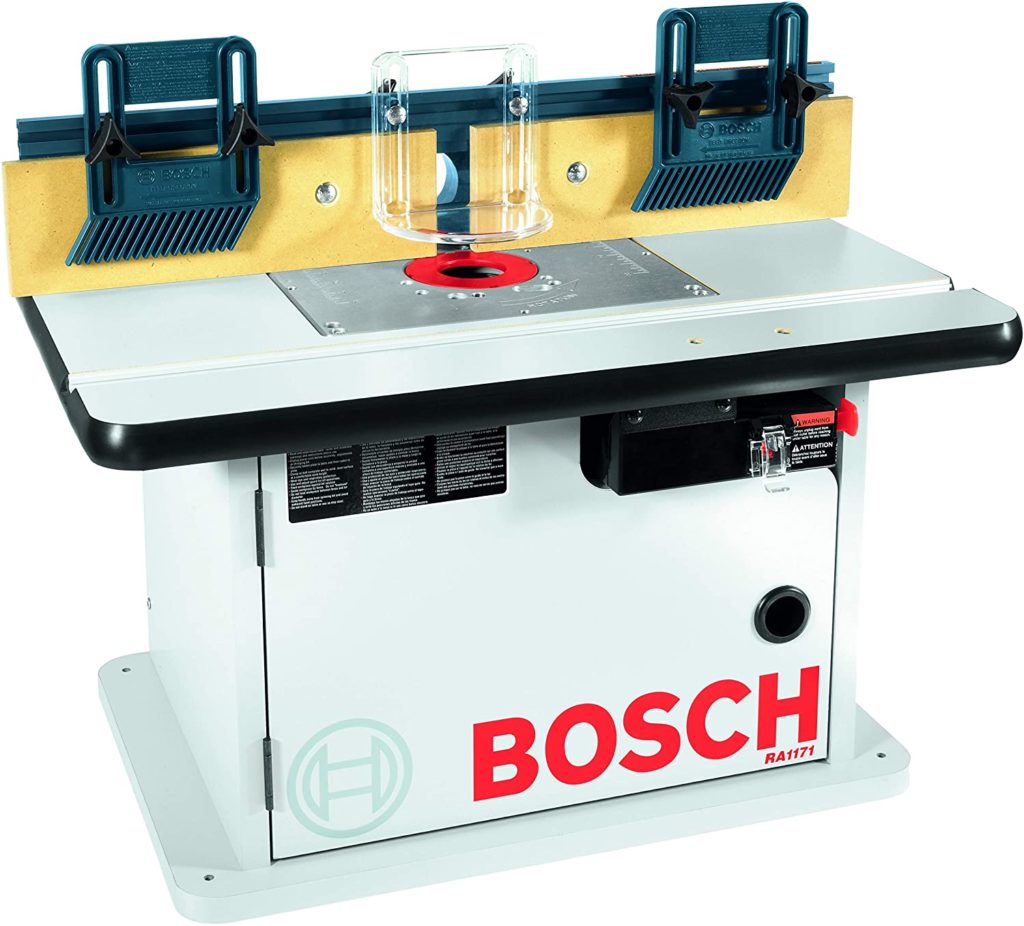 We give the Bosch RA1171 Router Table a rating of 4.9 out of 5 stars. 
Build Quality: 4.9/5
Power: 4.9/5
Design: 4.8/5
Price: 4.8/5
Review Summary
For the serious woodworker, a router table is not just an accessory but a staple of their shop. A routing table comes in handy for many uses, and if you are considering an update to your old routing table, you will want to get the skinny on the Bosch RA1171.
This model appeals to professionals and amateurs alike and is carefully crafted by the engineers at Bosch. With factories in 60 countries and a catalog of devices in most fields of use, they know what they are doing, and this routing table shows that and more.
It has a rigid aluminum plate that gives the user a flat surface for precision and accuracy, and it is pre-drilled to fit many sizes of routers. And the fence has adjustable MDF face plates for smoother operation. Two easy-to-use feather boards attach to the wall, giving the user even more efficiency with additional guidance.
The countersunk leveling screws are a tricky feature and not one that many users are particularly fond of. The leveling plates come with the unit already off level, so having leveling screws easy to use would be a boon for this table.
Let's take a deeper look into the ins and outs of this tool to find out if it's the right one for you.
Bosch RA1171 – A Quick Look
Pros
Pre-drilled router holes
Tall aluminum fence
Easy-to-use feather boards
Adjustable faceplates
Dual outlet switch
2 dust collection ports
Cons
Countersunk leveling screws
Plates are not level upon arrival
Specification
Specifications
Brand Name: Bosch
Model: RA1171
Height: 18"
Length: 25.5"
Width: 15.88"
Power Source: Corded electric
Voltage: 120V
Weight: 35 pounds
Material: Aluminum
The Build
The RA1171 has all-aluminum construction, including the fence and leveling plates. It features the main tabletop, the aluminum router faceplates, the fence, and the body, with a cabinet-style design for dust collection and kickback prevention.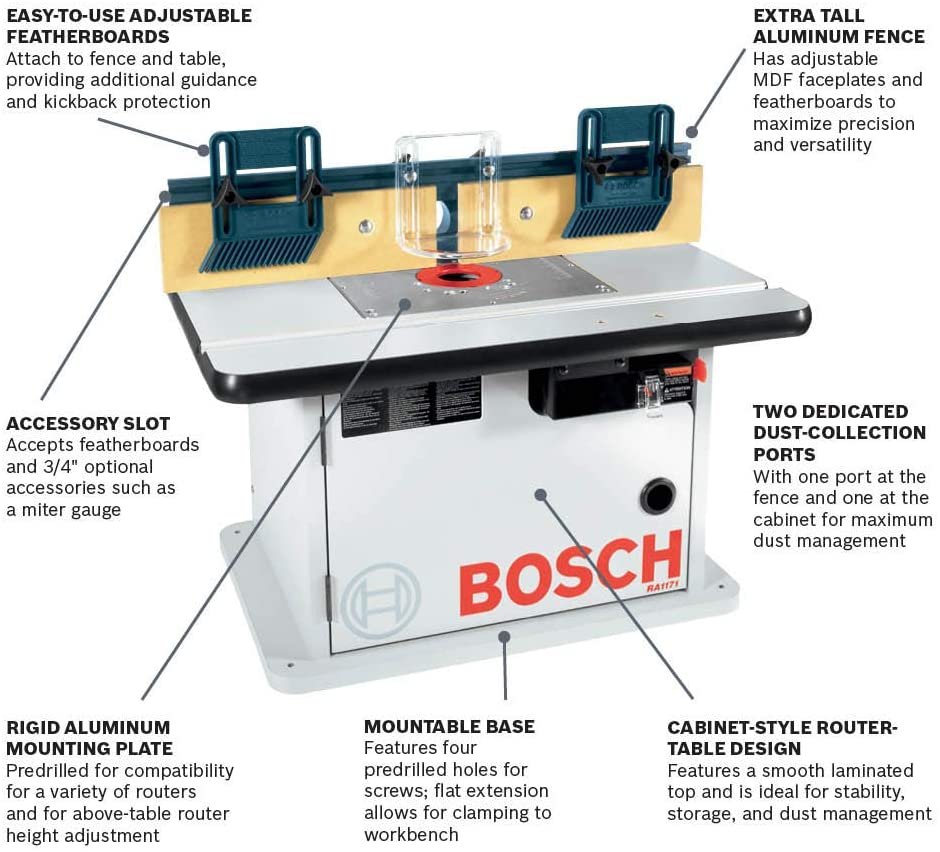 The Size
When you think of a table for your shop, this might not be what comes to mind. It is much smaller than it looks and is designed to be placed on top of a flat surface. It measures at only 18 inches tall, clearly too short to use as a regular shop table.
The Warranty
Bosch has included with the RA1171 a 1-year limited warranty.
The Deficits
Many models have arrived with the plates out of proper level. That means if the user wants to dive into routing a board right away, they have to adjust the plates first. The problem is in the countersunk leveling screws. They are challenging to get to and even harder to modify. Beyond that, there are very few issues with this model.

FAQ
What makes this table unique over other Bosch routing tables?
The RA1171 has an improved dust cabinet to keep the mess minimized and 2 dust ports to direct the dust into the cabinet. And the legs on this unit are aluminum, versus the plastic legs on other models.
Can this table work with my router, even though it isn't a Bosch?
It can. The RA1171 is capable of fitting many routers. And if they don't work, drilling the mounting plate is a simple solution.
Is this table heavy?
Not at all. It weighs about as much as a large bag of dog food—35 pounds total.
How often should I empty the dust cabinet?
The end of each day is safe, but periodically checking it is also an excellent way to gauge its contents before it gets to capacity.
Can a beginner use this with ease?
Yes, but at the same time, it depends on the beginner. If you don't have the patience to struggle with leveling the plates, then it might be a good idea to get a table with a more user-friendly leveling system.
What kind of warranty comes with the RA1171?
It comes with a limited 1-year through the manufacturer.
What the Users Say
Most users love this table. It is easy to use once they leveled it, and the simple operation is something to cheer about. They like the overall quality, they appreciate that it is largely aluminum, so it's lightweight enough to move when necessary, and the heavy-duty design is a significant benefit.
The dual dust ports are a huge selling point for many people, and the logical way it is built for ease and efficiency makes them appreciate it even more. It is sturdy, the instructions are straightforward. The metal legs only helped its approval ratings.
As we mentioned, the countersunk leveling screws and the fact that the units came with the plates already out of level were significant issues. Some users preferred that it came with the plates ready to go and an easier way to true them before use. And this made some question the overall quality of the product.

Conclusion
With a few small exceptions, the Bosch RA1171 is a home run in the world of routing tables for both amateur and professional applications. It is lightweight, very mobile, small in size, and has plenty of attractive features designed with the user in mind. On a whole, it maximizes efficiency and ensures smooth, precise cuts. The stable base, the sturdy design, and the dual dust ports make it a superior model.
What holds it back from being a perfect product are the countersunk leveling screws and the fact that the units sometimes come with the plates already out of level.