Bosch RA1171 vs RA1181: Which One's Best?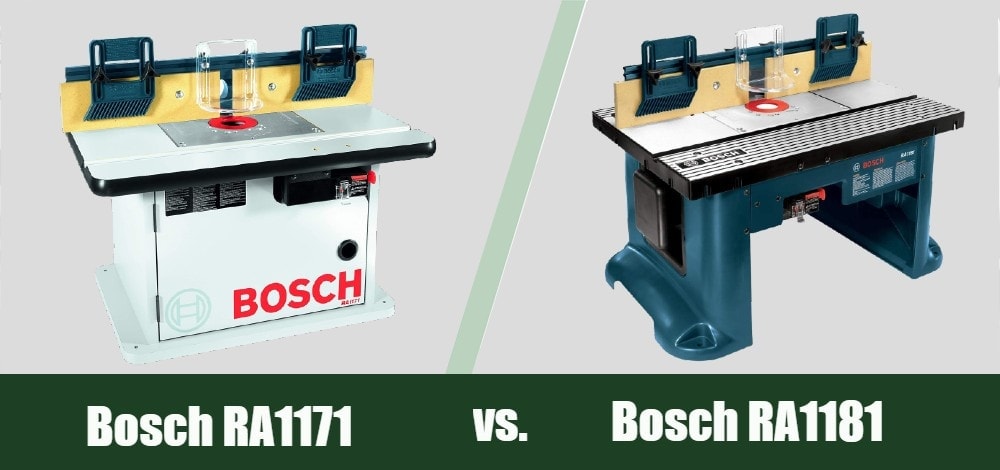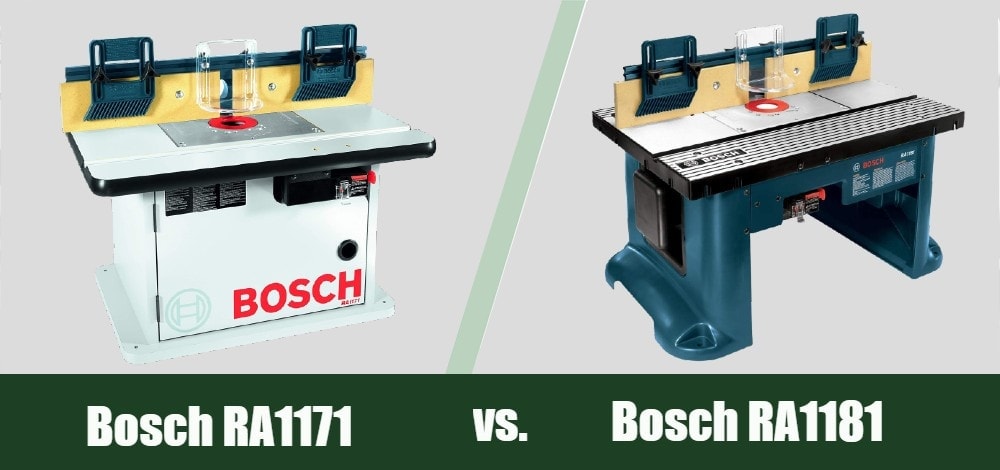 Rating
Image
Product
Details

The Winner

Bosch RA1181

It is very firm and sturdy in design
Suitable for carrying around construction sites
Has more accurate measurements and precise cuts
CHECK PRICE

The Runner-up

Bosch RA1171

It is versatile in use
It is more effective in its noise reduction system
It comes with two ports for dust collection system
CHECK PRICE
Review Summary
Although routers are a staple for professional and DIY woodworkers alike, the router table is arguably more important than the router itself since it provides stable access to the tool. If you do not have a correct router table, there is no way for you to use your router accurately or consistently.
Two leading router tables are the Bosch RA1171 and the Bosch RA1181. Both of these tables will provide you with consistent and accurate access to your router, but you may prefer one over the other for a variety of purposes.
The Bosch RA1171 has a cabinet-style design that increases stability and dust-collecting effectiveness. Although it has issues with the leveling mechanism, this router table is easily one of the most cost-efficient options on the market, making it a great choice for those on a budget.
The Bosch RA1181 offers a large, aluminum worktable design that increases useable work space and access points to the router. It features numerous storage options that are convenient for those with several accessories or extension cords. Although it has a non-standard insert size and sometimes an unlevel top, this table is incredibly precise and impressive.
Between the two options, the Bosch RA1181 is the better option. It provides a larger working space, making it a more effective table for routers. If you are looking for the most cost-efficient table, though, then the RA1171 is for you. It is highly affordable and provides many of the same features as the RA1181.

At a Glance
Let's look at the key points of each product.
Bosch RA1171
4⅞-inch x 25⅛-inch
Pre-drilled
Cabinet-style design
Features an extra-tall aluminum fence
Includes adjustable MDF plates
Includes a rigid aluminum router mounting
Includes two feather boards
Includes two dust collection parts
Includes three mounting plate rings and mounting software
Bosch RA1181
Features a large aluminum top
Pre-drilled
Benchtop router design
Table-height adjustment
Features an extra-tall aluminum fence
Includes one dust collection port
Includes an accessory slot and storage pocket
Includes mounting hardware and an aluminum mounting plate
Stores a 6-foot power cord
Overview of the Bosch RA1171:
The Bosch RA1171 is easy to use, precise, and great for beginners.
The table comes with two feather boards that you can attach to the fence and router table. These boards offer additional guidance and protection against kickback, all while being adjustable. These features make using this router table more convenient and useful for those who are new to woodworking.
Even though this router table is great for beginners, it also offers precision and accuracy. It comes with adjustable MDF face plates, allowing the operation to run smoother for taller workpieces. It also includes a rigid aluminum router mounting plate that increases accuracy.
Its cabinet style construction is especially convenient. It makes the table more stable, provides more storage, and collects dust. Although this style is bulkier, it is convenient for those who need more storage and dust collection.
Like all good things, the Bosch RA1171 comes with some drawbacks as well. From the moment you pull this router table out of the box, you will notice how many parts it comes with. This high amount of parts, matched by its unclear instructions, make this table incredibly difficult to put together.
The Bosch RA1171's mounting plate leveling mechanism is also faulty. Even some of the most experienced router table users will have difficulty correctly leveling the mounting plate. This will affect the final results of your woodworking projects.
Pros
Precise
Includes two feather boards
Easy to use
Includes adjustable MDF face plates
Cabinet-style design makes the table more useful
Cons
Difficult to set up
Faulty leveling mechanism

Overview of the Bosch RA1181:
The Bosch RA1181 is a slightly better, but more expensive version of the Bosch RA1171. This router table is made from a large aluminum top, offers convenient storage options, and ensures precision.
The benchtop for the Bosch RA1181 is an extra-long aluminum top. This extended work area gives you more access to your router, which increases the durability and precision of your work. It is due to this benchtop router design that this table has more work area than the Bosch RA1171.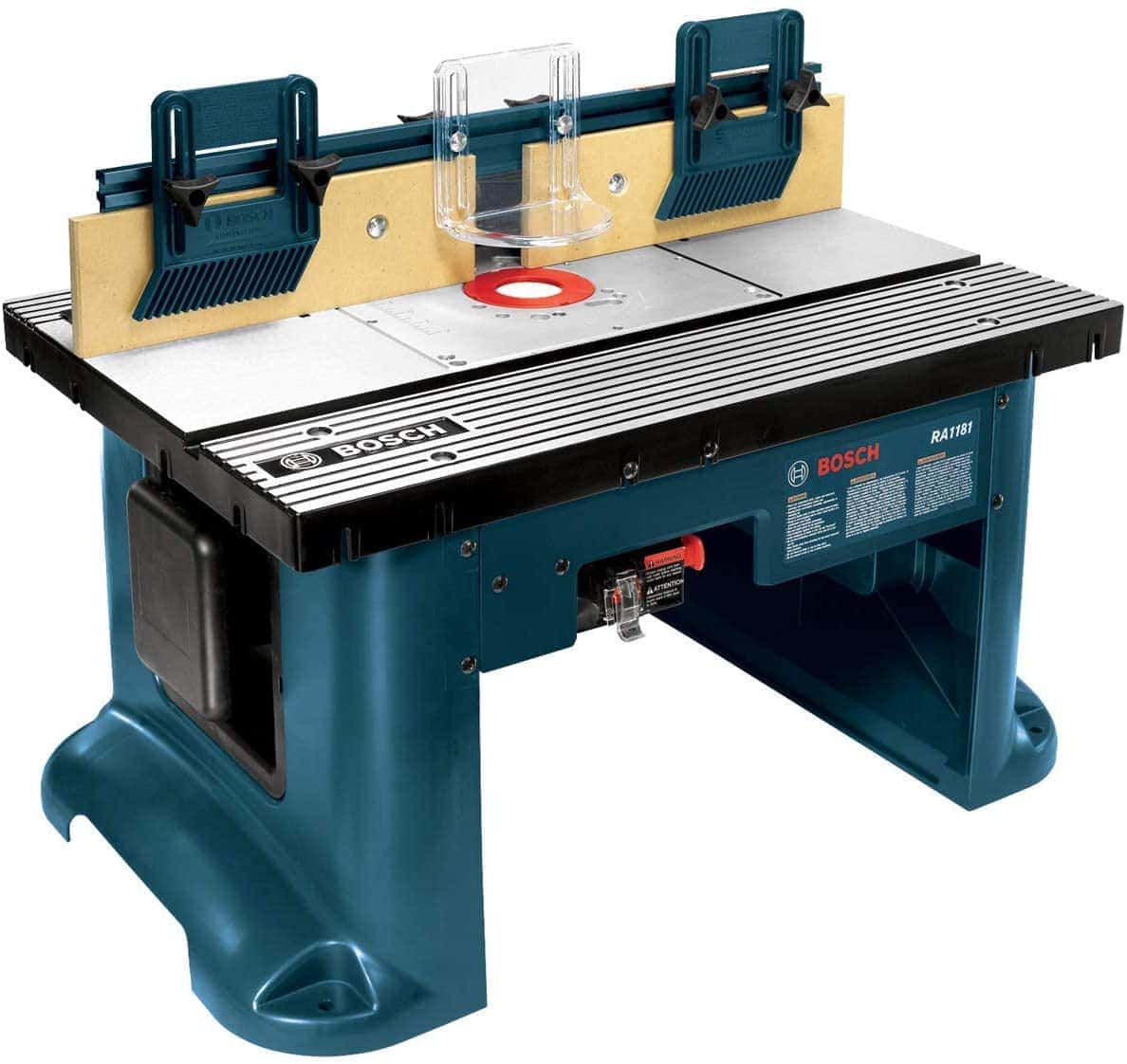 In addition to its lengthy work area, the Bosch RA1181 comes with convenient storage options. It includes a dedicated dust collection port, an accessory slot that accepts ¾-inch accessories, a storage pocket, and a cord wrap storage station. These storage options ensure that all of your tools have a home and improve your performance.
The Bosch RA1181 is highly precise as well. It includes a height adjustment feature and an extra-tall aluminum fence and feather boards.
The Bosch RA1181 comes with some pitfalls too. Even though the aluminum surface is durable and extra-long, it is incredibly rough. This can potentially damage the wood you are working with by increasing friction.
The insert plate is also not the standard size. This will be a problem if you change router lifts in the future since it will require you to potentially buy a whole new table to match the lift.
Pros
Extended work area
Improves access to the router
Aluminum top
Includes multiple storage options
Includes height adjustment
Precise
Cons
Rough surface
Non-standard insert plate
---
What are the differences between them?
Performance
Edge: Bosch RA1181
Of the two options, the Bosch RA1181 has better performance capabilities. It has a longer table, providing you with greater access and more working space. The leveling mechanism is also not faulty like in the Bosch RA1171. As a result, the Bosch RA1181 provides more working space and greater precision and accuracy than the RA1171.
Price
Edge: Bosch RA1171
The Bosch RA1171 is the most affordable option. Although the price range is not drastically different between the two, this model is cheaper and it offers many of the same features, in addition to one extra dust collector, as the RA1181. If you are looking for a budget-friendly router table, you won't find a better option than the Bosch RA1171.
Durability
Edge: Bosch RA1181
The Bosch RA1181 is the most durable of the two router tables. Its aluminum tabletop design makes it especially durable since this material is much sturdier and more reliable.
With that being said, both models are not the most durable tables on the market since they are more designed for hobbyists or DIYers. Neither will be suitable for commercial or professional use. Nonetheless, the Bosch RA1181 is more durable than the RA1171.
Design
Edge: Bosch RA1181
Which model has the better design is up for debate, but we argue that the Bosch RA1181 has the edge in terms of design. Since it has a greater workspace, you can work with bigger materials and access the router from more places. This will allow you to get the woodworking designs you want.
In contrast, the Bosch RA1181 does not have a standard insert, and the cabinet-style design of the RA1171 is advantageous for those who need an incredibly sturdy table.
For most woodworking purposes, however, the increased workspace and access is more important than the insert and style, which is why we select the Bosch RA1181 as having the edge in terms of design.
---
What the Users Say
In addition to testing out the products for ourselves, we researched other users' experiences with both the Bosch RA1171 and the Bosch RA1181. Read on to hear what other users have to say about these products.
Positives
Most users cite both the RA1171 and RA1181 as being convenient and useful for a variety of DIY woodworking purposes. These users especially find that the cost is worth or exceed the functions and additions of both router tables.
Users found that the Bosch RA1171 was especially helpful due to its effective dust collection. The accessories were noted to be stable and fit the table perfectly, which can be an issue for some router tables.
Similarly, several users note that the Bosch RA1181 has an intuitive design that is helpful for most purposes. The sizable aluminum top was mentioned in almost every positive review as being a major benefit of this router table.
Negatives 
Even though the reviews for both tables were largely positive, some users were more critical. Users for both tables noted that the materials are relatively cheap in comparison to many router tables. Both tables also had leveling and precision issues cited against them.
The Bosch RA1171 was critiqued frequently for its unlevel leveling mechanism. Many users, even those who were overall satisfied with their product, found this table incredibly difficult to set up because of its many parts and nonintuitive instruction manual.
The critiques for the Bosch RA1181 more centered around its tabletop surface. Although most reviewers were happy with the top, several critiqued the aluminum material for being too rough for softwood purposes. Several users also noted that the top of the table is not flat, inhibiting their performance as woodworkers.

Conclusion
Both the Bosch RA171 and 1181 are good router tables due to their convenience, style, and affordability. The Bosch RA1181 is the better of the two, though, because of its large workspace, increased router access, storage capacities, and fewer parts.
That is not to say that the Bosch RA1171 is a bad table. On the contrary, this table is great for smaller purposes and dust collecting effectiveness. Since this table is more affordable and includes many of the same features as the Bosch RA1181, it should certainly be your go-to if you are on a tight budget.