Brad Nailer vs Finish Nailer: Which is Best for Your Needs?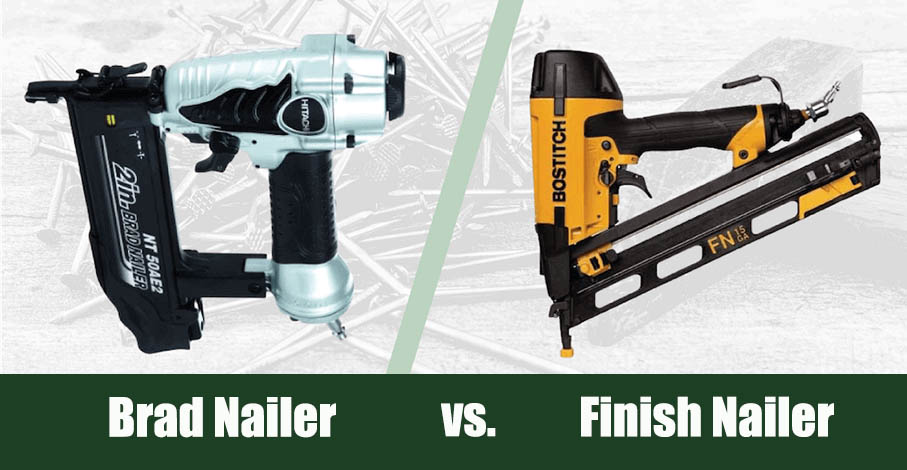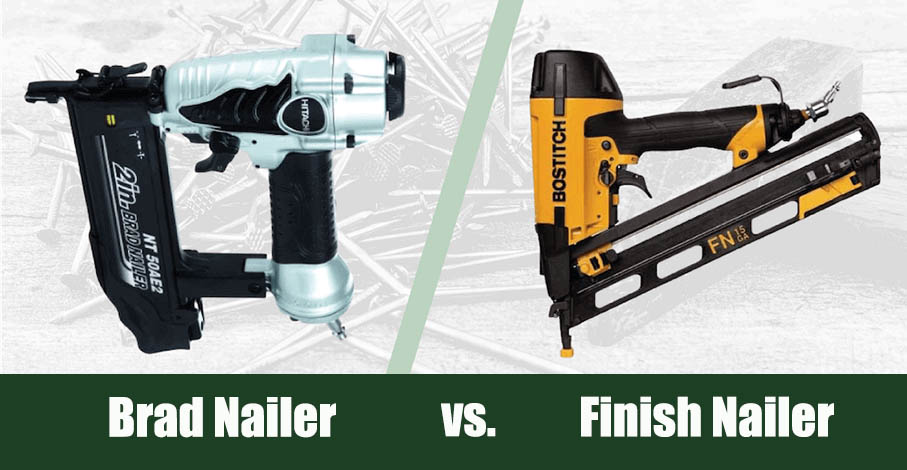 The brad nailer and the finishing nailer are very similar, and many people get confused about what each one Is for and when is the best time to use each. If this sounds like you, stick around because we will explain everything about these two tools to clear up any confusion and get you working on your projects. By the end of this article, you will know when to use each of these tools and why.

Overview of Brad Nailers
Brad nails are a thin style of nail with a very small head. You want to use these nails on very thin, lightweight wood that you are afraid might crack or split using a standard nail. You use brad nails most often when hanging wood trim. Wood trim is extremely lightweight, so you don't need the large head you might find on other nails to keep it in place. Because you will only need a few brad nails to keep the wood in position, the small holes created by the head often go unnoticed and shouldn't require any putty. In some cases, the wood is ornate, so it hides the head even better.
The downside to a brad nailer is that it pushes the brad nail into the wood until the head is below the surface, so you are left with a hole that may not be suitable for jobs other than wood trim that will require putty. Another downside is that the thin brad nails don't have much holding power, and since the head is so small, it can often push right through the wood if pressure is applied.
Pros
Good for thin wood
Small nailhead
Small hole
Cons
Not much holding power
Leaves a hole

Overview of Finish Nailer
Finishing nails are very similar to brad nails, but they have a larger head that resembles a traditional nail more closely. Finishing nails are often slightly thicker as well, and the two things combined create a nail with considerable holding power that's much more versatile than a brad nail. The finish nailer will drive the nail into the wood until the head is flush with the surface, leaving no hole so you can paint over the nail, and it will become invisible. If you need to install cabinets, baseboards, or crown molding, you want to use a finishing nailer.
The downside to the finishing nailer is that you can't use it on house trim because the nail head will look unsightly, and since finishing nails are slightly larger, there is a better chance that they will split the wood.
Pros
More holding power
No holes
Thicker nail
Cons
Can split wood
Not for trim
---
Power Source
Once you have determined what type of nailer you need, it's time to consider how you will power it. There are three types of nail guns, electric, battery, and pneumatic.
Pneumatic
Pneumatic nailers are the most powerful and lightest weight of the three types of nail guns. They are also the most inexpensive and easy to find. However, you will need to purchase an air compressor to use with it, which is impractical for most people if you don't have other tools that require one (though you can always use it to fill your tires).
Pros
Lightweight
Powerful
Inexpensive
Cons
Requires an air compressor
Electric
Electric nailers use a power cord to plug into the wall and are the kind we recommend for most people. These tools have almost as much power as pneumatic brands, and they are just as consistent and lightweight. You won't need to purchase an air compressor or battery back and charger to use it, so it has the lowest overall cost of the three. Just plug it in and get to work.
The downside to electric nailers is that many have a short cord, so you will need to pick up an extension cord to use them comfortably. The cord also tends to throw the machine off balance as you are using it and increases fatigue.
Pros
Powerful
Lightweight
inexpensive
Battery
Battery-powered nailers offer the user unrivaled portability. A fully charged battery can deliver power similar to that of an electric model, and most can drive plenty of nails before they require a recharge.
The downside to battery-operated nailers is that they rarely include the battery and charger. It can also be a hassle to remember to charge the battery, leaving you with a dead battery and unable to work for several hours. Battery operated nailers are also the heaviest of the three due to the bulky battery they require.
Cons
Expensive
Require charging
Battery and charger sold separately
When to Use a Brad Nailer
Wood trim
Thin wood
Lightweight wood
When to Use a Finish Nailer
Cabinets, baseboards, and molding
Holding wood together
Paneling

Quick Look: Our Top Choices
Image
Product
Details

Our Favorite Brad Nailer

NEU MASTER NTC0040

Electric
2-in-1 tool
Ergonomic
CHECK PRICE

Our Favorite Finishing Nailer

DEWALT 20V MAX Finish Nailer

Extremely powerful
Battery operated
Has a micro-sight
CHECK PRICE
Our Favorite Brad Nailer: NEU MASTER NTC0040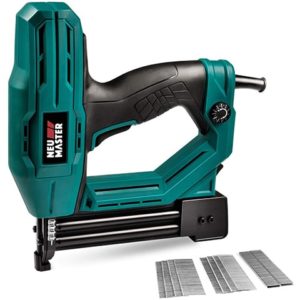 The NEU MASTER NTC0040 is our favorite brad nailer. It's an electric model that offers the user a 2-in-1 tool that you can use to drive staples as well as brad nails, making it much more useful for projects around the house. It has an ergonomic rubber grip handle and a non-marring rubber nose to protect your project. It also comes with 200 staples and 800 brad nails to get you started.
Our Favorite Finishing Nailer: DEWALT 20V MAX Finish Nailer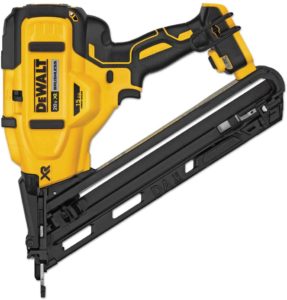 Our favorite finishing nailer is the DEWALT 20V MAX Finish Nailer, despite it being battery operated. This model is extremely powerful and holds a charge well. There are just too many jobs around the home and in the yard to pull out an extension cord every time we need it, so it was worth the extra cost. It has a micro-sight for a better line of sight to your nailing position and a LED headlamp to illuminate your work area to reduce mistakes. 

Conclusion
We hope you have enjoyed our look at these two important tools. The difference between them is the type of nails they drive, so you will need to think about your upcoming projects before making a purchase. If you don't have any wood trim to put up, we recommend going with the finish nailer because it has more uses around the home. If you have found it informative and think it can help others, please share this guide to brad and finish nailers on Facebook and Twitter.