10 Best Cordless Brad Nailers of 2022 – Reviews & Buyer's Guide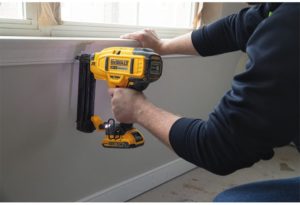 Sick of hauling a compressor around? Tangles of extension cords got you down? A cordless brad nailer may be your solution. With advances in technology, cordless brad nailers are slowly catching up to their pneumatic and corded brethren. While in the past, cordless nailers couldn't compete for power and efficiency, new models are coming out that give pneumatics a run for their money.
With so much variability in quality between brands, it can be difficult to know which nailer will give you the effectiveness you need with the portability you want. Gas-operated nailers frequently come with a delay, while battery-operated models can lack the power of more conventional models. Read on in these reviews to discover the top 10 cordless brad nailers for efficiency, power, and user-friendliness.
A Quick Comparison of Our Favorites in 2022
Rating
Image
Product
Details

Best Overall

PORTER-CABLE PCC790LA Cordless Brad Nailer

Lightweight
Powerful
Long battery life
CHECK PRICE

Best Value

VonHaus 9100100 Cordless Brad Nailer

Two tools for the price of one
Lightweight and portable
Adjustable depth
CHECK PRICE

Premium Choice

BOSTITCH BCN680D1 Cordless Brad Nail

Brushless motor
Tool-free adjustments
Lightweight
CHECK PRICE

Ryobi 3 Piece One+ Airstrike Brad Nailer

Drives 60 nails per minute on contact actuation
User friendly
1
000 nails per charge
CHECK PRICE

Metabo NT1850DE HPT Cordless Brad Nailer

Air spring drive
Brushless motor
Fires up to 2" brads
CHECK PRICE
The 10 Best Cordless Brad Nailers
1.

PORTER-CABLE Cordless Brad Nailer – Best Overall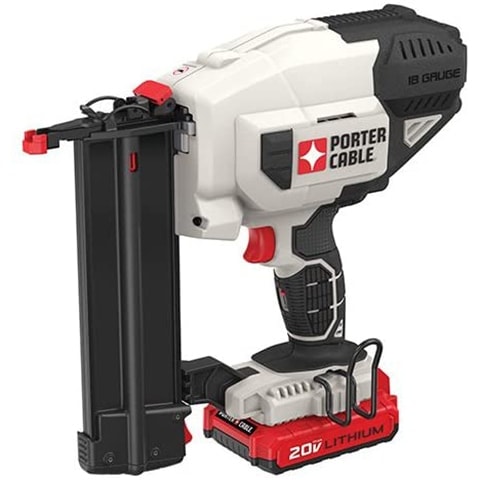 Porter Cable has long been a trusted brand for professionals and do-it-yourselfers alike. There's one reason for this. They make great tools. Their cordless brad nailer is no exception.
Most importantly, it's powerful. With an initial maximum charge of 20 volts and an 18-volt nominal voltage, you won't wind up with half-sunk brads with this model.
It also offers an extremely high degree of user-friendly control. You won't need to grab your tools to release stalls and jams or adjust the drive depth. It's also one of the lightest nailers out there, at just 5.9 pounds, decreasing fatigue during long-term use. Overall, it's built to be extremely easy to use.
It also offers endurance and versatility. A single stock battery delivers an estimated 1,300 brads before it needs to be recharged. It takes brads from ⅝-inch to 2 inches long.
Overall, Porter Cable has come out with a truly high quality nailer here. That said, there are just a few drawbacks. Like many nailers, it has kickback, which can result in dented material if you're not careful. This makes the rubber tip especially important to maintain. You have to physically check to see if you're out of nails, which is not true of all models. Finally, the position of the flashlight makes it less than useful.
Pros
Lightweight
Powerful
Long battery life
Takes brads up to 2" long
User-friendly
Tool-free adjustments
Cons
Heavy kickback
Must physically check whether you're out of brads
Flashlight less than functional
---
2.

VonHaus Cordless Brad Nailer – Best Value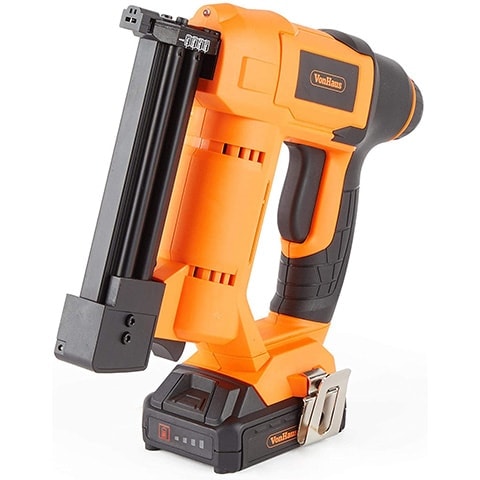 Without a doubt, this VonHaus model is one of the best cordless brad nailers for the money. Not only is it less expensive than some other brands, it's a two-in-one stapler/brad nailer, which means you're getting two tools for the price of one.
Along with the versatility comes portability. More compact than most other models, the VonHaus is easy to haul around. It makes it a great grab-and-go companion for simple jobs. While it's heavier than the Porter Cable at 7.88 pounds, it's still light enough to make it easy to use.
The 18-volt battery offers solid power. That power is also adjustable to allow for working with materials of different depths.
On the negative side, its firing rate is 20 fasteners per minute, which isn't as speedy as some other models. It also mentions in the specifications that it's not for use in hardwood. This quickly became evident as it occasionally failed to sink the nails completely during tests.
Pros
Two tools for the price of one
Lightweight and portable
Adjustable depth
Solid power
Inexpensive when compared to some other models
Cons
Slow firing rate
Sometimes doesn't sink fasteners all the way
---
3.

BOSTITCH Cordless Brad Nail – Premium Choice

The first thing we noticed about the Bostich nailer was the precision with which the tool was built. Its narrow nose offers great visibility while you're shooting. In addition, the LED placement is great, giving your target the light you frequently need.
Precision isn't the only thing you'll get with this nailer. It also packs a 20-volt battery (18 volts nominal voltage), giving it excellent nailing power. It drives brads from ⅝-inch to 2⅛ inches, making it versatile. It's also durable due to the brushless motor.
It also comes with a number of other handy features. There are LED warning lights for diagnostics. A tool-free interface makes releasing jams and stalls and adjusting depth a breeze. It also has contact-action nailing for rapid nailing. Weighing in at 5.4 pounds, it's one of the lightest guns on the market.
On the down side, it does jam occasionally. In addition, it sometimes has too much power for certain applications, tearing through trim rather than fastening it.
Pros
Good precision and visibility
Takes brads from ⅝" to 2⅛"
Brushless motor
Tool-free adjustments
Lightweight
Cons
Occasional jams
Too powerful for some applications
---
4.

Ryobi 3 Piece One+ Airstrike Brad Nailer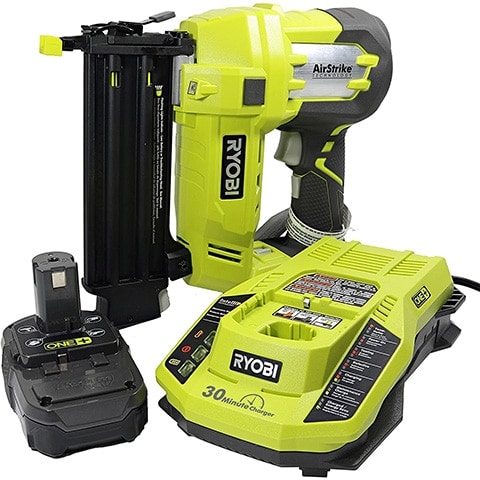 Here, Ryobi has produced a user-friendly and efficient battery-powered brad nailer. It comes with a number of options for ease of use. The belt clip can switch sides to account for left-handed users. LED lighting allows for illumination of the work area. A knob on the back allows for pressure adjustments. The rubber-cased handle provides comfort during use.
In addition to user-friendliness, this gun offers versatility and efficiency. It fires up to 2-inch nails, which gives makes it applicable to a range of projects. It offers both trigger and contact actuation, firing 60 nails per minute when set to the latter. It also fires 1,000 nails per battery charge, which isn't the biggest number, but it will let you get the job done.
The primary downfall of this model is its weight. At 9.78 pounds, it's one of the heaviest cordless nailers out there. This makes it awkward to work with trim pieces and the nailer at the same time, especially when installing crown, casing, or chair rail.
Pros
Drives 60 nails per minute on contact actuation.
User friendly.
1,000 nails per charge.
Fires ⅝" to 2" nails
---
5.

Metabo NT1850DE HPT Cordless Brad Nailer
The rebrand of Hitachi has released a solid nailer in this cordless model. It's quick, durable, and user-friendly.
A highlight of the model is its efficiency. The air spring drive mechanism allows for firing with minimal delay. Adjustable firing modes allow for both sequential and bump fire settings.
It can be used for a wide range of projects due to a variety of nail sizes. The range is from ⅝-inch to 2 inches.
It's also designed to be user friendly. It has a belt hook that can be adjusted to either side to suit both right-handed and left-handed craftspeople. It also has a lock switch to prevent accidental firing.
The down side is the weight. It's a heavier gun than some, which can make it awkward to work with.
Pros
Air spring drive
Brushless motor
Fires up to 2" brads
Sequential and bump fire modes
Adjustable belt hook
---
6.

KIMO 9418A Cordless Brad Nailer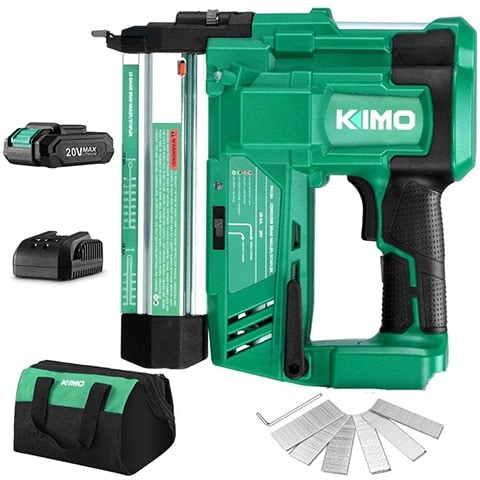 This Kimo nailer/stapler combo offers value and versatility. It handles both 18 gauge brads (¾-inch to 2-inch) and staples (¾ to 1⅝-inch).  With the range of fasteners it can take, it lends itself to a huge range of applications. Speaking of versatility, the nailer can be set to trigger actuation or contact actuation (for rapid nailing). It also has adjustable drive depth.
In addition to adaptability, this nailer has power and endurance. It features a 20-volt battery with a 1400-nail life. That comes close to topping the range among this selection.
Unfortunately, there are a few pitfalls. The Kimo nailer is one of the heavier guns out there at 9.63 pounds. It also requires the release of multiple screws in order to clear a jam. This wouldn't be as much of a problem if it didn't jam relatively easily.
Pros
Both a nailer and a stapler
Good range of fastener lengths
Two actuation modes
Long battery life
Cons
Heavy
Complicated to clear a jam
Jams easily
---
7.

CRAFTSMAN Cordless Brad Nailer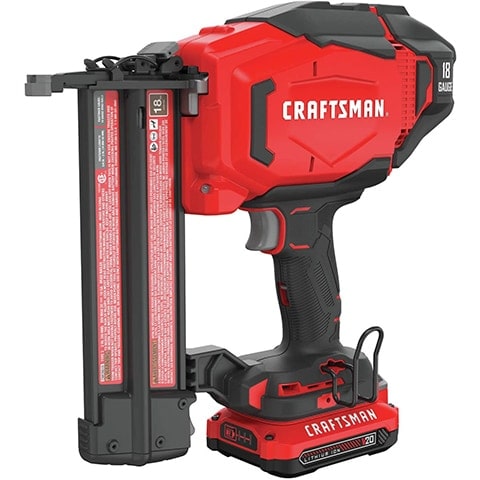 For a basic cordless nailer, this Craftsman model is a solid choice. What it lacks in bells and whistles, it makes up for with simplicity. Among the features are three tool-free settings that make it easier to use. These include jam and stall release along with a rolling depth setting.
There are a few caveats with this nailer, though. First of all, it only knocks out 420 nails per charge. That's significantly lower than other brands, so you'll need to be sure to have battery backups ready. In addition, it's not suitable for rapid nailing, as the gun can overheat easily when nailing in quick succession.
Pros
Simple and easy to use
Adjustable depth setting
Cons
Short battery life
Overheats under heavy use
---
8.

DEWALT DCN680D1 Cordless Brad Nailer
The Dewalt 20-volt Max cordless brad nailer delivers on Dewalt's history of high-quality tools. It comes with a variety of worthwhile features, similar to the Bostich model, which belongs to the same company.
This nailer was designed for precision nailing. The ultra-slim tip makes sightlines clear. The LED lighting provides workspace illumination, which helps in this regard as well.
It also features selectable modes. With a tool-free adjustment, it can be set to either sequential or contact actuation.
The brushless motor provides tool durability. It also drives nails between ⅝-inch and 2⅛-inch.
There are relatively few negatives for this straightforward tool. Among them are its size. It's nearly twice the size of similar pneumatic guns, which can make it unwieldy to work with. That said, it's not the heaviest gun in this collection, at 6 pounds.
Pros
Ultra-slim tip
LED lighting
Two nailing modes
Brushless motor
---
9.

NEU MASTER Cordless Brad Nailer

This is an example of where combo tools sometimes do both functions poorly. It's a brad nailer/stapler, which is a plus for folks looking to get two tools in one, but there are definitely better options out there, including some on this list.
On the up side, it's a user-friendly tool. Its straightforward design makes it easy to put to work right out of the box. It also sports a non-marring rubber tip, which helps prevent dents in the wood when driving nails. In addition, it comes with a belt clip and on-board illumination.
The other key positive feature is the shooting efficiency. We've explored some other guns that don't fire a lot of fasteners on a single charge. That isn't the case here, as this gun shoots 1,100 brads or staples on a single charge.
There are a number of negative features with this gun. First off, it doesn't offer the versatility in terms of fasteners that other guns offer. The fastener length only goes up to 1¼ inches, which means it's only good for a certain range of jobs. It doesn't pack a lot of power. As a result, it doesn't countersink fasteners, which means you're stuck driving them in by hand. There's also a delay between shots, which decreases efficiency when working on a project.
Overall, this tool works if you're on a budget. However, the extra money you could spend on another model will make your life a good deal easier.
Pros
Shoots both brads and staples
User friendly
Cons
Only goes up to 1¼"
Doesn't drive all the way in
Minimal power
Delay between shots
---
10.

Makita XNB01Z Cordless Brad Nailer
Makita isn't doing its reputation any favors with this nailer. Inconsistent performance and non-ergonomic design put it near the bottom of the list. With relatively few positives to balance the negatives, the Makita Cordless Brad Nailer comes in at the last spot on our list.
What this gun has going for it is range. It allows you to shoot nails from ⅝-inch to 2 inches long, which makes it applicable for a variety of jobs. It also drives 1,660 nails per charge, which is impressive. An adjustment knob makes it possible to change the depth of the drive, though at the deepest setting this sometimes results in misfires.
Unfortunately, this tool lacks in a variety of key areas related to efficiency. The first problem is that it doesn't have the power of some other models. This results in half-driven nails that need to be finished off with a hammer, particularly when it comes to hardwood. That not only makes the process less efficient, but you run the risk of damaging your medium with the hammer. Secondly, there's a firing delay. This doesn't much matter if you're just putting in a few nails, but when you're doing a large project, seconds turn into minutes of lost work time.
It is also lacking in ergonomic considerations. This gun is poorly balanced. While the weight (7.7 pounds) isn't the highest among its competitors, the combination of weight and balance make for early fatigue when using this gun.
Pros
Drives nails up to 2" long
1,660 nails per battery charge
Toolless depth adjustment
Cons
Doesn't drive flush
Firing delay
Bad balance
Bad for hardwood
---
Buyer's Guide – Purchasing the Best Cordless Brad Nailer
There's a lot to consider when making a tool selection, and it's no different in the case of battery-operated brad nailers. Because the principal application for brad nailers is finish work, precision is a key consideration. In addition, craftspeople need a tool that won't slow them down, has lasting power, and can be applied to as many projects as possible. The power source is also a critical consideration, as is a user-friendly interface.
Precision
Look for nailers with good sightlines. A narrow tip allows for more precise nail placement. Because visibility is key, built-in workspace lighting is an indispensable addition to a top-level brad nailer.
Efficiency
There's nothing worse than waiting for a gun to wind up before it sinks the nail. While it's not a big deal when sinking one or two fasteners, it can make a project significantly longer when the seconds turn into minutes. So, guns with minimal or zero firing delay are at the head of the pack.
Durability
It costs a lot of money to replace tools, so a key consideration when purchasing is the durability of the model. This includes both the body of the gun and the motor. Brushless motors make for less maintenance and greater internal durability, while a hardened or rubberized finish means the body is less likely to break down under heavy use.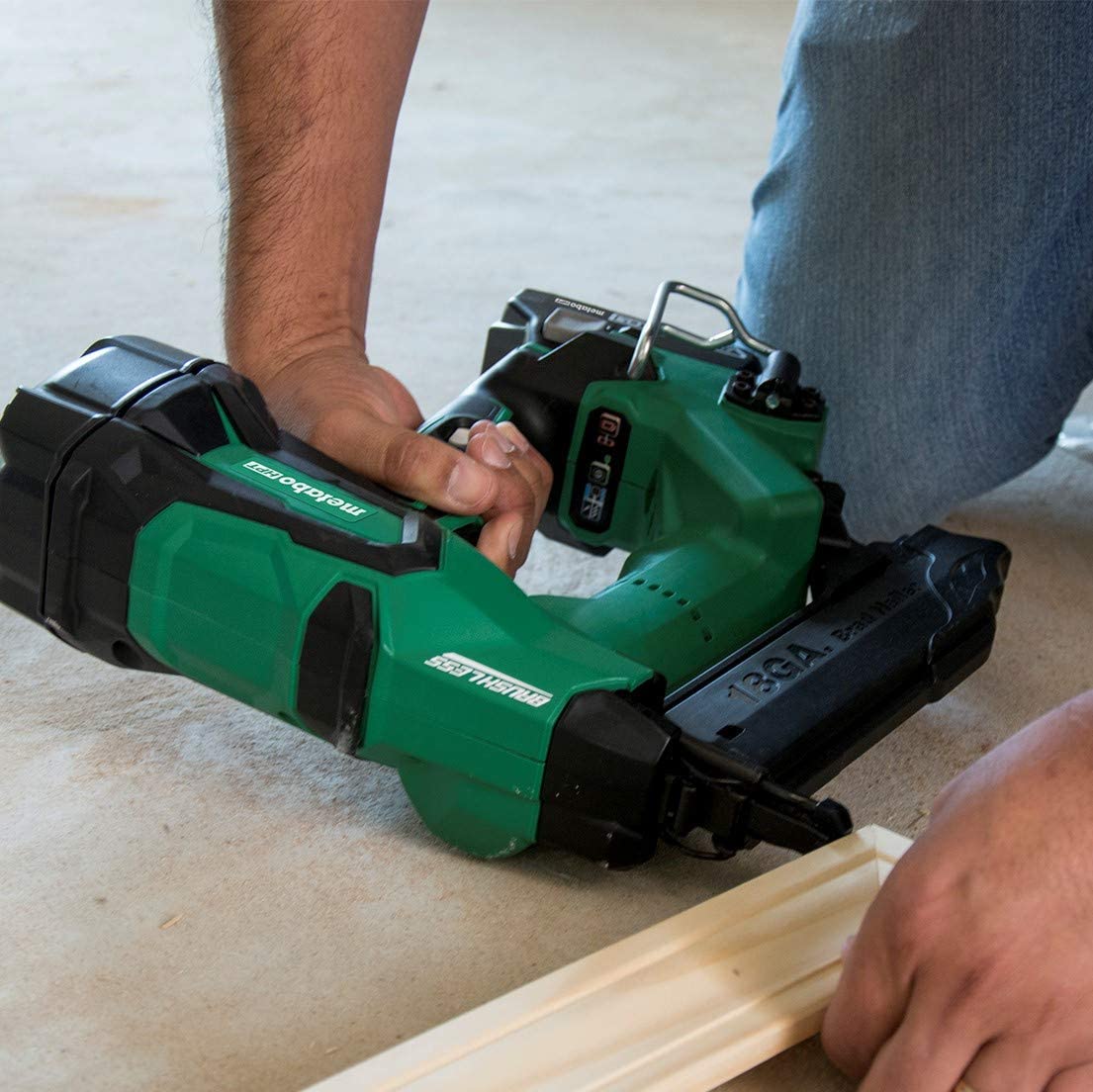 Versatility
It should be a target to buy no more tools than you need in order to be fully equipped for the job at hand. That means that when purchasing a nailer, versatility is key. Things to consider include whether it also fires staples and the range of lengths it takes. It would be a shame to have purchase another gun just to fire longer nails, so go with the gun that has the biggest range.
Power Source
Most of the nailers on our list are powered by 20-volt (18-volt nominal) batteries. In most cases, this offers big bang for your buck. A high-powered battery is only part of the equation, though. It's also necessary to look at battery life. Batteries with higher milliamp hour (mAh) ratings offer greater lasting power in general.
However, the batteries themselves are not the end of the story. Different nailers pull different amounts of power. So, it's critical to take a look at how many nails per charge a given nailer fires.
User-friendliness and Accessories
The best nailers are easy to use. This includes everything from tool-free adjustments to built-in adjustable belt hooks. Look for nailers that offer tool-free jam and stall release and tool-free depth adjustment. In addition, the best deals are those that offer a backup battery and battery charger included with the starter pack. It may be a little more expensive, but it's worth it in the end when you have a fully charged battery ready after your 1,000th nail.
Related nail gun content:

Conclusion
Here's the recap. At the top of the list is the Porter-Cable PCC790LA Cordless Brad Nailer. It lives up to the brand's reputation. It's lightweight, user-friendly, powerful, and versatile with a great battery life. Overall, it ticks most of the boxes in our buyer's guide.
The runner-up and best value option is the VonHaus 9100100 Cordless Brad Nailer. It combines a reasonable price with a built-in stapler. The fact that it's two tools in one adds to the value element of this model. Both tools are fully functional, unlike some other models. It also sports tool-free adjustments, a lightweight body, and solid power. If you're looking for a functional nailer-stapler for a good price, this is where it's at.
We hope you've found these reviews useful. The bottom line is that you can't always go by the brand name when it comes to cordless nailers. Each one has highlights and drawbacks, and the goal is to nail the one with the combination of best options.