PUR vs Brita: Which Water Filter Pitcher is Better?
If you've taken a look at water filter pitchers recently, you're likely to have noticed that there are two juggernauts in the space that you'll see everywhere; PUR and Brita. Other in-home water filter manufacturers exist, but these two take the lion's share of the market.
After testing them, we've found that they're extremely similar products with few notable differences. Both of them are convenient pitcher-style water filters that utilize drop-in cartridge filters. The filters have the same lifespan, but the PUR filters claim to be certified to reduce twice as many contaminants as Brita.
That said, the Brita filters are cheaper and easier to find, and the pitcher is less of an investment to start. You might choose Brita if you want the most convenient and affordable solution with replacement cartridges that are easy to find. But you might pick PUR if you want better filtration.

What are the differences between them?
While these two products are very similar, there are a few differences that are worth exploring. You may have to look below the surface to see where the similarities end, but they are different products.
Performance
Both the Brita and PUR filters offer very similar performance. They function the same as well. You pour water into the reservoir and it will fall through the filter, filling up the clean water tank at the bottom. The PUR filters remove more contaminants than the Brita filters do. However, Brita removes lead and PUR doesn't, unless you get the special lead reducing filter. We're going to call this one a tie.
Price
These are both very affordable entry points for getting filtered water in your home. Neither is expensive, but the Brita pitchers tend to be a little bit cheaper-priced than the PUR pitchers. Likewise, the Brita replacement filters are also less expensive than the PURs, so you'll be saving money in the long run with Brita.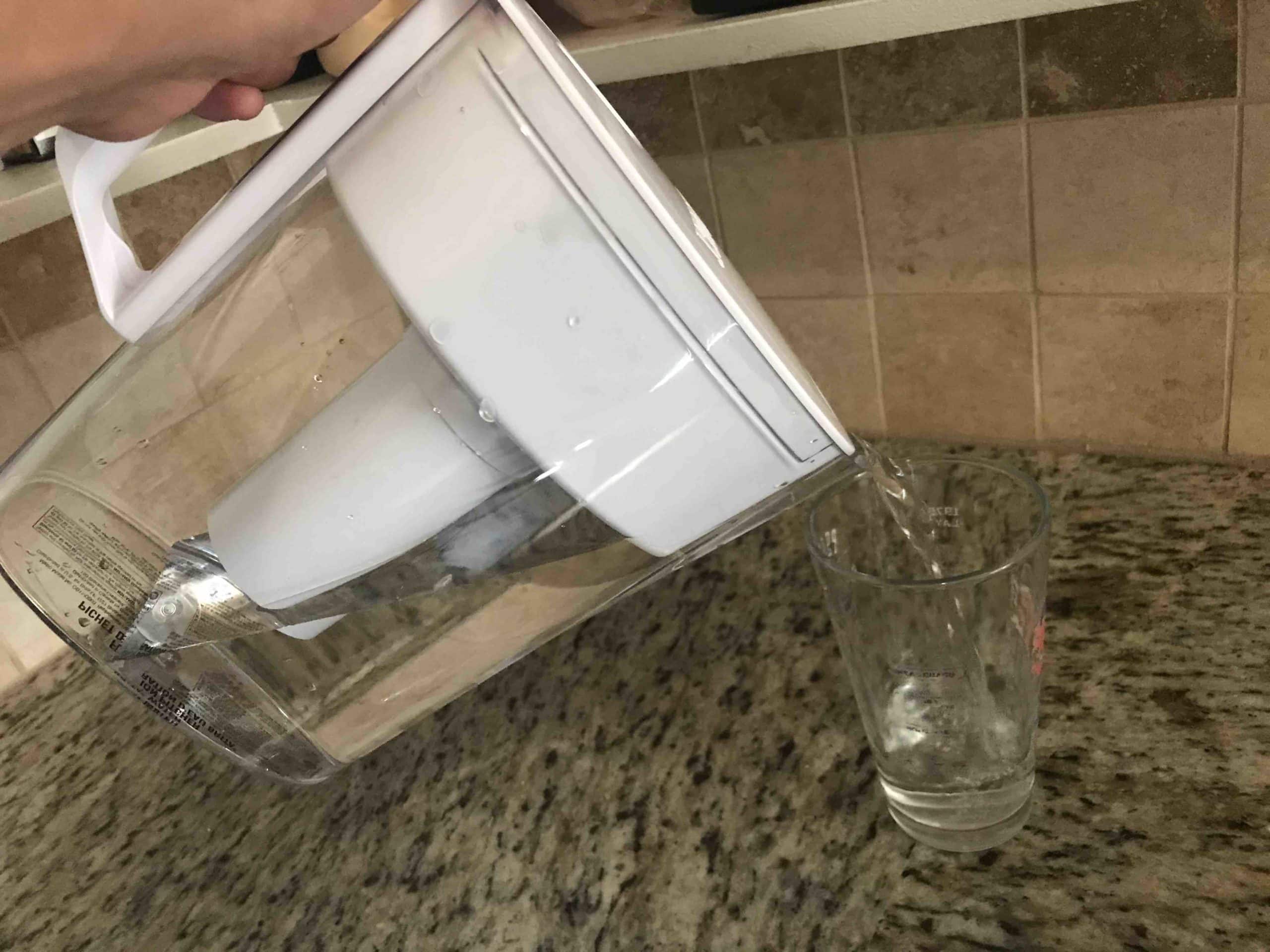 Durability
Both of these brands produce very well-made products that won't break down with regular use. We've seen pitchers from PUR and Brita last for many years with proper care. As long as you don't drop it on the floor from the top shelf of the fridge, pitchers from either brand should stand up well to normal use.
Design
PUR and Brita seem to take slightly different paths when it comes to the design of their products. Brita opts for a more simple and sleek style while PUR goes for a more modern and colorful look. This is all about personal preference since neither is significantly more attractive than the other.

Quick Rundown of the Brita Water Filter Pitcher: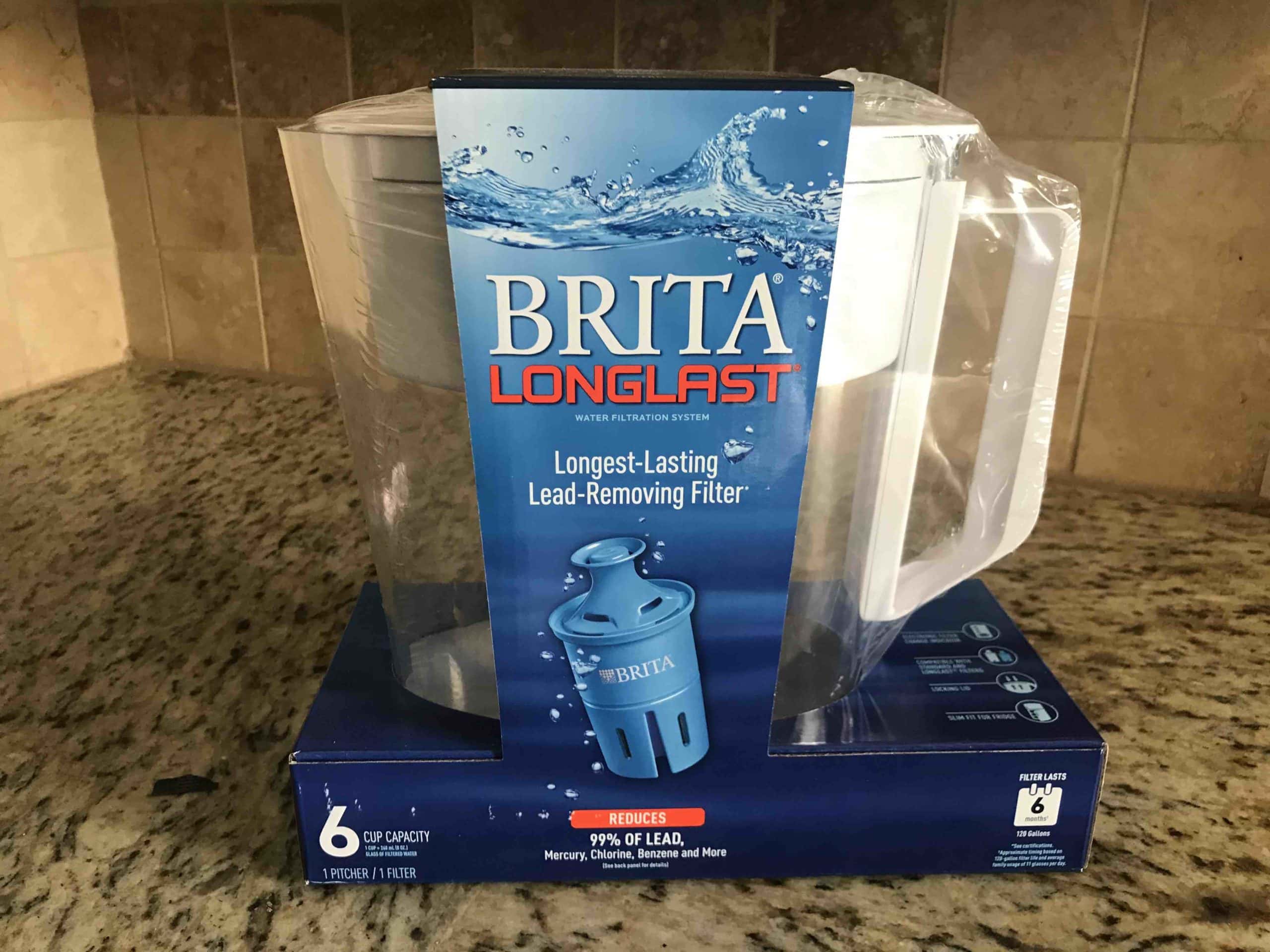 The Brita water filter pitcher sets the standard for in-home water filtration. These filters can remove 60 different contaminants from your water, including lead, chlorine, particulates, and much more. Each cartridge lasts for about 40 gallons. Replacements are available in many major retailers both online and in-store and they're very inexpensive.
Pros
Available for purchase everywhere
Inexpensive
Removes lead
Cons
Doesn't remove as many contaminants as the PUR filters
Brita Large Water Filter Pitcher for Tap and Drinking Water with 1 Elite Filter, Reduces 99% Of...
This BPA-free Everyday water pitcher is easy to fill, fits in most fridges and can hold 10 cups of water, enough to fill 3 24-ounce...
This space efficient Brita pitcher fits perfectly on refrigerator shelves, features an easy-fill locking lid and is easy to pour;...
Get great tasting water without the waste*; by switching to Brita Longlast+, you can save money and replace 1,800 single-use plastic...
---
Quick Rundown of the PUR Water Filter Pitcher: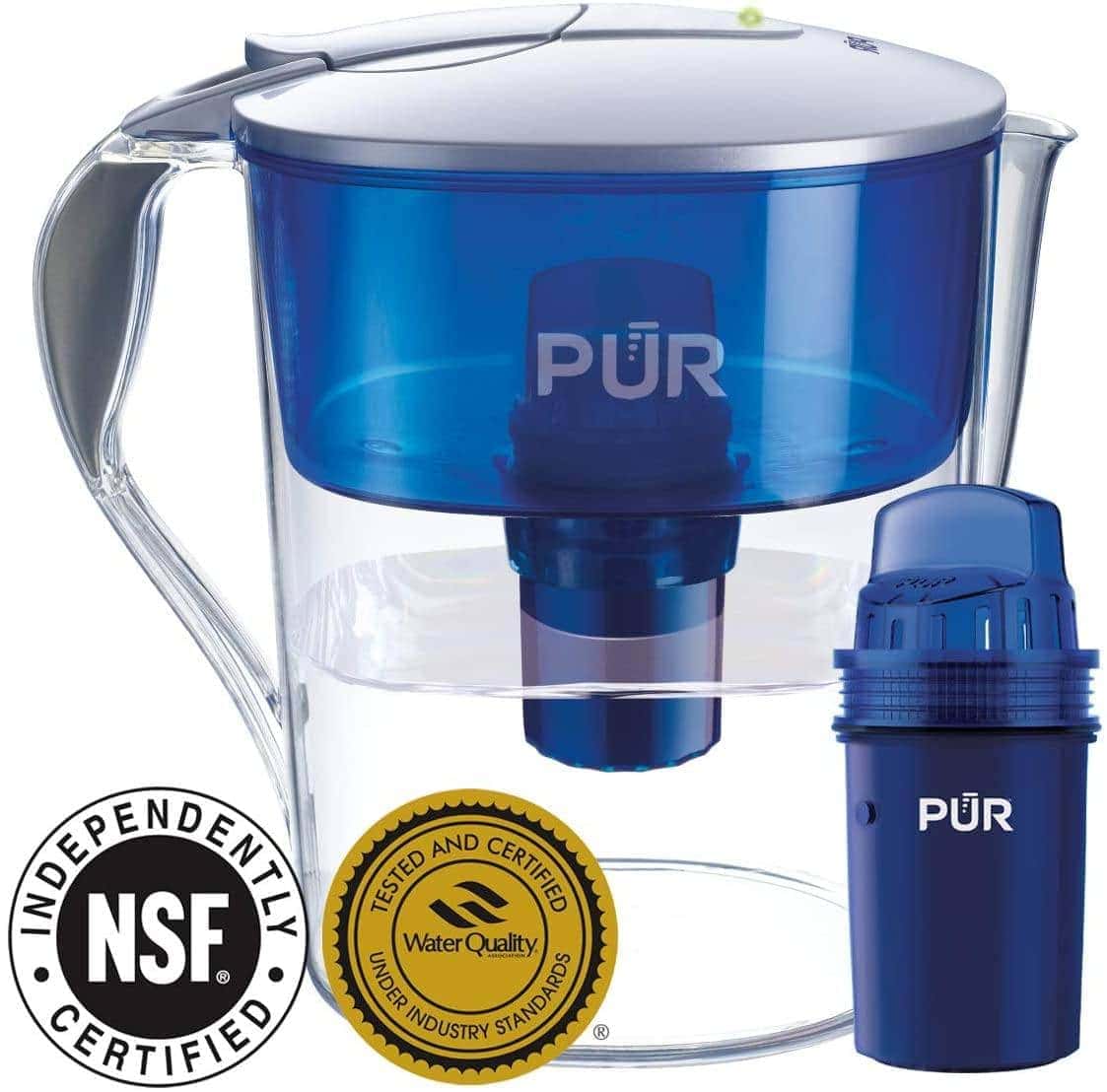 PUR water filter pitchers are nearly as readily available as Brita filters, but not quite. You're still likely to find replacements in local stores though. The PUR filters are certified to remove twice as many contaminants from your water as Brita filters, but the PUR filters won't remove lead unless you specifically purchase the special lead-reduction filter. The cartridges last for 40 gallons just like the Brita filters, but these are a little bit more costly.
Pros
Removes over 70 contaminants from water
Certified to remove twice as many contaminants as Brita
Cons
More expensive than Brita filters
Must get a special lead reducing filter for lead filtration
PUR CR1100CV Classic Water Filter Pitcher Filtration System, 11 Cup
WATER FILTRATION SYSTEM – Quickly and easily enjoy refreshing, filtered water in your fridge with the PUR 11 Cup Water Filtration...
REDUCES CONTAMINANTS – PUR Pitcher Filtration System contains PUR filter PPF900Z, which is certified to reduce 2X more contaminants...
EASY TO USE – This water filter pitcher filters twice as fast and is dishwasher safe. The LockFit Design offers a secure filter fit...
---
What the Users Say
To make sure we were getting the complete picture, we decided to see what other users thought about each of these products. We've scoured forums, reviews, and discussion boards to see what issues others encountered with these two filter pitchers, and which one people preferred in the long run.
A common complaint with the PUR pitcher was the lid. Instead of snapping on or being held down some way, it just sits on top. This means you have to hold it in place when you pour, which many users find to be annoying. Another prevalent issue was that unfiltered water from the top reservoir would still pour into their glass with the filtered water, even if the reservoir had been empty. People were also displeased with the small reservoir at the top that must be filled several times before the pitcher is full of filtered water.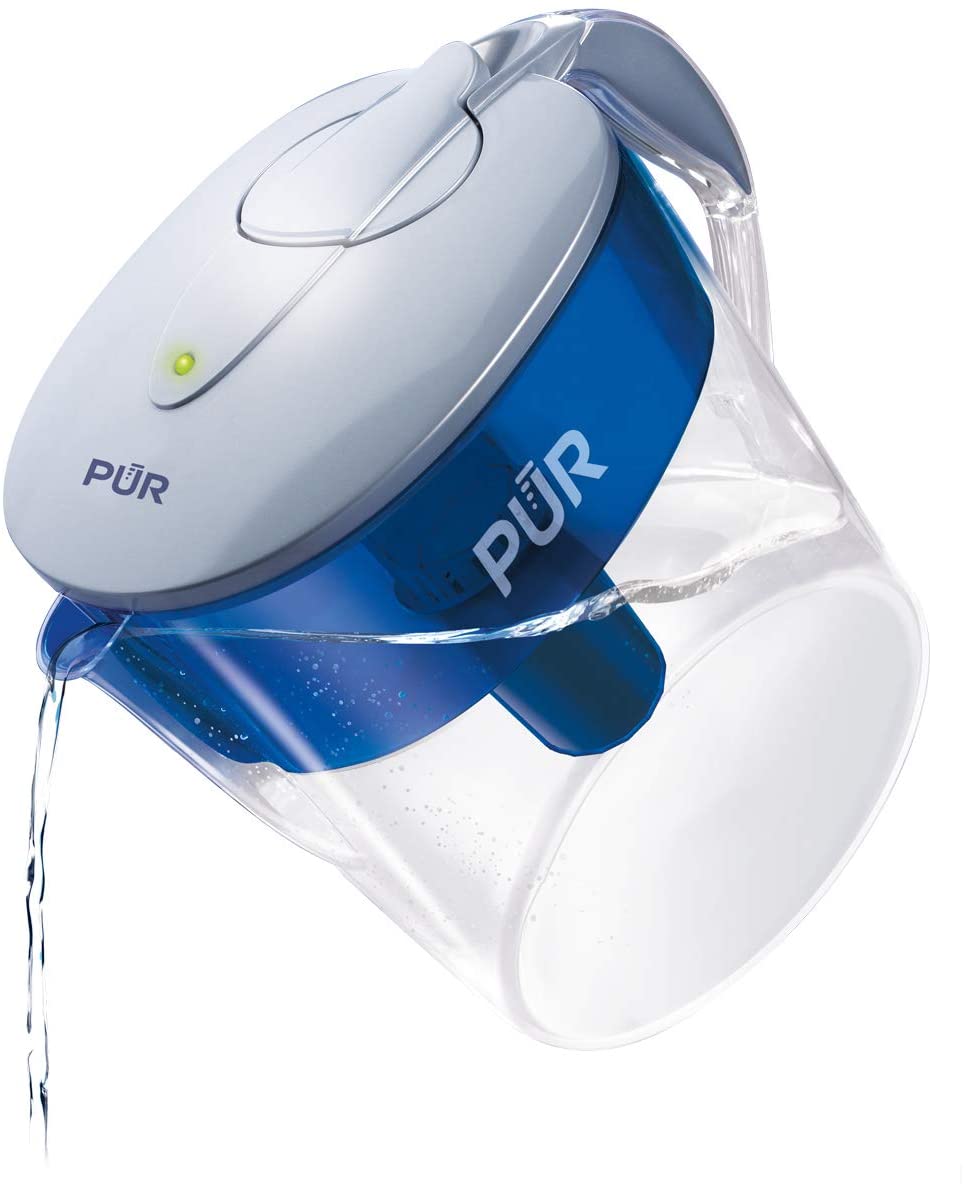 On the other hand, people loved the taste of the water from the PUR filter pitcher more than the Brita filters. Many users also reported that the PUR is much slower to filter than the Brita, so if you don't like to wait for your water to filter, then the Brita may be a better choice.
With the Brita pitcher, some people complained that water was draining around the filter instead of filtering through it. Leaks also seemed to be a semi-common occurrence after many months of daily use. However, many have had their pitchers replaced, citing Brita's great customer service.
Most people think that the Brita filters offer a noticeable improvement over their tap water. Many people also felt that the PUR filters provided a better taste than the Brita and that it tasted more like minerals, which they liked. If you prefer the natural mineral taste, then perhaps PUR is for you.

Conclusion
On the whole, most users seemed to be pleased with both of these filter pitchers, and our testing confirmed that they're both solid products. They're so similar that it can be difficult to choose between them, but we think it comes down to a few simple things. The Brita pitcher costs less upfront and the replacements cost less as well, so if you want to save a few bucks, then stick with Brita. Since many people preferred the taste of the PUR, you may choose the PUR filter pitcher if you're a self-professed water snob.