Bugatti Chiron vs Veyron: What Are the Differences?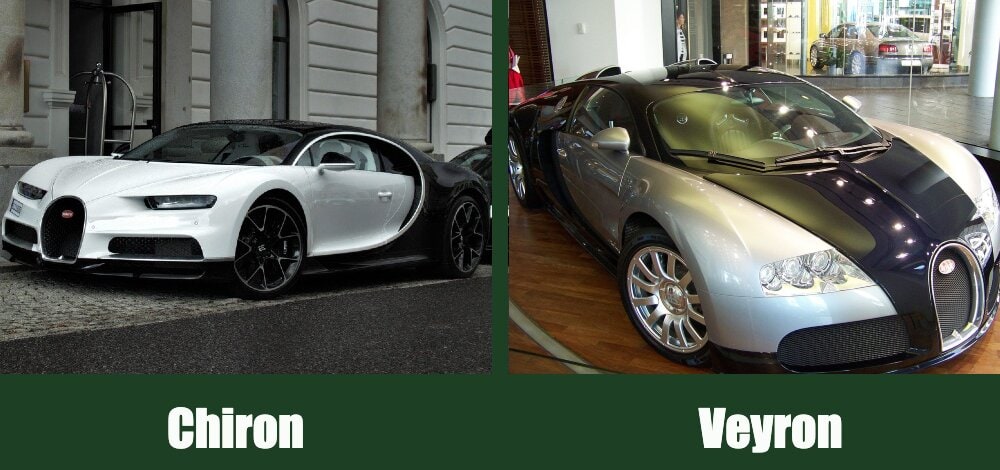 The Bugatti Veyron first made its appearance in 2005, and the car is still as astounding today as it was then, with a top speed of 253 mph! The Chiron is the latest innovation from Bugatti, taking the Veyron concept to new, legal, never-before-imagined heights.
These two cars are both some of the fastest vehicles on the planet, and the Veyron certainly drew tons of attention upon its release. The Chiron somehow managed to improve on the Veyron, and Bugatti managed to produce a vehicle that many simply thought wasn't possible.
With both vehicles boasting such incredible features and stats, let's take a look at what exactly the differences are between these two supercars.

Bugatti Veyron Specs
Release date: 2005
Engine: 0L quad-turbo W16 engine
Power: 883 kW @ 6400 rpm
Torque: 1500 Nm @ 3000–5000 rpm
Transmission: Seven-speed dual-clutch automatic
0–62 mph: 5 seconds
0–124 mph: 7 seconds
Top speed: 253 mph
Price: $2,646,000 (approx.)
Bugatti Chiron Specs
Release date: 2016
Engine: 0L quad-turbo W16 engine
Power: 1103 kW @ 6700 rpm
Torque: 1600 Nm @ 2000–6000 rpm
Transmission: Seven-speed dual-clutch automatic
0 – 62 mph: Less than 5 seconds
0 – 124 mph: 6 seconds
Top speed: 261mph
Price: $3,400,000 (approx.)

What Are the Differences Between the Bugatti Veyron & Chiron?
Car Appearance
Exterior
The Chiron is clearly inspired by the Veyron, but with a more modern, and in our opinion, far less subtle appearance. The Chiron looks every bit like a sports car, with stunning loops that circle around the rear window, and a batmobile-like hood and headlights. Both the Chiron and the Veyron were certainly made to look great and turn heads, but they were built for speed too. The design of both cars is clearly planned predominantly with aerodynamics in mind.
While we love the modern look of the Chiron, the Veyron still holds up remarkably well considering it's 17 years old.
Interior
The interiors of both these cars are very similar and the Chiron is again clearly inspired by the Veyron. Overall, the Veyron is more simplistic and dare we say, elegant. The Chiron's interior is gorgeous to be sure, although we feel it looks a bit cluttered compared to the elegant simplicity of the Veyron. Of course, this is subjective, and both cars have interiors that are incredible feats of engineering, as much so as the exterior.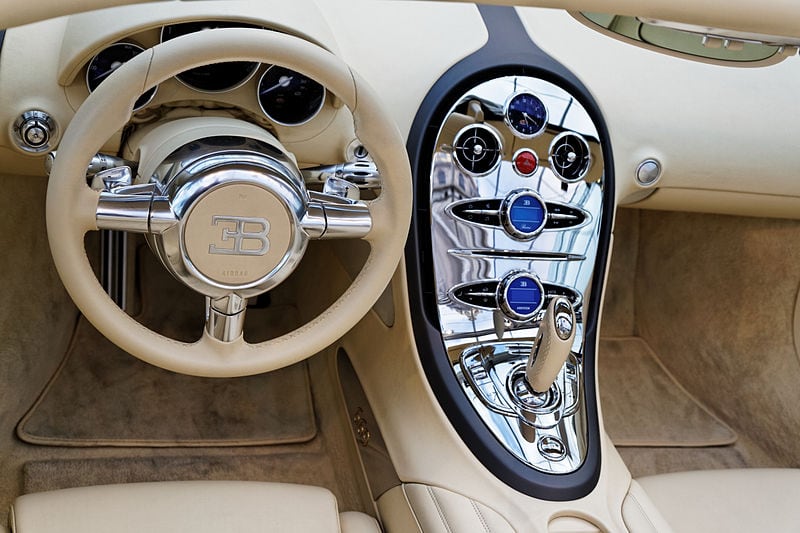 ---
Car Handling
Unfortunately, we, like most of the world, have not had the privilege of test driving either of these Bugatti supercars, but one can gauge a lot from the spec sheets of both vehicles.
The Chiron and Veyron boast enormous wheels, 20 inches on the front and 21 inches at the back, the rears being the widest ever produced on a passenger car, measuring 355 millimeters wide. These massive wheels, combined with a 4-wheel drive system have a purpose—it takes a lot of rubber to reign in and control the power of cars like these!
Both cars house drivers and passengers in a carbon-fiber "tub", a motorsport-derived chassis that gives safety plus incredible handling due to increased suspension efficiency. Despite being some of the fastest cars on the planet, both models have incredible handling and braking capability too.
The permanent all-wheel drive with the Haldex Traction system gives the cars even more confident handling, with semi-automatic or fully-automatic driving options. The new Chiron wins the handling department, though just. The carbon-ceramic brake discs allow the car to get to a complete stop from 62 mph in just over 100 feet. Impressive for a 4,398-pound car.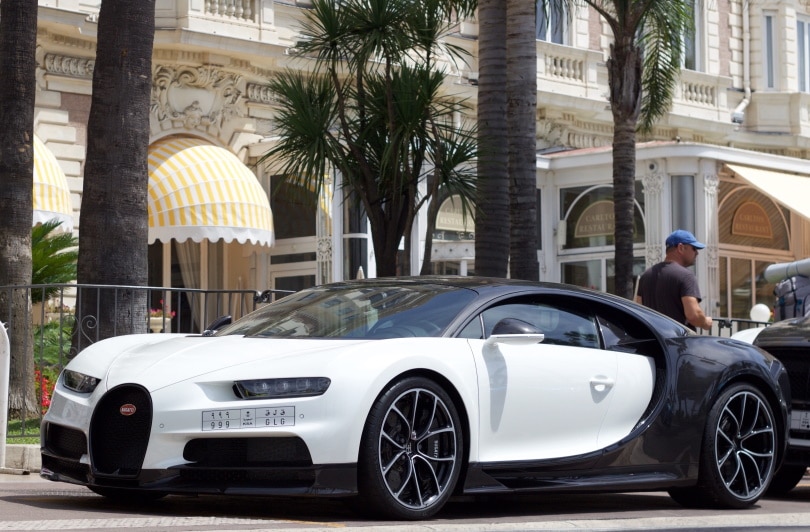 ---
Car Engine
Both the Chiron and Veyron have the same core engine, an 8.0L quad-turbo W16. However, Bugatti has made some small yet very noticeable tweaks to the latest iteration, including larger turbos and a titanium exhaust to help expel waste more efficiently, translating to a power rating of 1103 kW @ 6700 rpm and torque of 1500 Nm @ 3000–5000 rpm. Both cars have a seven-speed dual-clutch gearbox to help transit this incredible torque and power onto the road.
When it comes to speed, the new Chiron has a quicker 0–62 mph time—under 2.5 seconds according to Bugatti—plus a searing top speed of 261 mph. That said, an actual top speed is closer to 275 mph is likely, but Bugatti has put a necessary restriction because the tires would struggle to keep up with such forces.
---
Car Availability
Since the Veyron was launched in 2005, Bugatti has produced 450 Veyrons to date. This includes the 270 Veyron 16.4's, the initial variant, 30 Veyron Super-Sports, the second variant, and 150 Grand-Sport and Grand Sport Vitesse's. Interestingly, only 499 remain after a driver deliberately crashed his Veyron into a swamp to claim on insurance.
The Chiron will be limited to 500 units made over an 8-year period.

Conclusion
The Veyron was a technical marvel on its release, and in fact, still is one of the most incredible vehicles ever manufactured. The Chiron, somehow, improved on the Veyron in terms of power and speed, with record-breaking top speeds, however, both cars break the barriers of what anyone previously thought was possible on a commercial vehicle.
---
Featured Image Credit: L – Chiron; carpassionwarsaw, Pixabay, R – Yeyron; saluki32, Pixabay