Can You Mount a TV on a Drywall? What You Need To Know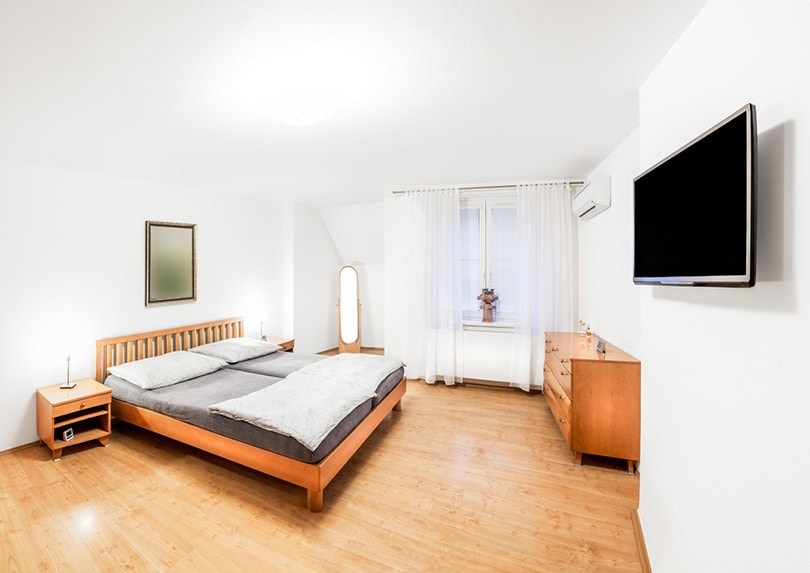 Have you just received a new TV set at your doorstep and are wondering if you can mount it on drywall? Could there be any chance that it will fall off the wall? Well, if you have such questions, this article is for you. But before going ahead, you'd better know that it's possible to mount your TV on the drywall as long as you meet all the necessary conditions.
Several factors determine whether you can mount a TV on the drywall, and we will focus on them in this article. We will also walk you through the steps to follow in the mounting process to help you successfully carry out a safe and satisfying TV mounting project. So, hang on.

Is It Safe to Mount a TV on Drywall?
Safety is the most cardinal aspect to consider while handling most electronic appliances, and TV sets are no exception. You can indeed mount your TV set safely on drywall after considering all the safety precautions that come in the user manual provided.
However, you must note that disregarding these precautions can put your TV at risk of falling off the wall. But first, understanding the determining factors for TV mounting would be priceless. What are these factors?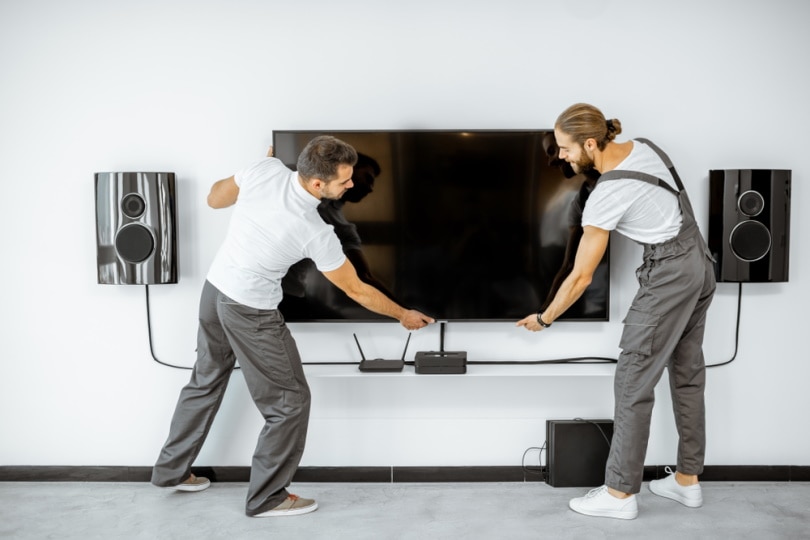 Your readiness: It might seem petty at first, but being ready both psychologically and physically is one of the fundamental things to consider lest you mess up the whole thing. In addition to your mental readiness, you must assemble all the necessary tools, such as a drill bit, a stud finder, and a screwdriver, alongside others to enable a smooth action while mounting the TV set.
The wall's holding power: For a successful mounting project, the wall on which the TV is to be mounted should be in perfect condition and able to hold the TV's weight without buckling. For instance, consider whether the wall is weathered or aged. Besides, never forget to see if the wall materials are strong enough. If the wall was recently constructed and is yet to dry perfectly, you should avoid mounting your TV on it.
The TV's weight: At the current state of the art, most TVs are sensibly light, but that does not rule out the fact that they are weighty. According to Weight of Stuff, a standard 32-inch flat screen LCD TV can weigh around 25 to 30 pounds (11–14 kg). In contrast, a 50-inch TV can weigh about 28–55 pounds (15–25 kg). Confirm your TV's weight, as it's always listed on the user manual, to be sure.
Compatibility of the mounts: What's crazier than using non-compatible mounts on your TV? Well, nothing. Always ensure that you get compatible braces that fasten your TV safely onto the wall. About The VESA Mounting Standard Explained, finding a suitable mount for your TV set is vital to ensure a seamless mounting process. Also, while purchasing the mounts, you must ask the dealer if they are strong enough to support the weight of your TV.

How to Mount a TV on a Drywall
You have no professional to help you; well, it's time you become one or work like one. Here are some of the concrete procedures to guide you:
1.

Assemble All the Necessary Tools
Some TV sets come with personally tailored mounting kits to help you mount your TV without much hassle, while others do not. Ensure you have suitable equipment that fits your gadget.
Nonetheless, irrespective of whether you have the kit or not, you should be able to lay your hand on these tools every time you are mounting a TV set:
Stud finders
Measuring tape and a leveler
TV bracket
A marker
Screw bits and a screwdriver
Drills and drill bits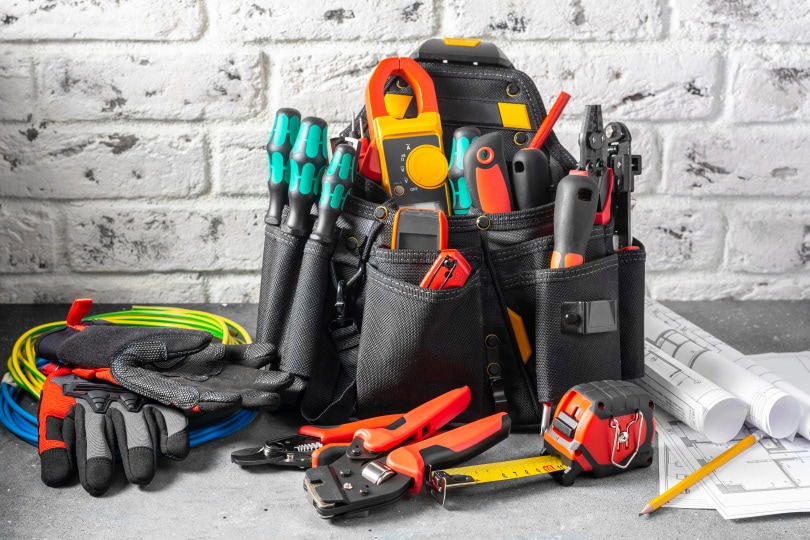 ---
2.

Find a Suitable Point for Mounting
It's up to your perspective and taste to choose a suitable place to mount your TV.
As much as you want to set up your TV in a particular place on a wall, you have to consider whether you can readily access the TV facilities such as the TV ports, as you might not enjoy the rigorous procedure of unmounting your TV every time you want to use the ports.
You may also want a preferred viewing angle. After all, isn't the television yours? Well, you might as well have the discretion to choose the viewing angle that will be most suitable for you. Factors such as gaming experience, light effects at different times of the day, and other preferences might trigger you to choose either a static mount or an adjustable one.
On the other hand, from a universal standpoint, you can consider some of these ideas while selecting an excellent location to mount your TV.
A clear wall with no view hindrances
A wall with the ease of power accessibility
A broad area with ample space to operate on, among other conducive factors
It is also important to note that positioning your TV set near a fireplace would be wrong since it can be susceptible to heat-related damage.
---
3.

Look for the Wall Studs
You have the target wall position and all the tools ready. Now, what next? Using the stud finders, you need to look for the wall studs where you'll fasten the TV. Label the specific location of the studs for remembrance. It's also essential that you spot two studs to provide enough stability to secure your TV conventionally.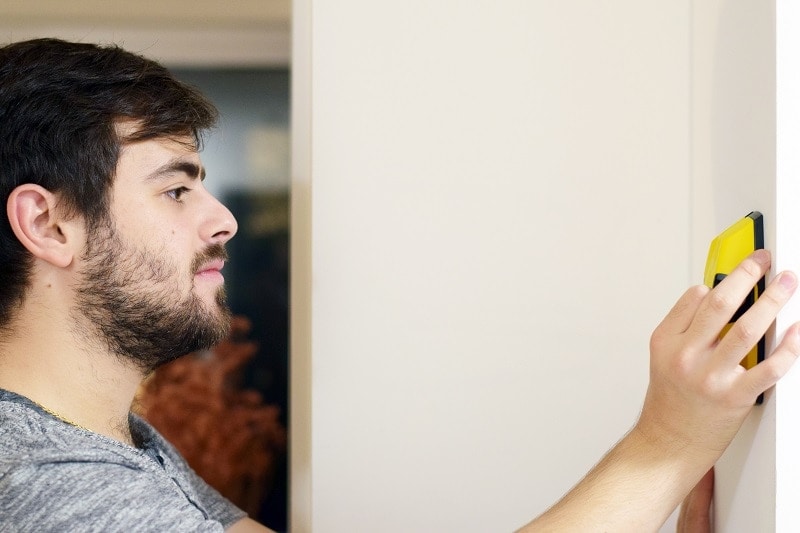 ---
4.

Make Some Model Drilling Holes
Using a leveler, mark and make model holes that guide your mounting screws into the wall. After that, fasten a bit and drill the marked points to make holes that will facilitate the mounting process.
Remember that:
The actual holes should be thinner than their plugs
The recommended sizes are shown on the user manual
---
5.

Fasten the Mounting Bracket to the Wall
Before mounting the TV on the wall, you must fix the mounting bracket using a drill or a screwdriver. Hence you should ensure that the mounting bracket is in line with the studs you had located a while ago.
You should note that while drilling into the studs, you should encounter some opposition; otherwise, you have not drilled enough into the stud.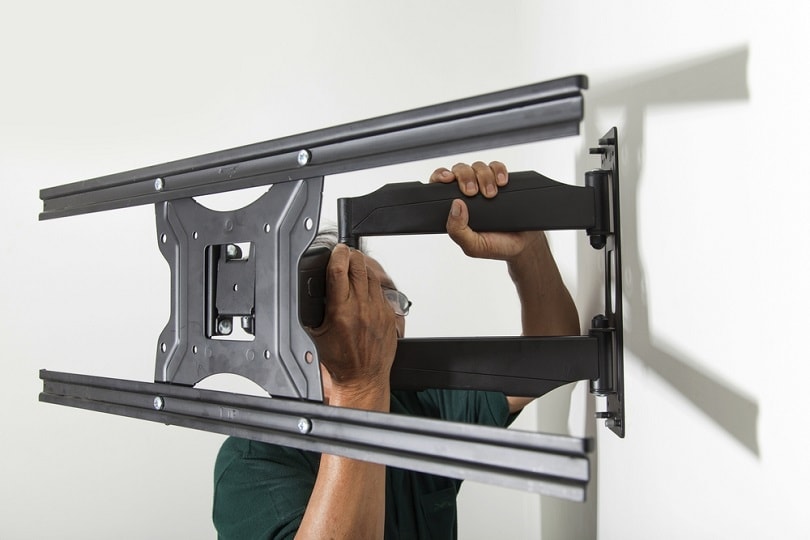 ---
6.

Fix the Brackets to the Television
Once you have fixed the mounting bracket on the wall, your next step is to carefully set your TV upside down and follow the instructions listed in the manual on how to attach the brackets to the TV.
Fasten the brackets tightly with screws for TV safety
Only use the recommended screws
---
7.

Fix the TV on the Wall
You might need a helper at this step as it entails carrying and lining up the television for mounting. While your helper holds the TV in place, you will tighten the screws to ensure a safe hold-up.
Take precautions to avoid injuries
Confirm whether the installation was thorough
Confirm if the TV ports are easily accessible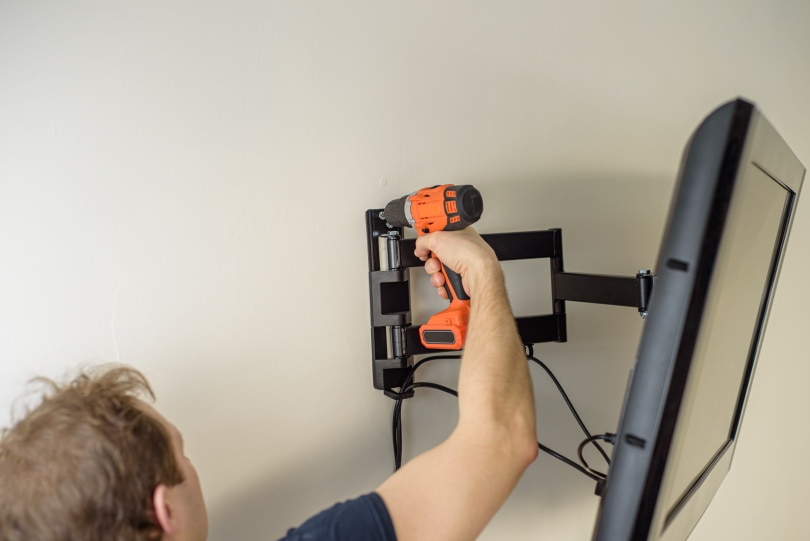 ---
8.

Connect the Cables to Their Respective Ports
To fully realize your TV's potential, you must connect the cables on the back of the TV to some external electronics. You might also want to do away with the clutter that comes with the wires by concealing them behind the wall or instead use a concealer.

Can a Drywall Anchor Support 100 Pounds TV?
There are two types of drywall anchors, each of which is designed to hold considerable weight. One is "toggle anchors," a wing-like bolt that expands throughout the bolted area. This, in turn, extends the object's weight, thus holding more weight than a regular bolt. They usually hold up to 50 pounds.
The other is the Molly bolt, a more complex but elaborate bolt that holds up to 100 pounds.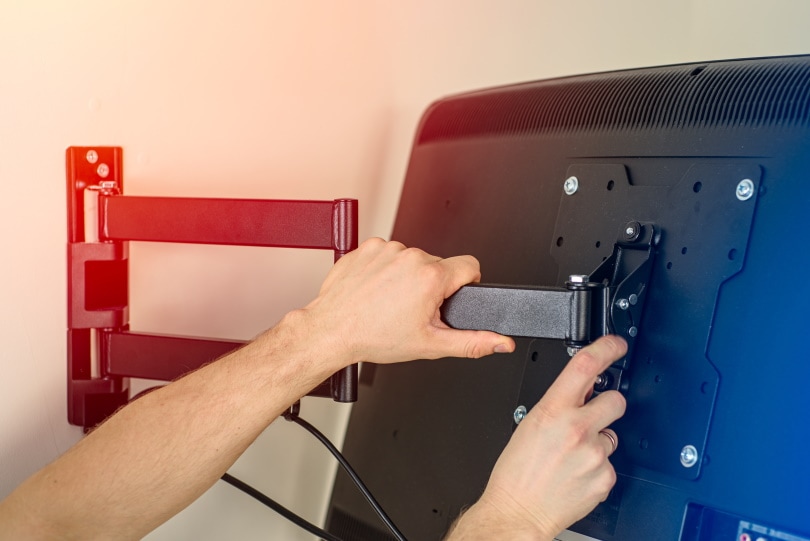 Are There Other Options for Mounting a TV on Drywall?
What happens when you need to mount your TV without studs? Well, here are some of the options that will relieve you of stress:
Ceiling mounts – Ceilings can also act as walls as they can host a TV mount; it will only need more professional workers to do it unless you know what you are doing.
Mounting platforms – These are more advanced forms of mounting as they are adaptive and versatile, thus providing more mounting surfaces and space. These plates are popularly known to adapt between English and metric unit mounting.

Conclusion
If you follow the procedures listed in this article correctly, there is no doubt that you can mount your TV set on drywall without much struggle.
The first thing you need to do is assemble all the necessary tools for TV mounting. Thereafter, you should drill some holes for the studs and fasten the mounting bracket onto them. Then mount the TV and connect the ports correctly, and you are done.
However, we emphasize that you take precautions while mounting your TV to avoid inflicting injuries on yourself or damaging the television.
---
Featured Image Credit: Kristi Blokhin, Shutterstock