An Overview of Safety Gear to Wear When Using a Chainsaw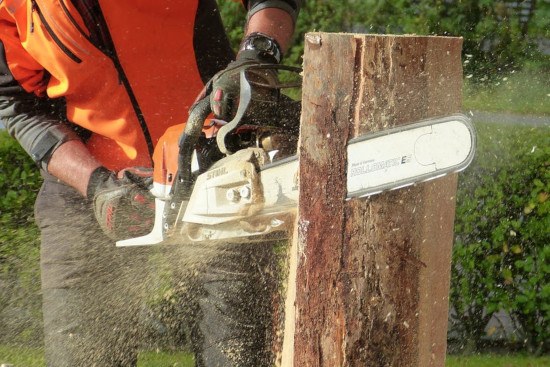 Every year, approximately 36,000 Americans go to the emergency room because they were injured while using a chainsaw. Many of these injuries were caused while removing fallen trees and limbs following big storms, and a big contributor was a lack of proper safety equipment.
Proper safety equipment isn't going to prevent your chainsaw from kicking back, but wearing it might prevent that kickback from causing injury. Even if it doesn't, the odds are pretty good that it'll reduce the injury's severity.
Here's an overview of what safety gear you should wear while using a chainsaw.
Chainsaw Helmet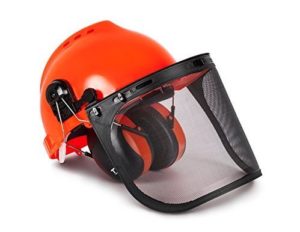 Your head is the most important thing to keep safe while using a chainsaw. It's also the most exposed and vulnerable. An injury to your head can kill you, or impair your ability to hear, see, or smell. You want equipment that will protect you from flying debris, noise, and chainsaw mishap.
A helmet with a full-face shield and built-in earmuffs is the best way to protect your face. You can get away with wearing just a hard hat, goggles, and earplugs, and the full-sized shield will protect the exposed skin on your face from flying debris. Earmuffs are also usually a much better way to protect your ears from the noise of using a chainsaw than mere earplugs.
TR Industrial Forestry Safety Helmet and Hearing Protection System (Orange)
5 in 1 safety helmet comes with helmet, adjustable/removable earmuffs, plastic visor, and mesh visor, providing dynamic protection for...
Provides the protection you need when using chainsaws, brush cutters, and trimmers, ideal for forestry type work.Noise Reduction:SNR...
Secures firmly on head and convenient dial knob makes it easy to adjust the circumference 20 - 24.5 inches (52-62 centimeters)
Chainsaw Gloves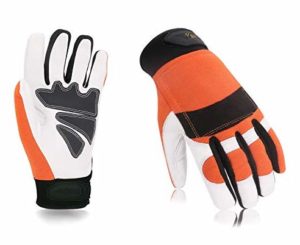 Your arms, and especially your hands, are the most likely parts to get injured. Your hands aren't just at risk from working so close to the saw blade. They're also working close to whatever you're cutting. After your head, your approach to chainsaw safety should focus on protecting your hands.
Buy gloves made of dense, cut-resistant material to help protect your hands from cuts from the blade and from wood that snaps abruptly. Comfort is important, too. Find gloves that will reduce the fatiguing effect of chainsaw vibrations. It's much harder to keep control of a chainsaw with tired hands and wrists.
Your arms are also at serious risk of injury, so you'll want to keep them protected. Ideally, you'd wear a jacket that protects both your torso and your arms. But there are arm guards that provide full-arm protection from your shoulder to your wrists. If you live someplace hot and need to trade off a little protection around your torso to vent away heat, you can still get good protection for your arms with these guards.
Chainsaw Chaps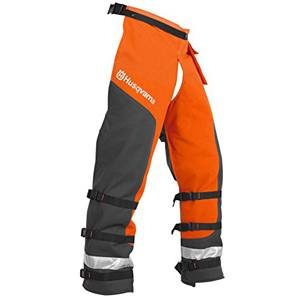 After the hands and arms, leg injuries are the most common injuries in chainsaw use. It's important to keep them covered up when using a chainsaw. There is a wide range of chaps designed for use with chainsaws. It might seem obvious to say that you should just go out and buy the best one that provides total-leg protection. Those can get hot to work in, however. If you operate your chainsaw in warm weather, you might want to consider looking at chaps with an open-back design. They won't protect the backs of your legs from the chainsaw, but if you wear a pair of good work pants you'll at least be protected from environmental hazards like briars or sharp sticks.
Heavy-Duty Work Boots
Protecting your feet is also important. No matter where you're working, thick steel-toed boots that cover your ankles are a must. You'll also want to match the soles on your boots to where you're working. If you're working in rough terrain, look for boots with thick soles.
Environmental Factors to Consider
Protecting your torso is pretty easy. Wear something made with cut-resistant fabric. However, be aware that, statistically, the torso is the least likely to get injured during chainsaw use. While you want to make sure that you're wearing a good, stout jacket, if it's hot out, this is where you can trade thick, heavy materials for something a little lighter to reduce trapped heat.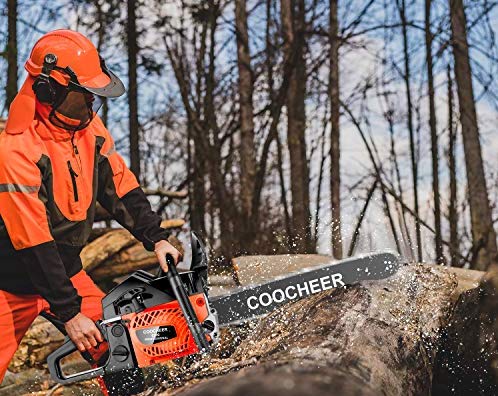 You might need to place a premium on lighter cut-resistant fabrics, but be aware that this might mean reduced effectiveness in the protection. You just need to make a choice.
If it's cold, wear thicker gloves and boots to keep your hands and feet warm. Numbed hands are dangerous hands when using a chainsaw. Finally, if it rains or snows, make sure that you have gloves and rubber-soled boots that won't lose traction. There is nothing more dangerous than slipping on a wet tree with an active chainsaw.

Conclusion
Wearing the right safety equipment is part of using a chainsaw safely. If you're not properly dressed, you're not using your chainsaw correctly.
Start with your head. It's the most critical thing to keep safe, and it's also the most exposed. Get headgear that protects your head from saw mishaps, your ears from the noise, your eyes from flying debris, and your face from the unexpected. Protect your torso and arms by wearing a jacket made from cut-resistant fabric, and wear durable gloves that help you maintain a firm grip on your saw.
Your legs are at risk from chainsaw slips, so wear pants made from dense fabric with chainsaw chaps as an overlayer. Wear steel-toed boots to protect your feet, and make sure they have soles that won't slip on wet surfaces.
Finally, keep your local environmental conditions in mind. If you live where it's hot and humid, get light fabrics so you don't fatigue yourself by wearing too many clothes. If you live where it's cold, wear enough layers to keep yourself warm. That's especially true of your extremities. If you work where it's wet, put a premium on gloves and boots that won't slip when damp.
---
Featured Image Credit: Pixabay, Pexels