7 Best Chainsaw Gloves – Top Picks, Reviews & Buyer's Guide 2023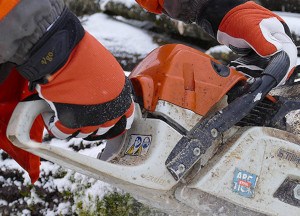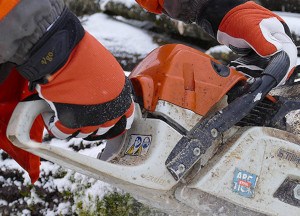 Operating any sort of powered saw requires considerable safety precautions – but none more so than when you're using a chain saw. Even the safest, well-designed chainsaw can become incredibly dangerous due to operator error or unexpected conditions.
In addition to choosing a great chainsaw helmet and cut-resistant clothing, equipping yourself with the best chainsaw gloves you can find will make your work safer and more comfortable.
Not just any old glove will do, though. For the best possible protection, you'll need to find gloves that meet American National Standards Institute and International Safety Equipment Association guidelines, and this can be a challenging task.
That's why we've put together this list of in-depth reviews, covering chainsaw gloves for every price range and purpose. Continue reading to discover everything you need to know before making an informed decision for your chainsaw glove purchase.
---
A Quick Comparison of Our Favorite Picks in 2023
Rating
Image
Product
Details

Best Overall

Husqvarna Chainsaw Gloves

Double-reinforced trigger finger
EN safety rating certified
Goat leather palm
CHECK PRICE

Youngstown Kevlar Chainsaw Gloves

High cut/puncture protection
Non-slip reinforcement
Double-stitched
CHECK PRICE

Best Value

Oregon Chainsaw Safety Gloves

Affordable and high quality
Certified to uphold strict safety standards
Double-reinforced goat leather palms
CHECK PRICE

Elvex Prolar Chainsaw-Gloves

Prolar protection
Breathable fabric
Waterproof
CHECK PRICE

Endura Hi-Viz Cut-Resistant Chainsaw Glove

Goatskin leather with anti-vibration
Velcro wrists
Lycra fabric on back
CHECK PRICE
The 7 Best Chainsaw Gloves:
1.

Husqvarna Chainsaw Gloves – Best Overall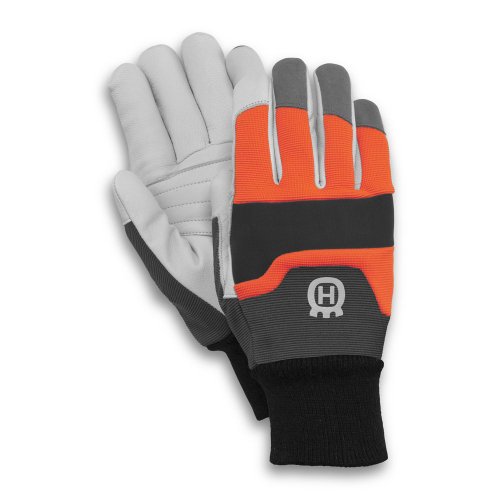 Husqvarna is one of the most well-known names in chainsaws for good reason: In addition to laying claim to having produced the first mass-market chainsaws, they are also a proactive participant in online and on-the-job safety training for chainsaw users everywhere.
It may come as no surprise, then, that Husqvarna's Functional Chainsaw Protection Gloves have secured our selection as the best overall chainsaw glove around. Made with a double-layered goat leather palm, foam laminated spandex on the back, and nylon neoprene knuckles, they're equal parts stylish, durable, and comfortable.
They meet EN 381-7 Class 0:16 (m/s) standards for safety, meaning they're fully capable of protecting your hands from any chainsaw accident you might encounter. Overall, there's no other glove that we'd rather be wearing for chainsaw work, from light trimming all the way up to heavy-duty tree felling.
In short, we think that these are the best chainsaw gloves of the year.
Pros
Goat leather palm also provides excellent grip
Double-reinforced trigger finger
EN safety rating certified for maximum protection
High-visibility colors
Reflective logo
Cons
Expensive
Fingertips wear through
---
2.

Youngstown Kevlar Chainsaw Gloves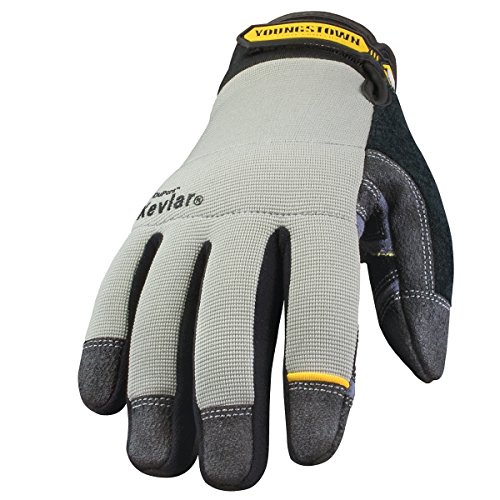 While they come from a much less well-known company, the Youngstown General Utility Gloves are a strong competitor to the Husqvarna gloves that took our top spot. Made of a complex blend of synthetic materials completely lined with Kevlar – the same material used for bulletproof vests – they are a heavy-duty performance glove that's perfectly suited for chainsaw work.
Thanks to their ANSI Cut Level 3 and Puncture Level 4 certifications, you can be certain that these gloves from Youngstown will keep you safe while working with your chainsaw. We're also big fans of the non-slip reinforcement on the palm, fingers, and thumb pad, as it adds significant gripping power even in wet conditions.
What keeps these gloves out of our top spot, then? Unfortunately, the sizing runs much smaller than listed. This makes it difficult to find the right size on the first try and may entail ordering two sizes up or more.
Pros
Lined with Kevlar fiber
High cut/puncture protection
Non-slip reinforcement for durability and grip
Machine washable
Double-stitched
Cons
No protection between fingers or pads
Sizing is difficult to get just right
Stitching could be more durable
---
3.

Oregon Chainsaw Safety Gloves – Best Value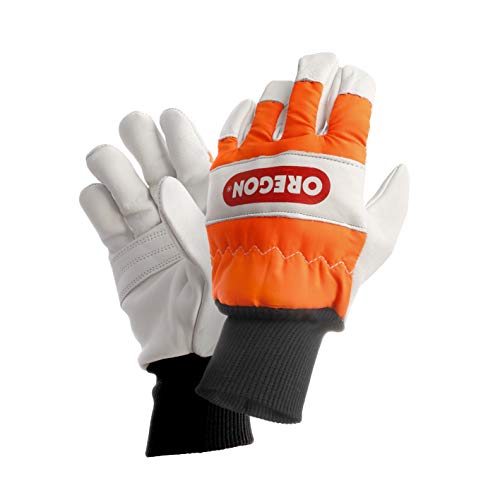 Featuring smooth leather construction and double-reinforced palms, Oregon's Chainsaw Safety Gloves are a comfortable and affordable option for anyone looking to up their safety game. Certified to meet EN 381-7 Class 0:16 (m/s) standards, they're fully capable of protection from any and all chainsaw accidents.
Given their exceptionally reasonable price, we're apt to give these gloves from Oregon our recommendation as the best chainsaw gloves for the money out of any we tested. If you're short on cash won't accept skimping on protection, they should be your first choice.
Pros
Affordable and high quality
Certified to uphold strict safety standards
Double-reinforced goat leather palms
Cons
Closed cuffs
Only the left glove top hand is reinforced
Left glove fits tighter than right
---
4.

Elvex Prolar Chainsaw-Gloves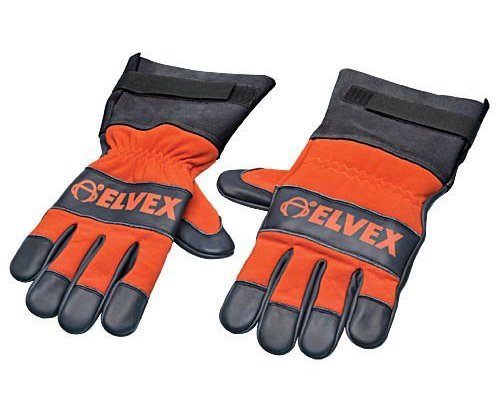 Perhaps the most strongly fortified gloves of any that we've tested for use with chainsaws, the Elvex Prolar Chainsaw Gloves are doubly certified to CE EN 388:4244 and CE EN 381-7, Design B, Class 1-20 (m/s). Offering nearly twice the cut protection of many other gloves in our review, they also sacrifice some degree of comfort for their durability.
If you're looking for maximum protection capabilities, the Elvex Prolar gloves are the way to go – but since they're only available in large or extra-large sizes, many users won't be able to wear them. Add that to a significantly higher price, and it's easy to see why they may not be the best glove for everyone.
Pros
Prolar protection
Breathable fabric
Waterproof
Cons
Heavy
Pricey
Only available in L and XL sizes
---
5.

Endura Hi-Viz Cut-Resistant Chainsaw Glove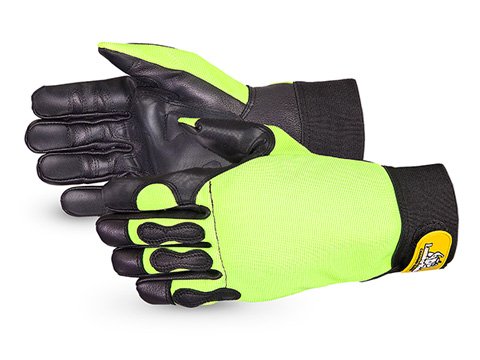 If you plan on working with your chainsaw in limited visibility conditions – say, early in the morning or late at night – then the Endura Hi-Viz Chainsaw Gloves should be your first pick. Bright yellow and reflective glove backs make these chainsaw gloves stand out from a crowd, and they meet the EN 381:1999 Class 0 standard for chainsaw gloves.
Made of smooth grain goatskin leather and a nylon/lycra fabric blend, these gloves from Endura also have the advantage of being water-repellent and quite comfortable. Overall, however, we weren't terribly impressed with the quality of the leather and noticed the dye bleeding from them after even minor use.
Pros
Goatskin leather palms with anti-vibration reinforcement
Velcro wrists
Lycra fabric on back
Cons
Thin protective covering
Need second layer of protection
Run large
Fingers and palms are regular polyurethane
Slippery palms
---
6.

Vgo Chainsaw Work Gloves
Sporting a design that is nearly identical to our top pick, the Vgo Chainsaw Protection Gloves seem poised to challenge Husqvarna for the title of best chainsaw gloves. Made of goat leather with textured PVC palm patches, they also feature high visibility spandex backs and neoprene cuffs with Velcro adjustments.
Vgo's chainsaw gloves also meet the EN381-7 standard, class 1, 20 m/s certification, making them well equipped to protect you from even the most dangerous of accidents. In the end, however, their uneven sizing and thin leather construction leave them as less than our favorite gloves.
Pros
Premium goat leather/textured PVC palms
Breathable
Velcro wrist adjustment
Cons
Fingers slick when wet
No protection in right glove
Run small
---
7.

Echo Kevlar Reinforced Protective Chainsaw Gloves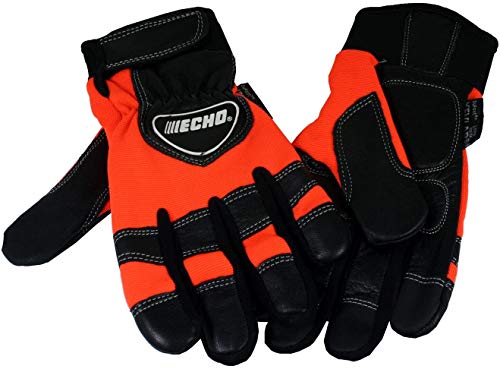 Made from a comfortable and durable leather, polyester, and Kevlar blend, these Chainsaw gloves from Echo have a lot going for them. Featuring two layers of Kevlar for double the cut protection, their 100% goatskin leather palms provide excellent grip and good water resistance, as well.
We liked the easy adjustments and tight-fitting wrist cuffs of these gloves, as well as the added grip from textured palms and fingertips. Unfortunately, despite their thoroughly protective materials and construction, there is no data available for certifications in safety ratings – so we can't thoroughly recommend them at this time. Only loyal users of Echo chainsaws would be interested in these gloves.
Pros
Comfortable and durable construction
Cons
No data available on safety certifications
May not hold up in case of an accident
---
Buyer's Guide – Choosing the Best Chainsaw Gloves
Still wondering whether chainsaw gloves are right for you? Read through the following sections to familiarize yourself with their safety benefits, as well as how to choose the best chainsaw gloves for your needs.
Do You Have to Use Chainsaw Gloves?
Some of the more cavalier among us may think that it's perfectly fine to operate a chainsaw with nothing more than sunglasses as safety gear – but this sort of antiquated thinking is more likely to result in injury than any sort of speed or efficiency.
If the only purpose of wearing gloves while using a chainsaw was to keep your hands from slipping, an average pair of work gloves would do the trick. But with the danger of kickbacks being a constant threat when using chainsaws, choosing a dedicated chainsaw glove is the only completely safe option. They're designed to stop a moving chainsaw in its tracks, tearing up the back of the glove rather than your hand.
In short, if you're using a chainsaw, you should be using chainsaw gloves – and a complete set of chainsaw protective gear, too.
What to Look for In Your Chainsaw Gloves
When testing chainsaw gloves for our reviews, we compare them based on four main categories:
Durability, separate from a glove's safety rating, is mostly a product of the material used and the quality of stitching. We prefer gloves with leather exteriors, as this provides natural resistance to scrapes and punctures as well as respectable longevity.
Comfort comes down to appropriate sizing and the type of lining used. Chainsaw gloves sometimes run small or large depending on the brand, so order accordingly.
Cut Resistance is a specific safety measure regulated by the ANSI and ISEA. See the following section for more information on this all-important quality.
Grip gives you better control over the chainsaw, no matter the weather conditions. Leather is our preferred material for enhanced grip, though some synthetic gloves impressed us with their sensitive tactility and strong gripping power.
The Importance of ANSI and ISEA Certifications
Chainsaw Safety Tips
Husqvarna, one of our favorite manufacturers of chainsaws for everything from around the house to professional use, produces excellent safety videos for their YouTube channel. Check out their video on how to safely operate a chainsaw while wearing protective gear, including their chainsaw gloves:
Conclusion:
Husqvarna may be the most well-respected name in chainsaws, producing some of the best saws around for everything from small yard work projects to professional tree felling. It should come as no surprise, then, that the same company makes our favorite chainsaw gloves: The aptly named Husqvarna Functional Saw Protection Gloves. They're specifically designed for maximum efficiency and protection during chainsaw use, and we highly recommend them as our top pick.
The Youngstown General Utility Gloves run a close second, though. They're equally well suited to stopping accidents thanks to their Kevlar construction, and only lose points with us because of their slightly awkward fit. Order a size (or even two) up from your usual glove size.
Anyone on a tighter budget should look towards the Oregon Chainsaw Safety Gloves as a durable, cost-effective option. While they're not much to look at, these gloves beat out many others in our reviews based on their outstanding combination of long-lasting construction and a reasonable price.
We also recently reviewed chainsaw helmets and chainsaw chains. Feel free to check out those guides if you want to see the best picks for this year.